The busiest weekend of our year has once again flown by. The annual pilgrimage to Sandown Park draws VW lovers from all over the world, and it was great to be back in the hive feeling the buzz of this hobby we all love so much. How was it? Well, it's always good fun, but we'll tell you more and share some great photos below. Read on...
What drives Heritage?
Ahead of our Heretics and Heretics on the Road events which start in April, Volksworld was a great chance for us to get out and catch up with the community after winter. As with previous years, we reserved some prime parking spots for friends and customers to help demonstrate what #driveheritage is all about.
Our thanks to Simon, Jonny, Glen, Oscar, Simon, Stephen, Kate, and Alex for all displaying their cars with us.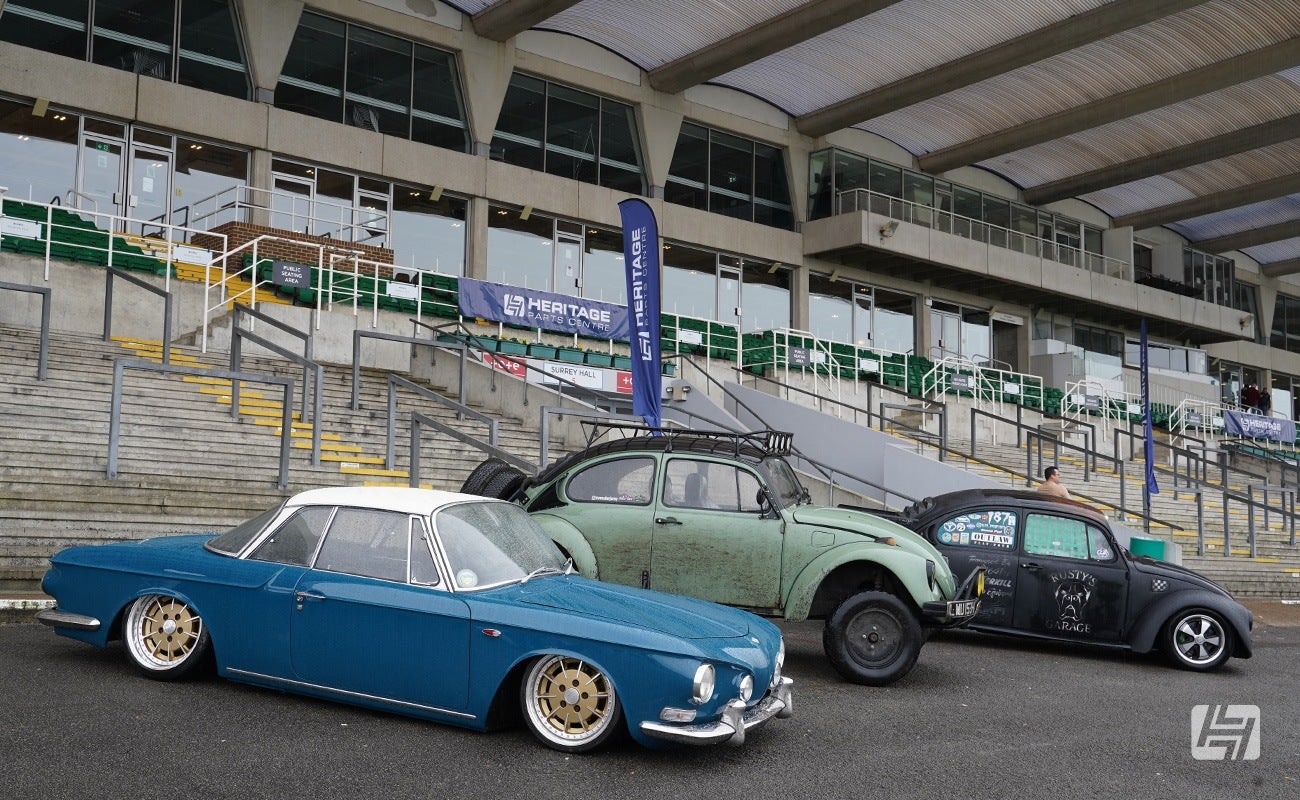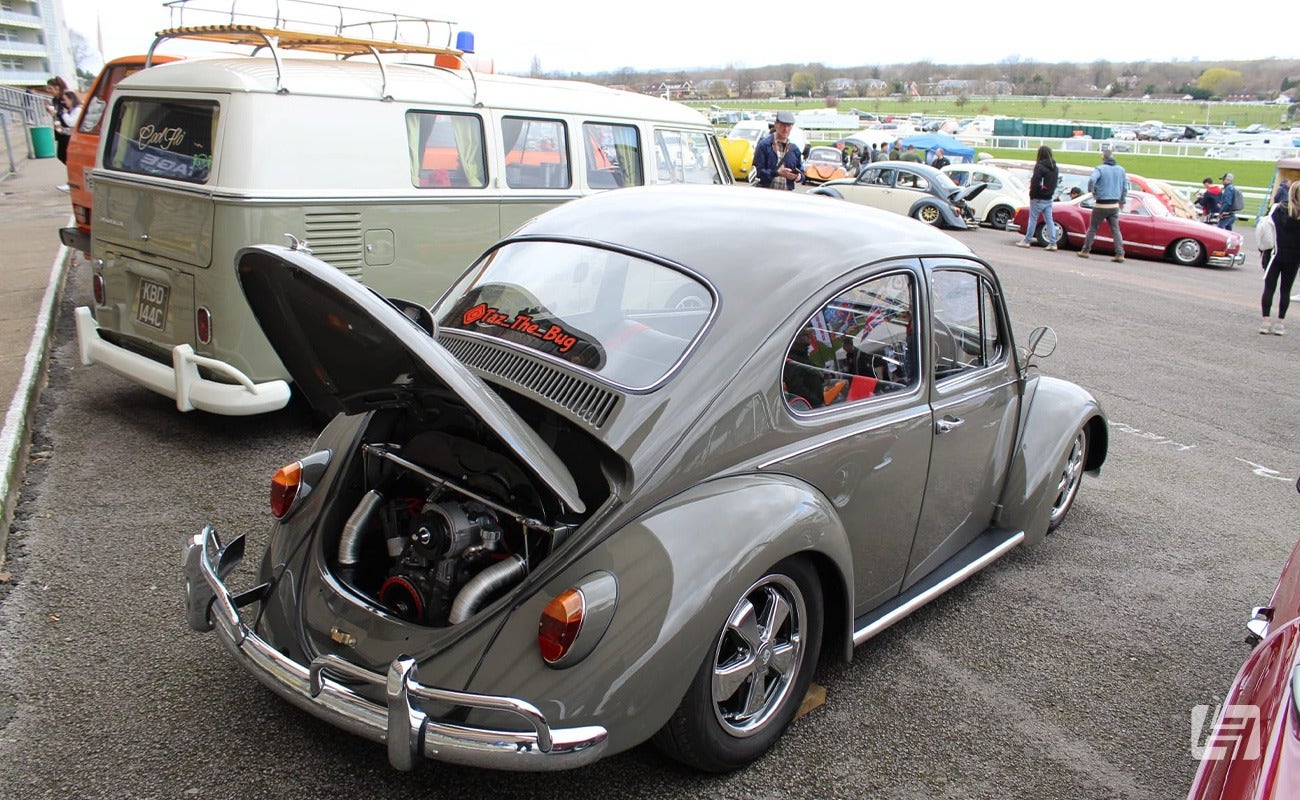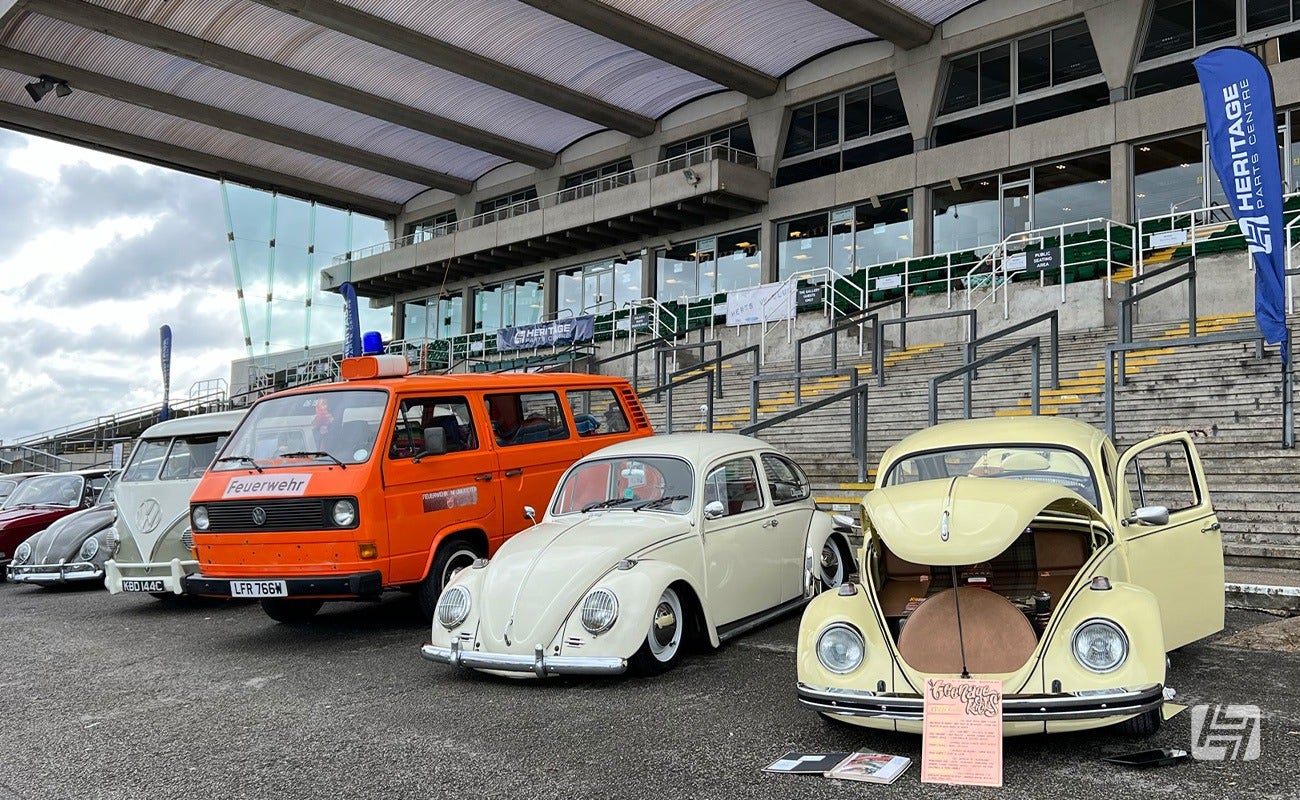 A warm welcome
After missing out on our Santa Cruise because of a running problem, it was great to have our 1956 Splitscreen Single Cab back out on the road and parked up taking pride of place in the middle of the roundabout outside Sandown Park.
Helping you out
With a huge amount of VW knowledge in the heads of the staff gathered on the Heritage stand, it was our pleasure to answer your questions, chat about your projects and help with parts orders where required.
We also took the opportunity to clear some surplus book stock, and sold stacks of workshop manuals at just £10 each, raising money for Read Easy, a charity that helps adults learn to read. We raised a total of £730 over the course of the weekend, which was fantastic. A big thank you if you contributed by buying a book.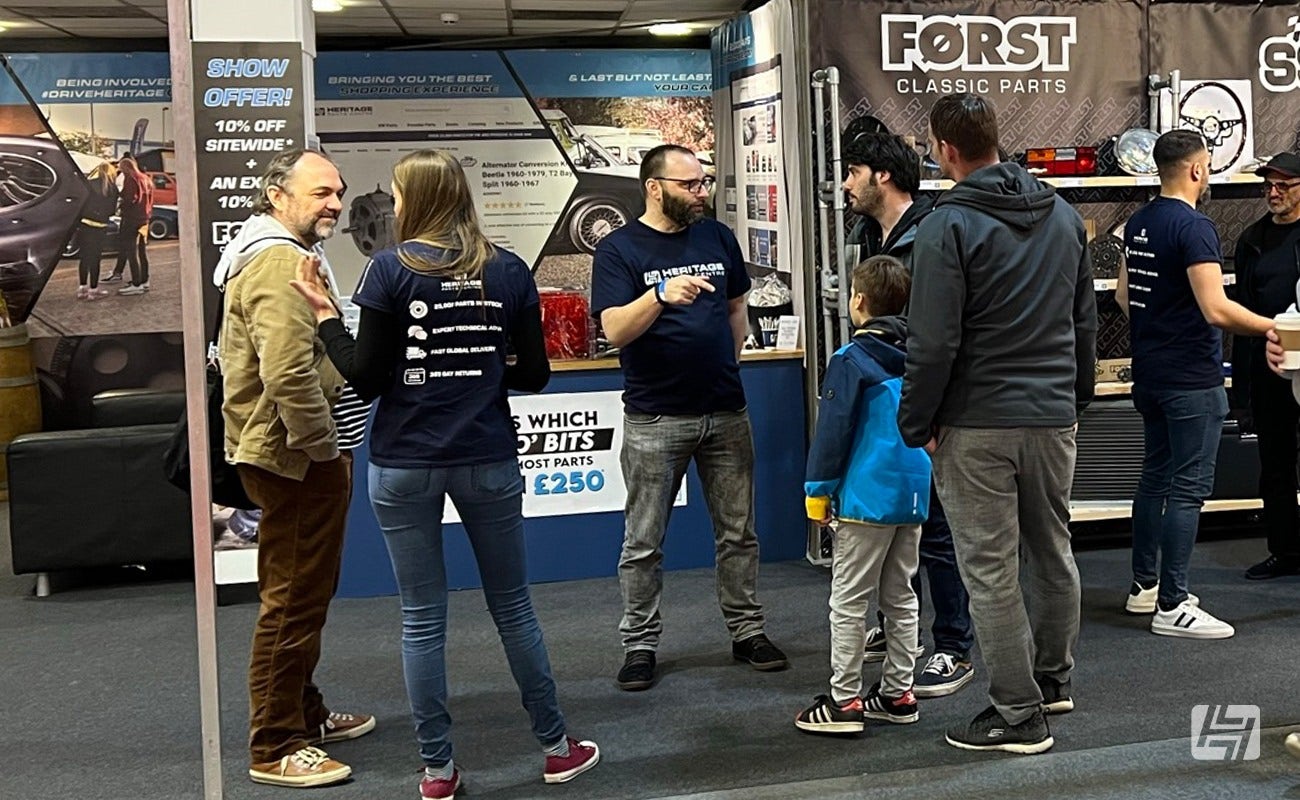 Special displays
Whether your interests lay with original vintage VWs or drag racing legends that have been shipped in from the States, there were jaw droppers scattered around the show in a series of special displays. The Foyer played host to two giants of the US drag racing scene, the 1967 Beetles, driven by Dave Andrews and Darrell Vittone back in the day. As well as having these special cars on show, Ron Flemming, Dave Andrews, and Dean Kirsten had flown over to the UK and joined by Volksworld founder and cal-look legend Keith Seume were part of some fascinating talks, recounting the glory days for all to enjoy.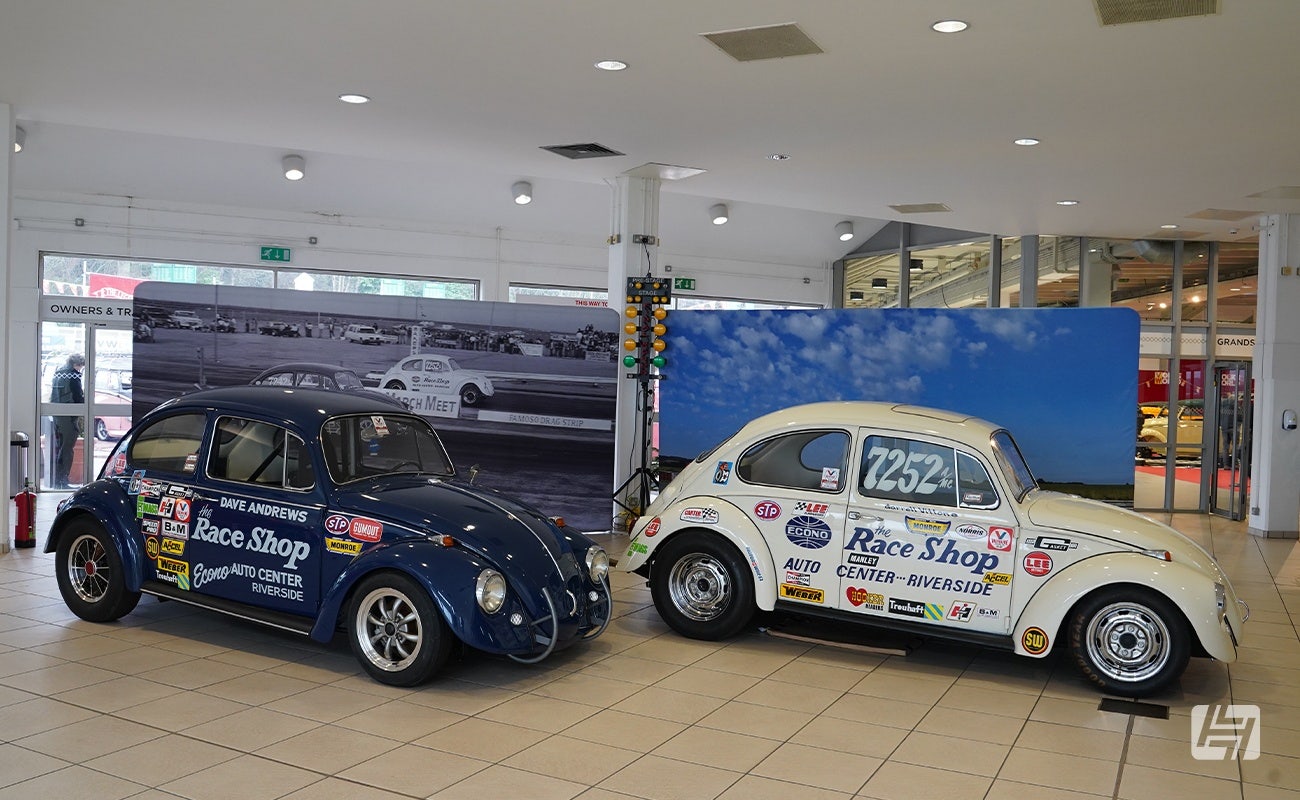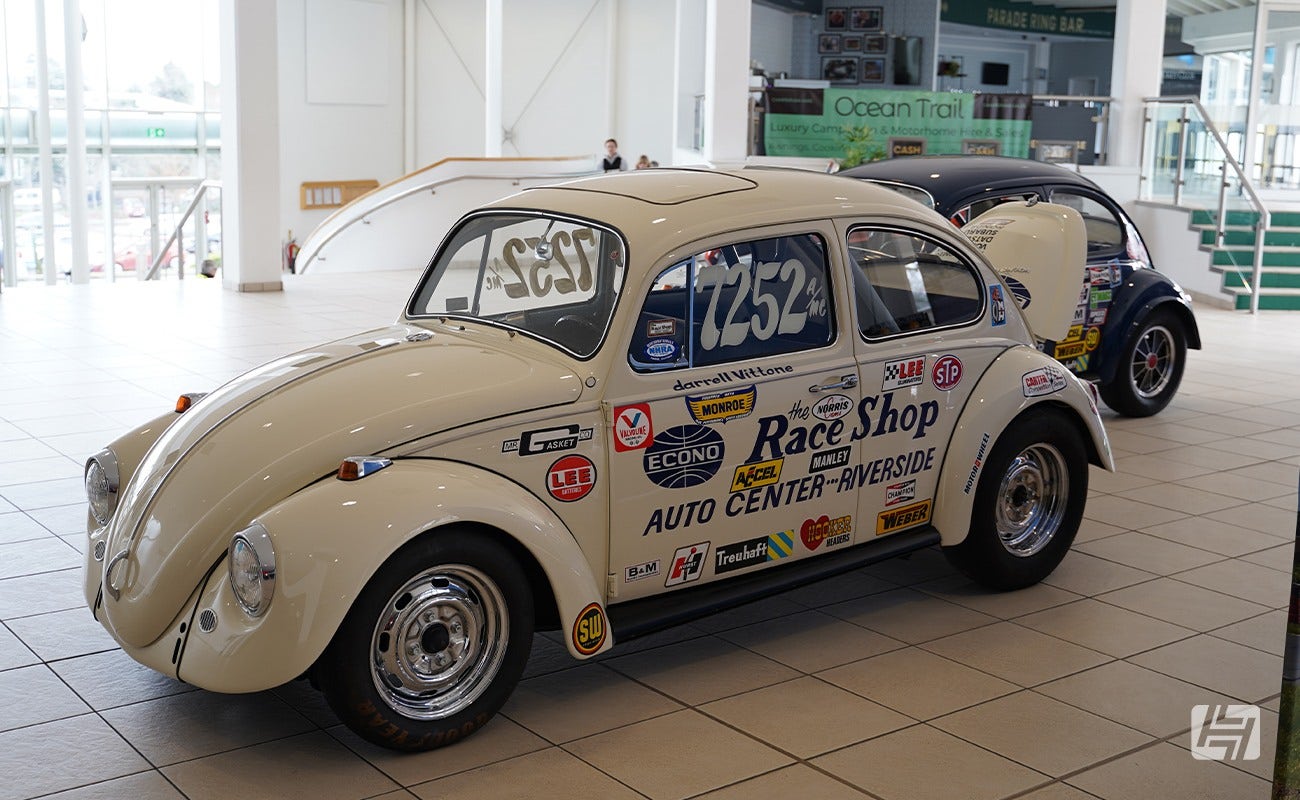 By sheer fluke, I managed to grab this snap of Keith, Dave, Ron, and Dean checking out the wonderful 1937 W30 prototype. Owned by serial vintage VW collector Christian Grundmann, this is original chassis number 26 (of 30) which has had a handbuilt recreation of the body built on top of it and was a real star of the show in the Heritage-sponsored Vintage VW Vault.
Alongside it sat some beautiful Oval and Split window Bugs, and a number of vintage Cabriolet models too.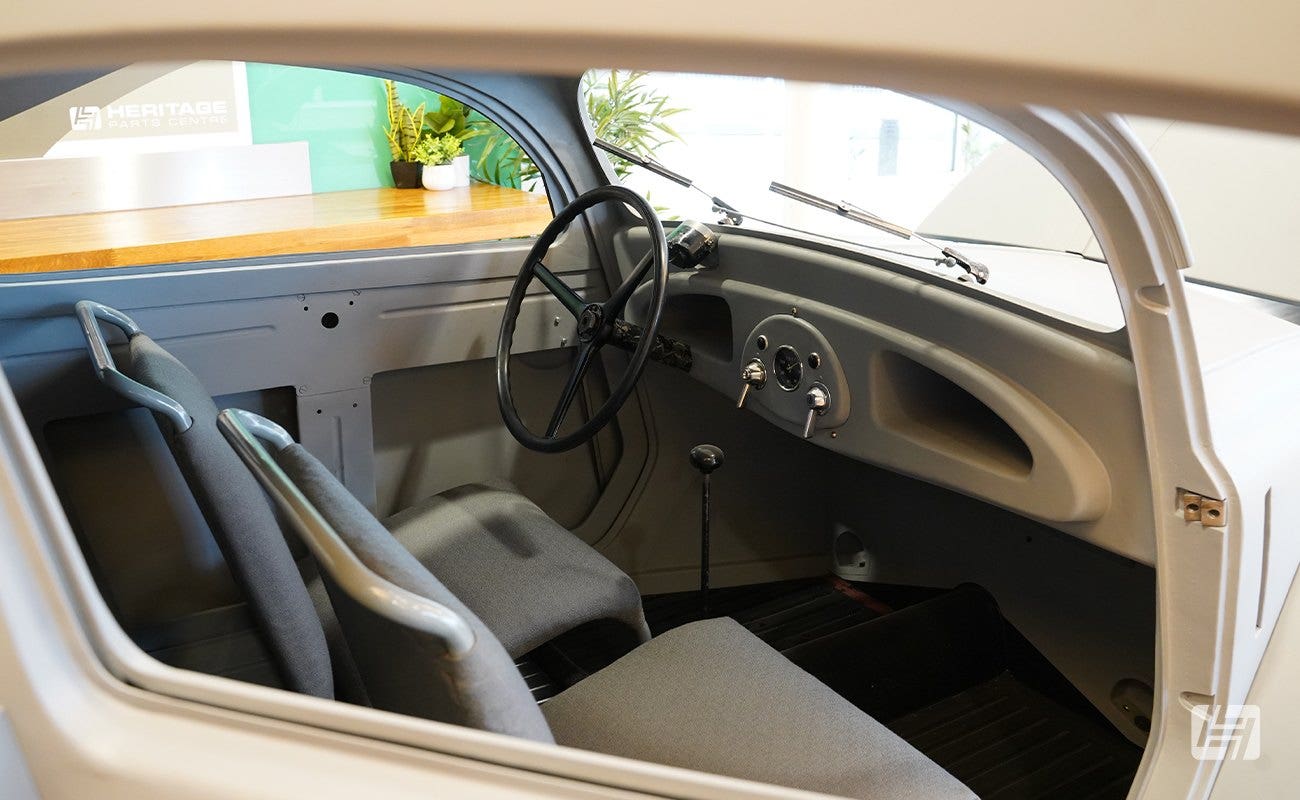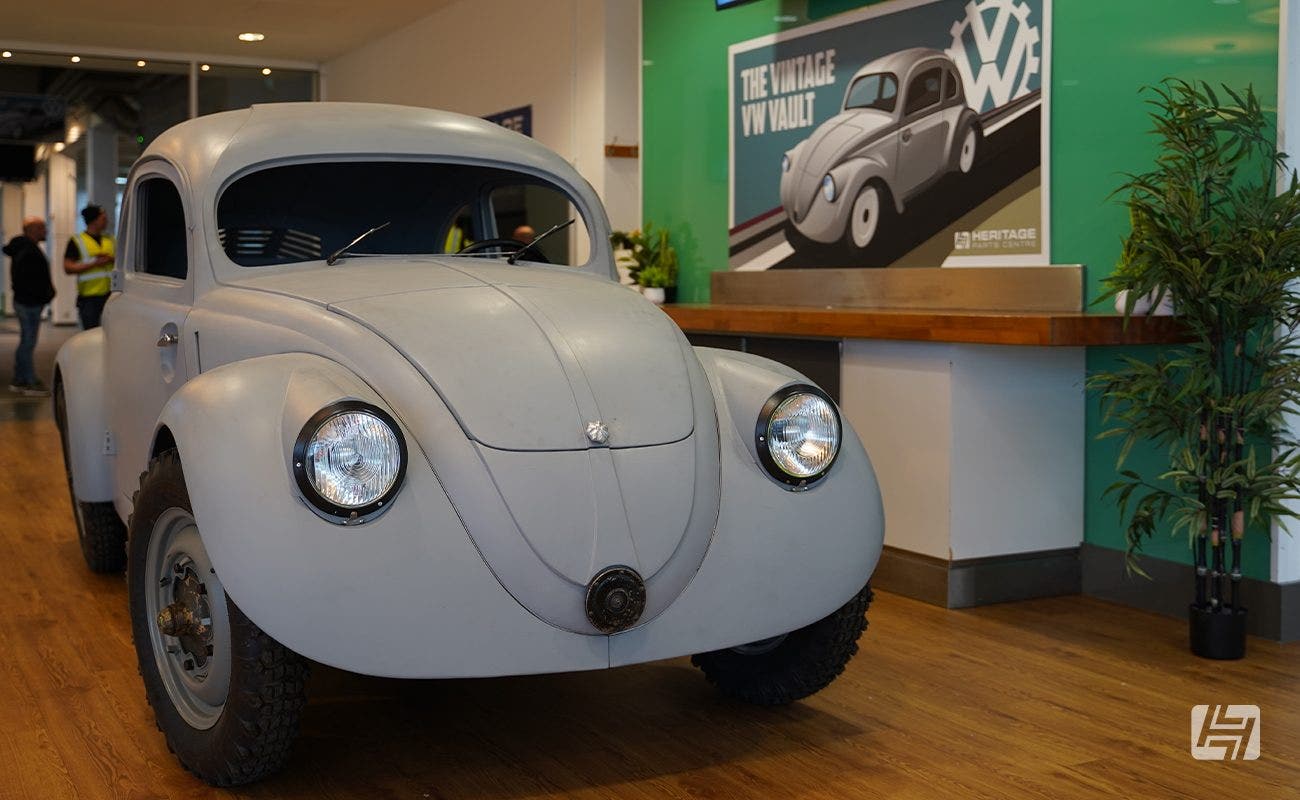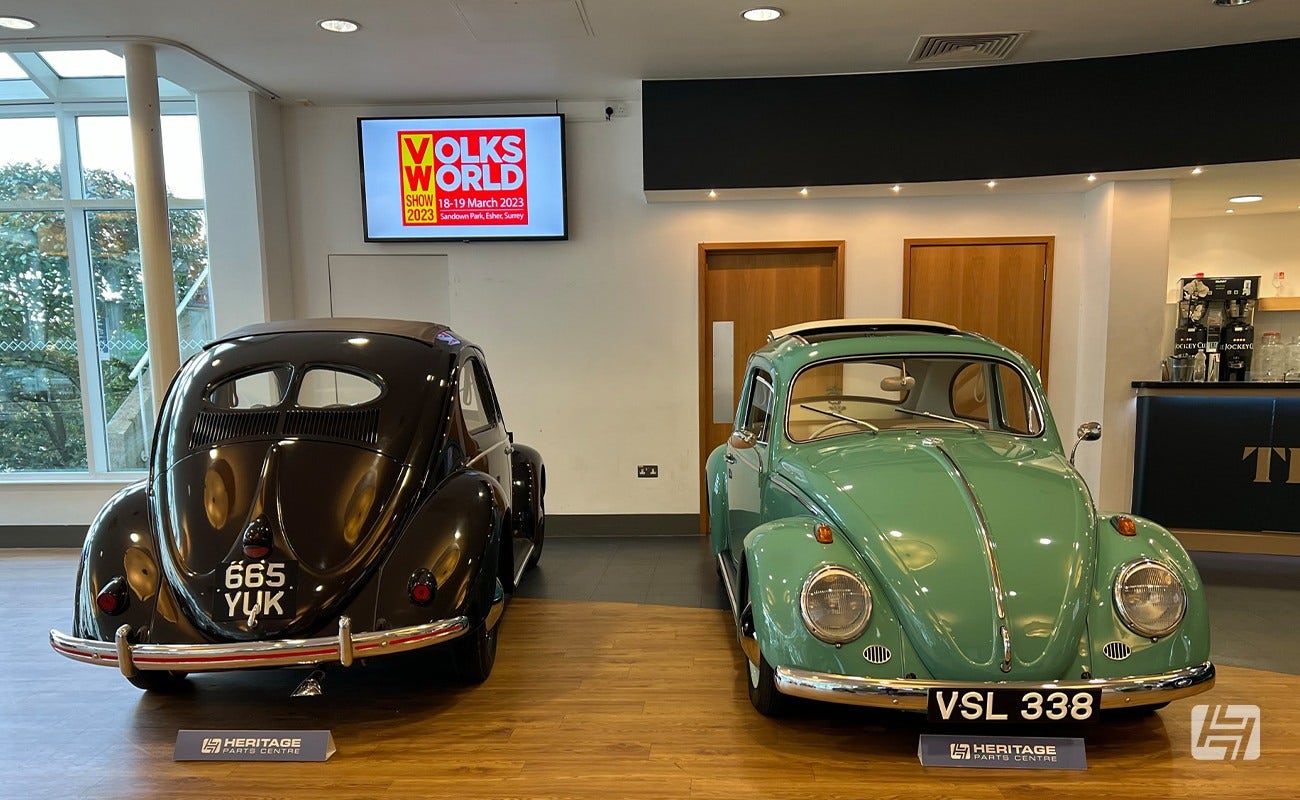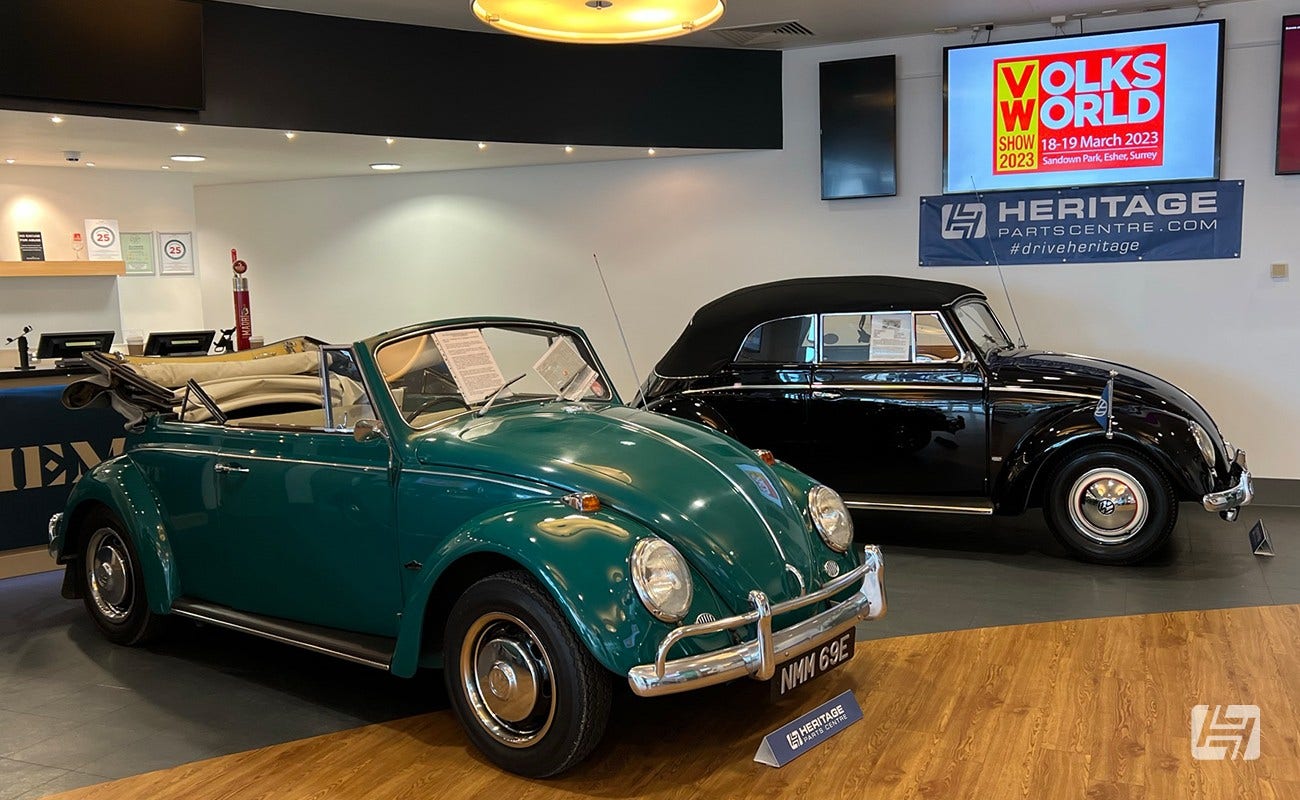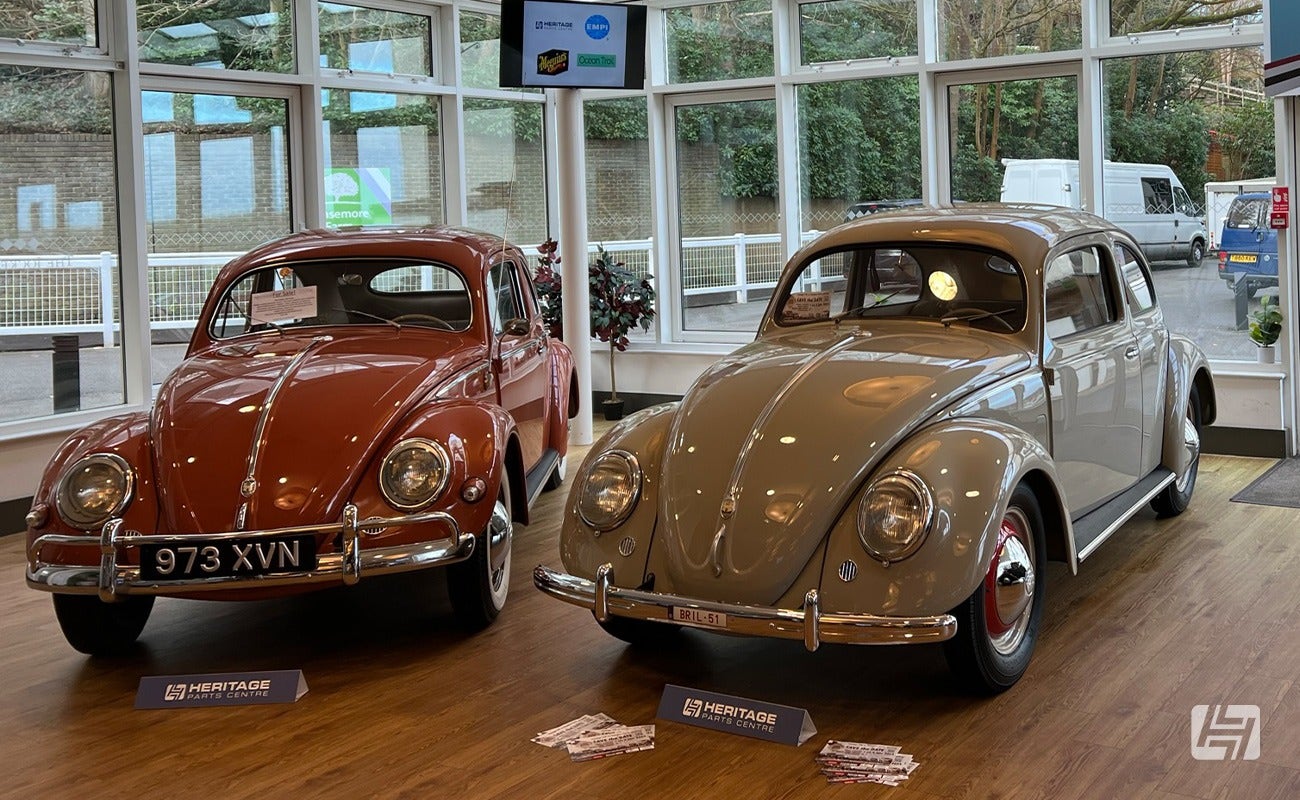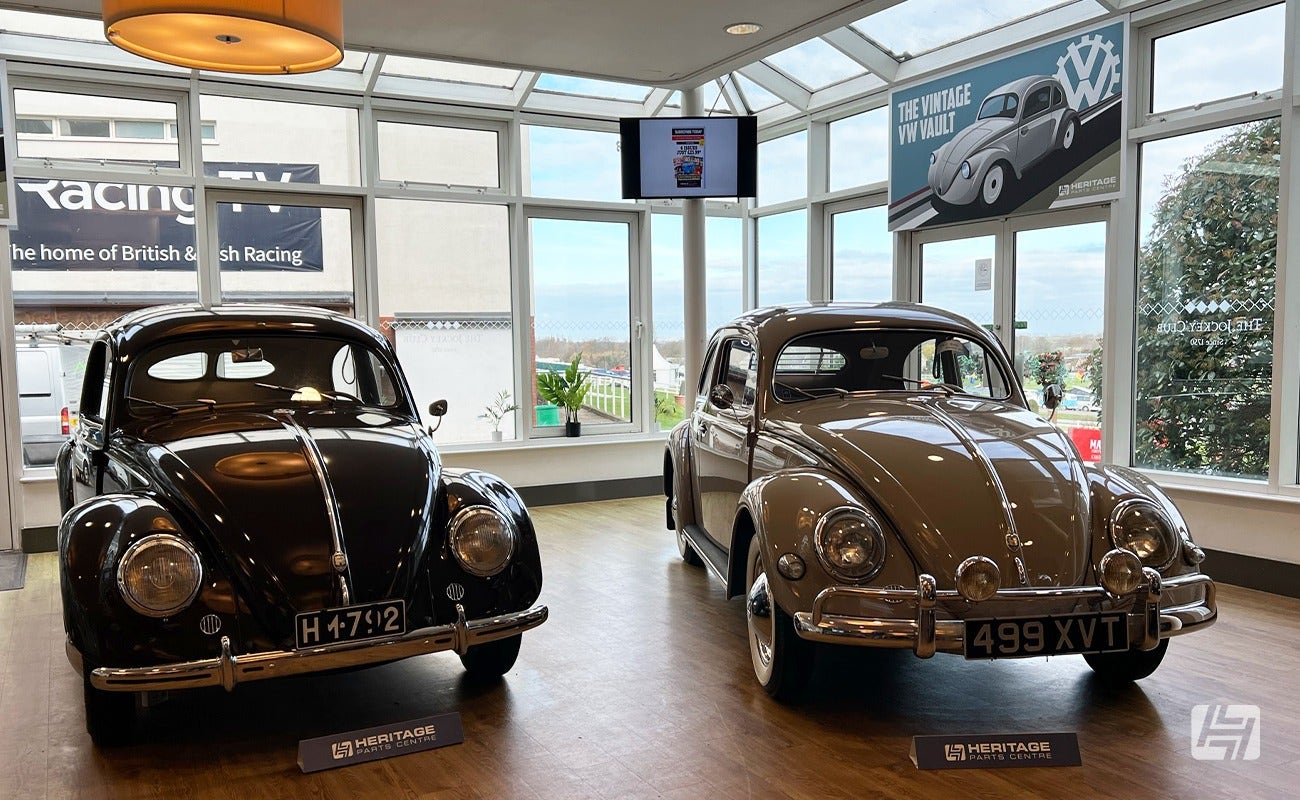 The boldest colours
Be it period paintwork and accessories or custom graphics and colour schemes there were some real bold shades on display at the Volksworld Show in 2023. From orange camping chairs and sun canopies to the vibrant designs on the B289 display vehicles, they certainly popped out and caught our eye.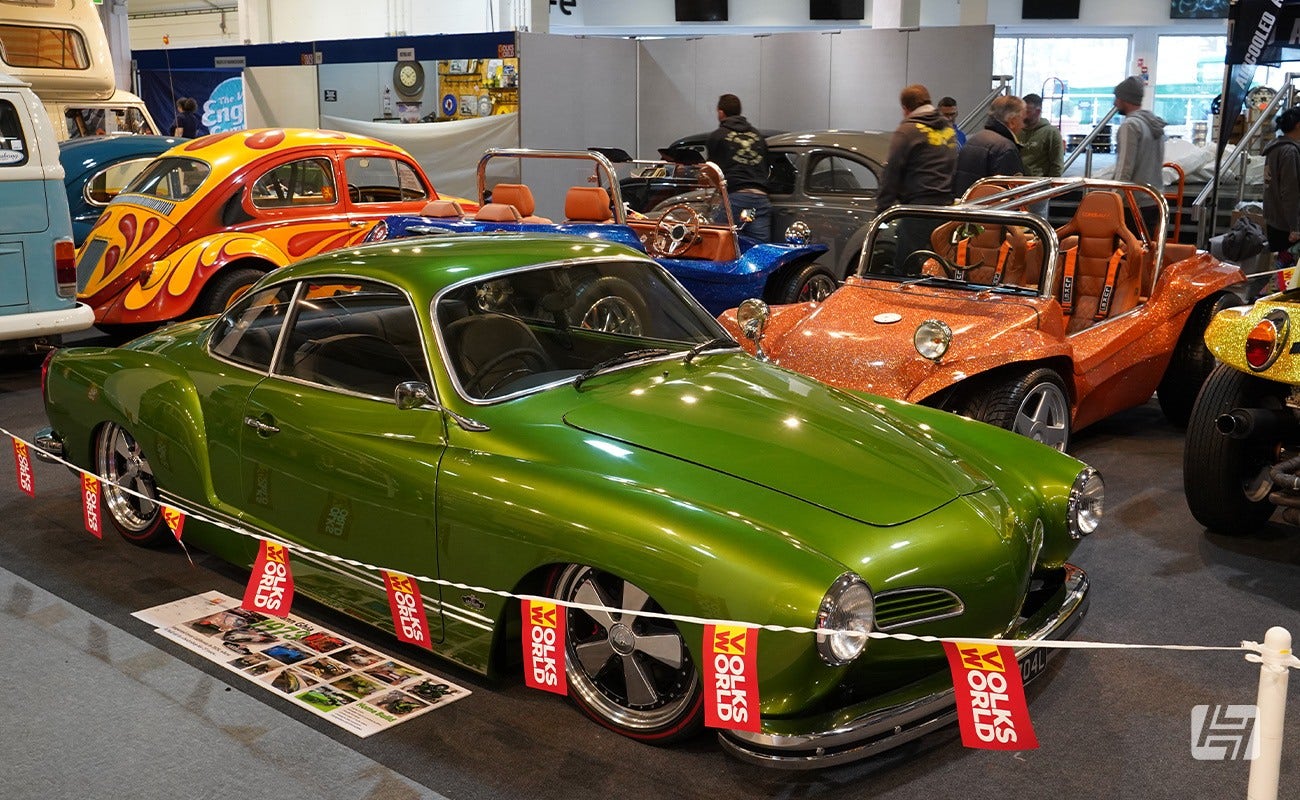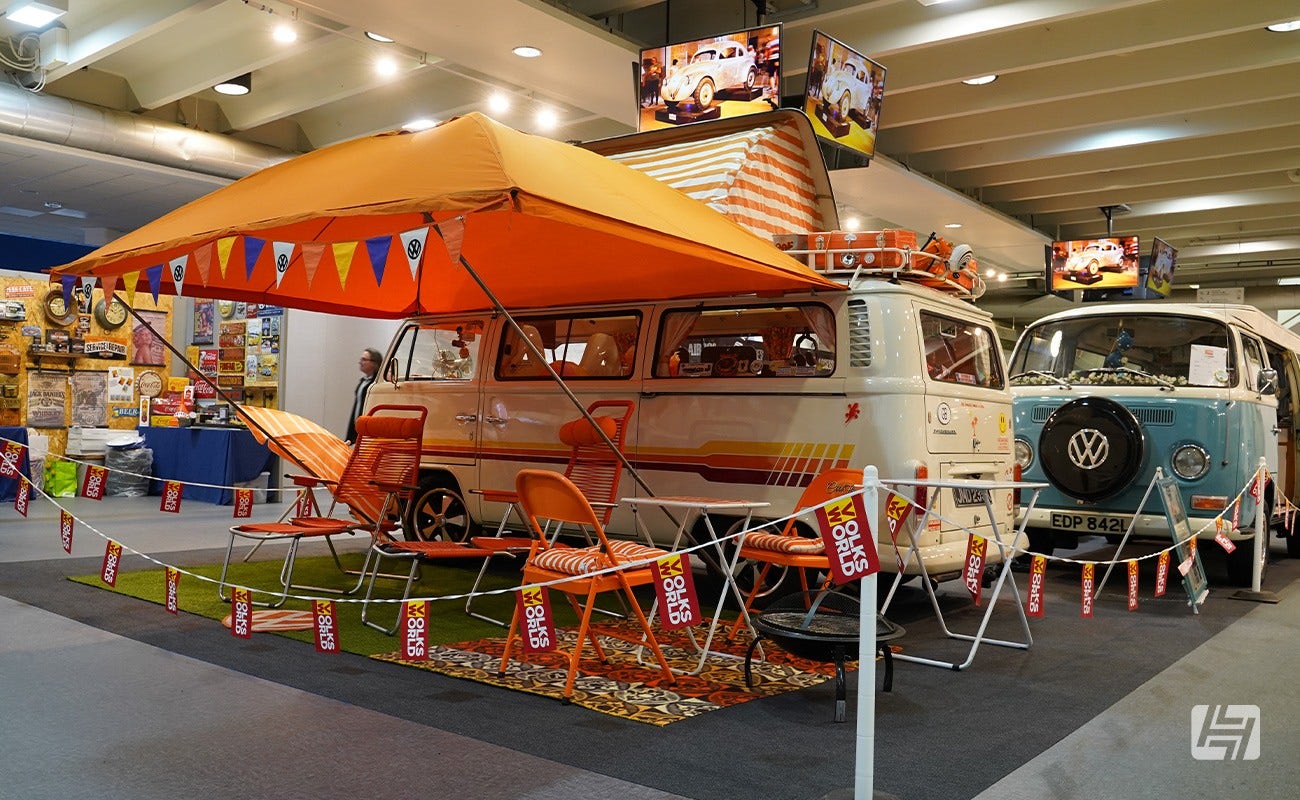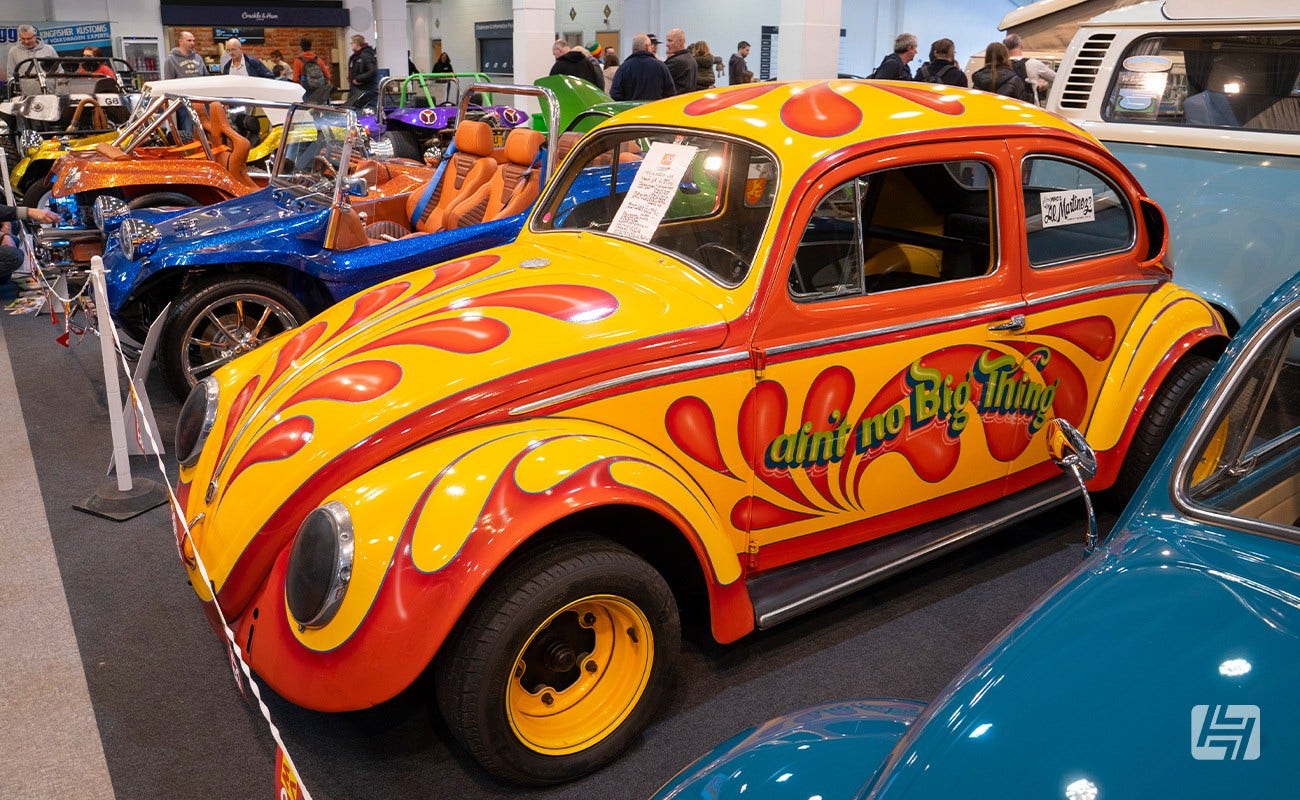 Beetles of all shapes and sizes
There was some fantastic Beetle variety on show greeting visitors as soon as they entered Surrey Hall. Here are just a few from that display. Cal Lookers, Custom, and even a 'Street Baja' - there was something for everyone.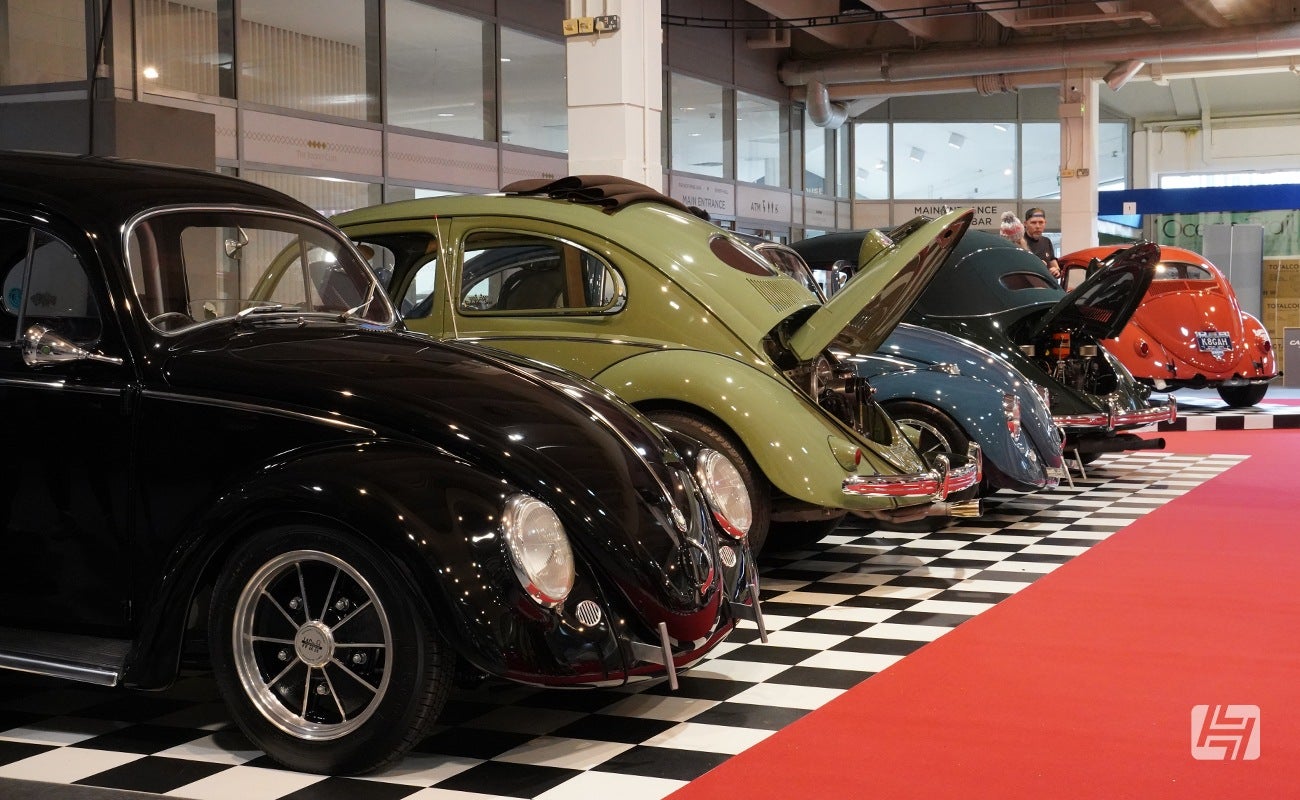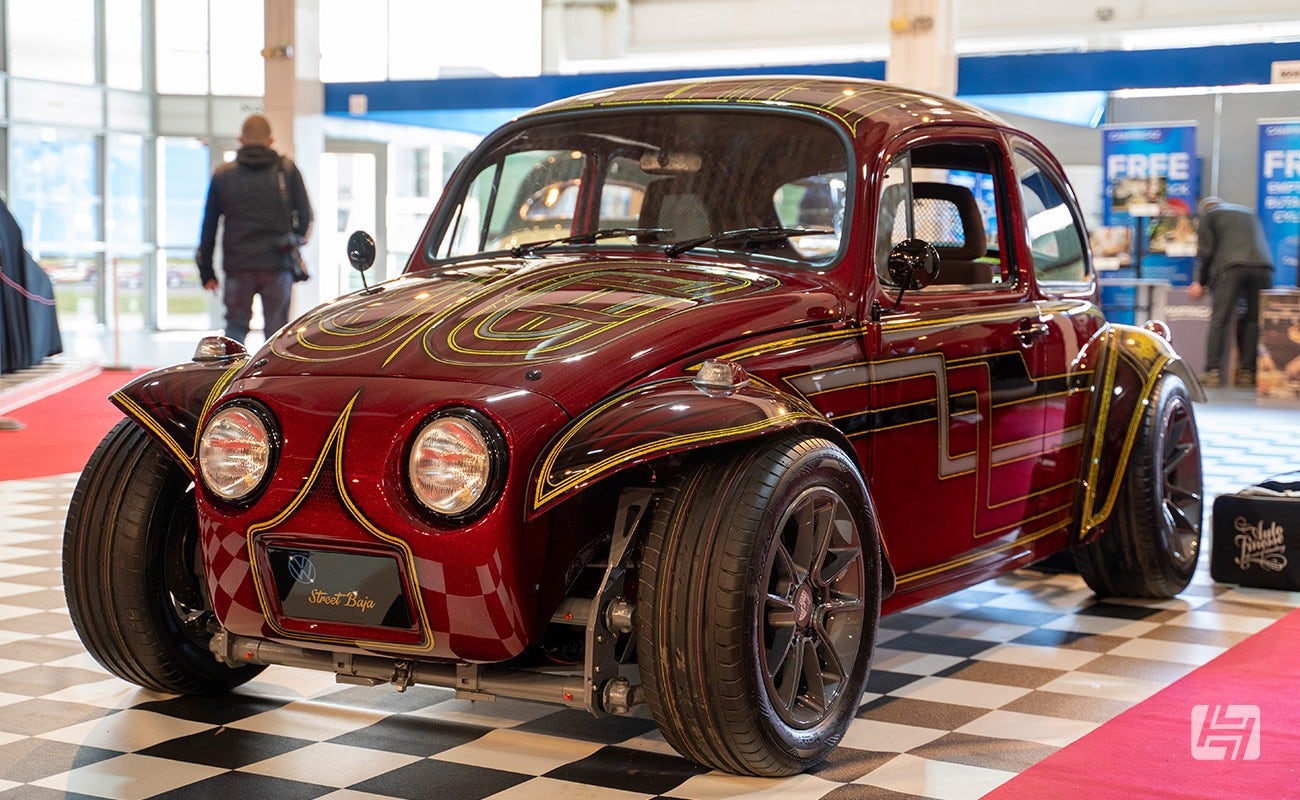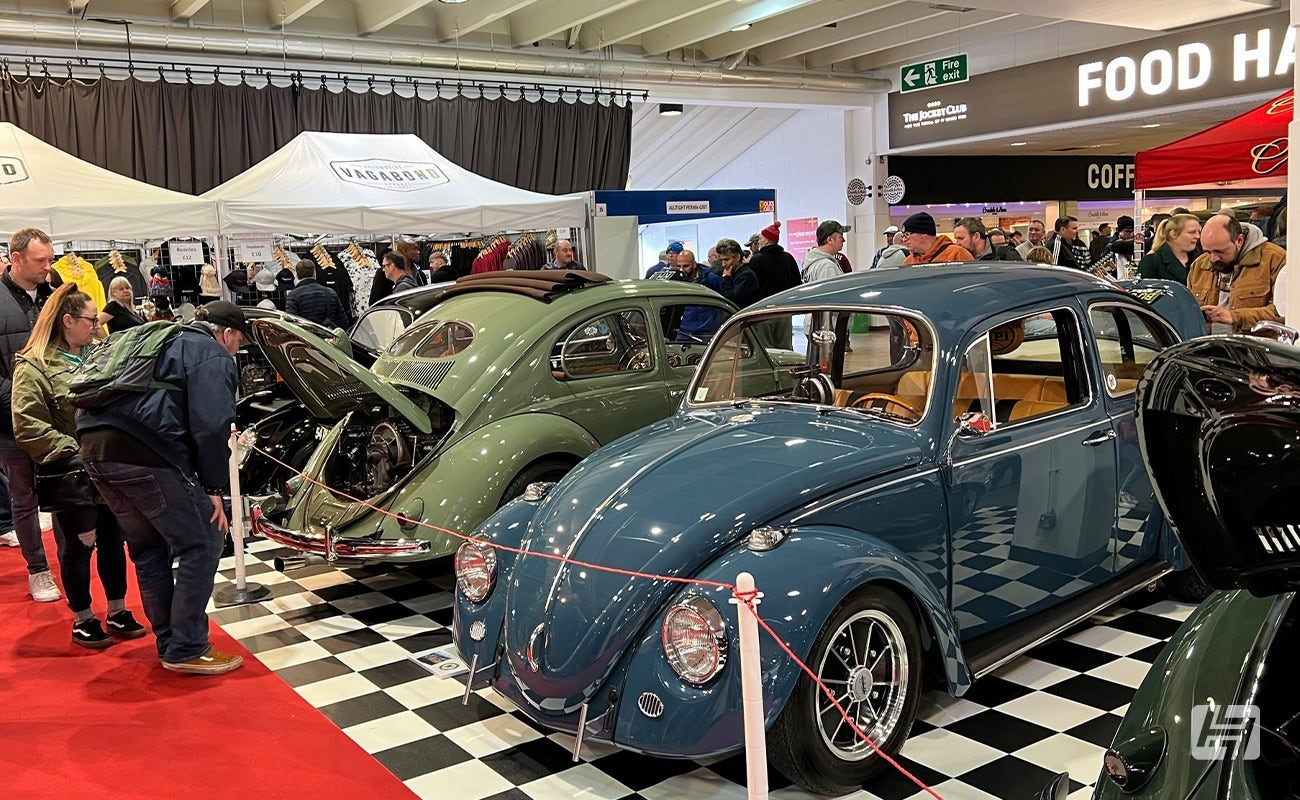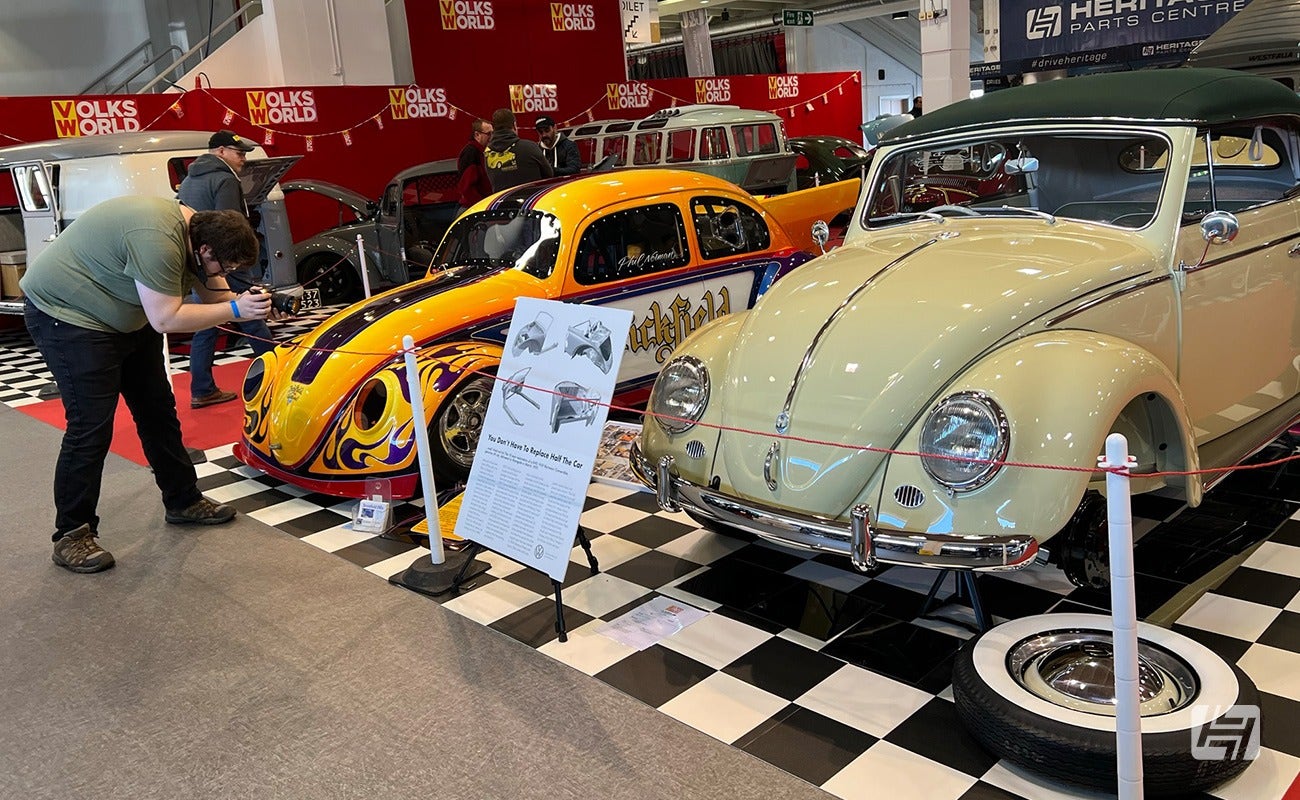 Big bus business
For fans of aircooled busses the main hall had it all, and in fact it was a stunning red double cab Split bus that took home best of show honours.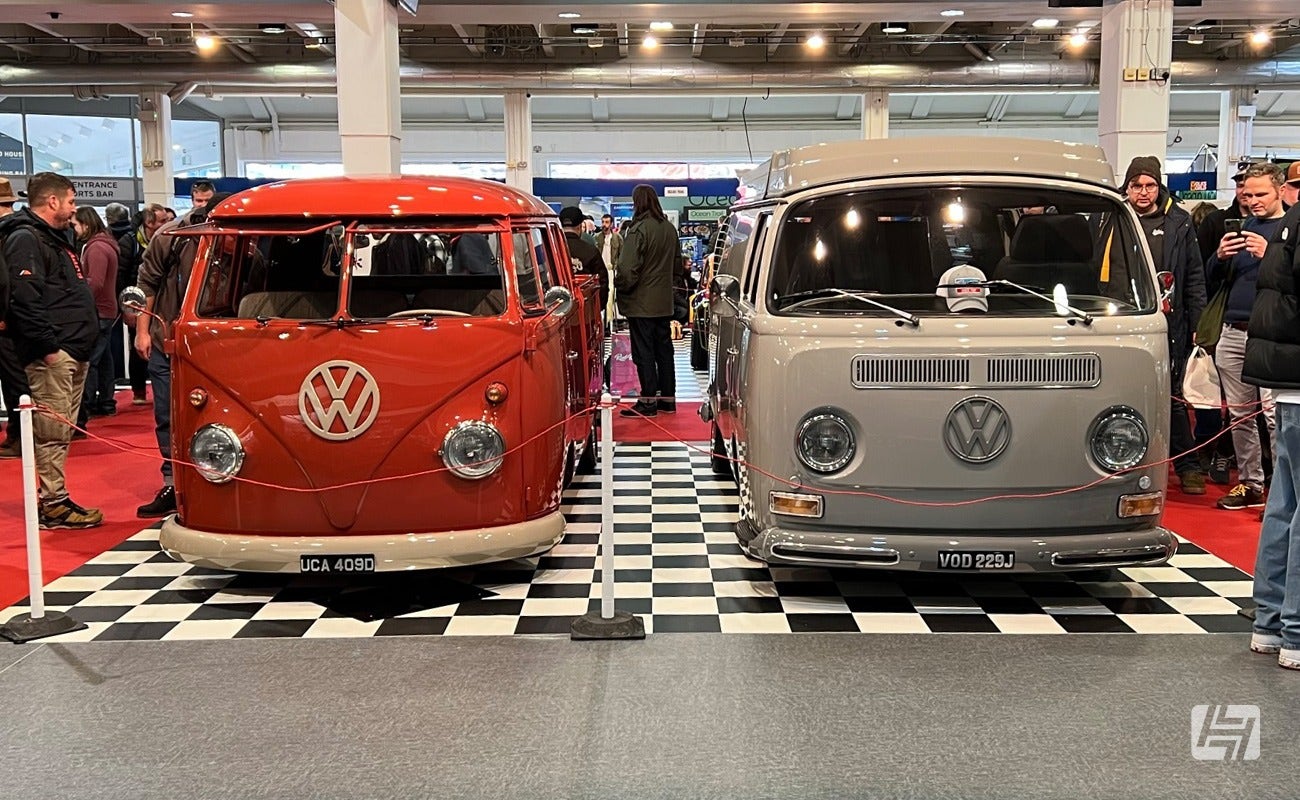 A place for patina
Whilst most show cars were polished up and painted to perfection, there were a few cars that really embraced their long lives and wore battle scars (and bullet holes) with pride. Check these out...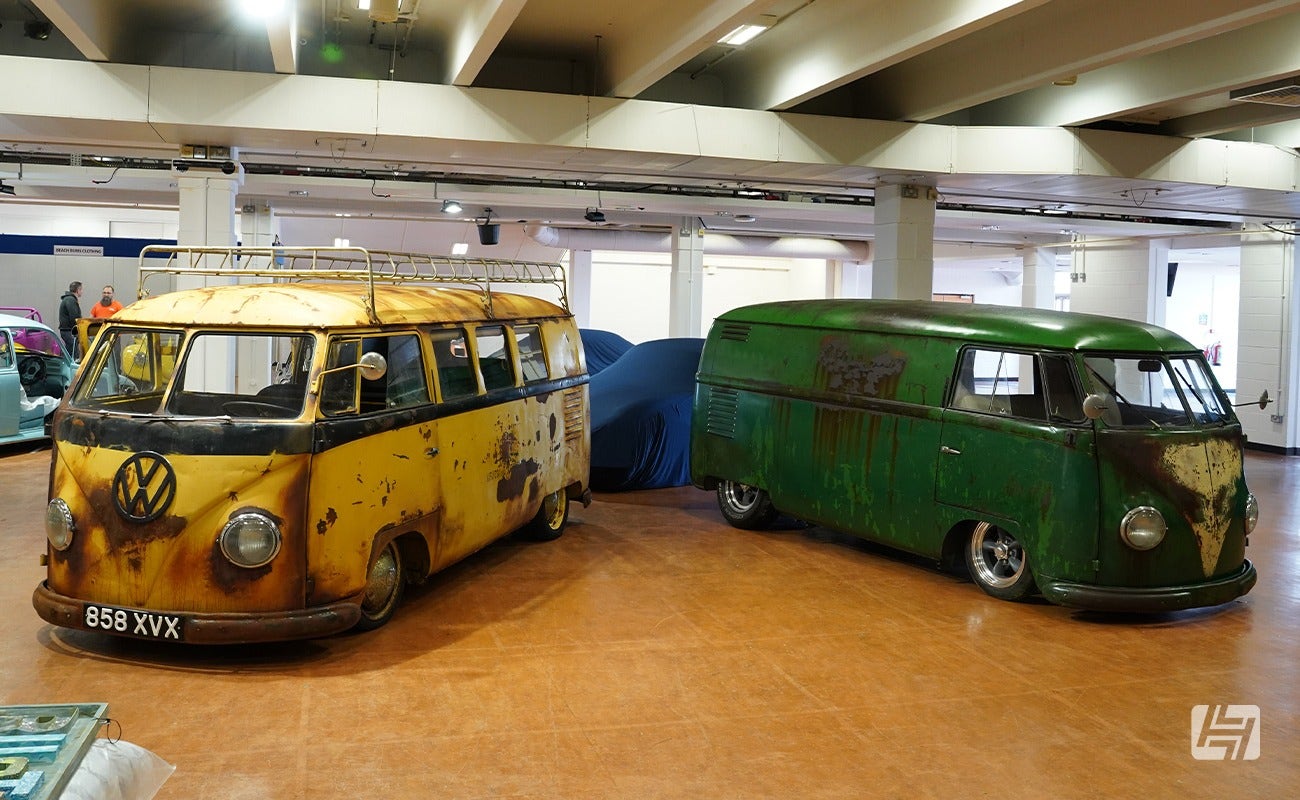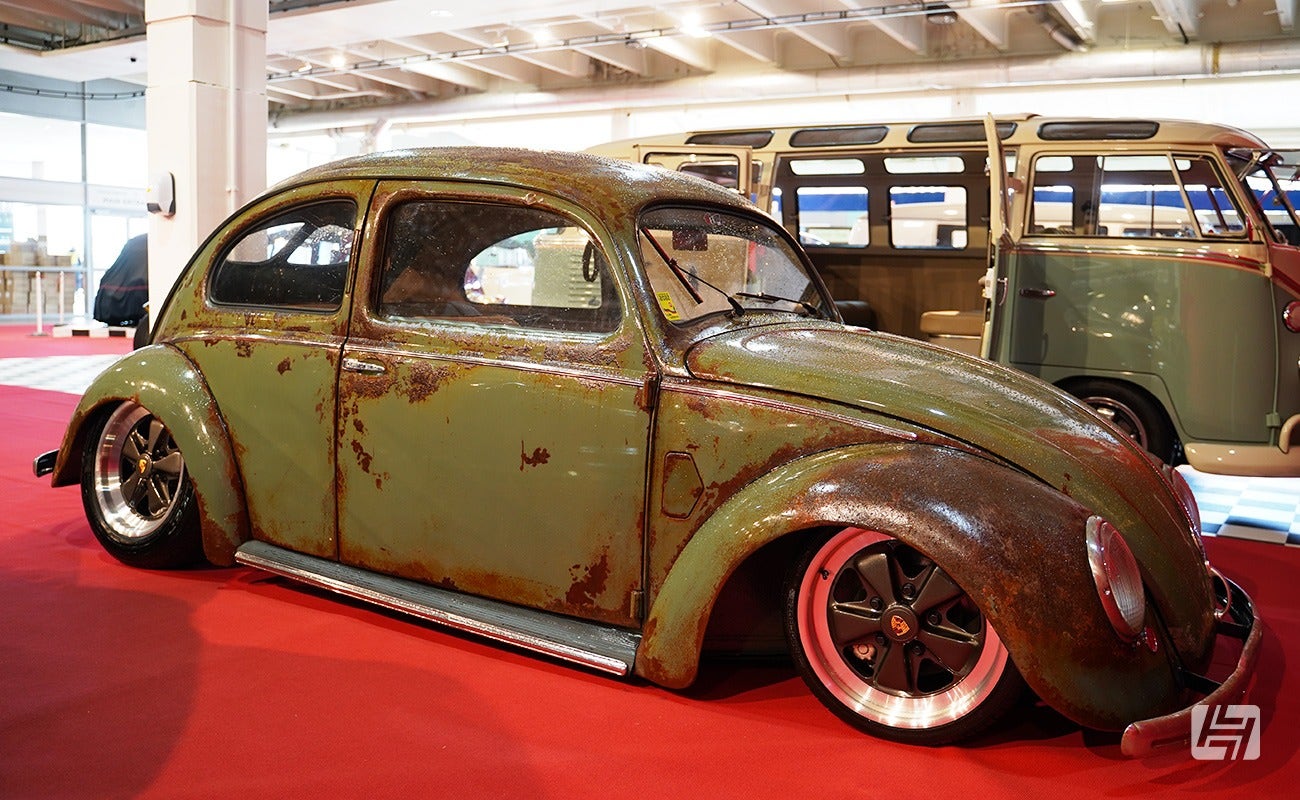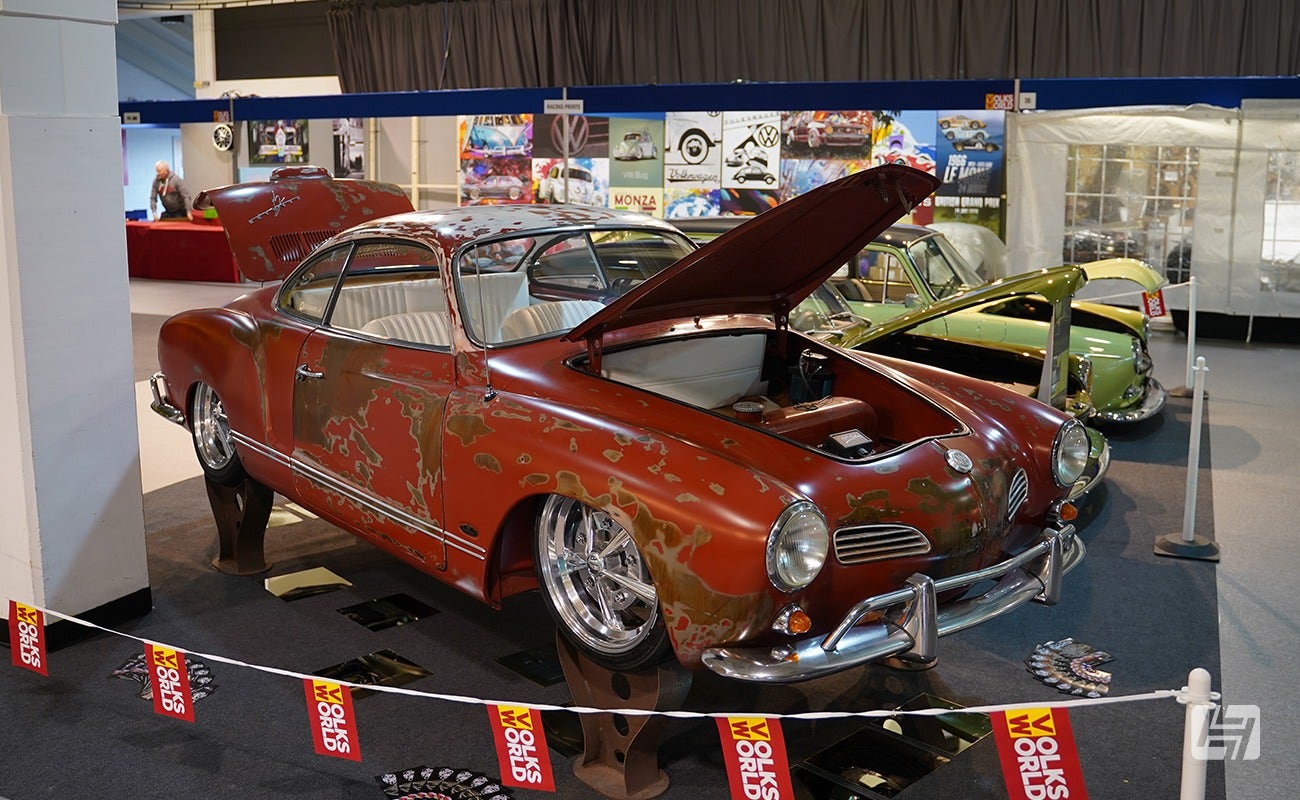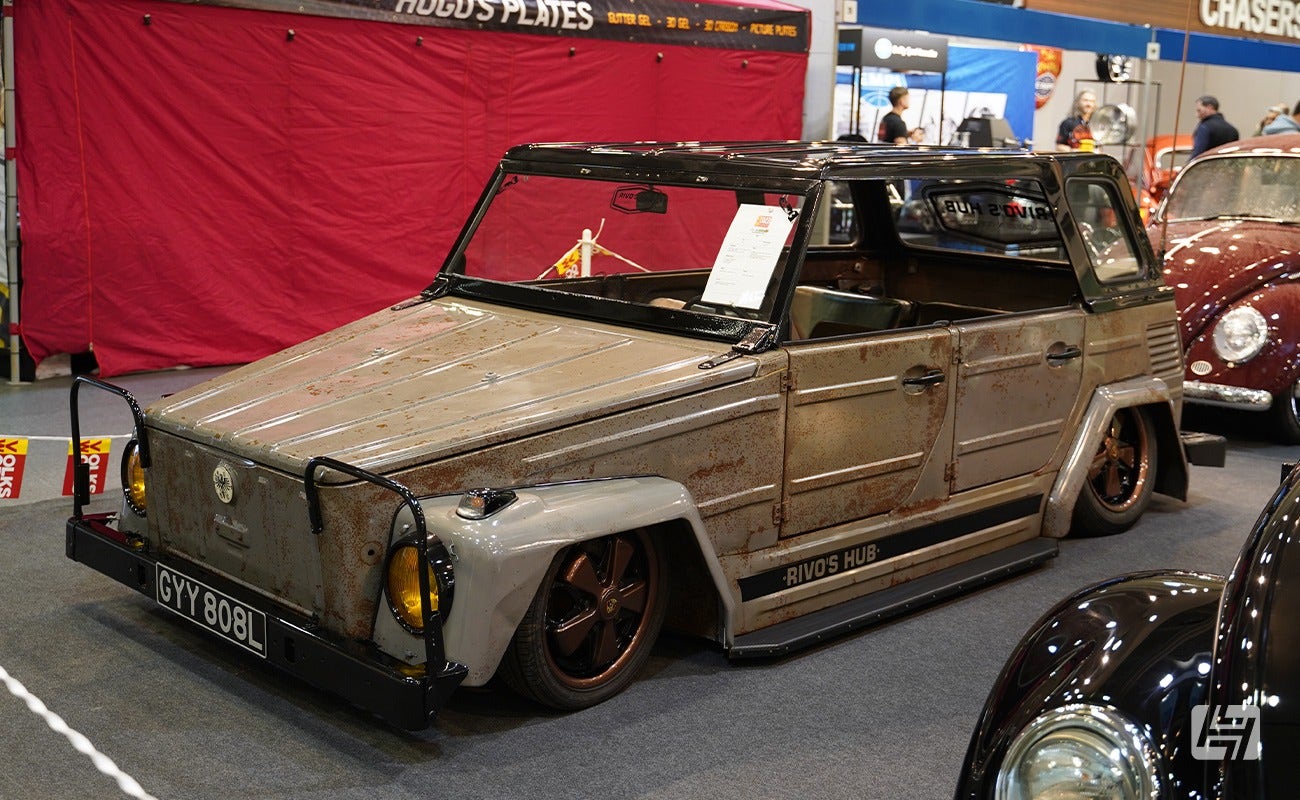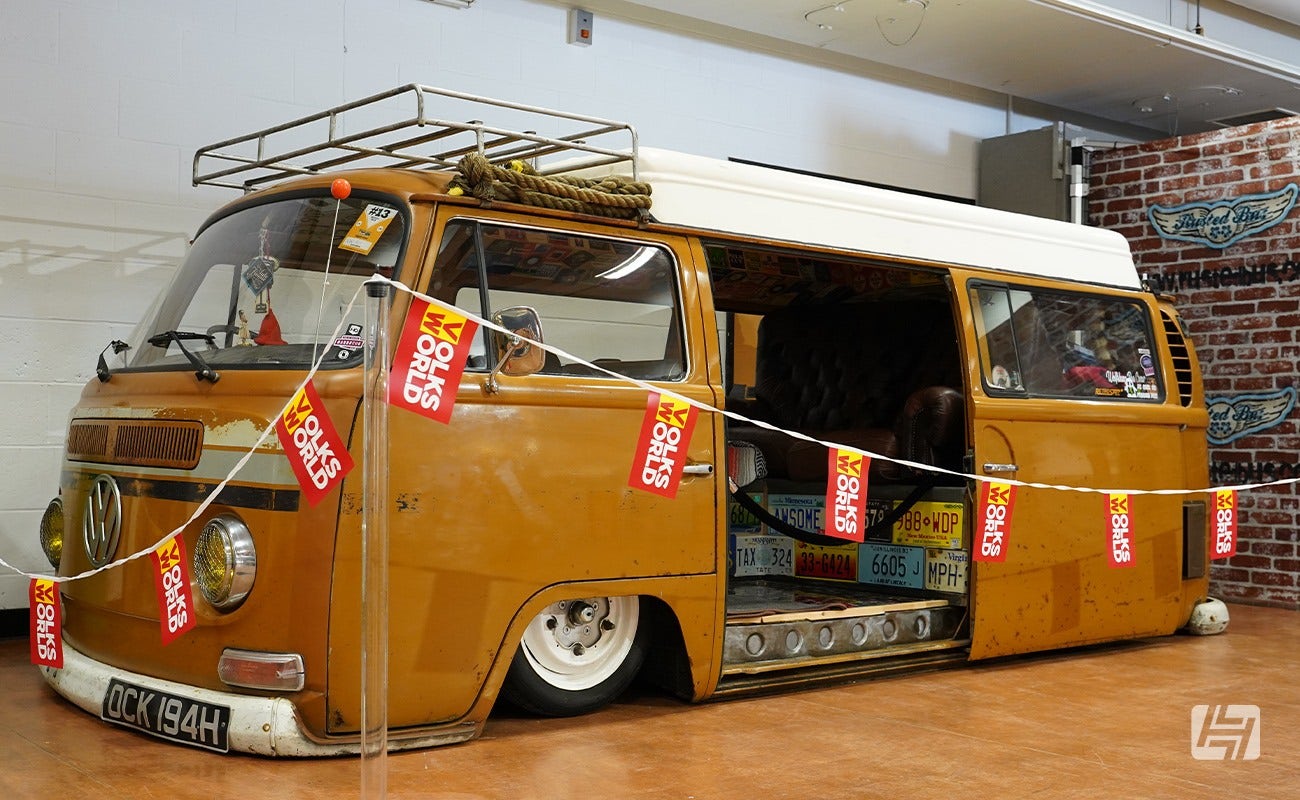 Outside interest
Whilst not quite as busy as in previous years, there was still plenty to see outside on the club stands. Our congratulations to Herts VW Club for winning the best club display award.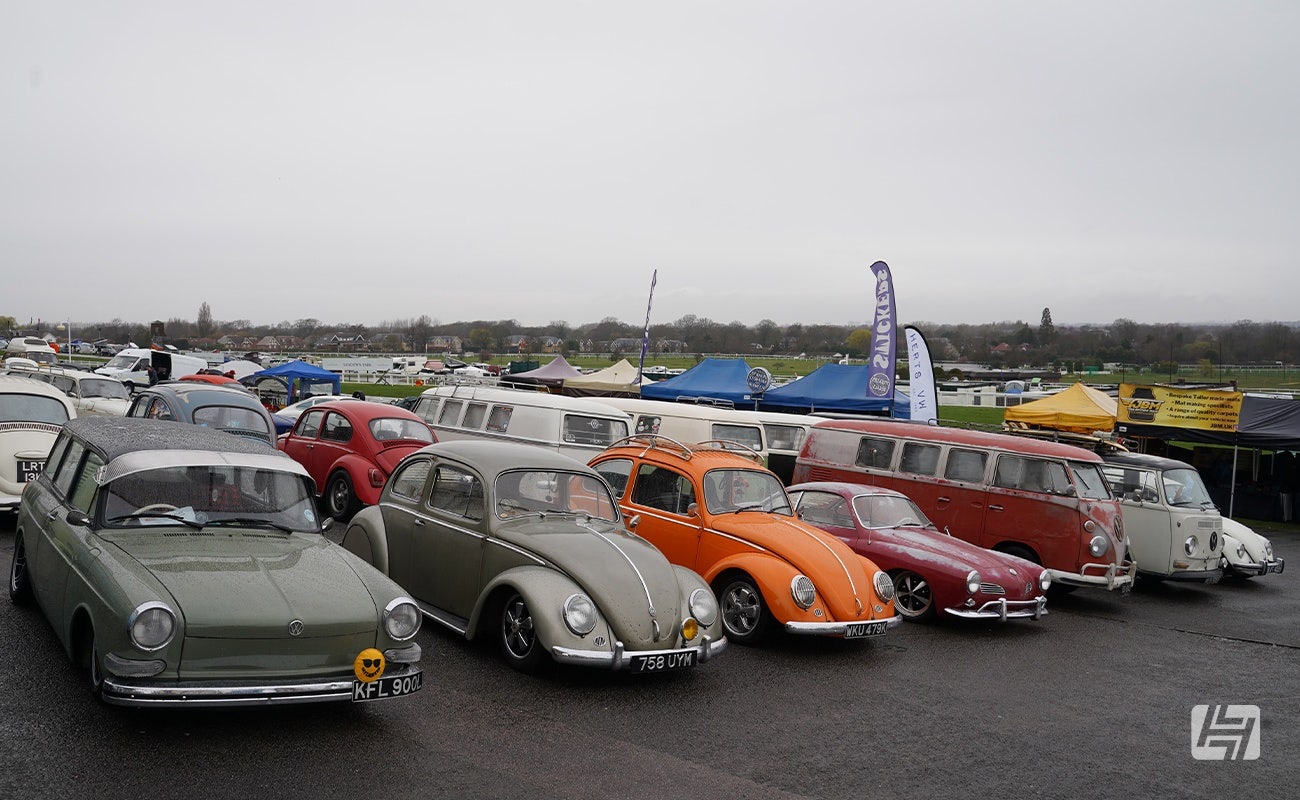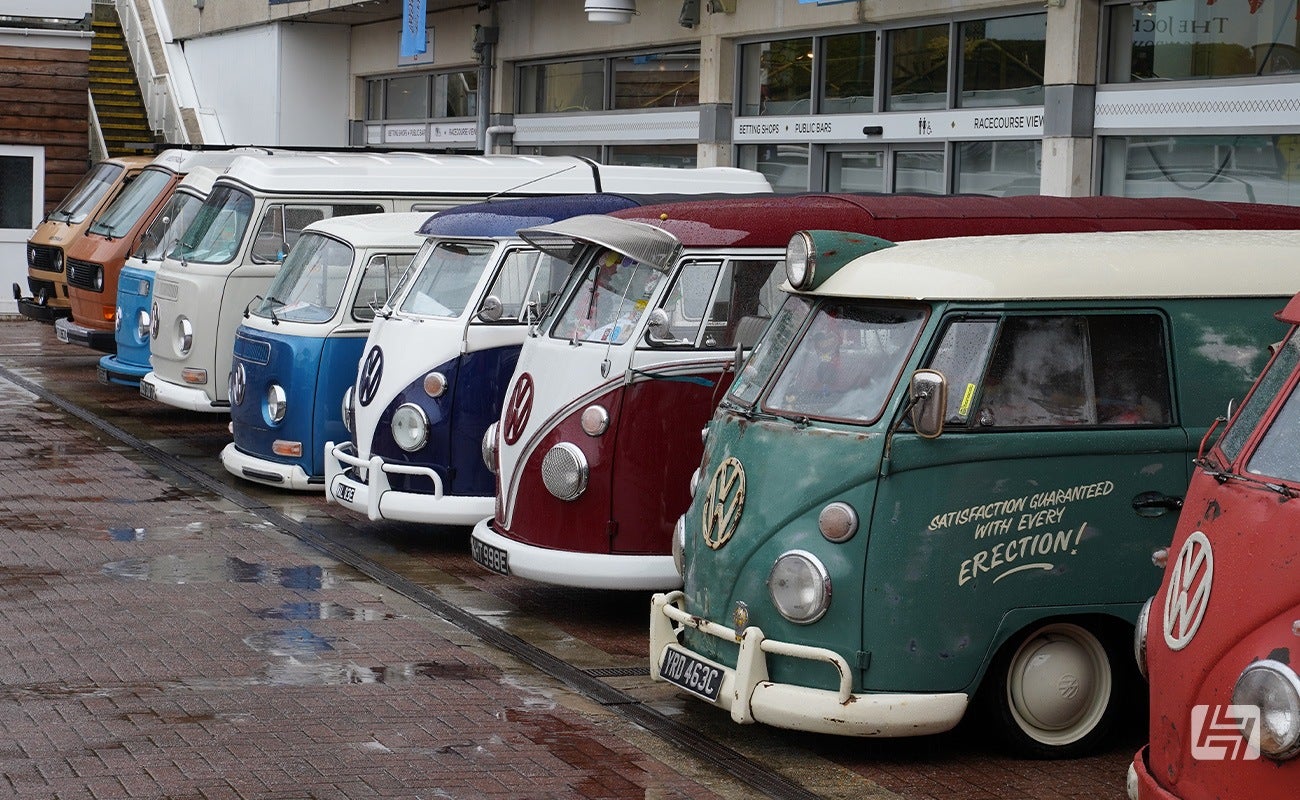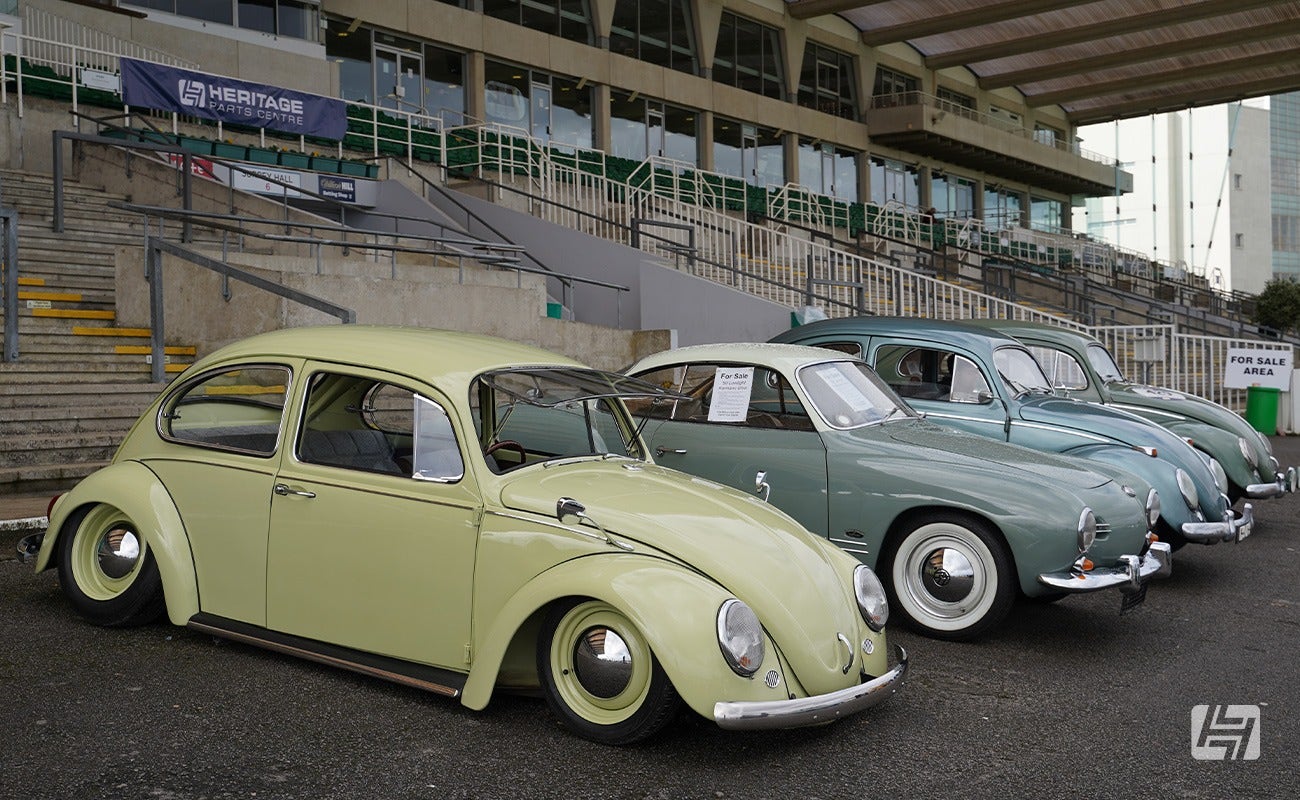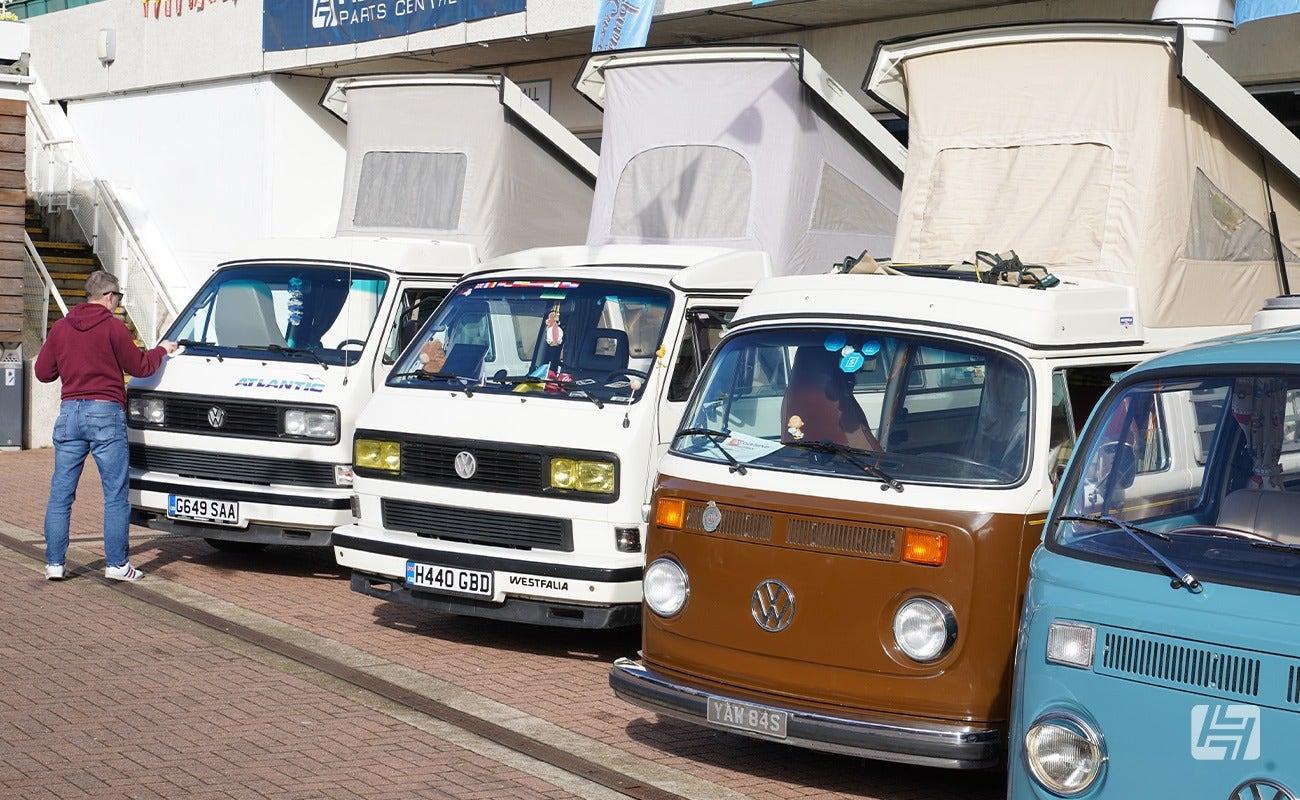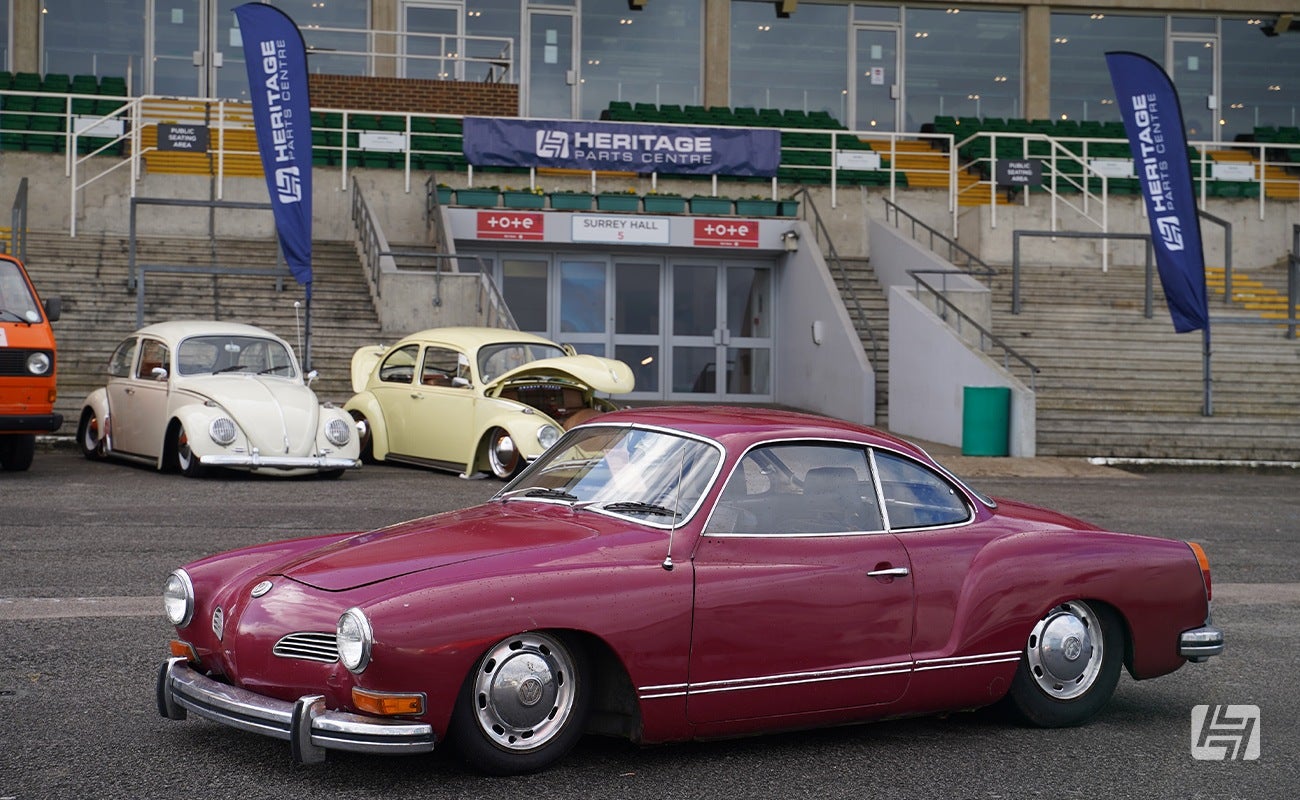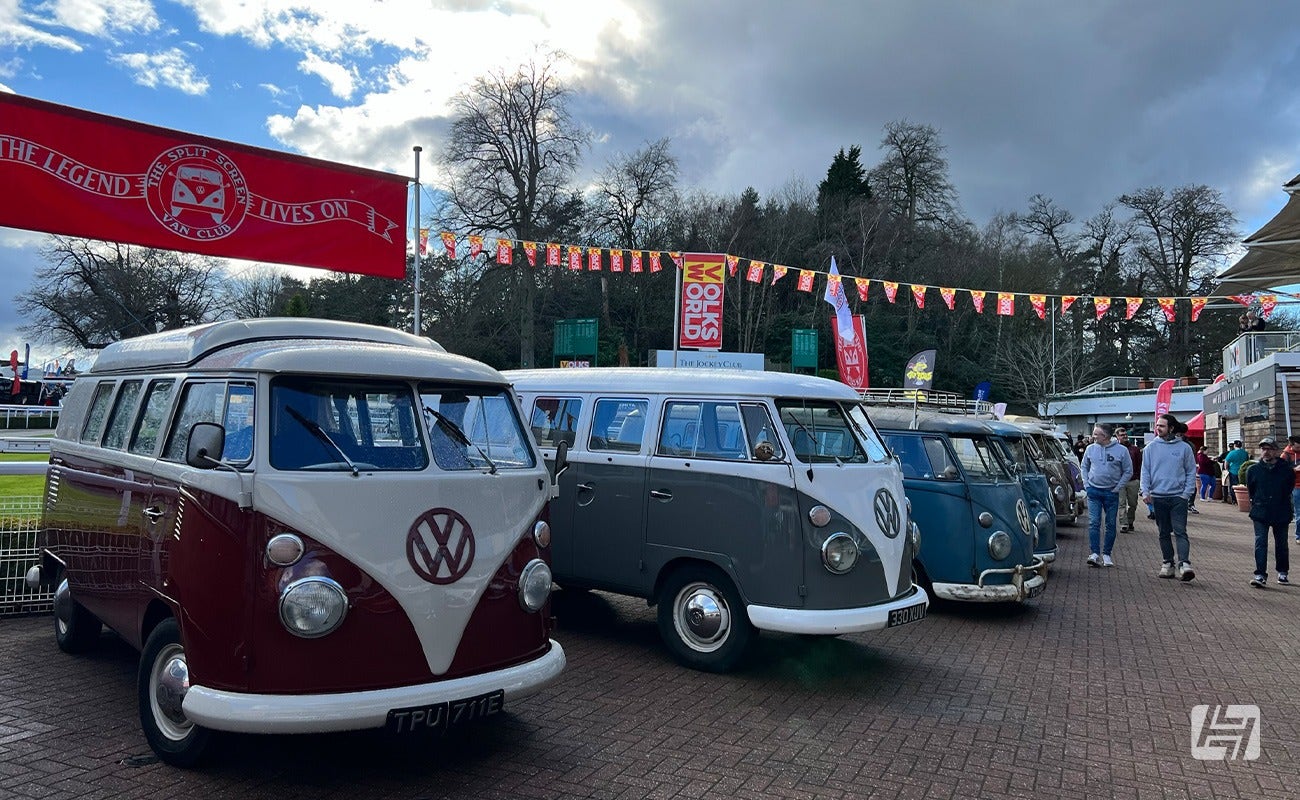 The 'T' party
Parked on what became a rather muddy patch of grass was a whole host of modern Transporters, and Crafters courtesy of VWt magazine. If you like your campervans with an engine in the front, these are for you.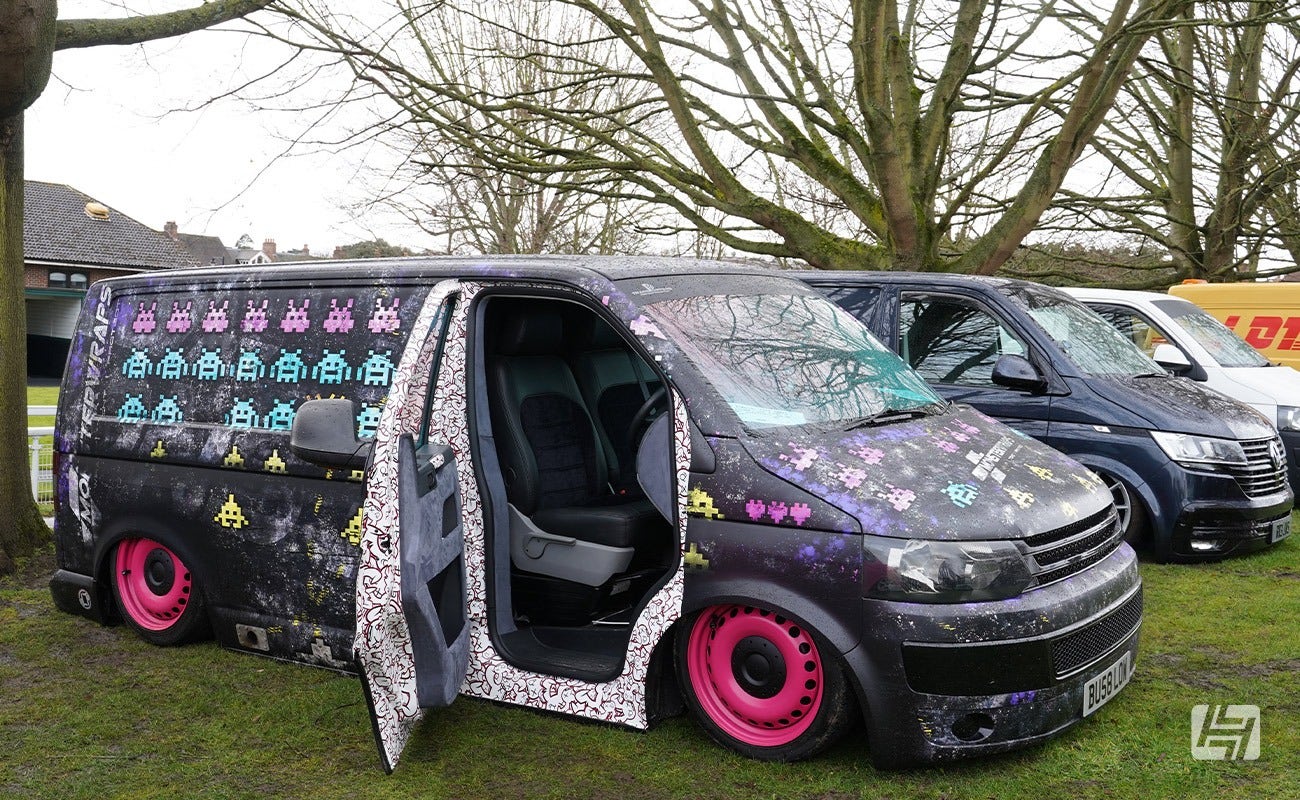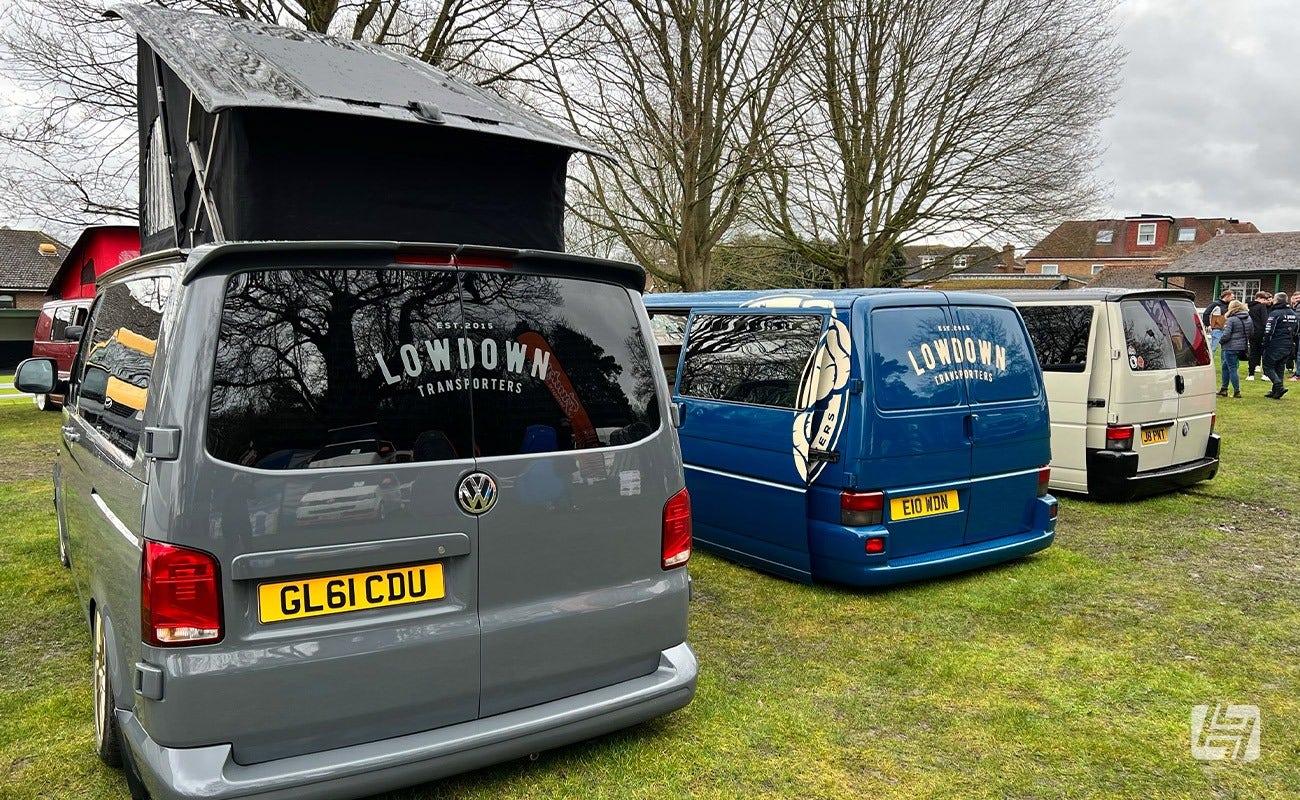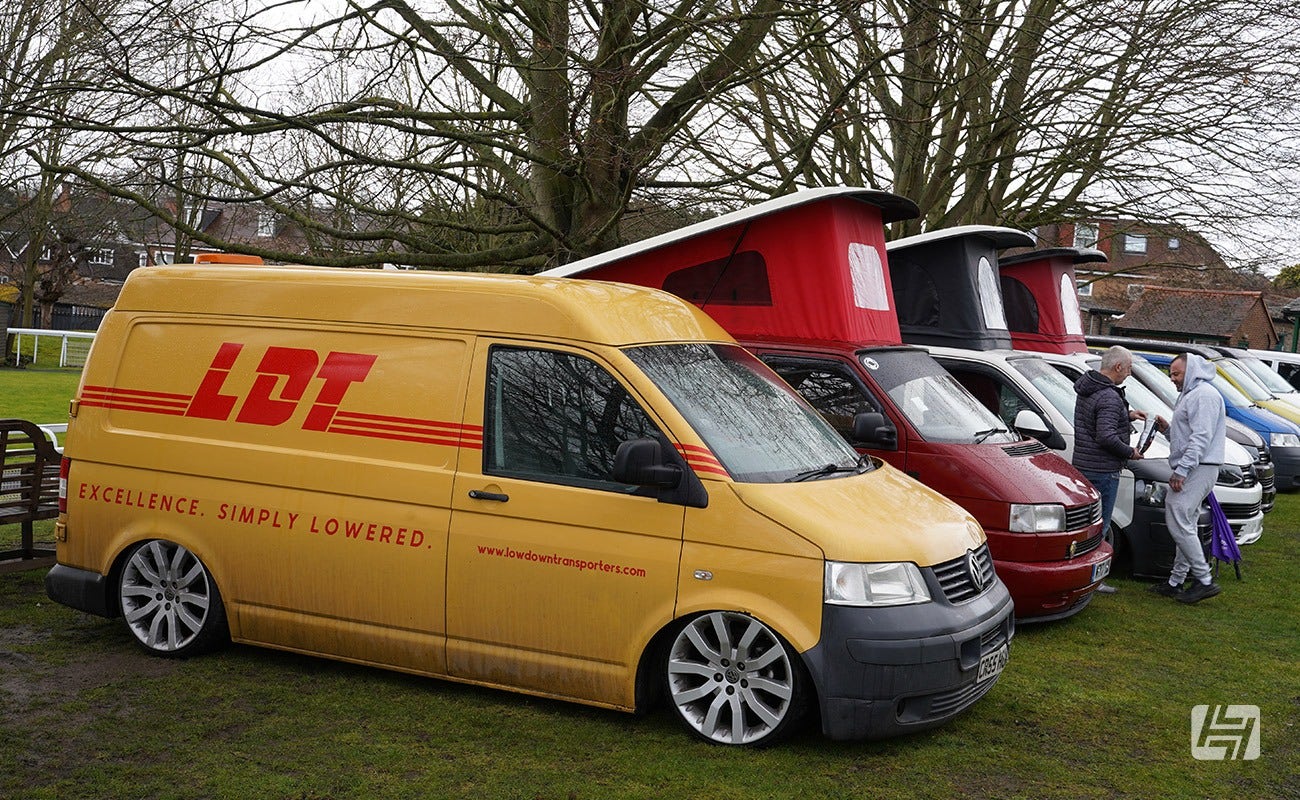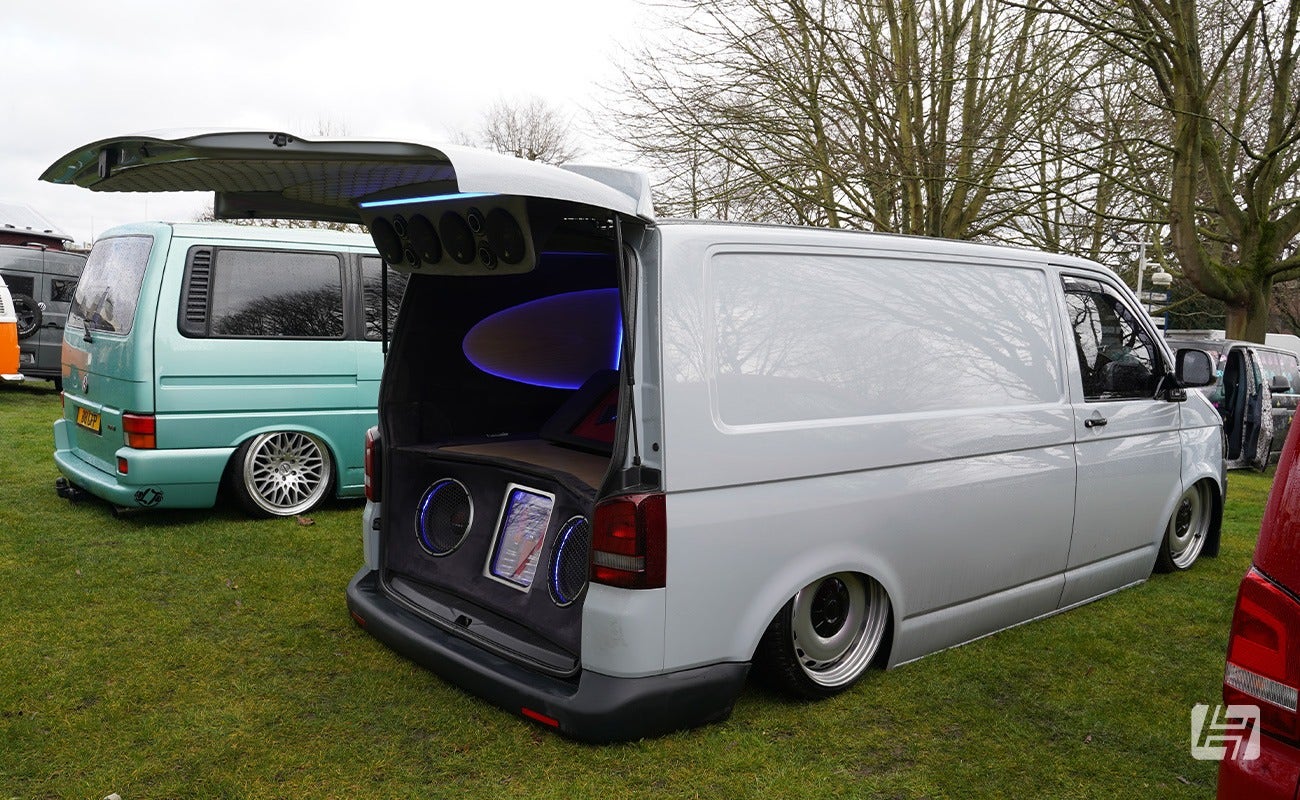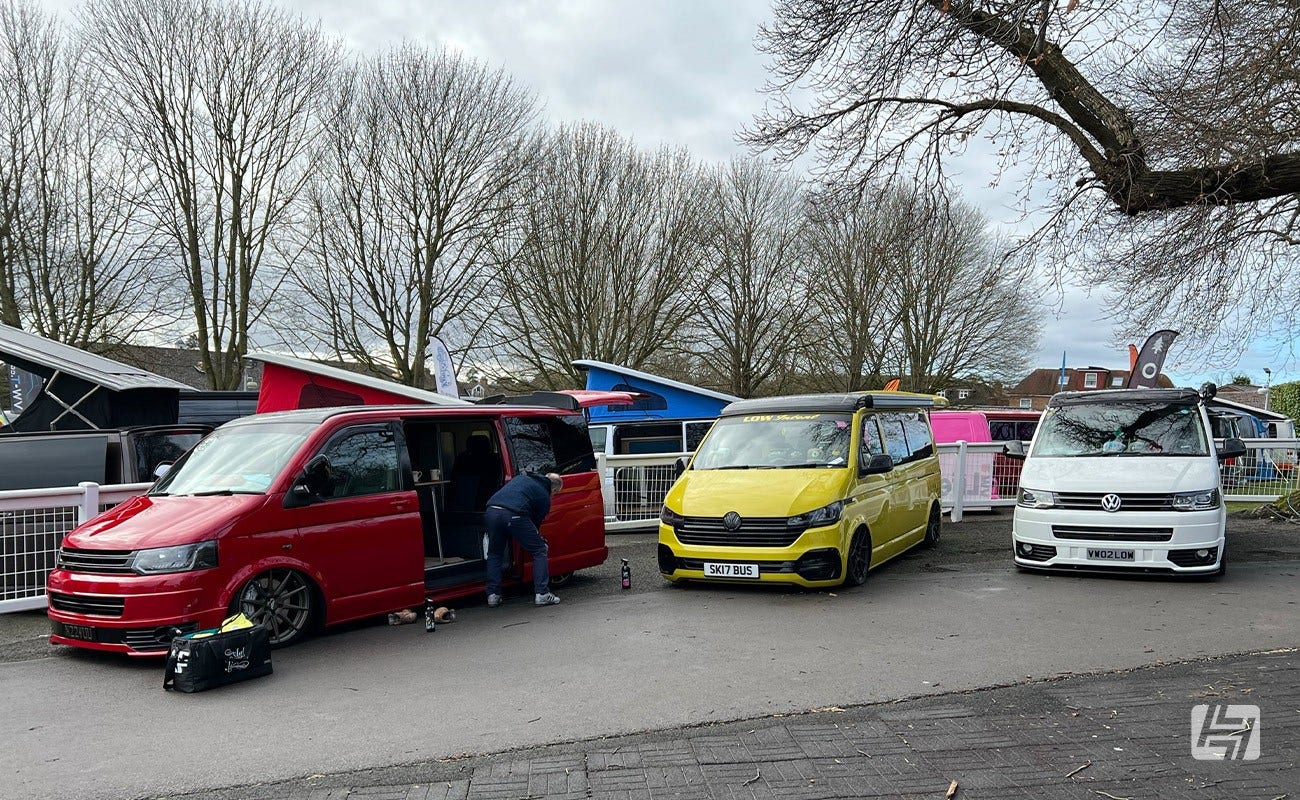 Race cars etc
Fittingly, given our location at a racecourse, there was a huge amount of horsepower parked up in the Esher Hallm with seven cars belonging to members of the Outlaw Flat Four club. You only need to glance at the engines hanging out the back, with turbo pipework you could lose a child inside, to know they mean business. A number of these cars will clock a sub-10-second quarter mile time, giving most supercars a scare at the traffic lights. For context, the fastest Ferrari ever built, the La Ferrari is credited with a 9.7-second pass.
On an even less subtle note, the Brickfield-built dragster is unlikely to ever see the street, but will no doubt record some crazy times when it hits the strip later in the year.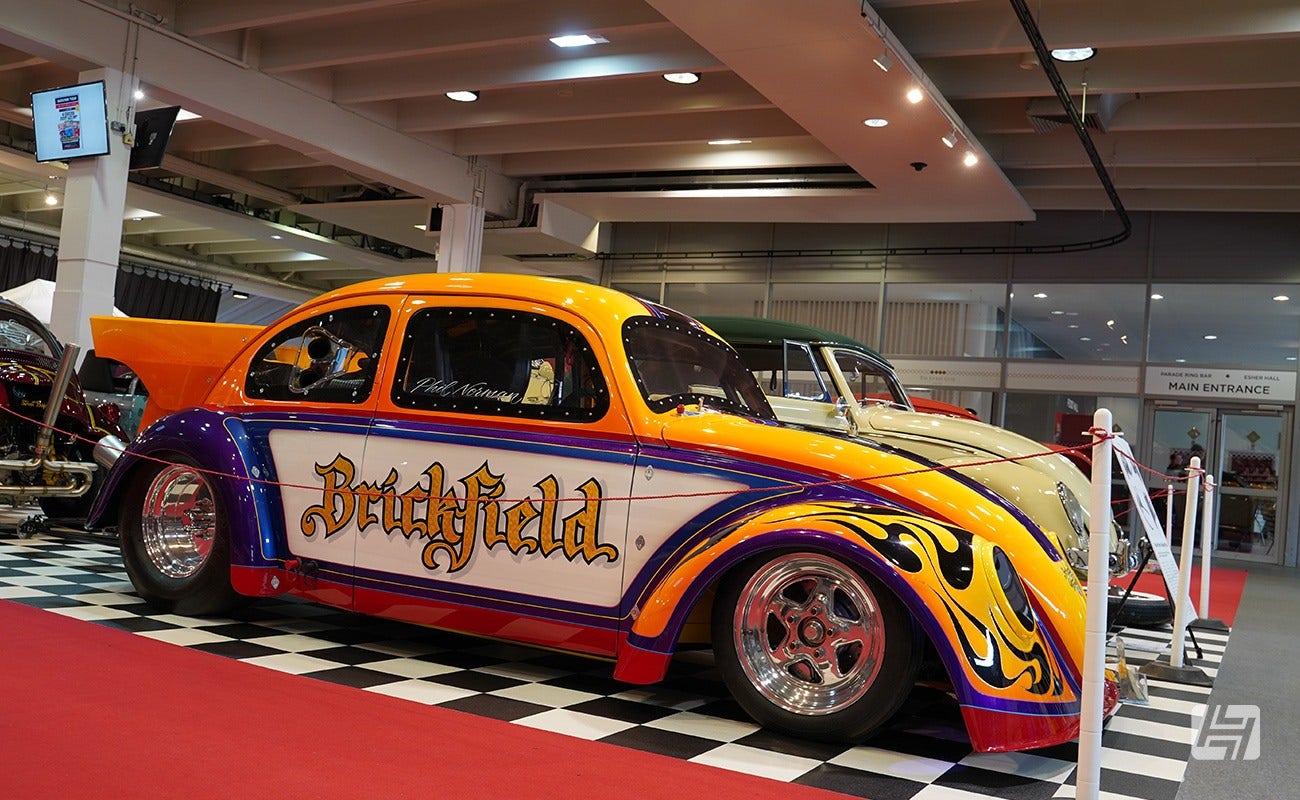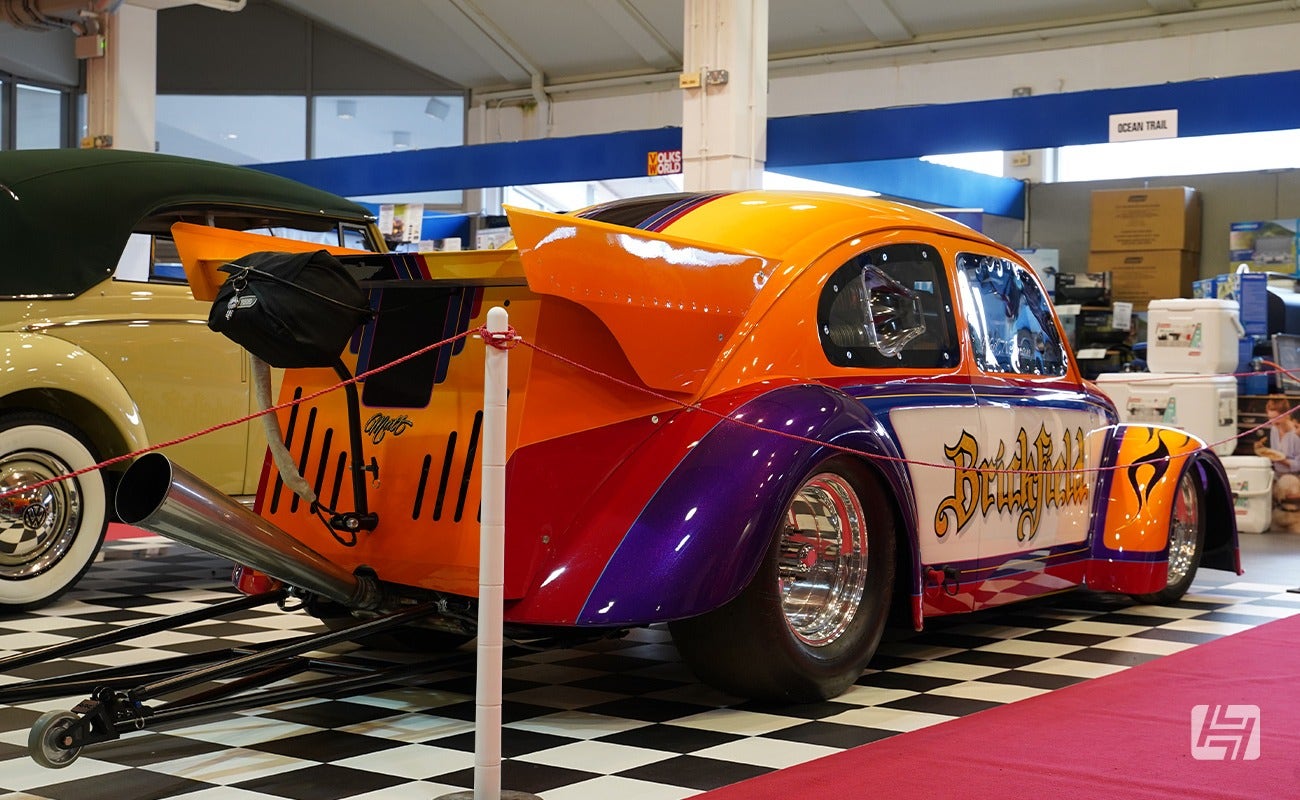 Porsche parking
In recent years the Volksworld team have snuck some classic aircooled Porsches into the show, and that's all good by us. You know we sell Porsche parts, right?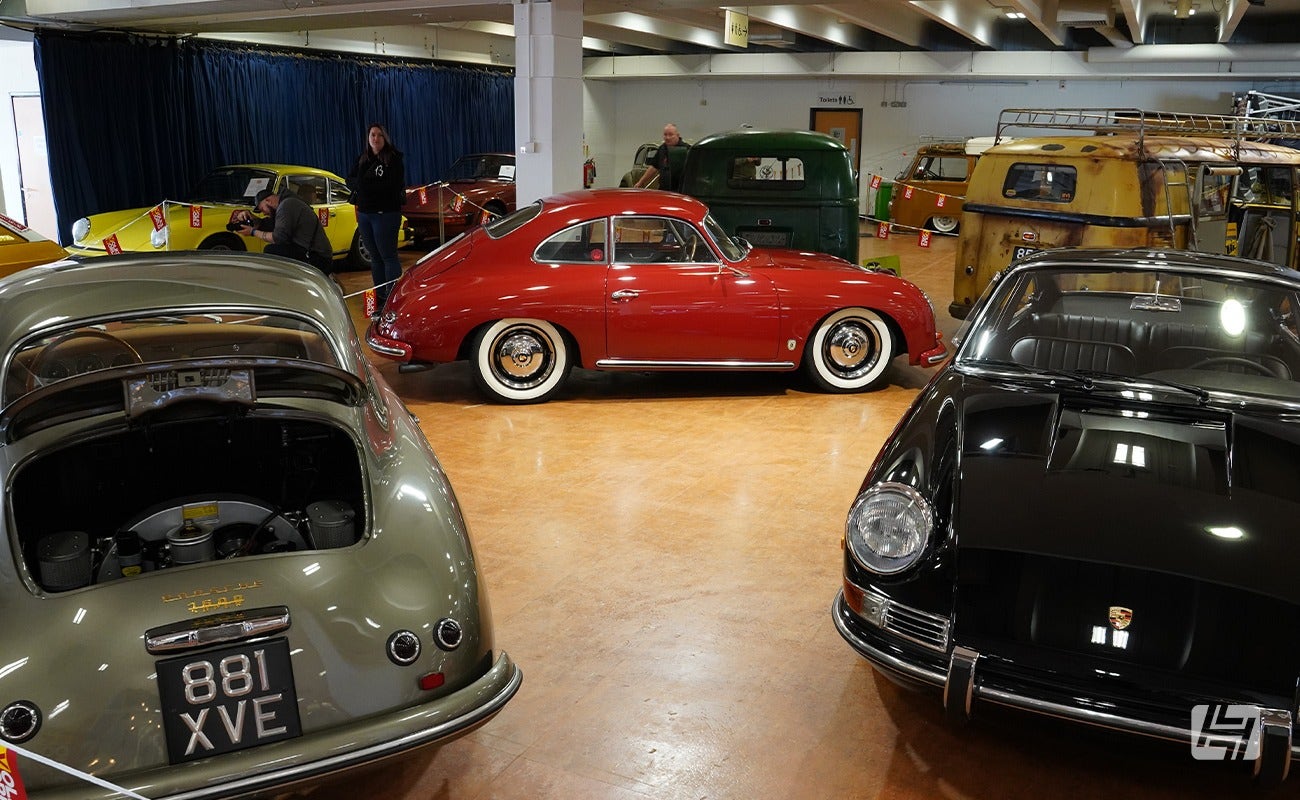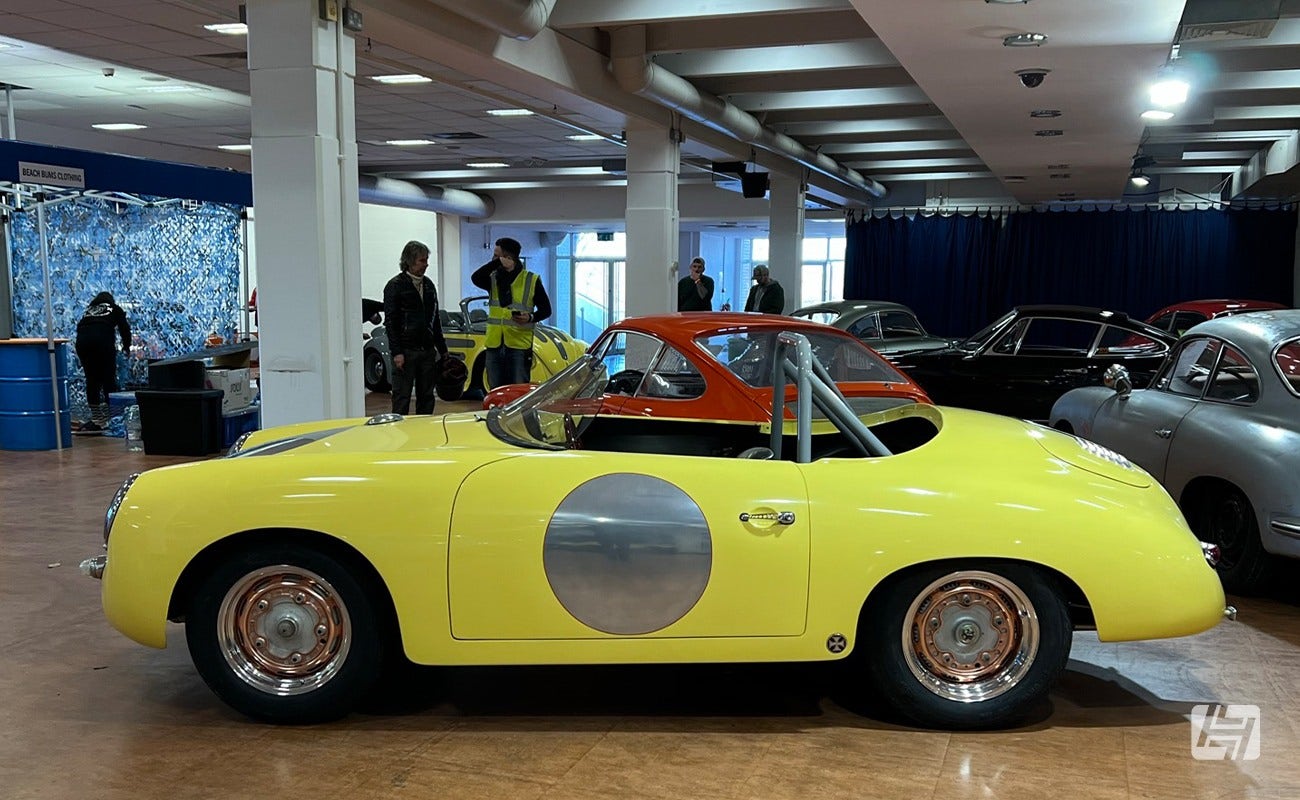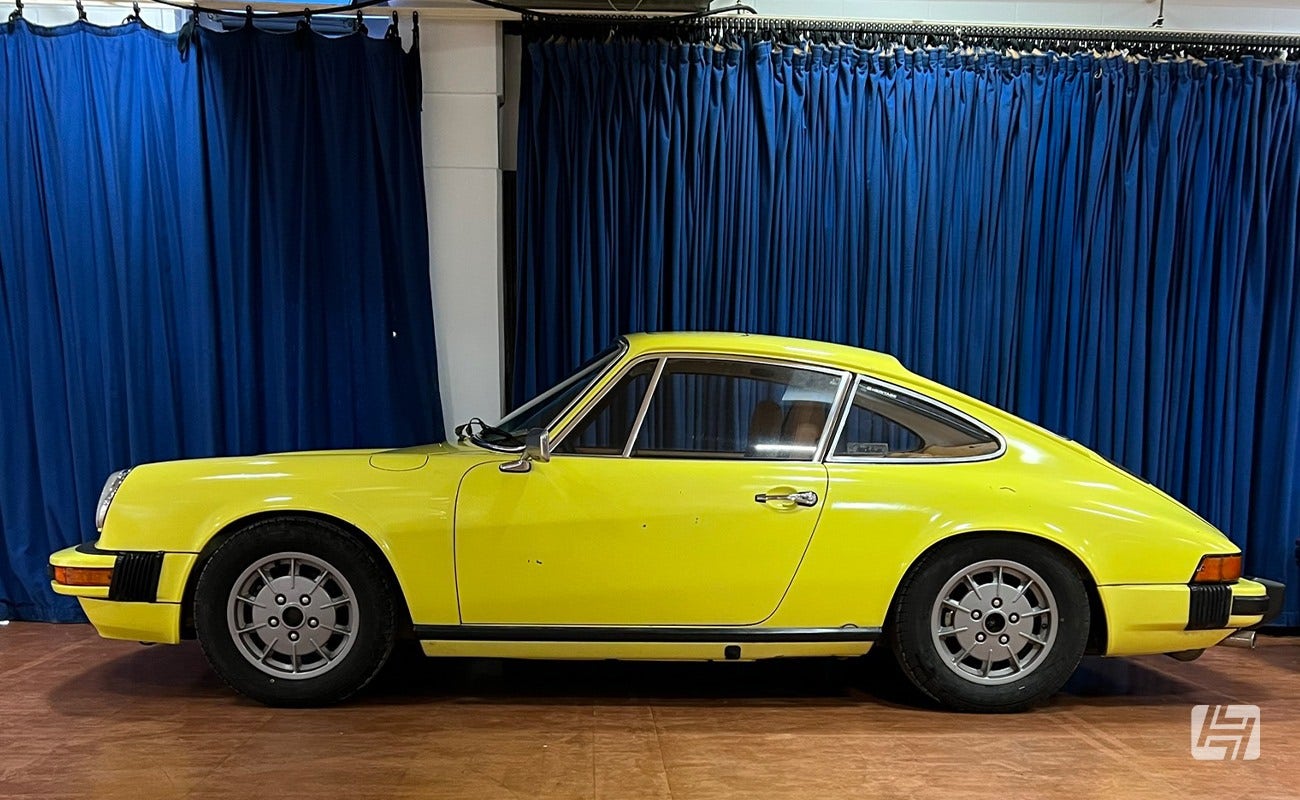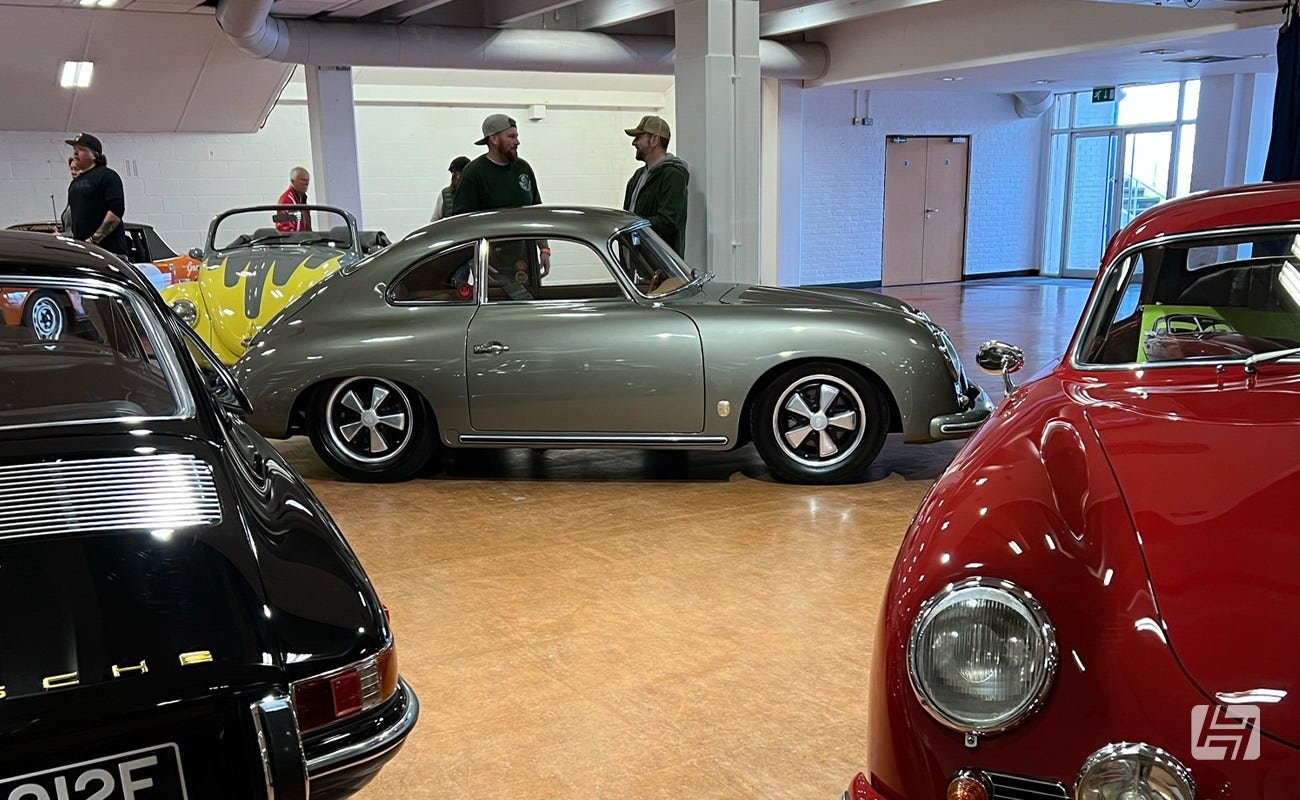 The crazy stuff!
Whilst it's great to see the really shiny cars with big engines and Fuchs wheels, it's also fantastic to celebrate those bold enough to build something outside the box. Check out these creations. The beige beast is a classic Skoda Octavia, slammed on a Beetle floor pan, and when was the last time you saw a 4-door VW 411, let alone one in gold metal flake with a lacework roof and wire wheels?!!
How about a shortened Beetle or Bus that can do wheelies?!! Or some monster motorhomes built with air-cooled VW underpinnings? This pair of coach-built classics offer a huge inside space, but with the external charm of a vintage Volkswagen.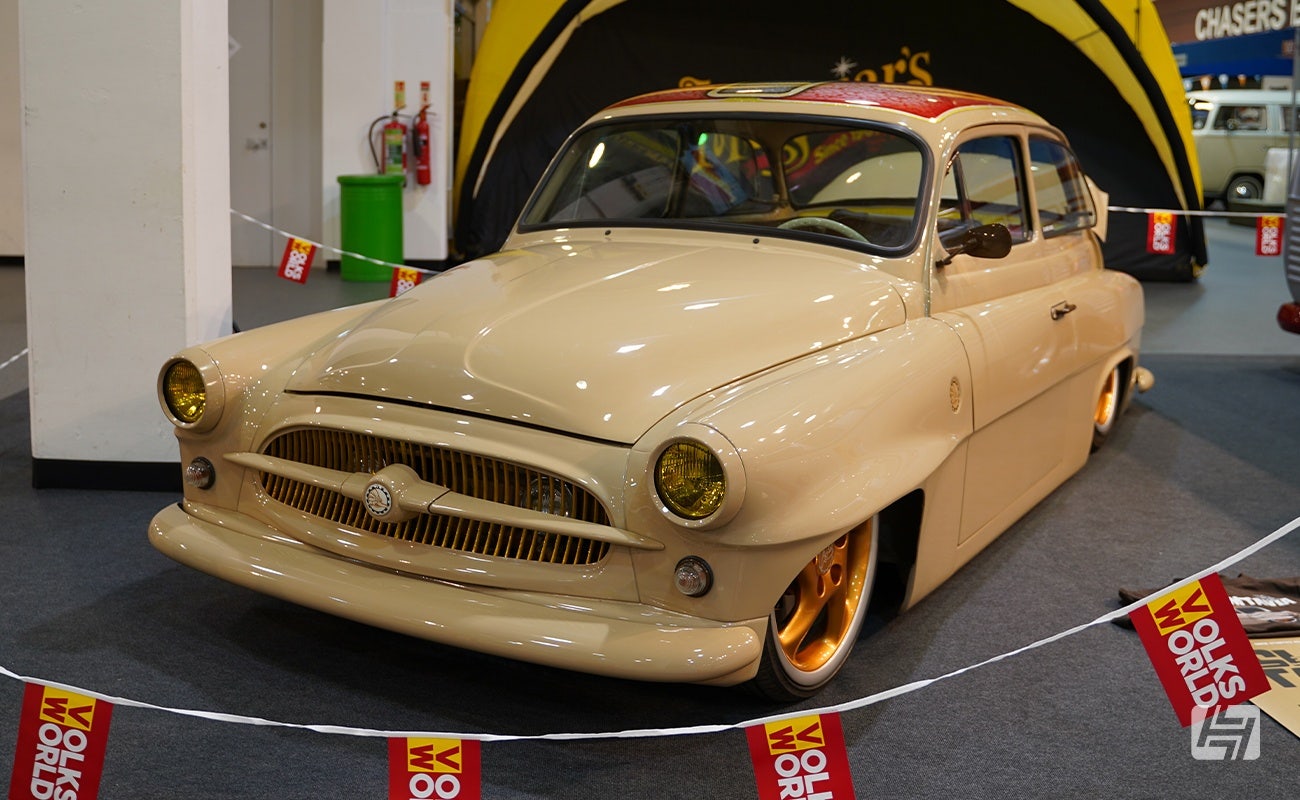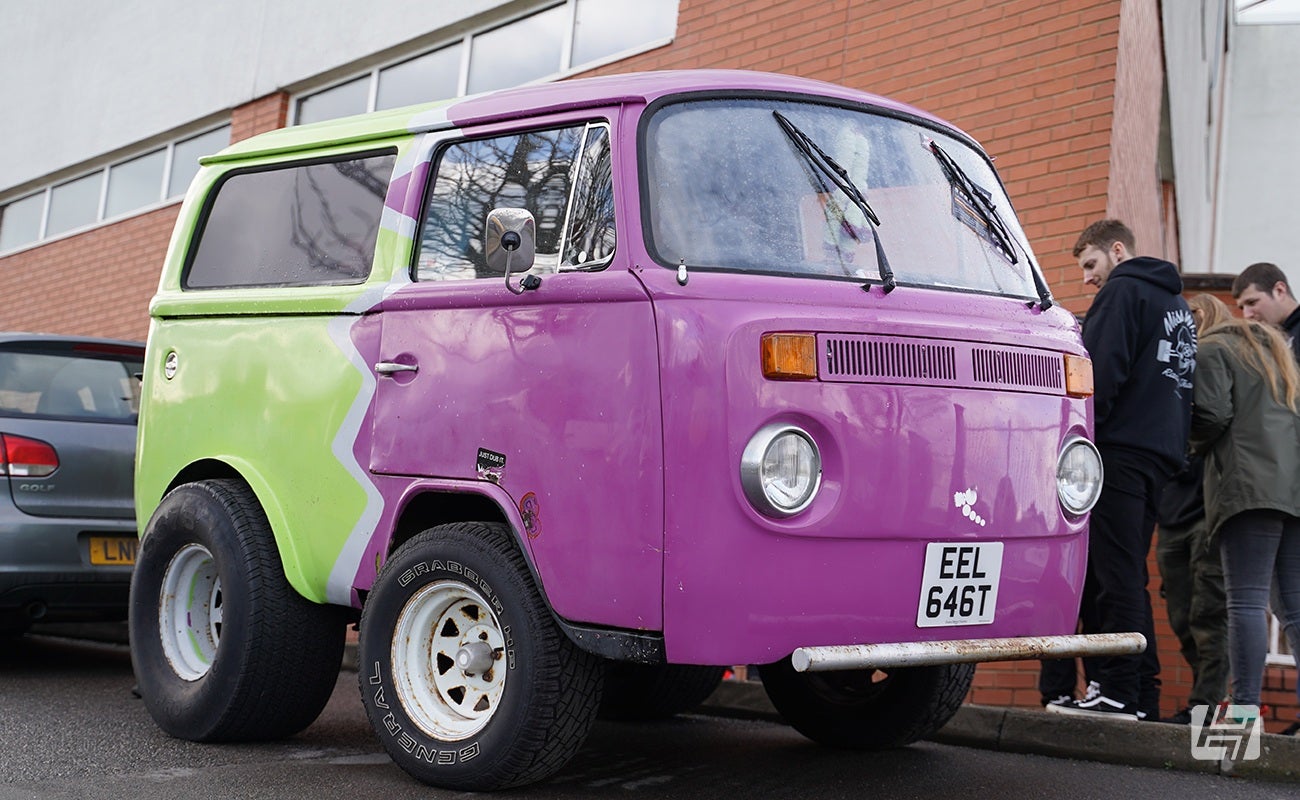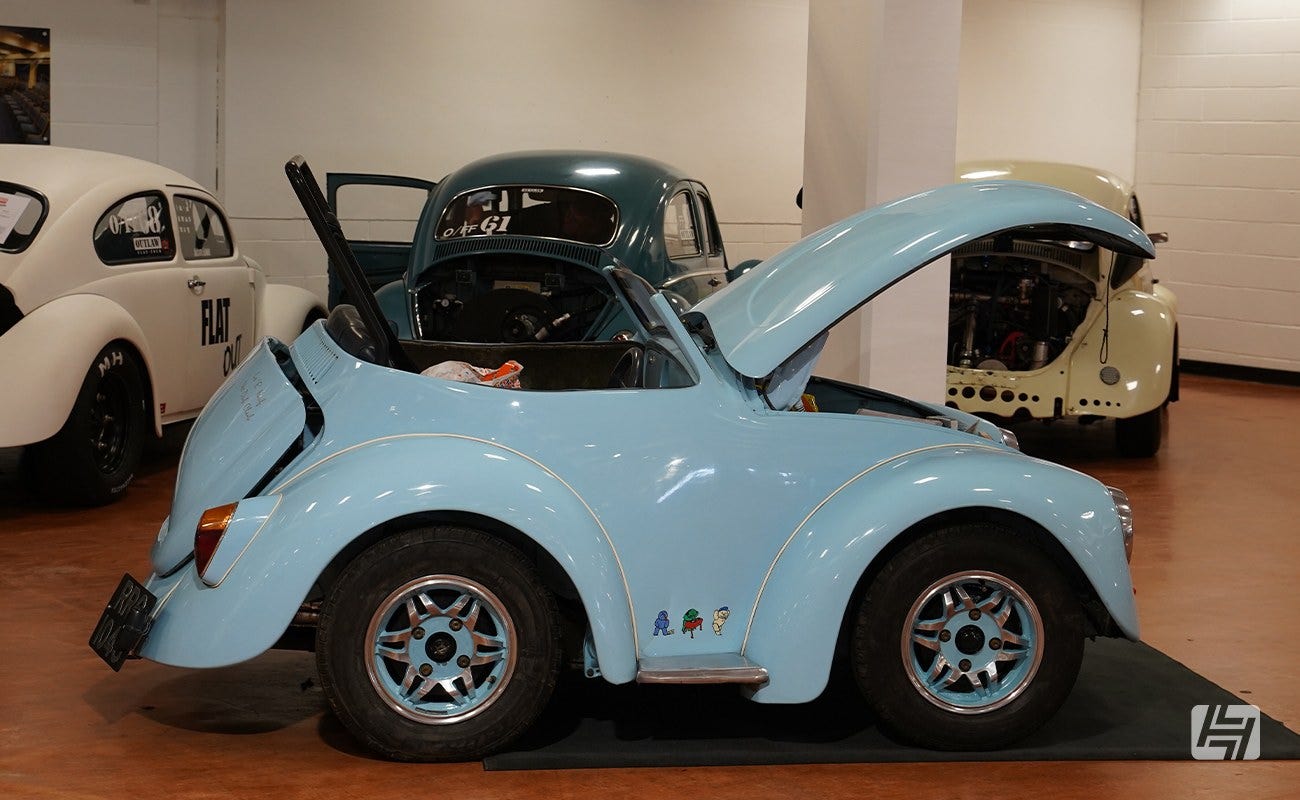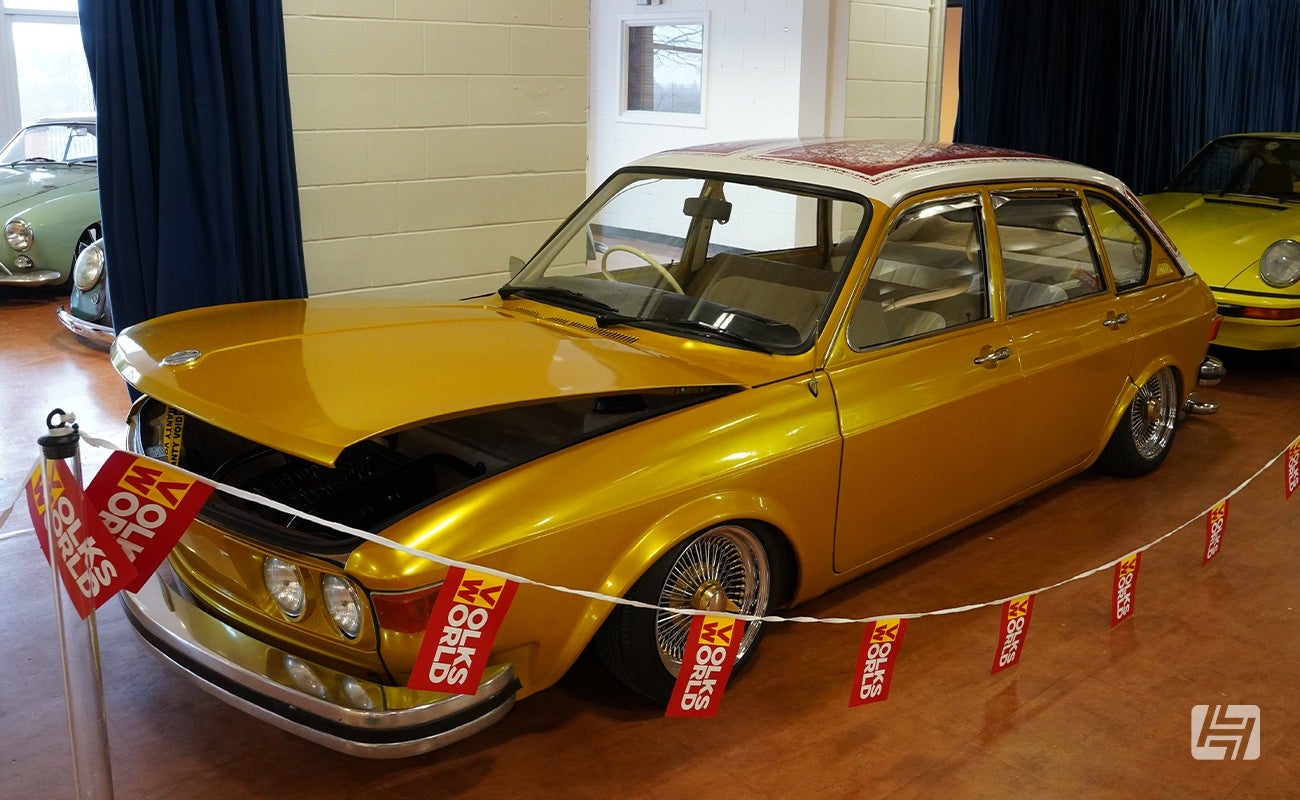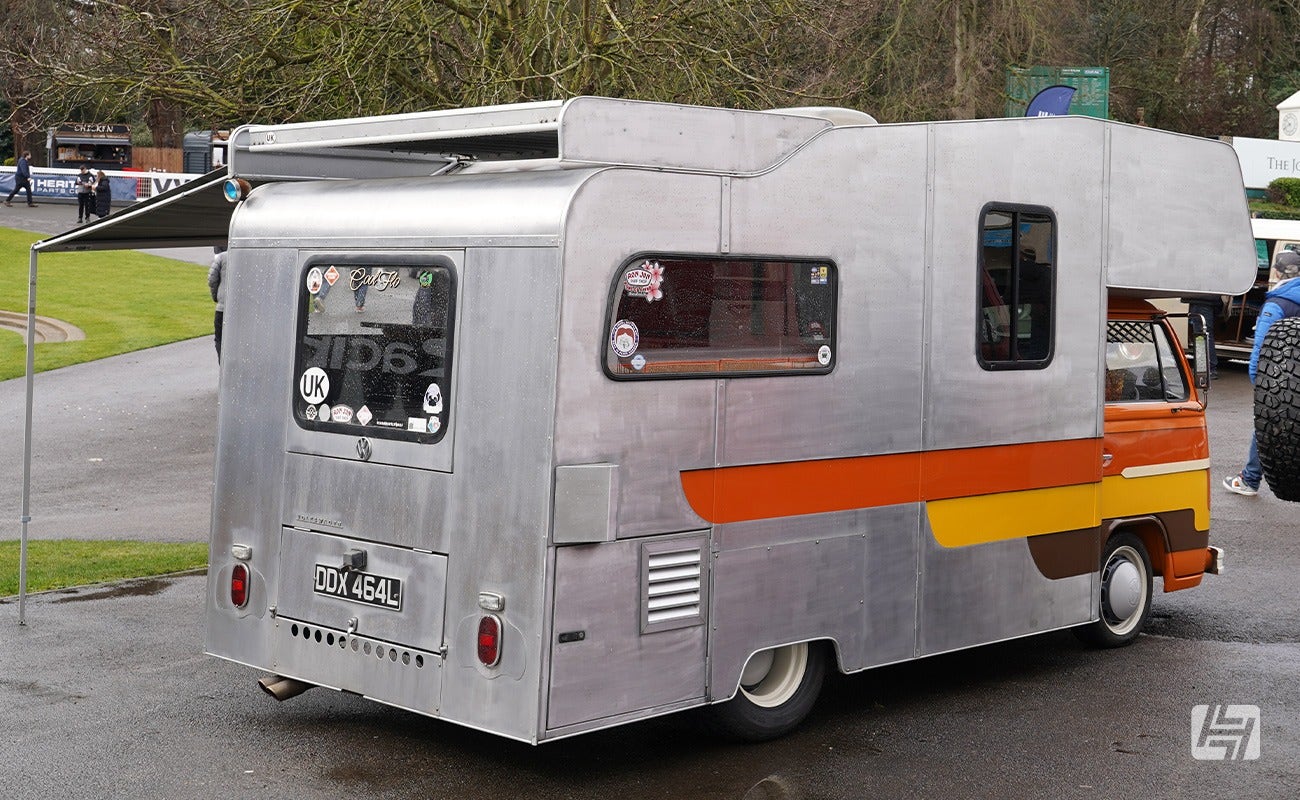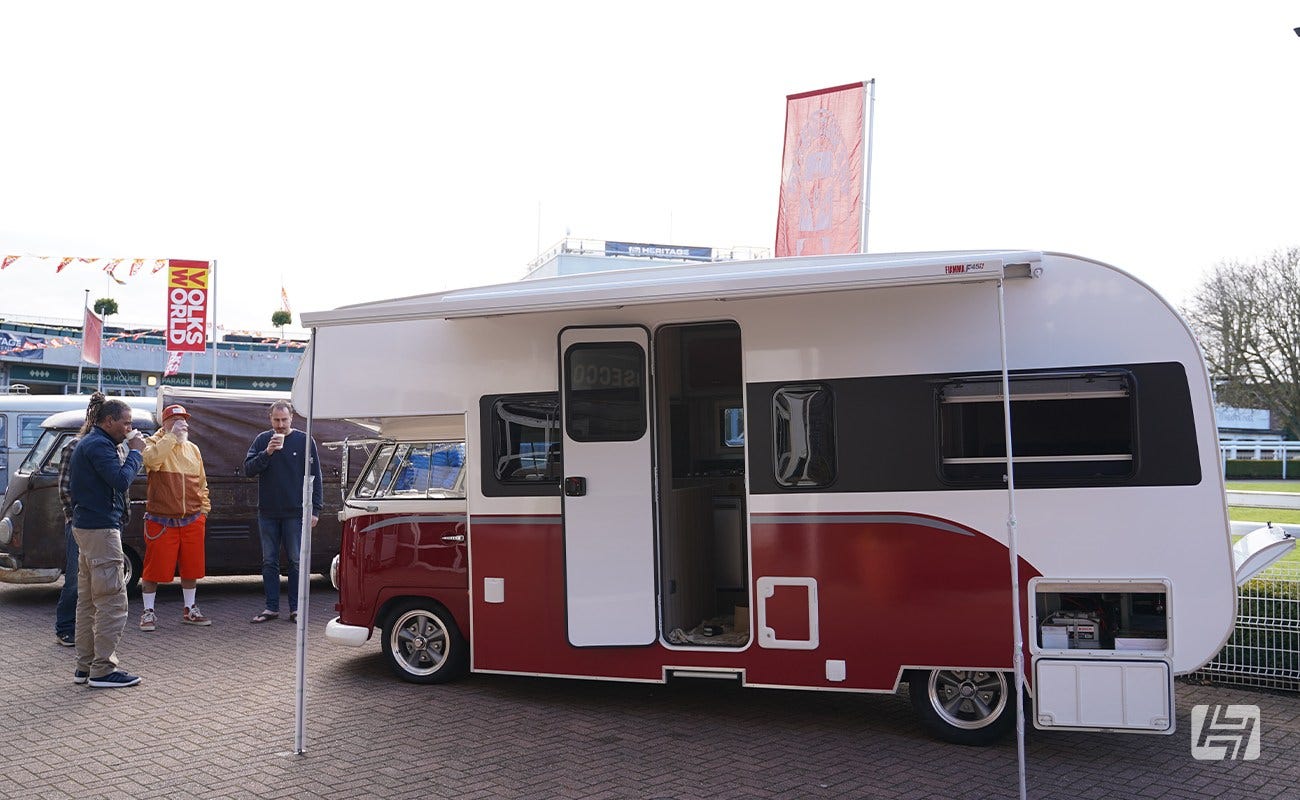 The last lap
Just as you would at the show; as the clock gets closer to home time you say to yourself "one last lap" to check for anything you may have missed. So, here it is...
I had the pleasure of seeing both the green Type 3s whilst they were being built. The Notchback, a few years ago when I visited Rayvern Hydraulics, and more recently the Squareback when Chris and I called in to see Max at EvaResto.
The turquoise Beetle was calling me all weekend, and the Ghia tempted us to keep taking photos opposite the Heritage stand. Downstairs, an EV-converted Bug rubbed shoulders with a wonderfully executed resto-mod-inspired Beetle build.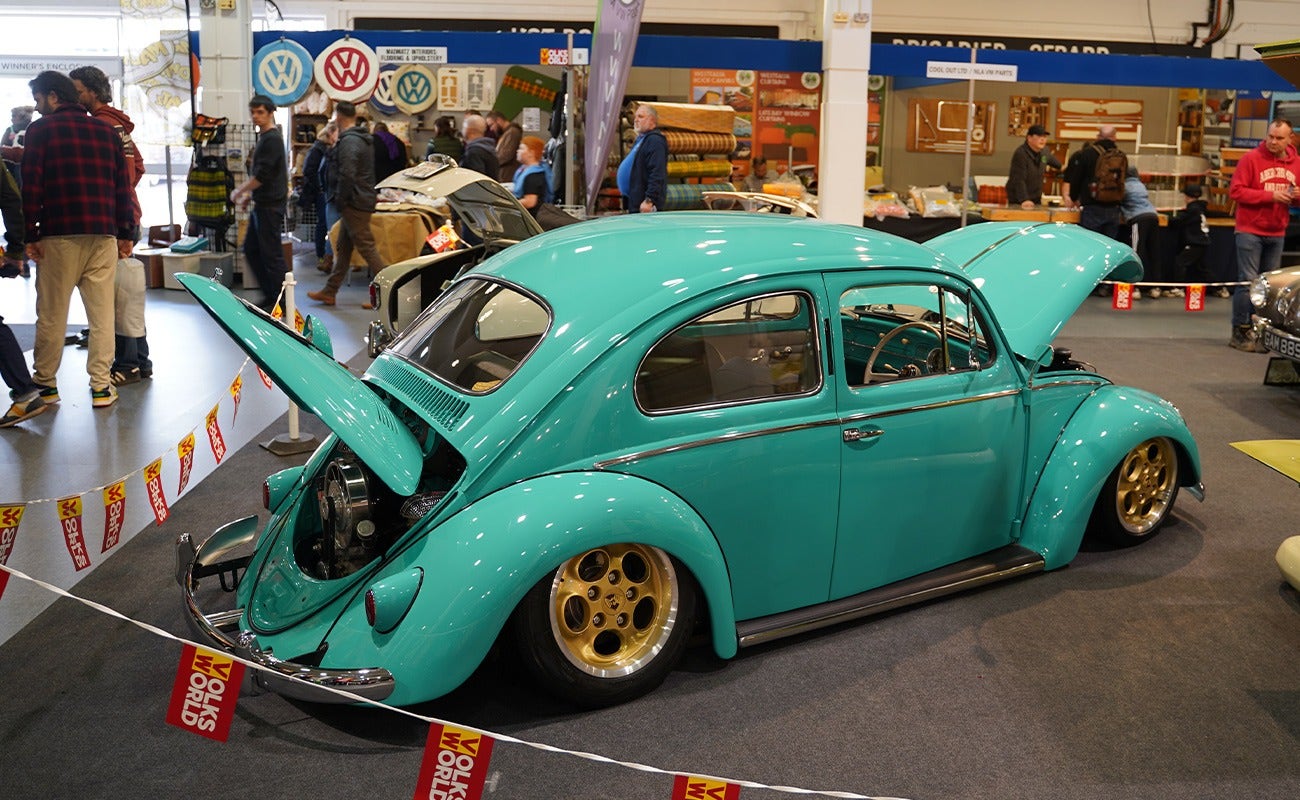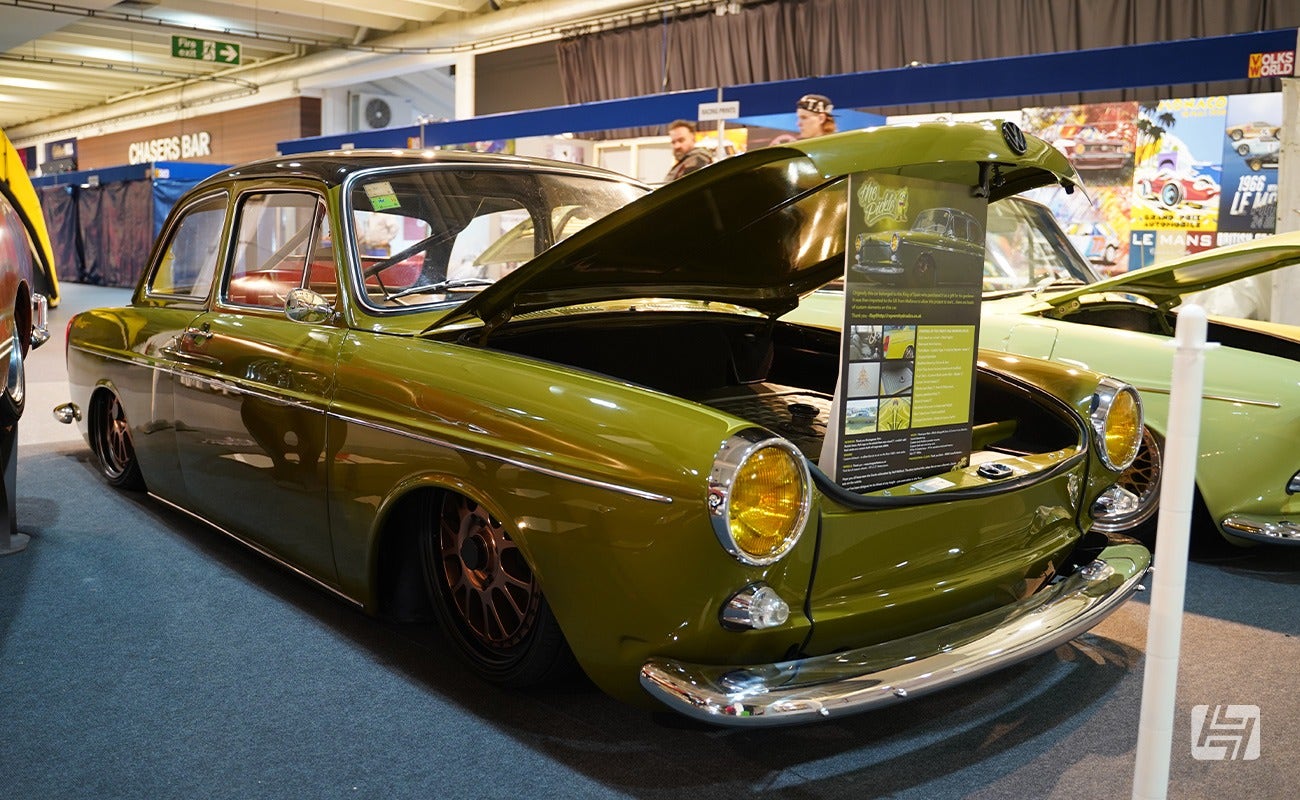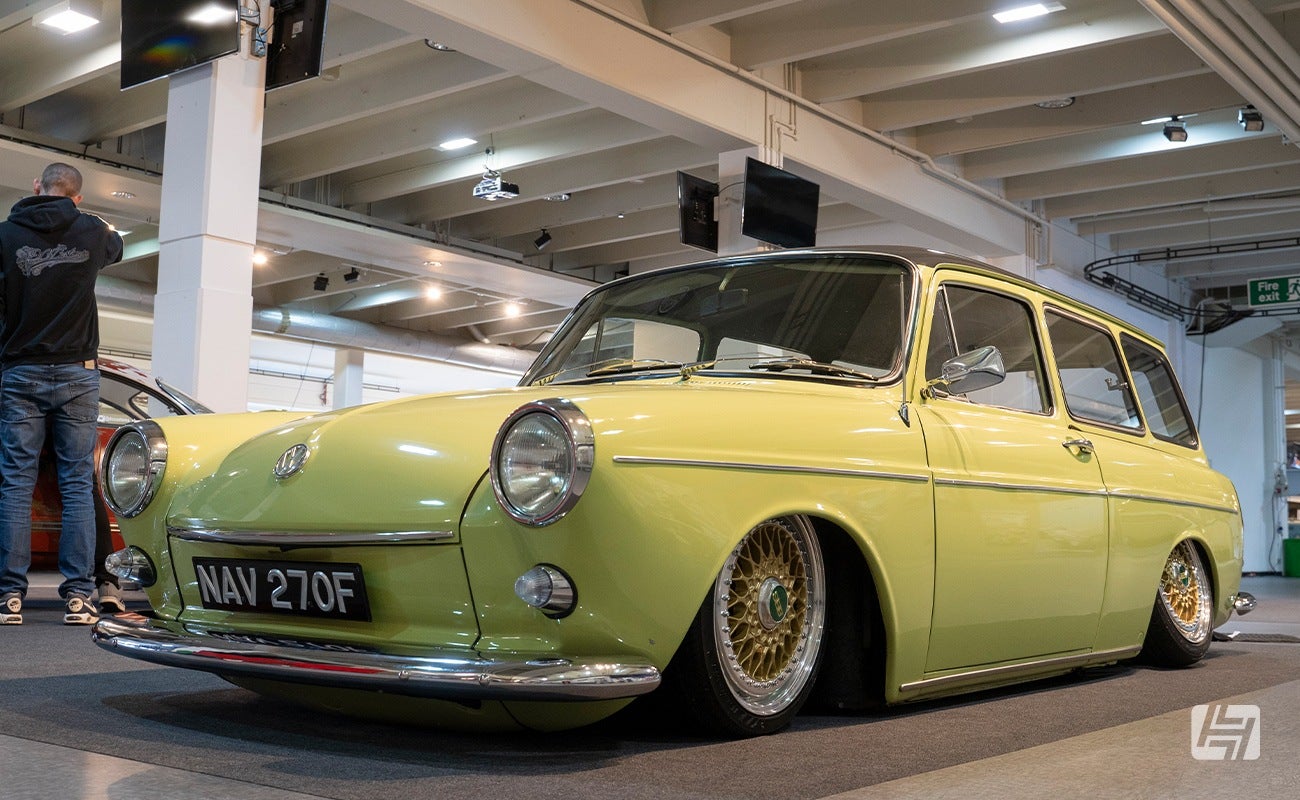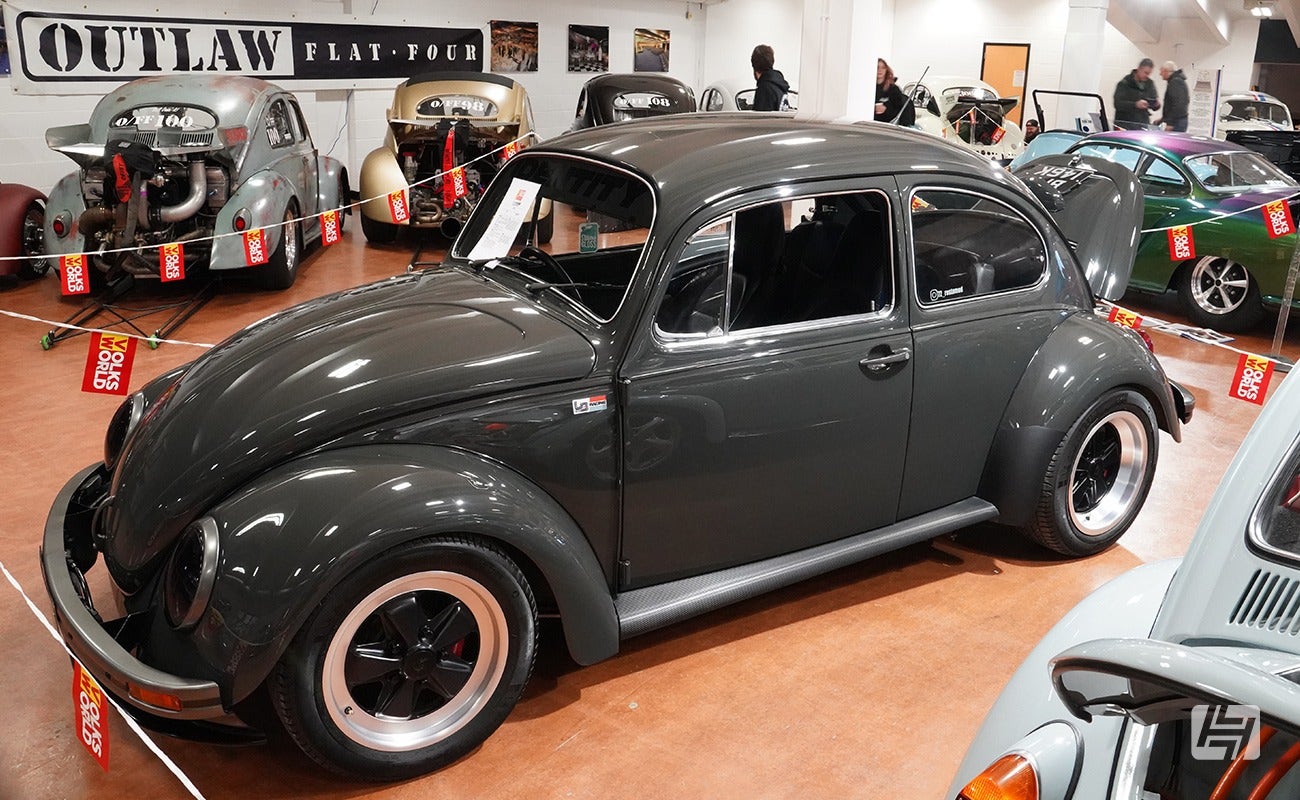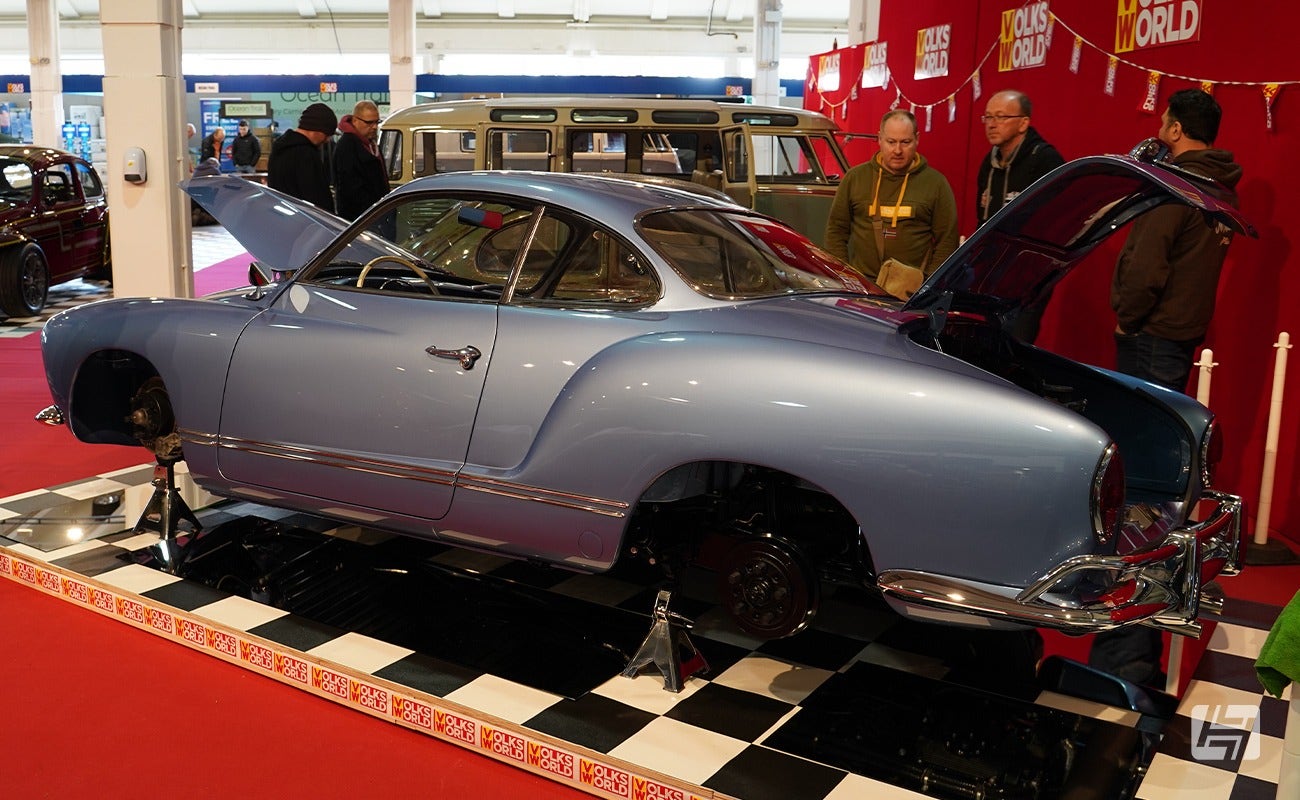 I guess we finish this round-up with a few words of thanks. Thanks to our team, as without them we'd still be loading the van back at HQ, and thanks to the Volksworld crew for laying on another great show. Thanks to everyone who built or brought a car along to display, and thanks to all those who called by our stand to talk shop, order parts or have a go at the 'box o' bits' competition... The correct answer was the pushrod tubes btw. Congratulations to Frazer Eden who won £250 off his next Heritage order for guessing this correctly.
See you all again soon - Don't forget Heretics on the Road which kicks off in Shoreham on April 20th.
Andy