Land Rover Discovery Series 1 1989-1998 Parts, Spares and Accessories
If you're in need of a part for your Land Rover Discovery Series 1, make Heritage Parts Centre your first port of call; we stock a large number of parts, spares and accessories for your pride and joy. We're trusted by customers up and down the UK thanks to our wide range of parts, and our knowledgeable, helpful service. To get started, choose from the options below.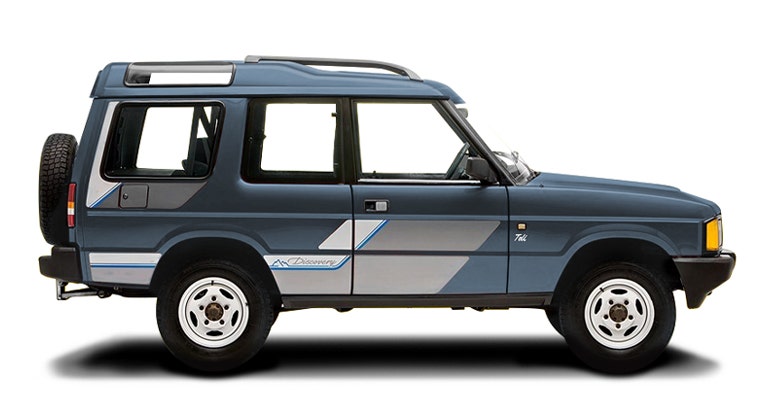 Land Rover Discovery Series 1
Bursting onto the scene in readiness for the final decade of the 20th Century, the Land Rover Discovery Series 1 brought off-road excitement into the mainstream, proving very popular indeed from when it was released in 1989, to when it became the Series 2 in 1998.
It's no wonder it did so well, with capable suspension and 7-seat capacity, and engine options that only became more appealing as the 90s wore on. Take the original V8 for example; this underwent fine tuning between 1990 and 1995, giving it some serious power when you need it.
Find the Land Rover Discovery parts that you need
Whether you've got the original 3-door sat in your garage, or you've managed to get hold of the last of the Series 1s before they evolved in 1998, you'll want trusted parts to maintain it with. At Heritage Parts Centre, we're proud to stock parts, spares and accessories for the Land Rover Discovery Series 1, and we invite you to find what you need for yours today, from the odd spare part, to the bits you need to restore it to its best.
Land Rover Discovery FAQ's
Are Land Rover Discovery's reliable?
As much as it pains us to admit it, the Land Rover Discovery has typically come under some criticism over the years for its reliability, often ending up in the lower half of ownership surveys. In fact, the latest 2017 onwards version (Discovery 5) topped the What Car? Poll for the least reliable used model in 2022.
However, that is not to say they are breaking down left, right and centre, and are a vehicle to categorically avoid. There are 5 generations of Discovery to choose from, and there's great fun to be had with the classics and older models without too much concern. But, of course, buy carefully, ask the right questions, check all the service history, and read up on our Land Rover Discovery buying guide to make sure you know what to look for.
On the plus side, if it does break down, you know where to come for Land Rover Discovery parts!
Is a Land Rover Discovery a commercial vehicle?
The regular Land Rover Discovery is an SUV, classified as a passenger vehicle. With space for 2 people in the front, 3 in the back and more often than not, 2 further passengers in the rear luggage space, on fold out seats. Early Discovery models had these fold out seats face across the car, however later models remedied this, and made them face forwards.
The Land Rover Discovery Commercial is a model offering the same rugged practicality and external aesthetic, albeit with a bulkhead behind the front seats, removable / foldable rear seats in the back, fixed rear door windows and blackened out windows allowing for any loads in the rear to be protected from prying eyes.
The Discovery Commercial is aimed at businesses and trades people, and whilst the initial buying price is slightly higher when new, there are tax benefits over choosing the regular passenger version to help keep the accountants happy.
How much is a Land Rover Discovery?
If you are shopping for a project, then a Discovery 1 can be picked up relatively cheaply, for less than £2000 in fact, but don't expect to be driving it on holiday the same weekend. For a road going, useable vehicle you'll need to spend a minimum of £5000 to get behind the wheel of a Land Rover Discovery 1, and the popularity of this modern classic is increasing every day.
The Land Rover Discovery 2, 3 and 4 are considered more desirable options by the everyday motorist, thanks to their blend of luxury and practicality, and perception of a new car being better.
Expect to pay around £5000 for a reasonable Discovery 2, and closer to £10,000 and £15,000 for a Discovery 3 and 4 respectively.