Ray Ramsey is an enigma. His name will probably be familiar to magazine readers, as he's been responsible for over 100 cover cars in the past 30 years, but you probably couldn't spot him in a lineup! We took a trip to the Fens, just outside of Peterborough to catch up with the man behind
Rayvern Hydraulics.
Camera Shy
I knew this would be a fun trip just from the email exchanges beforehand.
Heritage customer
, Ray is modest in the sense that he didn't want us to be disappointed by the trip, but in equal measure, he's got the confidence of a sportsman at the top of their game. He knows what he makes is the best available.  By his own admission, he doesn't like the attention "I just build what I want to build and then everyone goes wild for it!"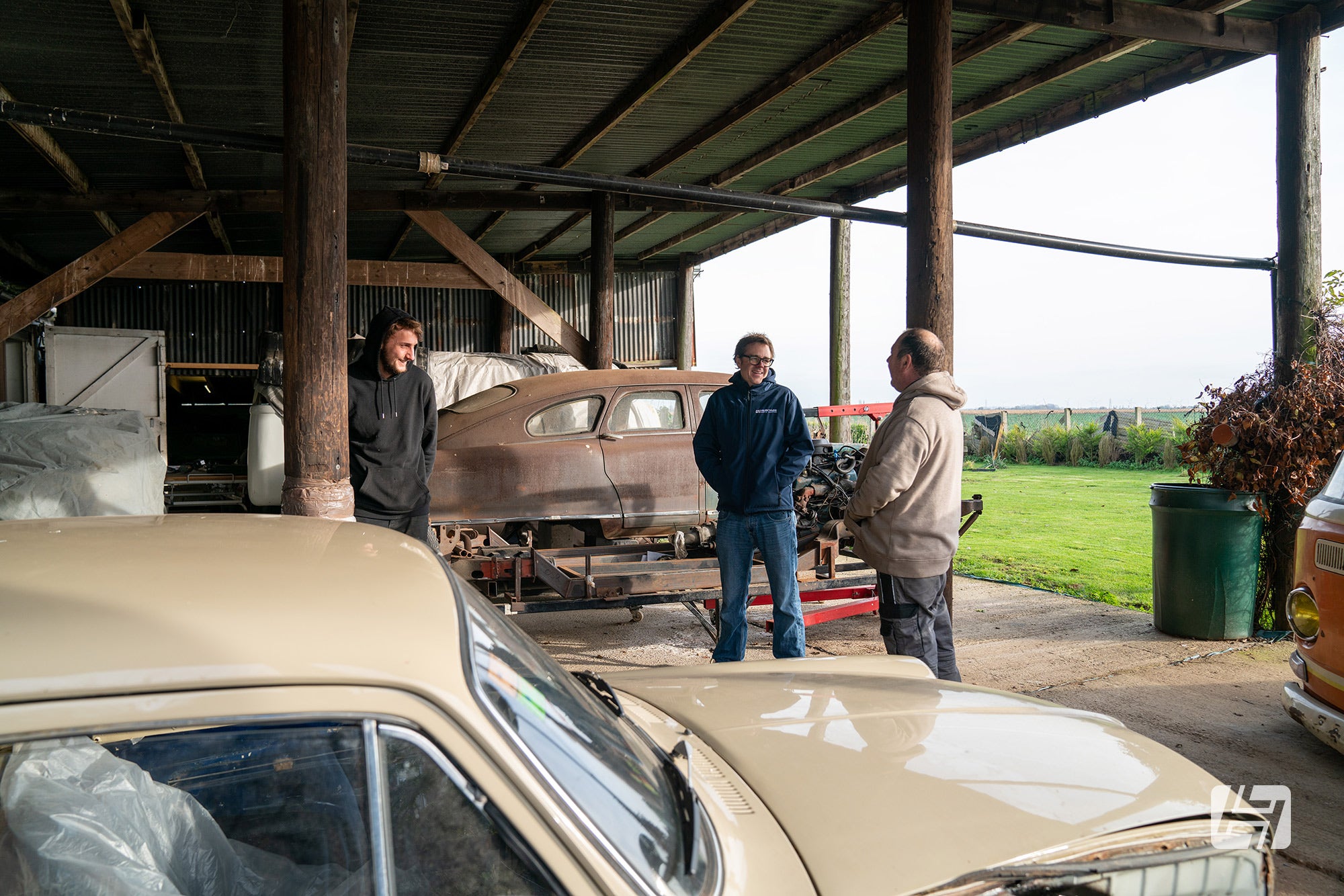 Starting Out
Ray explains to me how it all began. "I got into the custom scene when working in the US, in Hot Rod shops building rods, customs and lowriders. When I came back to the UK I thought I could design a system that was more road-friendly and easier to use, rather than just for show. Hey presto 20 years on, and the old man's still got it..." The green Mazda Mini-Truck is a vehicle that has won awards both sides of the Atlantic and after initially being built by Rayvern Hydraulics for a client, it has now ended back up in Ray's custody. It's such a shame that it is tucked away, it should be in a museum or art gallery!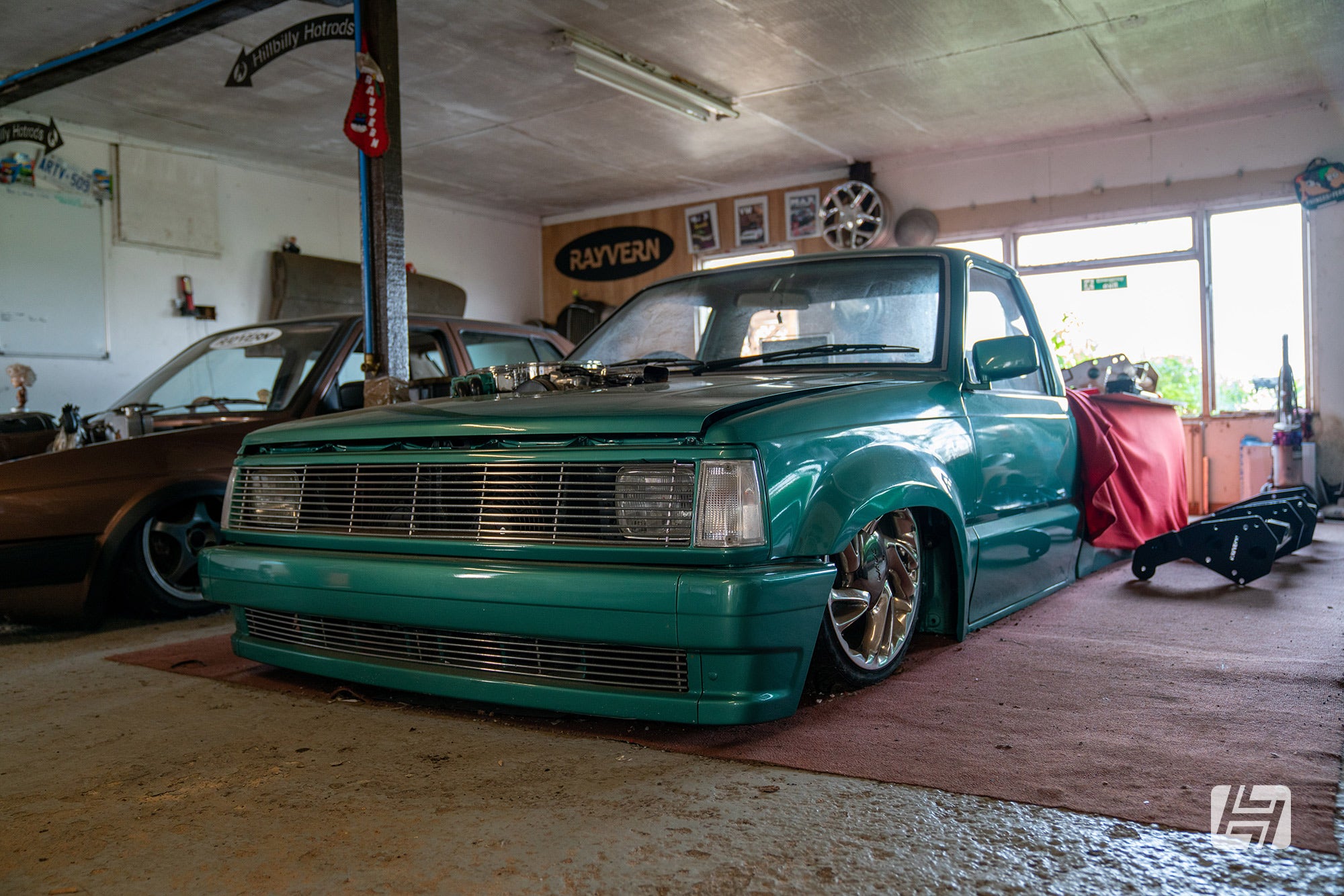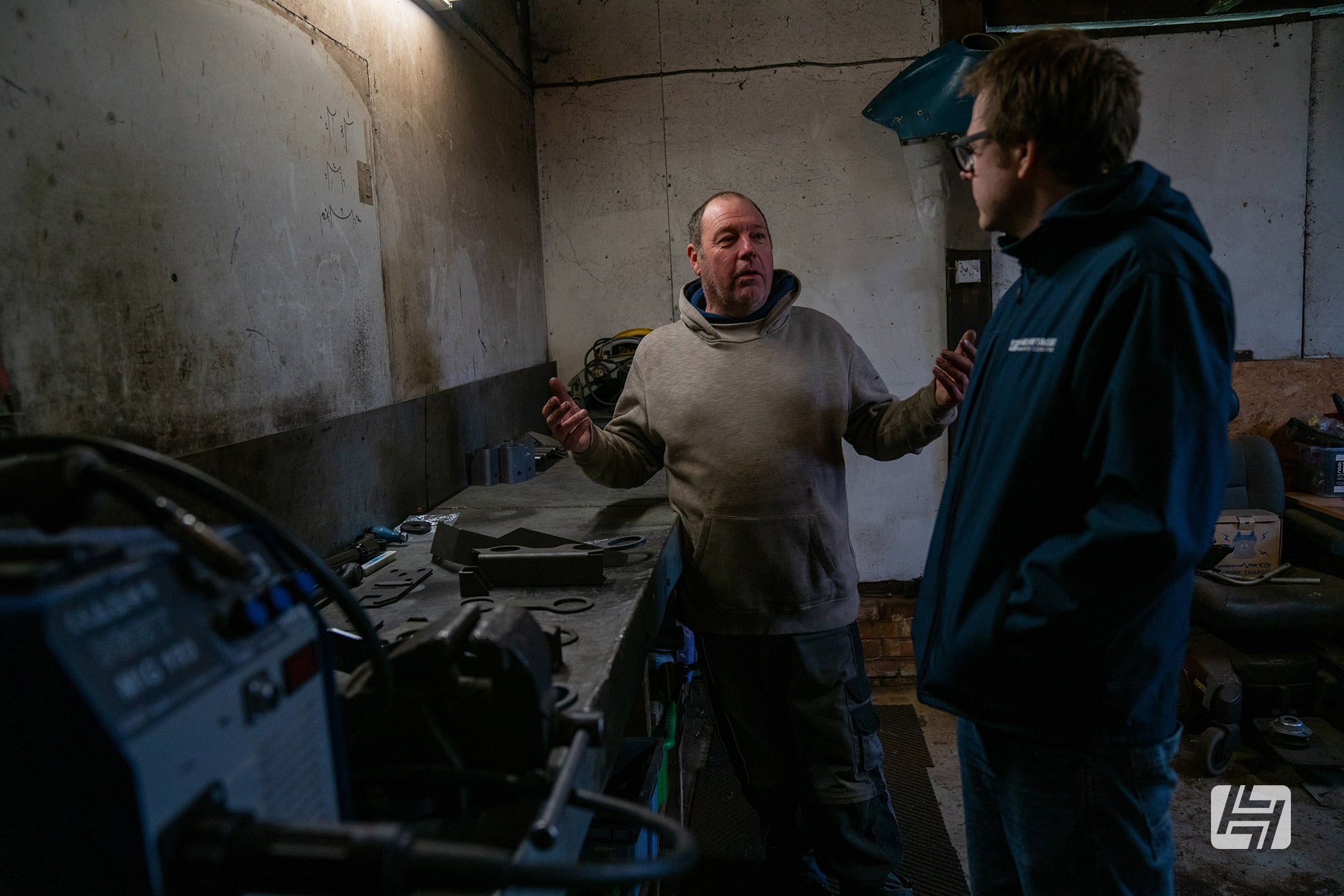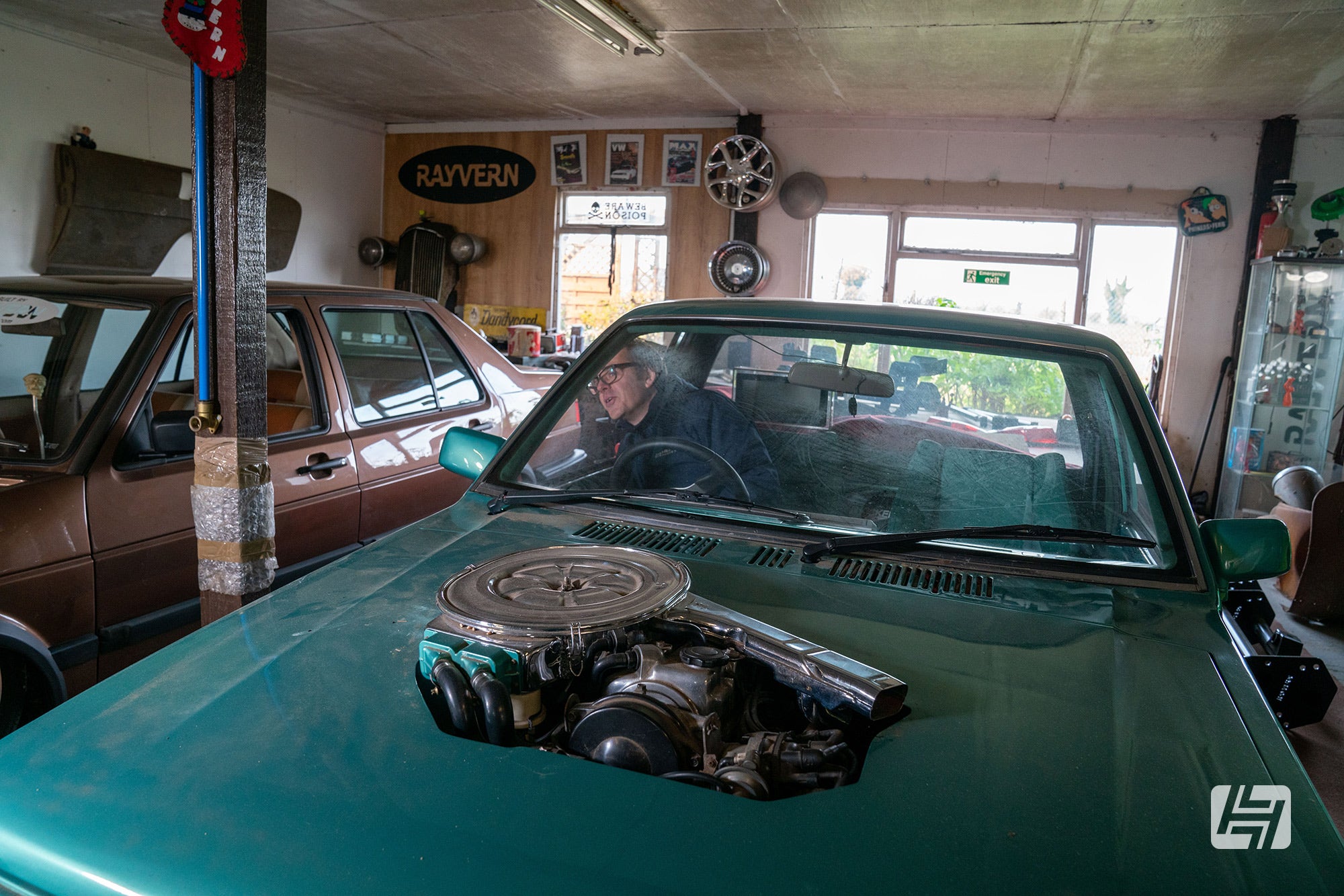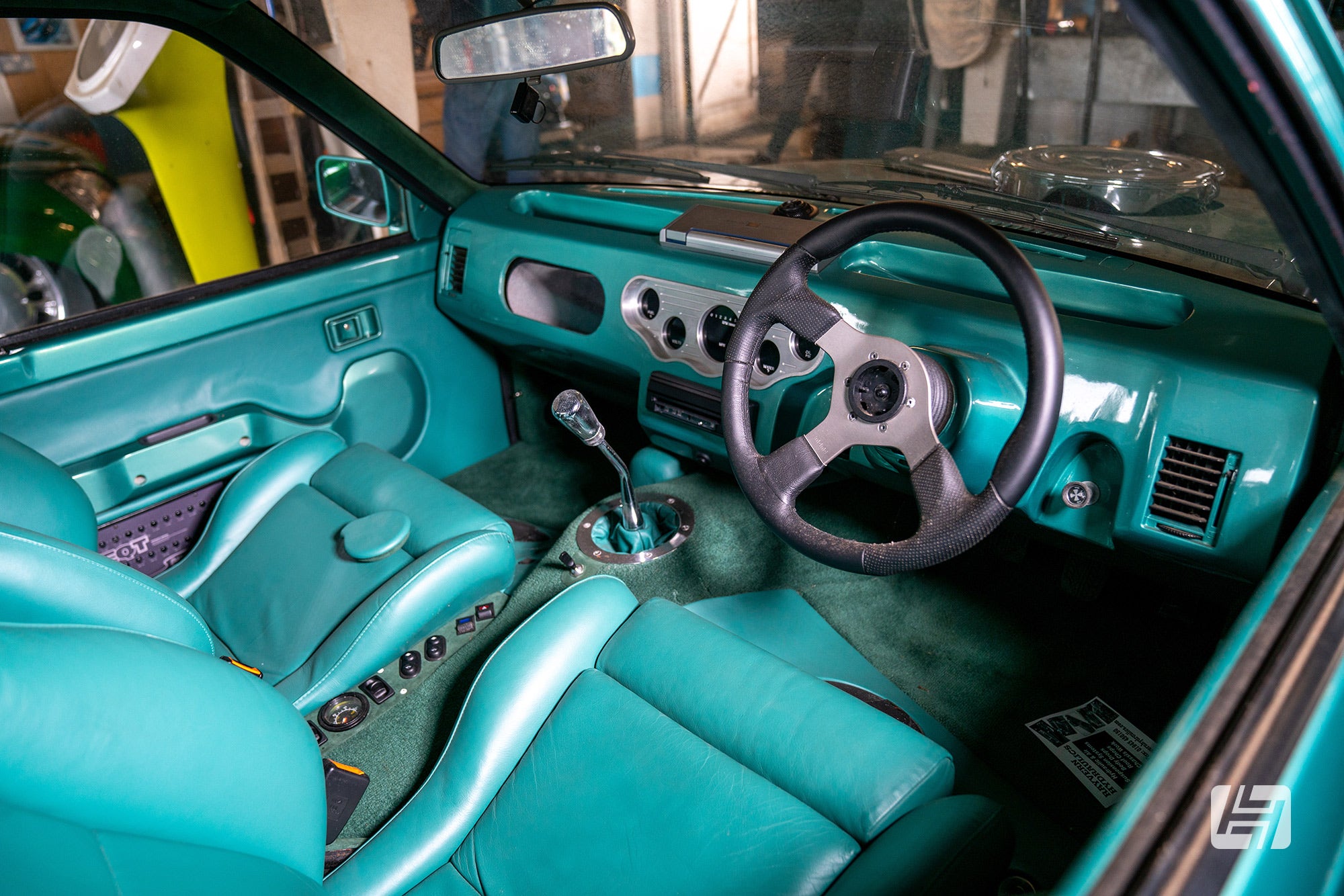 Designed and Engineered
We wander around to the boot of a brown body dropped Mk2 Jetta and Ray shows us the 'dispersal frame' that is key to his system. "Everyone calls these 'Spring Boxes' but regardless of name, what it does is smooth out the bumps of the road. There are a few copies out there, but I designed this system and made it first." Ray's worked on countless VWs over the years, but his claim to fame has to be working on a road-going version of a certain nineties supercar, developing a lift system to help them clear manhole covers and cats eyes!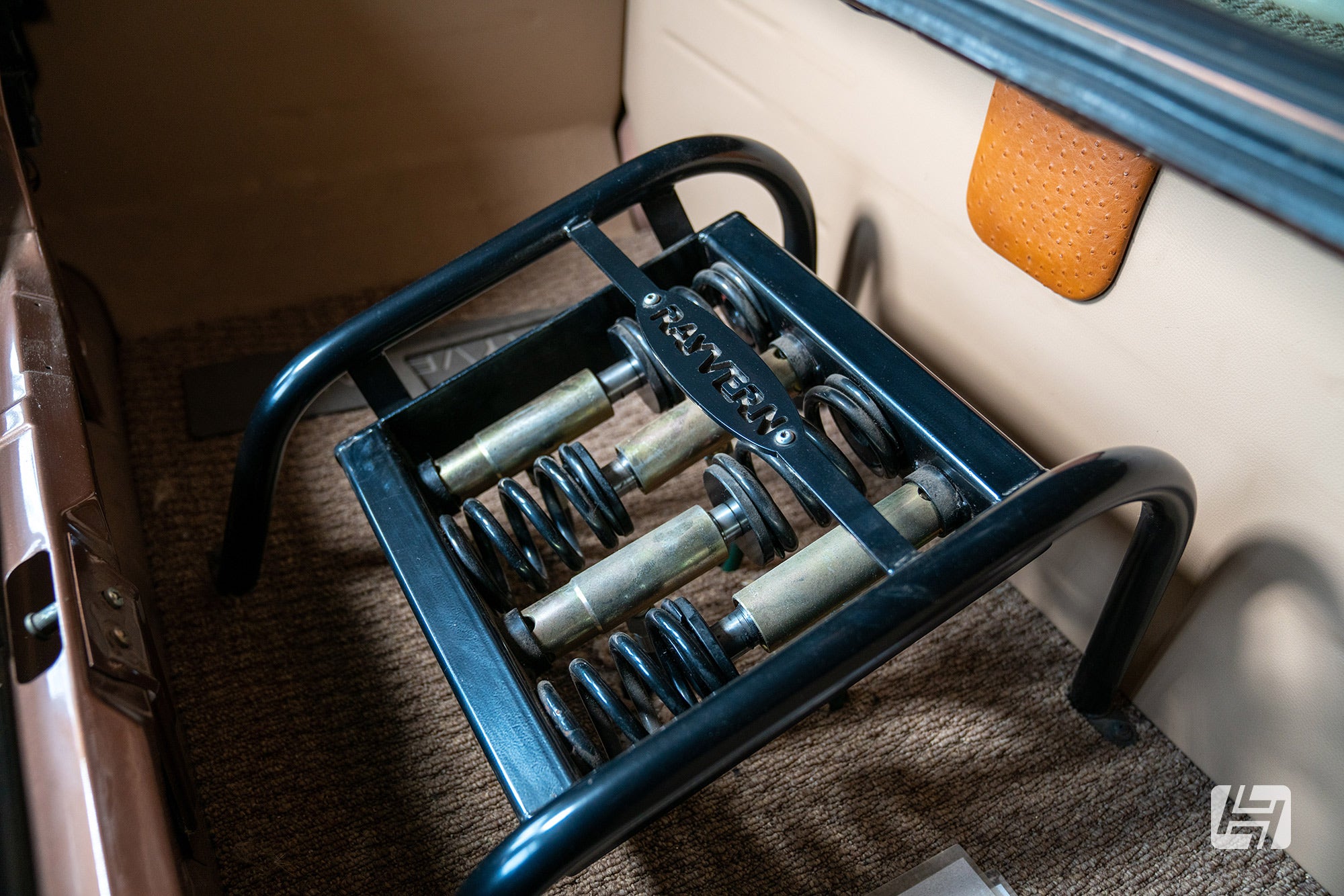 Jetta Fetish
The Jetta is the same Toffee brown as the Rayvern Amarok (they'd look great at a show together, don't you think) and features a killer body drop. In short, a body drop involves cutting the top of the car off the bottom, and then placing the sills of the body on the floor, before welding it back together again. Of course, it's not that simple in reality, but that's never stopped Ray taking an angle grinder to a brand new car, 3 times... Not content with building and owning this cover car (featured in PVW back in January 2008) which as it happens, hasn't turned a wheel in ten years, Ray has another waiting in the wings - clearly, he has unfinished booted business to attend too!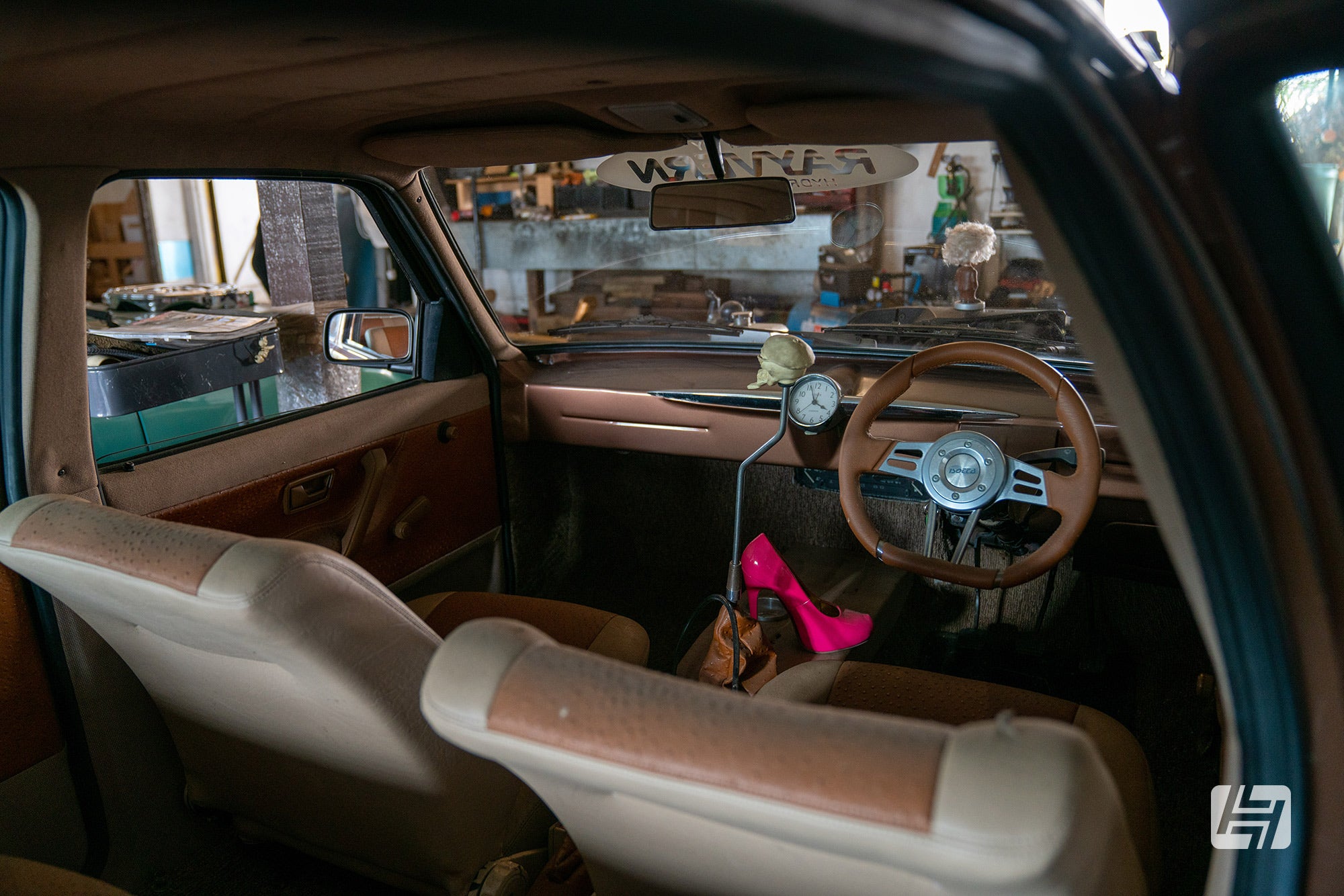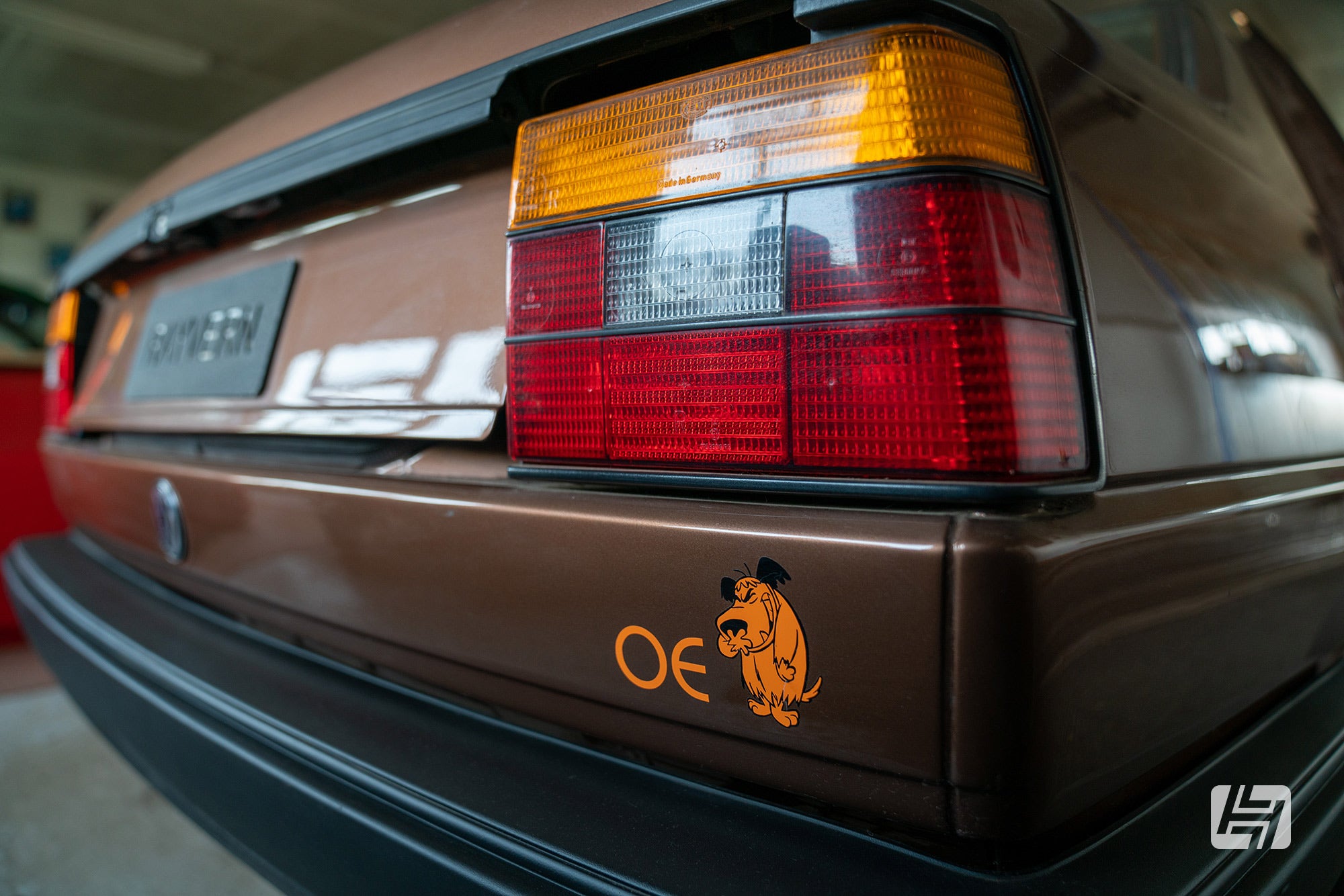 Better than Air Ride
In Ray's eyes Hydraulics are the superior suspension solution. "I still sell air-ride stuff, but Hydraulics is cheaper, simpler and doesn't require expensive management, let alone waiting for a compressor to warm up." I quizz him further on the ride quality and Ray confirms that both offer a decent level of comfort. This is definitely food for thought if you are planning a build with a hard slam, but want a level of practicality - and you don't have to have the body so low the engine pokes through the bonnet!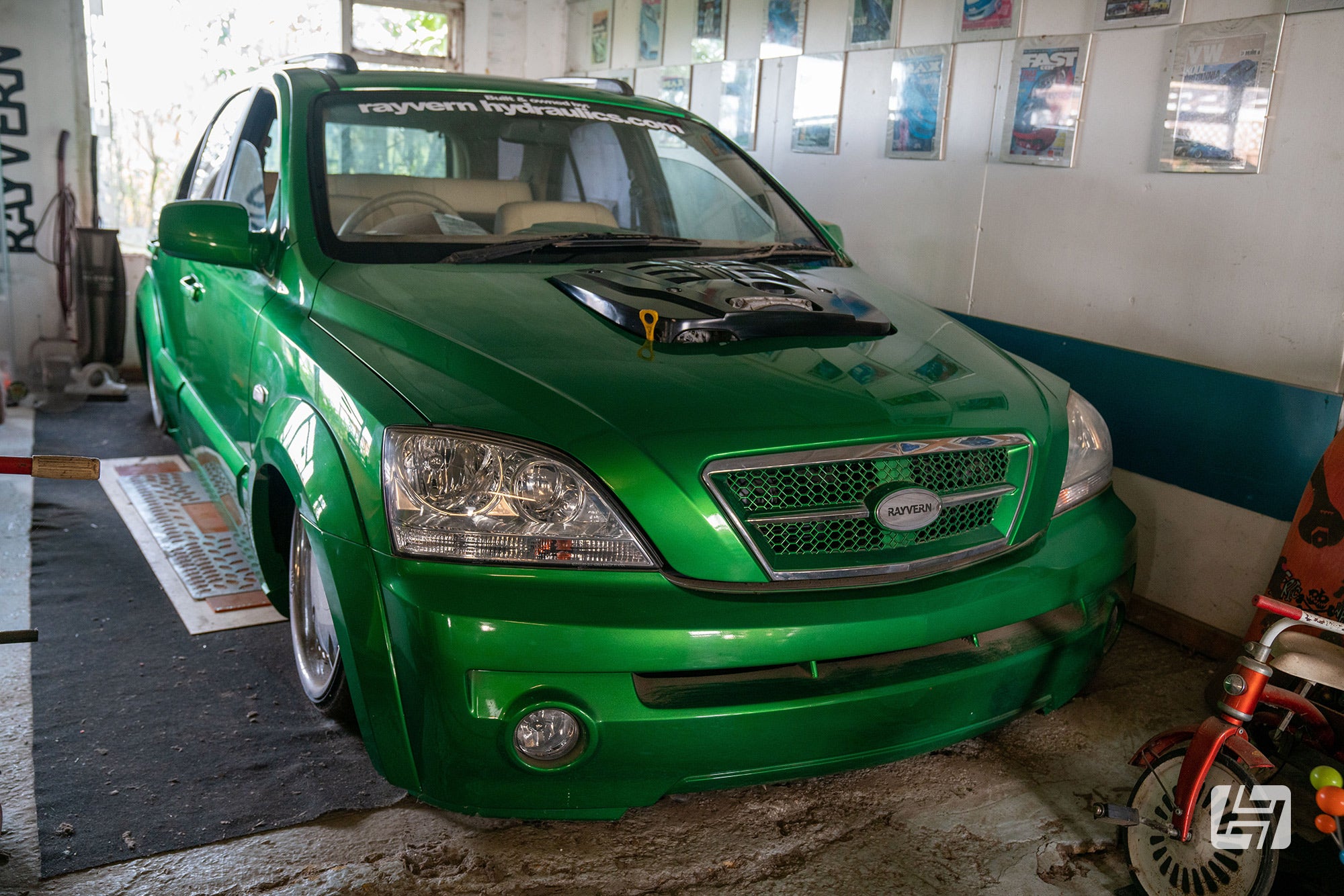 Youngblood
Connor joined Ray's business a couple of years ago after sourcing some suspension parts for a build he was doing with a mate. They hit it off, and now he's propelling Rayvern into the 21st Century - they'll have Instagram soon and they might even take a car or two to a show. In keeping with Ray's shyness, he's not fussed by shows. "I might go to one or two shows a year" he admits.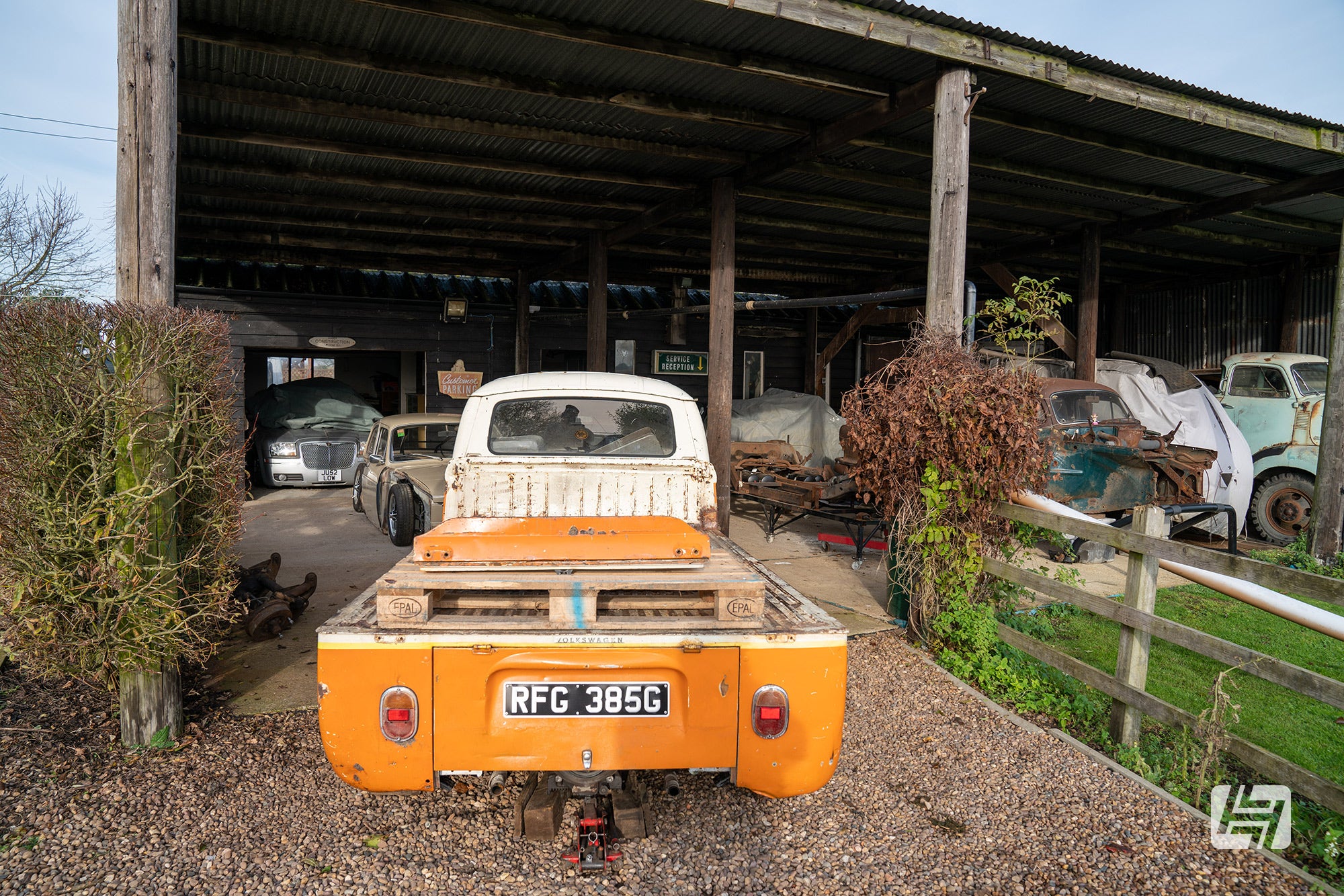 I don't like driving
It may come as some surprise to hear that Ray doesn't like driving, and with the exception of having to collect or drop off a car in the Rayvern recovery truck, if he needs to go anywhere Connor acts as a personal chauffeur in his company hack - the 'Slamarok'.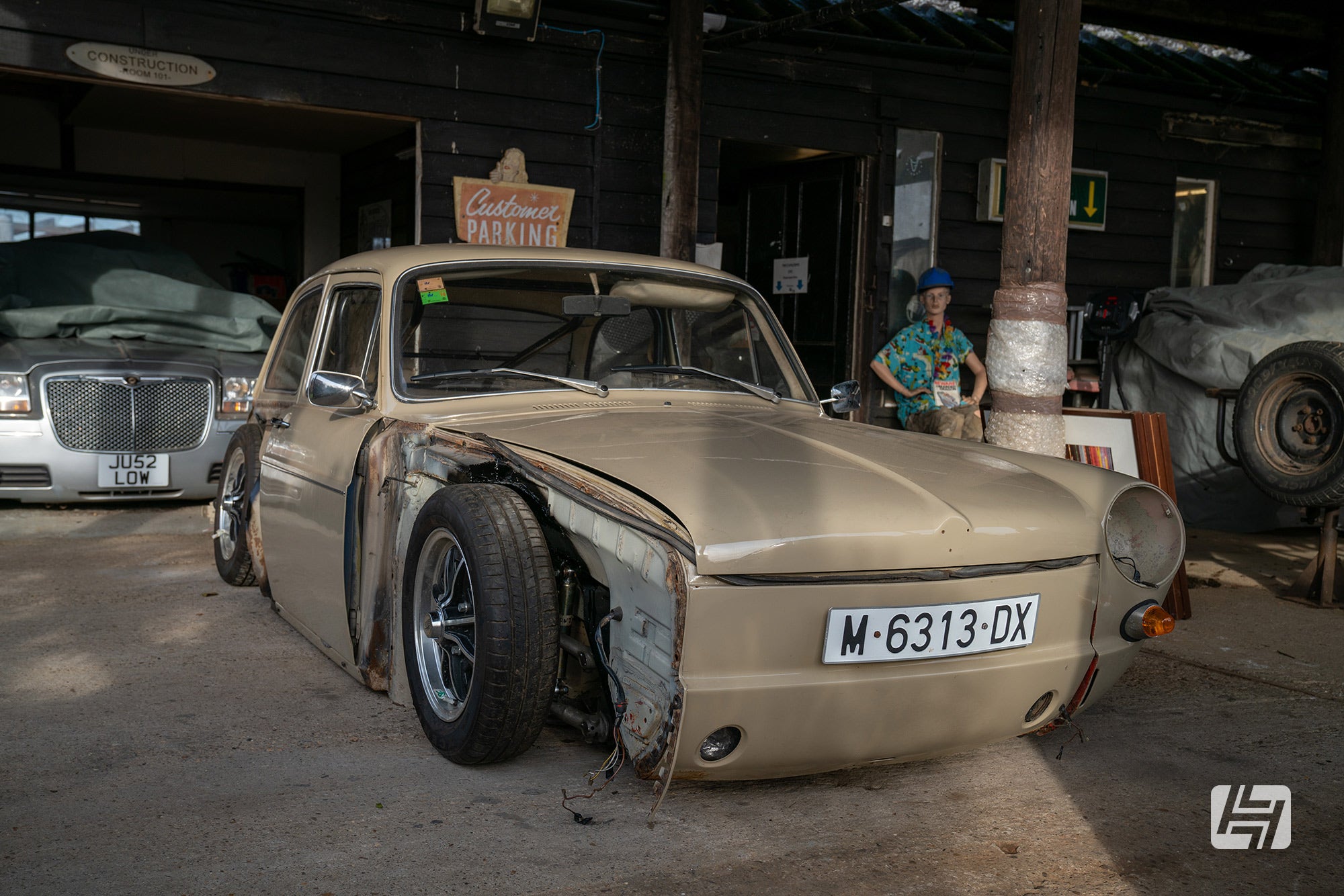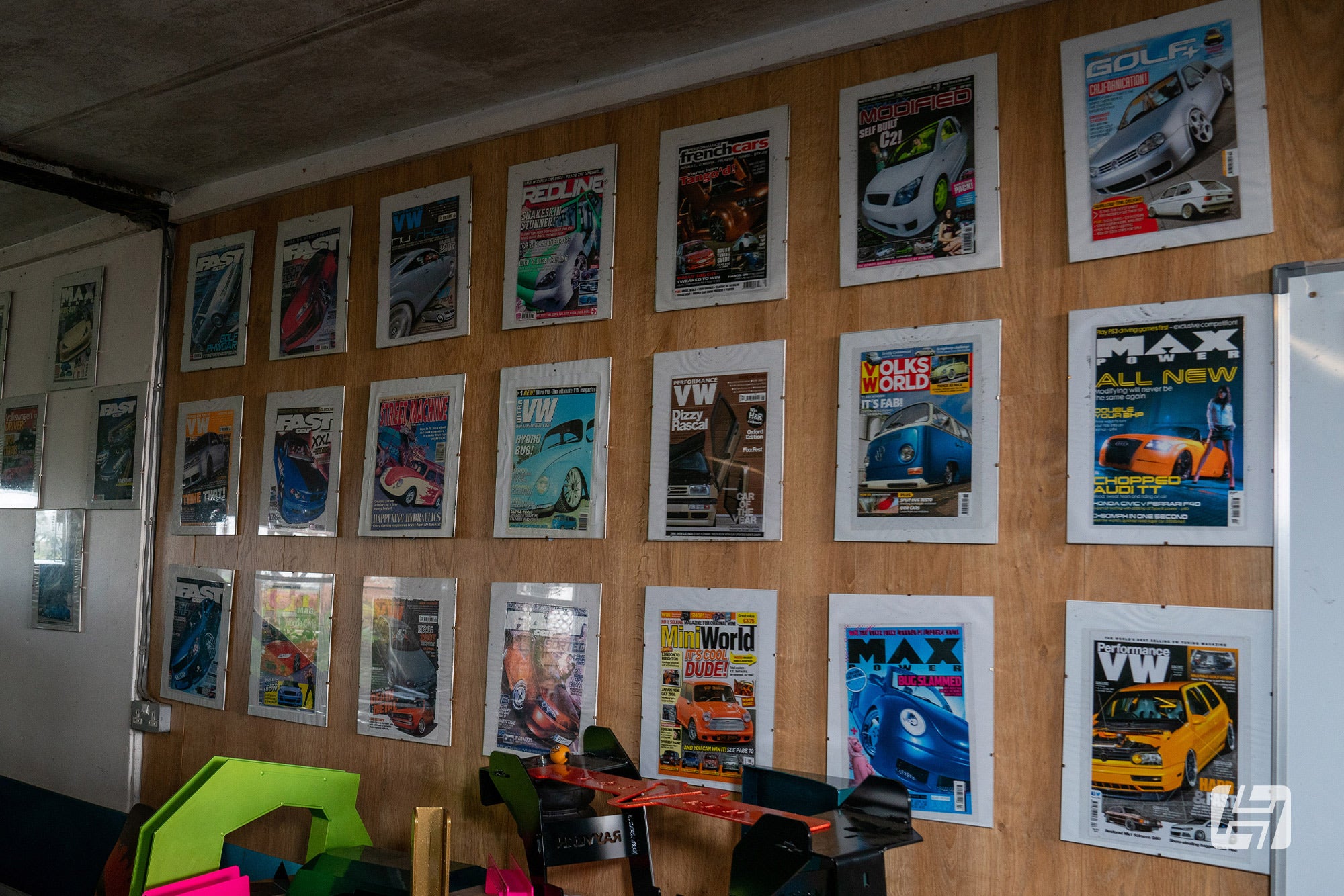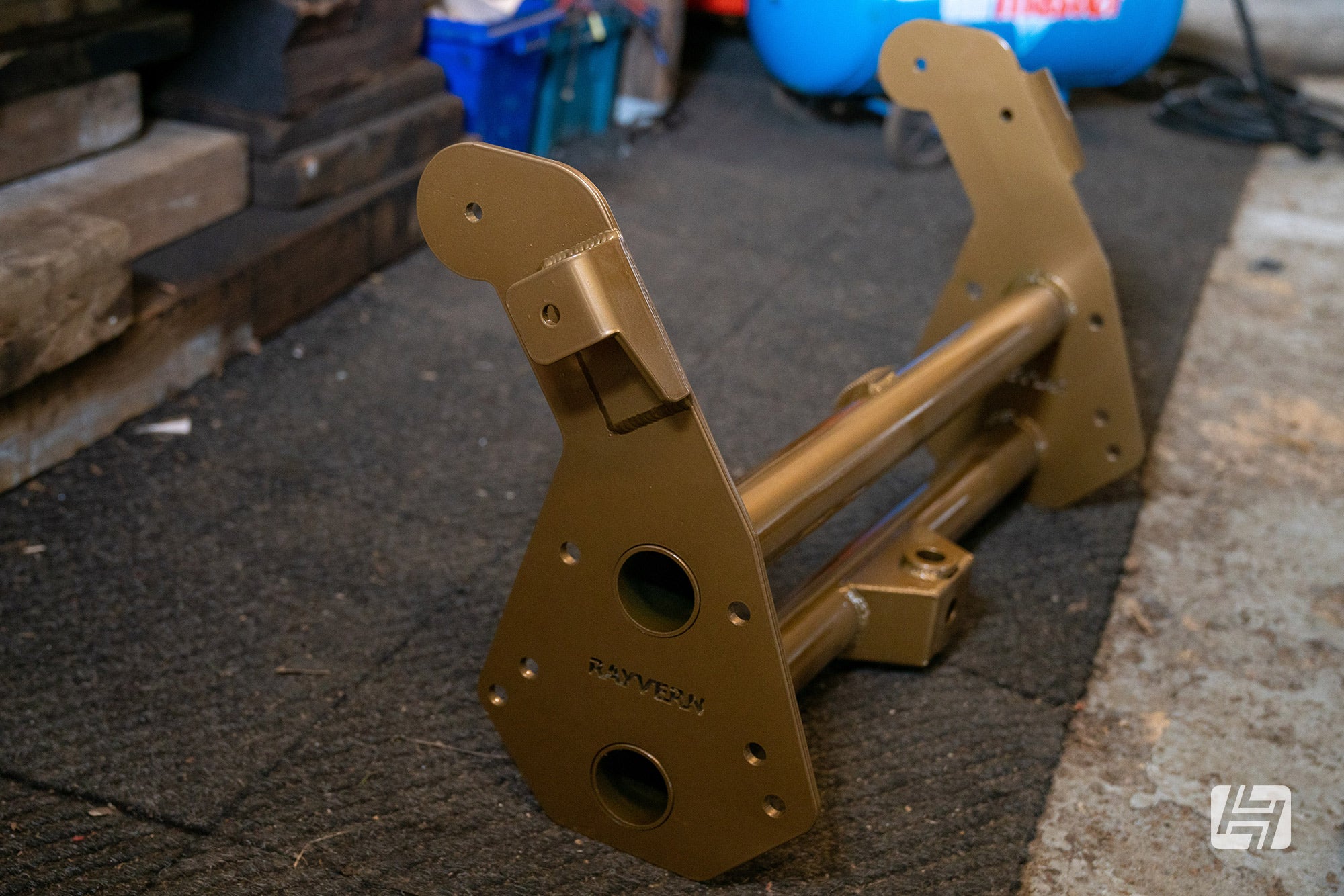 Amarok Test Drive
Ray recalls the tale of purchasing the Amarok back in 2012. "I called up my local dealer and asked them if I could have one for a test drive. The Sales guy knows me and knew what I was like. When I went along to pick it up, he told me the locking wheel nut key was in the ashtray..." Ray spent his test drive stripping the demonstrator down and measuring up for the custom 'parallel four-bar link' rear suspension set up, working out the problems which needed solving for when it got delivered! "This truck was a year old with 587 miles on the clock when I got it. Nobody knew I was building it. So when the photos came out we broke the internet" he proudly states.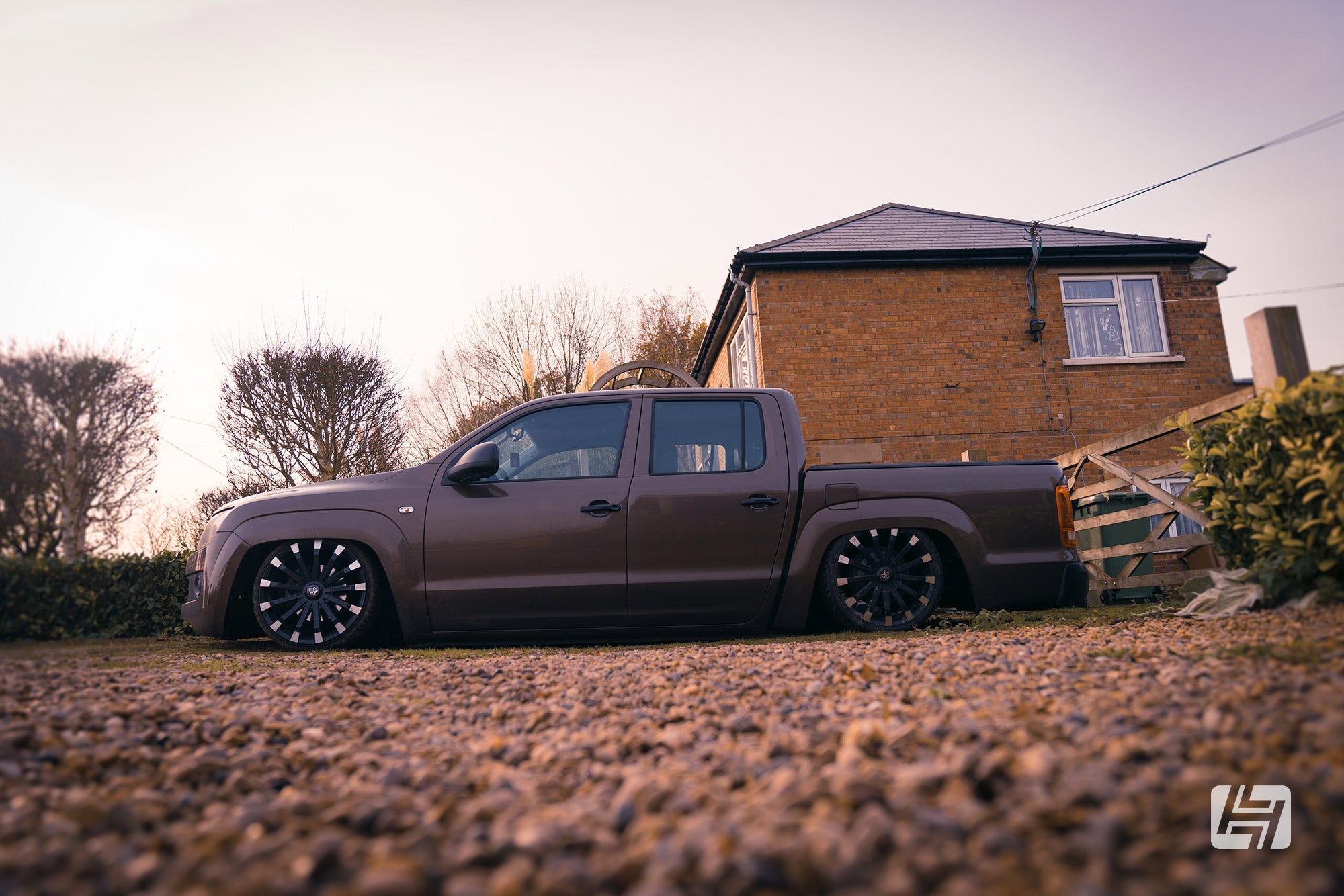 How he did it...
Ray pulls back the load cover to reveal the secret to the Slamarok's suspension antics. The downside to the body drop is that what was once a huge load space, is now a little less practical - in the case of the Amarok it has had 88mm, or 4" cut out the middle. That's 4" from the seat bases (otherwise your head would touch the ceiling) the steering column needed shortening by 40mm and all the pedals needed moving as they were in the wrong place too... That's quite a task on a car that's barely 12 months old!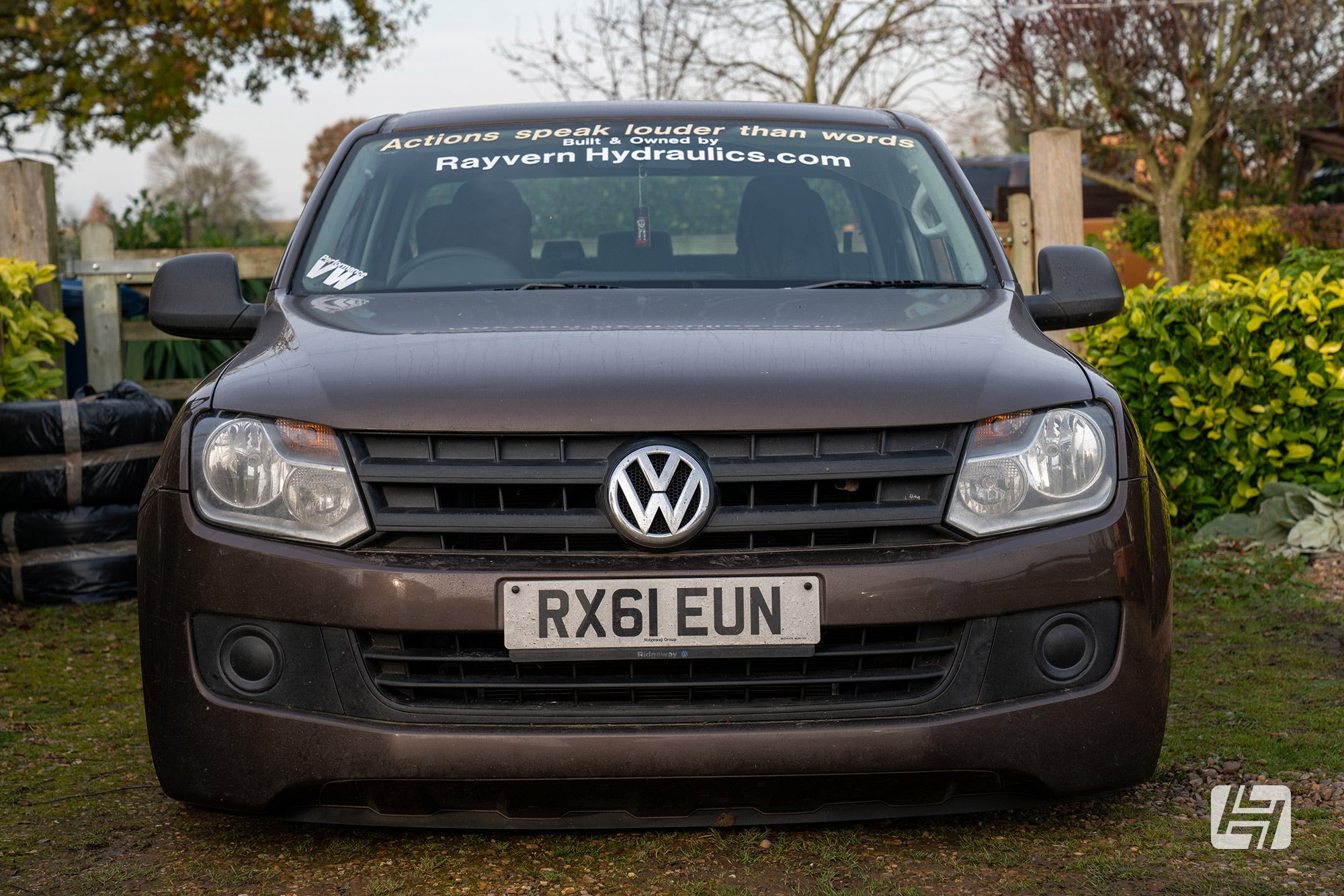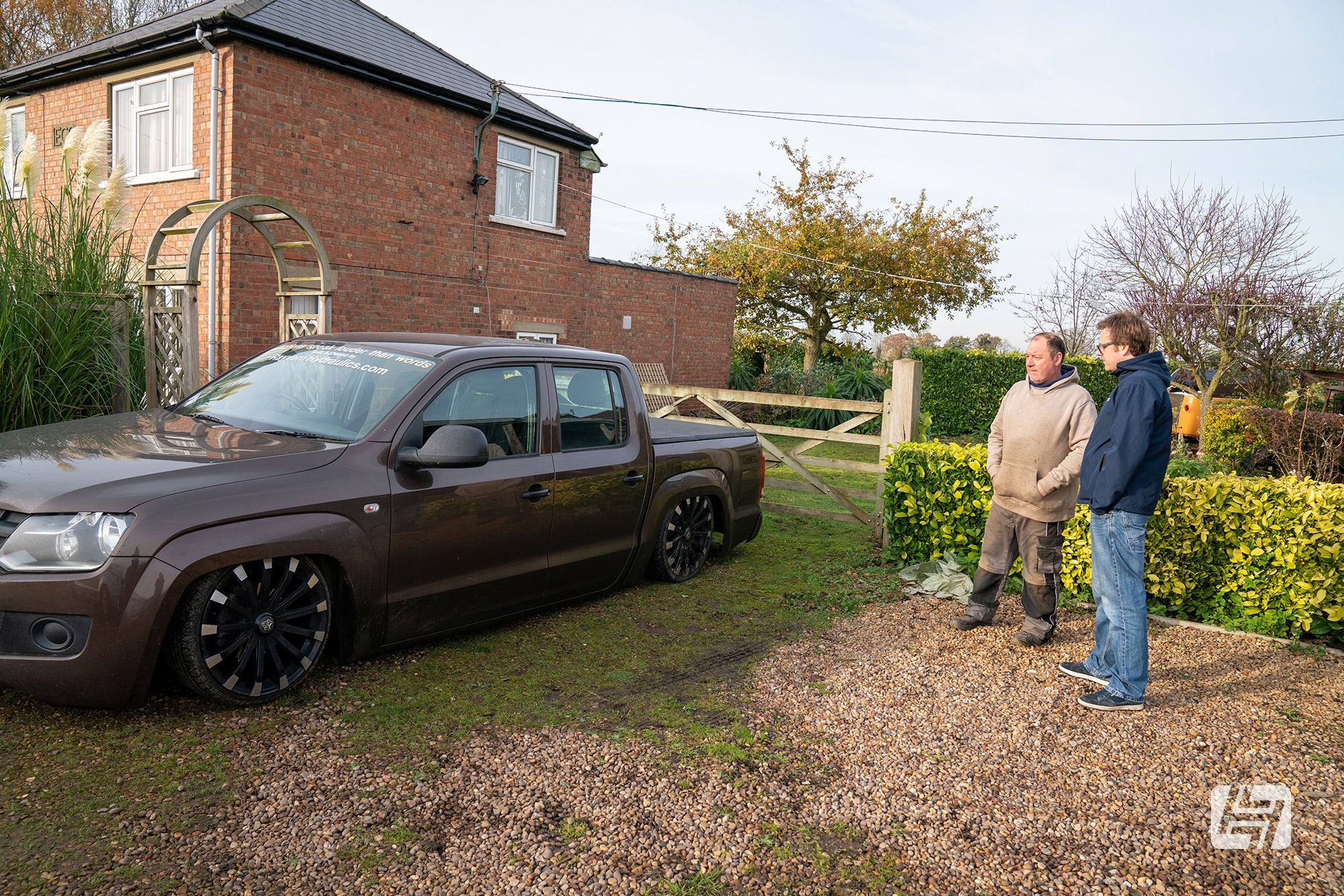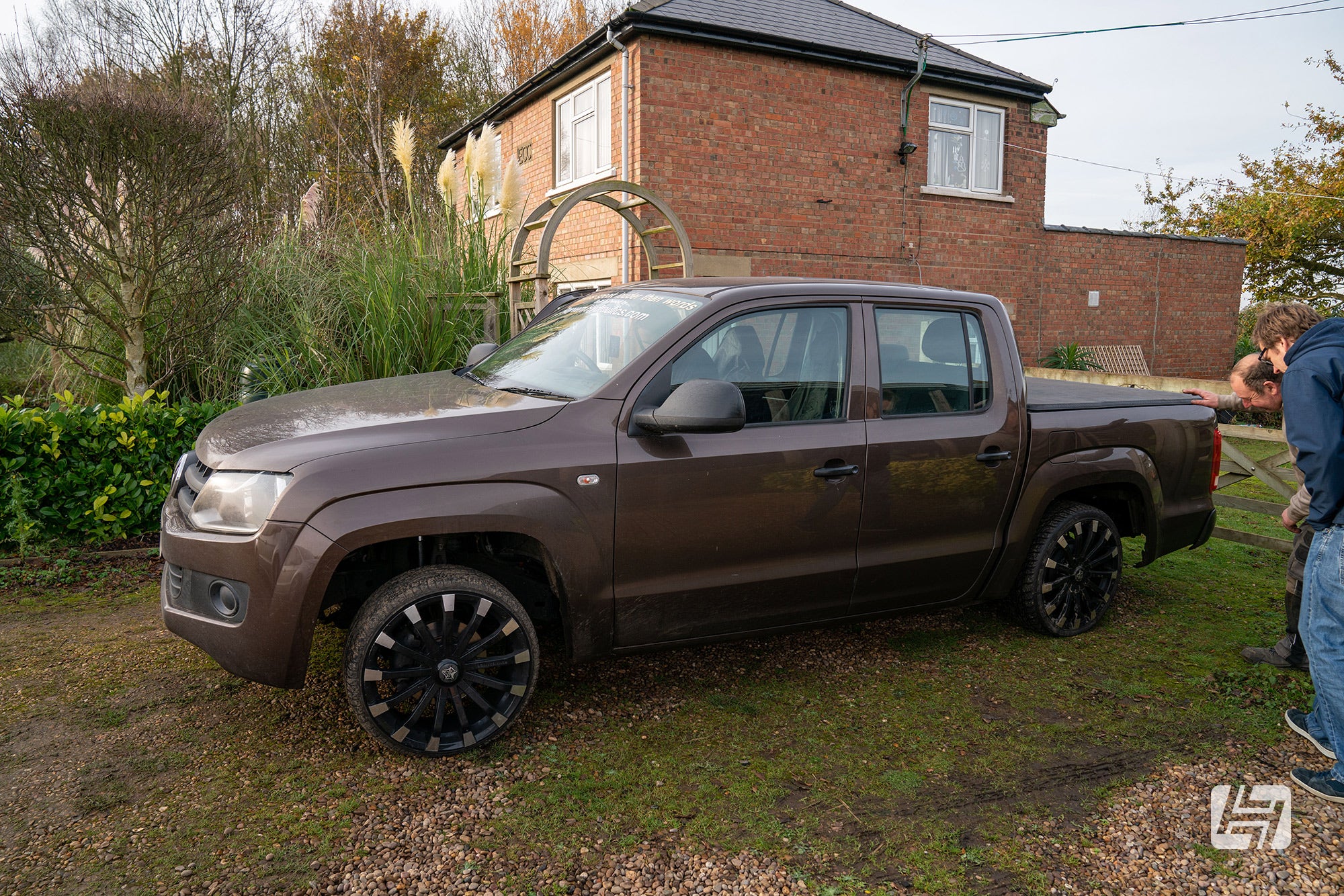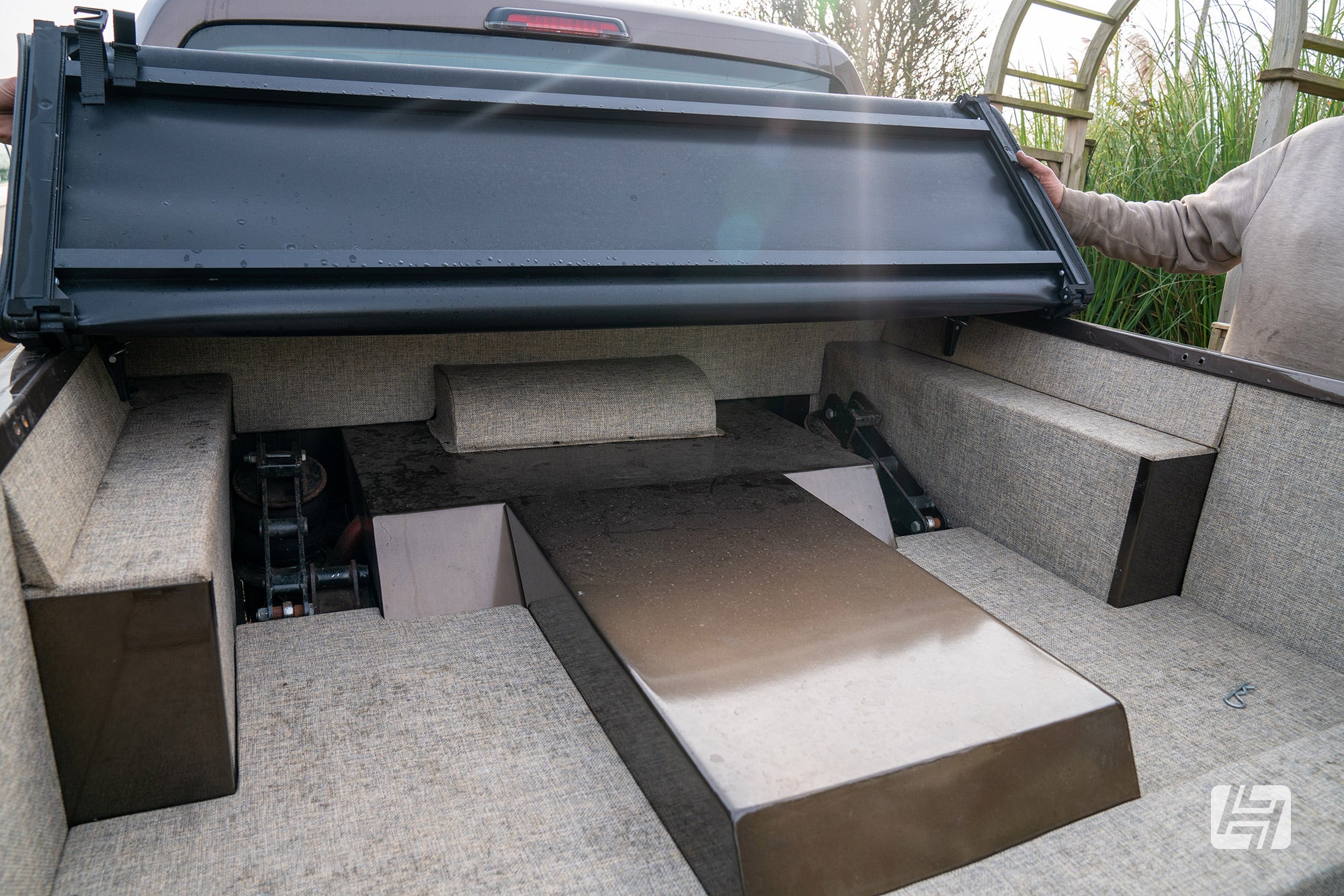 The suspension set up in the back is a mixture of air suspension and hydraulic ram, giving a massive 18" of lift and combined with rear dampers, the ride quality is amazingly on par, if not better than original. The front utilises hydraulic rams, chosen for their instant lift and also narrower width, which was essential when it came to tucking the 22" Wolfrace wheels behind the stock body line. The front A-arms sit on repositioned mounts,  the engine and gearbox have been raised and the coolant hoses now sit snug to the under bonnet sound deadening with the hood shut!
Sills on stone
The pair are currently working on a Type 3 Notchback which now sports their 'sills on stone' trademark stance. Inside a custom roll cage has been fabricated. "I don't want to make boring stuff," Ray tells me. "The owner asked for a roll cage, I said yes, but only if I could design it myself!" We can't wait to see the finished car, Ray's hinted there's a respray on the cards and potentially some custom wheels not to mention the host of
new Type 3 parts
that we have supplied to assist with reassembly.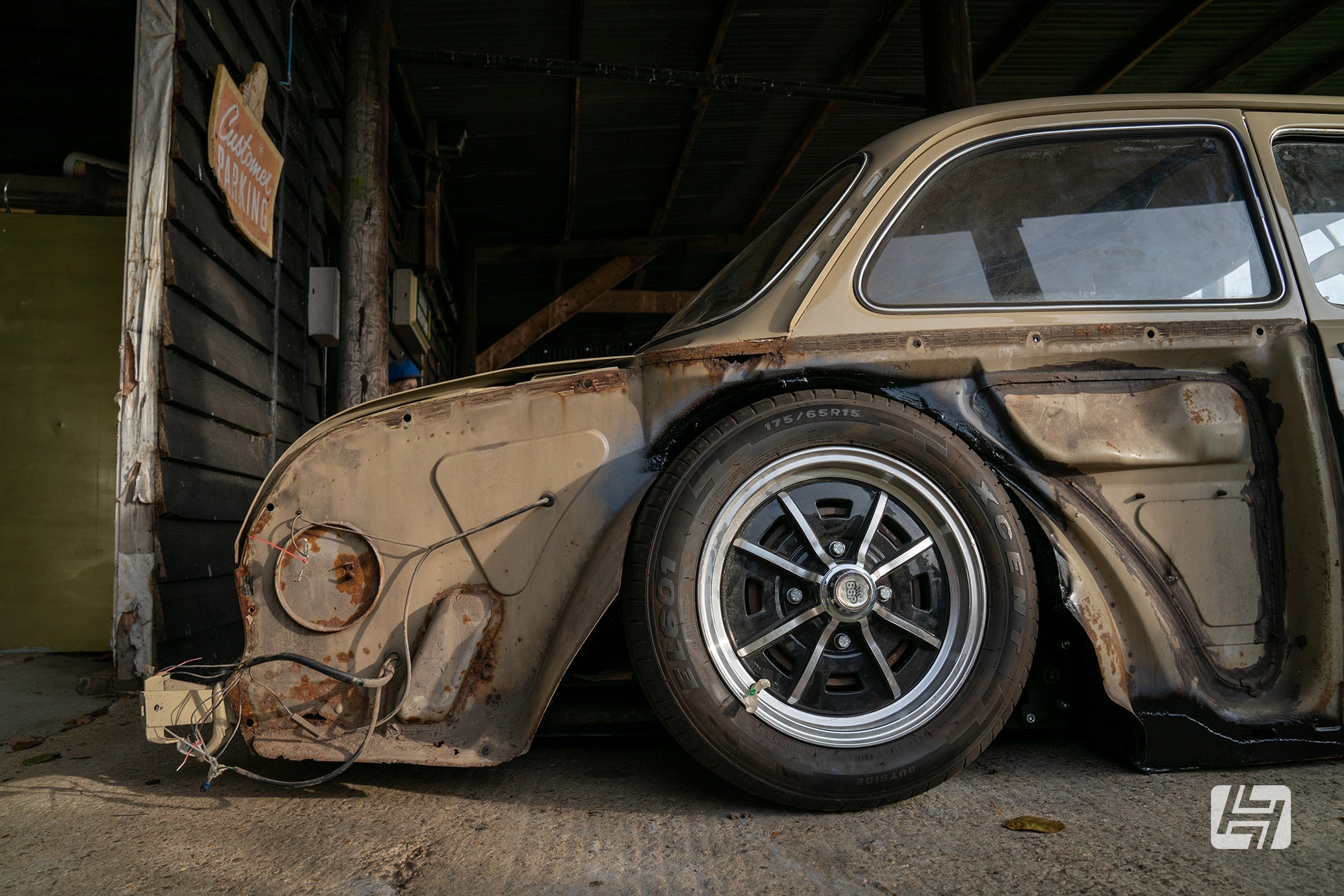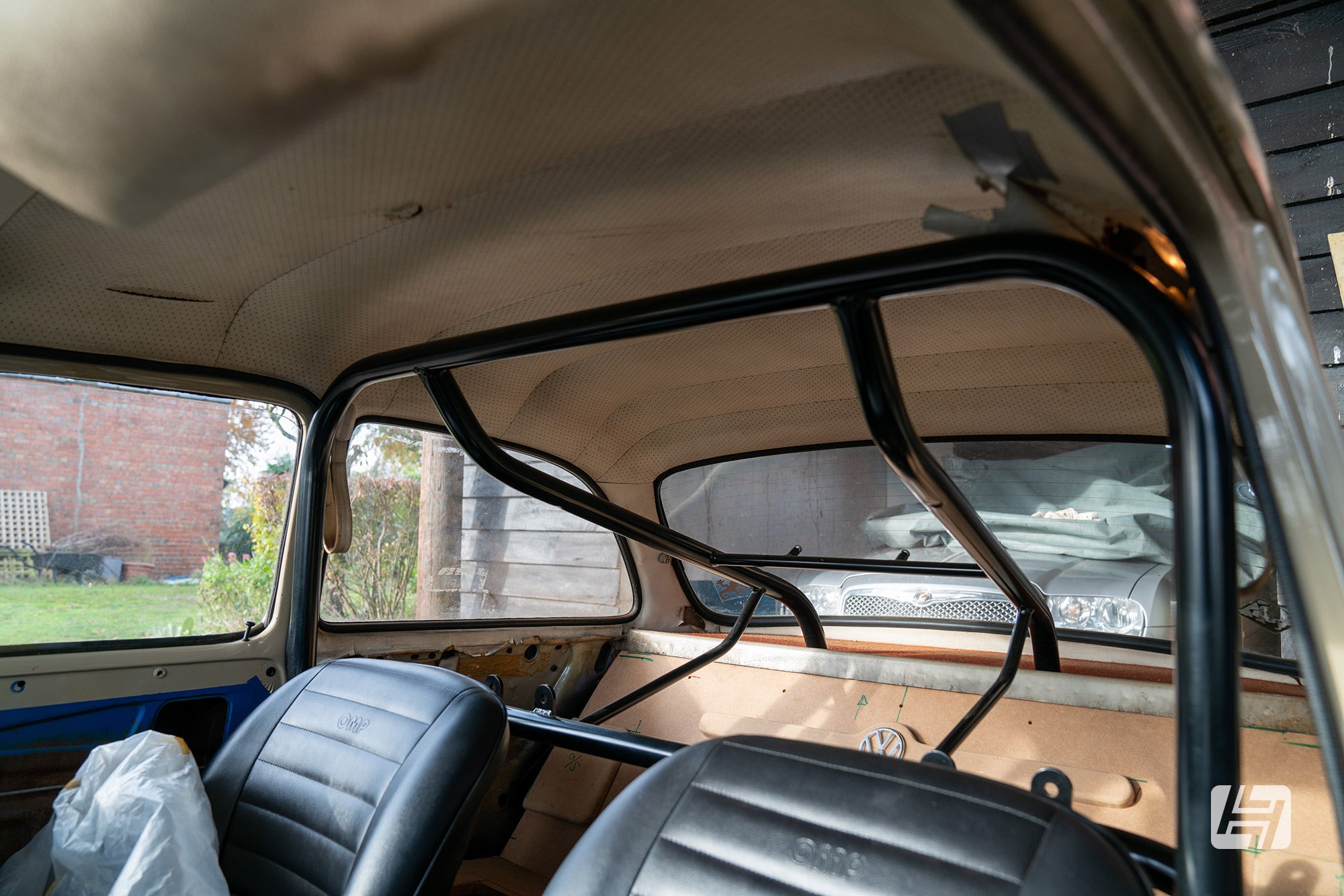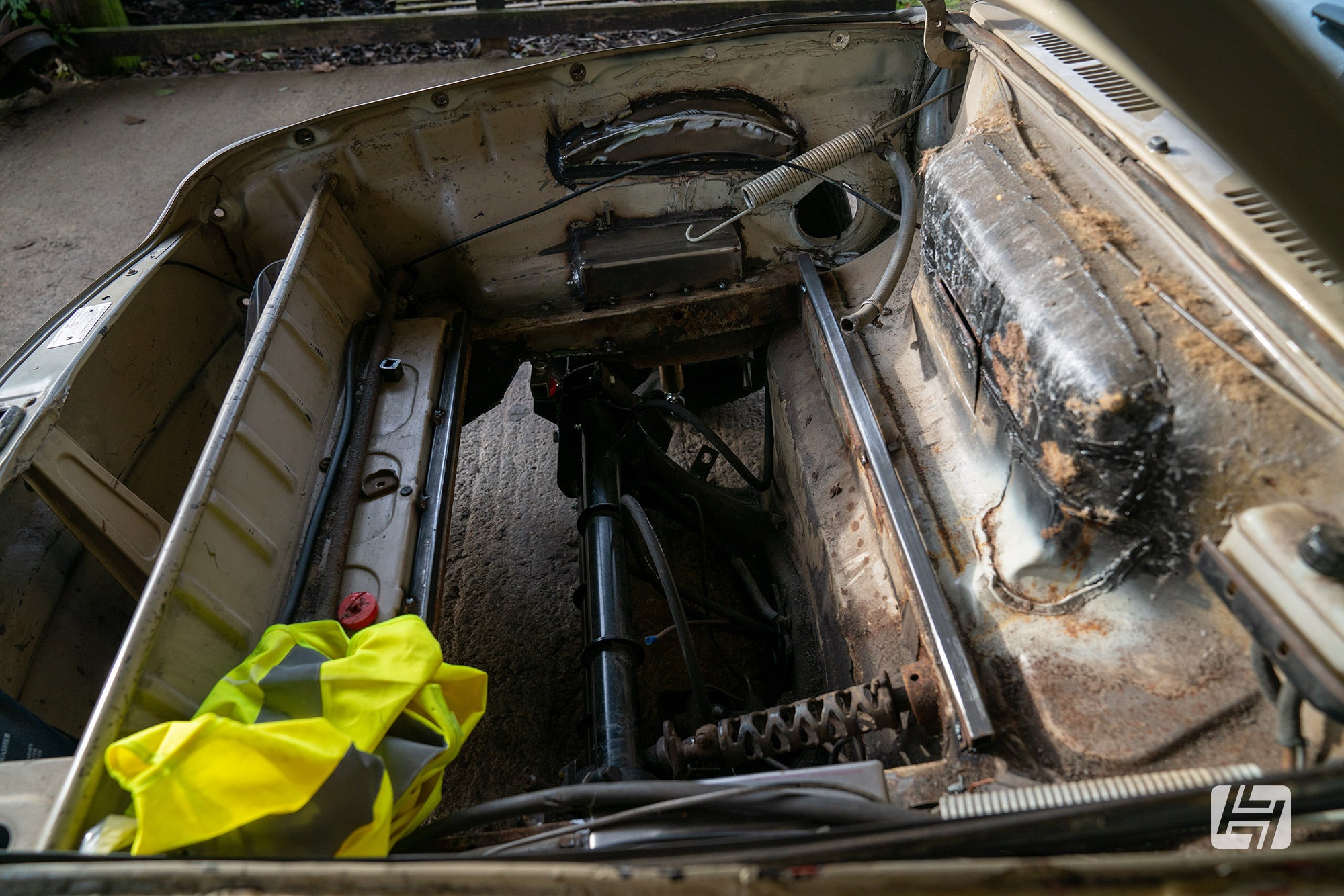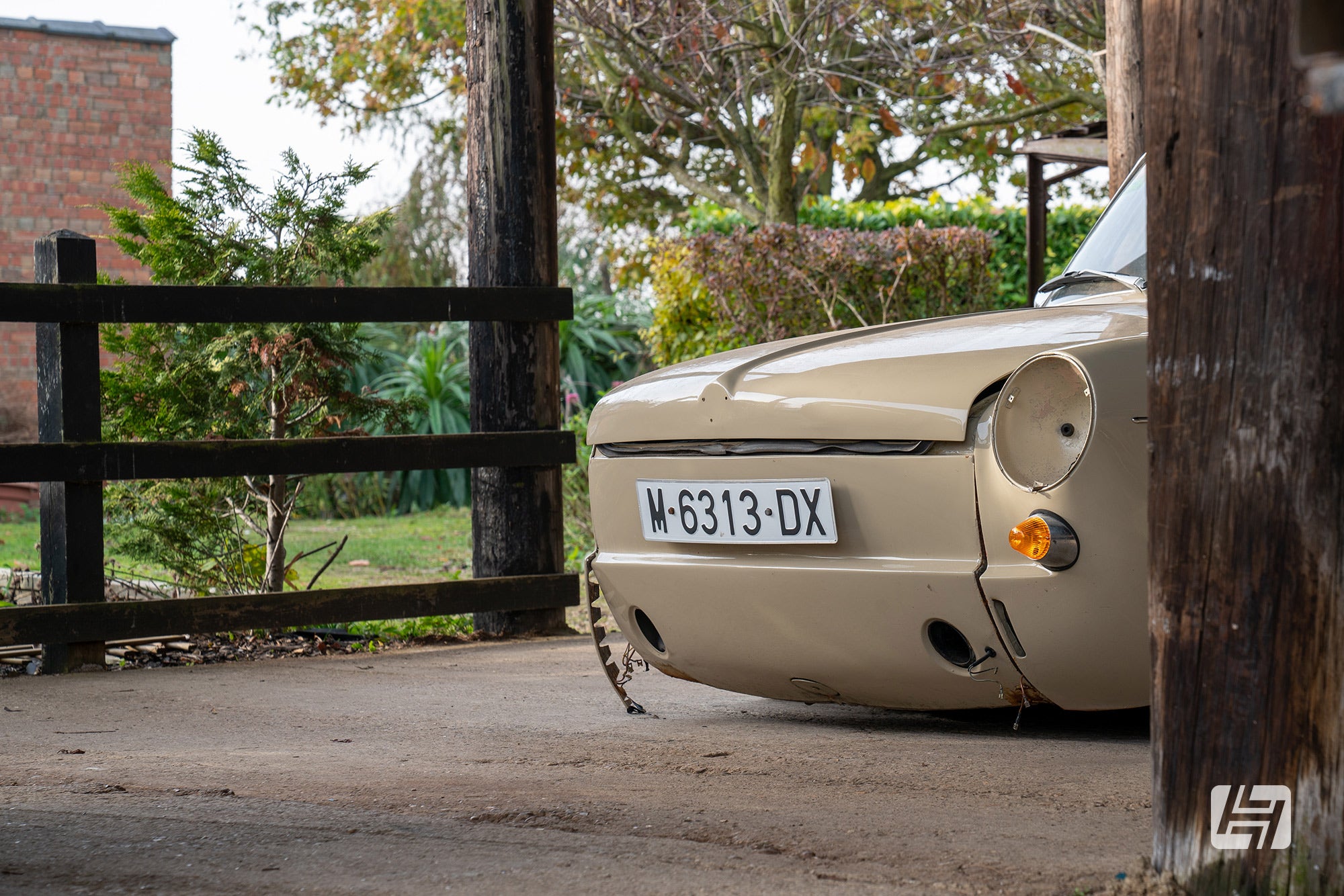 Waiting in the wings
Ray and Connor will soon be cracking on with this gnarly '68 Single Cab which although sitting low, desperately needs doing properly. It will benefit from Ray's bespoke wheel tubs and matching door notch along with a raised beam, steering box raise, rear tubs, swing arm conversion and an engine and box lift - and that's before they plumb the hydraulics in!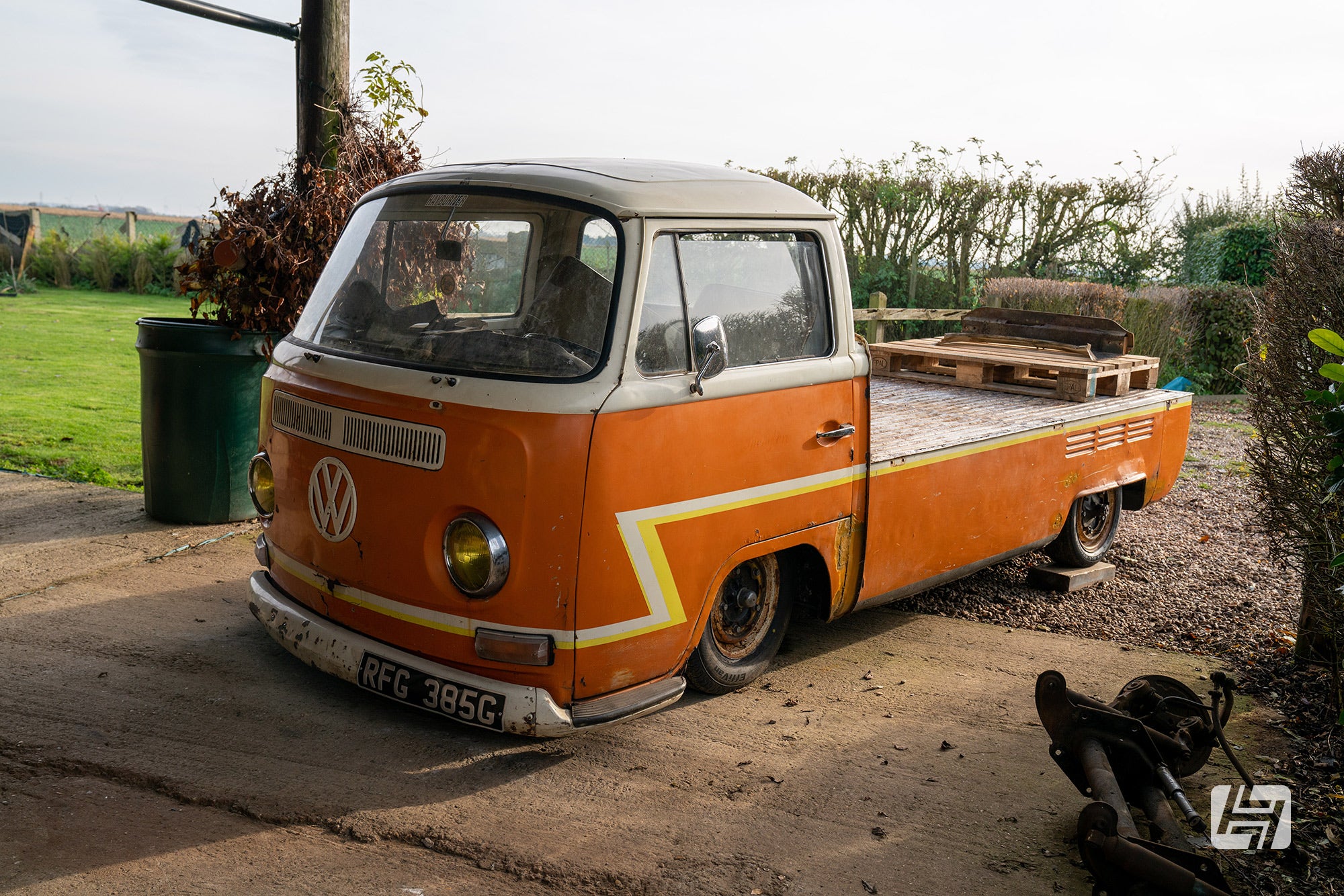 A big thanks to Ray and Connor for sparing a couple of hours to talk suspension and custom car culture with us. Stay tuned to
Rayvern's Facebook page
for the most up to date pictures from their workshop builds and expect a few big surprises dropping in 2020 too - Ray loves to build a car in secret "just like the old days..." Andy