I'm sure you've played the game? Trawling eBay with an imaginary stash, seeing what cool cars you could purchase if you stopped paying bills for a few months and spent it on a car. Well, here is what has happened over the past 18 months since I clicked 'buy it now' on a 944 for five grand. (I know - not quite Buying a Porsche for Peanuts, but certainly the bottom end of the Porsche market).
It's what my Nan would have wanted...
So I wasn't completely irresponsible; I spent inheritance money rather than defaulting on my mortgage, plus I did take a test drive and bartered a bit before sending the bank transfer. The intricacies of the deal aside though, I bought a 1986 Porsche 944 Lux for the price of a late Beetle, a decent Mk2 Golf, or a family hatchback from a second-hand car lot.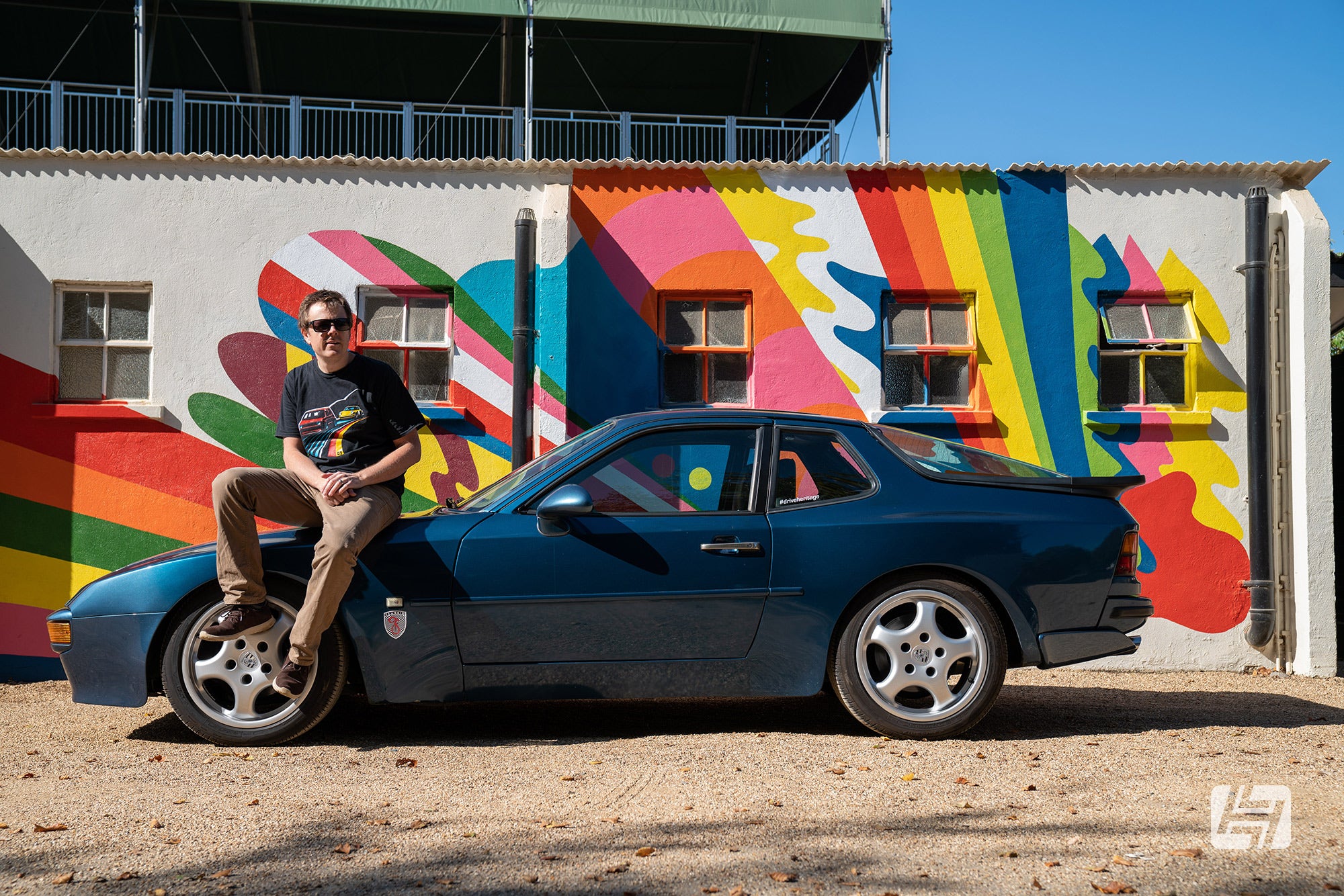 Spoilt for choice
I had a range of cars to choose from when it came to swapping my cash for a Stuttgart sports car. Not only Transaxle models like the 944 and the 924, but the 986 Boxster and a Cayenne too if a cheap but capable 'Chelsea Tractor' ticked my boxes.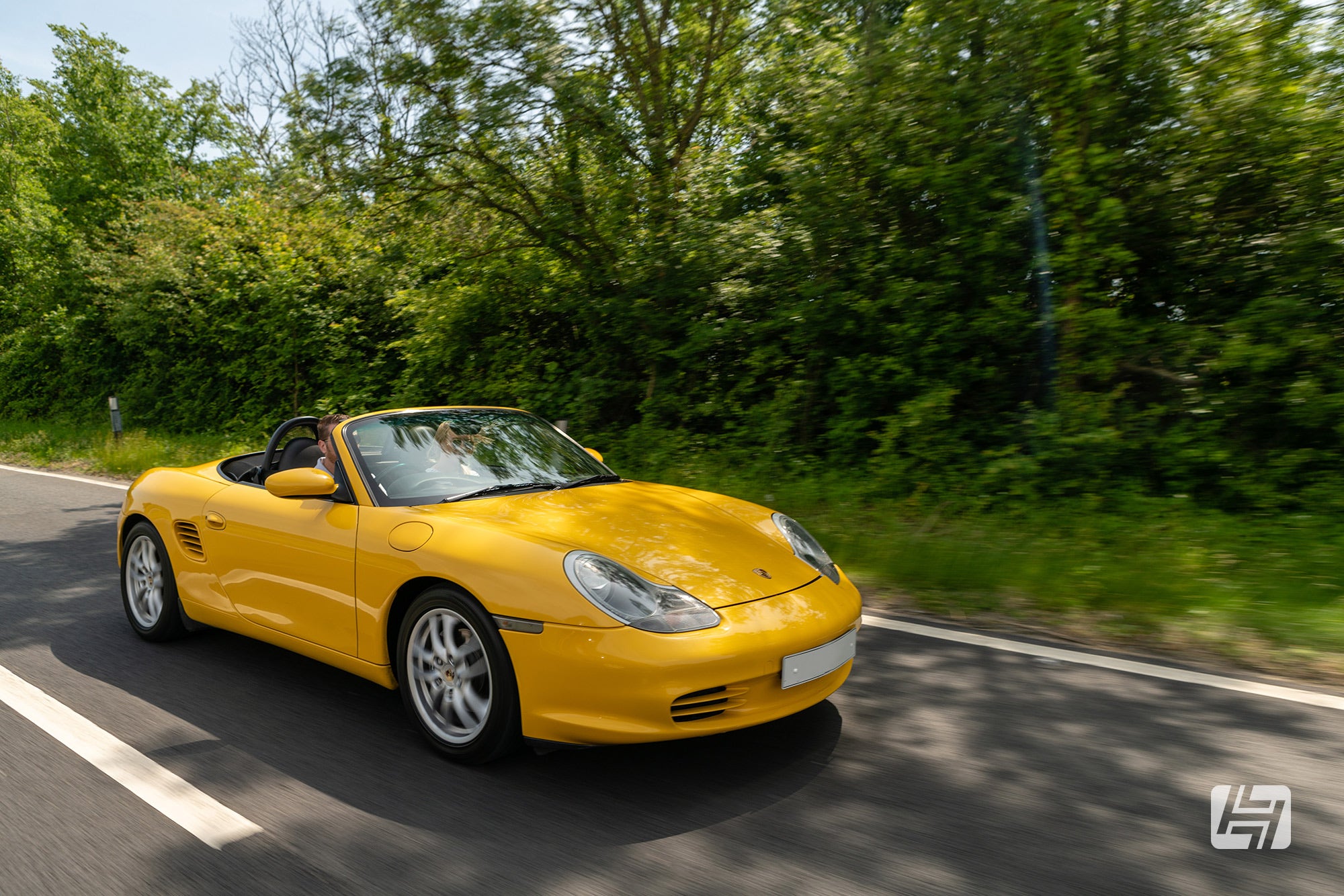 Boxing clever 
Had two seats and a canvas roof been my target then a pre-2001 Boxster S would have been the first choice. The earlier models seem slightly less sought after but benefit from a cheaper road tax, which makes a real difference when you are maintaining one on a shoestring. Fancy one of these bargain 6pot sportscars? Read our
986 Boxster buyers guide
here...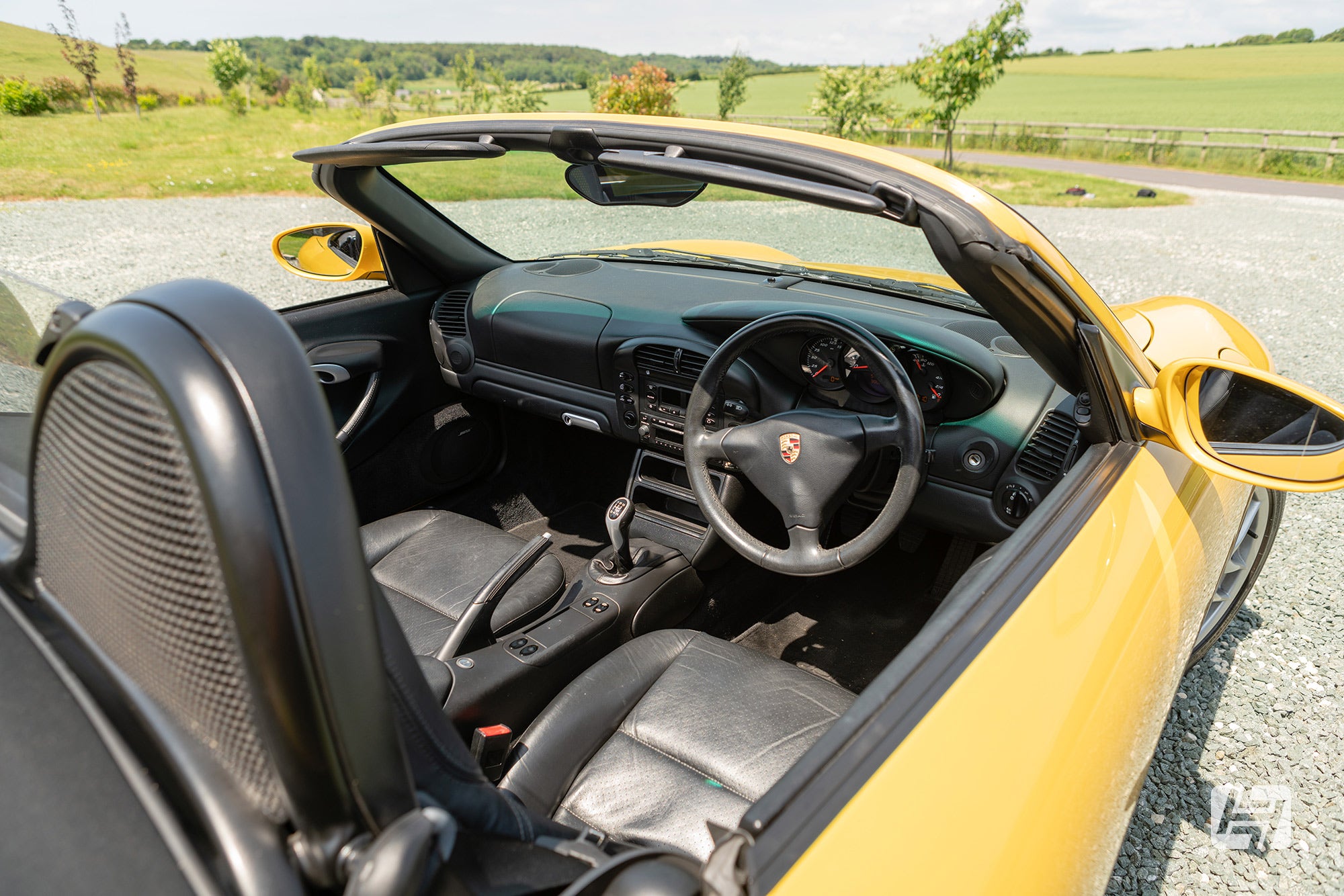 Back seat driver 
Although I turned down a mid-mounted six-shooter with an additional 100bhp in favour of my old coupe, I have benefitted from some minuscule rear seats which aided my justification for the purchase. I also have a 'proper' roof to make year-round motoring a little more attractive, albeit with a removable 'Targa' panel should the sun choose to make an appearance.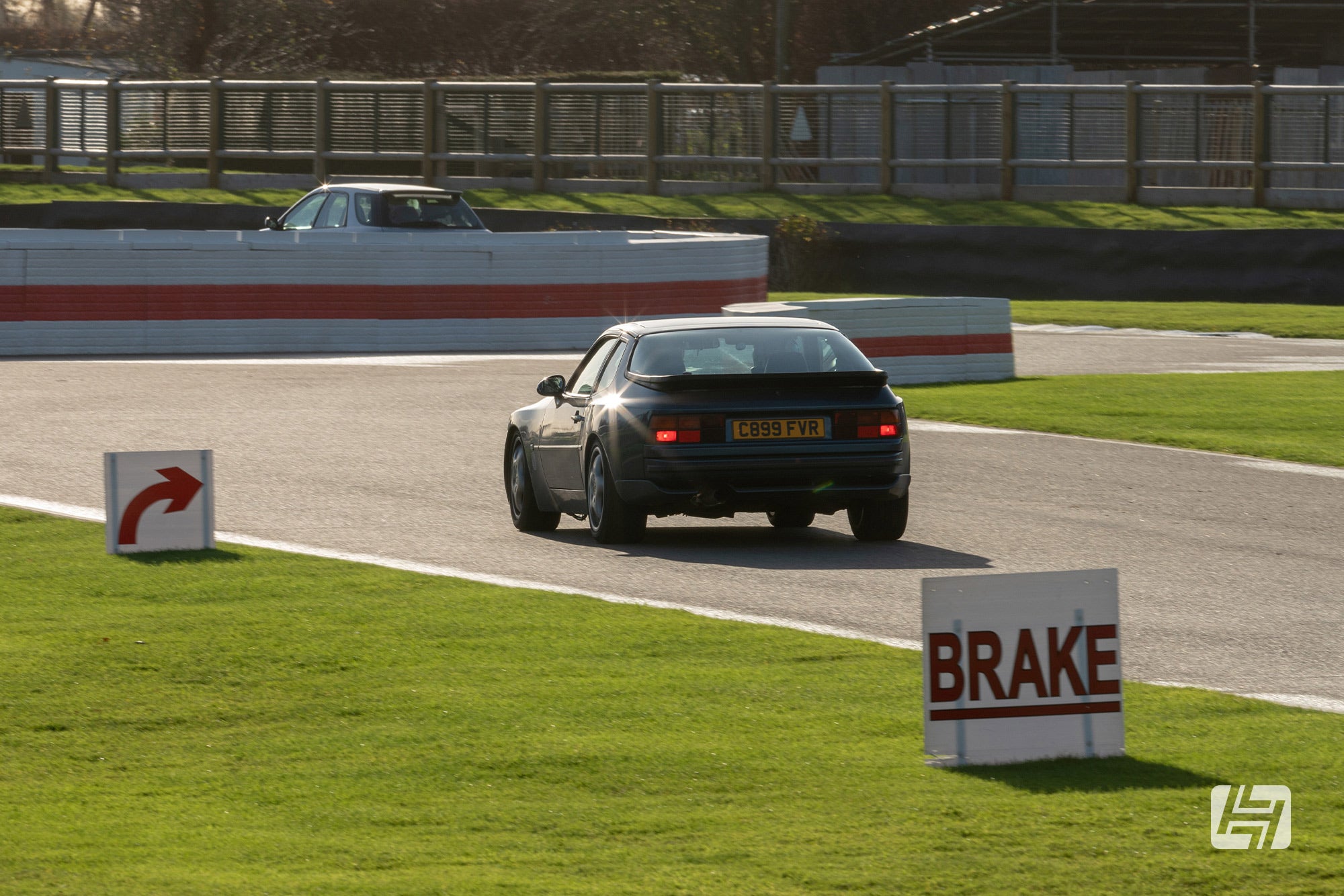 The bad news 
Ok, so what's the catch? Well as much as you
read buyers guides
and calculate sums, the reality of actually having to pay for maintaining your new purchase means you'll be in for a spend up regardless of the condition of your chosen car. Plus, in my case, I swapped from a 1996 Mk3 Golf GTI to a car 10 years older, with twice the mileage increasing the chances of things going wrong twofold, at least!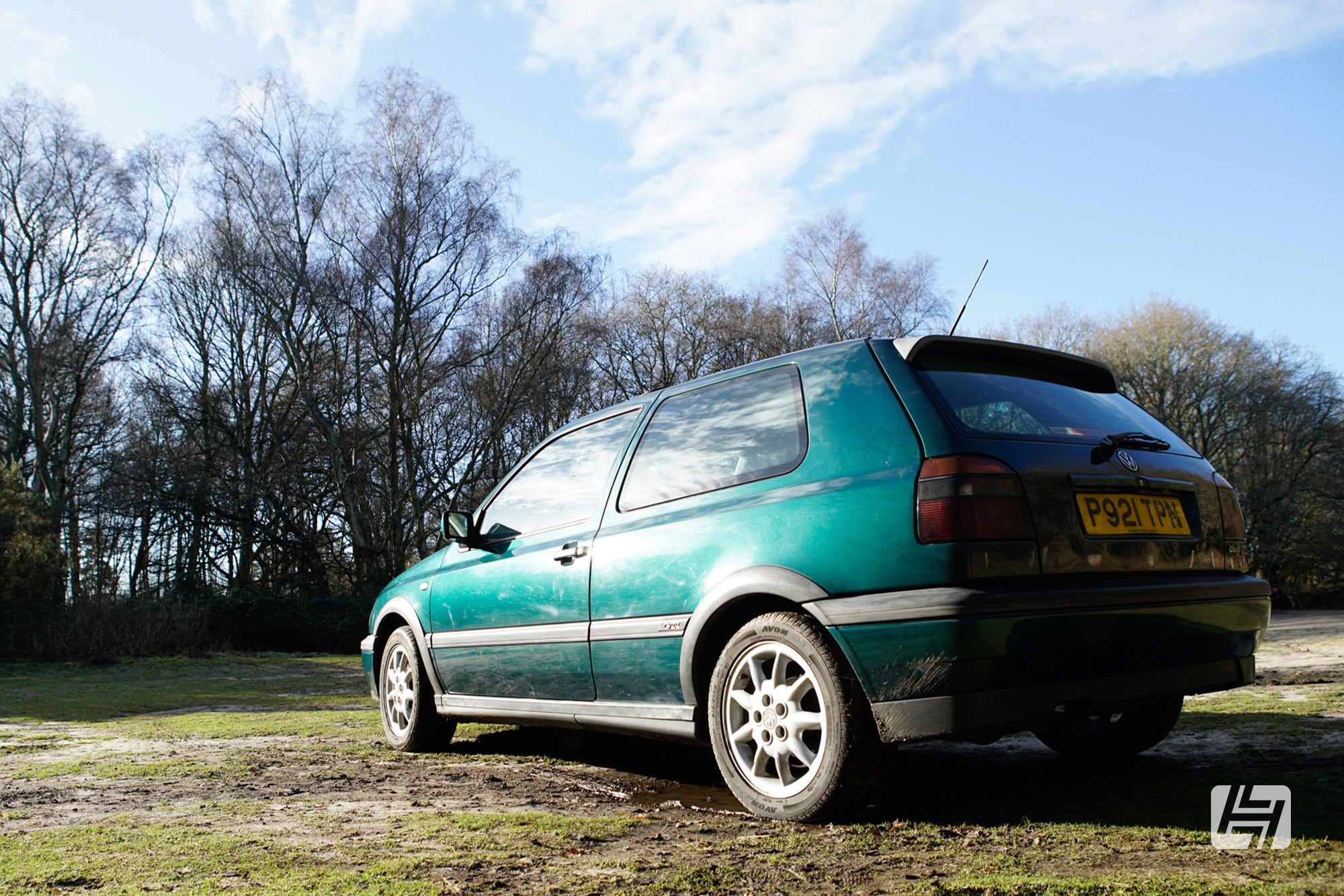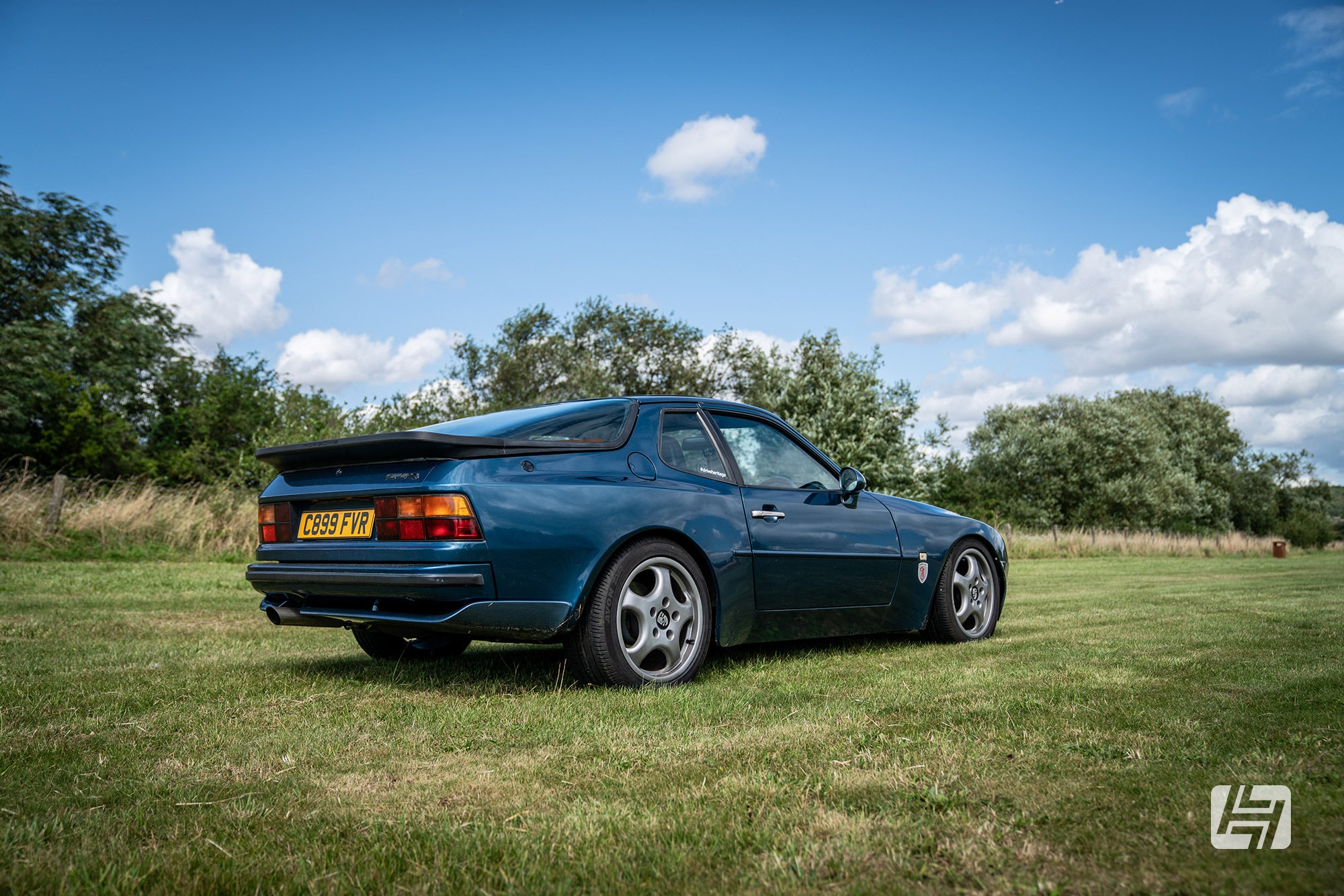 Faster cars like more fuel 
You'll be needing to put jungle juice in your new toy to go anywhere and with a 25% jump in engine capacity over the Golf, coupled with decade older technology, my new 944 is thirsty in comparison, averaging 20mpg around town. I'm pretty sure, the Boxster S would have had a similar appetite for octane had I have gone that way instead.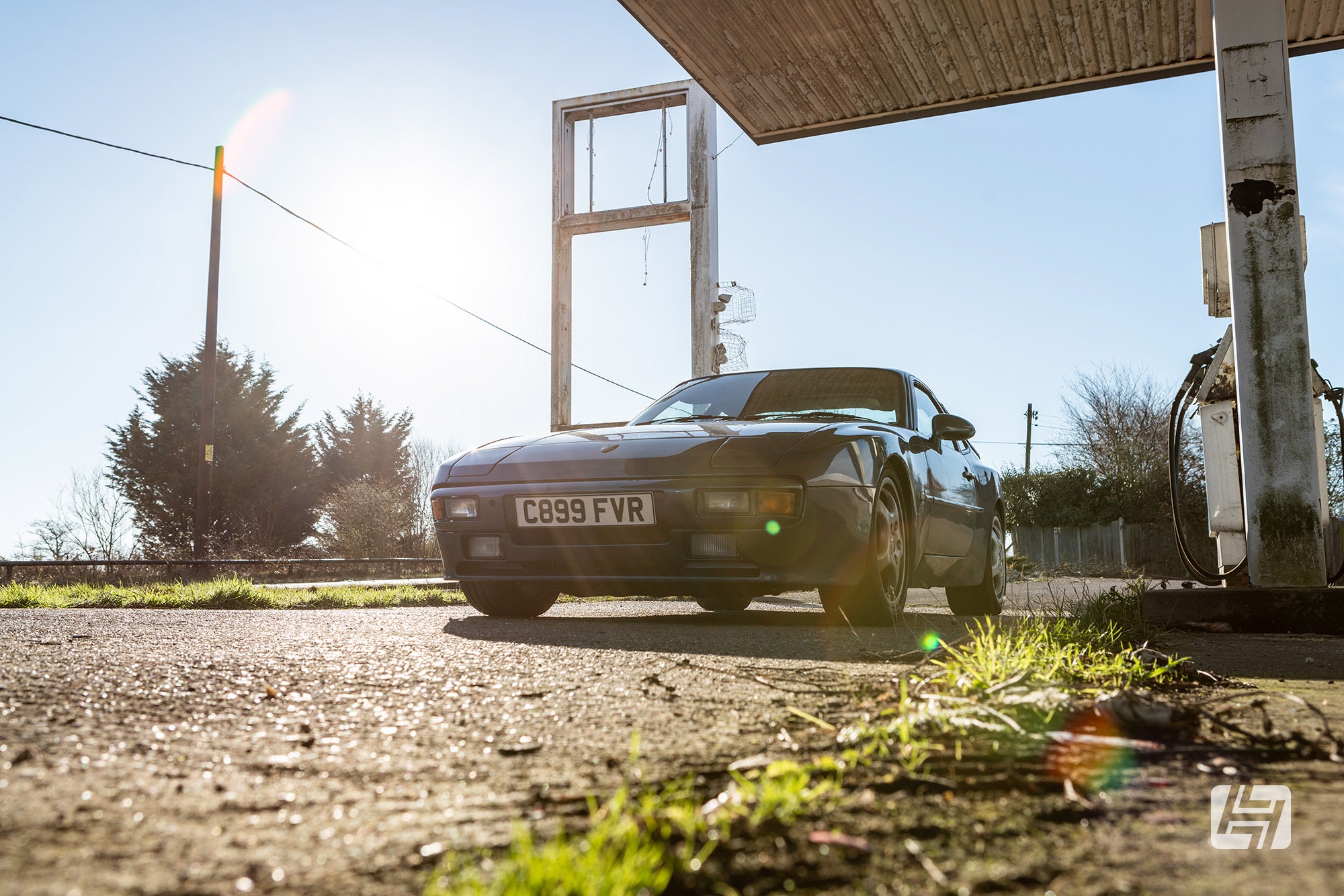 Servicing Sports cars costs!
One of the reasons for picking a Porsche might be that they represent a good investment (and hopefully they still do). Of course, that does rely on you looking after it and sticking to the suggested servicing schedules. Another thought with picking my 944 over the Boxster was the possibility of being able to do jobs on it myself with the engine being upfront aiding access no end over the mid-mounted configuration of the Boxster. I'll be honest, I got a local
mobile Porsche mechanic
in to tackle the belts for me - and
Doug
took care of the first service, but the fact I can touch it all is reassuring, should I need to turn a wrench in anger.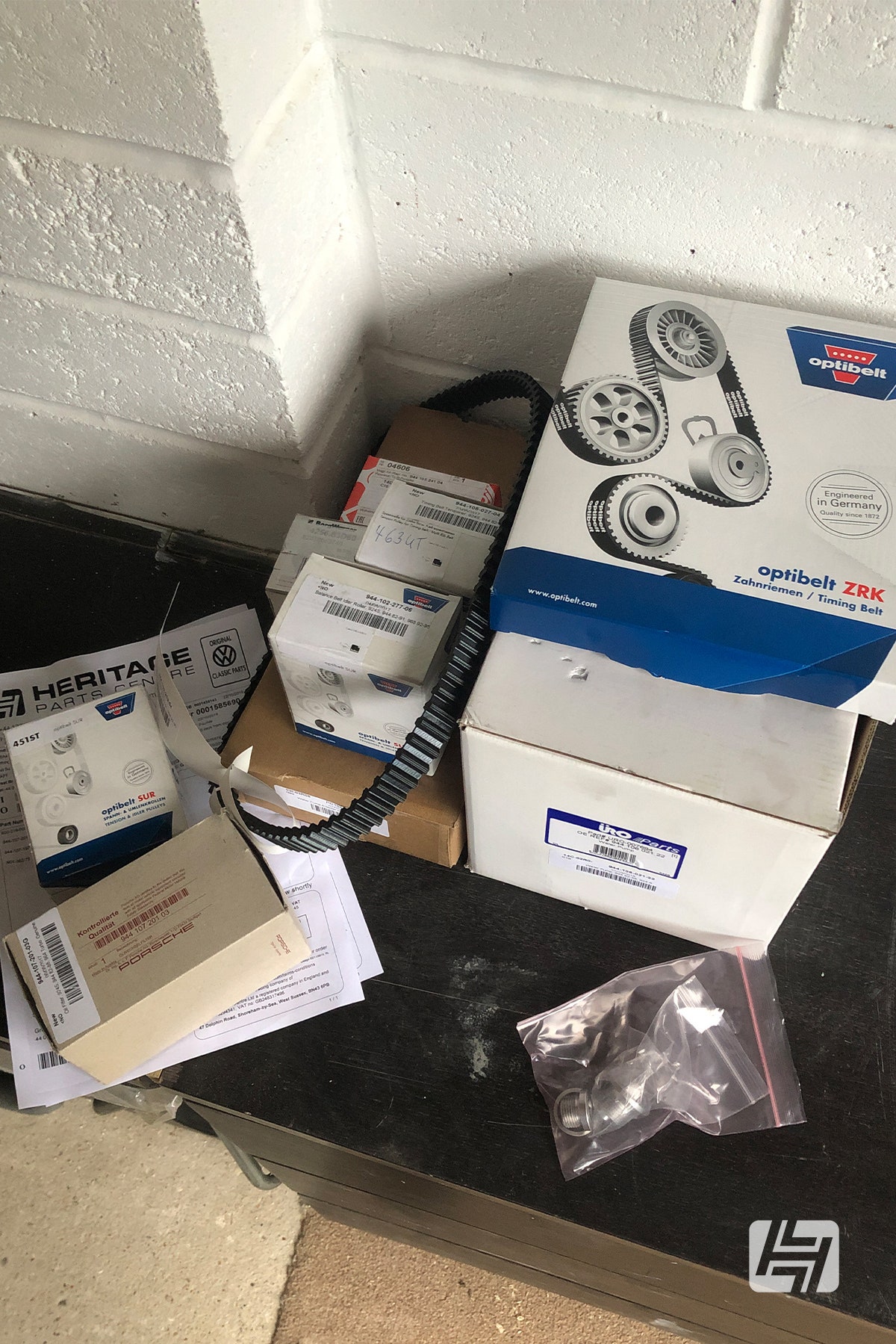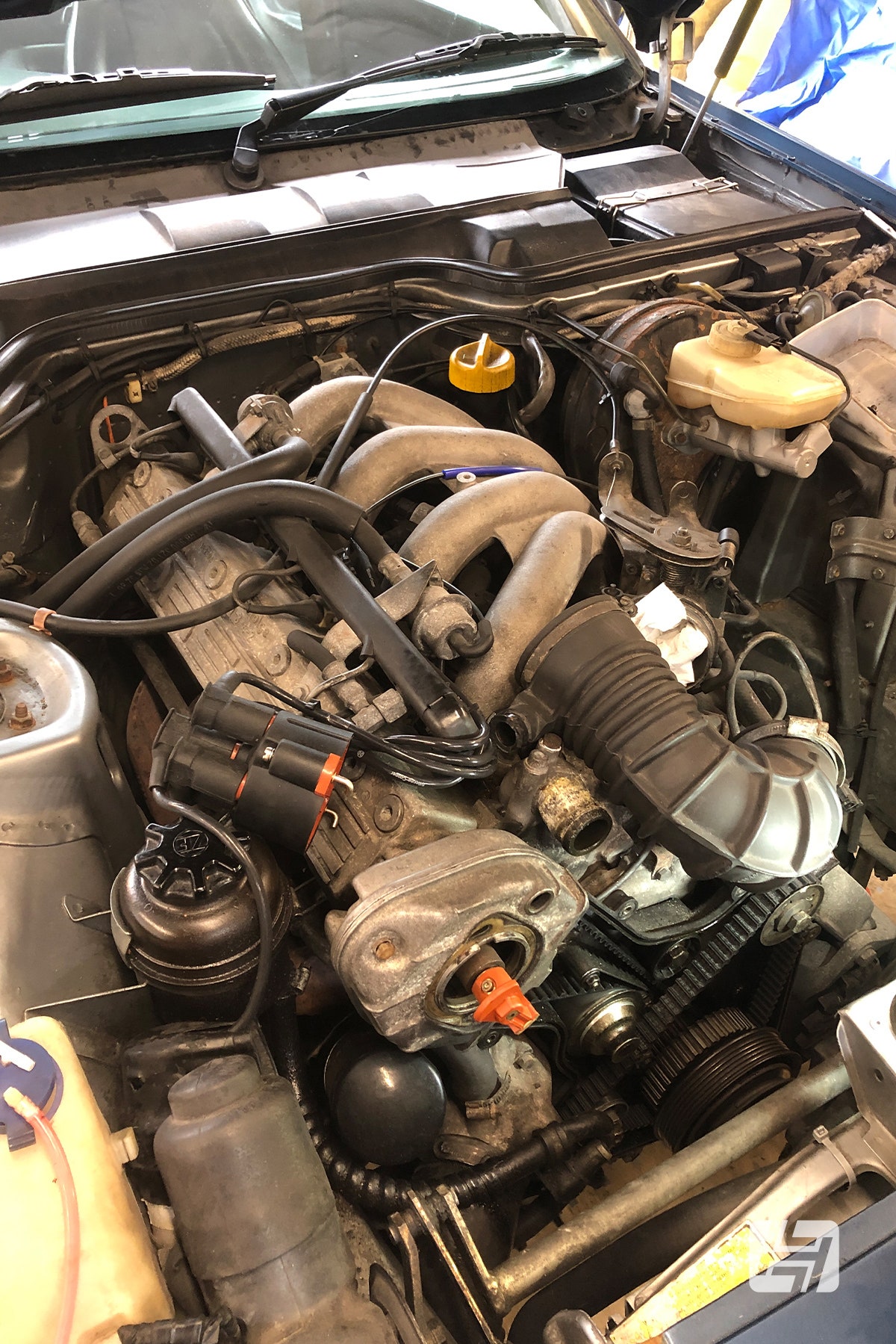 Low miles might not be good! 
Whilst we all hope for a 1 owner low mileage example, these cars are made to be driven. A Transaxle Porsche that's been parked up for years will need a considerable amount of cash thrown at it to get it up to scratch. Fitting a new clutch will set you back a grand and replacement belts, water pump and coolant change will cost at least half at a reputable specialist. Fortunately for me, I know a good place for
Porsche 944 parts
!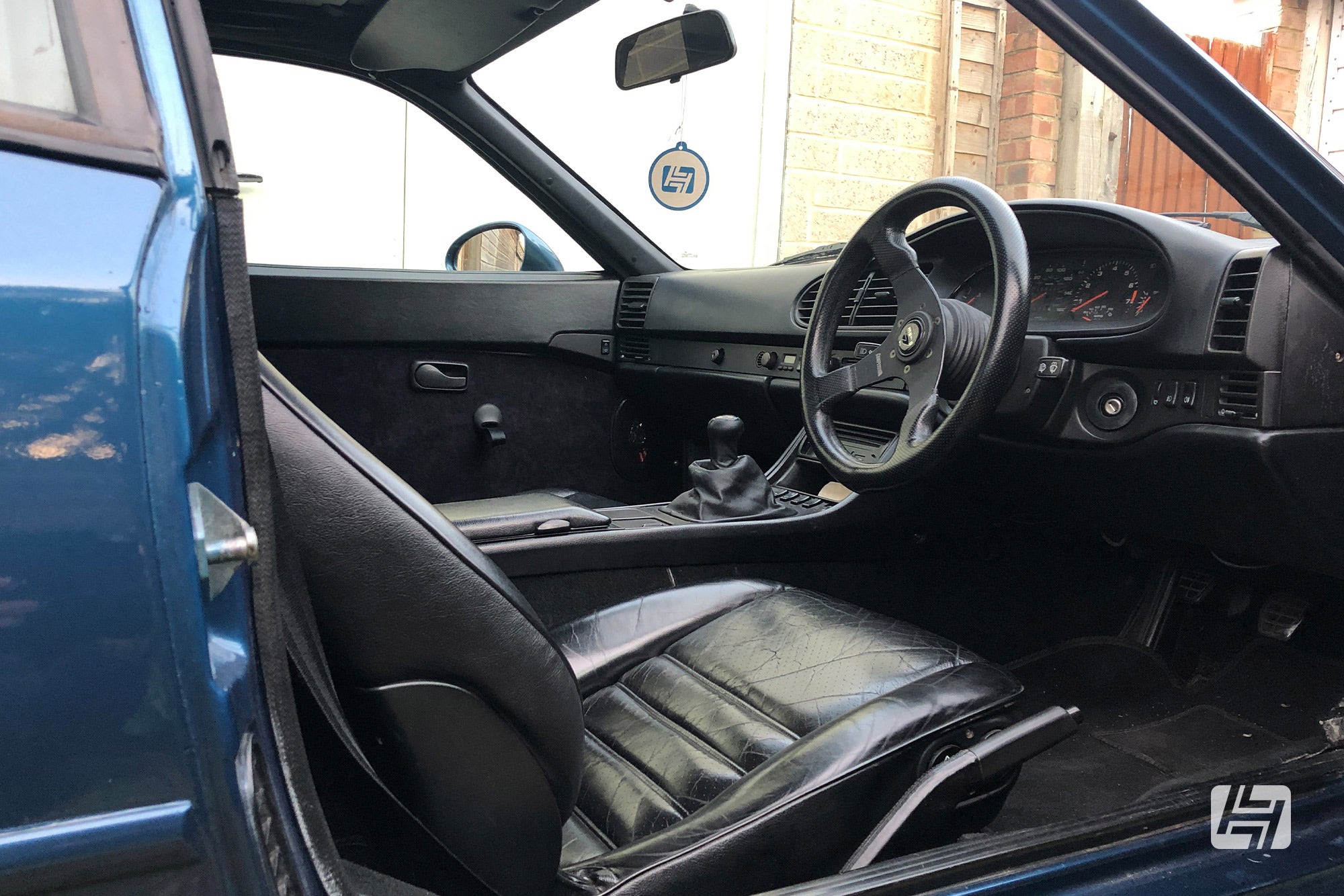 What does a £5000 Porsche look like?
Well, I set out to buy a stock car, and bought one that had been modified. The paint isn't original, it's actually a Mitsubishi colour and looks better in photos than it is -you'll notice under the bonnet is still the original Diamond Silver. The Odometer is close to 200,000 miles and the reproduction wheels needed refurbing. This didn't put me off though. If I had bought a show pony I'd have been scared to use it, park it outside or let others have a go! On the plus side, the history folder is huge, its lowered on Gaz Coilovers, has a chipped ECU, a Stainless Dansk exhaust system a Toad Alarm and Immobiliser and had a (different) fancy Momo wheel fitted. The door panels were a DIY effort by a previous owner, but I quite like them too.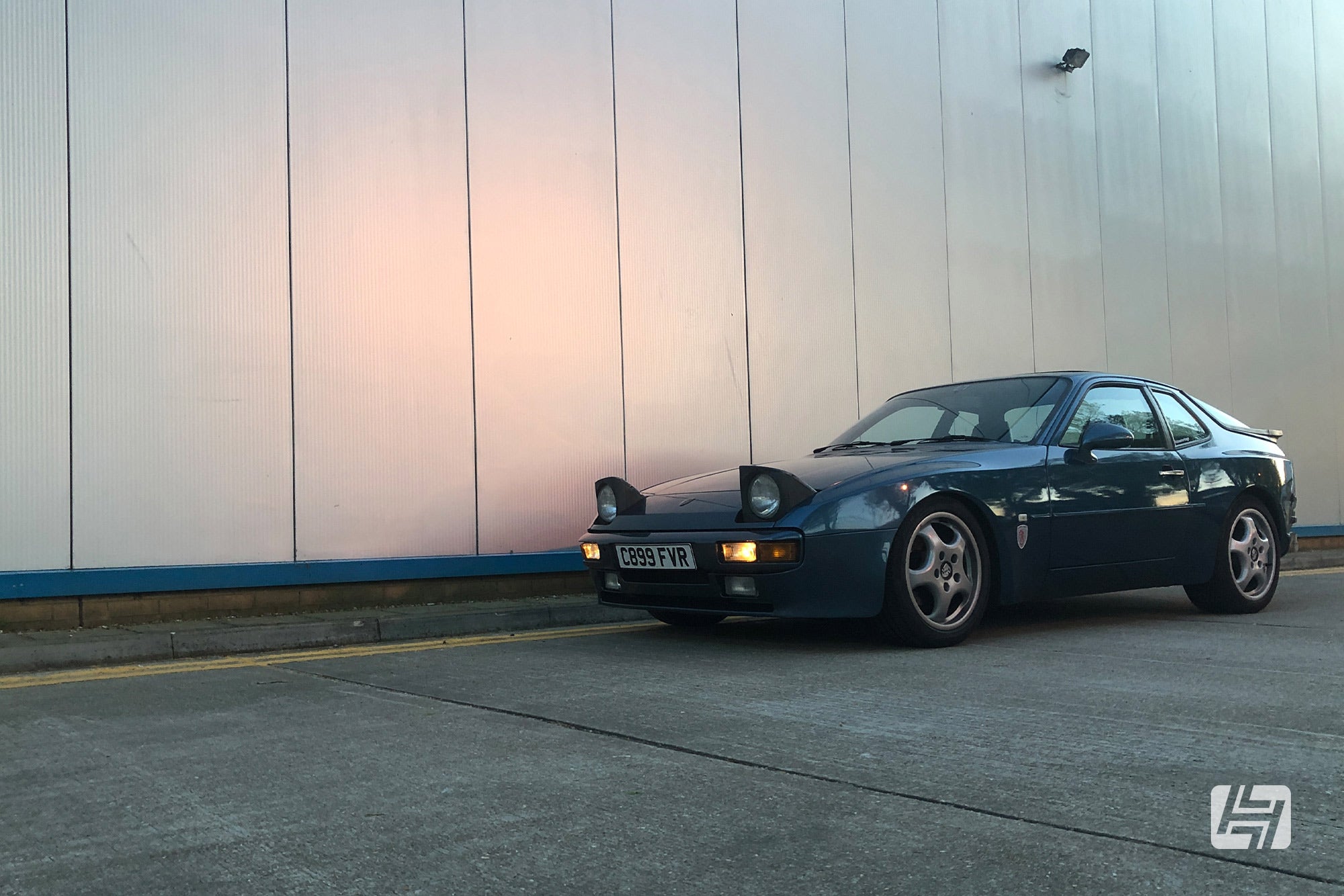 The problems with my old Porsche
So what's it actually been like owning my 944? I had forgotten about driving an old car - my '76 Polo has seen little use recently. I managed 3 miles from the seller's front door before the indicators stopped working. I pulled over at a pub and called him, but he had little to offer in the way of clues. I set off again using only hand signals and mind control to navigate my way home. This saga continued for over a month, which was hugely frustrating. In the end, a dodgy earth and an intermittent connection issue with the hazard light switch were to blame. Occasionally the issue will show up again but I've found it is quickly remedied by flicking the hazard light switch on and off again.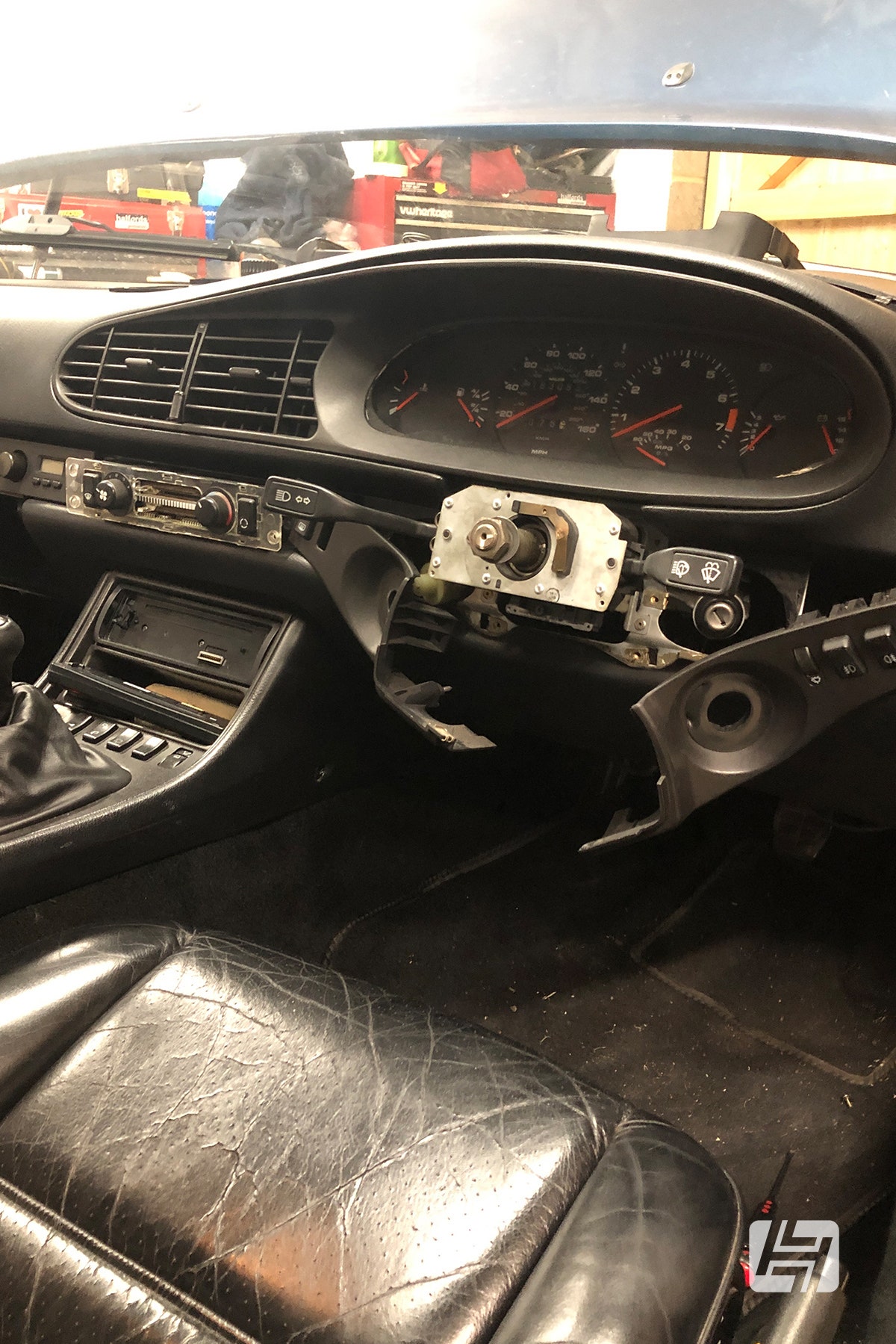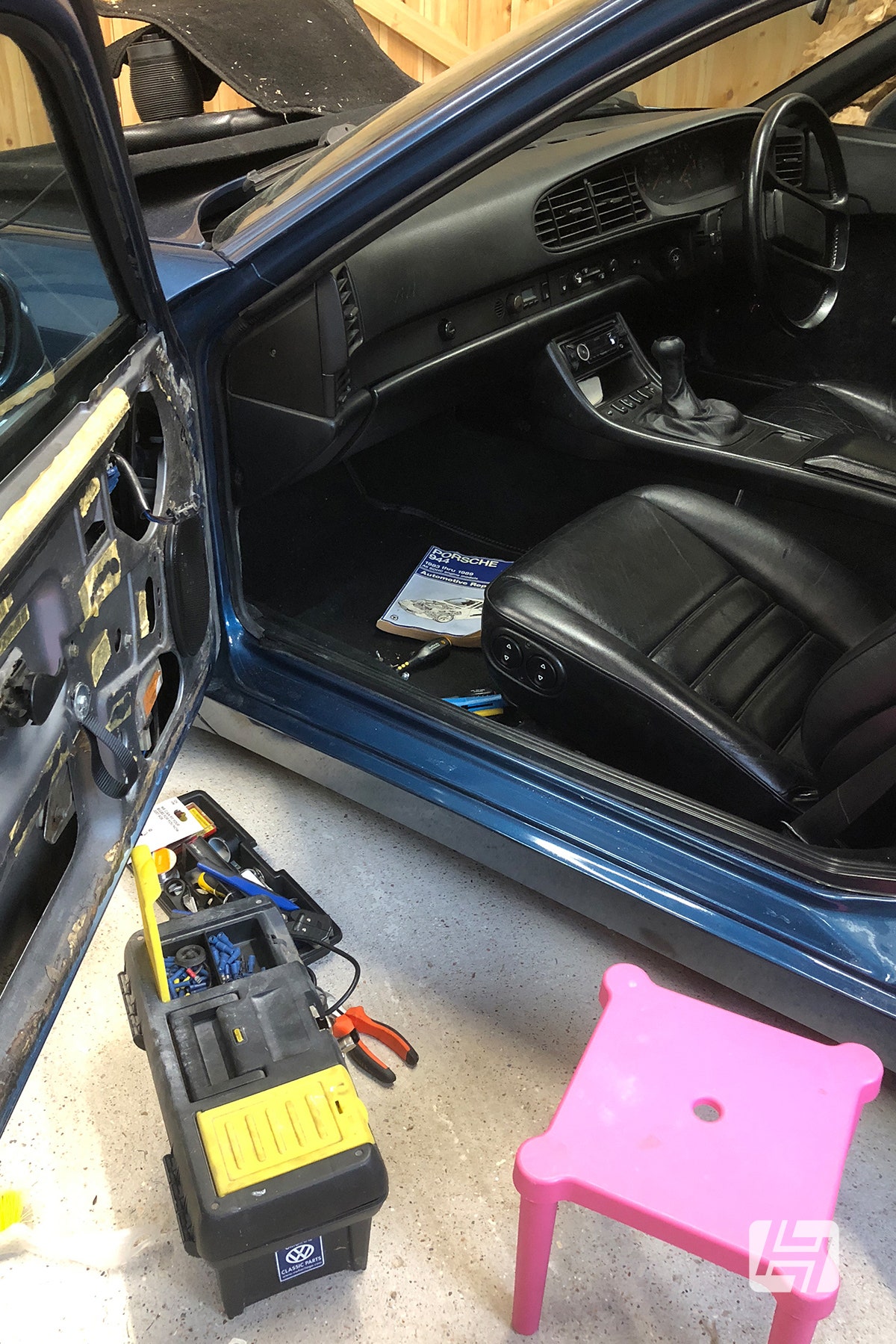 Getting Wet!
Being a sucker for a retro car, I've had my fair share of damp carpets and my trusty 'Transaxle hasn't disappointed! The first issue was a split wiring loom grommet under the scuttle panel. Sadly this part is integral to the loom, so the only option was to fill the splits with Sickerflex. More recently the drivers rear footwell has gathered a small pond. I'm not sure where from, but it has been dried out frequently with old towels and through a combination of parking at a different angle and adjusting the sunroofs resting position, it seems to have stopped. I also have the pleasure of an intermittent door speaker, part-time dashboard lights and a 6 month old battery that doesn't hold a charge - all I hope are simple fixes when I get round to it.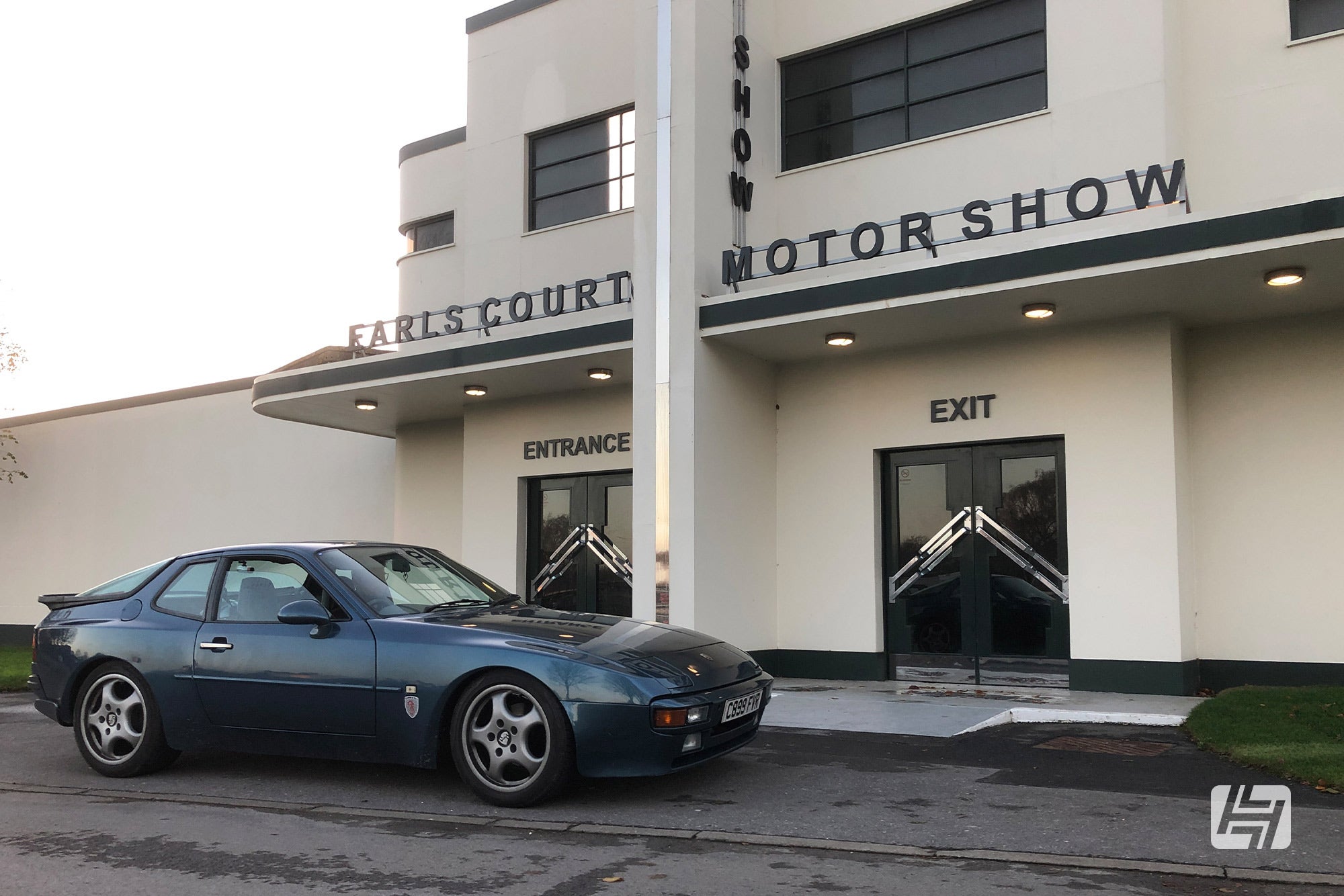 Daily Drive
6 months into ownership and I bravely (or stupidly) sold my Mk3 GTI, elevating the 944 to
practical
daily driver status. I love driving it, it is rewarding and gets some great looks from fellow commuters who perhaps aren't crazy enough to consider running one of these all year round. The rear seats I should note, are pretty useless for anyone requiring a child seat by law and until my girls get bigger I'll be using a single child seat in the front when required and leaving the other one at home! My wife also hates driving the car, so 13 months in I purchased an Audi A3 TDI, which has 5 doors and meets with her approval.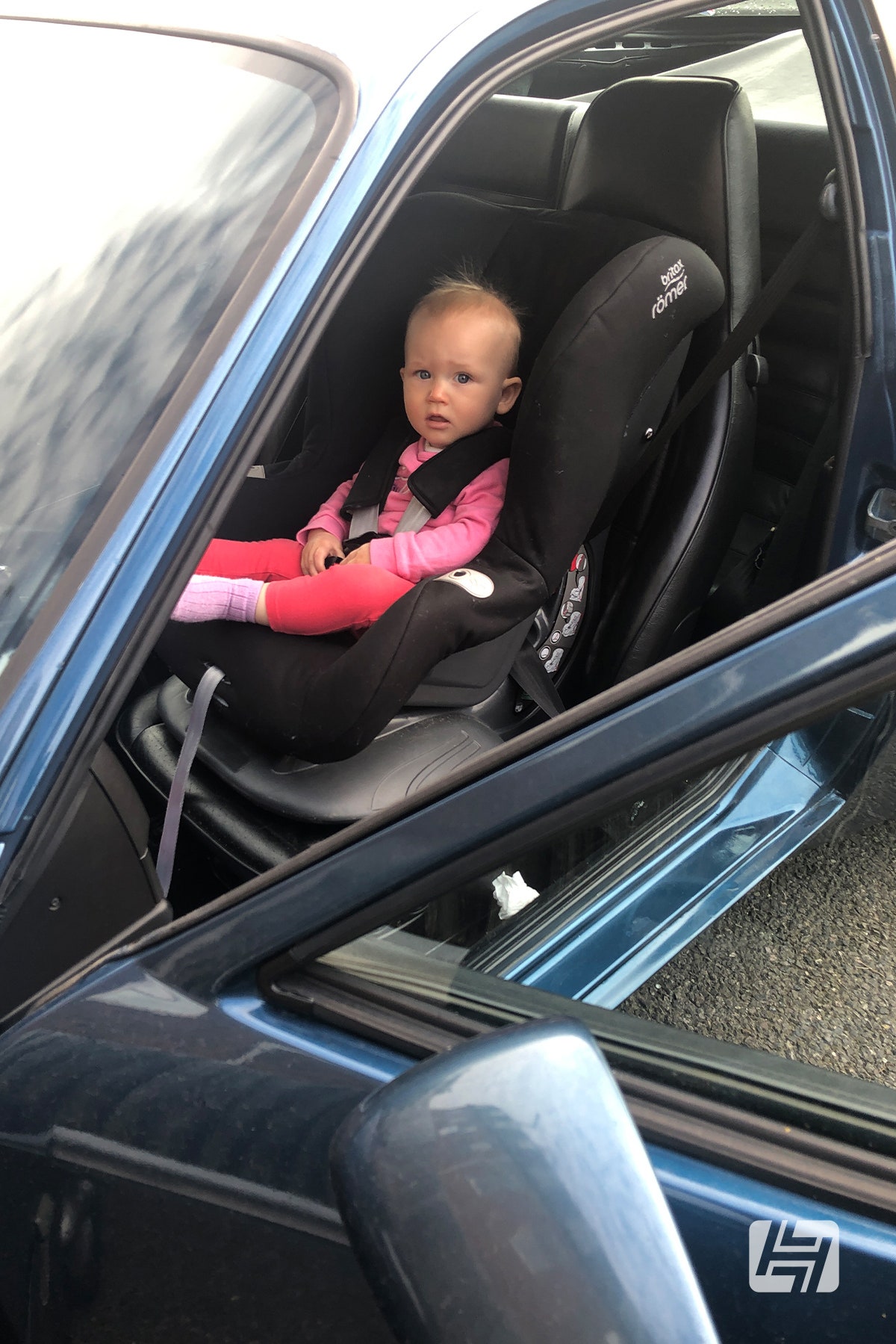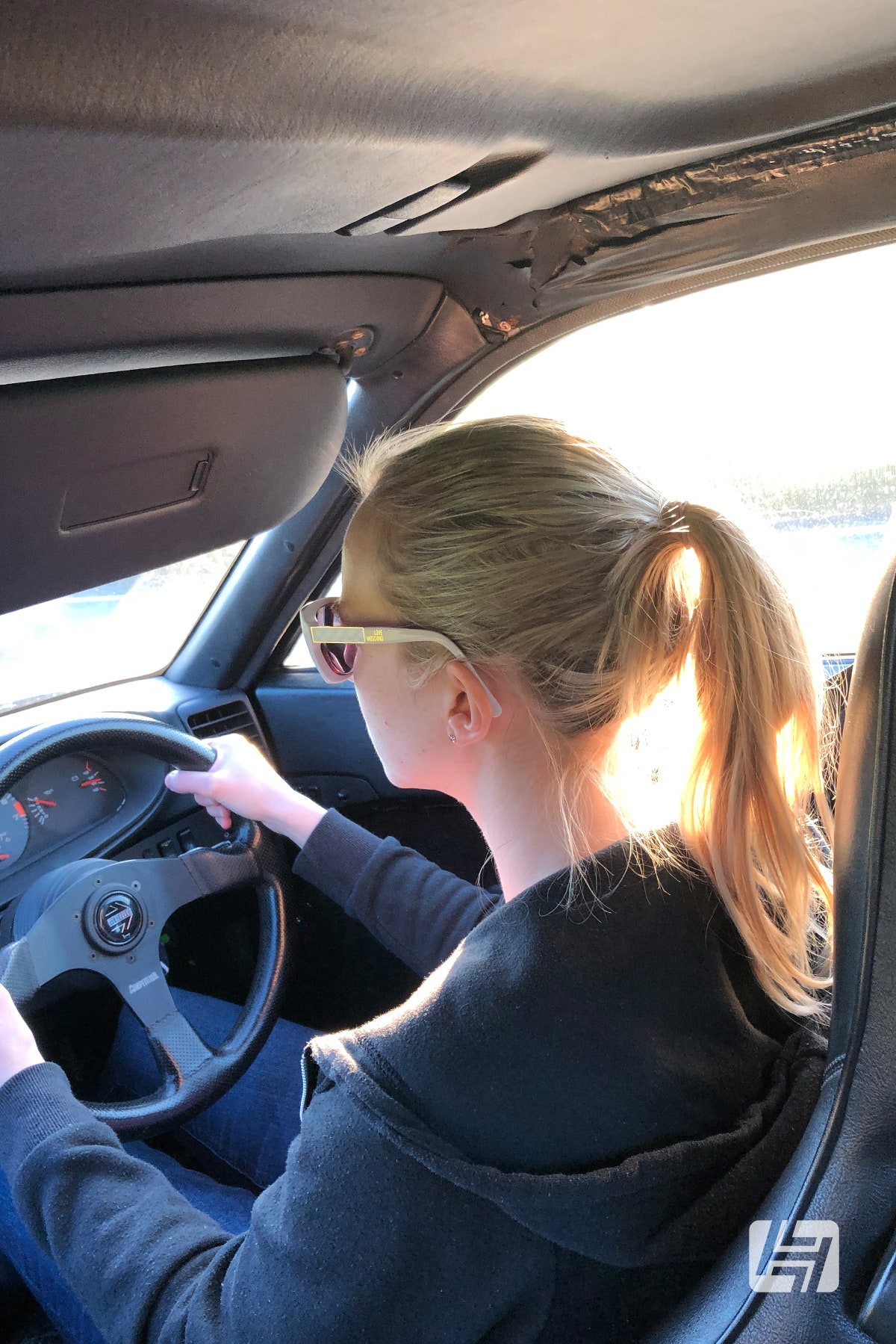 Meeting other Porsche owners
Owning my 944 has meant joining Porsche Club GB and meeting a whole host of enthusiasts who have welcomed me and my slightly tatty Transaxle Porsche with open arms. It was a regular at our
Heretics meets
last year, made it to
Oilcooled '19 at Boxengasse
and the
Porsche Charity Day at Goodwood
too.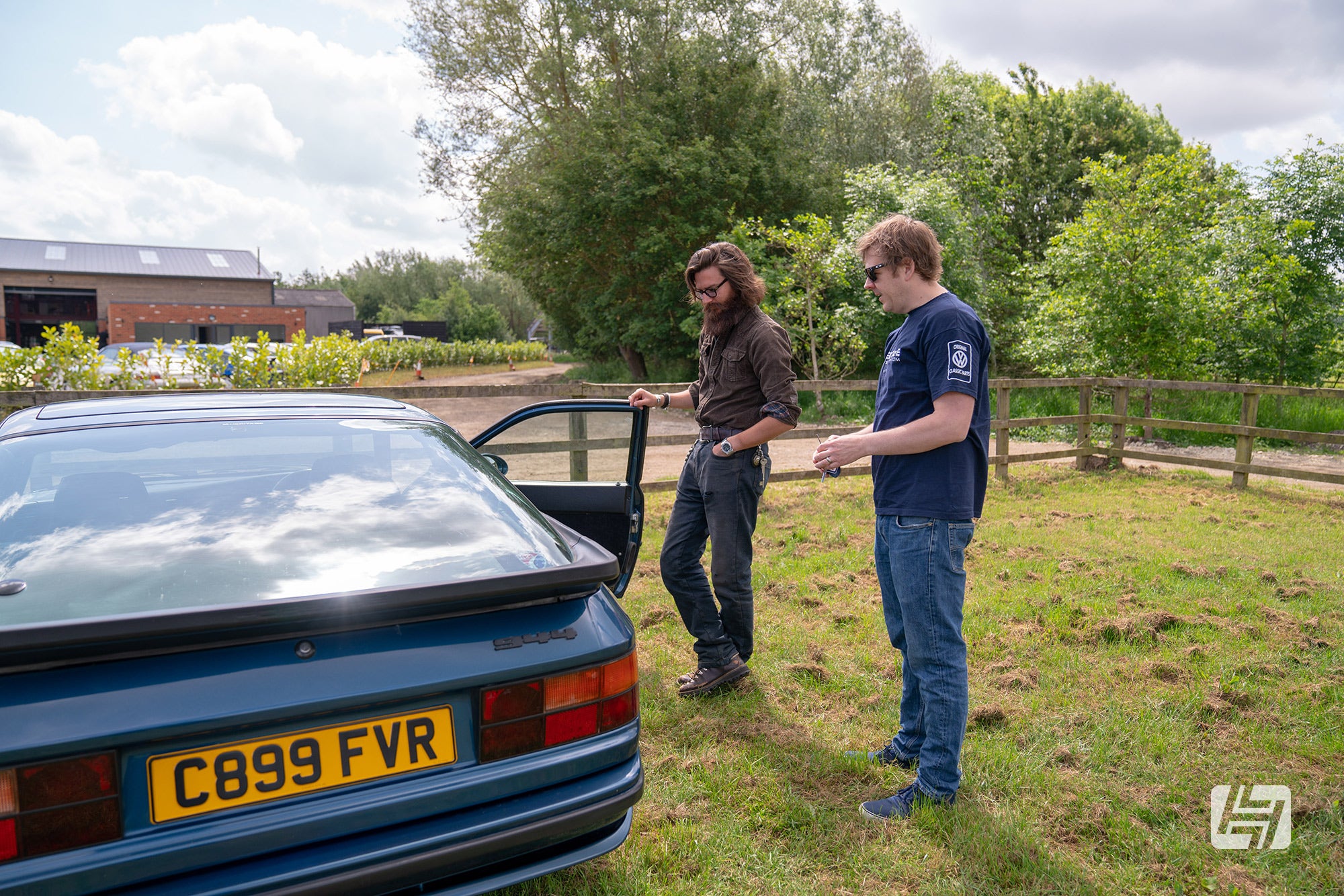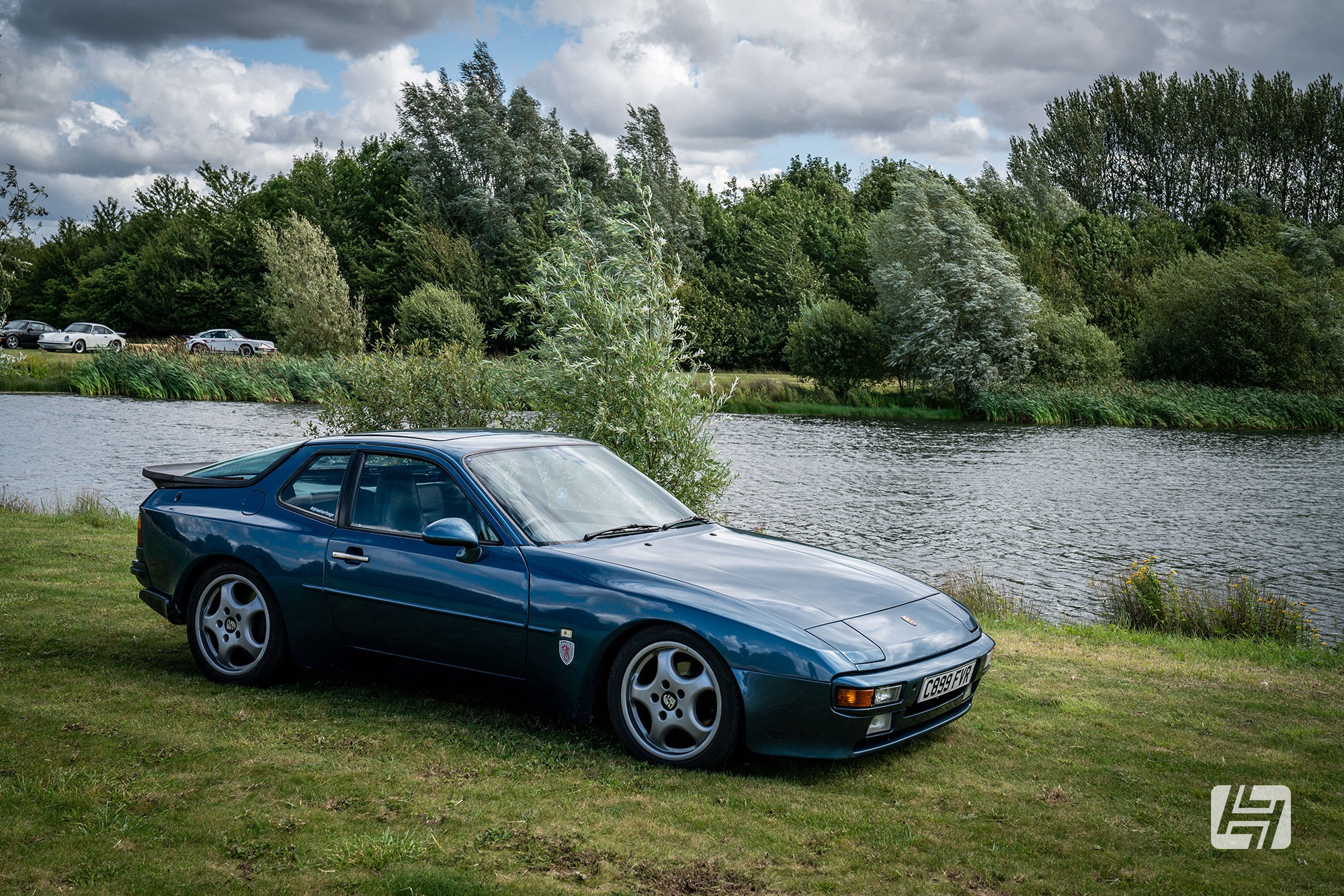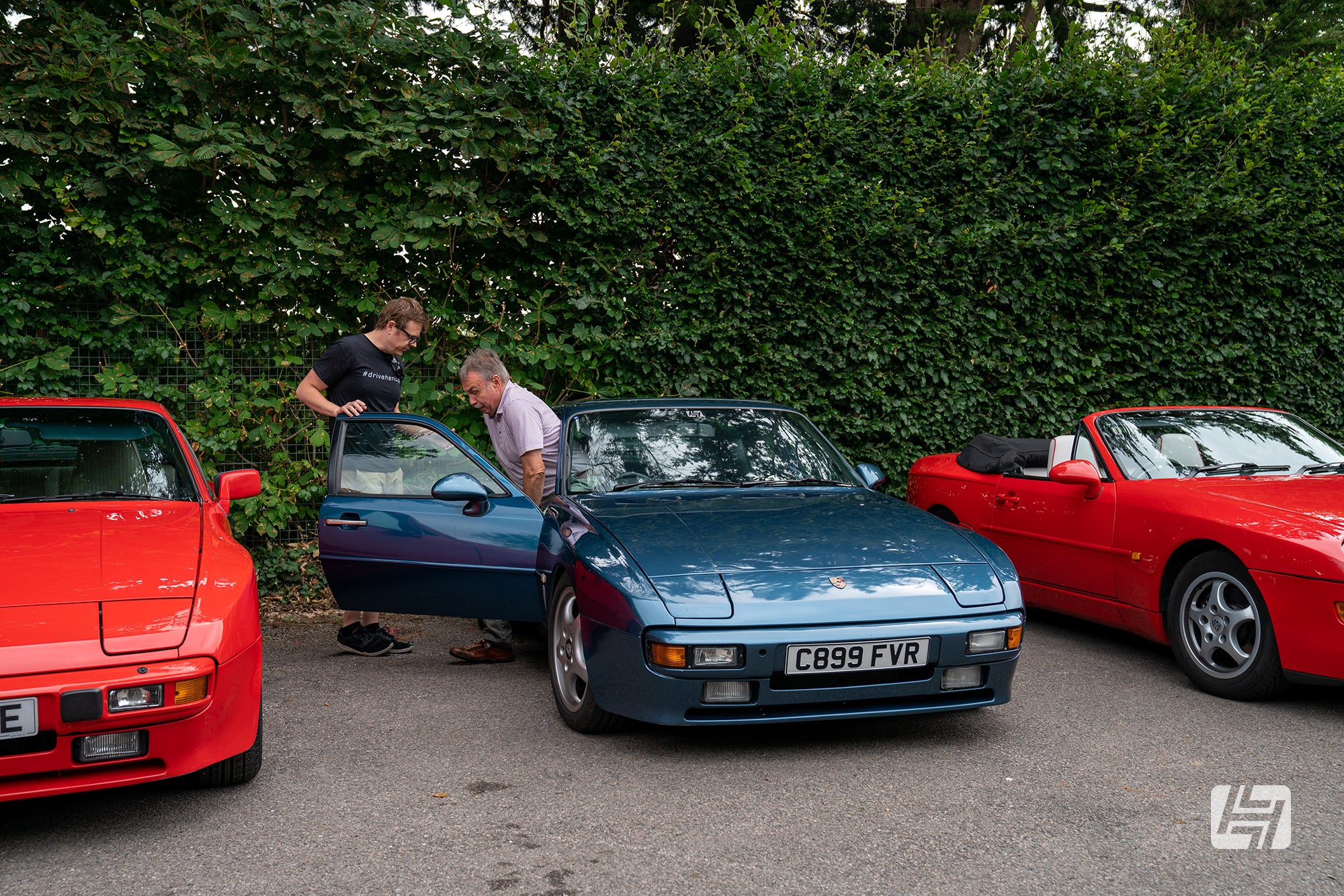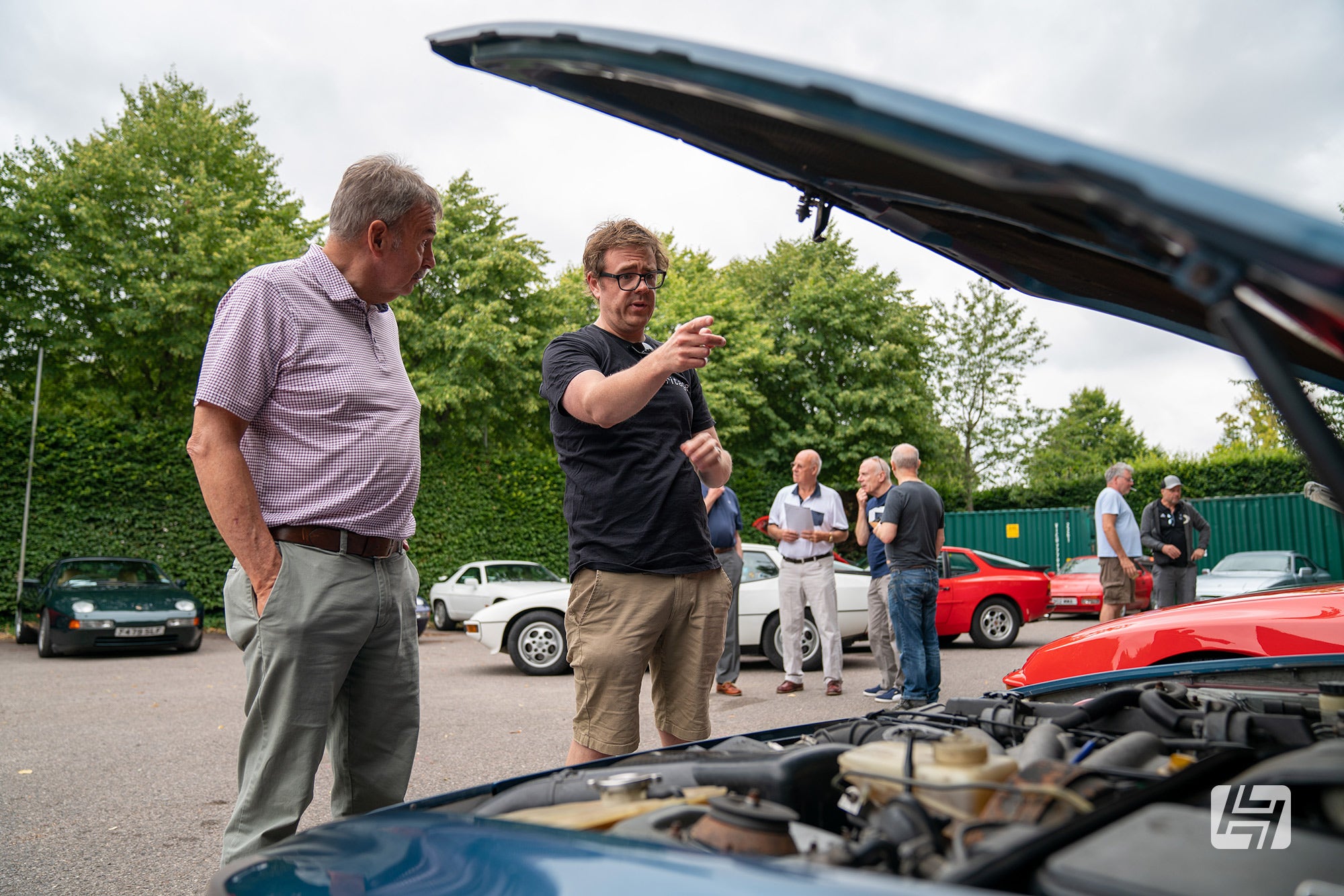 944 on Track
Often praised for their near-perfect weight distribution I have taken the Porsche around Goodwood twice now. Both outings were wet and both involved a slight spinning incident at Lavant Corner. The first with my brother at the wheel, the second time I only have myself to blame, with a foolish downshift too close to the apex. Both times we avoided anything fixed and made it back to the pits for a quick 'talk' before being let loose again. The 944 didn't disappoint and is fast enough for now, whilst modern hot hatches are faster, I think this is far more fun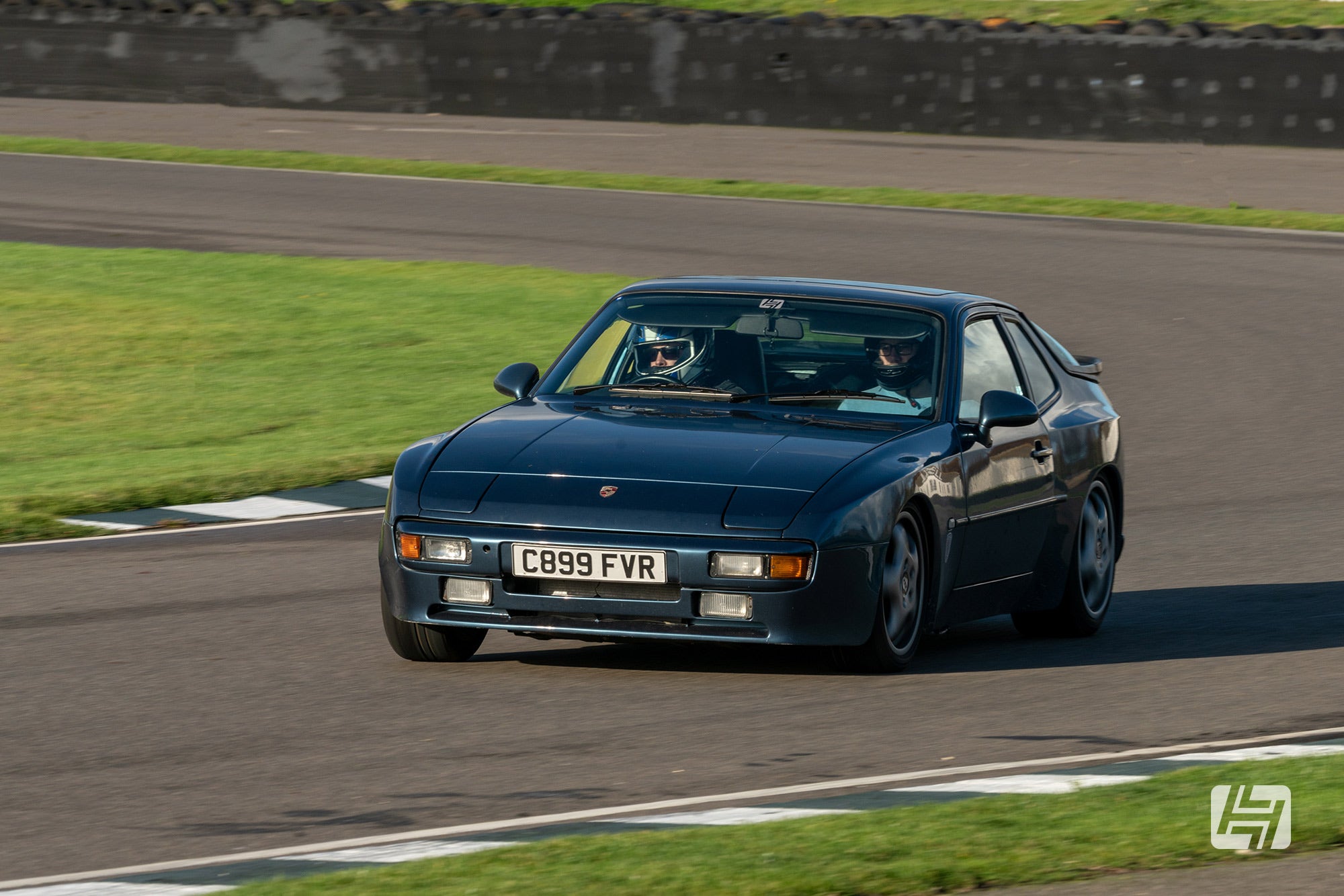 What have I done?
My 944 has had both regular servicing and the belts and water pump done now. It sadly developed a major oil leak after the belts were fitted, which meant the job needed doing again... I'm pretty certain this was just bad luck and not shoddy workmanship by my chosen spanner man. I've treated the Borbet Cup wheels to a full strip-down and refurb thanks to local specialists
Kerbed
- which has really cleaned up the side profile of the car. The windscreen has also been replaced twice... First time to remedy the original, which was peppered with stone chips and scratches. The second time to fix the installation issue / bad luck which caused it to crack of its own accord.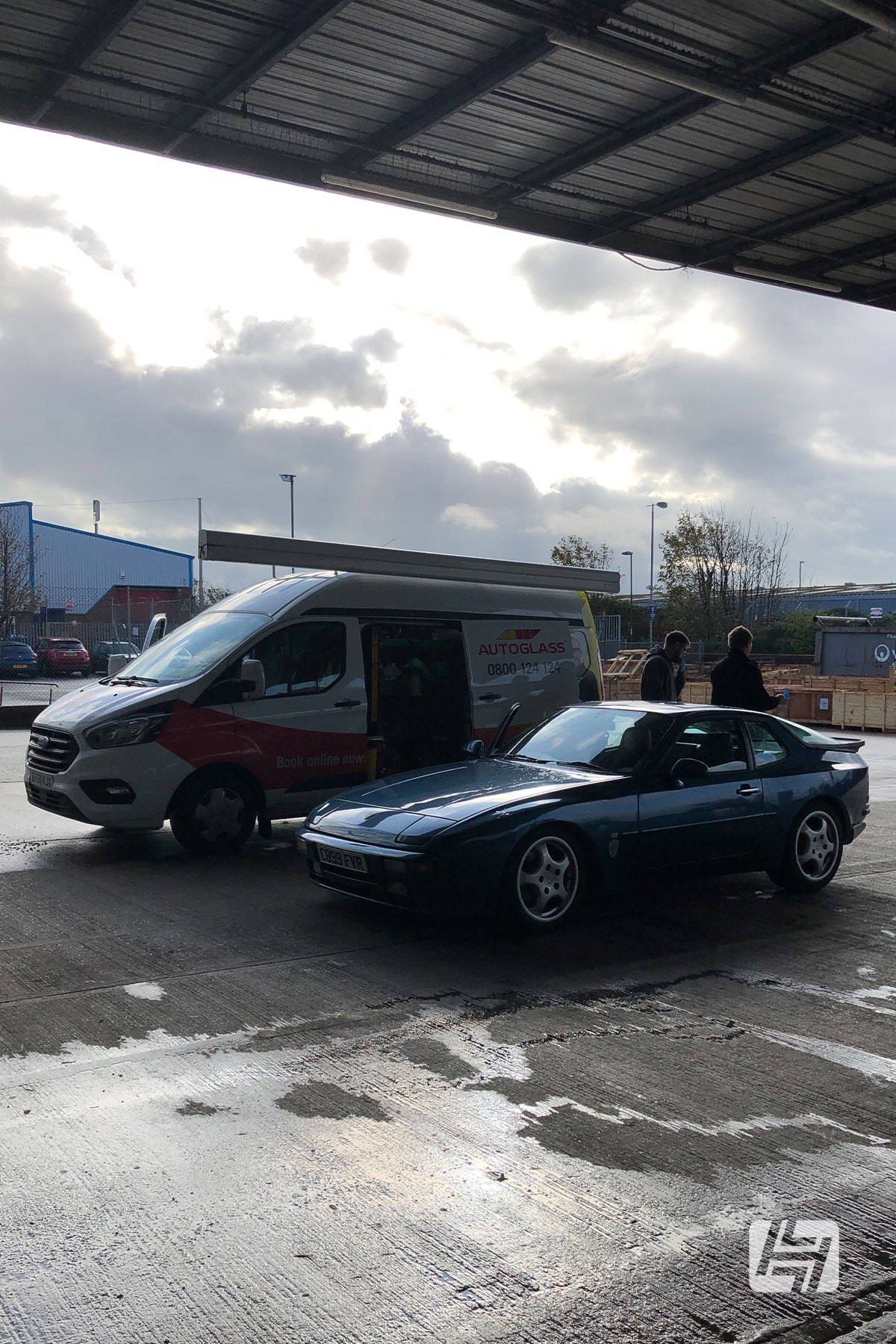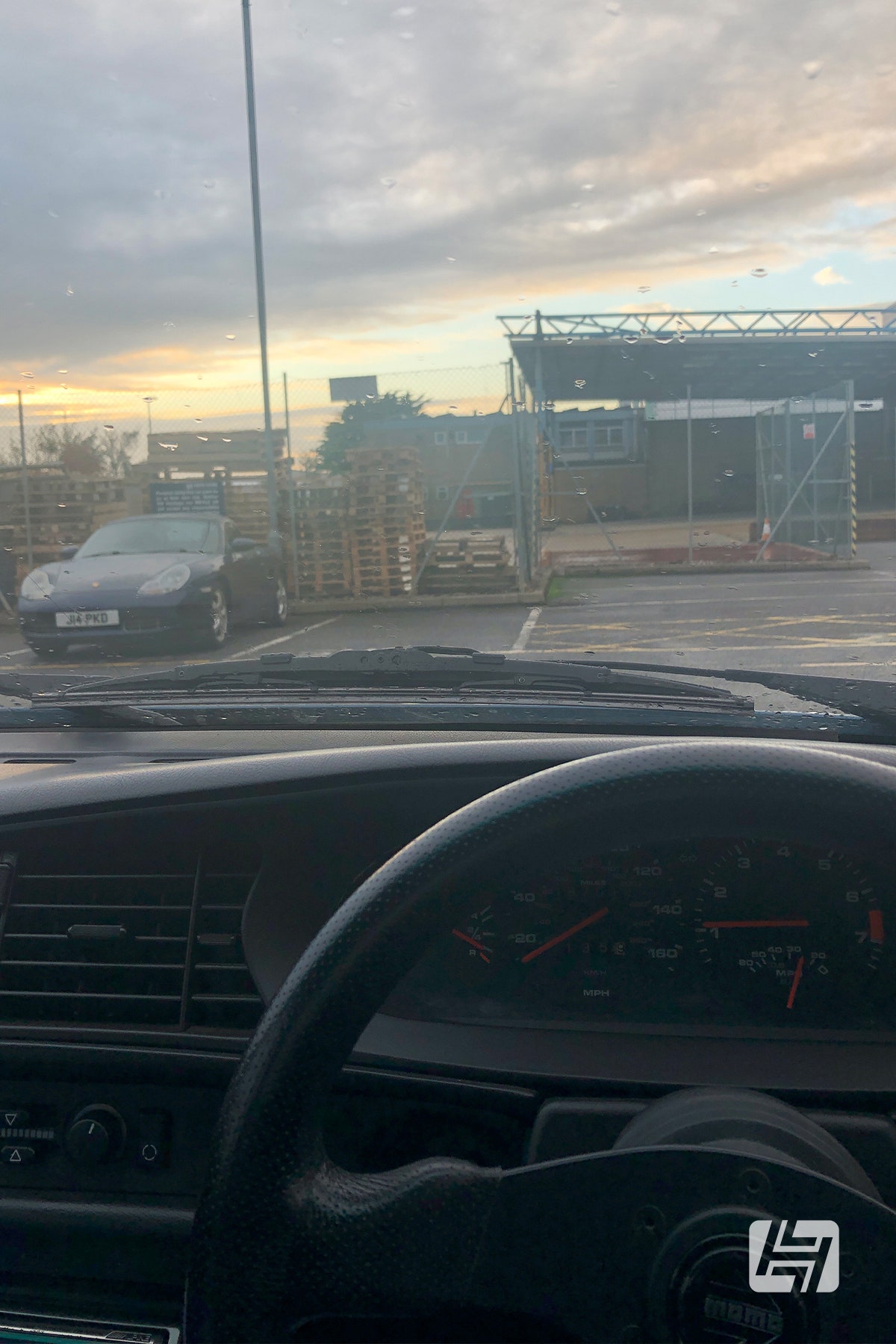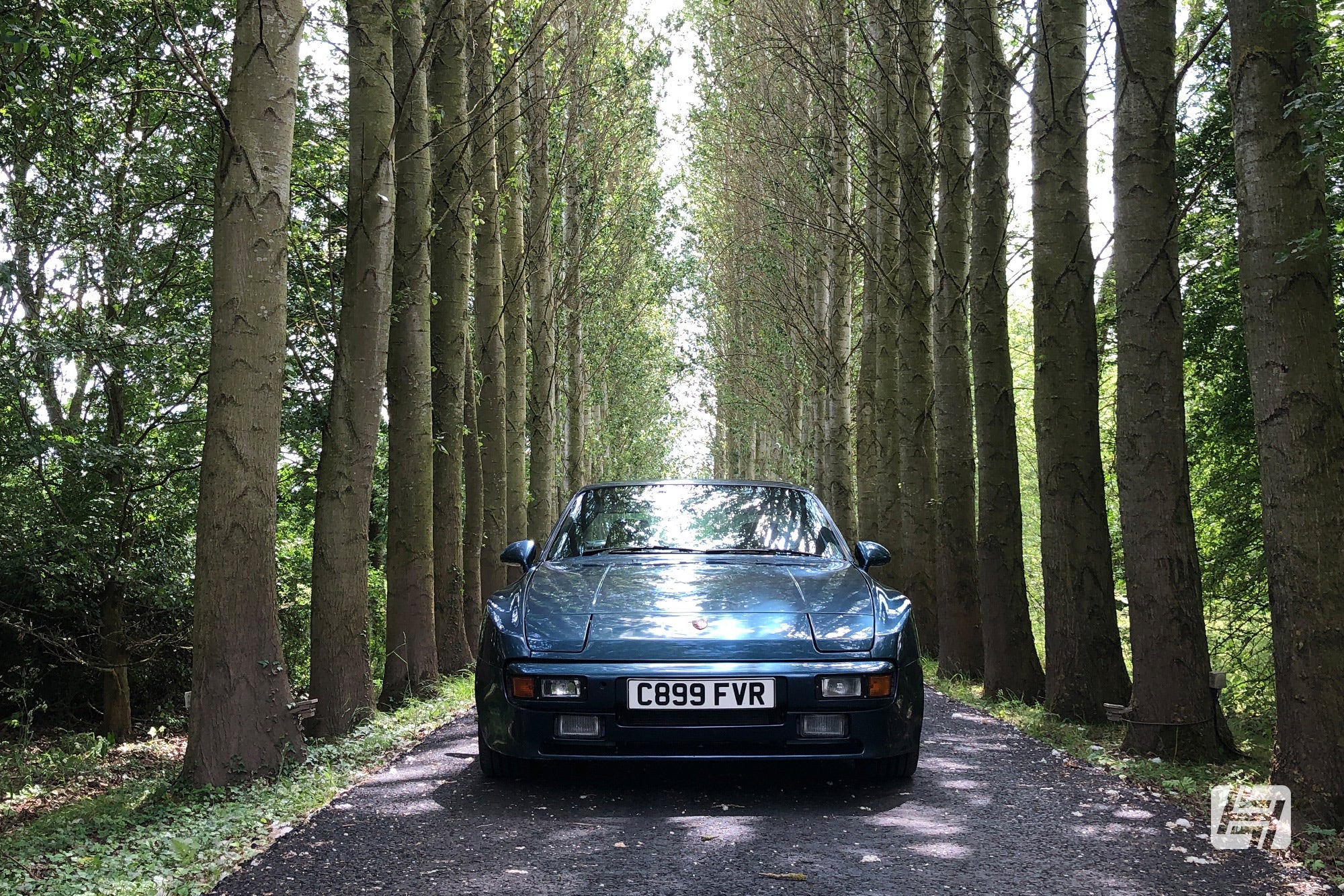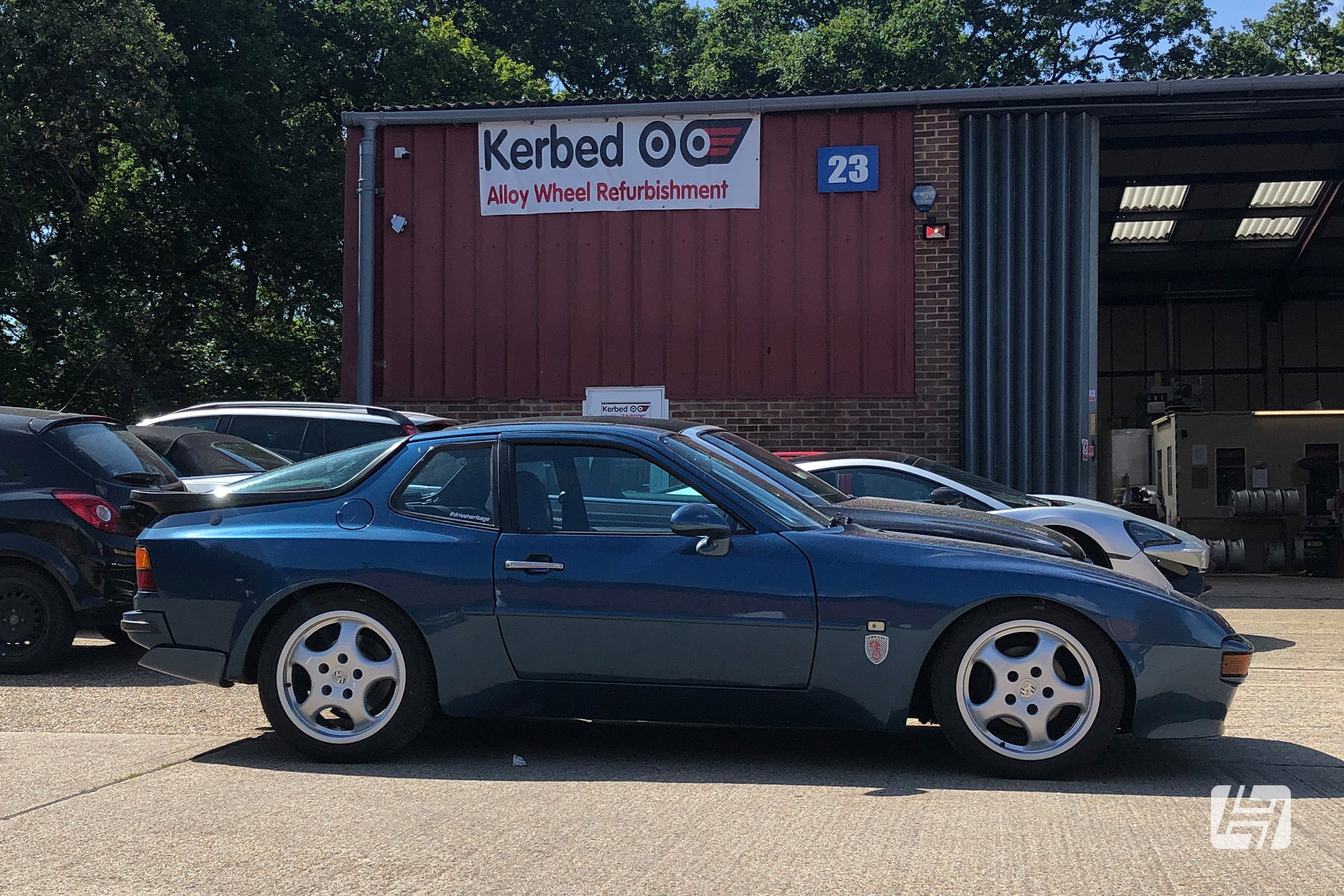 Should you do it?!
In short, yes. As a car enthusiast, I feel I deserve to drive a car I enjoy, all the time!! Are there complications? Well, yes, certainly in my situation... I haven't been able to take more than one small person out at once, my wife refuses to drive it, I've had the joys of water ingress come and go and sometimes it doesn't start on its own...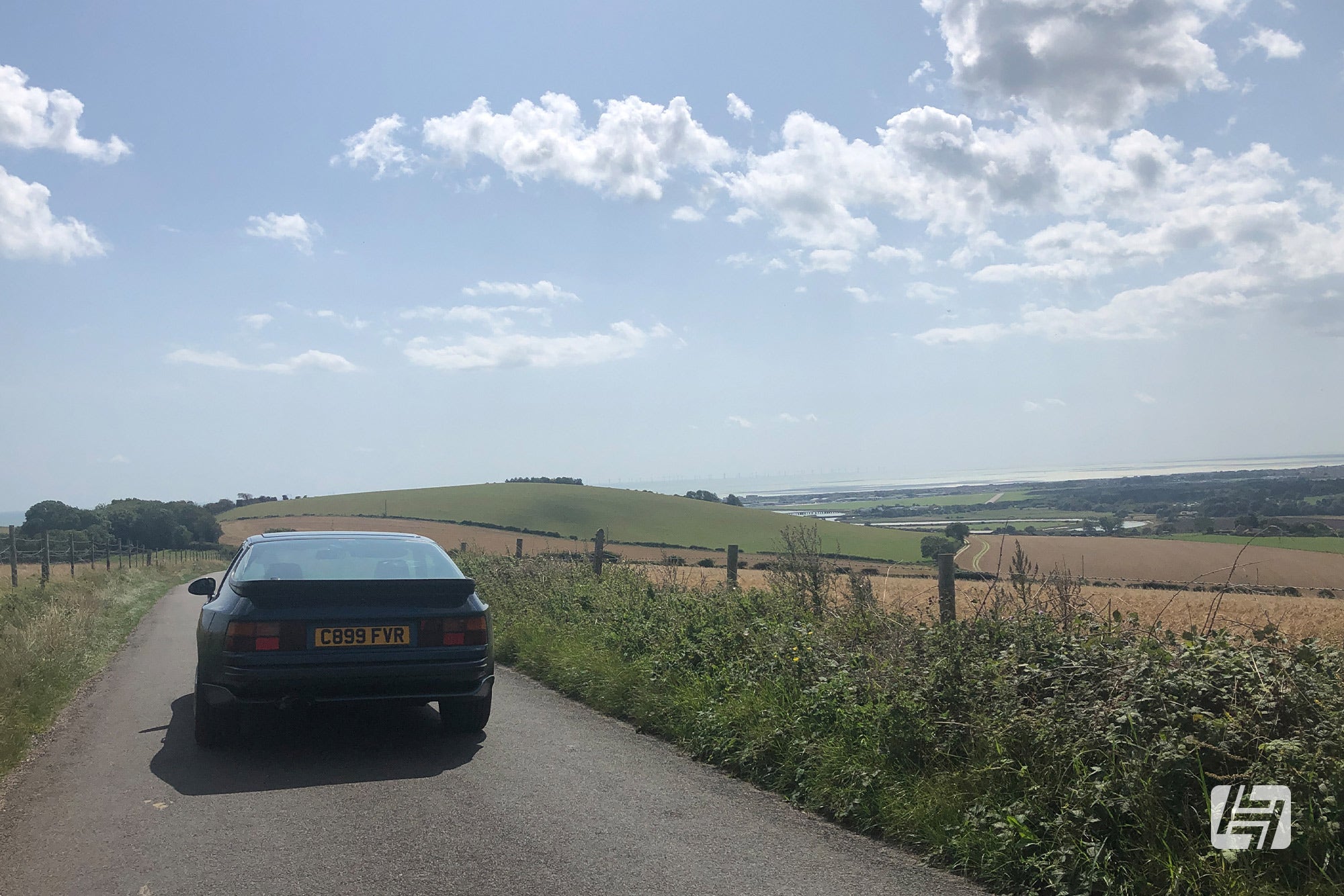 Can you afford to buy a Porsche for Peanuts?
Regardless of your budget, don't spend all you have on a Porsche. Keep something in reserve, as you will need it. If you can't do that
buy a nice Mk3 Golf GTI.
It'll be half the price to run, be just as quick around town and still hold its value. I knew a guy selling a good one.... Andy Follow my 944 adventures on Instagram
@armchairsessions