One of the most loved and replicated styles in the aircooled VW scene is the Cal-Look. Typically applied to VW Beetle models, although Karmann Ghias, Type 3s and even Bay Windows have been known to sport the 'look'. Let us guide you through a quick history before highlighting the products that will help you pay homage to arguably the most iconic custom VW trend of them all.
What is Cal-Style?
Southern California has traditionally been the place where rules are bent, boundaries pushed and VW trends are started. But there were two quite different car cultures to come out of SOCAL in the late seventies and they're easily confused. So here's our quick interpretation of the main differences between 'Cal-style' and 'Cal-look'.
Cal-Style originated in downtown Los Angeles and was more of a 'gangster' or 'low rider' look epitomised initially by lowered ride height, polished Fuchs or stock wheels with whitewalls, extra chrome mirrors, and a more glitzy chrome radio aerial or 'antenna'. Club members from 'Bugs Buddies', the 'Vintage Volksters', 'California Volksmen' and the 'Dukes' all actively raised eyebrows with the first true 'Cal-Style' VW generally acknowledged as being Rene Ruelas' lowered red 1967 Karmann Ghia built in 1979.
The first 'fully slammed' VW is reckoned to date from around 1981. Cruises and get-togethers at legendary LA haunts such as Tommy's hamburger joint gave owners the opportunity to display their radical-looking dubs which upset purists and also attracted the attention of the local police no doubt.
This style was the start of what we'd now refer to as Resto-Cal in today's VW scene.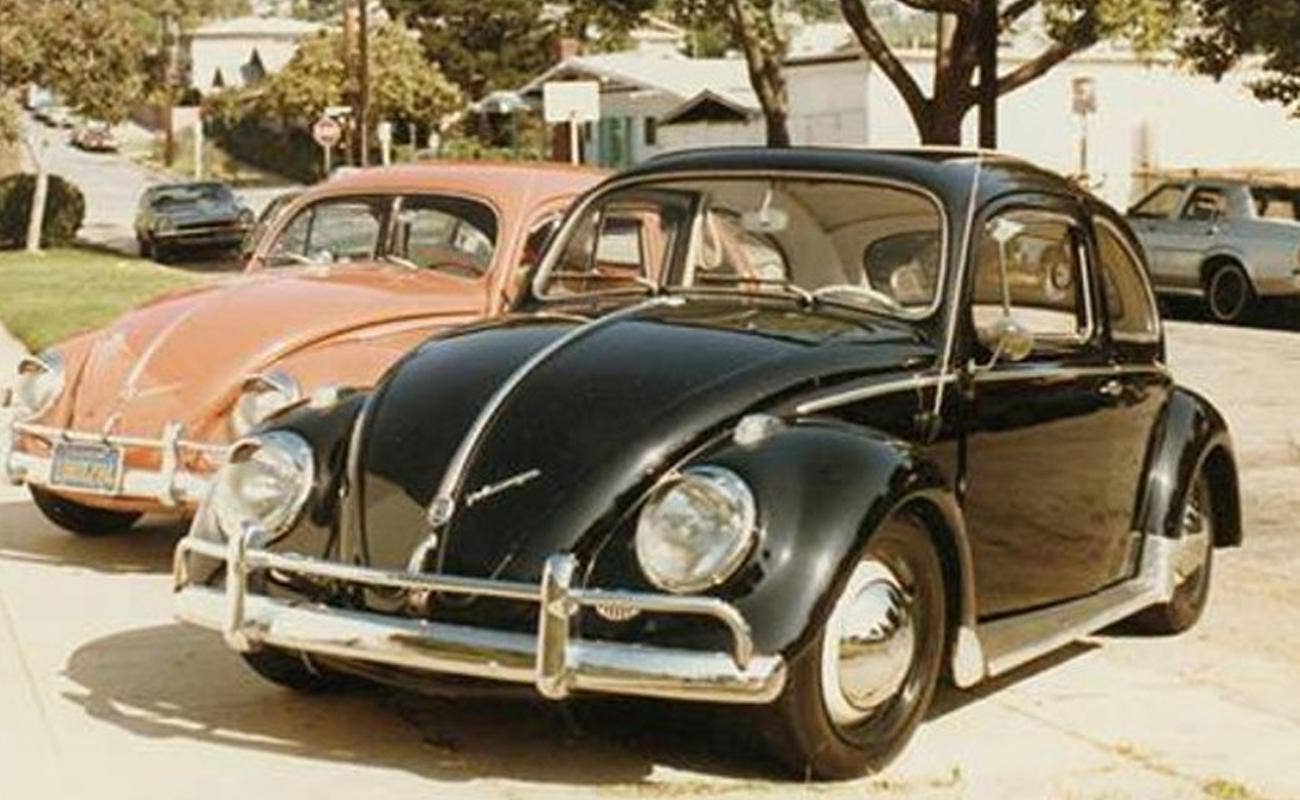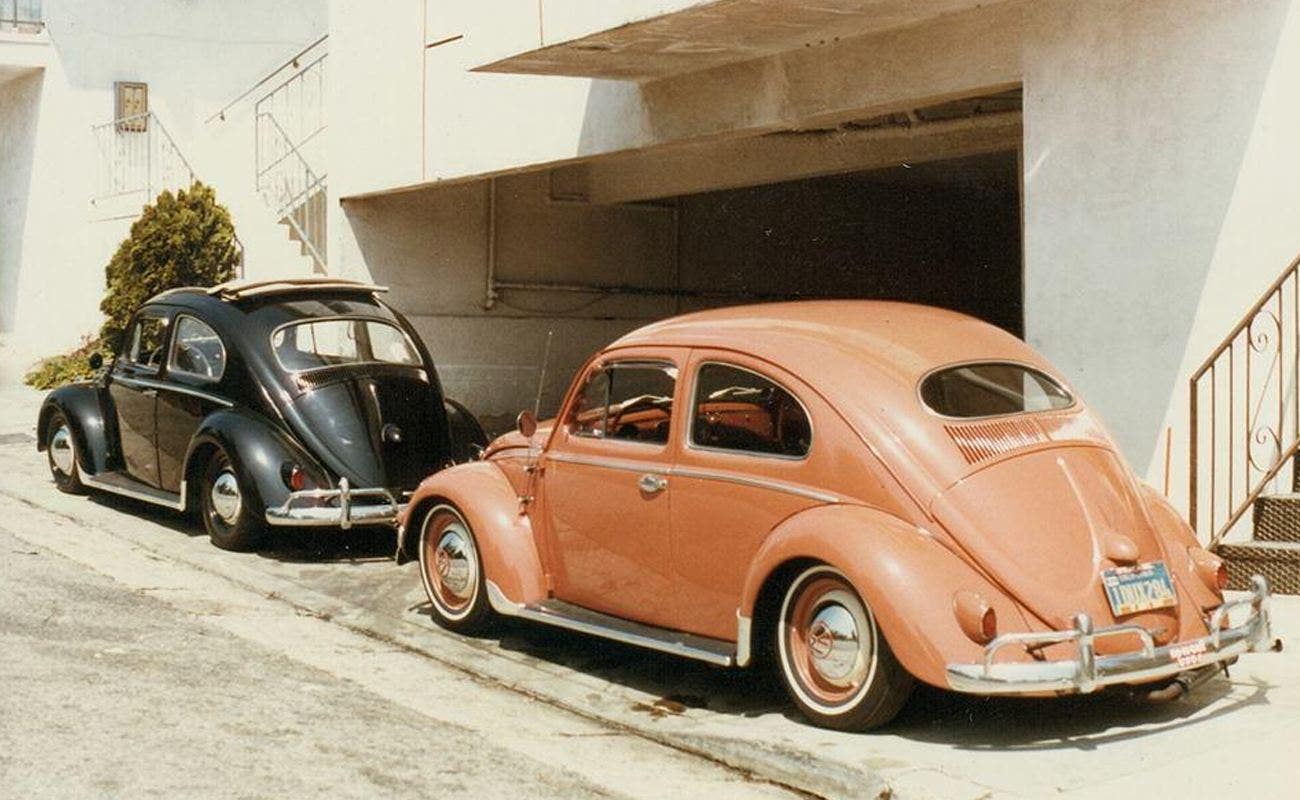 What is Cal-Look?
A bit further south in Orange County there was a slightly different influence, this time from the high-performance street race scene. The 'Cal-look' or 'H.P' contingent shared the low rider look but only had the front lowered, and took styling cues from motorsport instead – hence the involvement of companies such as EMPI and racing legends like Gene Berg. The cars often ran on BRM Speedwell wheels (which was a joint venture between EMPI and Speedwell, Graham Hill's company in UK), EMPI 5 or 8-spoke rims or Porsche wheels like Fuchs and Gas burners. They featured competition-style mirrors and a stand-off boot lid to aid cooling which was another nod towards the vintage race scene. A side exit tuned exhaust was de rigueur, too, as was a trick engine to enable owners to out-gun unsuspecting challengers during grudge matches and traffic light drag contests.
The "Der Kleiner Panzers' club (roughly translated from German as 'the little tanks') started in 1965 and despite two separate wind-downs, it has been brought back to life again with the blessing of Ron Flemming and is still very much active today. They are considered to be the forefathers of the Cal-Look, and thanks to books, international magazines, and the age of the internet, the club is now known all around the world.
Probably the most famous Cal Look car is the Hot VW cover star from the February 1975 issue, which belonged to Greg Aronson. We were lucky enough to see it in the flesh at the Volksworld show in 2022.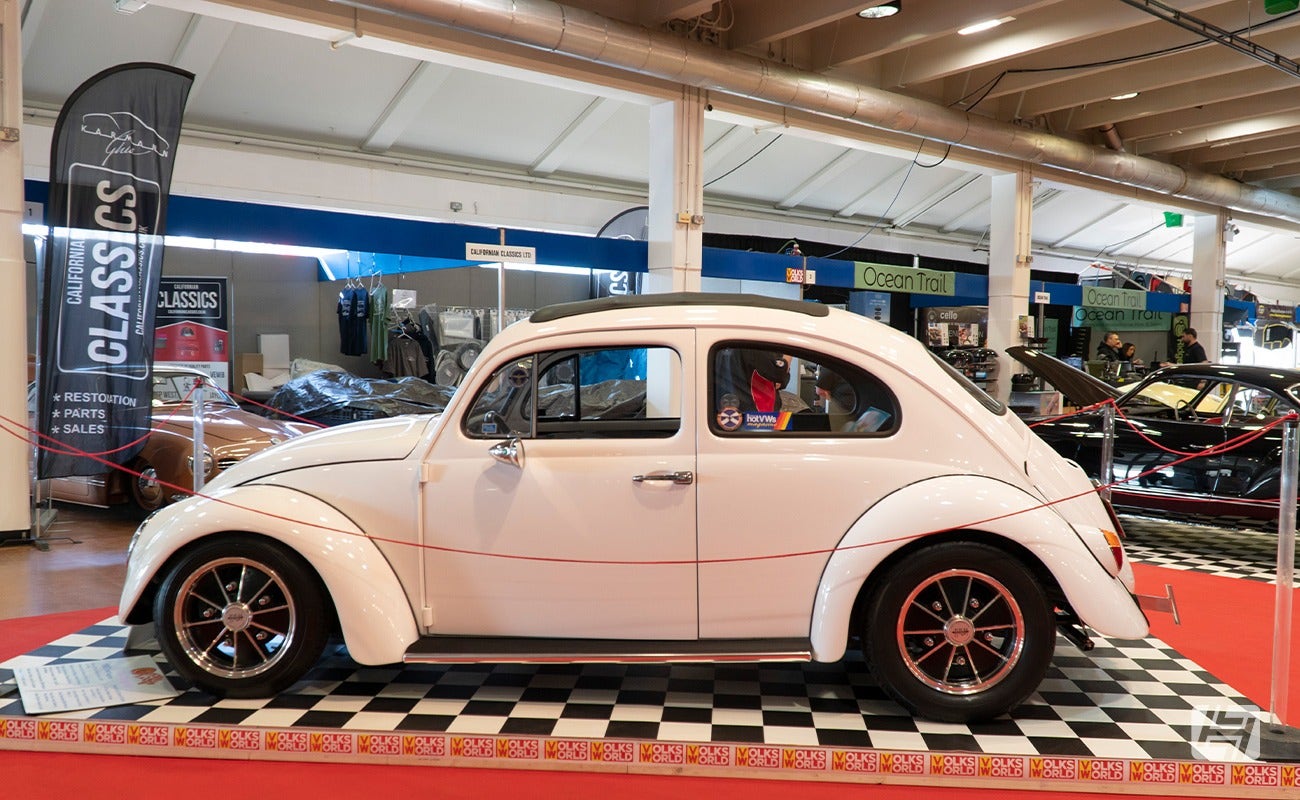 What makes a Cal-Look car?
The spirit of Cal-Look is all about performance, and playing to the strengths of the VW in comparison to the American muscle cars of the time. Saving weight and adding power is the name of the game, with body trim and bumpers removed and large aircooled motors with big carburettors added to increase horsepower. A ballpark 1/4 mile time of 13 seconds was the norm for the DKP back in the mid '60's, and this 'show and go' attitude remains if you want to build a true Cal-Looker.
The Cal-Look mantra is visualised wonderfully in this classic illustration, re-imagined recently by Volksworld Magazine, featuring the same car as above. Our thanks to Paul Knight, Volksworld editor for sending us this image to share with you.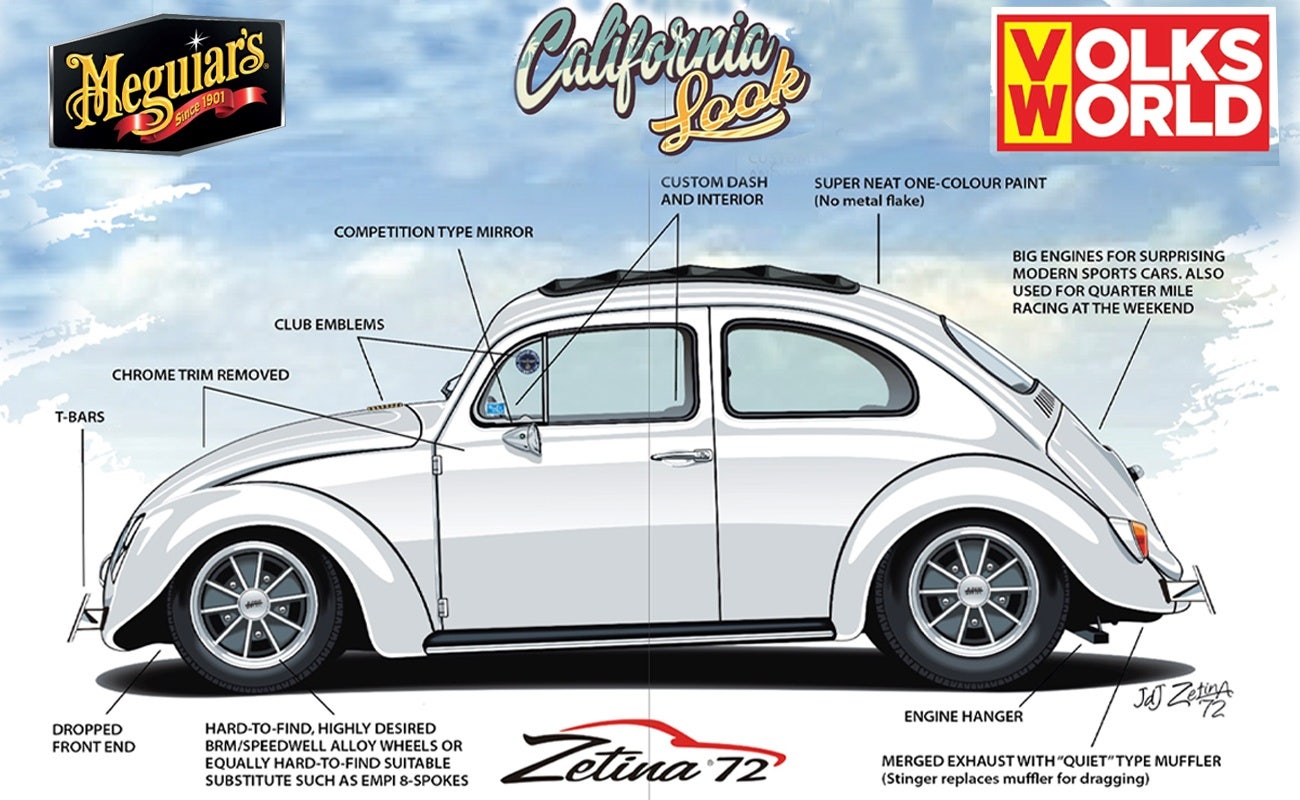 What engine should a Cal-Look car have?
High performance is the goal when it comes to the Cal-Look cars, and it is the aircooled engine that will provide the punch for your 'people's car'.
Built around the Type 1 crankcase, long-stroke motors are a good starting place if going faster is on your mind. Larger barrels will require machine fitting, the internals will require clearance for the extra throw of the crankshaft and some suitable-sized carburettors bolted on top will finish it all off. We stock the 40s and 44s but it is the twin 48 IDA or 48 IDF from Weber which are a firm favourite on the big-money builds.
Cal-Look exhaust options
This is one of the most frequently asked questions we get when it comes to creating a classic Cal-Look Beetle. So, let's explore the options we can offer you. The firm answer to this question is definitely not a stock exhaust, nor one that exits the standard twin pipe cutouts. Whether you should fit a single Mondo muffler, a Single Glasspack, or a Twin Quiet Pack silencer system is a thing of personal preference, but either way, a 4 into-1 manifold or merged header will allow for the fitment of a stinger should you fancy doing a spot of racing at the weekend.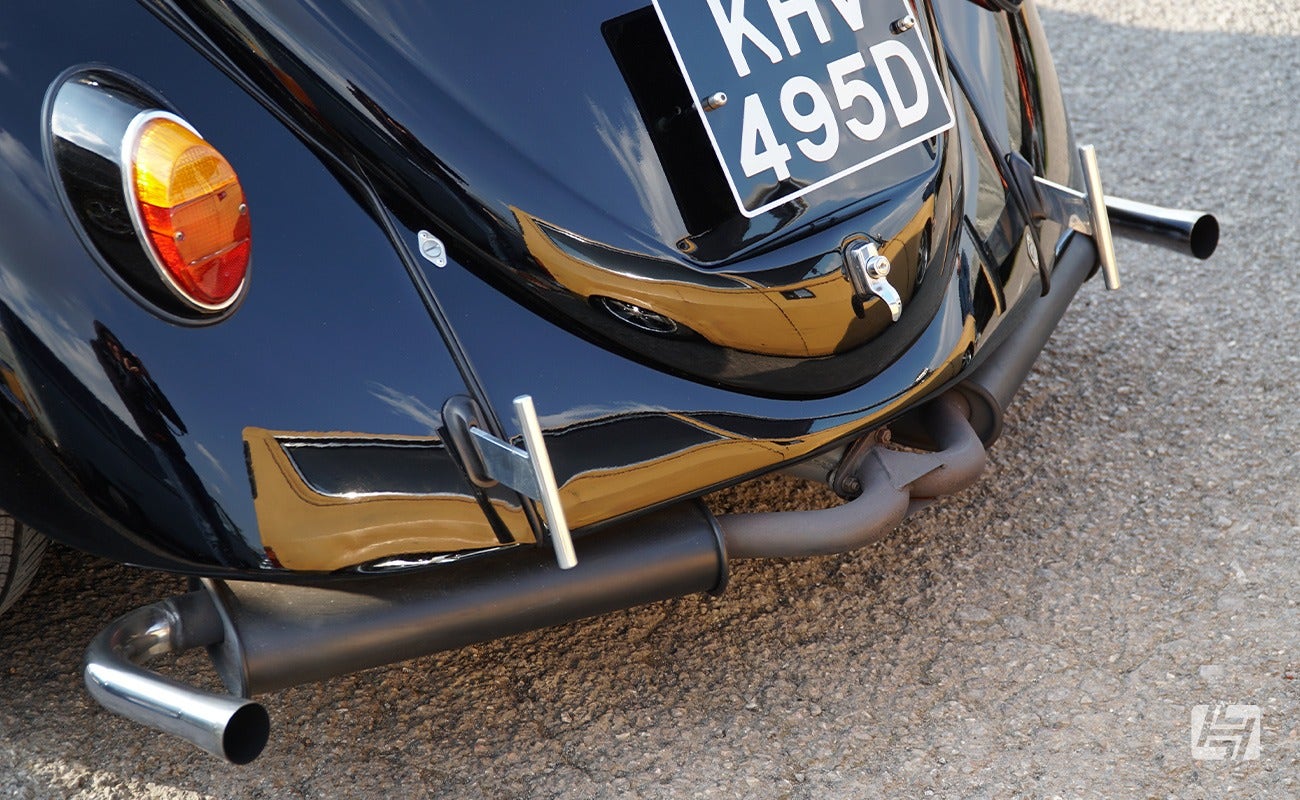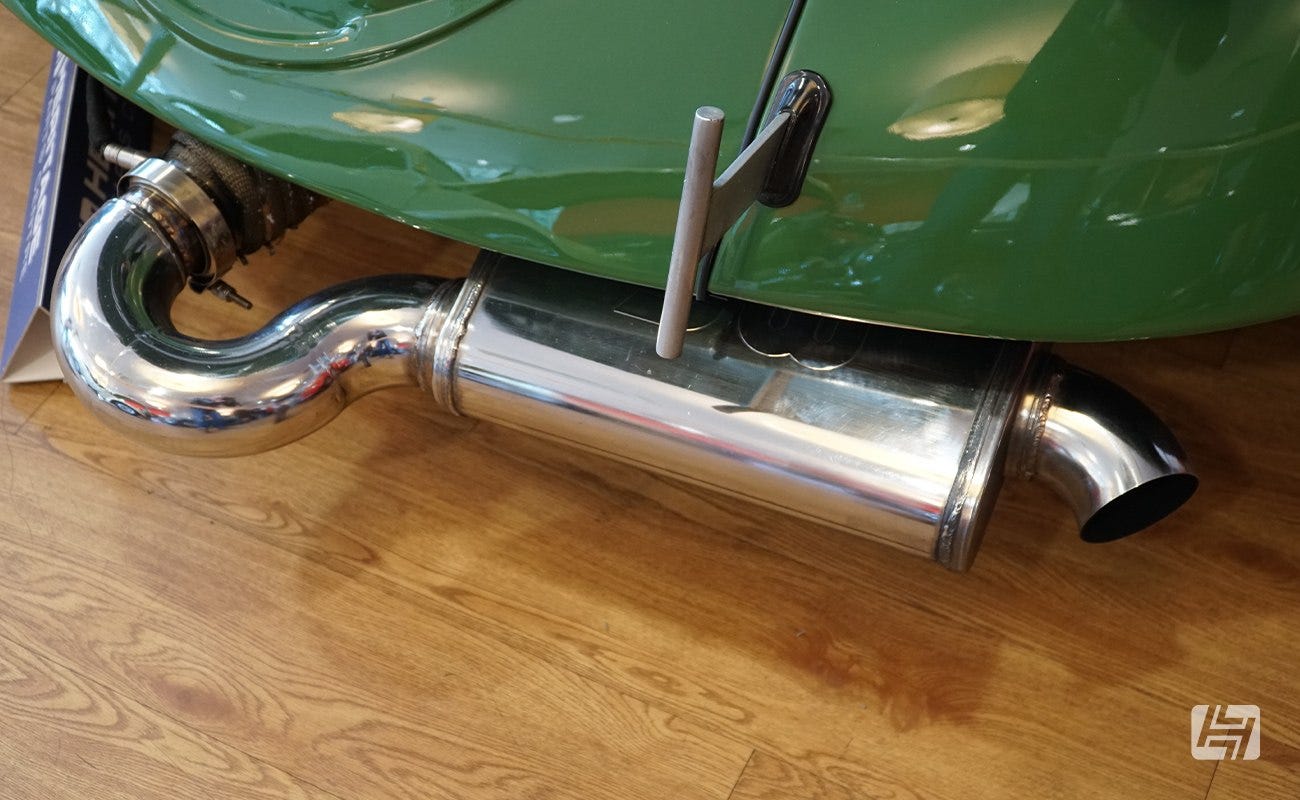 What wheels are best for a Cal-Look Beetle?
Whilst original BRM, EMPI and Porsche Gasburner wheels were favoured for their lightweight magnesium construction, they now trade for fortunes and are out of reach for many VW builders. Fortunately, there are some great alloy versions of these classic designs from the likes of SSP, which can help you get the 'look at a more reasonable price.
From left to right: SSP BRM, SSP GT 8, SSP GT 5, SSP Crest
You could also add black and polished Fuchs to this list, although a little less traditional Cal Look, and commonly found on Resto-Cal builds too. The big thing is no chrome!
Fitting Cal-Look window rubbers
You may have come across this term whilst browsing for replacement window seals, but what does it mean?
In short, the Cal-Look style favours a less is more approach, and on top of shaving the body trim to save weight and create a more subtle side profile, it was often the case that the chrome trim from the window rubbers was forfeited too.
Fortunately for the Cal-Look pioneers, plain rubber seals were offered as standard on the lower spec models, so even if they had bought a deluxe edition, they could easily source the plain seals to retrofit.
The same is the case today, and we can provide both plain black Cal-Look window seals, and deluxe window seals plus the chrome trim, for VW Beetle models of all ages.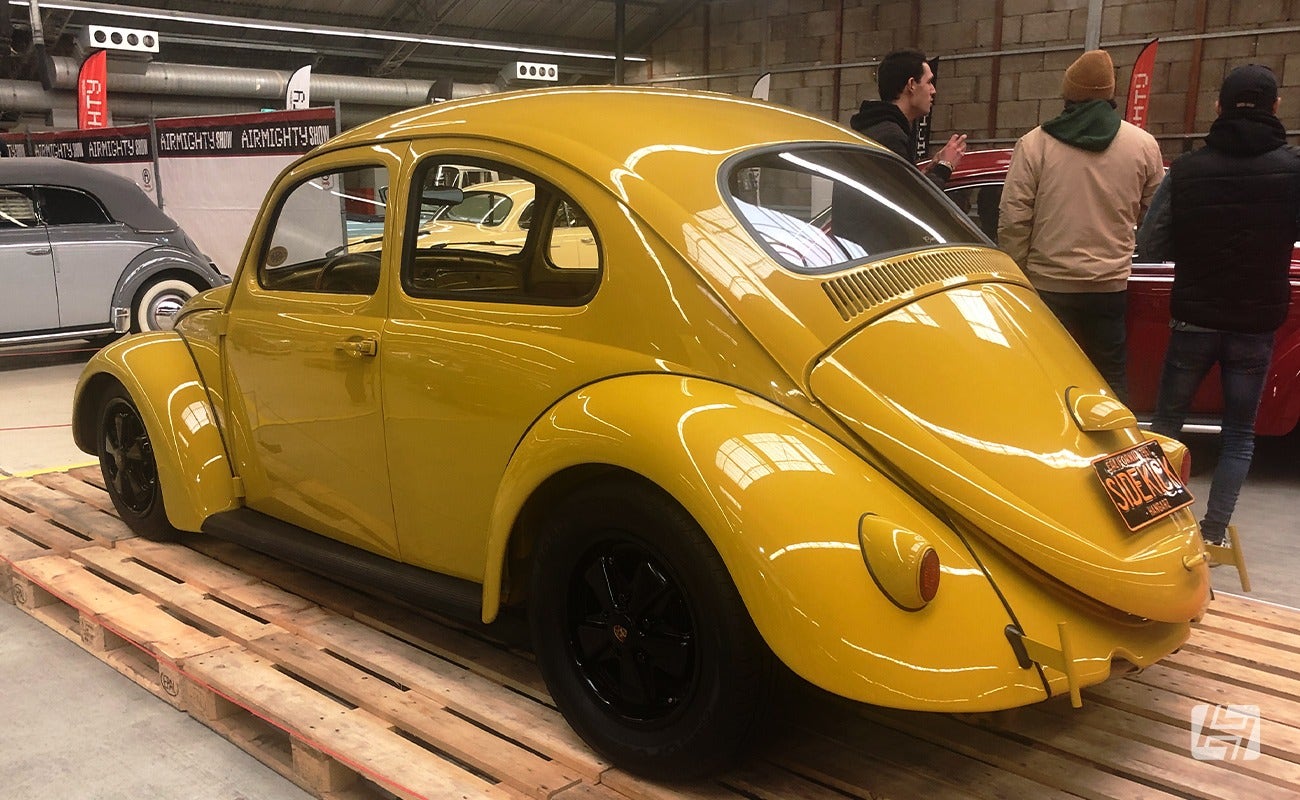 Cal-Look body modifications
Removing the body trim on a VW Beetle is pretty easy, it simply clips over plastic or metal tabs that hold it in place against the side of the vehicle. However, with the trim and clips removed, you'll be left with holes where the clips used to be. To do this modification correctly, you will need to then weld up each hole, dress the weld with a grinder and fill if required, before repainting the whole of the car!
What starts as a ten-minute job can quickly become a full-body restoration! If you do go for a complete repaint, a single, flat colour is the best choice for a traditional Cal-Look car. It's probably for this reason that many Cal-Lookers still keep their aluminum body trim in place.
Removing the bumpers is a less daunting task. They are held in place with bumper irons bolted to the inner wings. Simply undo these bolts and slide the bumpers away from the car. You may choose to replace them with some T-bars to offer a small amount of impact protection or run completely without. The choice is yours!
Decklid stand-offs are another quick win for the budding Cal-Look aficionado. These can be fitted in a matter of minutes and will lift the deck lid away from the body, under the windscreen allowing for cooler air to enter and hot air to escape. Another version is available for lifting the base of the decklid, again for added ventilation benefits.
The stock mirrors often made way for something smaller and lighter, with the "Talbot" Berlin bullet mirror being a popular choice.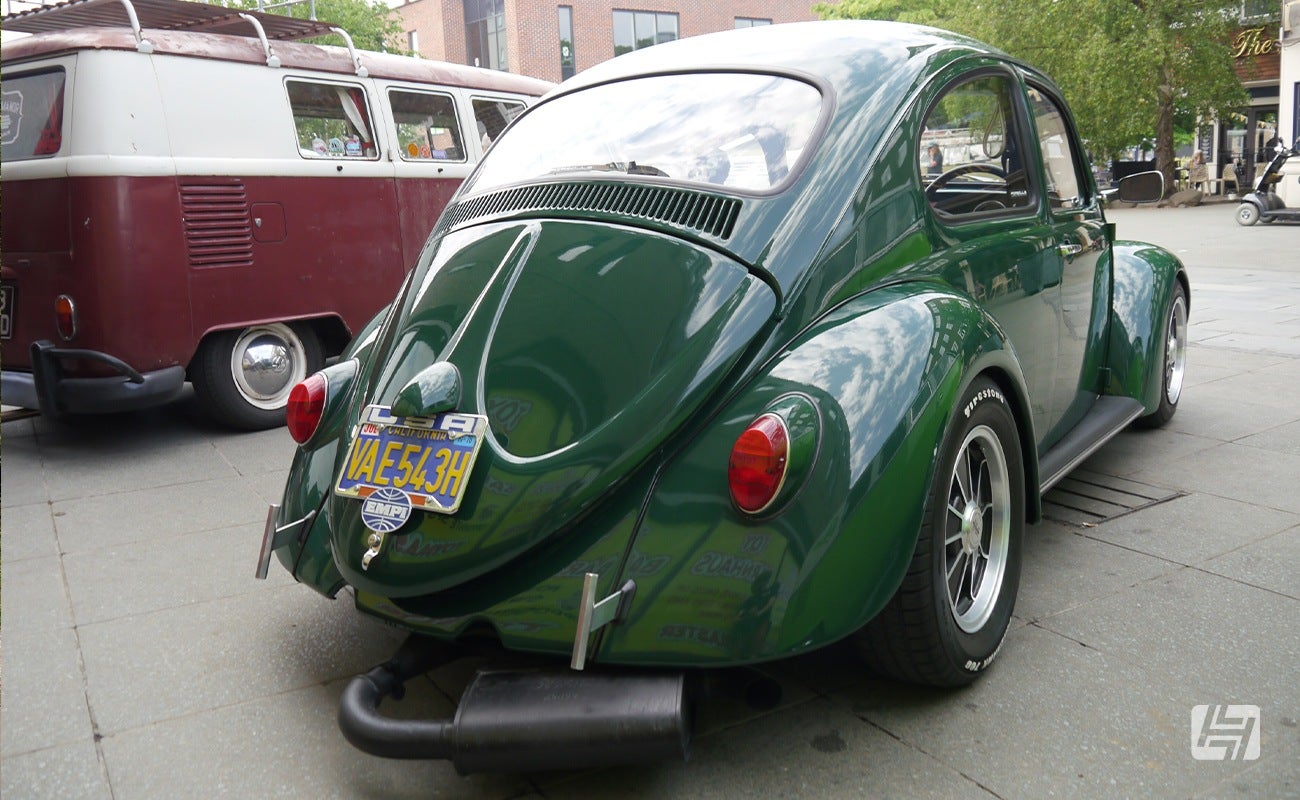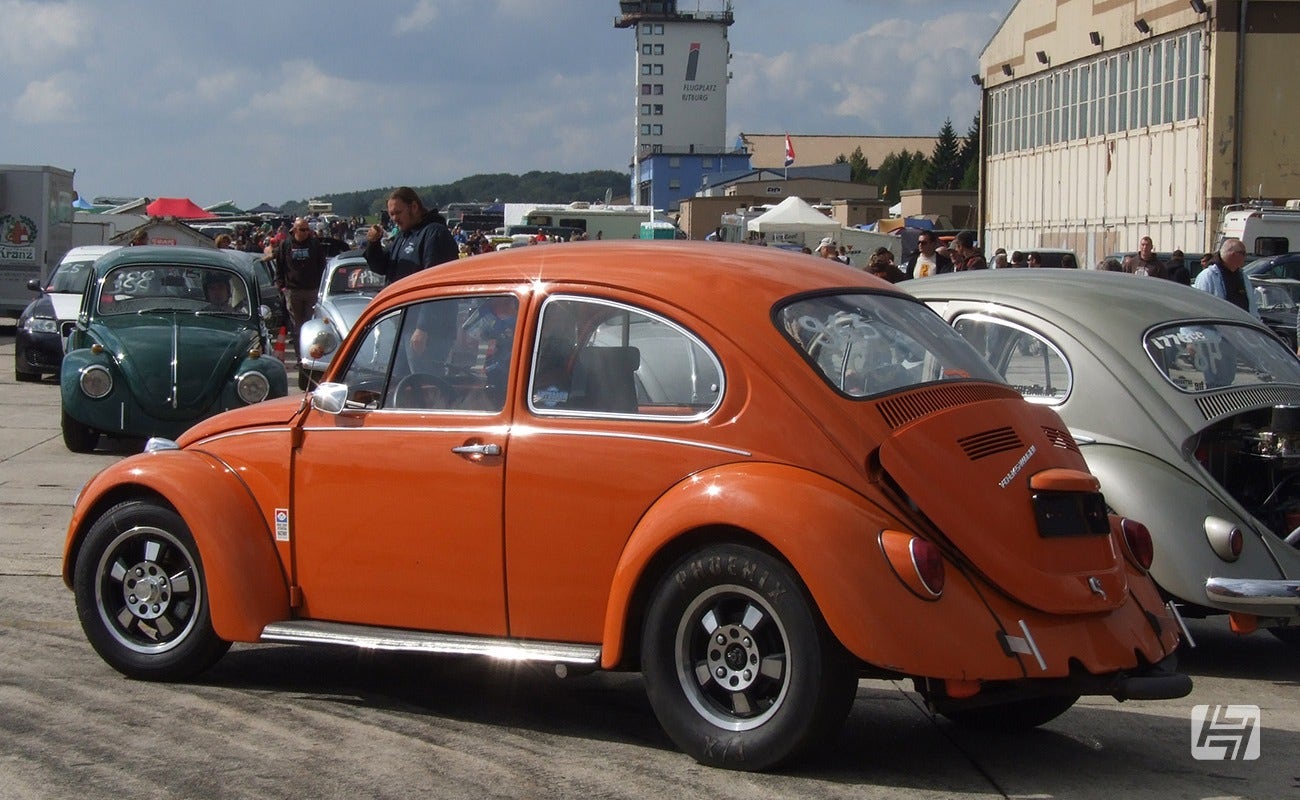 Getting the Cal-Look stance
One of the most notable visual differences between Cal-Look and Cal-Style is the nose-down stance, with the rear suspension typically being left at standard height.
There are a few components you can use to achieve this, including an adjustable front beam and dropped spindles. Whilst the wheel and tyre situation is generally skinny at the front and big and wide to the rear, the front wheels should sit just under the wheel arches, rather than narrowed and tucked in, like a lot of Resto-Cal vehicles.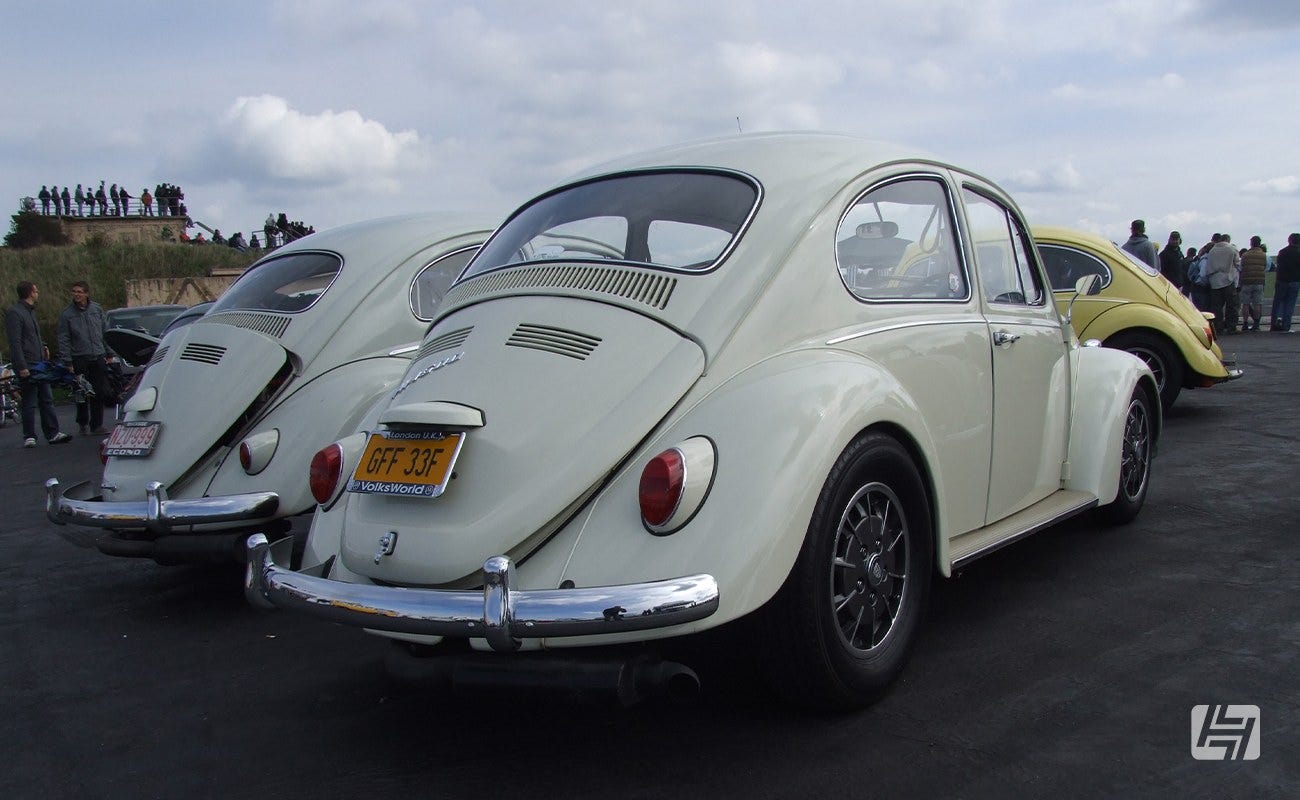 What isn't Cal-Look?!
Still not sure what all this is about? We've taken a leaf out of the DKP rule book and there are a number of modifications and accessories they consider are not in the spirit of the Cal-Look. Of course, you are building a car for yourself, and mixing styles and themes is perfectly fine by us. But if you have your heart set on club membership you should know...
"The following accessories are not welcome: roof racks, headlight eyebrows, louvered aluminum pieces, unnecessary guards, and whitewall tires. No billet accessories." The club continues with further stipulations. "With the exception of top-chops, de-chroming, one-piece windows, and dash alternatives (none of these being mandatory), body modifications are not allowed."
Wheels should never be fully polished, and paintwork should be a single colour, subtle and flawless.
We're not going to be picking holes in anyone's Cal-Looker Cal-Look-inspired project, we're just pleased you are having fun in an old VW and expressing yourself and your style with how it looks. Want to get further involved in this world? Check out the UK Cal Look Register, and the Cal Look lounge, and of course Der Kleiner Panzers.
Andy / Ian