Porsche 928 Parts & Accessories
Shop from our huge range of Porsche 928 parts, spares and accessories. Choose the category below and filter down to the part, brand or quality you need. Try our Heritage kits, handy project bundles for everything you need in one box. Don't forget to check the new products for your vehicle and there are always 100's of parts in our sale section.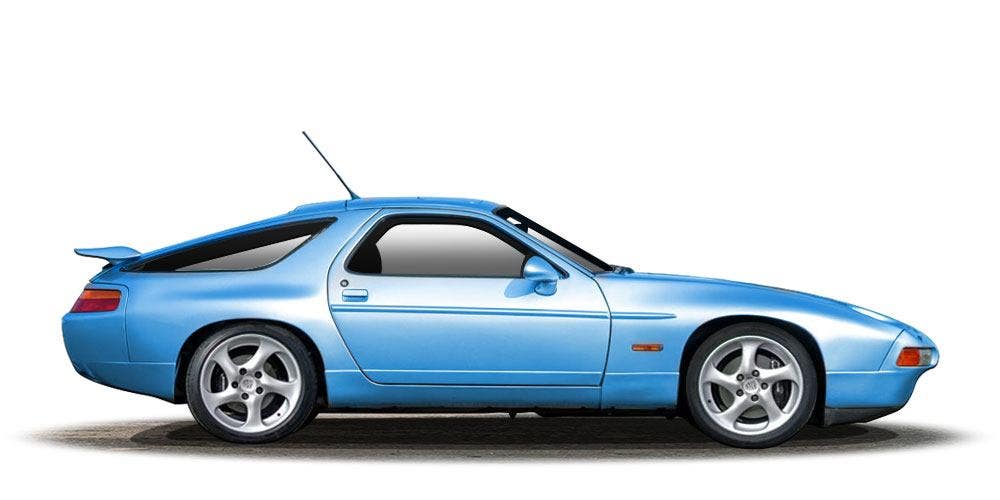 Parts & Accessories For Porsche 928
The 928 is Porsche's luxury grand tourer, the only Porsche at the time to be equipped with a V8 engine. If you are searching for top quality Porsche 928 parts then Heritage Parts Centre can help. Owners of 924 models are often unfairly overlooked, and whilst the 928 may be a slightly slower car in comparison to its big brother the 911, it is still a Porsche, and plays an important role in the history of the Stuttgart brand. On top of 924 parts we also provide a good range of Porsche 928 parts, and parts for Porsche 968 models too. You might drive a 4.5, 4.7, 5.0 or 5.4l Porsche 928, or perhaps you are even lucky enough to own a 928 S2 or be shopping for 928 Parts; whatever your Porsche, we look forward to helping you with the parts that you need.
You could be completing a routine service at the weekend and need Porsche 928 engine parts, or maybe you have welding jobs on your S2 and are looking for 928 body repair panels. The Heritage Parts Centre online shop is the place to look for Porsche parts.
Need to send some Porsche 928 parts direct to your garage? Not a problem, we can deliver to your chosen Porsche specialist, or independent mechanic. They can even order from us themselves if they prefer. Having spent the past 30 years specialising in classic Volkswagen vehicles we've been naturally drawn towards Stuttgart's favourite brand to offer our services, albeit with Porsche 928 parts to a new group of enthusiasts. The front engined Porsche is a firm favourite amongst the team at Heritage Parts Centre, and our enthusiasm for supplying parts for transaxle Porsche models is second to none. With an almost perfect weight balance, and an ergonomic driving position that makes you feel at one with the vehicle, it's almost impossible to not enjoy the experience.
Porsche 928 FAQs
Are Porsche 928 expensive to maintain?
No one should buy a Porsche 928 if their primary concern is if the vehicle will be expensive to maintain. Whilst you may be blinded by the "Risky Business" lights or wish to reenact the 1988 computer game Chase HQ on a Sunday morning drive, for the sake of your own sanity, please don't buy one with only the money to run a Micra or a Mondeo in the bank; it'll only end in tears.
Let me explain. The Porsche 928 was powered by a V8 engine, an engine Porsche designed in house with the help of Penske Racing. At the time, no other Porsche had a V8 engine, and unlike the entry level 924 which shared the majority of its 2 litre engine components with Audi and VW, there was no inter-brand cross over either.
That means, if you need a part for a 928, it's likely to only fit a 928. Factor in the cost of production due to the economies of scale and the retail price in comparison to a 911 part, for example, will be more. Couple these expensive 928 only parts with a model that 'not everyone understands' and you could find yourself searching for a Porsche specialist willing to turn a spanner on one, and paying for the privilege.
Now, don't get us wrong you'll have a great smile on your face every time you drive it, but if you get a bad one, and by that we mean one that hasn't been maintained, probably because of the costs involved. It will cost you…
Is a Porsche 928 a good investment?
Generally speaking, Porsches tend to be a fairly solid four-wheel investment, and as such, the Porsche 928 sits in that circle too, alongside the iconic 911 and its fellow transaxle stablemates of the same era.
Having been developed to take over the reins from the 911, the Porsche 928 with its front mounted, watercooled V8 engine won European car of the year in 1978, the only time the Stuttgart manufacturer has scooped top honours in this sector.
Of course, we can't predict how the market will evolve, and if you bought one today for a certain amount what it will be worth when you come to retire. That kind of stuff is intrinsically intertwined with how good the car is to start with, and how well it is maintained by you as the owner, and outside economic factors such as recessions, pandemics and war.
What is the best Porsche 928 to buy?
It always pays to buy the best that you can afford of something, with a few caveats. Buy the Porsche you want to own. If the market drops, and you get stuck with it, at least it will still make you happy.
Marketed as a four seat Grand Tourer, the majority of Porsche 928s were sold with automatic gearboxes, which makes the manual versions of the 928 most attractive to Porsche enthusiasts today. You may consider buying a 928 project if it has the coveted stick shift, but overall buy on condition and history if you are happy to accept a two-pedal car.
If you are a mechanic, or a clued-up DIY tinkerer, then a Porsche 928 project might be a cheaper entry point to these seventies and eighties autobahn icons. But there is a reason for all those unfinished projects… Buy with your eyes wide open, and with permission from your family. You don't want to be writing a similar advert in a few years' time.
So, which models to search for. The general rule of thumb that applies to classic cars with regards to investment, is to buy the first, or the last. Can you imagine how cool it would have been driving a 928 on the road then in 1977? Those early vehicles were pioneers for a 17-year production run, which was seen out with the equally sought after 928 GTS.
Old cars like to rust, so do your homework and get down on your hands and knees before you sign on the dotted line. Be equally aware that the reason this car won awards was for its efforts in advancing vehicle technology, many of which were electrically controlled. It's fair to say vehicle electrics can be tricky to diagnose and costly to replace, and Porsche 928 electrical parts are definitely not immune to problems.
Is a Porsche 928 reliable?
Let's not be too down on the Porsche 928 though. Thanks to German engineering, reliability is in its genes, and a well-maintained Porsche 928 will happily munch up the motorway miles for hours on end.
Plus, we shouldn't forget that it is not the fault of the car if it becomes unreliable. In much the same way as a baby or an infirm Grandparent needs feeding, an old vehicle needs maintaining and the right fluids to keep it healthy.
Just like a hungry child missing a meal, if you skip a few services your Porsche 928 will start to groan, and do remember that at over 30 years old, any original part still fitted to the vehicle, are also over 30 years old. That's a long time to be rotating, vibrating or moving possibly hundreds or thousands of times a minute.
Putting off the next big service will save some money in your bank account short term, but it is the start of a slippery slope that includes break downs and recovery trucks and potentially ends with the aforementioned 'project car for sale' post. Be warned!