VW T2 Bay Window Parts & Accessories
Shop from our huge range of VW Bay Window parts spares and accessories. Choose the category below and filter down to the part, brand or quality you need. Try our Heritage kits, handy project bundles for everything you need in one box. Don't forget to check the new products for your vehicle and there are always 100's of parts in our sale section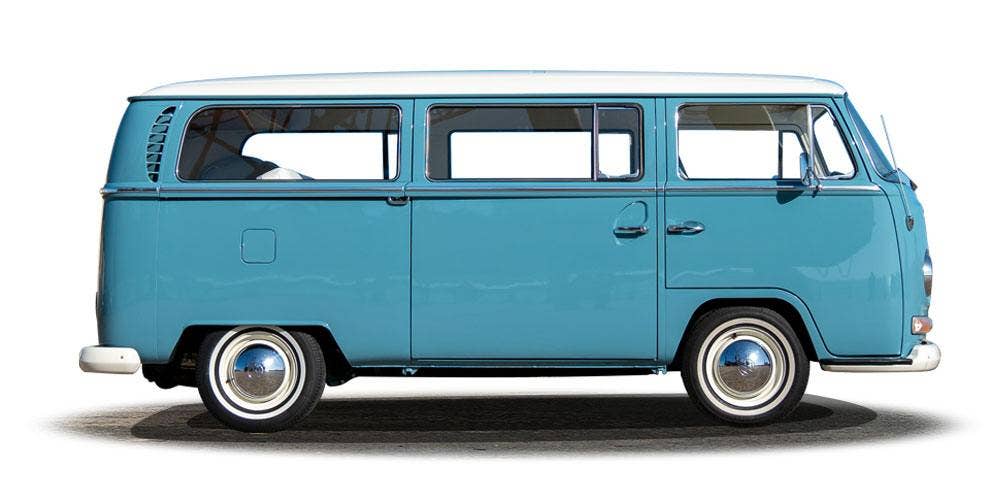 VW BAY WINDOW BUS PARTS AND ACCESSORIES
At Heritage Parts Centre know how much a part of the family your Bay Window is so we stock and supply a comprehensive selection of VW Type 2 Transporter parts and Bay Window accessories for all models from 1968-1979, be they a Bus, Camper, Pick-up or Van. We have everything for routine maintenance from oil filters to brake pads to full exhaust kits, as well as all the VW Type 2 parts you might need during a restoration. This includes a full range of body panels, rubber seals, interior and exterior trim parts and even Type 2 Aircooled engines.
To browse our extensive range of VW Type 2 parts, just follow the links above and remember, if you can't find what you are looking for, call one of our sales advisors on 01273 444 000 and they will be pleased to assist you.
1968-1979 BAYWINDOW PERFORMANCE PARTS AND VW BUS STYLING ACCESSORIES
If your VW Type 2 Bus is running sweetly and you are looking to personalise it, look no further. We can also supply a complete range of Bay Window tuning parts and customising parts, from steering wheels to carpet sets, VW Bus alloy wheels and an extensive range of camping equipment.
Our list of 1968-1979 Type 2 Camper parts is pretty exhaustive, but if you can't find the parts you need for your vehicle, we will always try to source or point you in the direction of the Bay Window parts you require. Give our knowledgeable and friendly staff a call, email, or live chat message and they will be happy to help.
Bay Bus FAQ's
Is a Classic VW Bay Bus reliable?
Unlike a modern vehicle, there is very little in the way of technology to go wrong with a classic Bay Window Type 2, making it, by default quite reliable.
However, the systems that are in place, are over 50 years old in design, so mechanical components like ignition points fail with some frequency. This should not put you off a Bay Bus purchase though. Replacement ignition points are pocket money, and an electronic ignition module is available to upgrade this known weakness for around £120.
It is very much recommended that classic VW Type 2 owners carry a collection of spares with them. Even if you don't have the knowledge or skills to fit the parts yourself, a recovery service mechanic should be able to use them to get you back on your way, rather than relying on local suppliers and restricted opening times.
There is a fear from those new to aircooled VW engines that they will overheat in the summer and cause complete engine failure as they don't have a coolant filled radiator. In short, if the vehicle is functioning as VW intended, this won't happen. However, if the metal engine tinware or its equally vital is missing, or the thermostat isn't functioning then things could start to get warmer than it should.
We can supply full tinware kits, tinware seals and the thermostat if required.
The cooling fan for the engine is mounted inside the fan housing and this is driven by the alternator or dynamo belt. Should this belt snap it is very important that you stop driving. Not only will you no longer be charging your battery, but the engine will no longer have cool air being drawn in and circulated.
Fitting an external oil cooler is a popular modification for T2 Bay owners, and these can be used in conjunction with a switched fan and an oil temperature gauge for those particularly concerned about temperatures.
Are VW Bay Buses expensive to maintain?
The classic VW Type 2 is relatively cheap to maintain, as long as you start with something that is in good mechanical shape, and solid with regards to the bodywork. Maintenance is cheap, a full restoration isn't!
It is worth noting that these vehicles were designed by Volkswagen to be used, every day. So, whilst we now cherish them and keep them under covers or tucked away in garages this is when things can start to go wrong. This is not the wrong thing to do, as it will help to preserve the bodywork of your beloved bus, but for the moving parts, they will start to suffer.
Wheel bearings and CV joints want to be turning regularly, oil wants to be flowing around your engine and brake components need to stay moving otherwise they start to seize up. It's the same as people really!
What we would suggest is preventative maintenance. Regular servicing, keep the oil fresh and let your vehicle start up and get up to temperature every few weeks, even if it isn't in use. Roll it back and forth and try not to let the wheels sit on the same part of the tyre for long periods of time.
Service parts aren't expensive, and the small outlay to keep everything moving will reward you with reliability when the show and camping season comes back around.
Are VW Bay Bus parts expensive?
It all depends what parts you want to buy! It really is as simple as that.
As we've mentioned above, maintaining isn't a costly thing to do with a VW Bay window. The cost starts increasing when your vehicle needs to spend more time on a ramp in the workshop, having remedial work or restoration work undertaken. Aim to buy the right vehicle at the right price – if you do that, then you will have enough money to fix any issues that may arise, known or otherwise.
What might things cost you? A nice shiny stainless steel roof rack won't be cheap, allow for at least £500 but if you're on a budget you could live without while you save up, or consider a silver powder coated version at just over half the price.
A new set of wheels would cost you around £100 per corner, depending on your design preference, but Type 2 alloy wheels are a nice to have, rather than an essential. A lick of paint and some hubcaps could tidy things up beneath the wheel arches until further funds allow.
A blowing exhaust is a little more problematic and might require urgent attention if your bus is in daily use. We stock an extra value kit for around £150 and this could be upgraded to a Stainless steel or even a sports system if you fancied something a little more special and had some extra cash at your disposal.
Total engine or gearbox failure would be a worst-case scenario, and this could run into the thousands. A new gearbox could cost around £2000 with fitting and a brand new 1600cc engine could easily surpass £5000 with ancillaries and installation costs added on top.
Read our Type 2 Bay window buying guide for more information on what to check for, before you hand over your hard-earned cash – it might just save you a fortune.