The VW Bug is an iconic car and one that many generations have enjoyed. If you are new to the air-cooled VW scene and just planning your first VW Beetle project, the subject of wheel choice will no doubt crop up pretty soon. Let us talk you through what's available, and what wheels will and won't fit your VW Beetle.
What wheels fit a VW Beetle?
There were two different 'stud patterns' or 'PCD' used on the VW Beetle. In short, Beetle models made up to 1966 had 'wide 5' wheels, which have a 5 x 205 PCD. VW Beetle models made from 1967 up until the end of production were fitted with 4 stud wheels, and these have a 4 x 130 PCD. I should clarify, these wheels won't be suitable for the modern re-release, front-engined Beetle made in the late nineties and noughties.
Not bought your VW Bug yet? Read our buying guide here.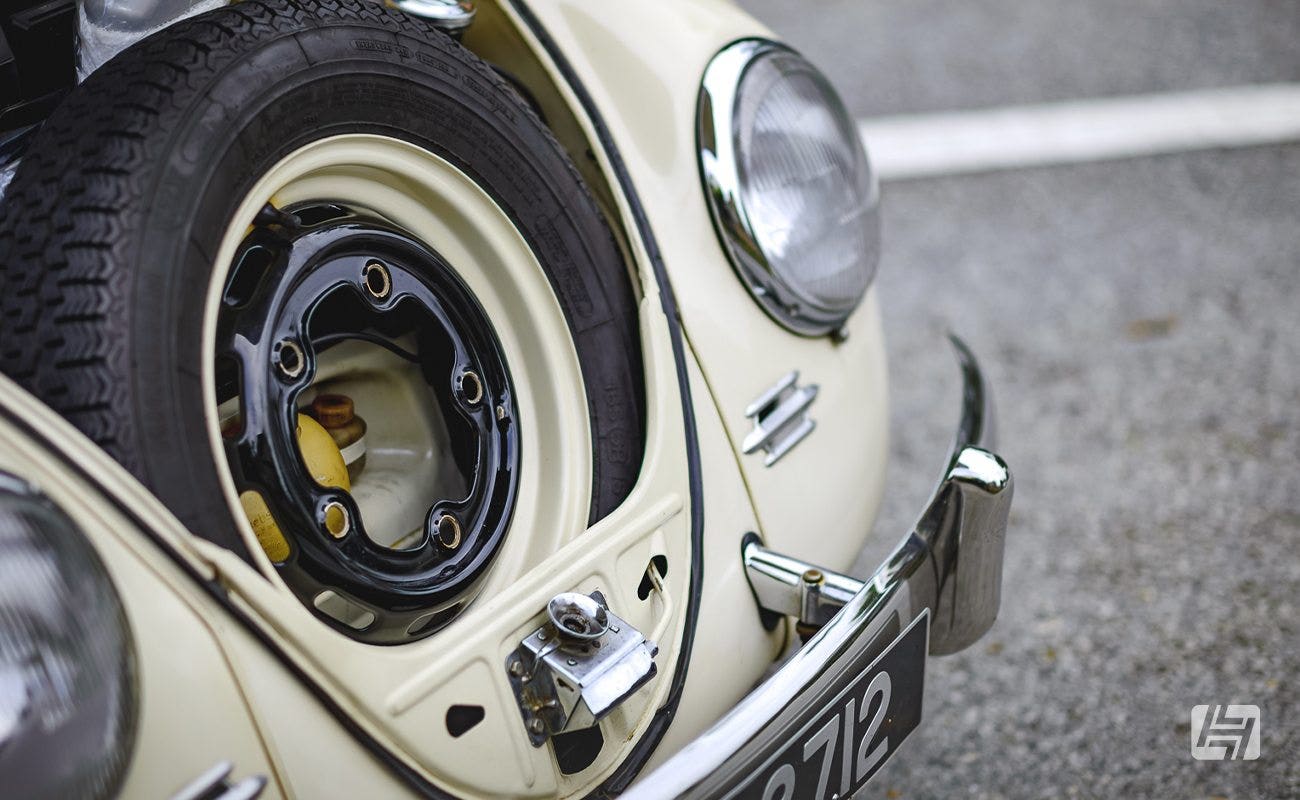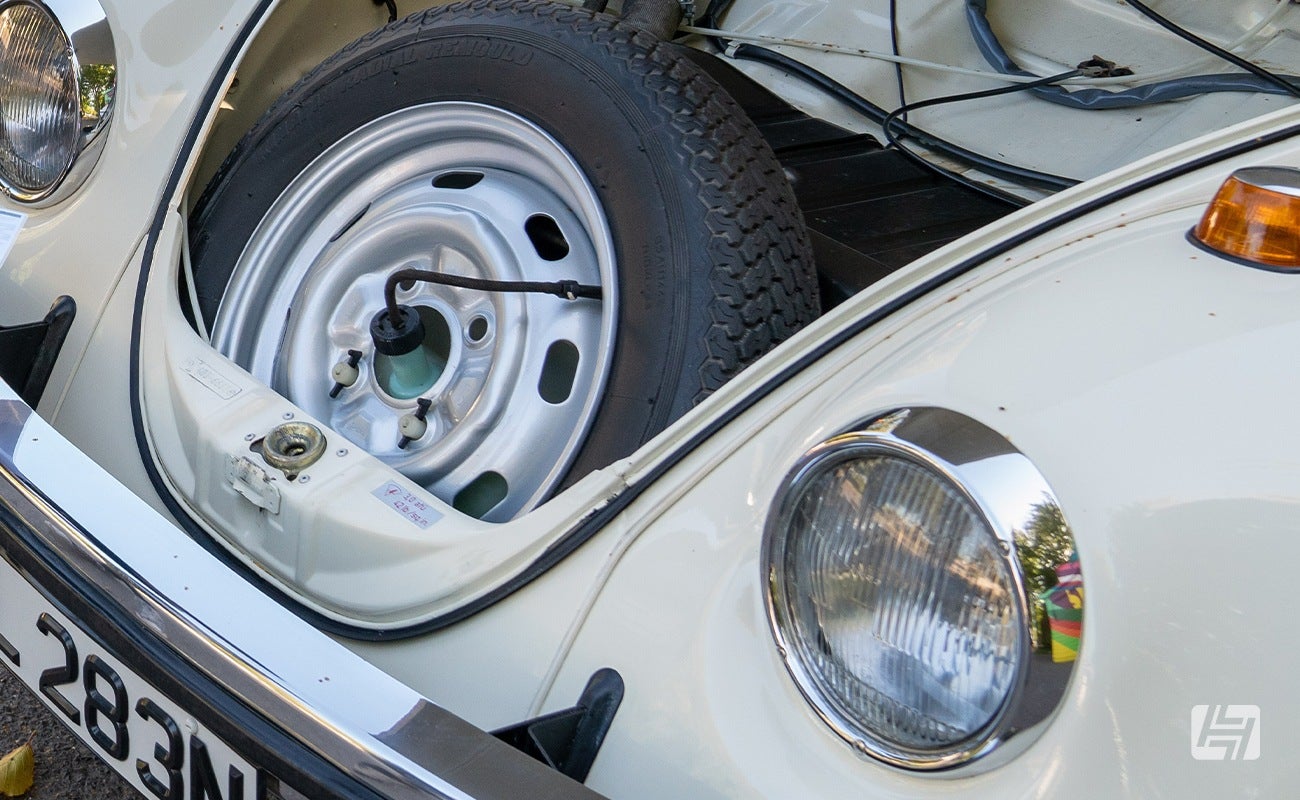 Why fit alloy wheels to your Beetle?
Depending on the style you are going for with your car (read all about different VW styles here) will depend on your preference for wheels. Why would you do it? Ultimately it comes down to personalization and making your VW Beetle project perfect for you.
We stock a variety of custom VW Beetle wheels at Heritage Parts Centre, each with its own unique style and history behind them. What's more, many of them are available in a choice of finishes, including paint, polished, and chrome. You could choose to match your wheels to the color of the car, or alternatively make them stand out and really make a statement.
Allow us to run you through what is available for your Beetle project, regardless of its age or style.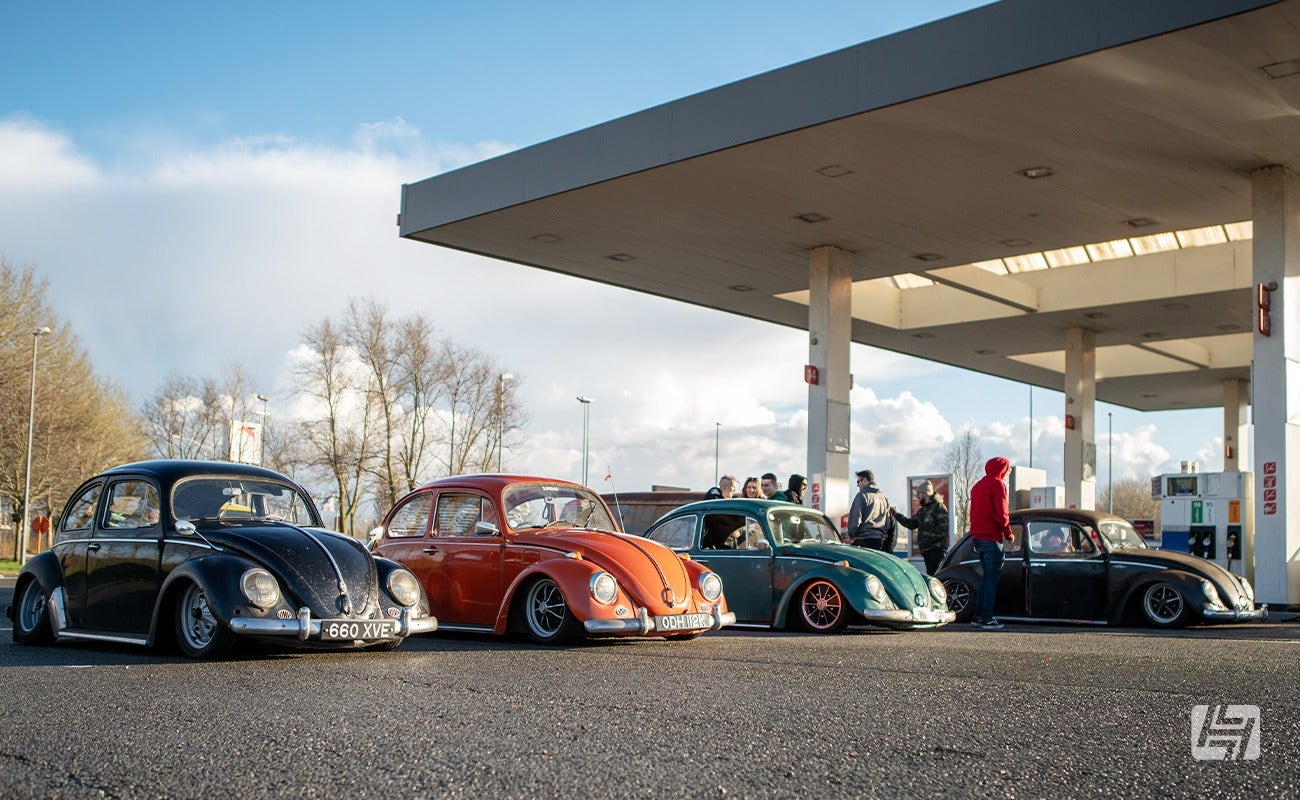 Alloy wheels for five stud VW Beetle
As previously mentioned, models made in the forties right up to 1966 were fitted with 5/205 wheels. If you don't fancy steel wheels and hubcaps, here's what we can offer from the SSP wheel catalog.
SSP prides themselves on producing wheels that pay tribute to timeless designs, but are engineered for optimum fitment on classic air cooled Volkswagens. That means you can buy these custom wheels with confidence, knowing they are specifically designed to fit your vehicle.
The black and silver BRM wheel is a cult classic in the Cal Look community and is available in both matt and gloss finish. Find them online here.
The 5-spoke GT5 wheel is offered with black, white, and silver painted centers, and also in fully polished and chrome finishes too. See the whole range here.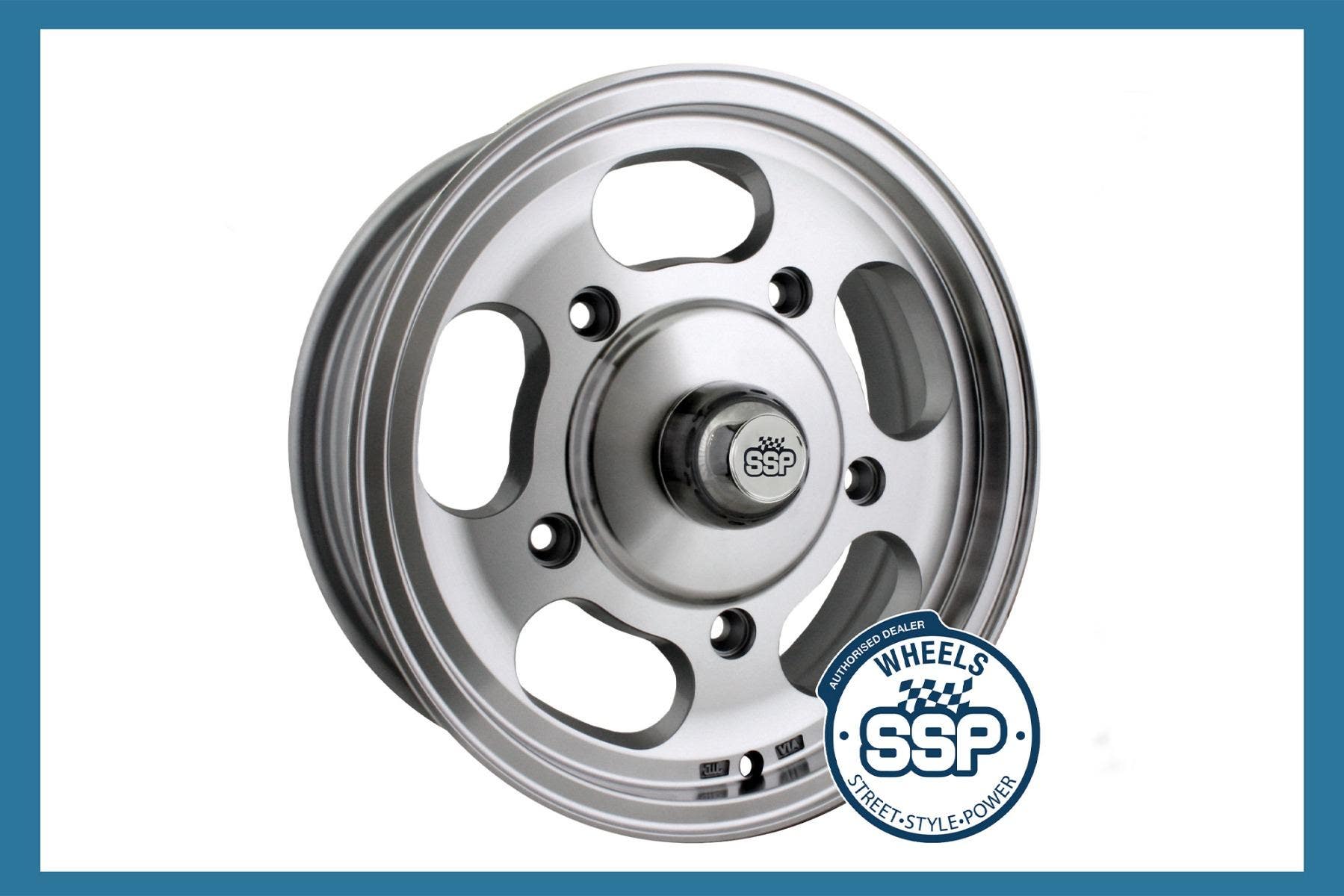 The SSP Slot Mag is a reworking of a seventies classic, but with 5/205 PCD they can look brilliant on early cars too. Find them on our website here.
The Sprintstar wheel is a real icon. Originally made in steel, the SSP version is an alloy tribute and can work well with stock and modified Beetles. Shop online here.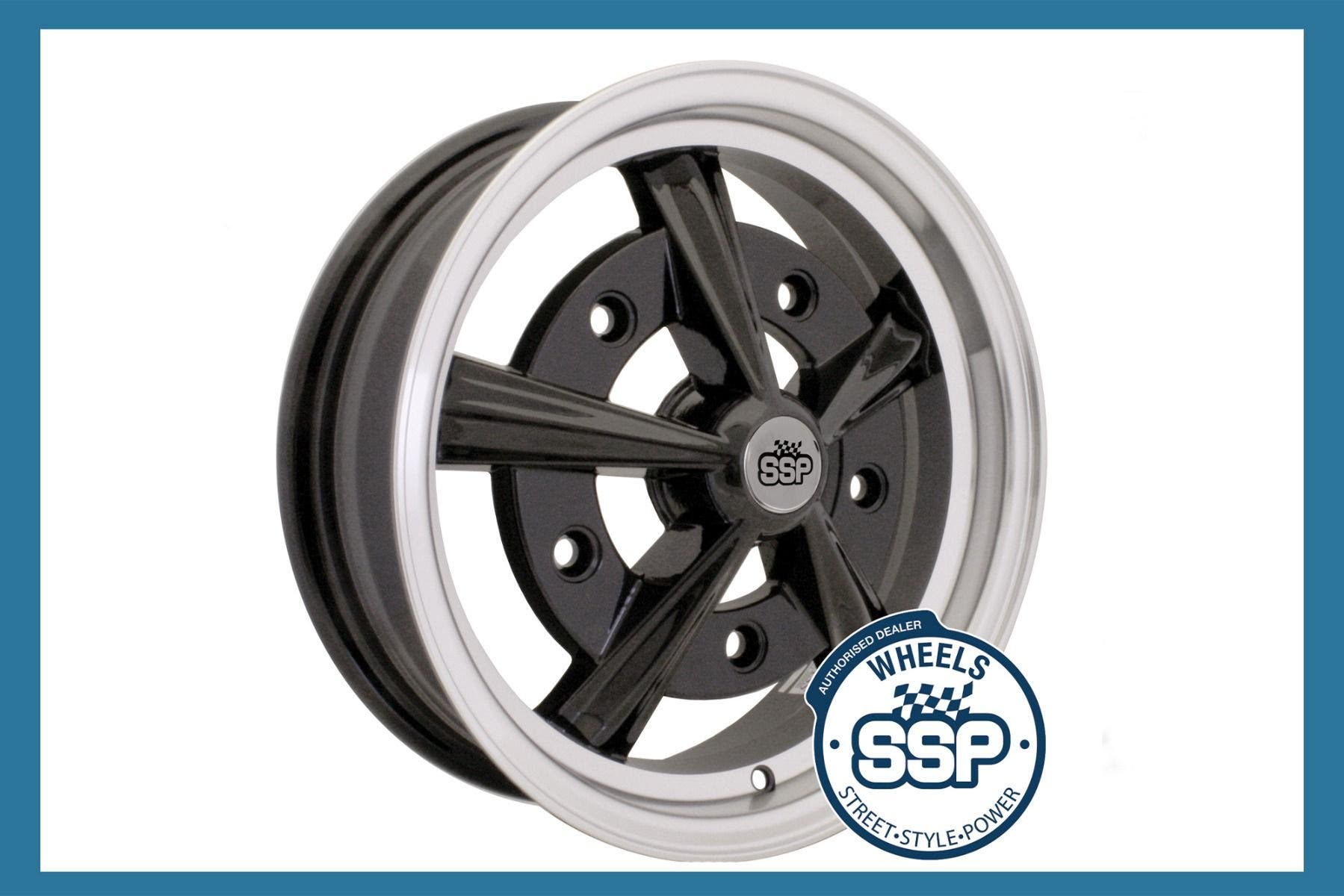 The Raider first appeared in the car scene in 1965 as an alloy centre in a steel rim. These days SSP has paid homage to them with a full alloy reproduction. Click here to see the options.
The SSP Crest is a great tribute to US muscle cars and looks fantastic and purposeful on Cal look and performance-focused Beetle builds. Find them online here.
Alloy wheels for four stud VW Beetle
VW Beetles made from 1966 will typically have 4 x 130 PCD - you can find out more about PCD and wheel fitment in our what wheels will fit my car blog.
For reference, these vehicles were available with both front drum and front disc brakes, but our range of wheels will fit both.
Here are our SSP alloy wheel options for late VW Beetle models.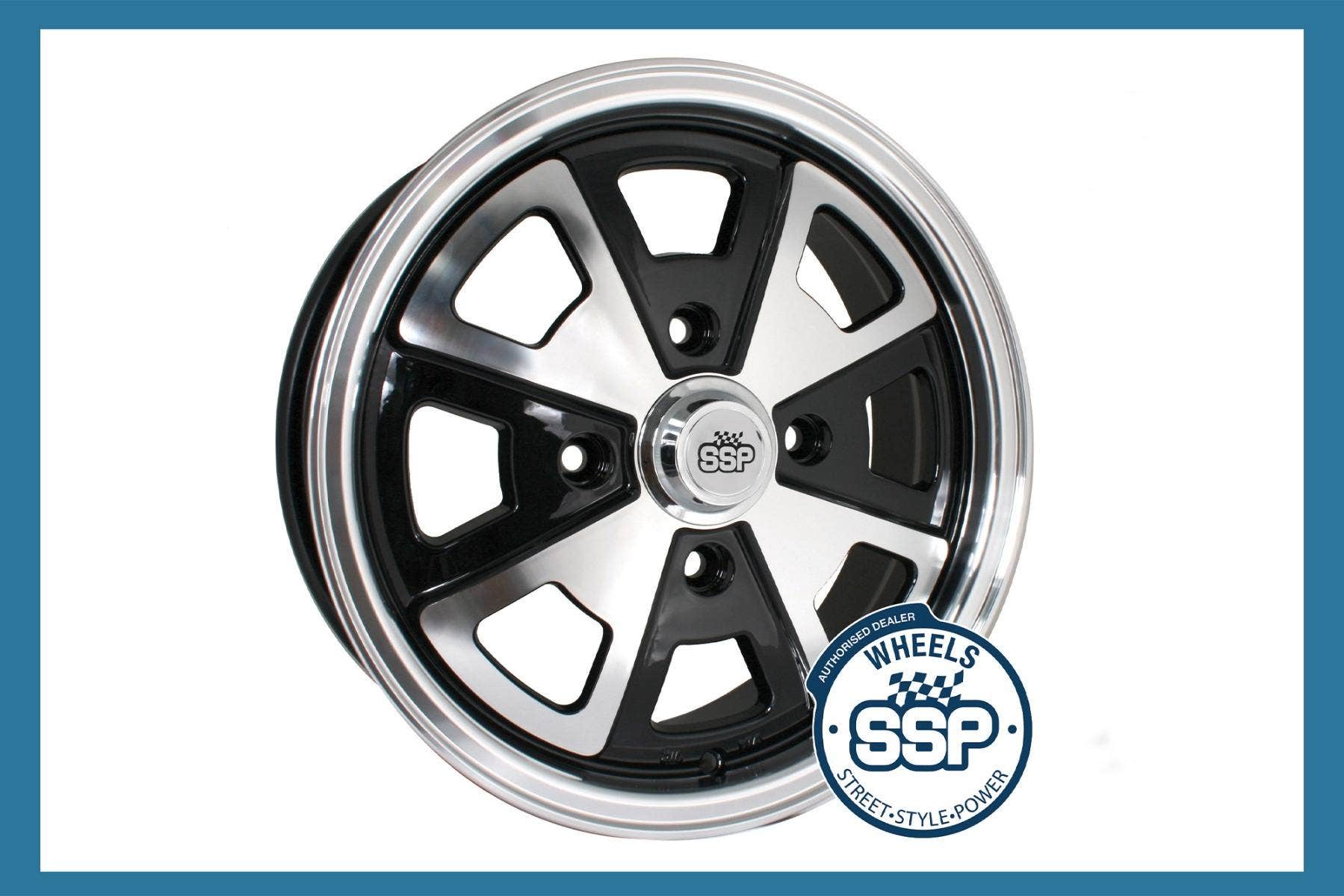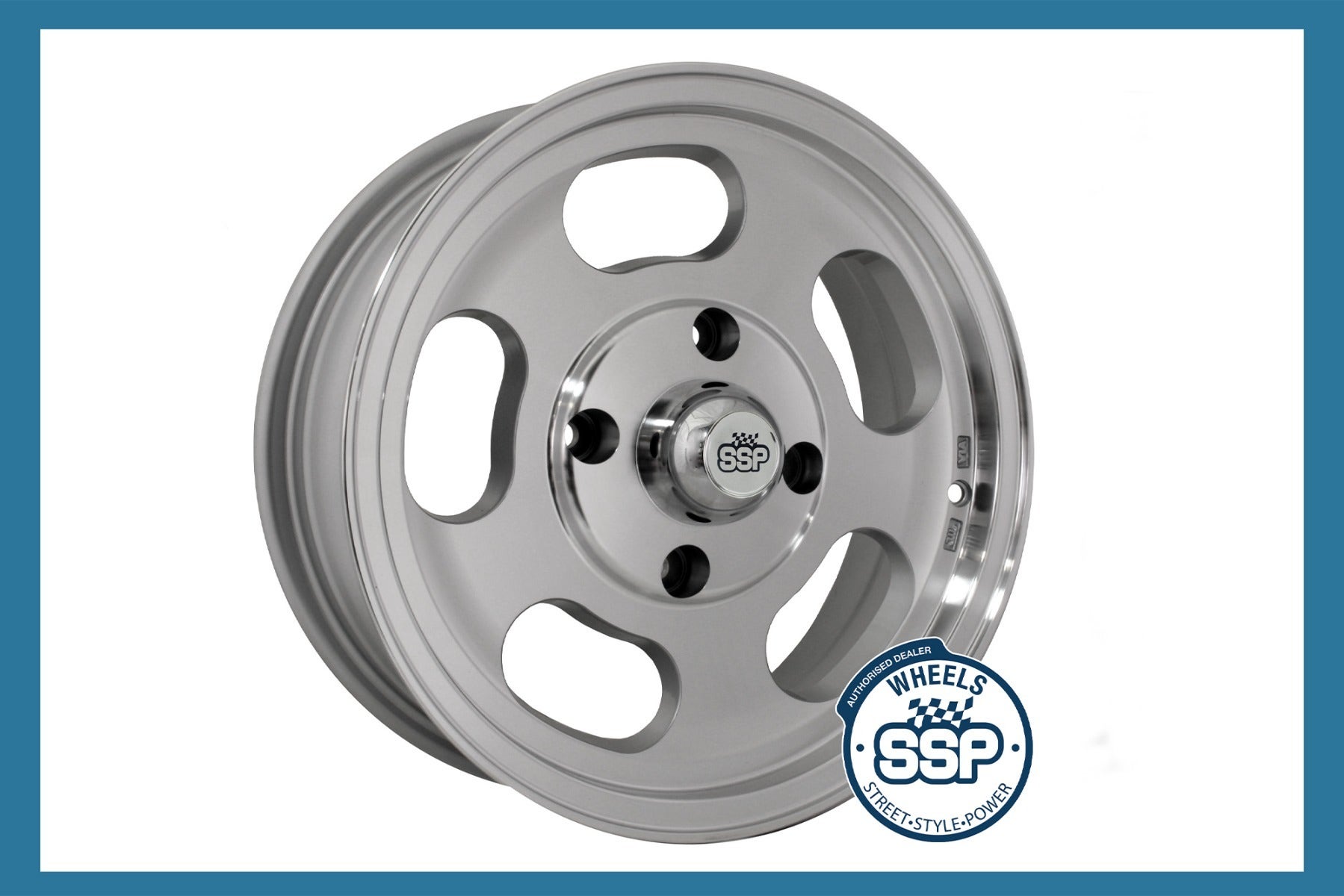 The SSP 914 is so called as the design first appeared on the Porsche 914, a vehicle built as a collaboration between VW and Porsche. These are a reproduction of the original and engineered for optimum fitment. Find them on our website here.
You may have spotted we featured the SSP Slot Mag wheel already, but handily for fans of the seventies custom look, they are also produced in 4 x 130 PCD and can look awesome in partnership with upright headlamps and Europa bumpers. Shop online here.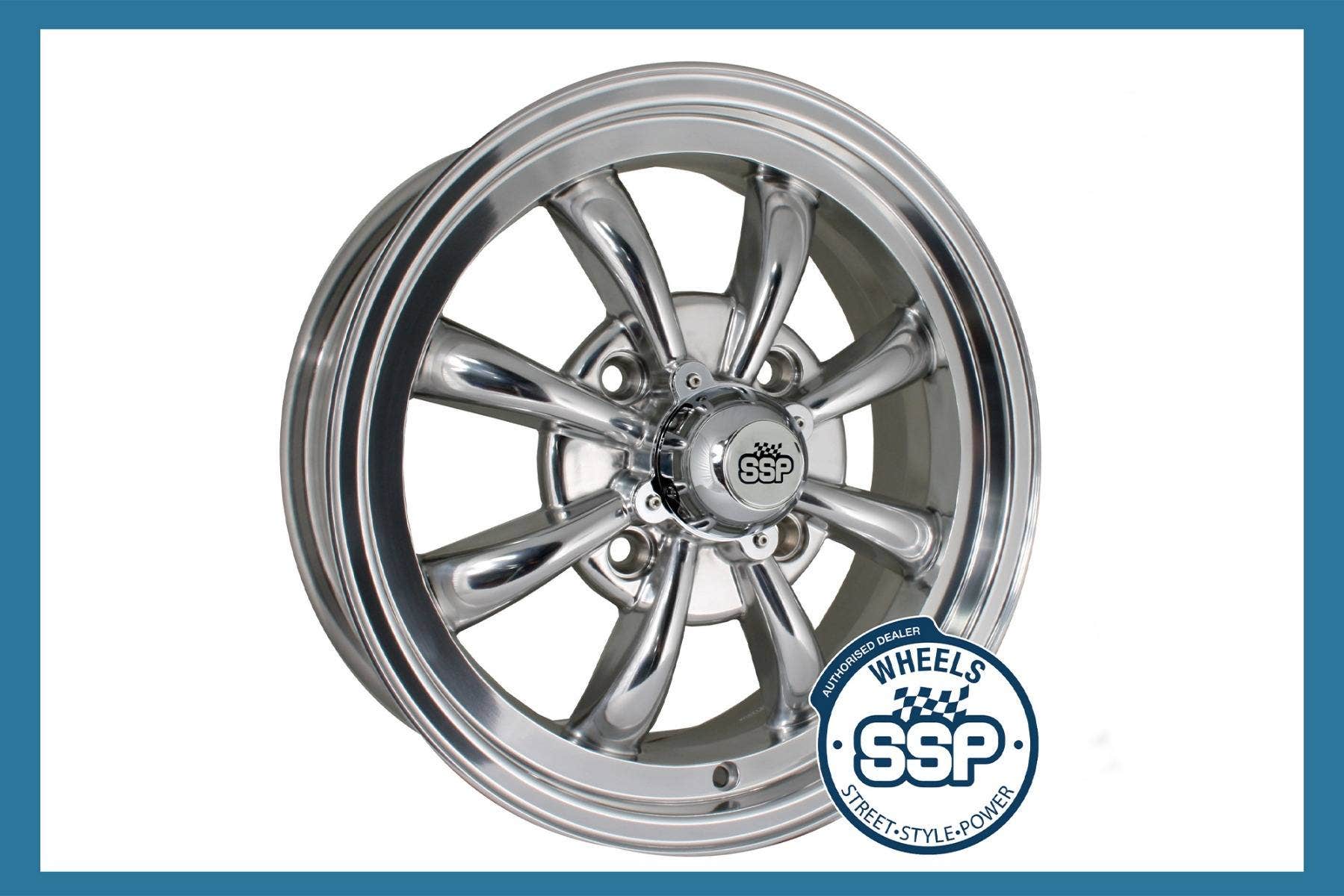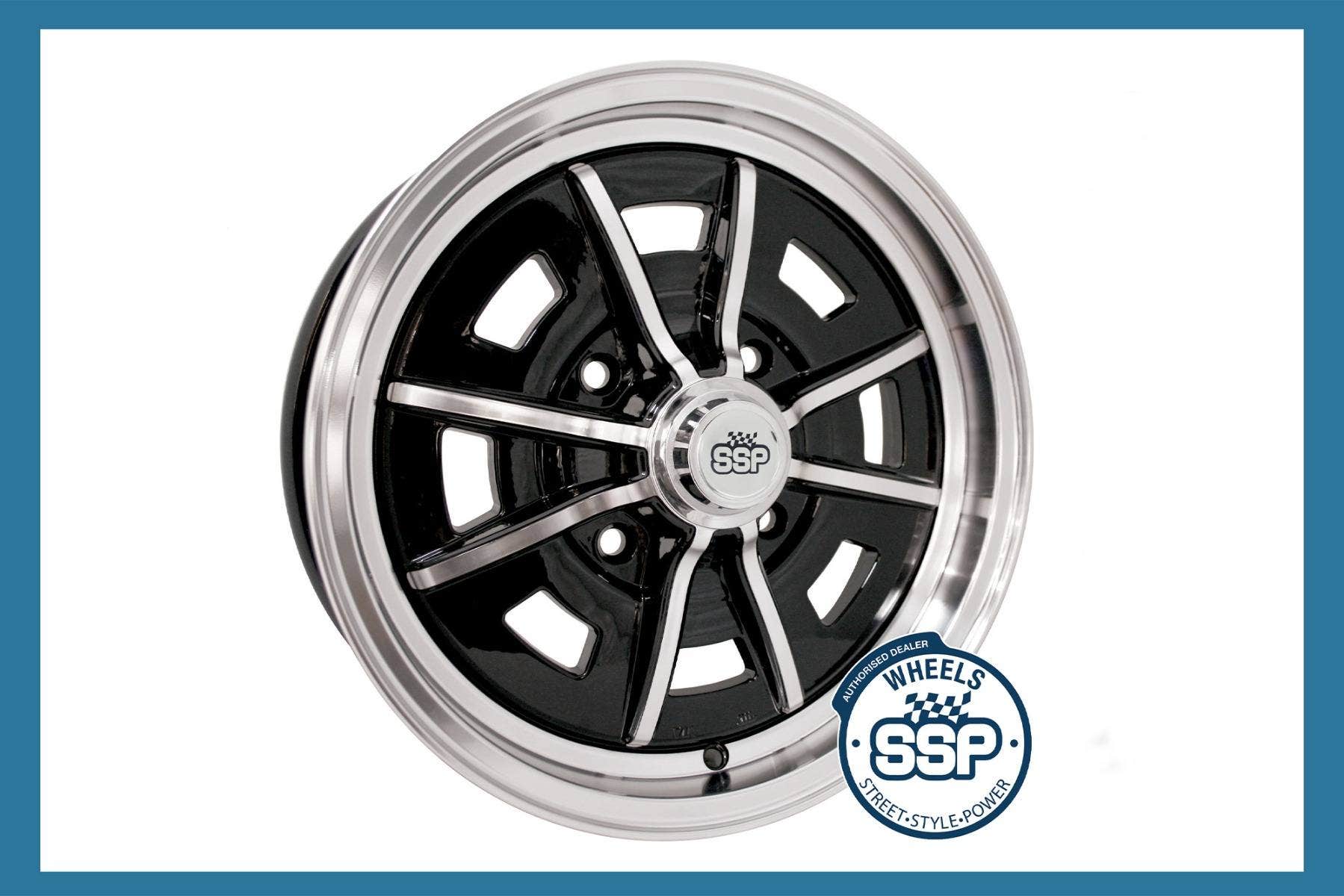 The GT8 is another Cal Look favorite and is available with black, white, and silver centers along with fully polished and chrome versions too. You can find them all online here.
Lastly is the Sprint 8, a wonderful black and polished alloy tribute to the original wheels that first hit the scene in 1968. Find them on our website here.
Will Porsche wheels fit on my VW Beetle?
The short answer to this question is no. Porsche wheels are typically 5 x 130 PCD (with a couple of exclusions to that rule, namely the 356, 914, and 924). This means that Porsche wheels won't be able to bolt directly onto the hubs of either early or late VW Beetle models.
However, there are a few fitting options available to you, should you wish to go down this route.
You can source 're-drilled' brake drums or better still, a brake disc conversion kit that has the Porsche pattern in them, so the Porsche wheels will bolt on.
Or, you can use PCD adapters, which attach to your existing hubs but also have the Porsche pattern machined into them for your new wheels.
Do be aware that using either PCD adapters or a brake disc conversion kit may give you a change in axle width, pushing your wheels out a little more in the arches. You might need to allow for this when deciding on the backspace of your new wheels, tire choice, or suspension setup.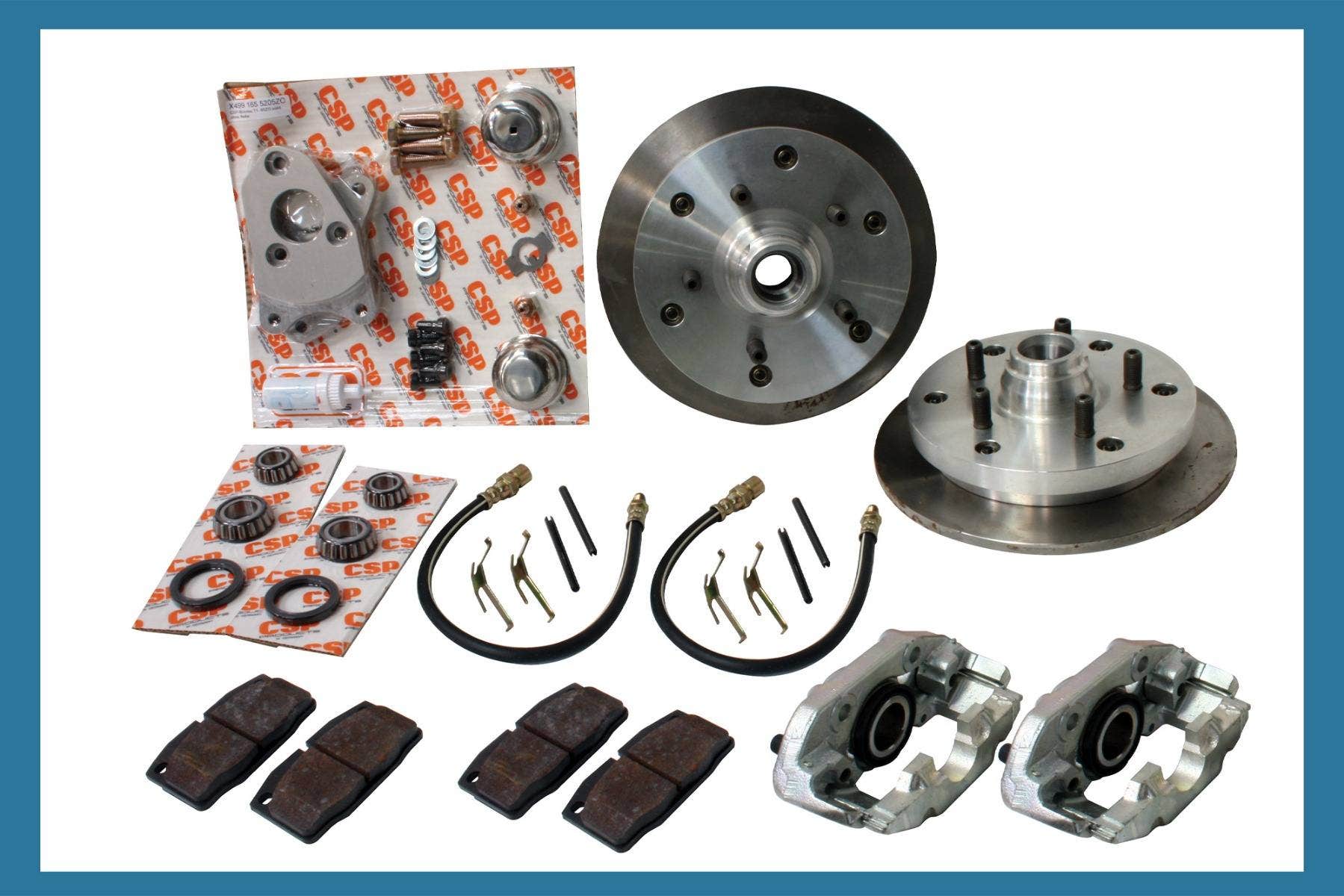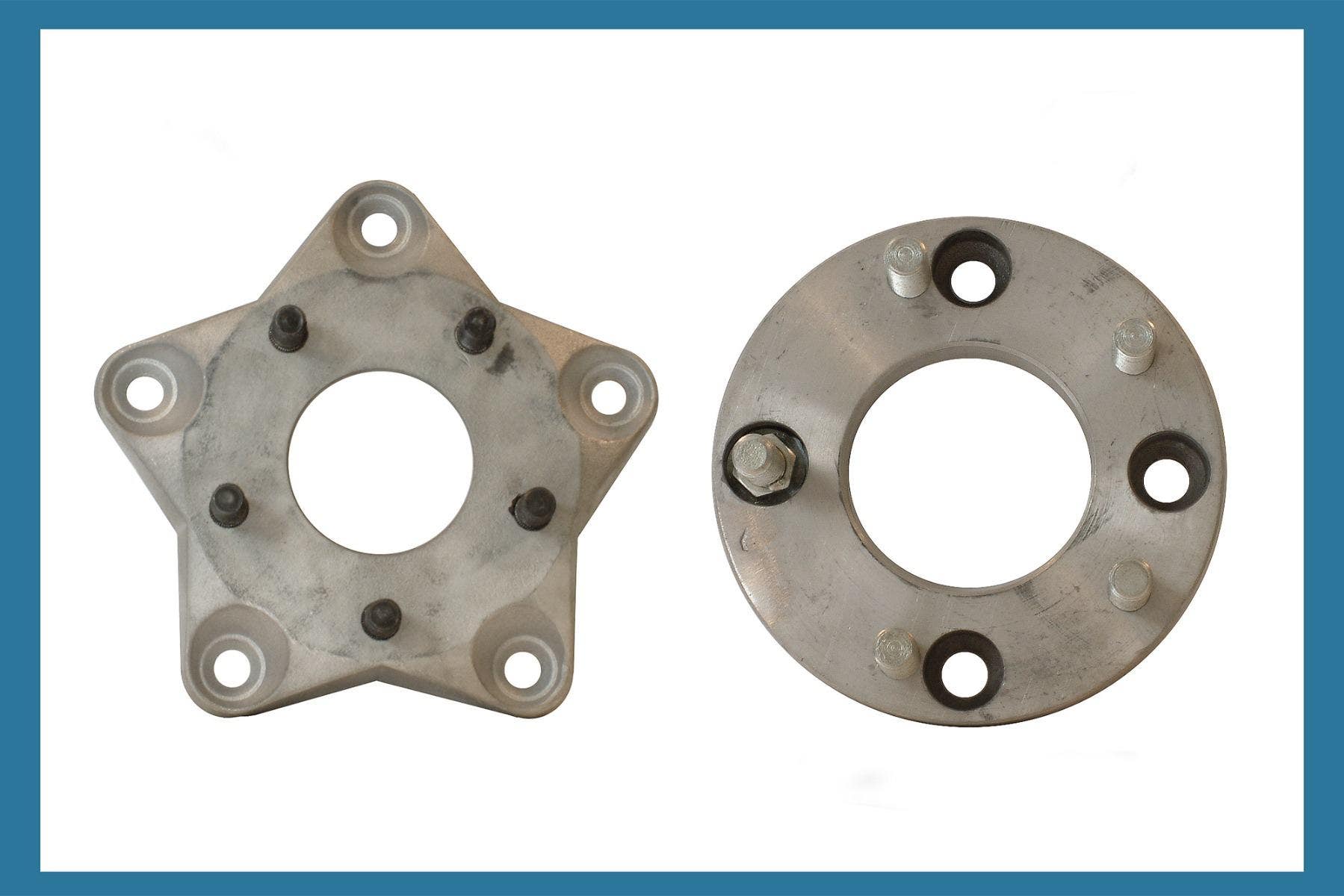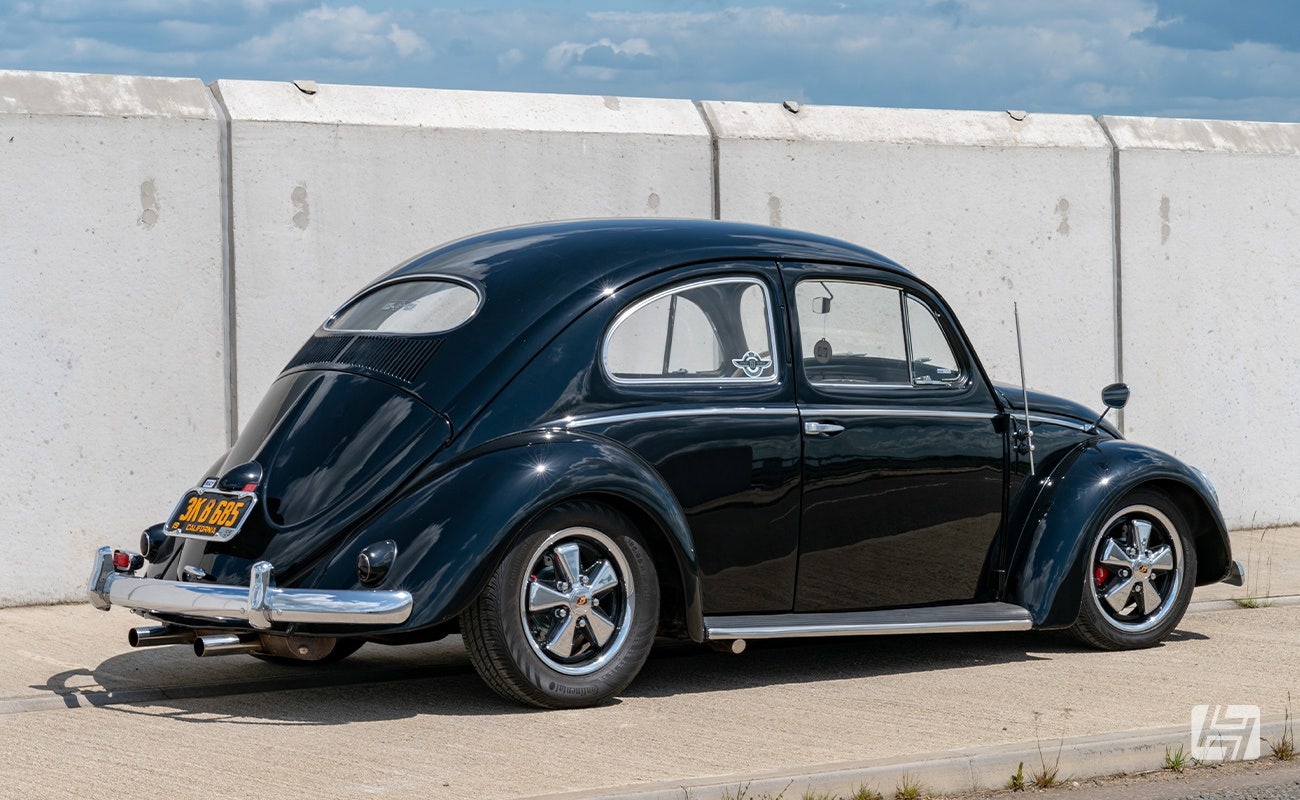 Hopefully, this article will help to steer your VW Beetle wheel choice in the right direction, and perhaps shortlisted some favourites that will fit your Beetle project.
Still got questions on VW Beetle alloy wheels? Drop our team an email, and they'll do their best to help.
Andy