So many businesses grow from a hobby. Heritage Parts Centre is a great example, but beyond what we do there are plenty of enthusiasts out there who have turned the dial up to eleven and are grafting hard doing something they really love. I was lucky enough to meet Matthew Palmer via an IG Live interview during the pandemic, but recently I had the pleasure of visiting his premises near Norfolk (about 4 hours away from Heritage HQ). Let me tell you all about Mk2 Spares UK.
Starting Young!
Working hard is in Matthew's blood. As soon as he was old enough he got a job sweeping floors at the local VW dealership, which developed into an apprenticeship, to being a technician and then master technician before he left for pastures new. His next role was still hands-on, but away from cars, as an offshore marine engineer. However, whilst the money was great he was missing seeing his young daughter growing up, hanging out with friends, and enjoying the car scene.
It was whilst home from weeks working away that a good friend asked after his daughter, how he felt about being away from her, and if he missed playing with cars with his mates. Naturally, he missed both. "She suggested I should come home, spend time with loved ones and run my own business with VWs, and that I'd be really good at it," he tells me. The very next day Matt's friend sadly passed away, and he took that as a sign that things needed to change.
He quit the well-paid job, and changed priorities back to his family and working with cars. With just £30 in his pocket and about the same in spare parts left over from past projects he fired up Facebook and got listing stuff on Market Place. The next day he was walking to the Post Office to send those parts out, and looking for other bits to buy to do it again.
We're out for a drive in Matt's Mars Red GTI as he recounts the tale. "My Dad told me he couldn't afford to give me any money, but let me use the shed at the back of the garden. And that is where it all started" We pull up to a small gravel driveway, it's like a private road. Matt beams and points at the road sign. "It's called Golf Close, no joke..." Some things are meant to be, and whether you believe in fate, good or bad, this is how it all started.
Matt took over a plot at the back of his parent's house, large enough to park 4 cars on, and proceeded to build the business from there. "There would be so many days when I'd be carrying parts to the Post Office thinking why am I doing this? If I had sold a bumper, or a big panel I would borrow Dad's wheelbarrow to help me carry it!" Even today Matt still takes his parts to the local Post Office on his way home, although he now has a T5 Transporter to spare his legs and arms the effort.
The more Matt sold the more he needed stock, and he would spend his evenings buying up job lots of spares and abandoned projects and then traveling the country with a van to collect it all. "I've worked hard at it," he tells me proudly "this is my dream job and I built it from nothing." His story is quite an inspiration. Hats off to him for making it work.
The Move
In 2017 Matt upped sticks from his shed to a nearby barn and started transforming it into Mk2 Golf heaven. The agricultural warehouse was in Matt's words "a good unit" and worked for a few years, but its location on a private farm meant he couldn't have customers turning up all the time. It was in the summer of 2020 that the operation moved again to the current building on a bona fide industrial estate. The forecourt to the front has ten cars parked up, most of which are available to buy as rolling or running projects. Inside Matt has a couple of his own cars and a racking full of interior trim, wheels, trinkets, and everything in between. Behind the Black Mk2 and the Rallye is another row of racking, holding wiper motors, ECUs, wiring looms, and pretty much everything you could need to put a car back together.
Out the back of the workshop is a more traditional breakers' yard scene. Whilst Matt still dismantles accident-damaged cars, he tells me "things have changed and it's now more profitable to sell Mk2 Golfs as a project car, rather than break it. So we keep a good stock of cars and get them to stage where people can start to put their own mark on them."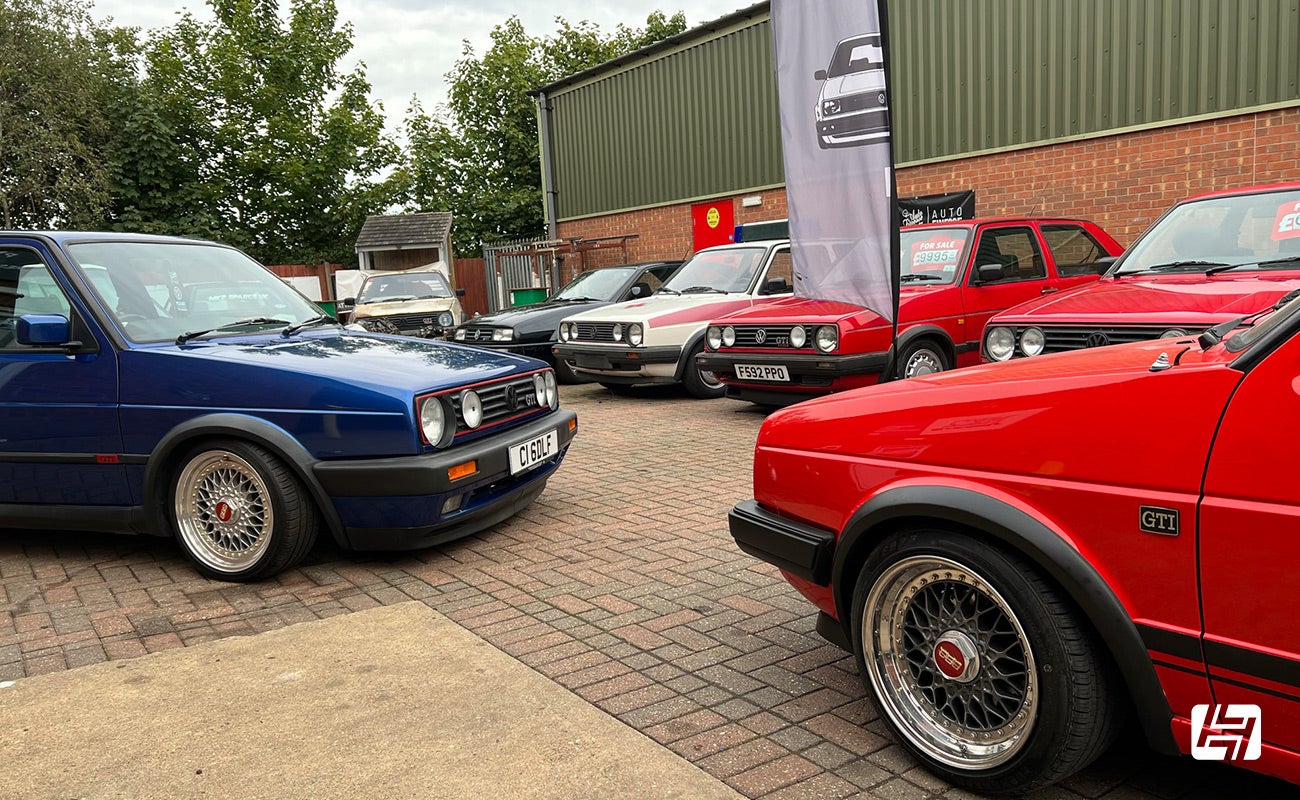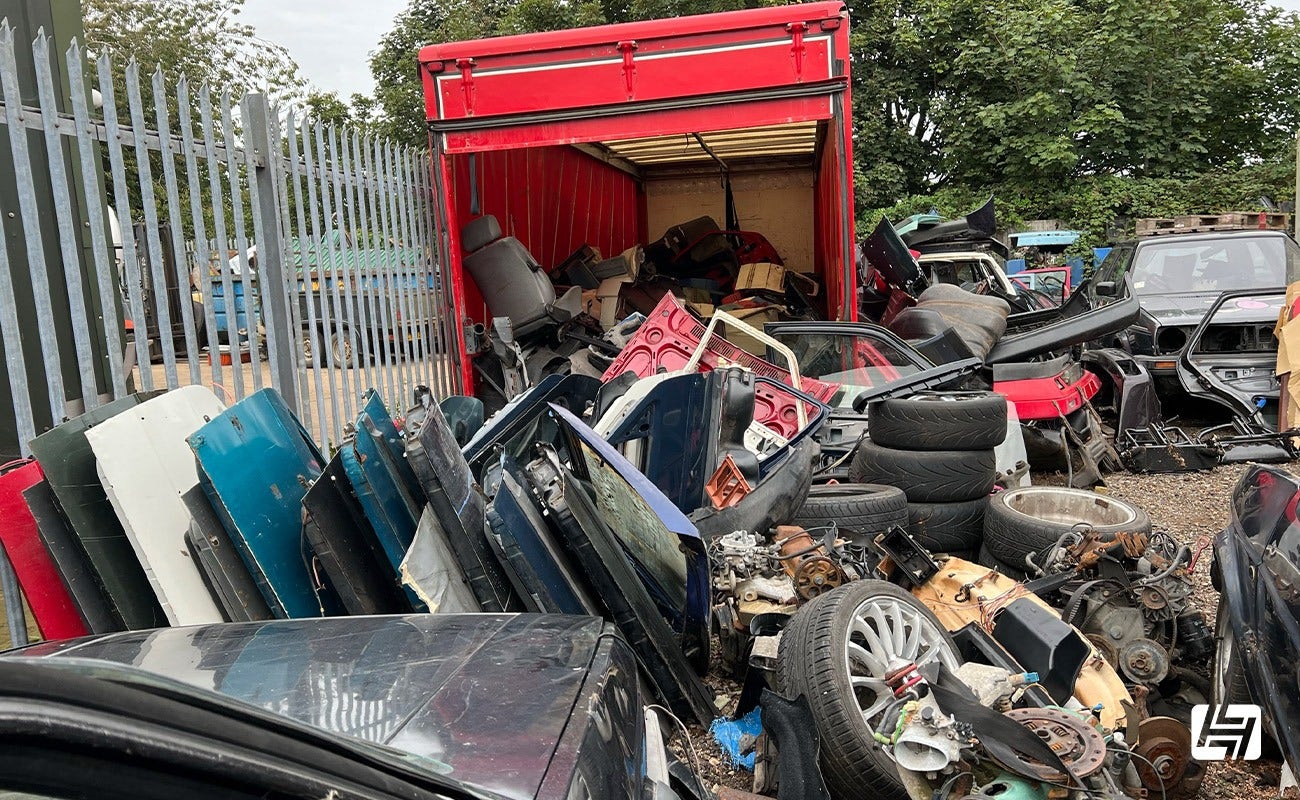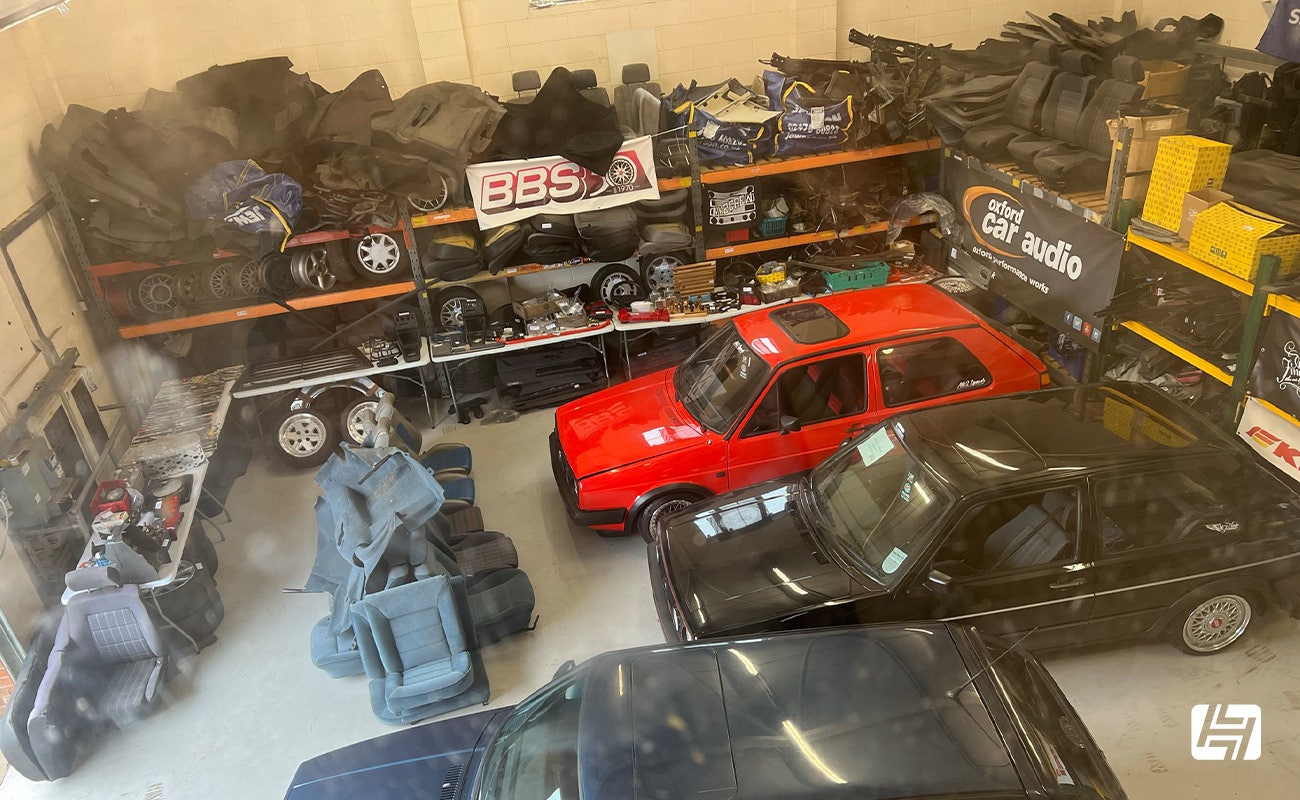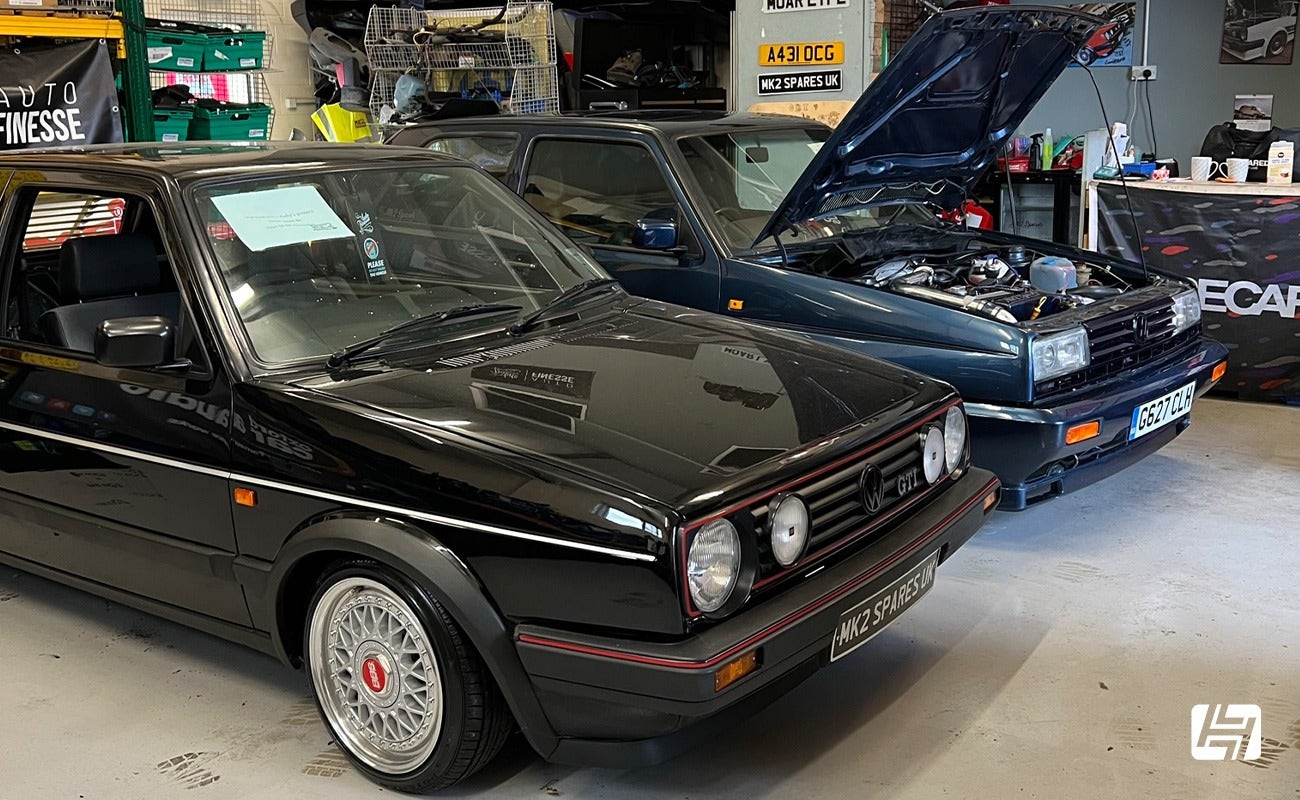 Film Stars
Diversifying his business offering, Matt has also got involved in supplying vehicles for film and TV work. His Mars Red GTI was featured in a Tinie Tempah music video, which has opened further doors to the 'Medical Golf' and most recently the GTI Engineering Jetta being picked out as TV extras too.
Polo G40
One of the first cars I spot, when pulling up outside, is the black Mk2F Polo G40. Not at all what I have come to see, but a bucket list car for me, having grown up driving lesser-model classic VW Polos. It turns out Matt also grew up in the Polo scene, and he's had a few G40s previously. This low mileage example should be a keeper, but in this game, and with another new workshop on the horizon, everything has a price... In fact, he's already listed it on eBay.
Luckily for me, the engine has just been rebuilt and features a brand new JMR supercharger and Matt very kindly chucks me the keys and says we can take it out!
We pull out the industrial estate gently as I familiarise myself with an eighties/nineties super mini again before I give it a good old squirt of gas. Weighing about 800kg with 114bhp under your right foot, it picks up well and gains pace surprisingly quickly. It certainly raised a smile on the twisty country roads, although I think I've been spoilt by the refinement of Golfs and Porsche in my older age - I'm not sure I'd want to run one of these daily. If you fancy it, get in touch with Matt before it's too late.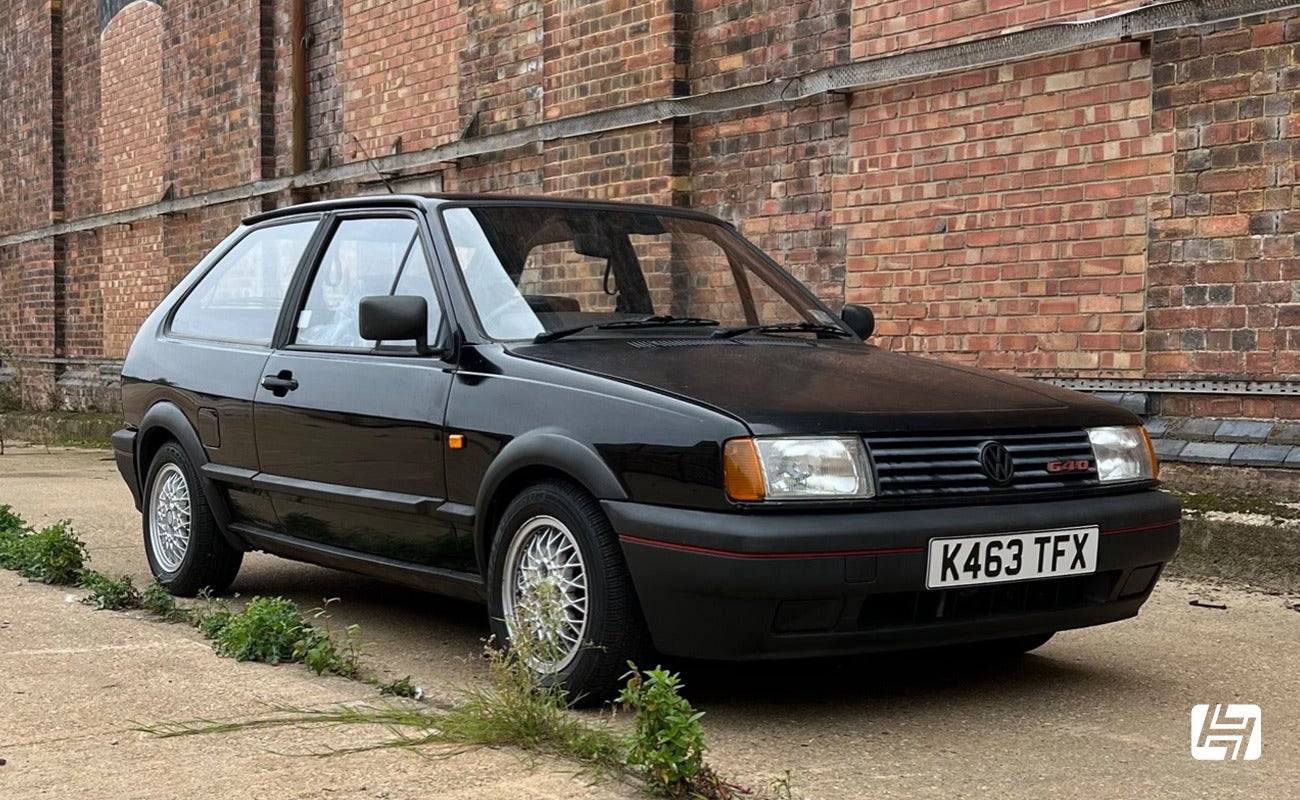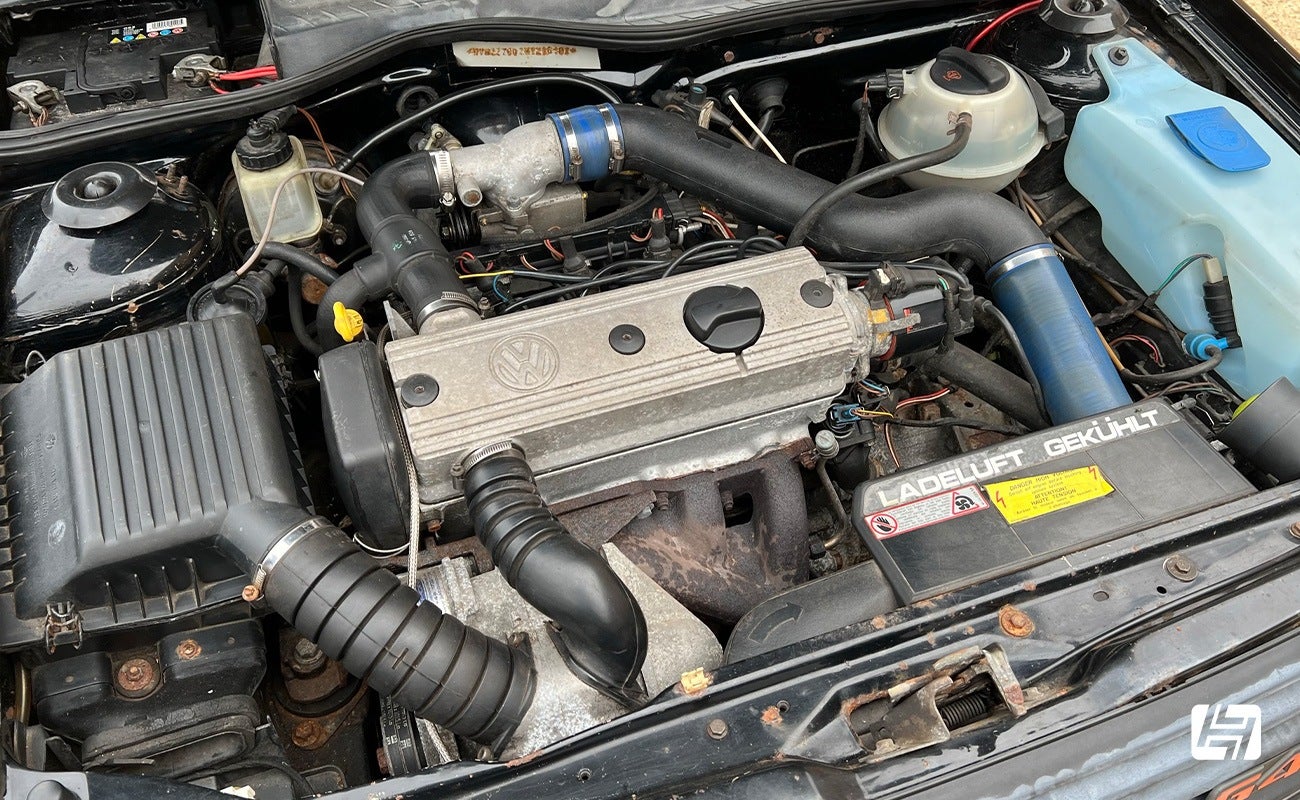 Collecting Rare Stuff
As you might expect, the man behind such a business has a stash of cool, rare parts tucked away for some special projects in the pipeline. Matt takes me up to his office and tells me some more about his Golf Van that he's been building for many years. "I built it once, but sadly the engine caught fire on the first outing. So I had to rip it apart and start all over again. It's coming back though, with 900bhp and a 2.1 16v Turbo motor" We can't wait for a ride in that!!
The first part he pulls from the shelf is a DigiFizz gauge cluster, swiftly followed by a Votex center console, and a selection of optional switches from vehicles he's broken over time. A second cupboard houses a mixture of Hella colour magic tail lamps, but none of these components hold a candle to the rear speaker panel with headphone sockets, that mount above the head of rear passengers. I never knew these even existed!
All this and more will grace the Golf van when it finally re-emerges next year.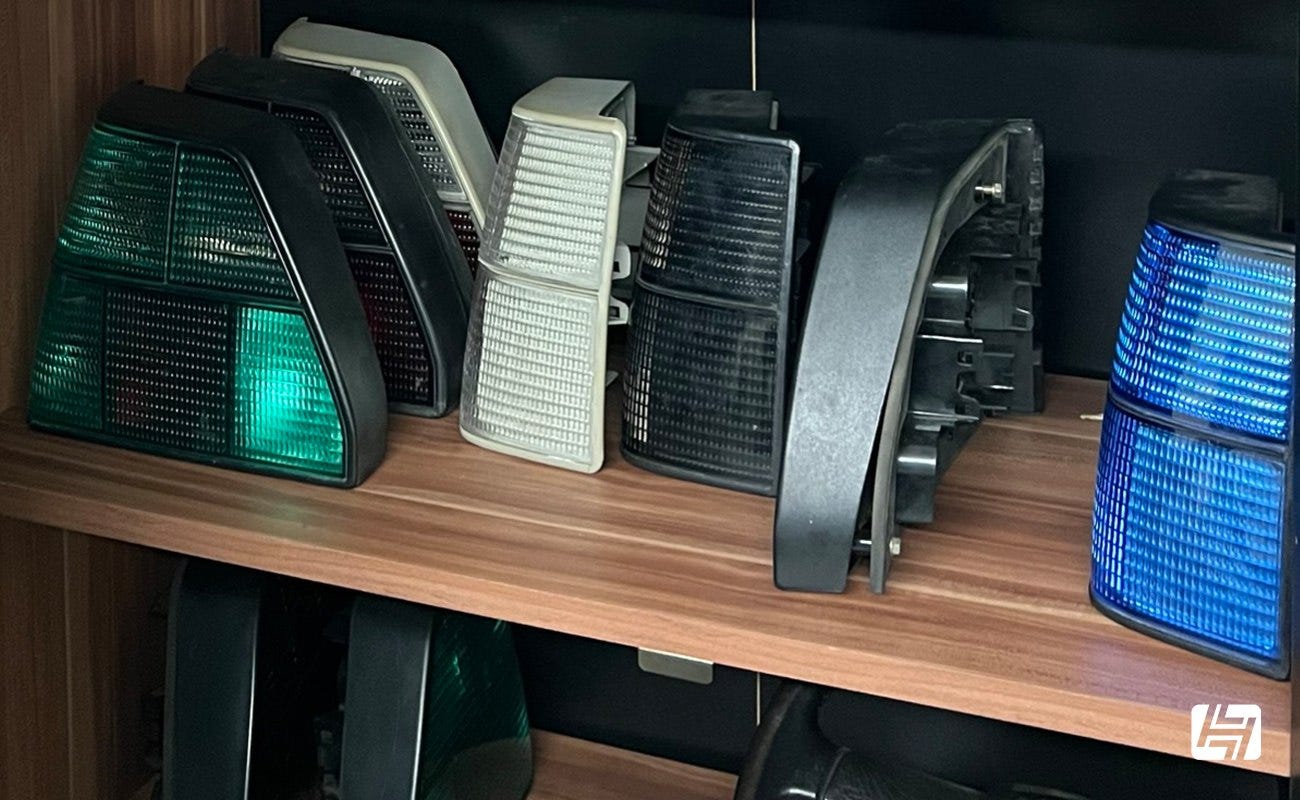 No Computer Required...
We hugely appreciate the logistical efforts required to ensure stock is correct and can be sold easily online, but unlike us, Matt doesn't use an elaborate computer system. With his company still in relative infancy, he's got a friend who helps him out photographing and listing items on eBay, and he simply tracks sales from the phone in his pocket! Parts are kept in containers in various places around the building, with locations magically locked in his memory, plus they are still picked and packed personally by Matt each day.
I ask him whether he has thought about making some changes for efficiency, like having a courier company come and do parcel collections. Matt explains "I enjoy my trips to the Post Office. I know them all by name, they ask after my family too. I look forward to coming to work, and dropping the parcels off on the way home is all part of it for me."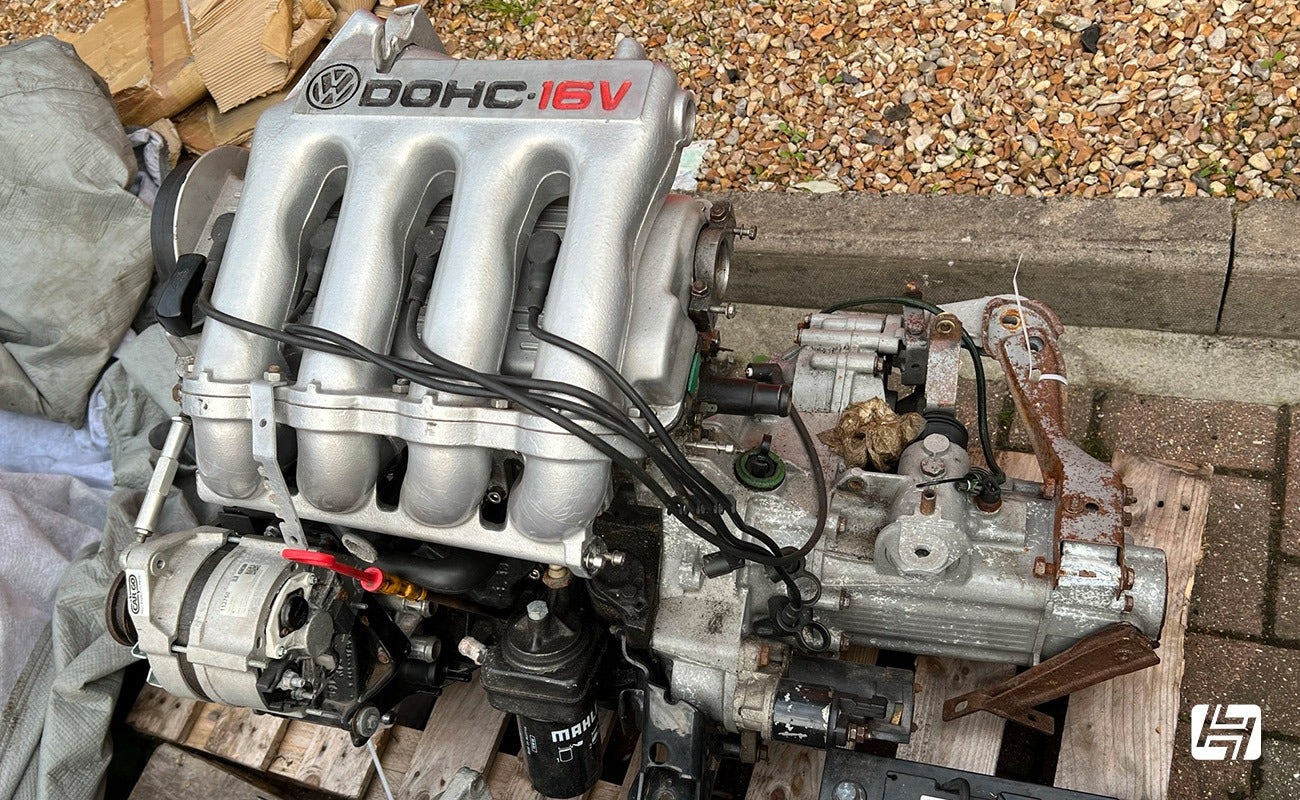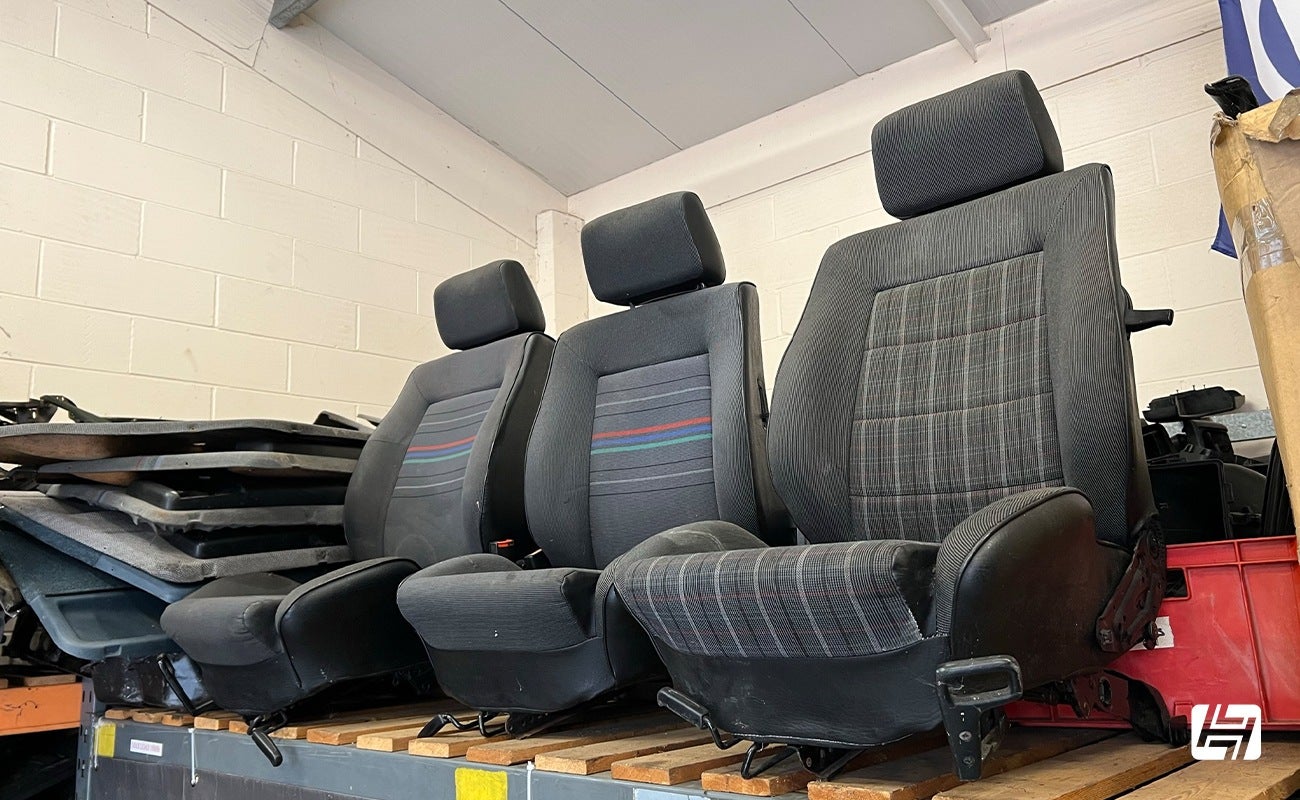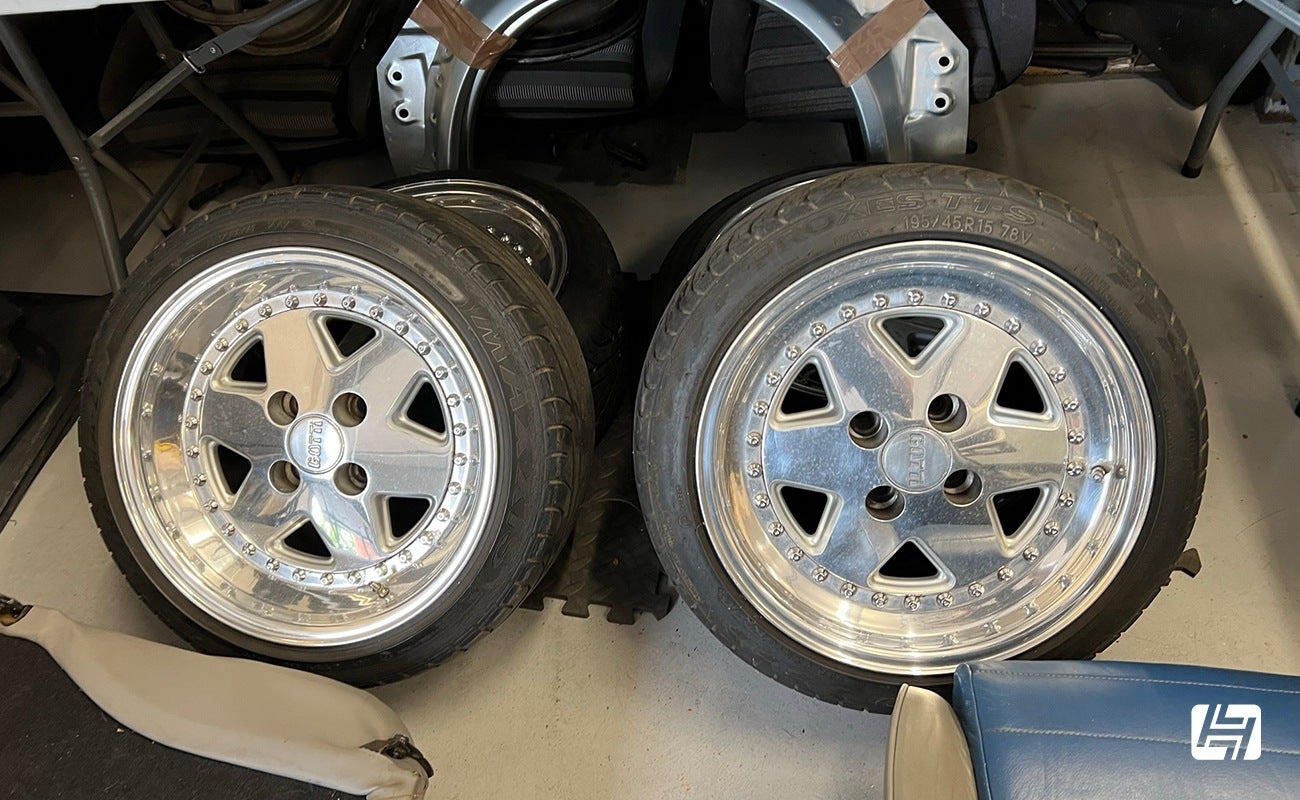 Project Building
Being located on the east coast, near Norwich, Matthew relies heavily on transport companies to deliver vehicles he has bought, either to fix up, keep or break for spares. While I'm wandering about a Mk2 Jetta arrives on the back of a low loader, and the inside is full of everything needed to finish it! "I've got big plans for this one," Matt tells me. Now, I'm not one to let a secret out of the bag, so you'll have to wait and see what it is, but it will be far more than a 'drop it on wheels' build that is for sure.
There's another project up on a ramp too. "This one belongs to a friend. He thinks we're just getting it up and running for him, but it will be a bit more special than that by the time he gets it back." Matt has friends come by after hours every week so they can get a few more jobs ticked off the list.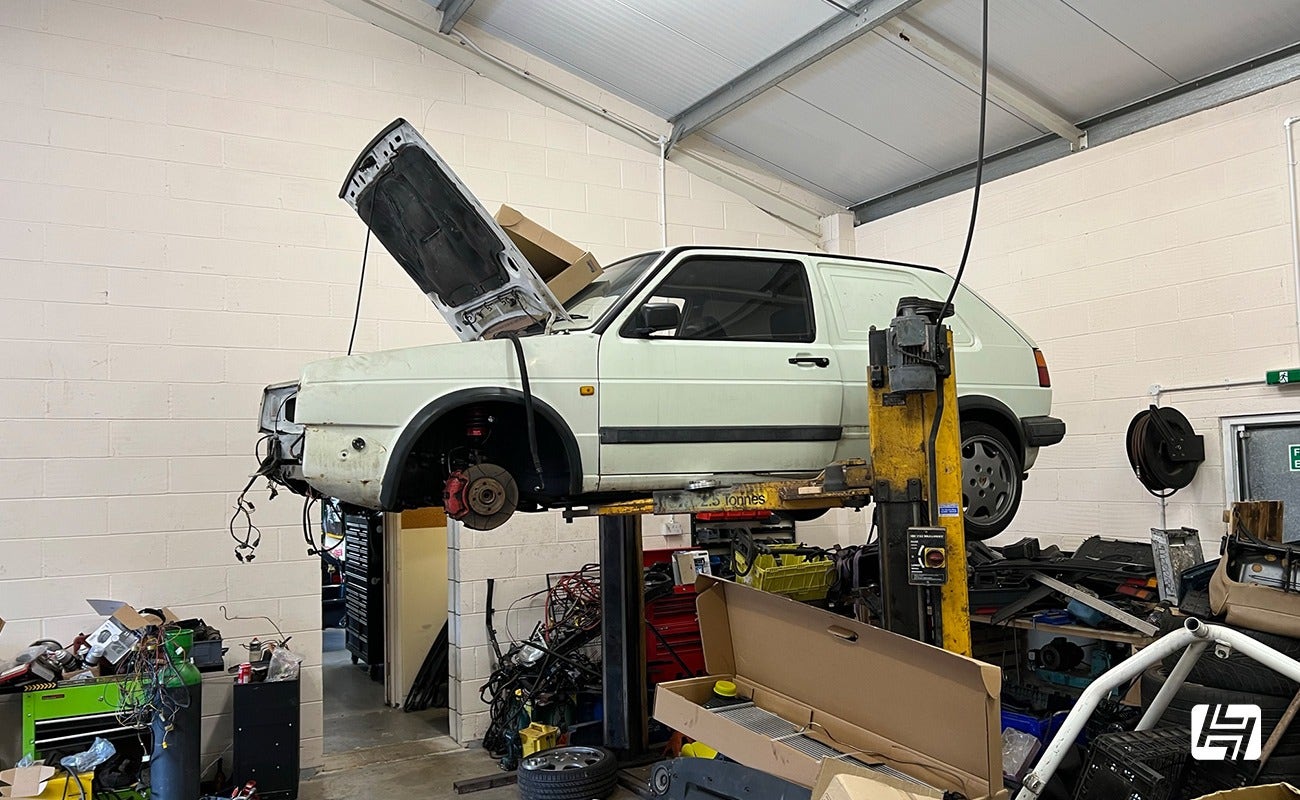 The Future
After settling into his current unit, and even hosting some open-day events, the opportunity has arisen to take on even larger premises just around the corner. In fact, I clocked it as I arrived, mentally noting that it would be a great place to photograph some cars... Turn's out Matt is moving there! We took his Bright Blue Metallic VR6 powered GTI over to have a closer look. With the deal yet to be fully signed off, we couldn't go inside, but the scale of the place from the outside was impressive enough. "It's 4 times bigger than the current place," Matt tells me. "I'll have to rent some of it out as storage to help with the bills, but it will be nice to have everything properly all in one place."
From a business that started in a shed 5 years ago, Matthew has certainly worked hard to get to this point, but he's quick to say he wouldn't be where he is now without his friends. And ultimately, that takes us back full circle; if it wasn't for his friends' comment it might never have happened in the first place.
A big thanks to Matthew for the invitation to visit, and for taking the afternoon to show me around the workshop, the local area and let me have a go in a couple of cars too. Whilst we can supply many Mk2 Golf parts, we can't do everything, and for those rare, second hand and unavailable parts, we thoroughly recommend Mk2 Spares UK.
Andy