We have some wonderful customers, many we are lucky to meet face to face, and a select few we get to know a little closer still. Occasionally, we'll even get invited over to check out a recent project for which we've supplied parts, and that was exactly the case here... However, I'd not banked on the additional cars, parts, and toy collection that might greet us when we went to meet Ian MacMath. Lucky for you, we took a few snaps... Check this out!
Porsche 912 Restoration
Ian won't mind us saying he's been messing about with cars for many years. An engineer by trade, he worked developing retractable swimming pool covers and used to spend his weekends competing in hill climbs and sprint races in his Porsche 914-6 race car. He was pretty handy behind the wheel too, clinching a number of series championships in his time.
These days things are slightly less speedy as his eyesight isn't what it was, but that's not slowed him down with the spanners. Chris, our Business Development Manager, had been helping him with a 912 project, and with it now pretty much complete had received an invite from Ian to check it out. Never one to miss an opportunity, I tagged along for the ride and here we are... In the middle of nowhere, down a rural driveway and outside an impressive garden-built workshop.
As we go in and take a closer look around, Ian tells us this is the cheapest Porsche he's ever bought, having swapped it for a Type 2 Transporter he acquired in a parts deal, about 25 years ago!
The car is a fine tribute to Ian's efforts and sports quite a few Heritage supplied parts, including a fresh gas tank, roof liner, brakes, body seals, and an exhaust.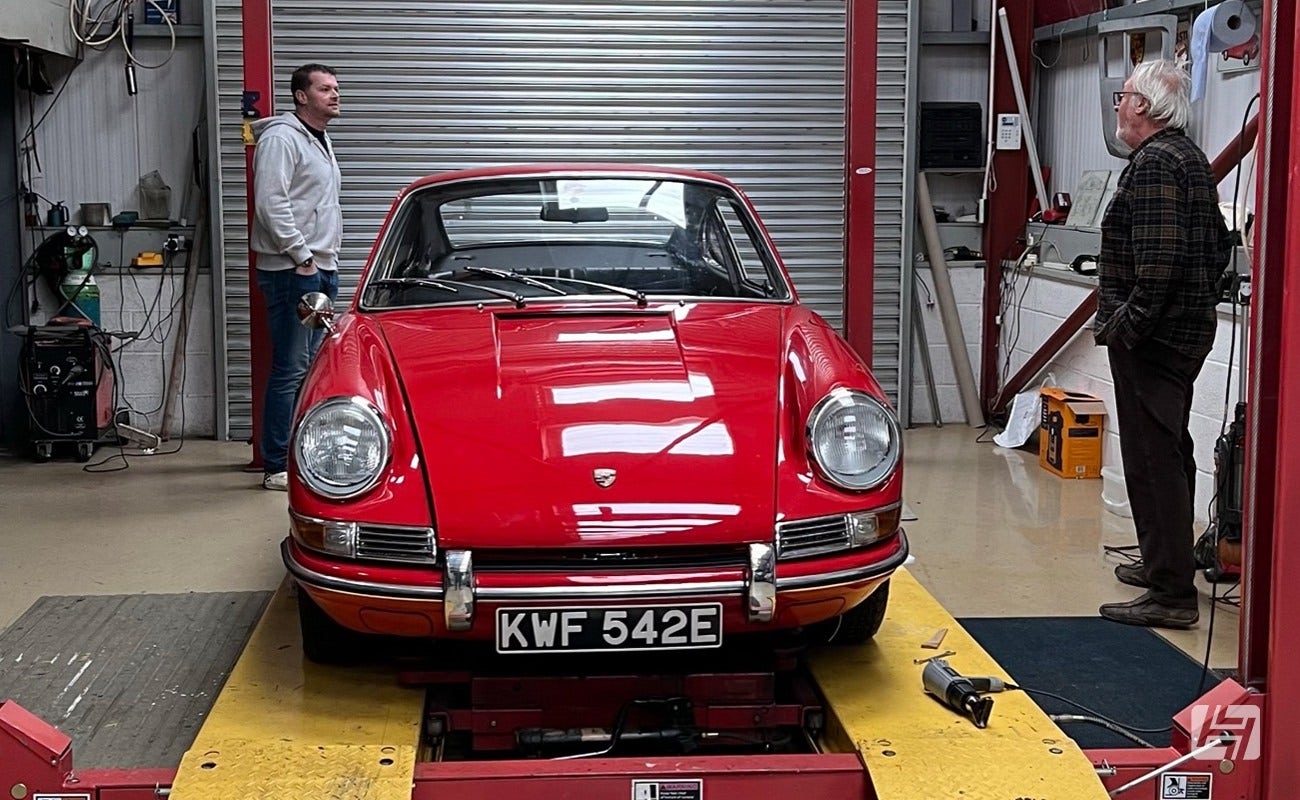 Undercover Porsche Collector
As mentioned above, anything beyond this stunning red 912 was a bonus, and it was like Christmas had come early for Chris and I. Parked underneath a substantial mezzanine floor, and besides a tidy stash of old aircooled motors was more of Ian's collection.
There are a couple of cars here that Ian stores for friends, but four of the six sheathed sports cars bear his name on the documents, and in the case of the 914-6 racer, it's on the bodywork too.
This is a 'shed' that many professional workshops could only dream of, and given a fictitious lottery win I'm sure I wouldn't be the only one rushing to the planning office with architectural ideas on a similar scale, to store my carefully curated Porsche collection, of course!
The Porsche 356
The first of Ian's beauties to be disrobed is the 356. As we talk, and he mentions the modifications he's carried out to it, I recall I saw the car earlier in the year at Simply Porsche at Beaulieu.
Starting life as a 1960 356B, Ian bought 'Ivy' as a project back in 1995 for, wait for it, £350. The car sat in a state of disrepair for more than a decade in a friend's garage until he moved to his current home and his workshop was built. It wasn't until 2018 that work started transforming and restoring it into a 356 preA outlaw, with earlier front and rear valances grafted into place replacing the rotten later panels. Inside was completely shot too, so Ian installed a set of Speedster seats and retrimmed the lot in oxblood leather, finished off with a genuine 1950s Les Leston woodrim steering wheel. The car sits on a set of EMPI 5 replica wheels, much like the SSP GT5 we offer, and the engine has been rebuilt to 1720cc with porting and polishing and twin Solex carbs.
We even managed to squeeze Chris inside, and it was in his words, "surprisingly comfy" given his longer-than-average legroom requirements.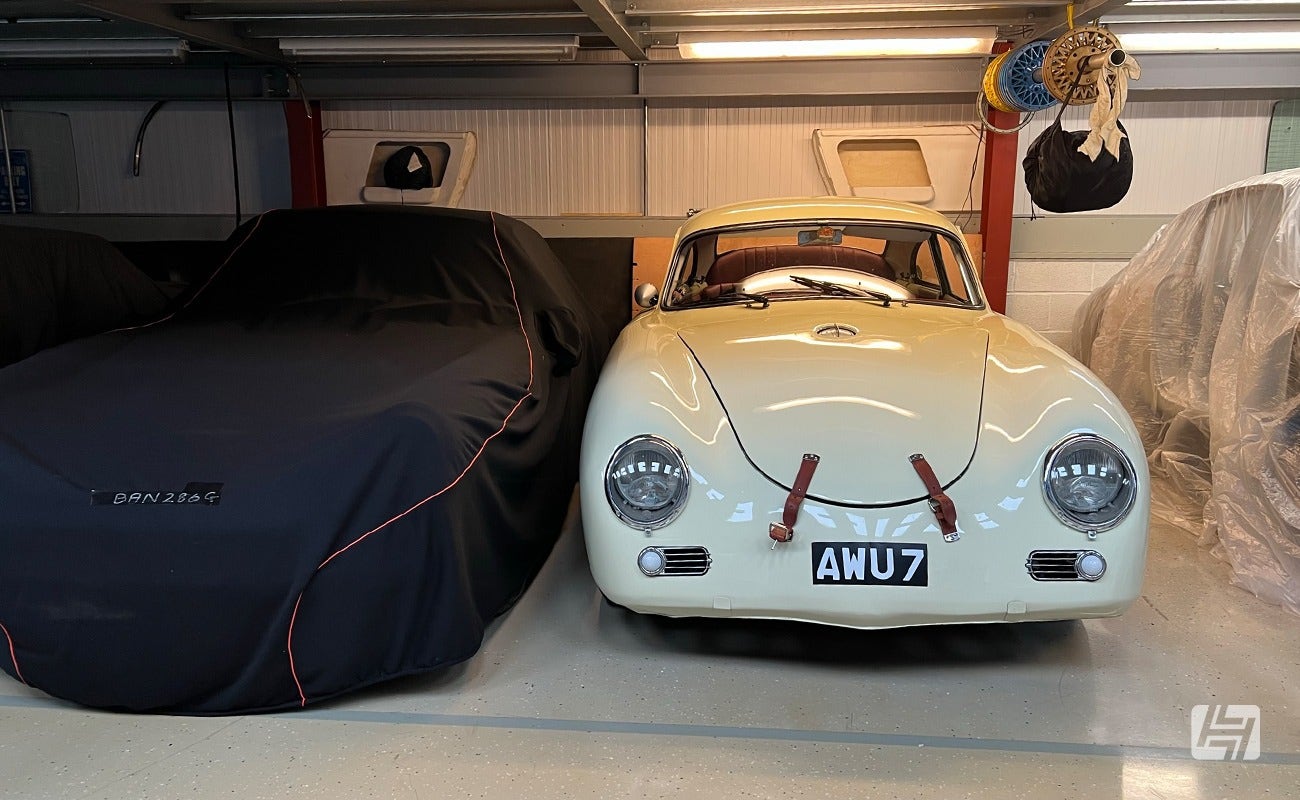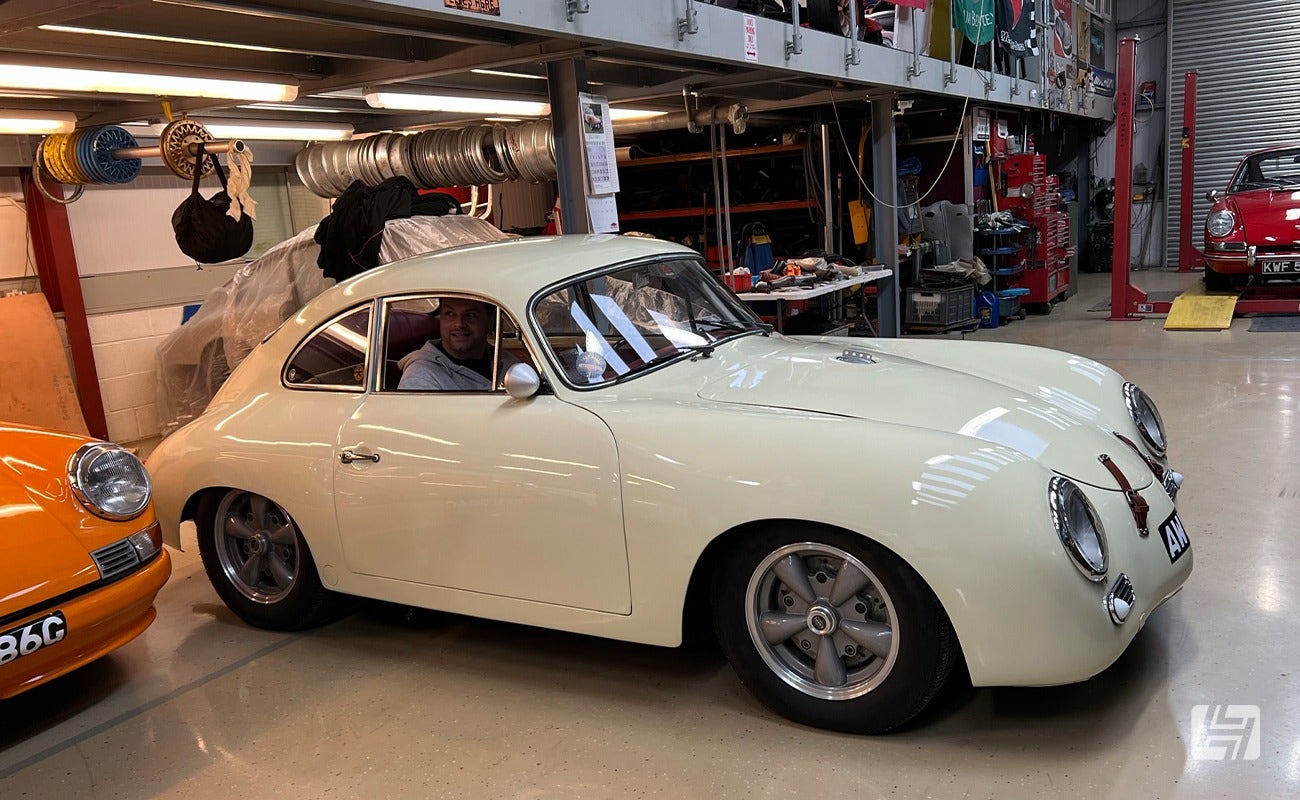 The Orange 911
It was only when the covers came off Ian's bright orange 911 hotrod that the penny dropped fully. I had seen this car at a Porsche event I ran earlier in the year. We'd been in the same places numerous times, but simply never bumped into each other to start up a conversation.
What a real gem this car is - better seen in this studio shot I captured back in May '22 at the Stuttgart South Cars, coffee, and cameras event.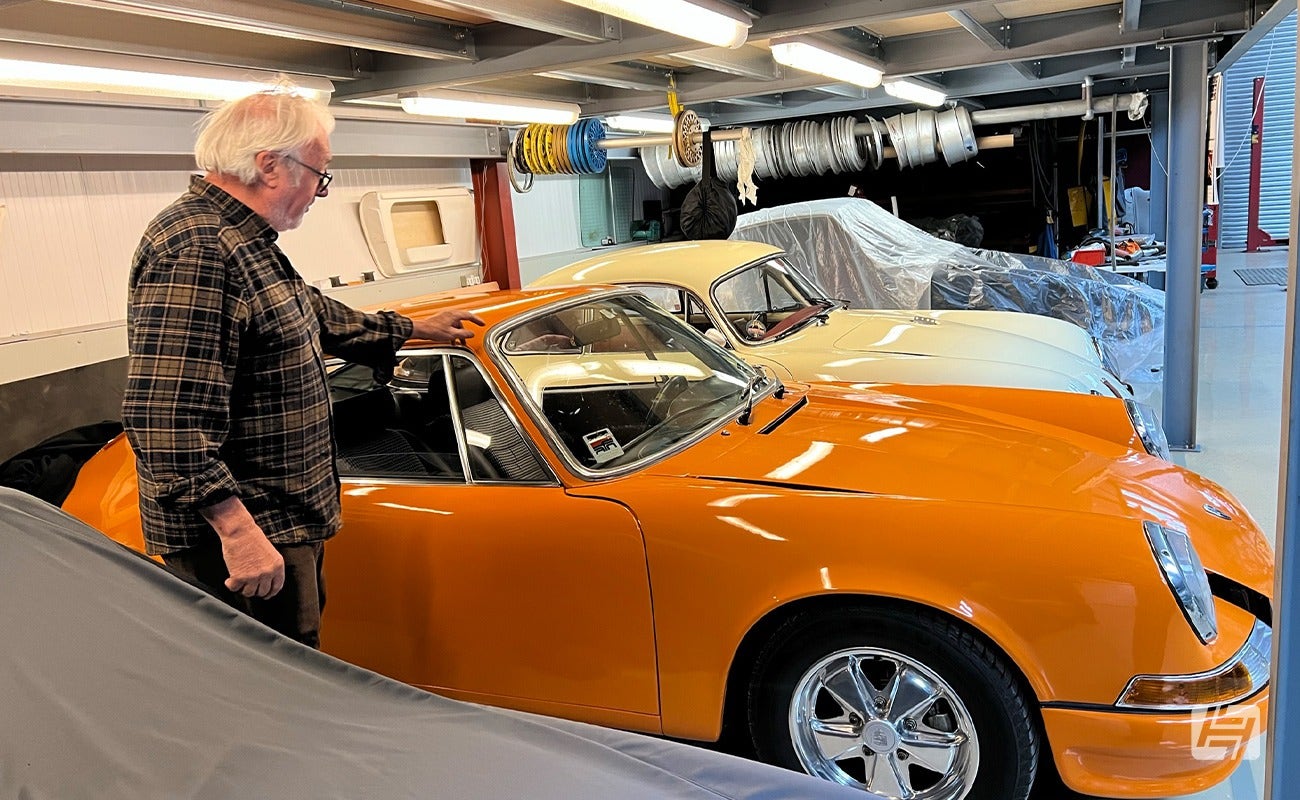 The Porsche 914 & 914-6
Ian's owns a couple of rather special Porsche 914s. The first we unwrap is a road car which was the first ever RHD converted vehicle, having been bought by David McCallum, the MD of Crayford back in 1970. Whilst appearing standard from the exterior, the vehicle spent some time on the racetrack in its life, and has sported a number of engine options from a six-cylinder 911 motor, through to a 1600cc Super-Vee engine, which reportedly helped the vehicle claim a lap record at Mallory Park!
Originally finished in tangerine, it is Ian's intention to fully restore the car eventually, however, he has been somewhat distracted by his second mid-engine Porsche pocket-rocket and could be persuaded to part with it, should the price be right.
The second example started life as a genuine 914-6, one of only 3,332 built, and initially sported a 2 litre, 130bhp flat-six motor. It was campaigned in the 1980s in HSCC events, before being left dormant for a number of years. Ian picked it up in 1996 and first made it road legal, before modifying it for use in the Porsche Club GB Hillclimb series. In a bid to chase faster times the car was routinely upgraded with lightweight fibreglass panels, all steel arches to house the 8 and 9" wide 15" Fuchs wheels, perspex windows, and a 2.7 RS spec 911 engine to give it some more power. Ian won 3 overall championships behind the wheel in this car, and numerous class wins. The vehicle is still road legal, although hasn't been out for a while. Want to see/hear it in action? This slightly shakey YouTube video will fulfill such a wish, and confirms the "drive it like you hate it" sticker isn't just for show! Additional photos from our coverage of the 50th-anniversary celebrations at Brooklands.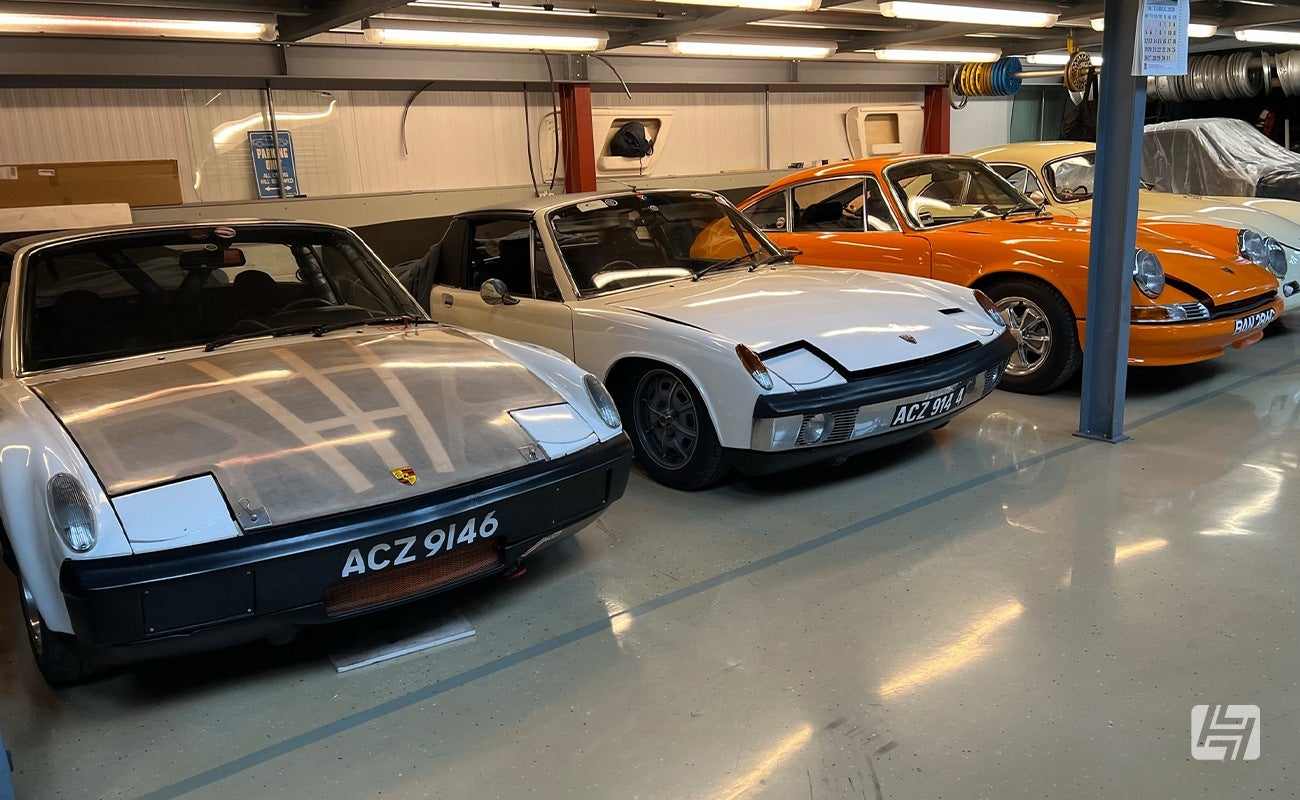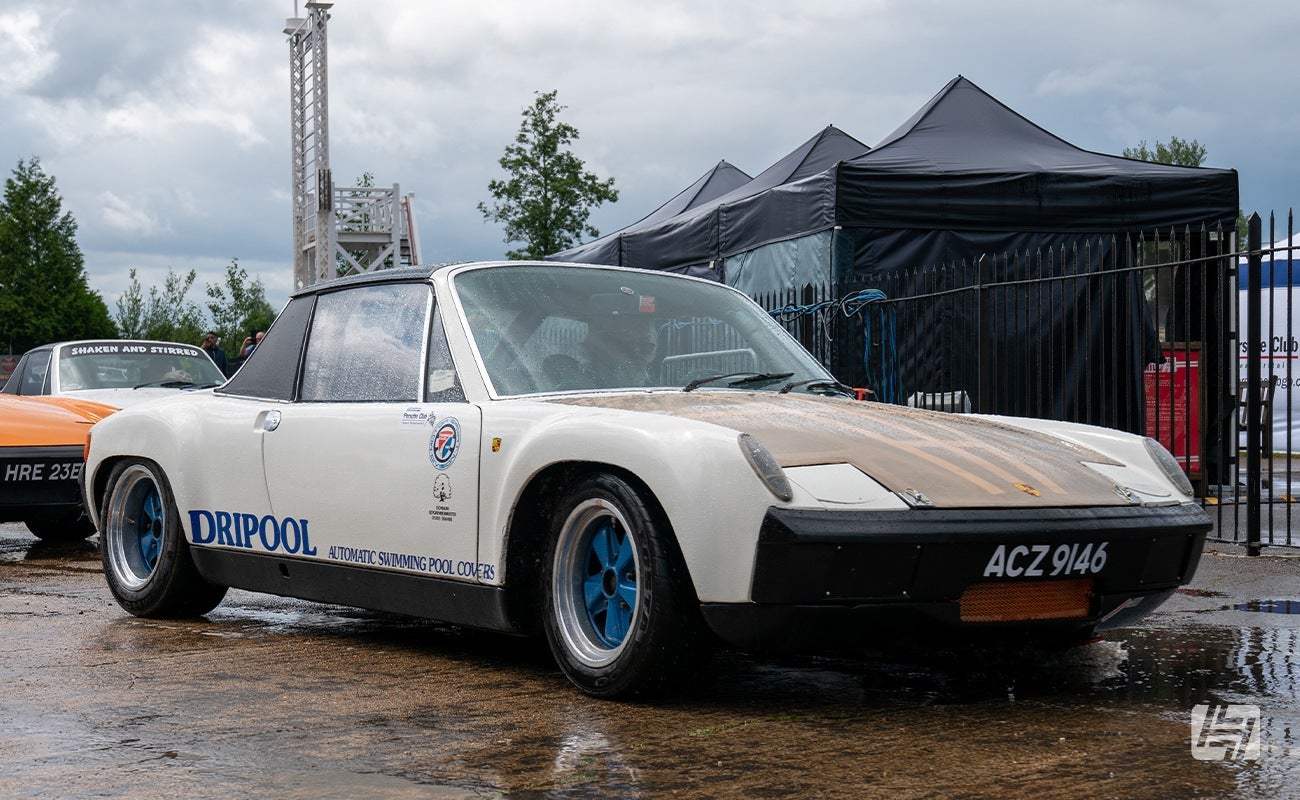 What's Upstairs?
From the moment we walked in, our eyes were drawn to the mezzanine level. Not many enthusiasts get the chance to have a workshop like this, let alone one with an upstairs area too. What is upstairs? Well, a couple of old single-seat race cars for starters; both Formula Vee racers from back in the day, the older of the two is soon to leave for pastures new. Ian has to lift a few barriers out and use a forklift truck to get them down - just as well they aren't too heavy.
There are parts galore too. A whole section of the wall is dedicated to steering wheels - more than you could ever need, and some rare ones too. Below those, a collection of NOS panels mostly for 356. There's a hint at a more playful side too, with a number of pedal cars, including a Porsche 914, and a pair of Porsche pinball machines... which we got to have a quick go on! Pinball was the Playstation of Ian's youth, so when these came up for sale, he just had to have them!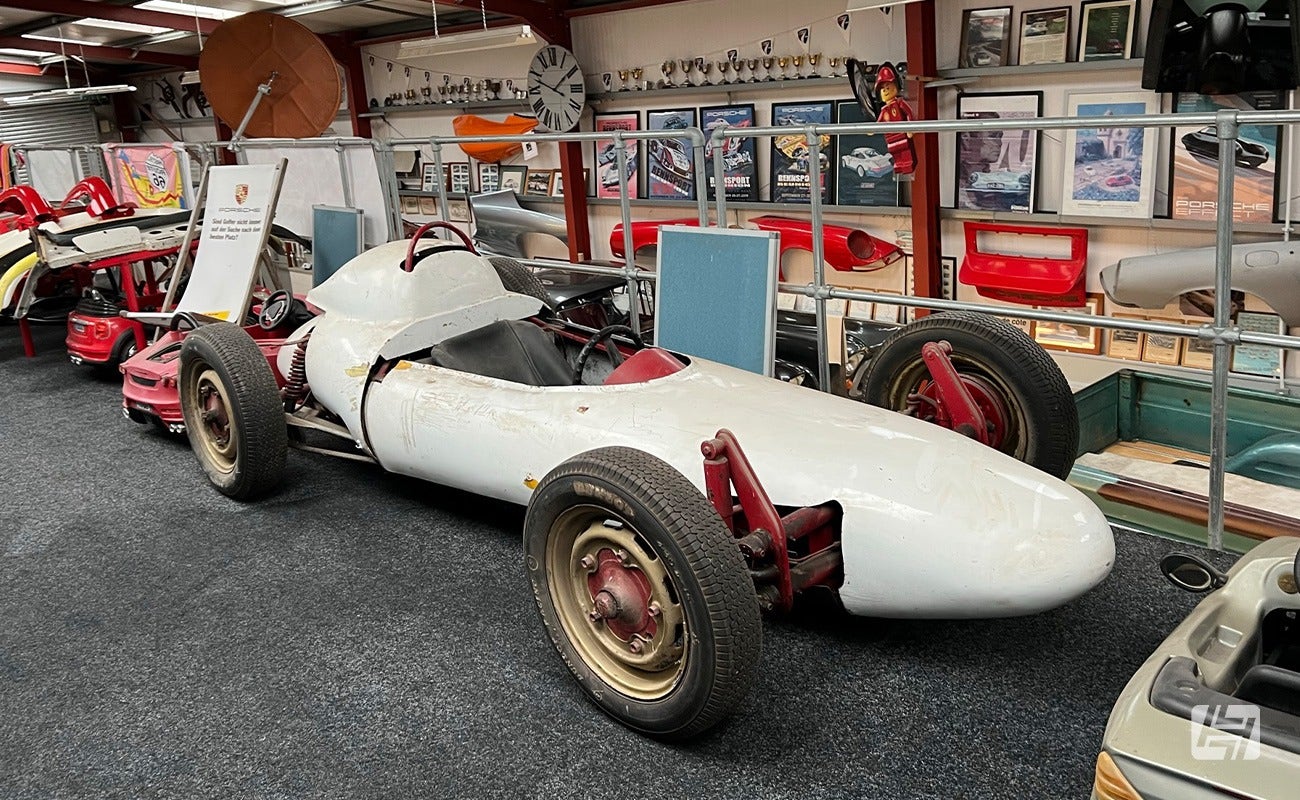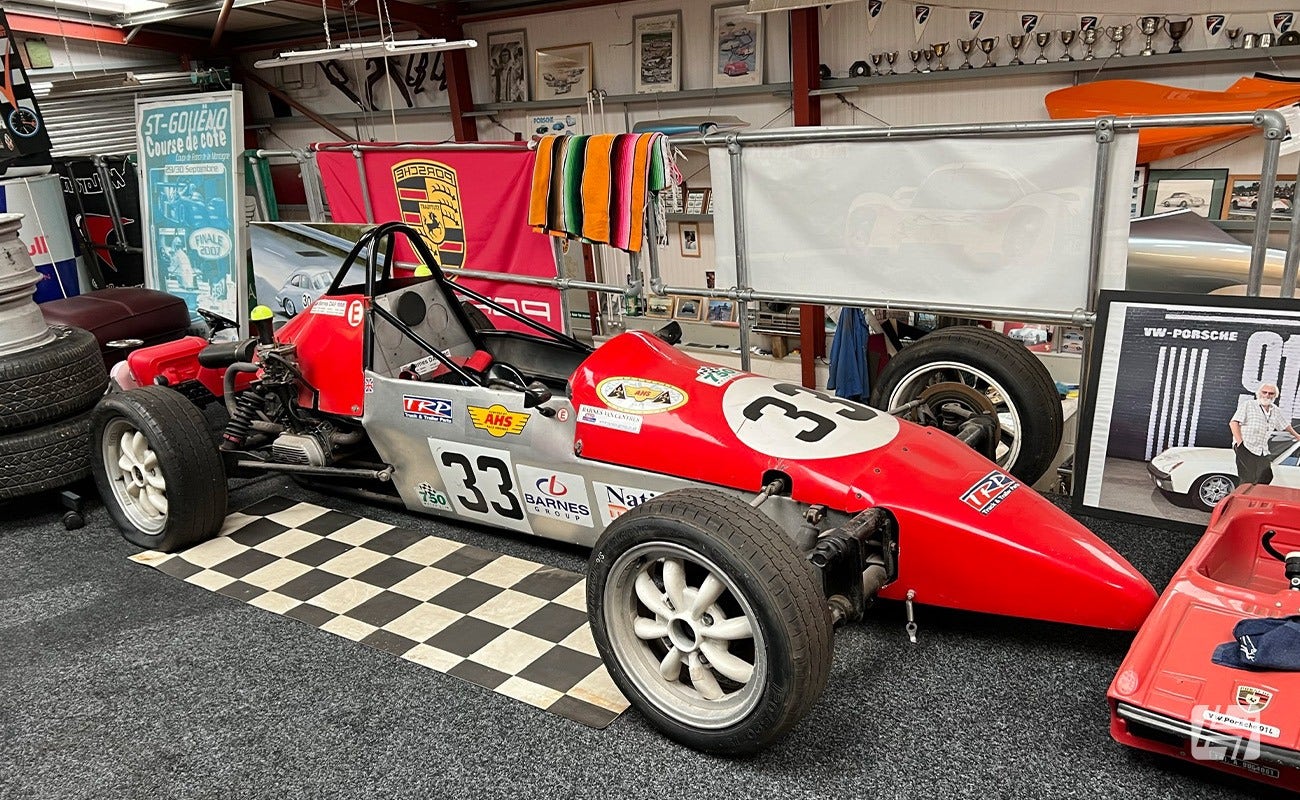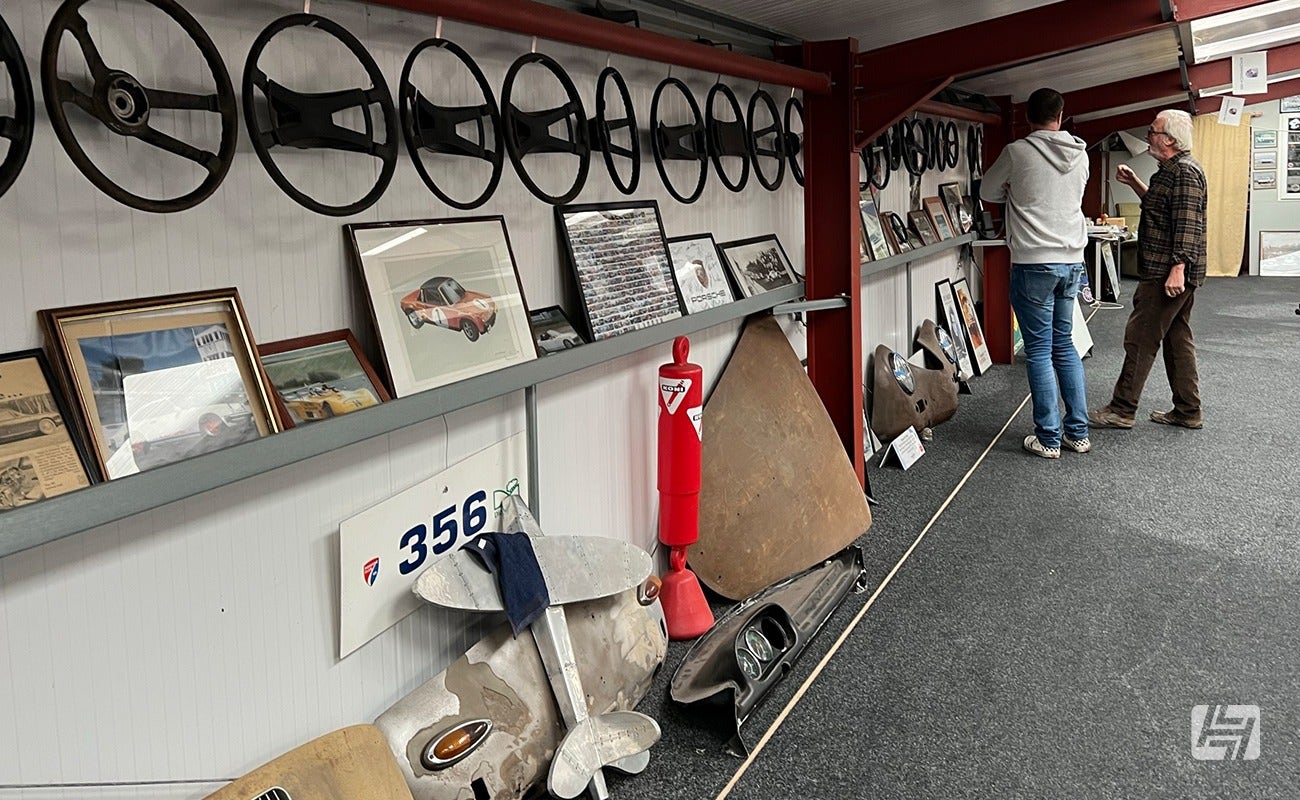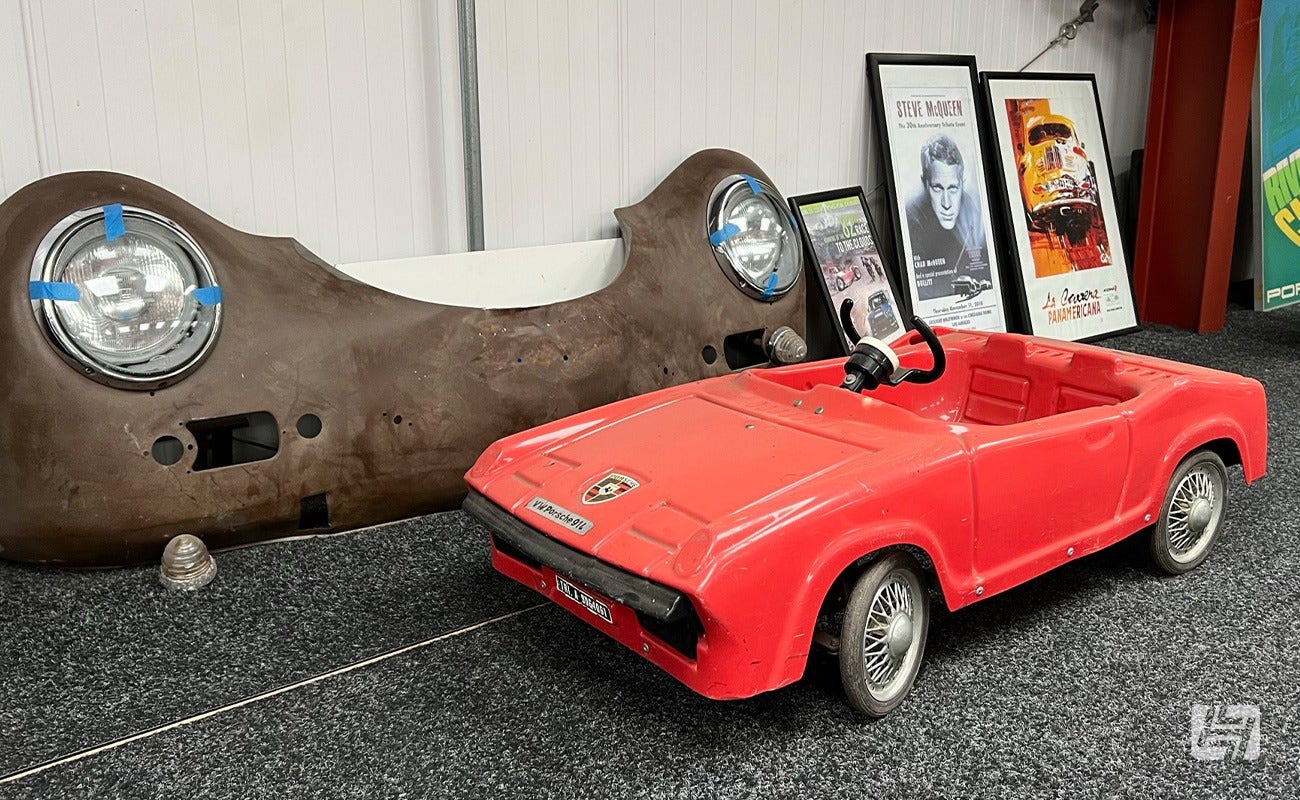 The Porsche Toys
Just when we thought we'd hit the jackpot, Ian directs us through to what appeared to be an office space. Whilst no doubt, it could be used for informal meetings, it also holds a fantastic collection of model Porsches, toys, and memorabilia. There are museum curators who would kill for this sort of stock. Check it out, the pictures speak a thousand words. There are a number of carefully packed glass-fronted cabinets, each with lighting, just like a bona fide museum would have. There are regular model cars, Scalextric and even cookie jars in the shape of James Dean and his infamous 550 Spyder and Janis Joplin's 356 Cabriolet. Elsewhere, there's a Porsche Design bar stool and a silver paperweight in the shape of a 911, parked up on the Stuttgart crest. It would have taken us hours to take it all in properly, with every model having its own backstory - just like the real thing!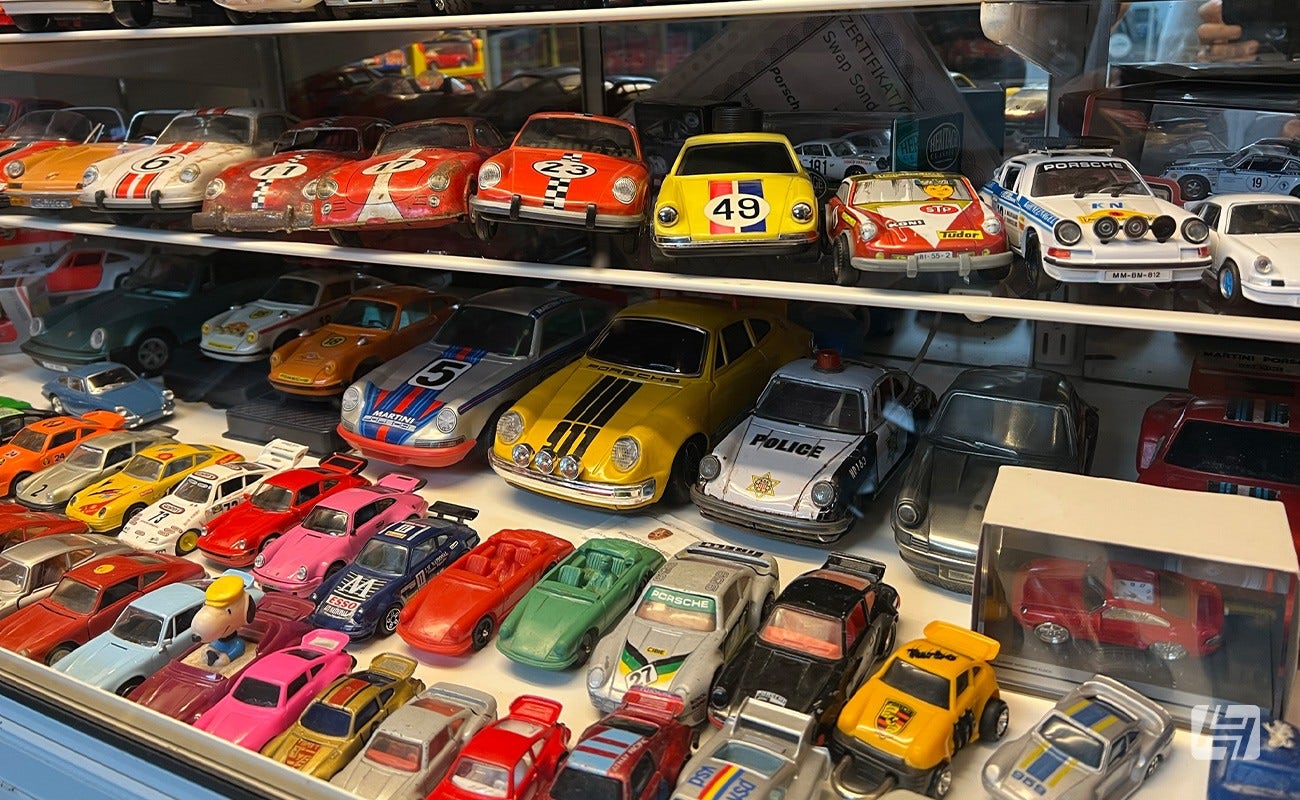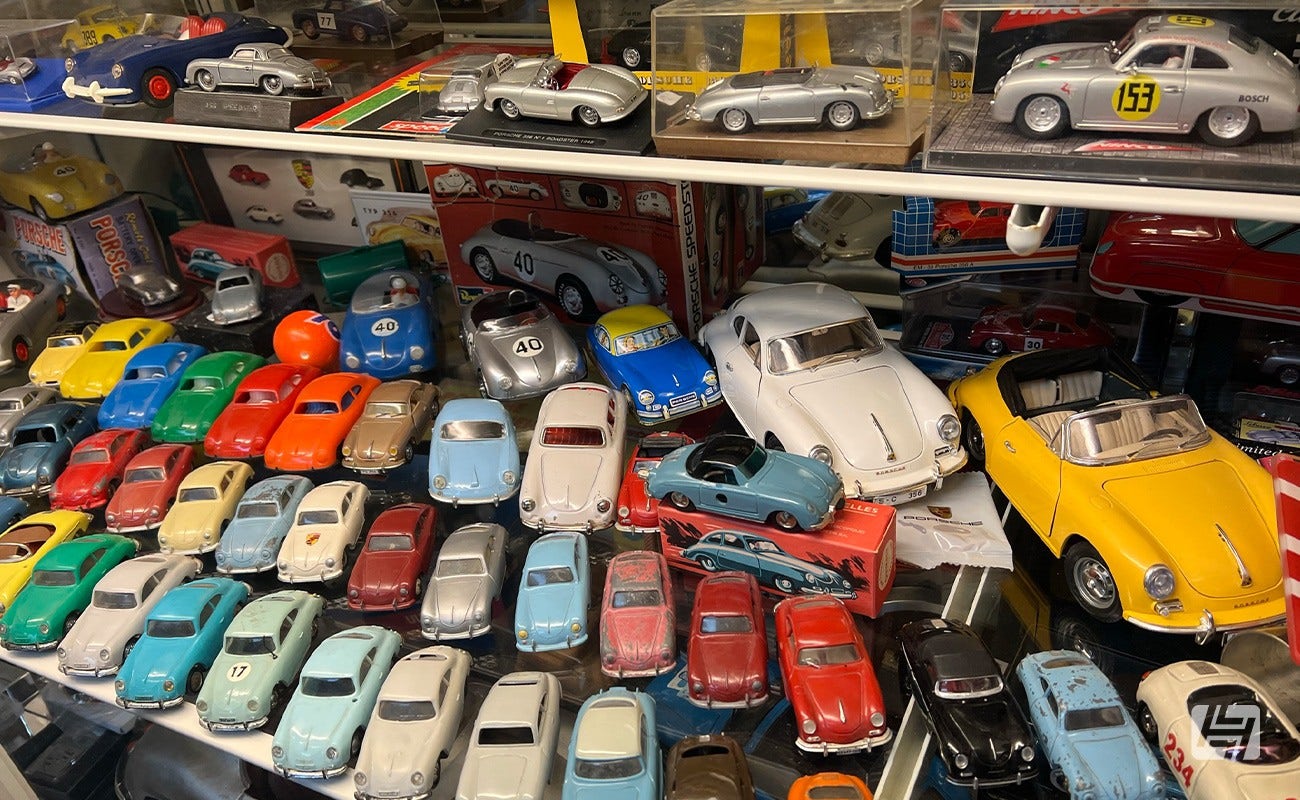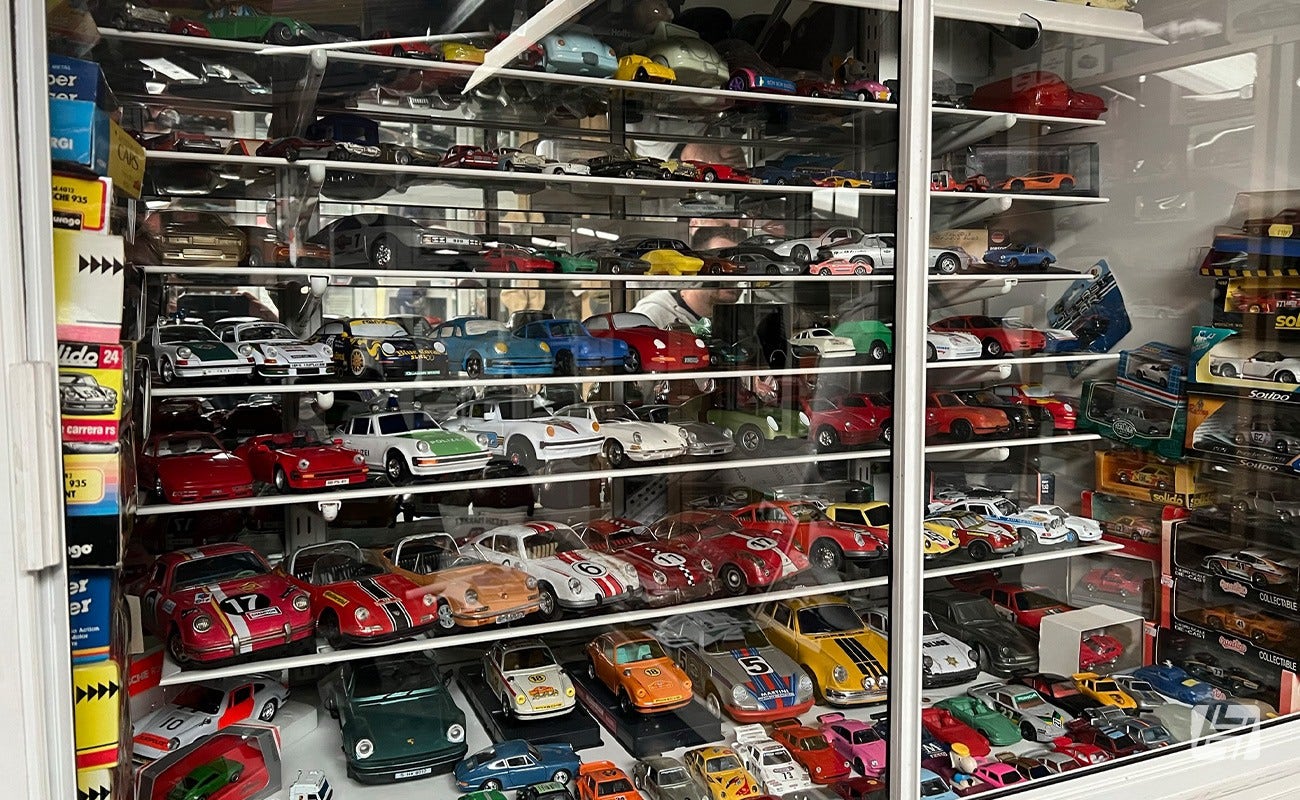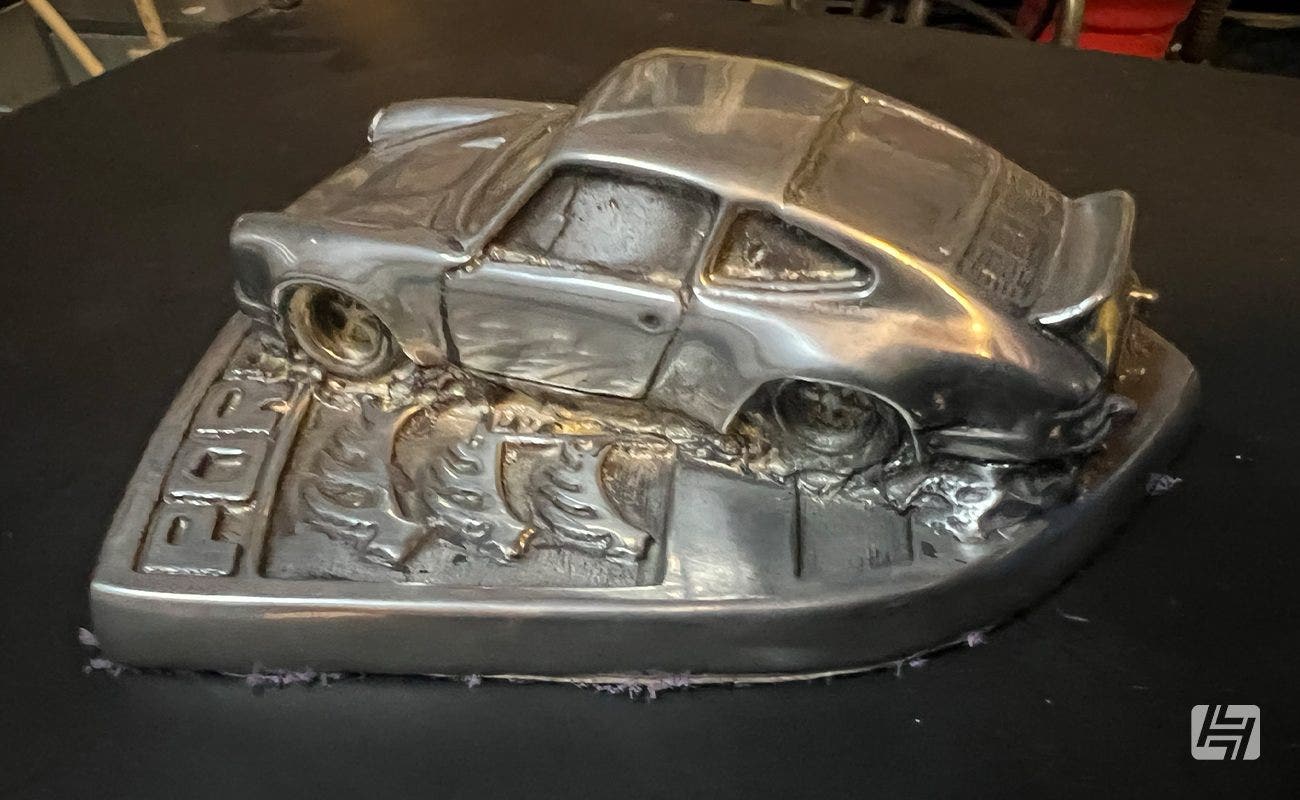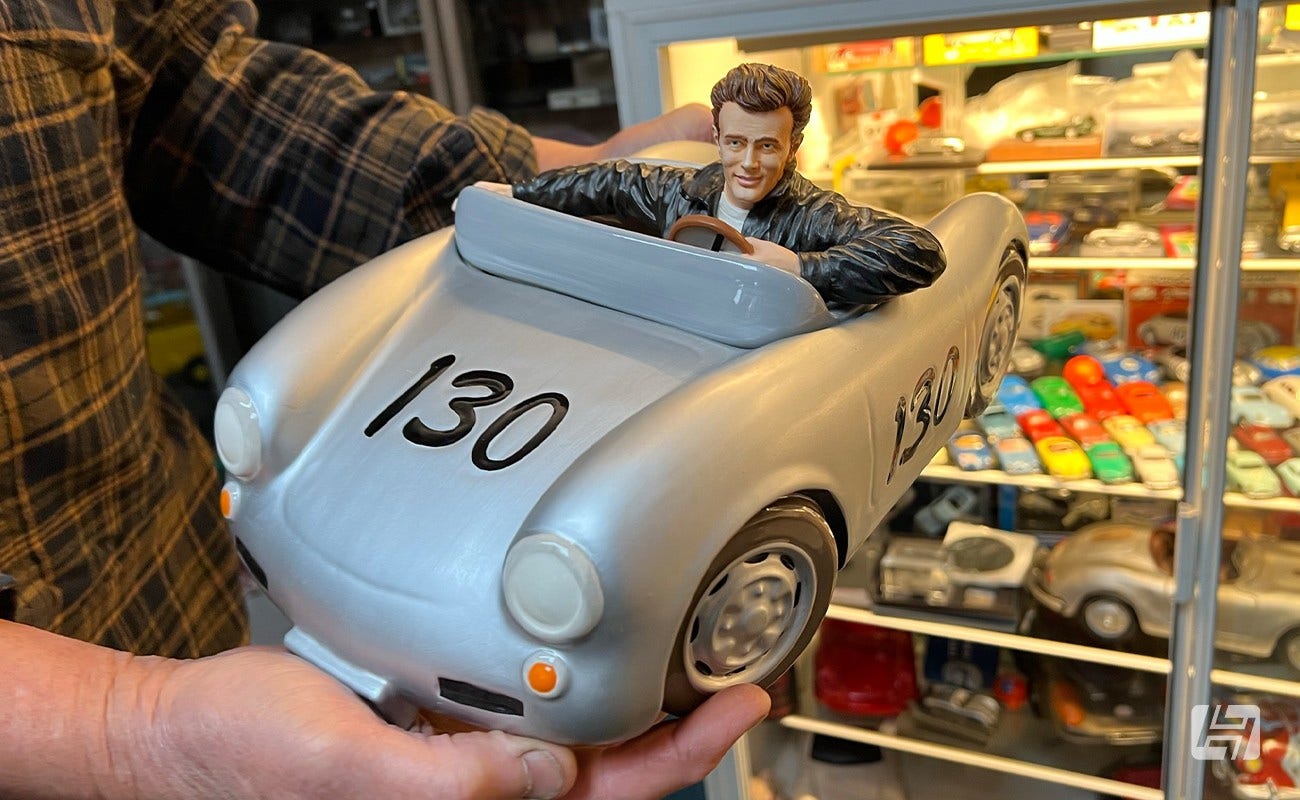 The Trucks...
Ian pays regular visits to the US and on two occasions has brought home classic American pickup trucks to fix up and use. In fact, given a choice of what to take to the shops, a V8 with wobbly suspension and a sofa-like front seat is his idea of fun! That's ok though, Chris and I will happily fight over what's left in the workshop to go get the lunch in.
A huge thanks to Ian for taking the time to show us around his collection, and recall the stories connected to each vehicle.
If you've got a car or two you'd like to show us, please do get in touch.
Andy