As part of a recent road trip with my colleague Chris, I had the pleasure of dropping in on EvaResto, in Cannock, Staffordshire. Headed up by Max Edwards, they are a workshop and custom parts company largely specializing in suspension modifications for Type 1 and Type 3 aircooled Volkswagens (and the occasional Porsche).
Along with his partner Emma, their pet dog George, and Jesse who joined them back in May, this small team has had a hand in some of the biggest builds in the UK in recent years, and it is upon this notoriety and reputation that the business goes from strength to strength.
Where the magic happens
Max's workshop is part of a large modern warehouse complex, surrounded by many other automotive service providers. His unit, of course, is by far the coolest, clearly illustrated by the awesome original paint Beetle sitting nose in, and a bright orange Porsche 914 which is parked beyond it, not to mention everything else we spot as we duck under the roller shutter door.
With introductory handshakes over and our hot drinks order taken care of, Max downs tools to show us what else is going on at Eva HQ.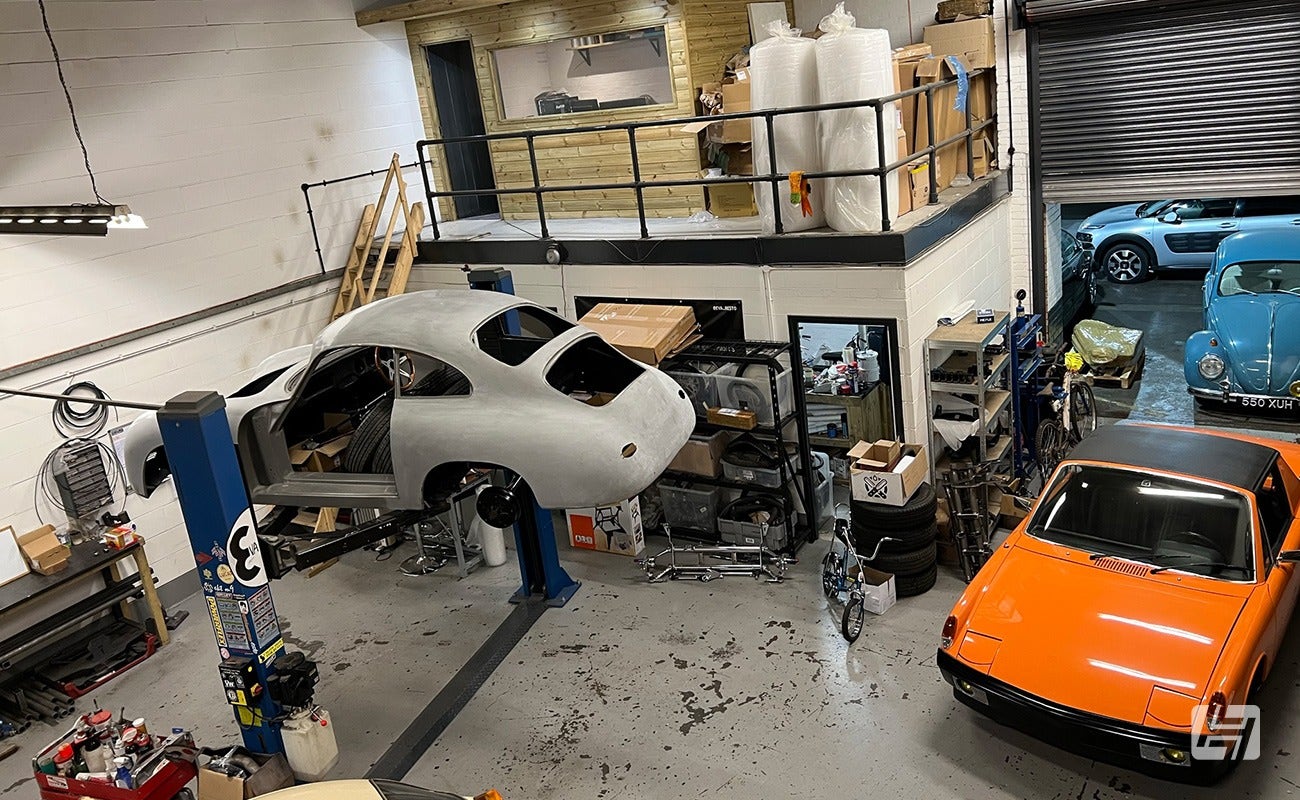 The story
Max started his career working at a number of other VW workshops, before making the jump to do things himself. "I always dreamt of running my own shop and restoring cars for customers, and I love nothing more than transforming a car from 'dead' back to life," he tells us and laughs as he lets on "plus I soon discovered I was a bit stubborn, and didn't like to be told to do things in a way I didn't like, or to a quality level I wasn't happy with. This meant that eventually I just bit the bullet and left my last job. I went back to dealing in Raleigh Choppers for a while to earn the cash I needed to rent a 500 sq ft. unit local to me."
Established in 2015, EvaResto served the VW community for a couple of years as a restoration and service business, however, with some well-publicized custom vehicle builds under his belt, Max decided to shift his focus to designing, fabricating, and selling suspension parts. "I wanted to use parts that worked and fitted in a way I wanted them to" he explains, "and the only way to do that was to make those parts ourselves."
From 2017 the restoration and service work took a sidestep so Max could invest the time in R&D and building demo cars to create the range that he has today. Customer cars still grace the workshop, but these are mostly for air-ride installation and custom suspension work. Full start to finish resto slots are now only reserved for Max's personal cars.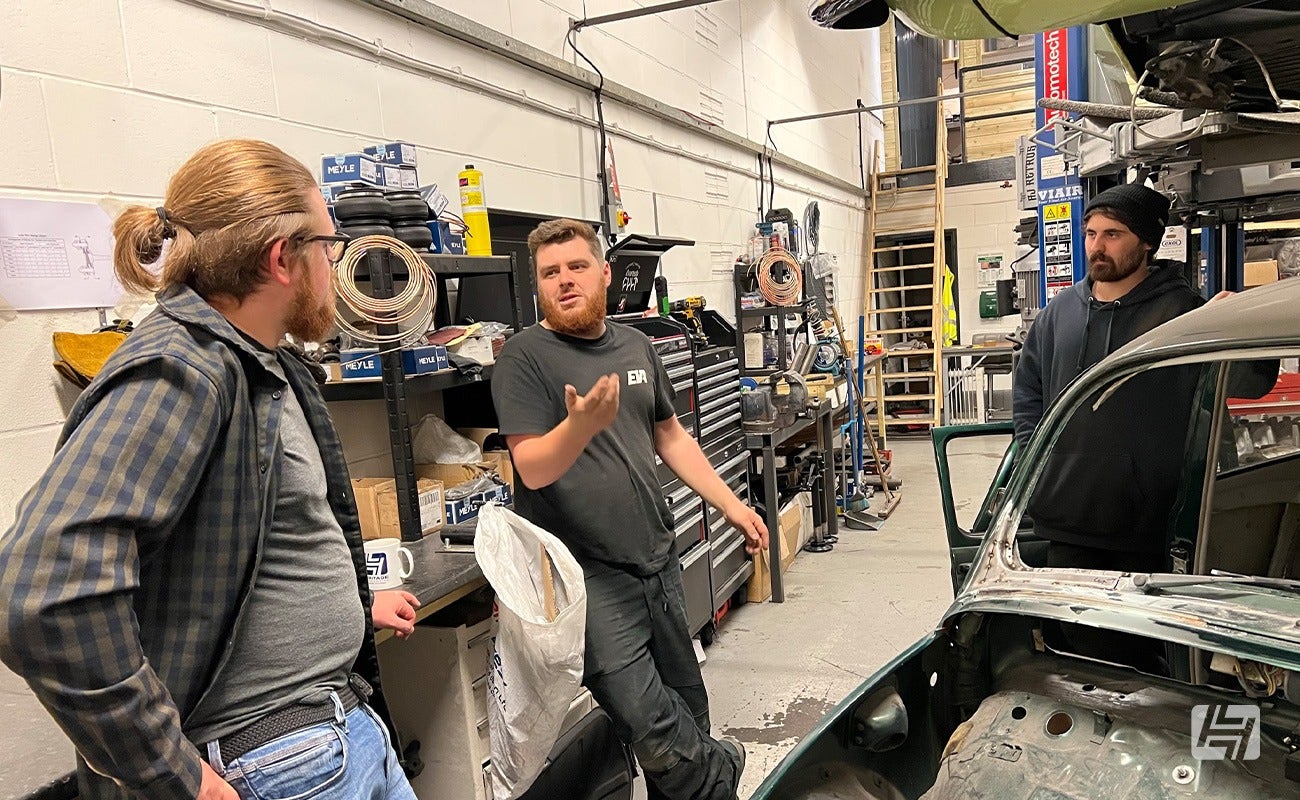 First timer
"I've been heavily into cars since I can remember" Max recalls "but the VW obsession came about when my Dad got back into them, around 2008 buying a 1971 Beetle to run as a daily driver. I would tinker with it where I could and clean it whenever I got the chance and then my first car was a Beetle too."
Max has owned this Last Edition 1978 Beetle for over 12 years, in fact, he passed his test in it. "It was a very stock and original car, absolutely the best sort of car I could have ended up with" he remembers fondly. "It was a perfectly happy, reliable daily driver. I loved it and drove it everywhere but it was showing signs of needing some love, so I took it off of the road at the end of summer 2014 and committed to a full body-off restoration. With the car retired from daily duties, I could do what I wanted without having to use it the next morning. I had the shell painted white during the resto, but I almost instantly regretted it, which is why it has worn a few different stripe kits to break up the blandness before I fitted the full Apple Computer Porsche 935 K3 style livery in 2017."
Whilst it's been through a number of different looks, featured in a few different magazines, and garnered countless likes and comments on social media it is now sadly tucked away under the mezzanine floor with parts missing off it, and covered in dust! "One day it'll be back out again," Max hints with a smile "It's been off the road since late 2017!"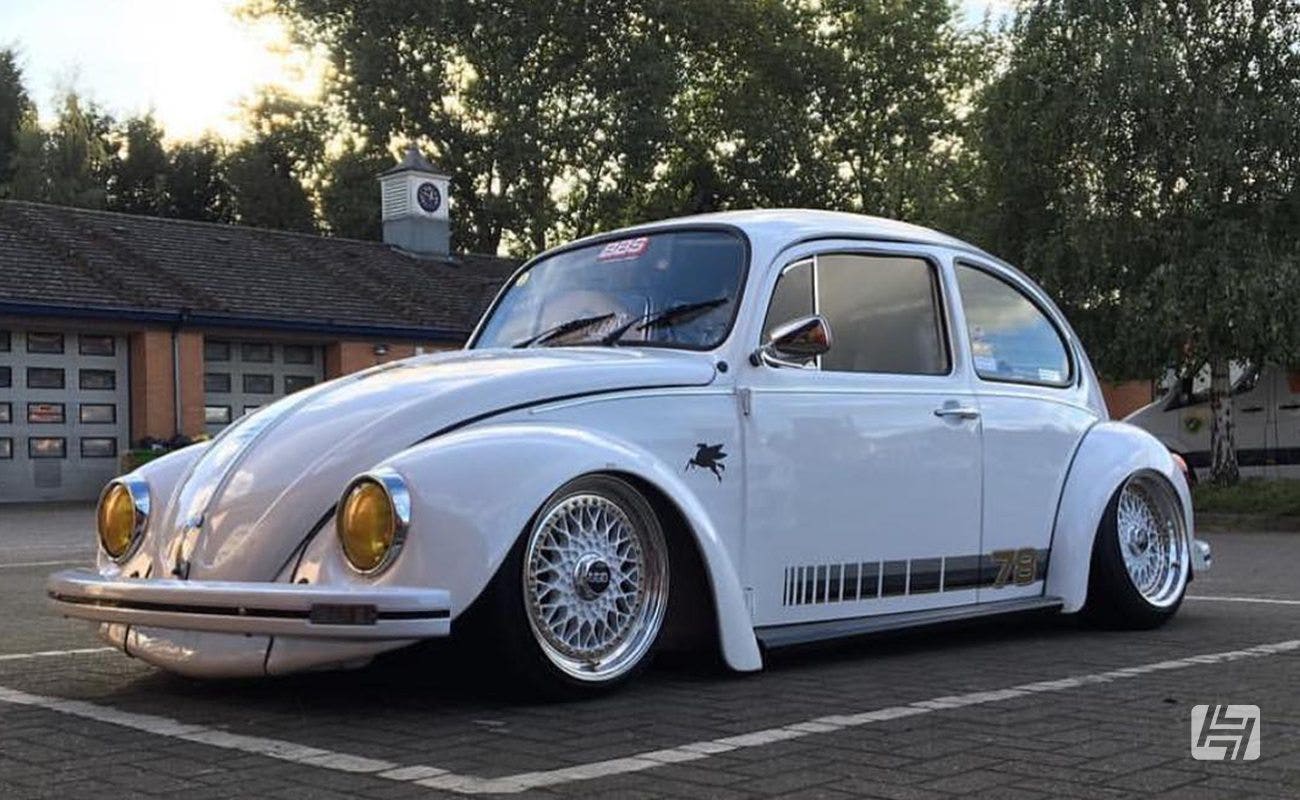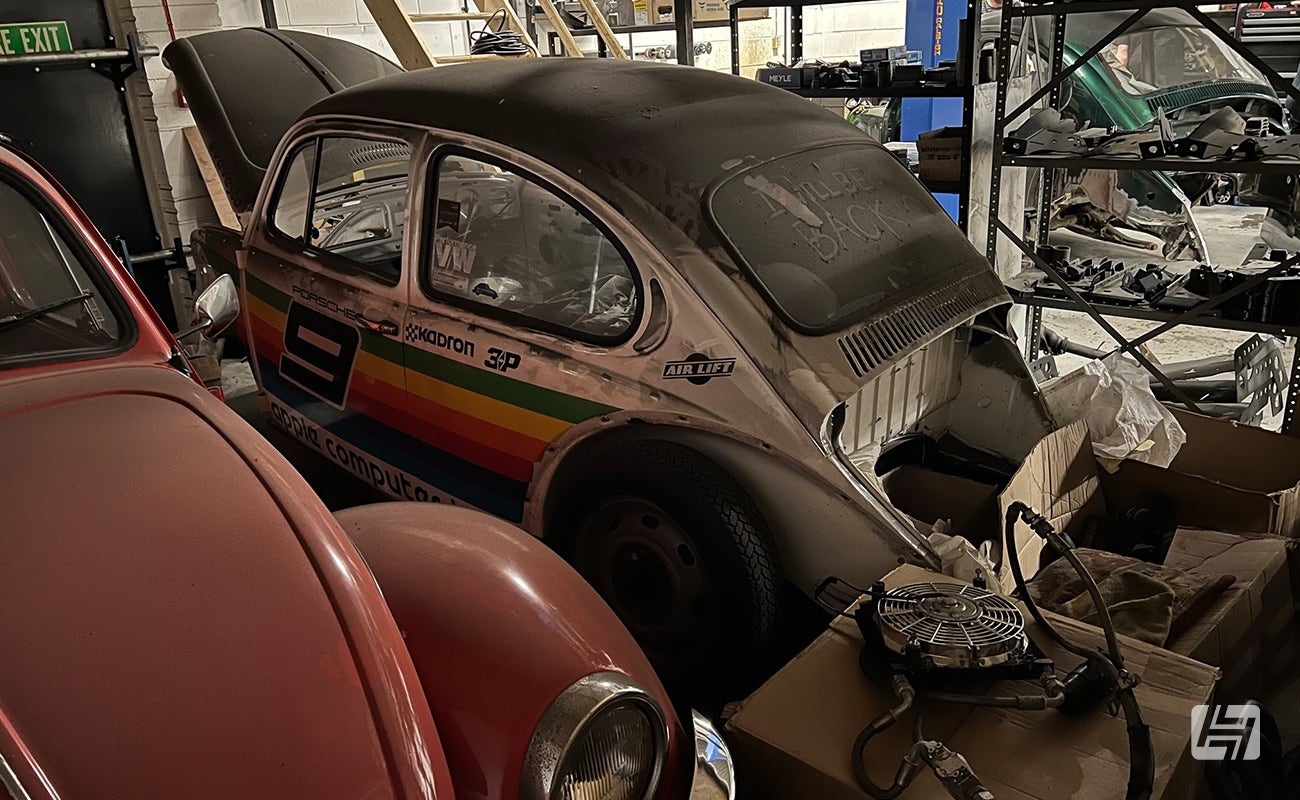 Mexican rave
Unlike many within the Volkswagen scene, Max is a big fan of the Mexican-built Beetles. "They just seem to find me" he laughs, as we look over his most recent acquisition, a dark green model that is currently under the knife. "I've fabricated tubbed rear arches, raised the boot floor, built a custom roll cage, and tubbing the front now too." I probe further for Max to reveal the plan in full, but not wanting to spoil the shock factor of building a project behind closed doors he's cautious to let the cat completely out of the bag. "What I will tell you, is it will be very fast, very low, and as well built as possible. We hope to reveal it at Volksworld in 2023 if we can find enough time to work on it."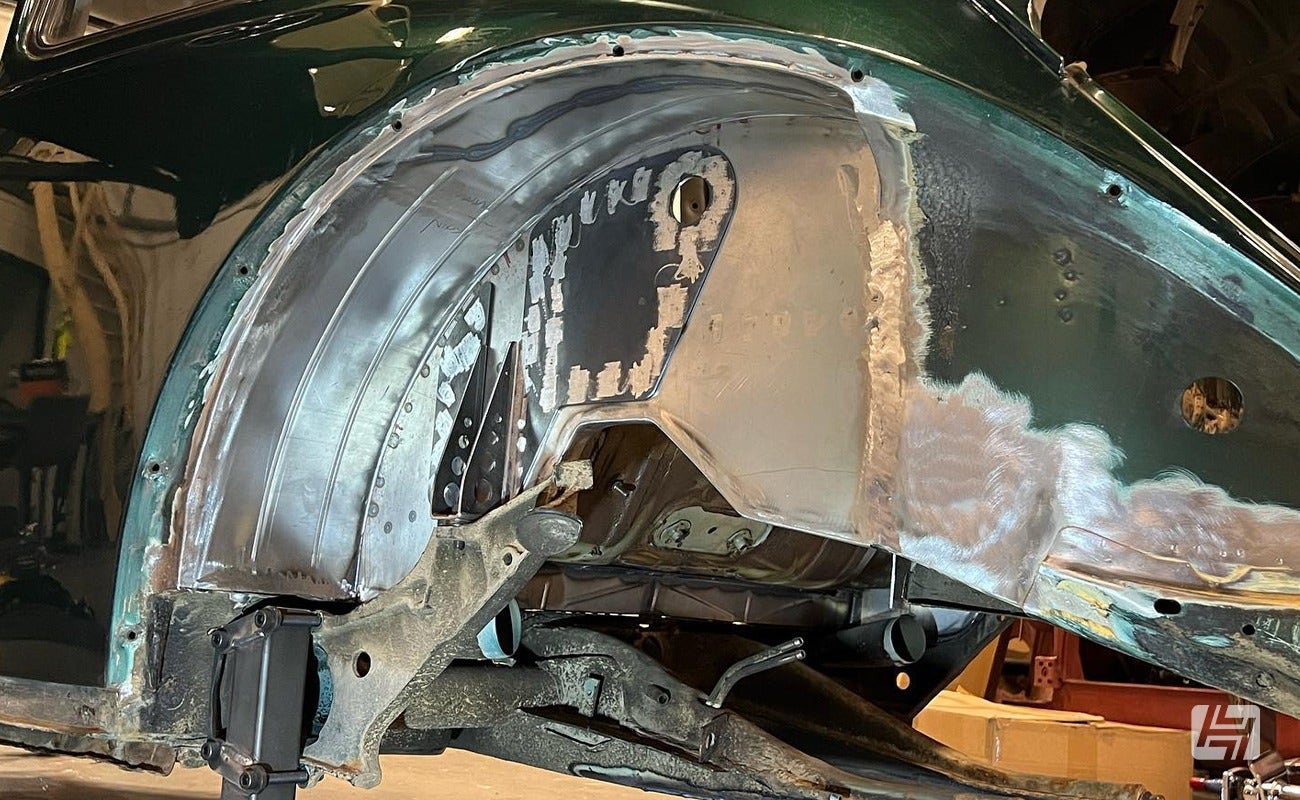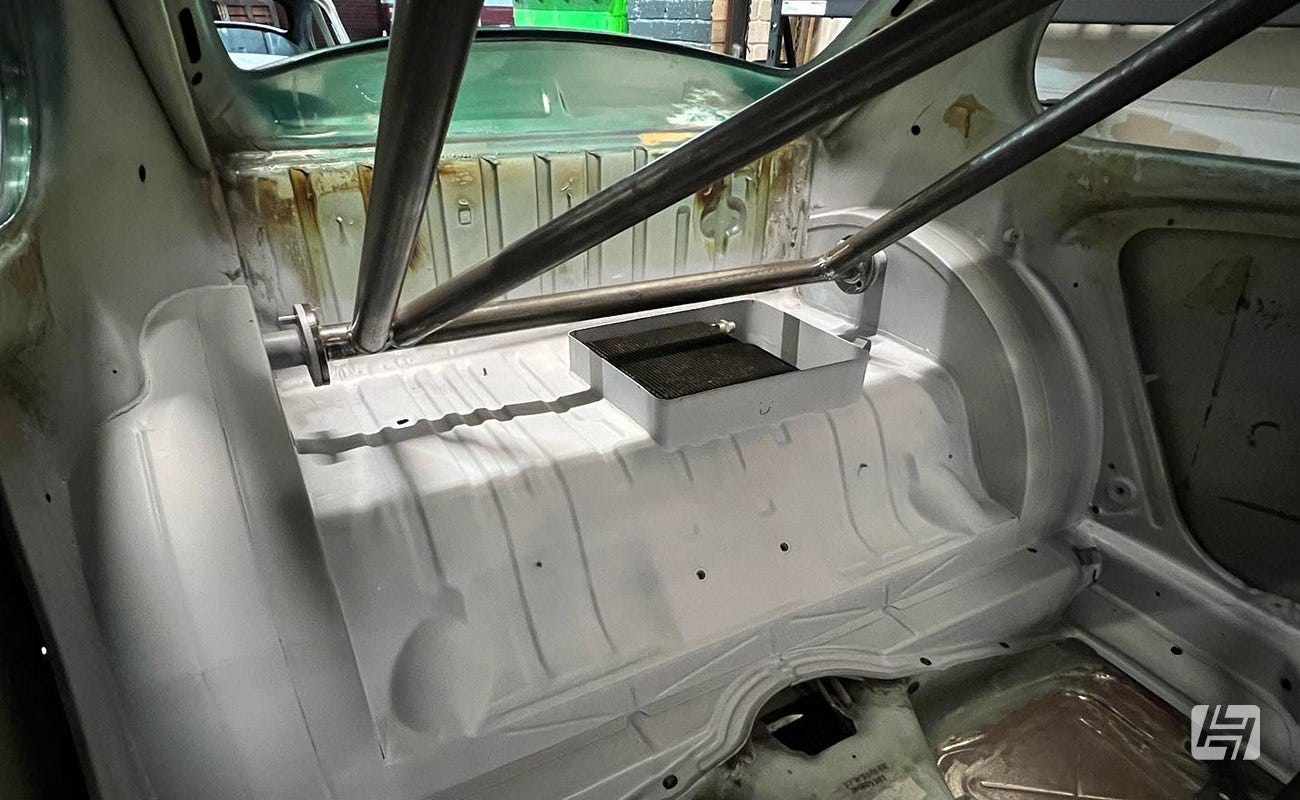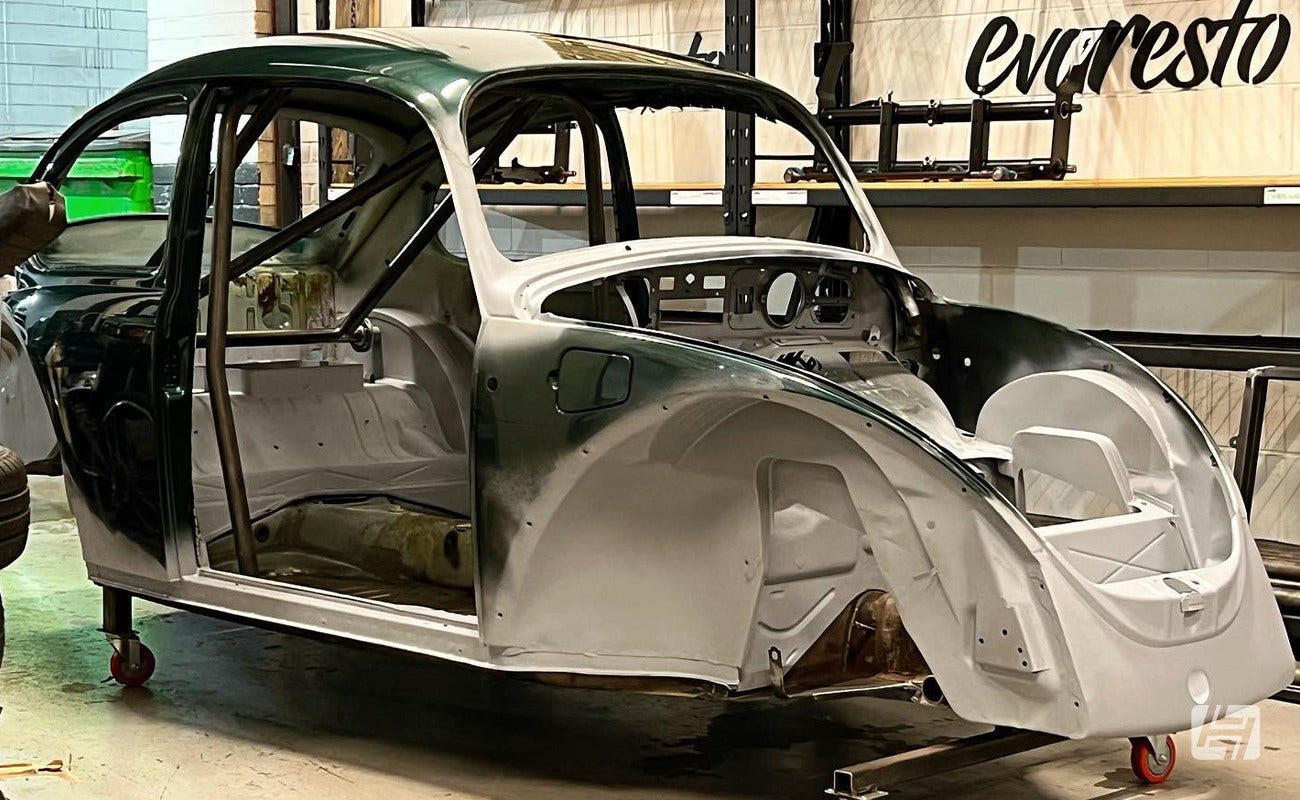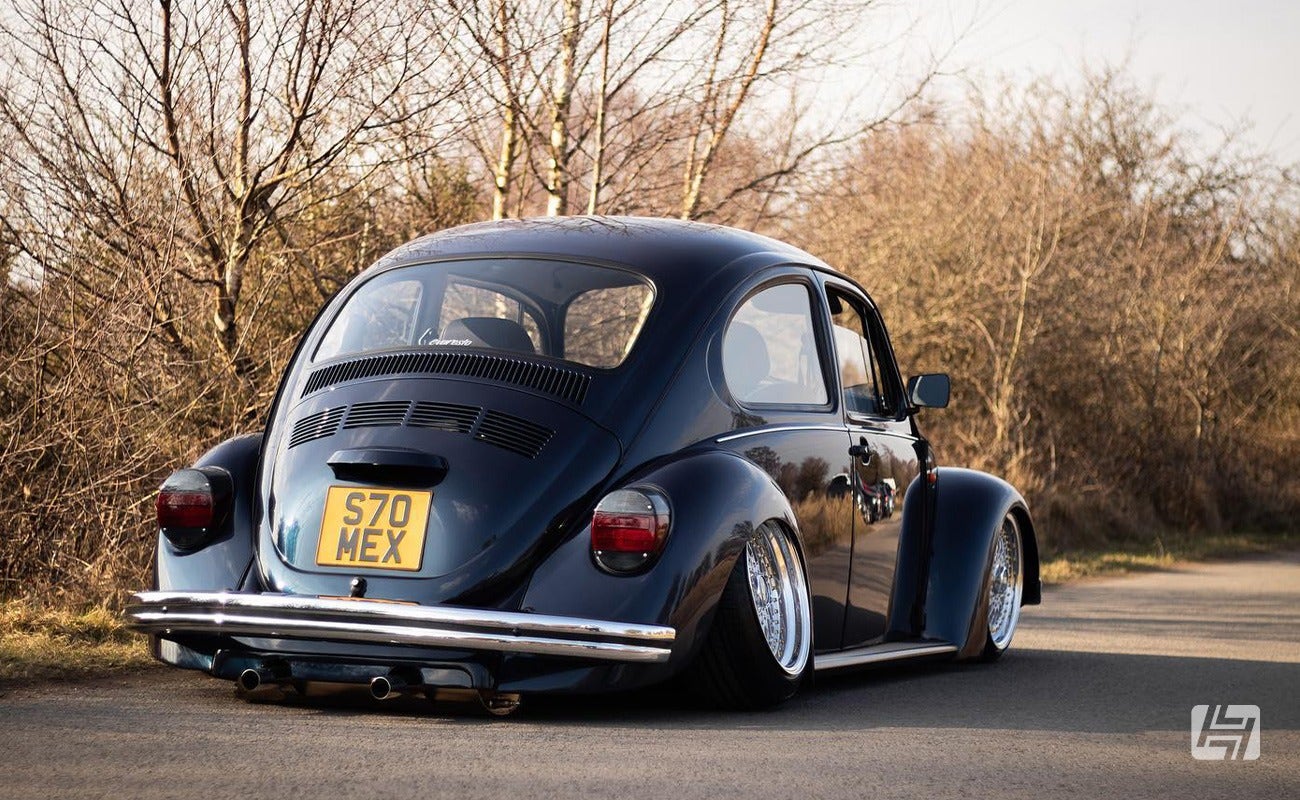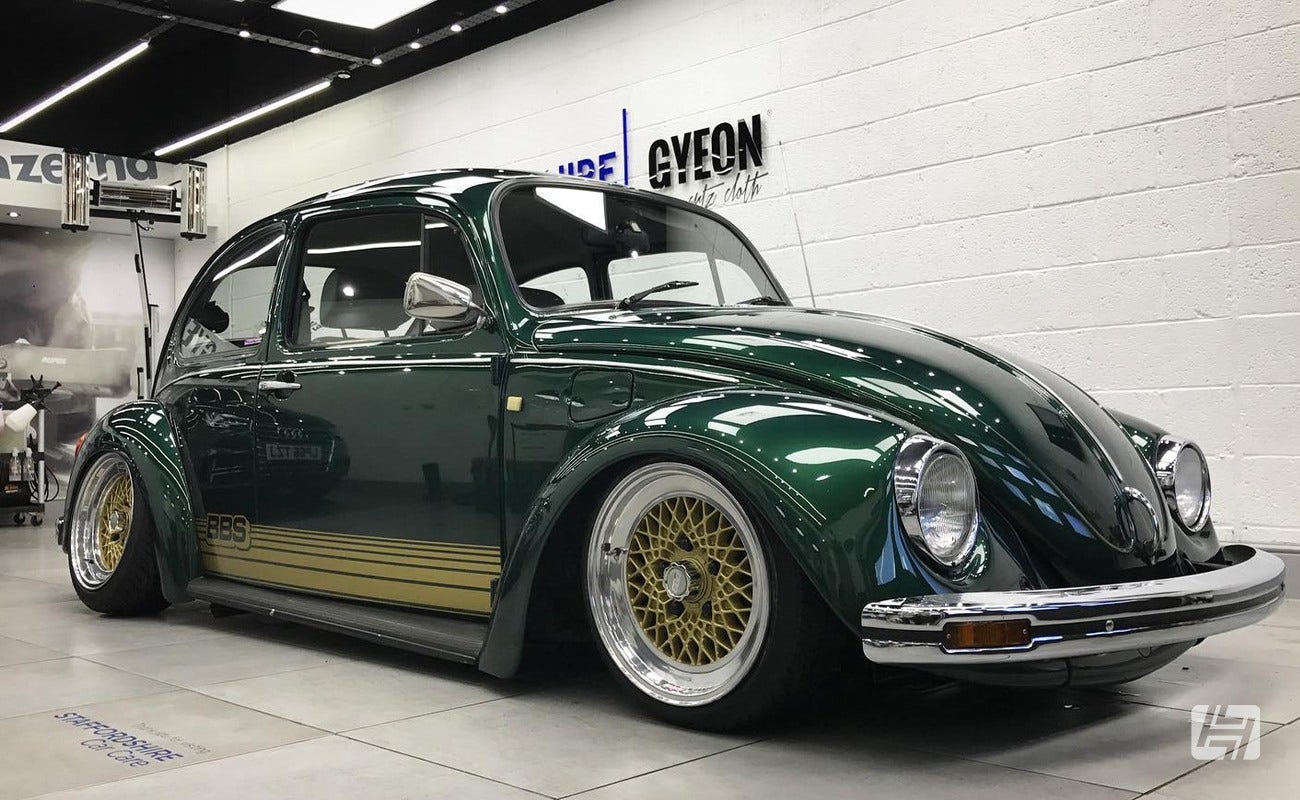 Porsches can play too
Whilst they were designed as the sportscar that Ferdinand Porsche dreamt of, but couldn't find anywhere else, Max is more than happy to apply his engineering skills to sorting out your Stuttgart stance if so desired. There are a couple of 356 coupes in the workshop on the day we visit, a kit car on the ramp, and a genuine steel body car on the floor. The 914 bridges the VW and Porsche gap quite nicely, and Max has fettled a few of these in the past (he also has a thing for the Porsche 924 too, which makes him all right in my book).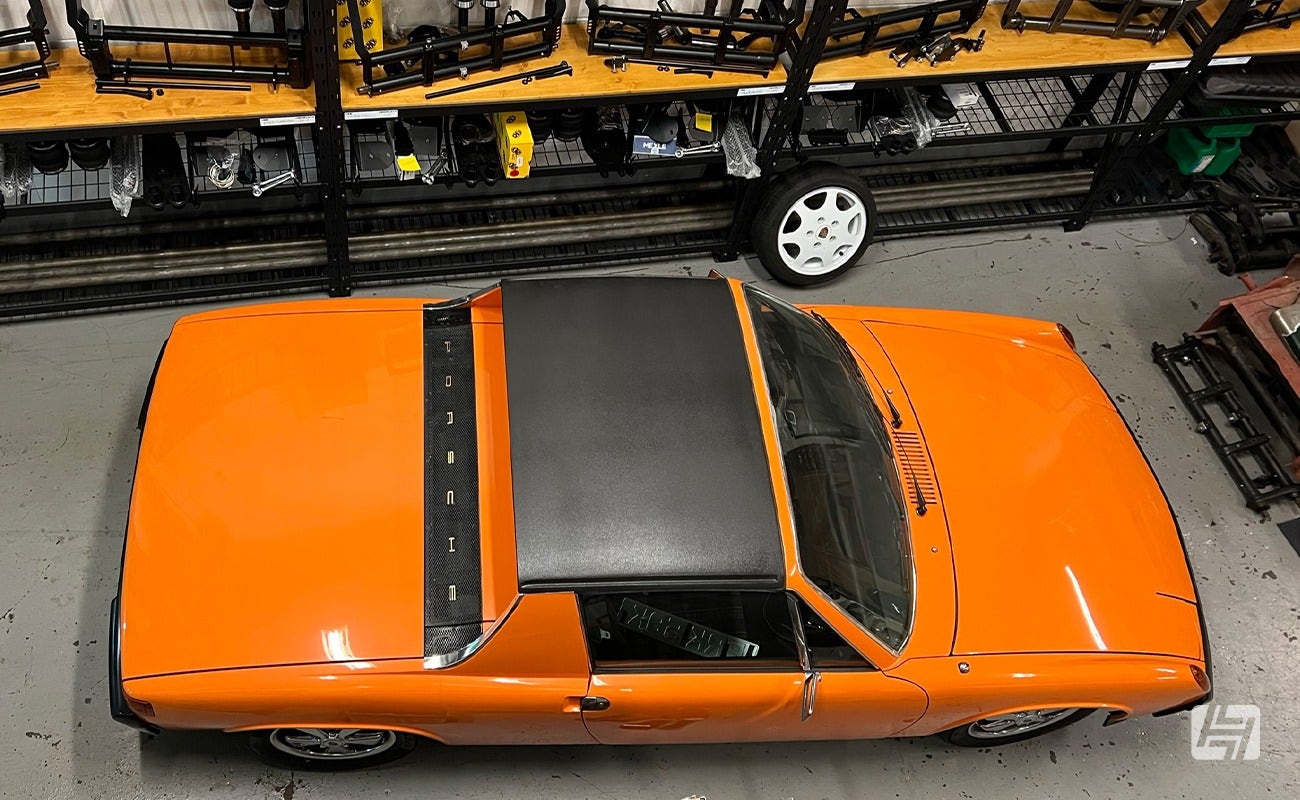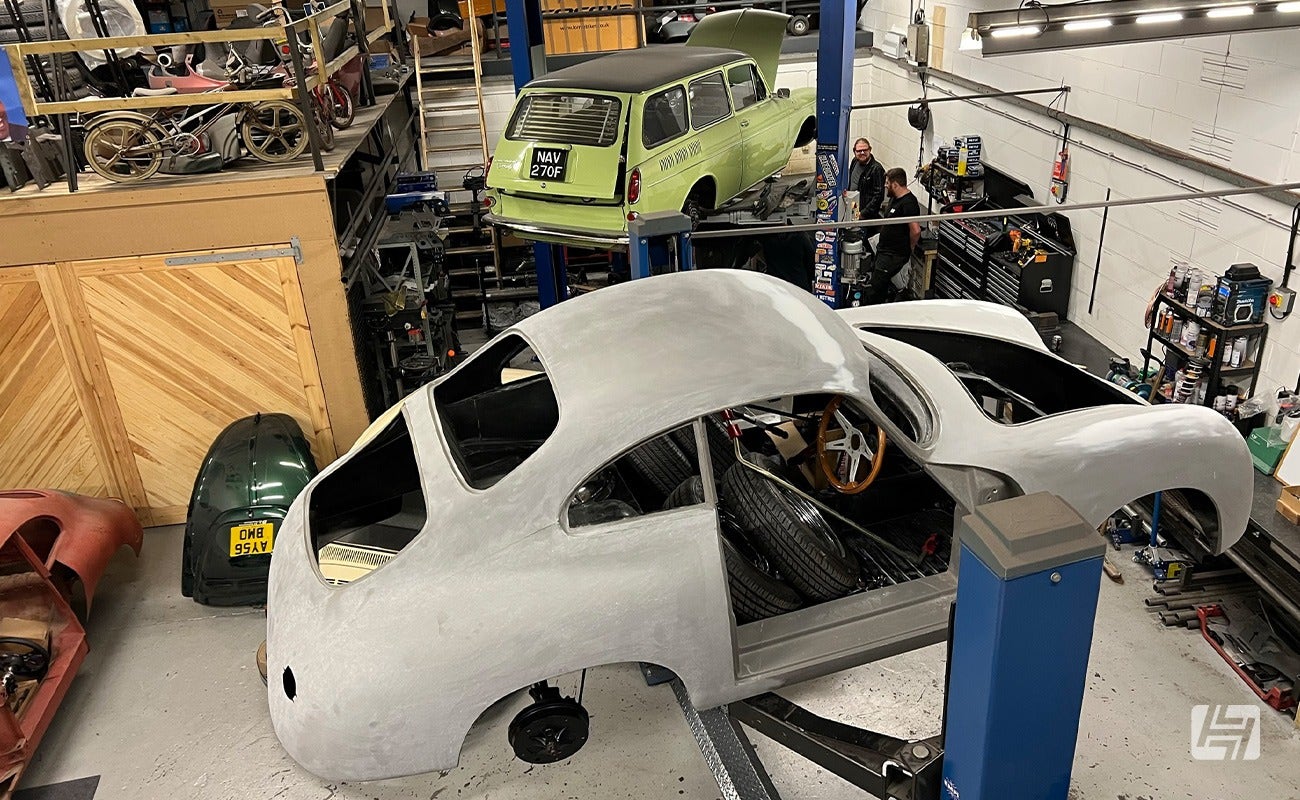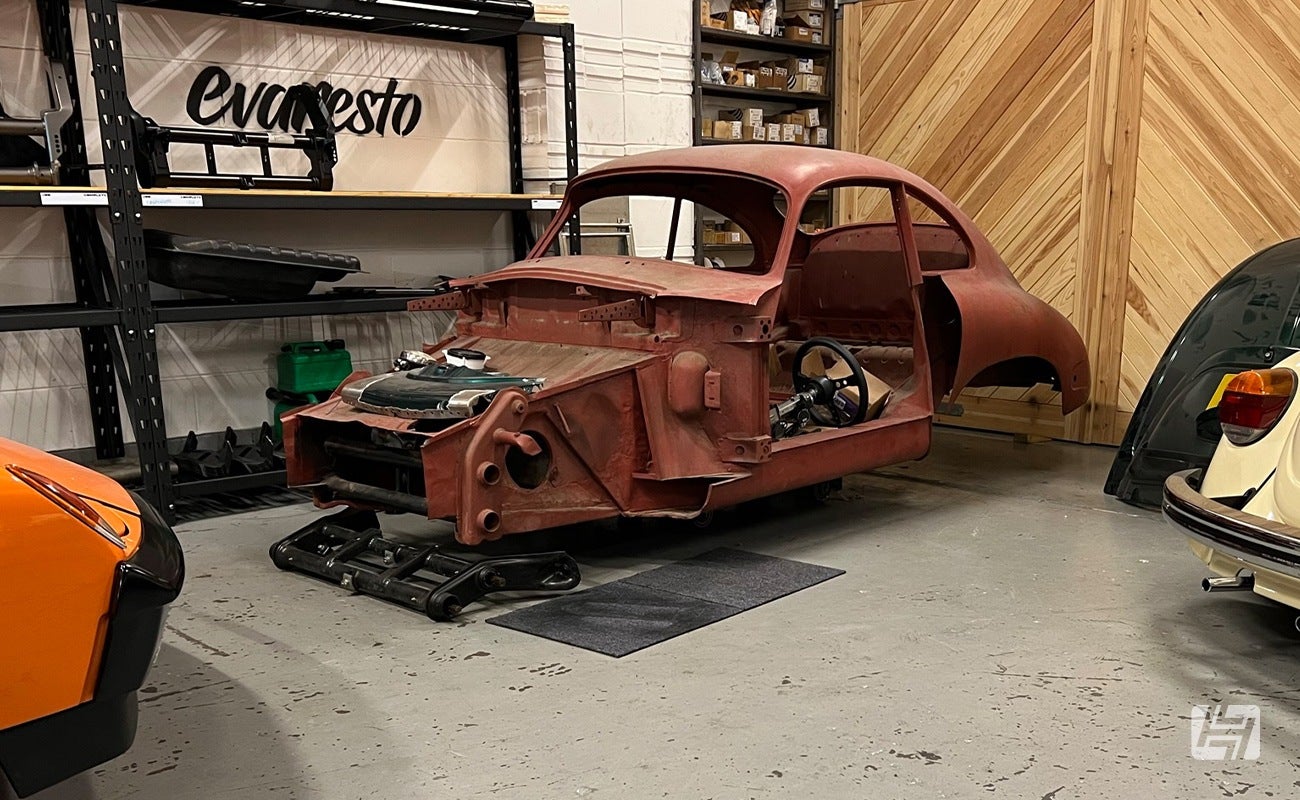 Type 3 tinkering
I suppose in a way Max likes to champion the underdog. Supporting Mexican Beetles, Transaxle Porsches, Renault Avantimes (yes, the crazy french MPV 2-door coupe) and Type 3 too. This red Notchback wasn't there on the day but has been one of his more recent builds, there was however a gorgeous green Squareback on the ramp, and through the power of the internet, we've managed to find a finished photo of it since we got back from our visit. Doesn't it look great?
Be sure to give Max's social media a follow to stay tuned to these epic builds. Facebook and Instagram.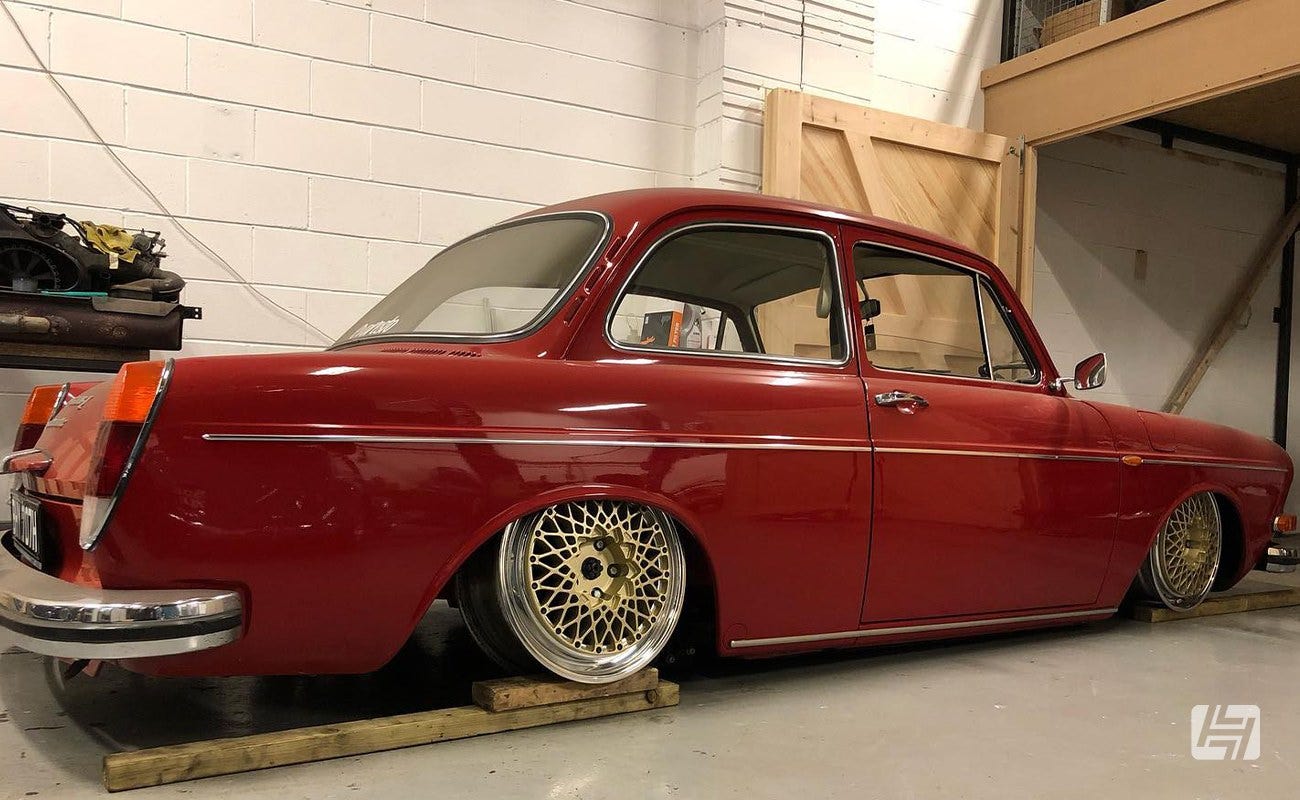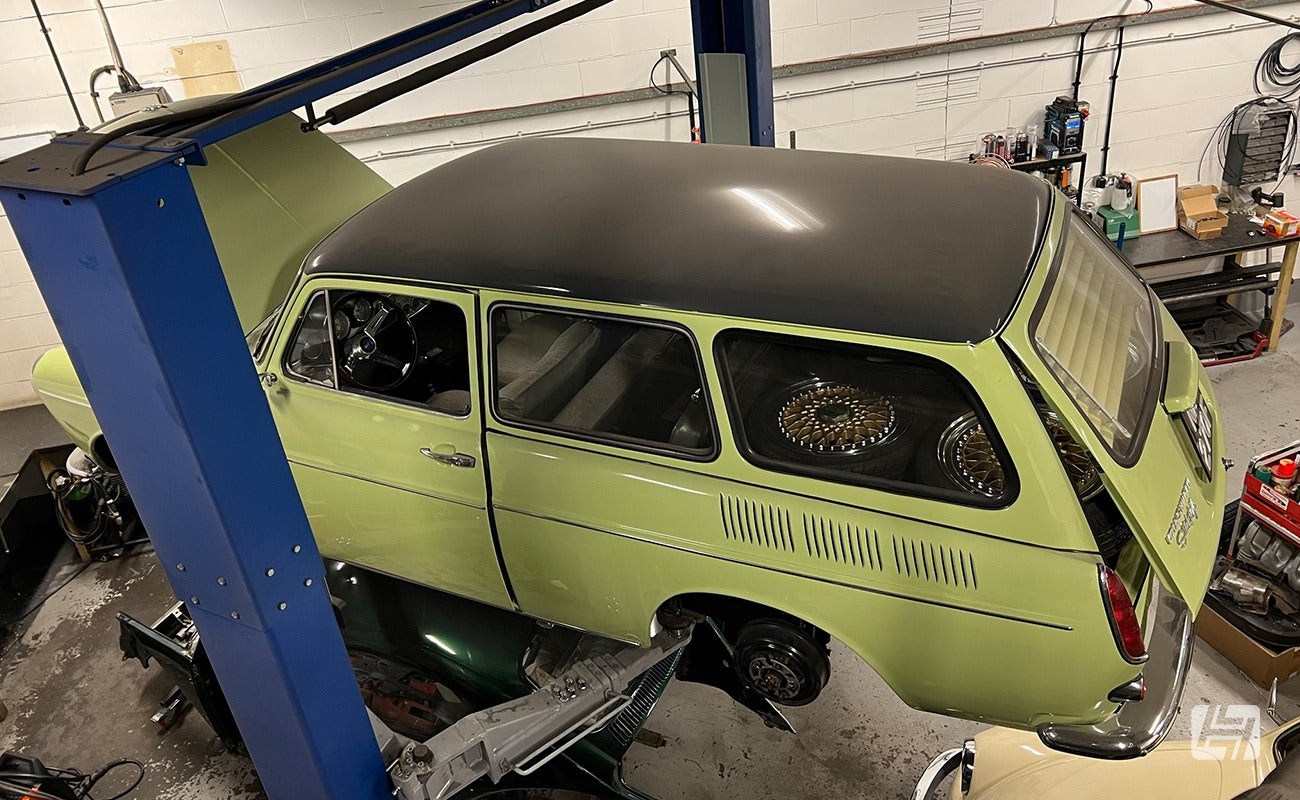 Five favourite builds
It's a tricky ask to get Max to tell us his favourite build, but he does manage to narrow it down to a top 5. The first (in no particular order) we've featured above, and that is his Italian-sourced red Notchback on magnesium BBS wheels.
Others to make the list, include the Car SOS Wizard build. Max reveals "we supplied the full suspension for this car and it was the experience of a lifetime working with the TV team and Lee & team at VolksMagic."
Max's list continues with Ben Strong's Porsche 356 Coupe, "This is a killer build in every aspect, and we did the full suspension on it." You can see it in Hayburner issue 44.
Next up is multiple best-in show winner, James Rudland's 356 'Outlaw'. "This car is the top of its class and a great driver also. We've had it in a couple of times and really enjoyed giving it the full suspension works earlier this year."
Last on the list is one of the most recent visitors to the EvaResto workshop, Max shares "this Puma GTE belonging to Lewis Heywood is probably the rarest car we've worked on and just completed a full suspension install on it. It will be everywhere next year!"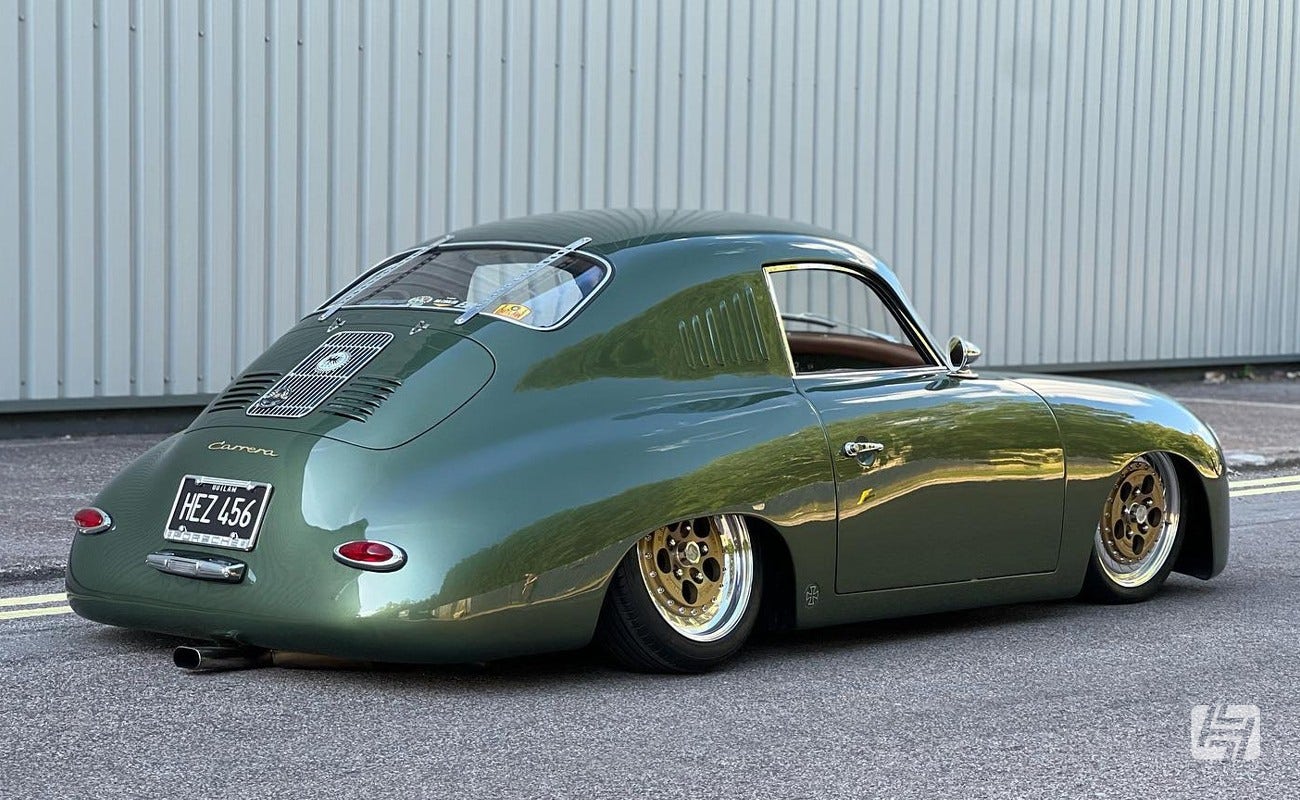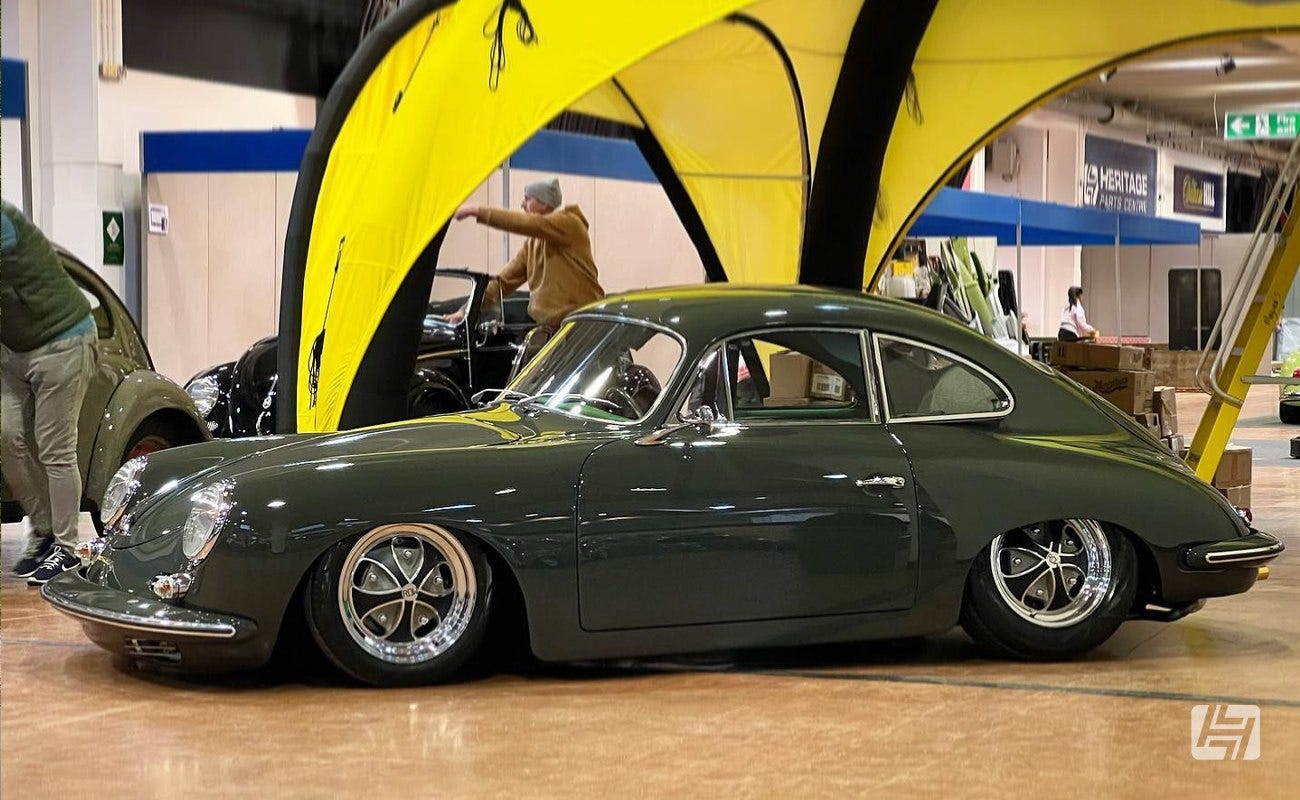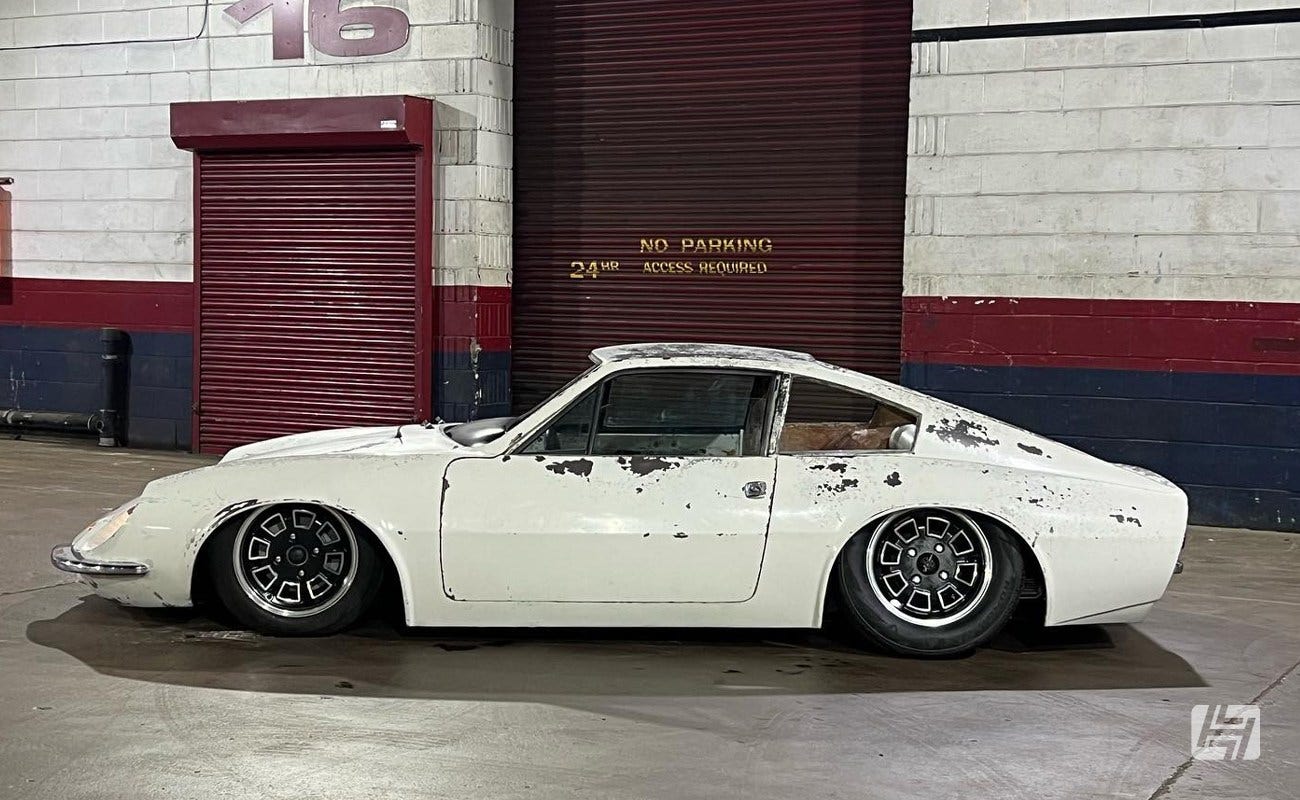 The future
With Jesse now on board full-time, and more than capable of any job Emma should book in the diary there is the capacity for Max to crack on and do what he does best, and it is through being creative and building cars that his most popular products are developed. The Eva name has travelled overseas too, with kits sent as far as the USA and Australia to help enthusiasts worldwide get the ride and stance they're after. We can't wait to see what happens next and to check out the Mexican build when Max unveils it at Volksworld in the spring.
A big thanks to Max, Emma, Jesse, and George for being great hosts, and we look forward to visiting EvaResto again soon.
Andy