Late last year we put a shout-out on social media to get some more customer and community stories on our blog. The great news is a few of you fancied picking up a pen and sharing some snaps with us. Today's contribution comes from Edd Little from Bexhill; you may know him as the co-founder of B_Road Hunting Club and he drives a 986 Porsche Boxster, amongst others. Over to you Edd...
Getting the road trip bug
It was April 2022 and I'd been invited very, very last minute to take part in the Horizon Rally run by a local company in Eastbourne. Sadly, someone who was going on the trip hadn't received their passport in time and they had a space to fill.
With less than a week's notice, my pal Lee and I had got everything together and had prepared the Boxster for what would be an awesome 1716-mile trip through France, Italy, Switzerland, and back through France (with the roof down regardless of snow, hail, rain and even the occasional sunny day.) But then it was OVER!
We've all been there, you get an excited anticipation for a trip, then the euphoria of being on the trip itself, but then all too quickly it is done! That's exactly the sensation we experienced as we arrived back in Dover. Before even reaching home in Bexhill, we were planning another trip in the Boxster, with Wales being our target territory for later in the year.
We spent the next few months discussing routes, what we would like to see and do, and whether could we replicate the magic of the Alps trip from earlier in the year. The idea for Onward Experiences wasn't planned, but inspired by our trip earlier in the year, we figured we could do road trips differently and put our own indelible spin on them.
However, we needed some willing people to test the theory on, and Lee McManus AKA (Sandman) and my younger brother Matt raised their hands at the right time; although they knew nothing of our plan other than the meeting points... It would all be a surprise!
Morgan factory tour
It was a cold, wet and very dark Friday morning in October. We set off at 0500 in a fully laden 986 Boxster (roof down of course) to meet Lee McManus at Cobham services for 0600, and then onwards to collect Matt from Swindon. It was only then we revealed our first stop: The Morgan Factory in Malvern, just a few miles east of the England/Wales border.
It may seem somewhat strange for four Porsche guys to visit the Morgan Factory at the start of their Welsh adventure, but having recently placed an order for the new Morgan Super 3, it seemed rude not to, and something I would thoroughly recommend to any petrolheads who may be passing. The Factory tour lasts approx. 2 hours and is an utterly fascinating and knowledgeable experience, and it was great to see British craftsmen and women at work on these iconic cars.
We also stopped for some lunch at the excellent Morgan restaurant, before continuing to our ultimate destination, Wales.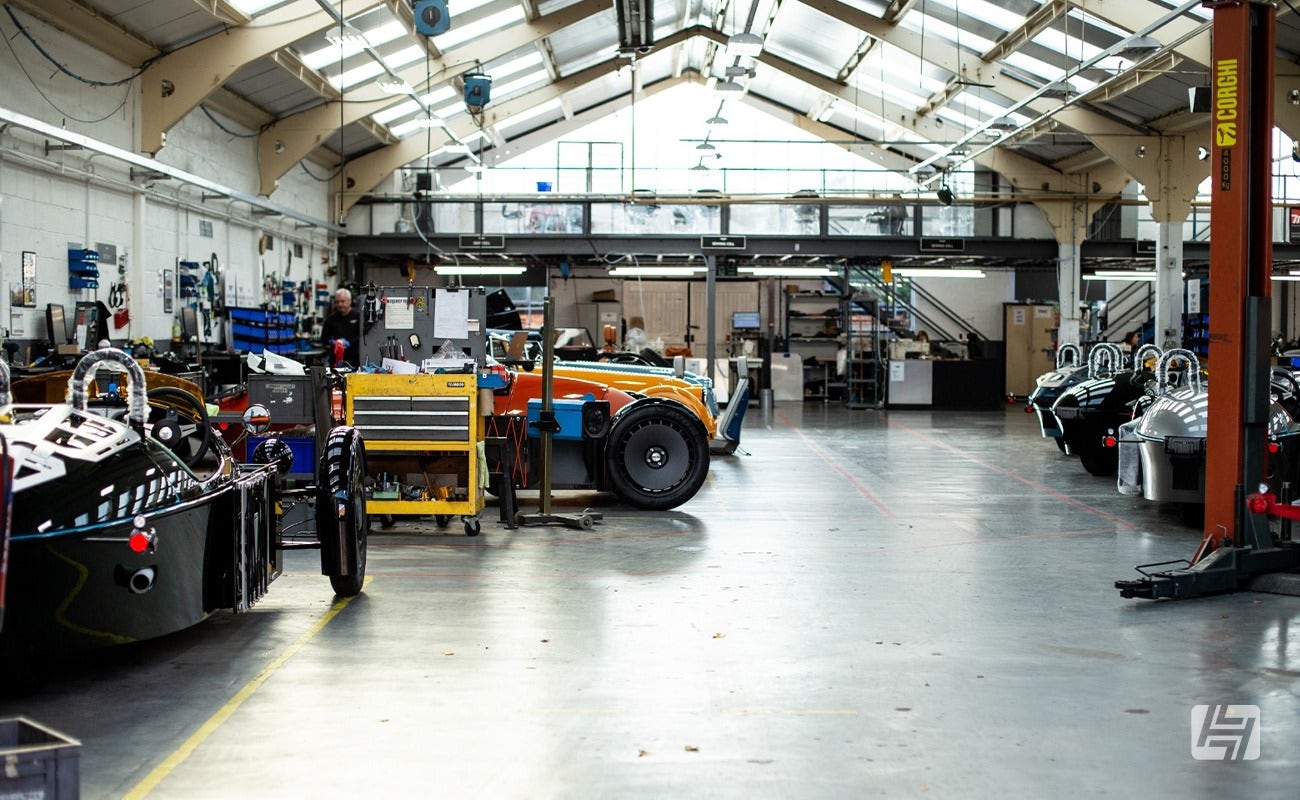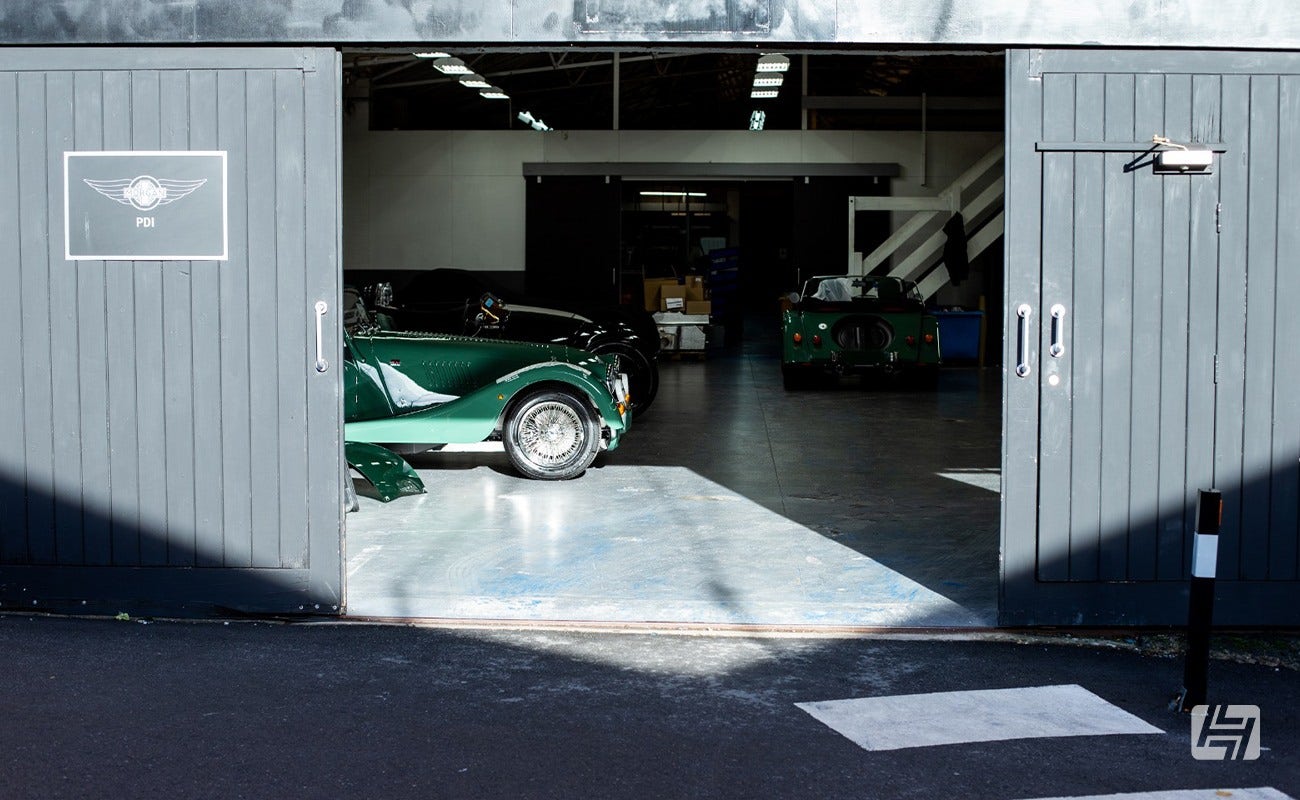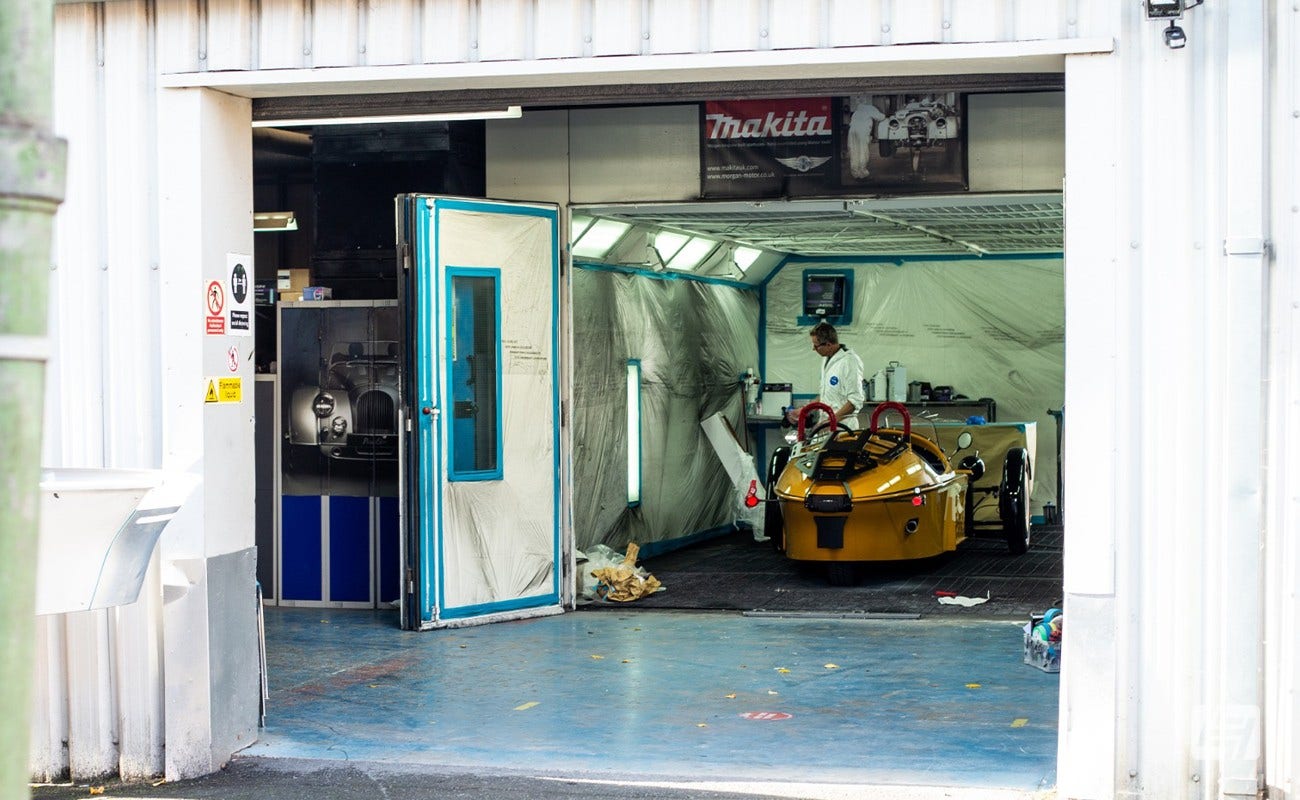 Destination: Wales
It was a spirited drive through the Malvern Hills and along the A44 towards the Elan Valley, where we had booked a beautiful farmhouse on the top of a hill to call home for the next 3 days. it's worth noting that before reserving your picturesque holiday cottage you should take a look at the parking and access arrangements. I genuinely thought I was going to have a fight on my hands when we reached the top... My Boxster is LOW and after grounding out a couple of times I was hoping that the Cayman was ok, turns out sadly Lee also ground out a couple of times, but took it well, and accepted my humblest of apologies. We won't be going there again...
As we settled into the old farmhouse for the evening we opened a few beers, and I prepared smoked mackerel linguine for the four of us (3 decades of cooking professionally comes in handy at times like this), I couldn't help but worry about how were we getting back down (and up) that hill again tomorrow.
Day 2: Enter the Sandman
Awaking to what can only be described as a monsoon, Matt and I jumped in the Boxster with the roof firmly UP. The first time in almost 3,000 miles since May that the canvas was above our heads. After one of the nicest breakfasts in Rhayader, we set off along the A470 towards North Wales and the 'Evo Triangle', however, you can't drive far in Wales without finding somewhere very picturesque to stop for photos. And with the services of a professional photographer in my passenger seat (my good friend Lee who also came to the Alps with me) why not?!
After some shuttles up and down the road for the benefit of Lee's lens, we very quickly found ourselves chasing the sun towards Porthmadog, and a scheduled late lunch stop at the Cross Foxes pub to sample their legendary steak sandwich. Suitably refueled we made our way over the Crimea Pass on the A470 in the rain - and this is where I think both Lee and Lee in the Cayman were very unsporting as if you maintain a steady 30mph in the Boxster with the roof down, you do NOT get wet. However, 1-2 mph slower and the rain gets in, and we seemed to do a steady 28 mph following them to Porthmadog...Needless to say, Matt and I got wet!
For those who don't know Porthmadog, more specifically Morfa Bychan beach, is the famous strip of sand where many Top Gear videos are shot. At the start of the day, Lee M was adamant the Cayman GTS would not be going anywhere near the sand. But I have never seen anyone so happy on a beach, hence The Sandman nickname being born, and once he discovered how to switch off traction control in the Cayman there was no stopping him!
To be fair, the Boxster was equally at home flying up and down the empty sand, doing donuts & power slides again and again, plus we even got some sun before we had to head back to base.
Once finished on the sand we set off back the way we came but this time in the dark, and without doubt, the Cayman GTS was literally the shining light. This is where I would argue the newer Porsche excels the most over the classics, as the lights over the hills were amazing. However, Matt and I were still having fun in a car almost 26 years old following closely behind in its flood-lit tyre tracks.
We chased the Cayman some 30 miles in the dark carving our way towards the Airbnb, then back up 'that' track, although now with some local knowledge of the best route to take to avoid a second grounding incident. Once back, we opened a bottle of red wine and discussed how good the roads were, and what a great idea it would be to offer this as a trip to other like-minded petrolheads, and we still had day 3 to go...
Day 3: Home time
It was another day of changeable road conditions. Wales in the sun certainly doesn't disappoint, and photographer and group navigator Lee had saved the best till last with the hills and the roads leading up the Elan Valley. Even the flooded forest roads were a welcome addition, serving as a drive-through underbody car wash after our antics at Porthmadog beach.
As we left Wales behind and glided through the Brecon Beacons to the M4 towards home, I couldn't help but think, what a weekend we'd had driving some epic roads with friends, making memories to last a lifetime. Magnus Walker's words "Get out and Drive" never felt so right and even as we dropped Matt off at home in Swindon the planning for the next one had already started.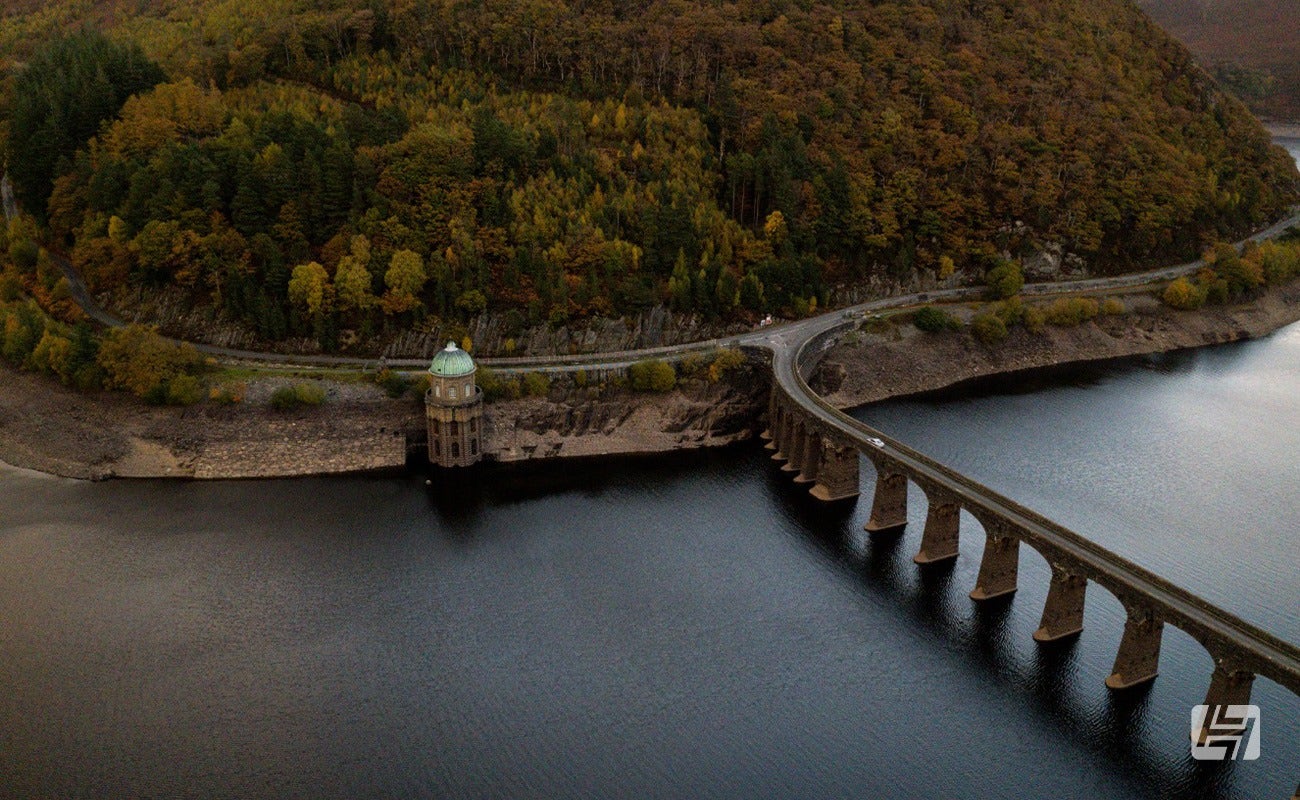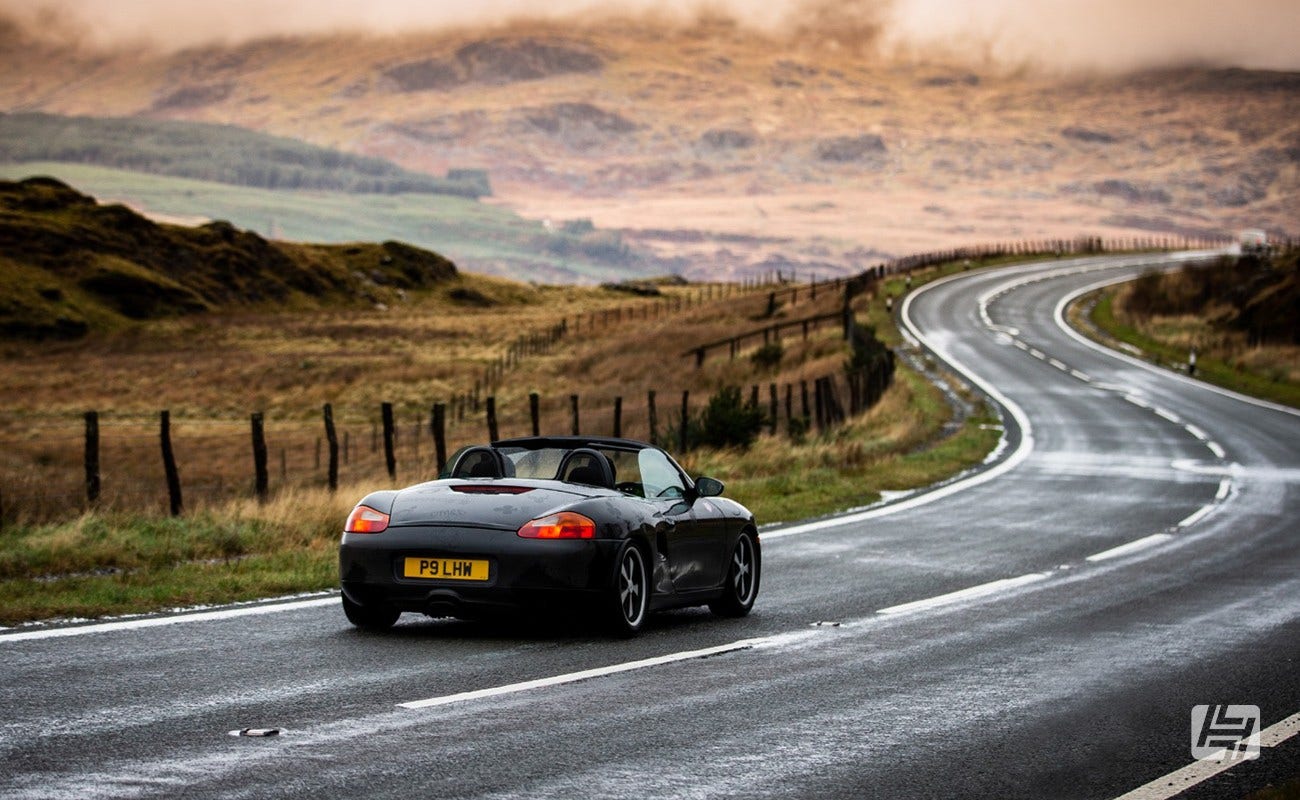 Onward Experiences
So, what's happened since we all got home? Within a week Matt cancelled his Porsche Macan GTS Order and bought a 718 Spyder, Lee M is still trawling for a Manual 981 Boxster GTS and Lee spent a week editing these incredible pictures. Personally, I struggled with the decision to potentially sell the Boxster, however, my Morgan Super3 arrives in March and I'm already daydreaming about those roads, that beach, and all the incredible memories I'll be making!
The first Wales trip as Onwards Experiences is scheduled for March 2023 and is already fully booked with 12 People and 9 cars. But we have a follow-up tour in the works for October 2023 for those who fancy it. If this tale has you thinking that sounds great and I'd love to do that, well you can and we'd love you to join us!
Edd.
A huge thanks to Edd for taking the time to write this awesome report for us, and to Lee (aka Felt Tip Felon) for the simply stunning images. If you've been on a trip you'd like to share, got a project you feel we should know about, run a club with your friends, or been to an epic show please let us know, and perhaps the next blog could be about you.
Andy