VW KARMANN GHIA INSURANCE
The VW Karmann Ghia is a very special car to us at Heritage Parts Centre, as it was supplying parts for these vehicles that started our business back in 1986. Because of this connection, we have made sure that our Heritage Parts Centre Insurance Services scheme offers everything that you could possible want from a Karmann Ghia insurance policy, however you choose to use your car.
Regardless of whether your Type 14 is a project, a show winner or something in the middle, we can offer VW Karmann insurance to suit. Of course we can also quote and provide insurance for the Razor Edge Ghia too. The Type 34 is a less common sight on the roads (and at shows), but that's even more reason to ensure it is suitably protected should something terrible happen.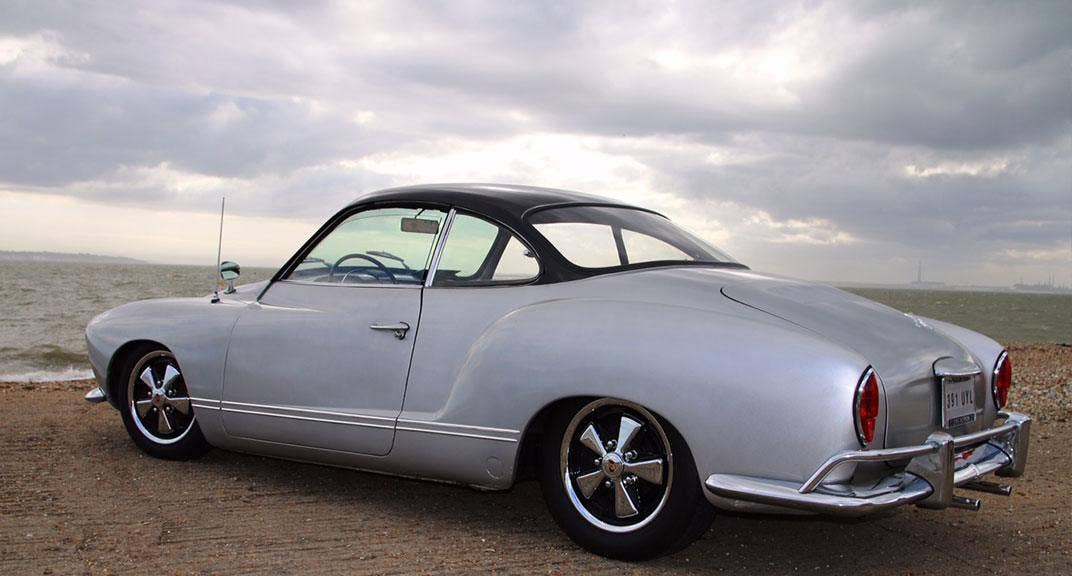 Your car can be just as VW intended or highly modified – we don't mind! In fact we can offer a great deal on modified vehicles, with many modifications not adding extra costs to your premium.
As enthusiasts ourselves we know many 'Ghias are imported into the UK from Europe and USA and we can also cover LHD Karmann Ghias.
Pop your details into the enquiry form, and an adviser will be in touch shortly.
EXCLUSIVE INSURANCE COVER OFFER FOR HERITAGE PARTS CENTRE CUSTOMERS
All cosmetic modifications along with any modifications from the below list will not impact premium when you insure with Heritage Insurance via VW Heritage Parts Centre. Any other modifications not listed below, or not falling under the category of cosmetic, will be looked at on a referral basis.
Performance cylinder heads including port, polish and gas flow work.
Cams, rockers and lifters – valve train upgrades all allowed.
Exhaust upgrades - merged headers, manifolds, full systems and back boxes.
Air filter upgrades – panel filters and induction kit.
Carb conversions – twin carbs and bike carb upgrades all permitted.
Intercoolers – Bigger intercoolers, charge coolers etc.
Performance software – ECU remap and chip upgraded.
Wheel upgrades including split-rims and banded steel.
Narrowed and adjustable beams, IRS and Swing axle conversions all included.
Bigger brakes – including disc upgrades and servo installations.
Stiffer shocks, lowering springs and adjustable coil overs and lift kits.
Custom adjustable suspension.
Chassis notching.
Respray including colour changes.
Original and non-standard body kits including wide arches, spoilers and splitters.
Bespoke interior including sports seats and re-trims.
Roll cages and bucket seats.
Car audio installation.
Camping conversion – Professional and homebuilt.
Pop Top.
Air cooled engine swaps including Subaru conversion.
Water cooled engine conversions including G40/ AFH /16v / G60 /1.8 Turbo / TFSI / VR6 / R32.
Upgraded turbo including bolt on turbo kit.
Supercharger upgrades: stage 1-4 G40 & G60.
Bolt on supercharger kits including Judson.
Custom paintwork including pin striping, metal flake and airbrushing.
Body conversions including beach buggies and kit cars.
Rally and race preparation. Track day cars welcome.
HERITAGE PARTS CENTRE INSURANCE FEATURES *
Agreed value cover - We understand that if you've spent thousands getting and keeping your cherished VW Beetle in A1 condition, you don't want to accept a "market value" settlement in the event of a total loss. We offer agreed valuation on your policy by getting experts to assess your Beetle and agree an appropriate level of cover for its true value.
Modified VW Beetle Insurance - all your declared modifications are covered
Flexible limited mileage - the fewer miles you cover in a year, the less you pay.
Shows, rallies and events cover - these are included as standard, if the event is non-competitive.
Up to 90 days of European green card cover is included, free of charge.
Protected No Claims Bonus available on some policies.
ICE Cover as standard
Salvage retention, which can give you the option of buying back the vehicle or selected parts in the event of a total loss.
Cover for dismantled and spare parts and build-up of kits available.
Laid up cover for accidental damage, fire and theft protection for cars that are registered off-road (SORN)
Legal cover up to £100,000 available as an optional add-on
Discounts for taking security precautions
Multi Car insurance available with discounts based on number of cars and drivers. Multi car can cover your modern cars as well as modified and/or classic vehicles, motorbikes, motorhomes and vans. Specialists in Beetle-based kits and buggies, such as the Baja Bug, Wizard Roadster or Beach Buggy.
Club membership discounts
Ownership discounts
* Policy features will vary between schemes - if you particularly need a particular benefit, please mention this when speaking with the insurance adviser
ABOUT HERITAGE INSURANCE BROKERS
Heritage Insurance have specialised in insuring classic cars for over 50 years. An independent, family-owned business, their focus is on providing excellent service to the more than 20,000 customers who trust Heritage to deliver the right cover with a flexible, friendly approach.
Heritage Insurance aims to offer you the best options available in the market. They have close relationships with a large panel of underwriters and have secured many exclusive schemes, giving plenty of pulling power when negotiating the best deals with insurers.
Heritage Insurance take pride on their team of well-trained staff who support customers every day. This dedication to customer excellence saw them named Personal Lines Broker of the Year in 2018 by Broker Network.