It's bigger than the Mk1 without being overweight and more refined without taking away the feedback and handling that the first model was famed for. Searching for an affordable classic full of charm and still fantastically practical? Read our VW Golf Mk2 Buying Guide; we think we've found the car for you.
The history of VW Golf Mk2
Launched in 1983 the Golf Mk2 had massive boots to fill. After a run of 9 years (in Wolfsburg at least) Mk1 production had come to an end and the slightly larger Mk2 (18cm longer, 5.5cm wider and packing an extra 120kg) was ready for the world. Penned by the in house VW design team it paid clear respects to its Giugiaro styled older sibling in all senses. With more than 6 million cars rolling off 6 different production lines on 4 different continents, it wasn't just Wolfsburg who was responsible for putting this popular hatchback onto forecourts around the world. Visually there are a few versions of the car to familiarise yourself with. Pre '87 models often referred to as Typ 19 because of the chassis plate designation, have quarter windows in the front doors, 7 slat front grilles, small plastic bumpers, stick-on plastic side trim and the windscreen wipers all wipe in favour of the passenger in a RHD car.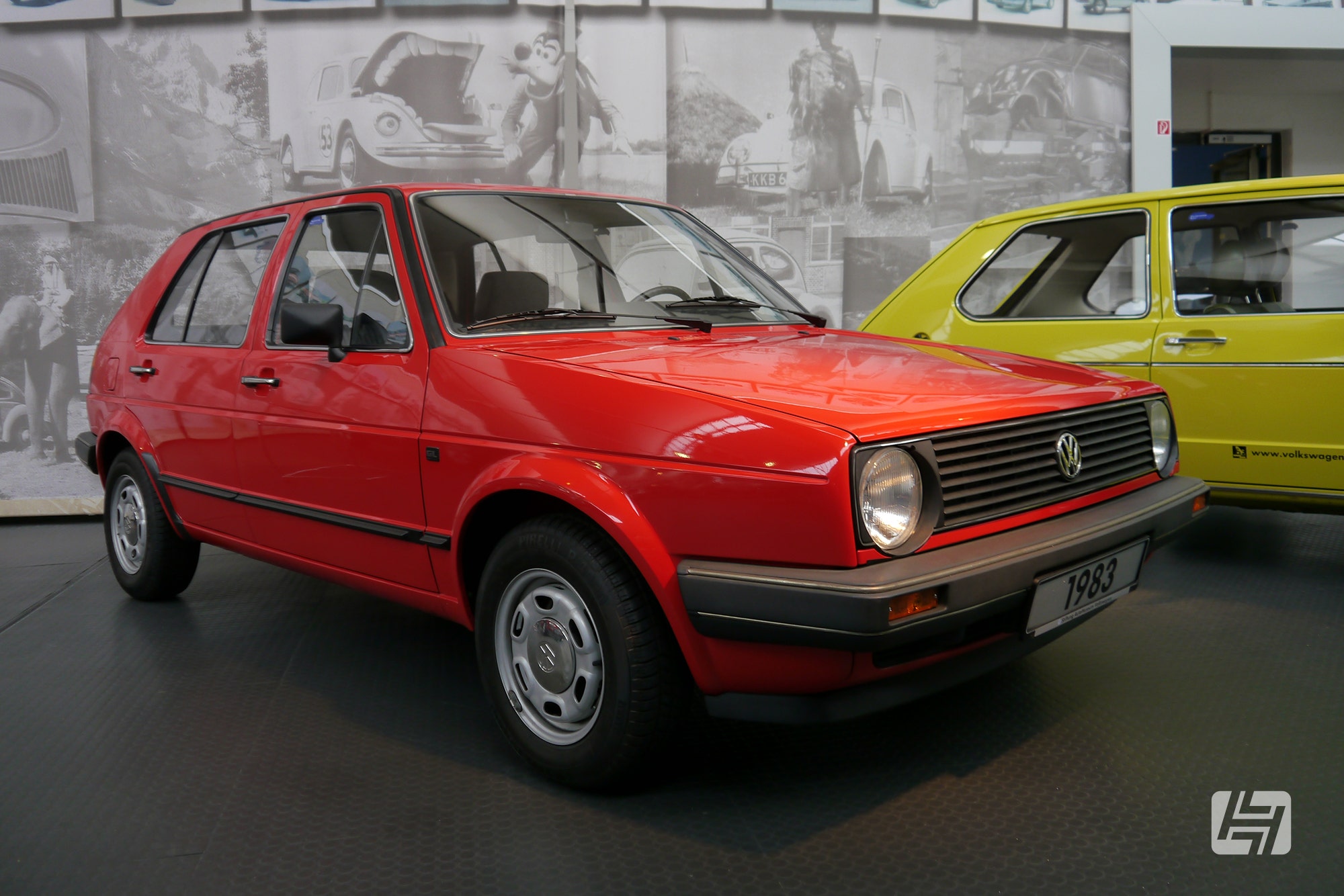 Post '87 cars have a 5 slat radiator grille, door mirrors in the corner of the front door glass, wipers which go the 'correct way' and have a blanking plug on the scuttle panel. Body trim got wider in design and was attached by plastic clips. At the rear, the VW roundel moved to a central recess below the tailgate rather than off to one side. This style remained in place until the end of production in 1992. However, Volkswagen launched a revised look for the model in late '89, with big bumpers front and rear and far more streamlined body trim, incorporating plastic arches that flowed into a stylish side skirt. This look is referred to as '90 spec and was typically available on GTI cars, however there were GL models, for example, which featured big bumpers, but didn't have full arch trims. For reference, the car in many of our photos is a 1991 Golf GTI 16v in Tornado Red, belonging to
Rob at Supercar Detailing
.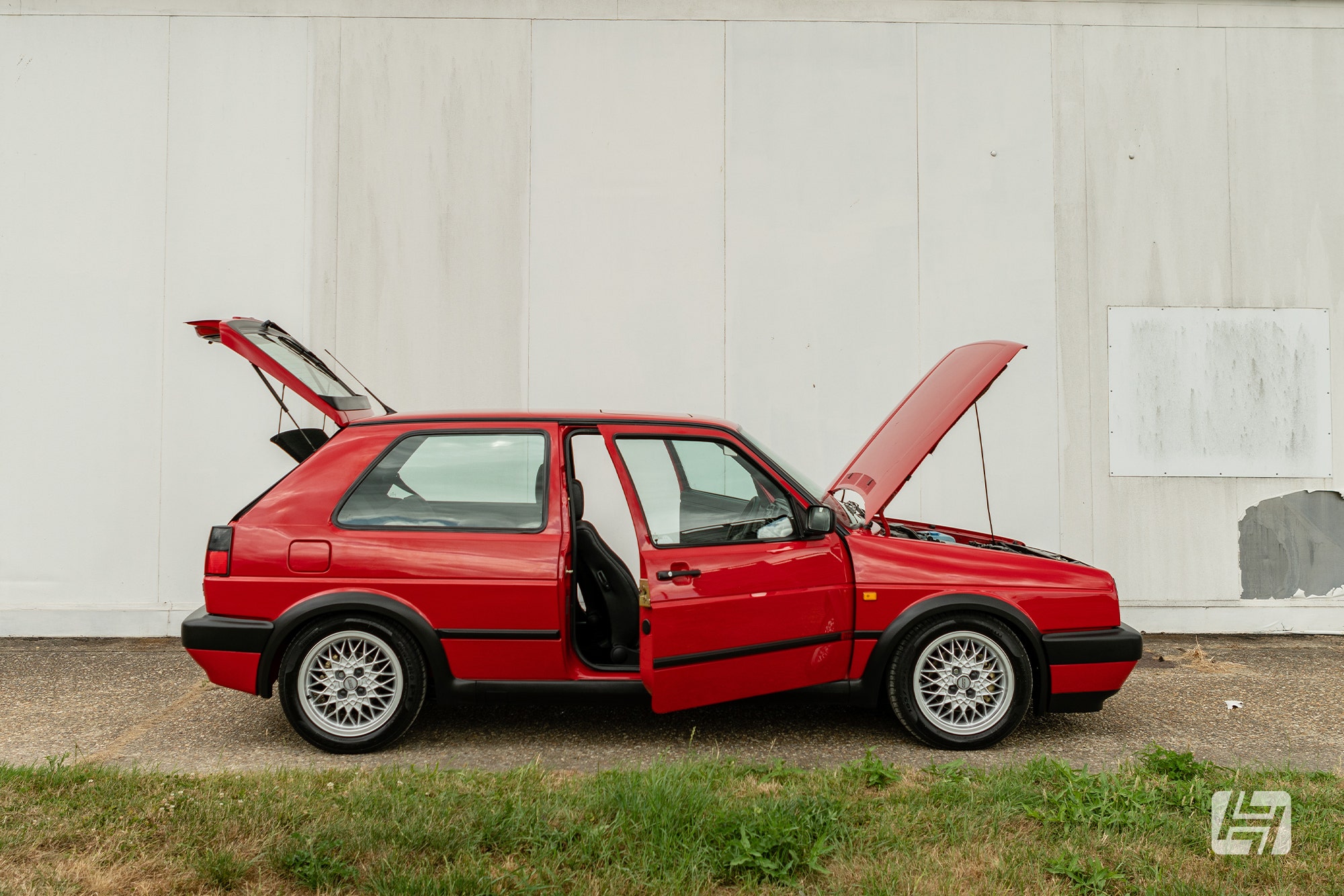 What are the Golf Mk2 body options?
Whether you favour a 3 or 5 door car, you shouldn't have too much of a problem finding one as they were made in plentiful supply, in Europe at least. Just like the Mk1 model range, Volkswagen also offered a '3 box saloon' under the Jetta moniker which joined the ranks in early '84.  These were available in a typical 4 door configuration, but also as a cool and much sought after 2 door coupe format in mainland Europe, these were almost exclusively LHD.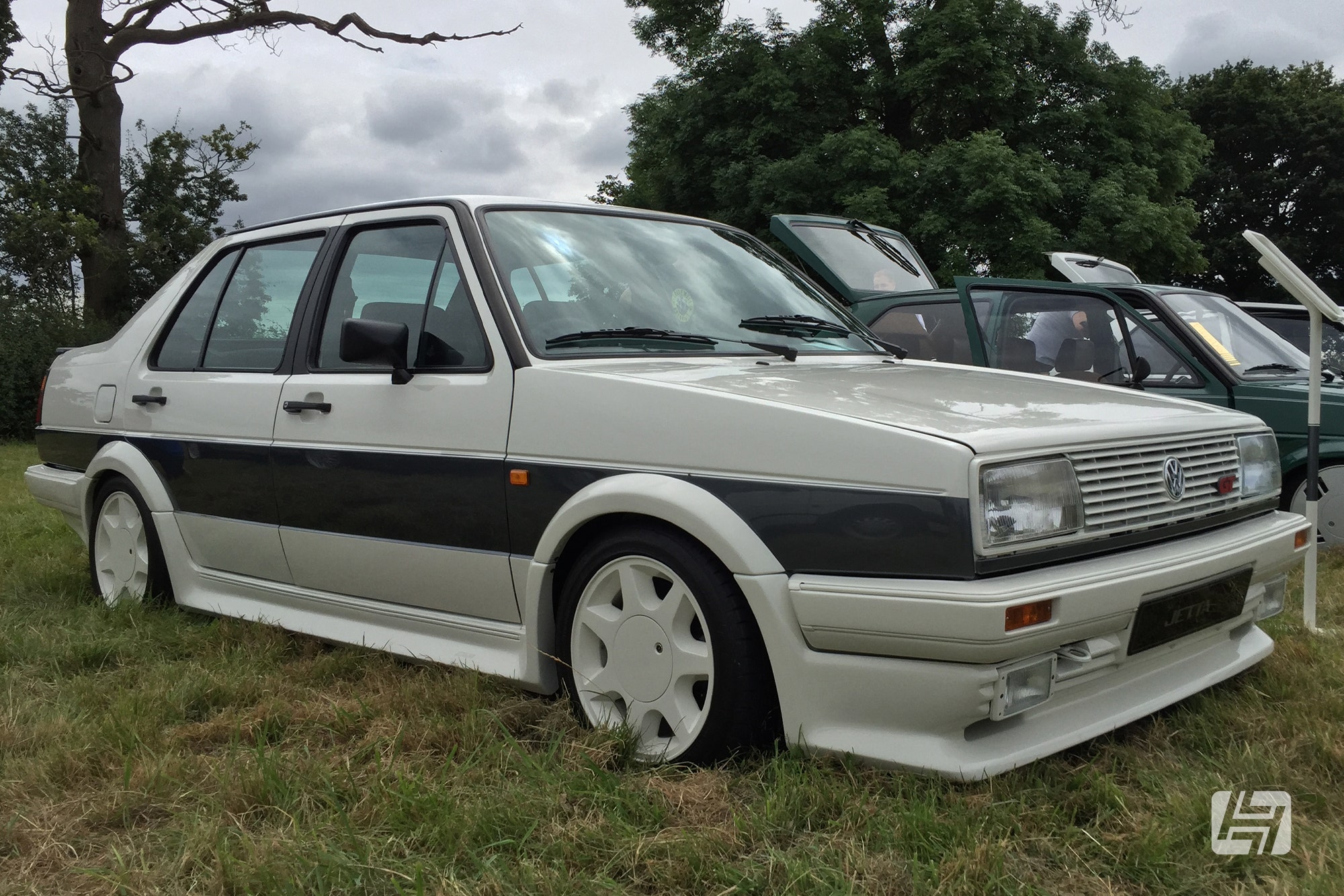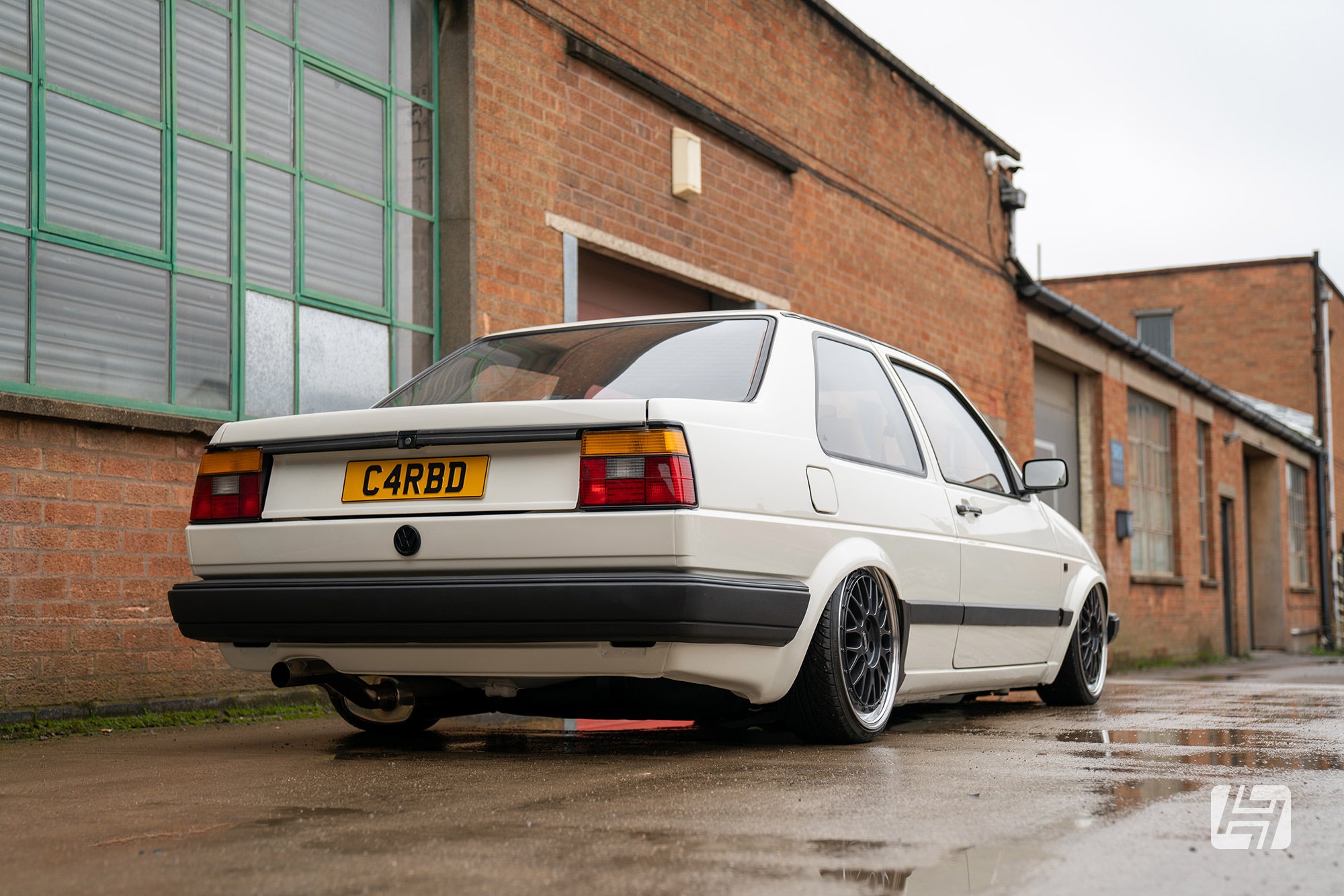 There was never a Golf Mk2 Cabriolet as such, only a refreshed version of the Mk1 with restyled bumpers, body kit and grille. Check out our
Golf Mk1 Cabriolet buying guide
and a feature we ran on a couple of
Mk1 Golf Cabriolet owners
if you like the idea of spending your summer topless. On a similar note, there was no Mk2 Golf Caddy pick up either, although a panel van version was made for small deliveries and trades people.
VW Golf Mk2 Special Editions
The second-generation Golf had a number of special editions. The first was the homologated Rallye in 1989, produced as a passport for Volkswagen to participate in Group A Rallying. With its box-arches, Syncro 4WD and supercharged G60 engine it never finished higher than 3rd in the period competitions, but it now has a cult following and commands serious cash in comparison to an average GTI.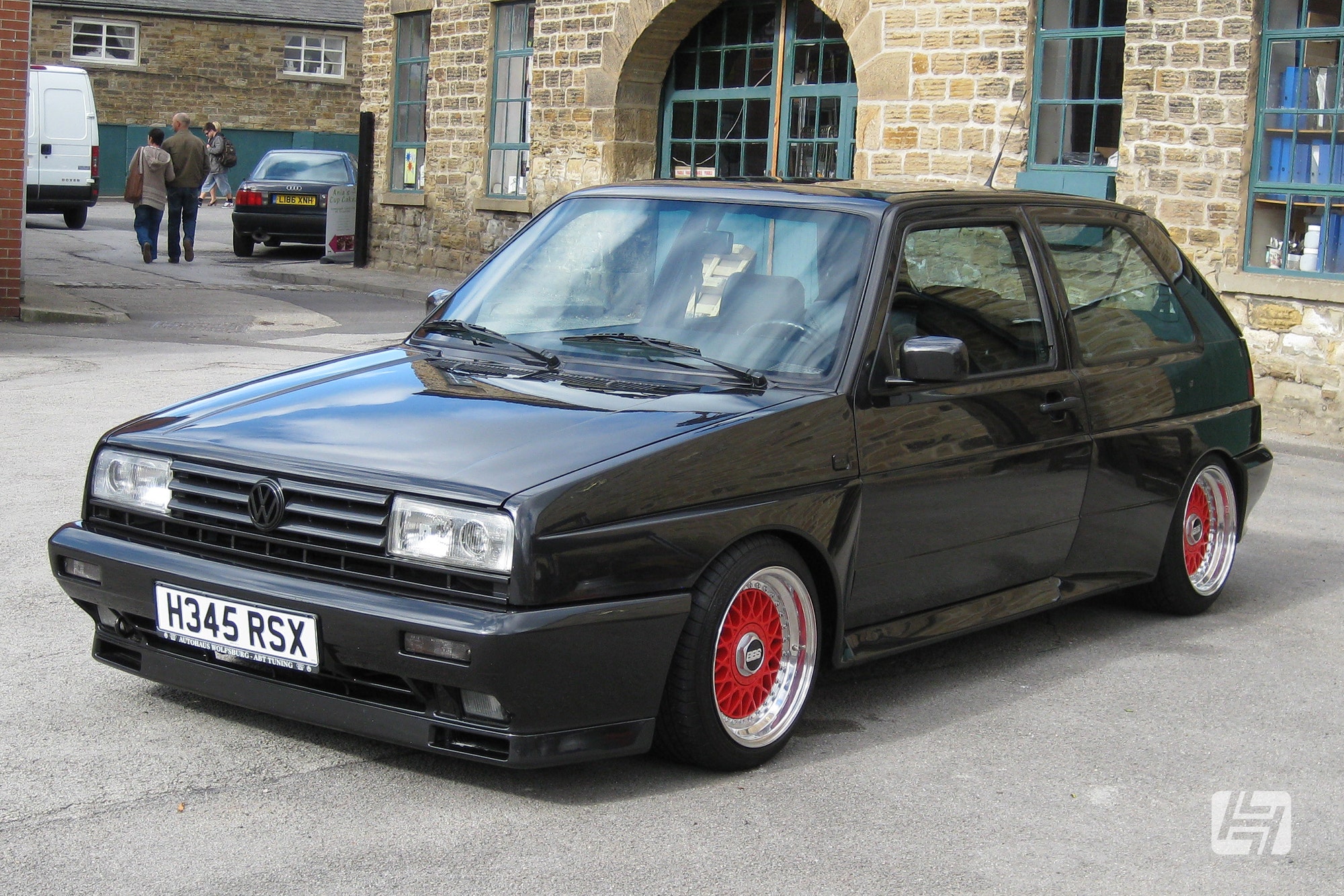 The G60 engine was also available in a 'normal' 3 door body shell, with and without the Syncro running gear. Rarest of all G60 options was 1990 built, small bumper 'Golf Limited' which packed a 16v G60 punch, producing 210hp (the most powerful VW up until the R32). Only 71 were ever made, all bar 2 were 5 door and most would have spent their early years driven by high flyers from the Volkswagen board room. When they are advertised today, there's an eye-watering asking price, and they are snapped up by serious (and wealthy) VW collectors pretty sharpish.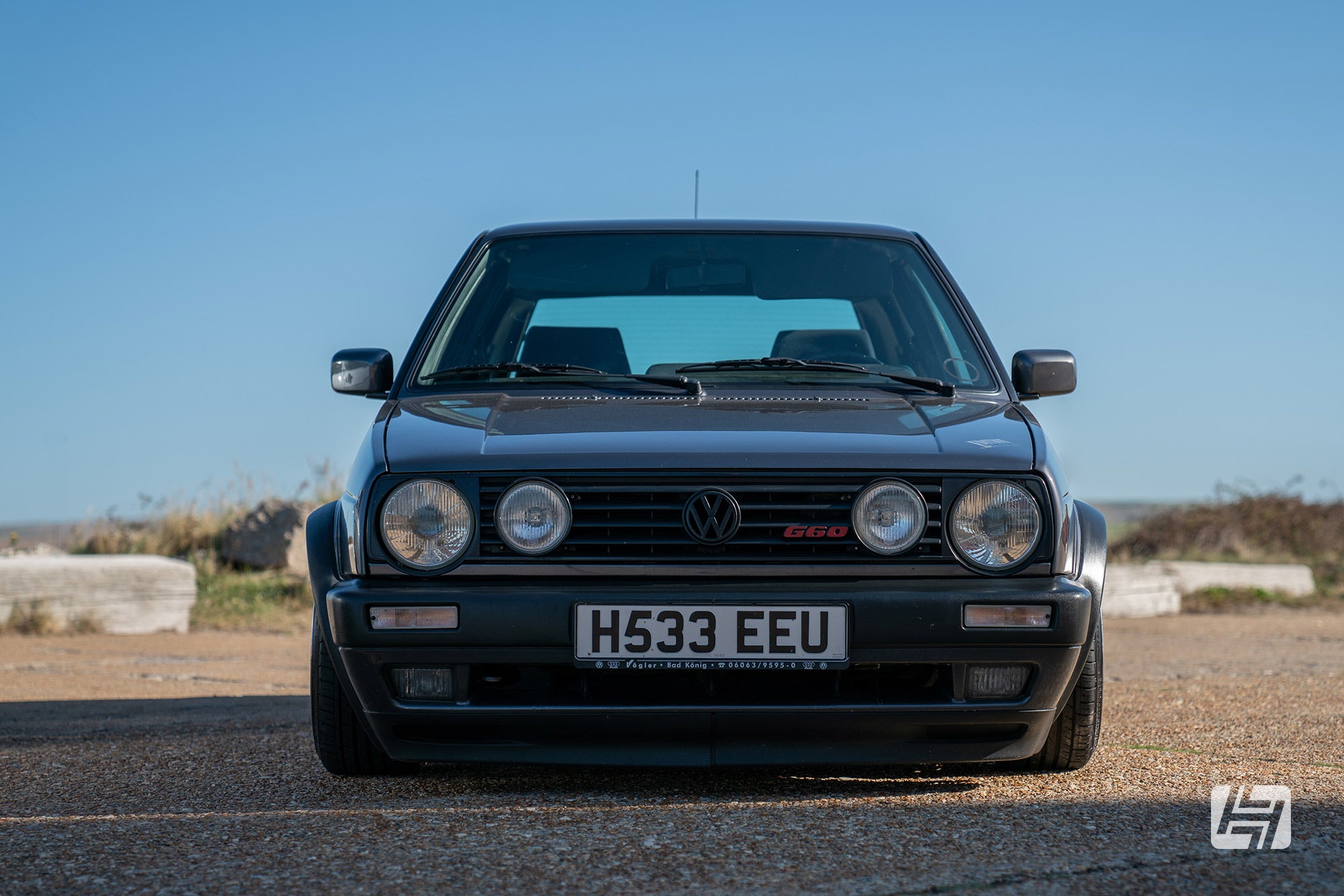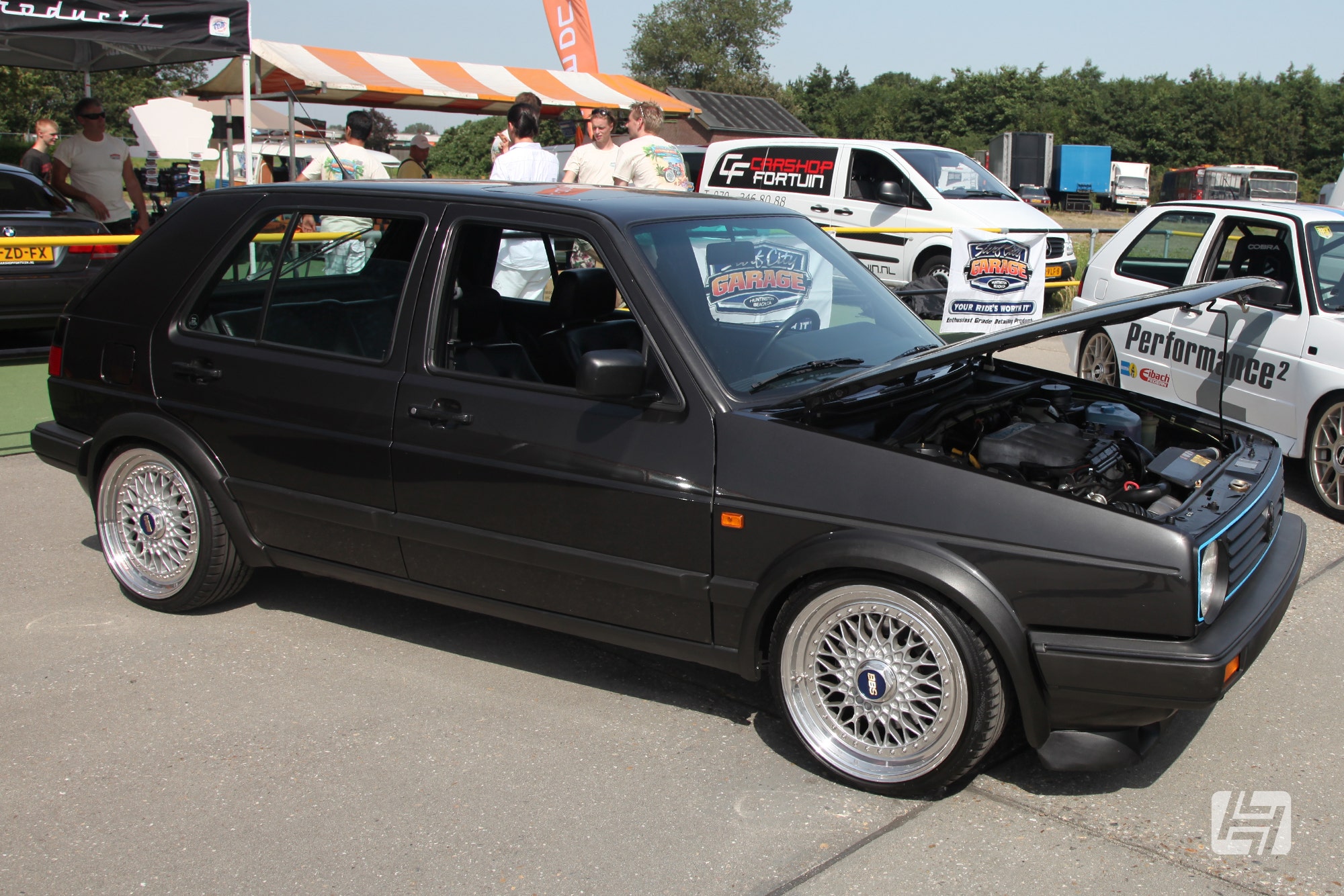 Also taking advantage of the VW Syncro 4WD system was the 'jacked up' Golf Country. Initially produced at the Wolfsburg plant, the 5 door only bodyshells were finished off at the Graz factory in Austria where they received all their off-road powertrain. 7,735 Golf Country models were made and they were only sold over a 2 year period, making them pretty rare cars to see on the road.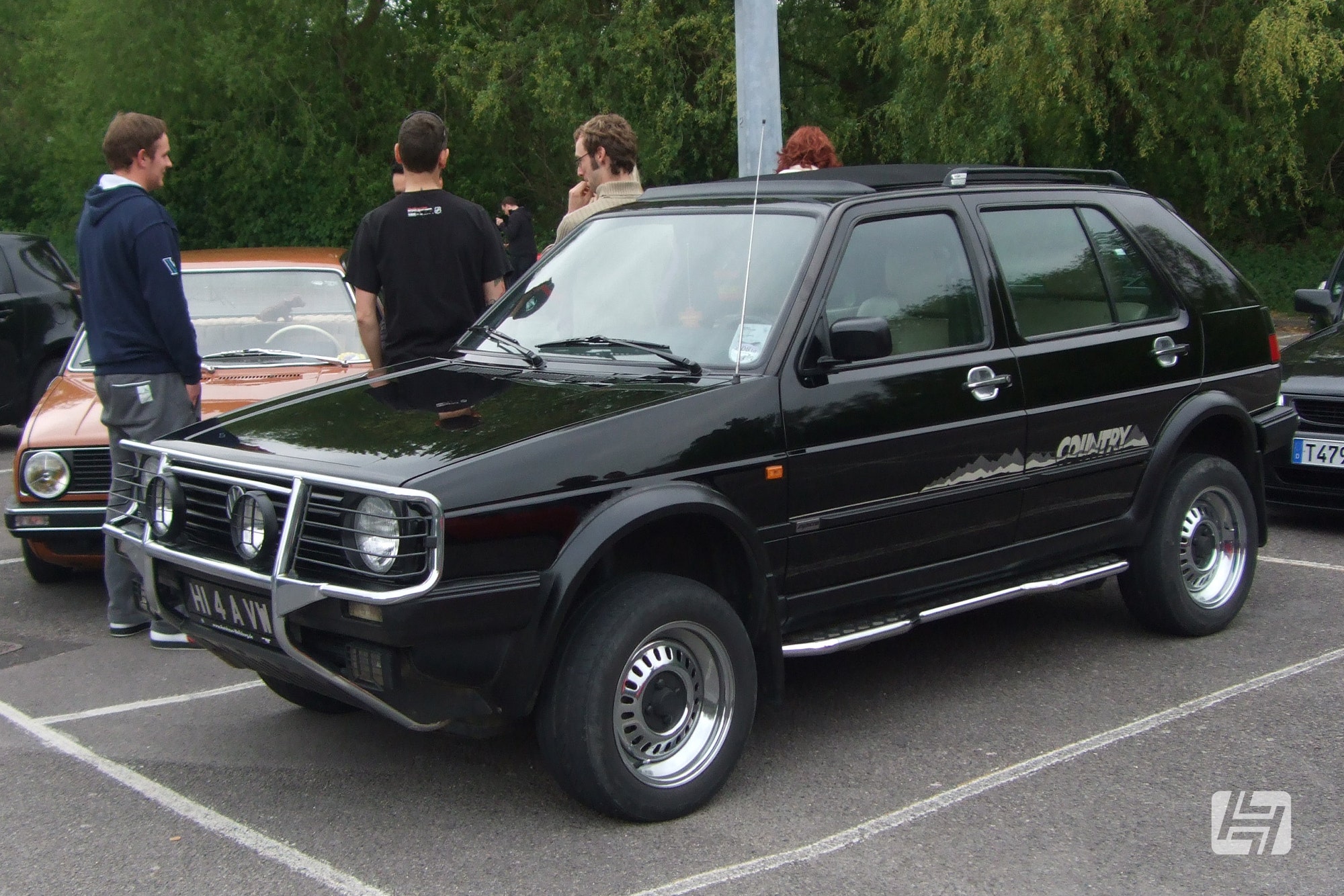 VW Golf Mk2 Engine options
The throttle-shy will be pleased to know that Volkswagen offered a 1-litre version of the Golf Mk2. As you can imagine, it set no records and it disappeared from the range after only a few years.  The 1300cc version was a far more serious proposition for the man or woman about town, and today is popular with teenagers as an initial step onto the old skool motoring ladder. Numbers are reducing though, as plenty have had their small-block motor replaced with something more fruity as owners have gained experience and benefited from lower insurance premiums. The 1600cc and 1800cc carburettor models are still in good supply and came in all trim levels including the 'Driver' which offered plastic arch trims and GTI inspired interior for those who couldn't or didn't want to stretch to the GTI when new. These carb fed big-block engines offer a great bridge between the 1300cc and the GTI and handle motorway trips with a little more dignity. The 1800cc GTI 8v engine initially came with K-Jetronic mechanical fuel injection, as found in the Mk1 GTI, although this was later switched out to Digifant injection in 1988. The 8v GTI models produced 110hp out the box and are loved for their torque throughout the rev range. The 1800cc GTI 16v appeared on the scene in 1986 in answer to the Peugeot 205 GTI and others manufacturers who were contending the hot hatch throne. With 137hp it was almost a second faster to 60mph, more lively at the top end and boasted an extra 19mph top speed over the 8v. Both the 8v and 16v models ran alongside each other from 1986 to 1992, when production finished.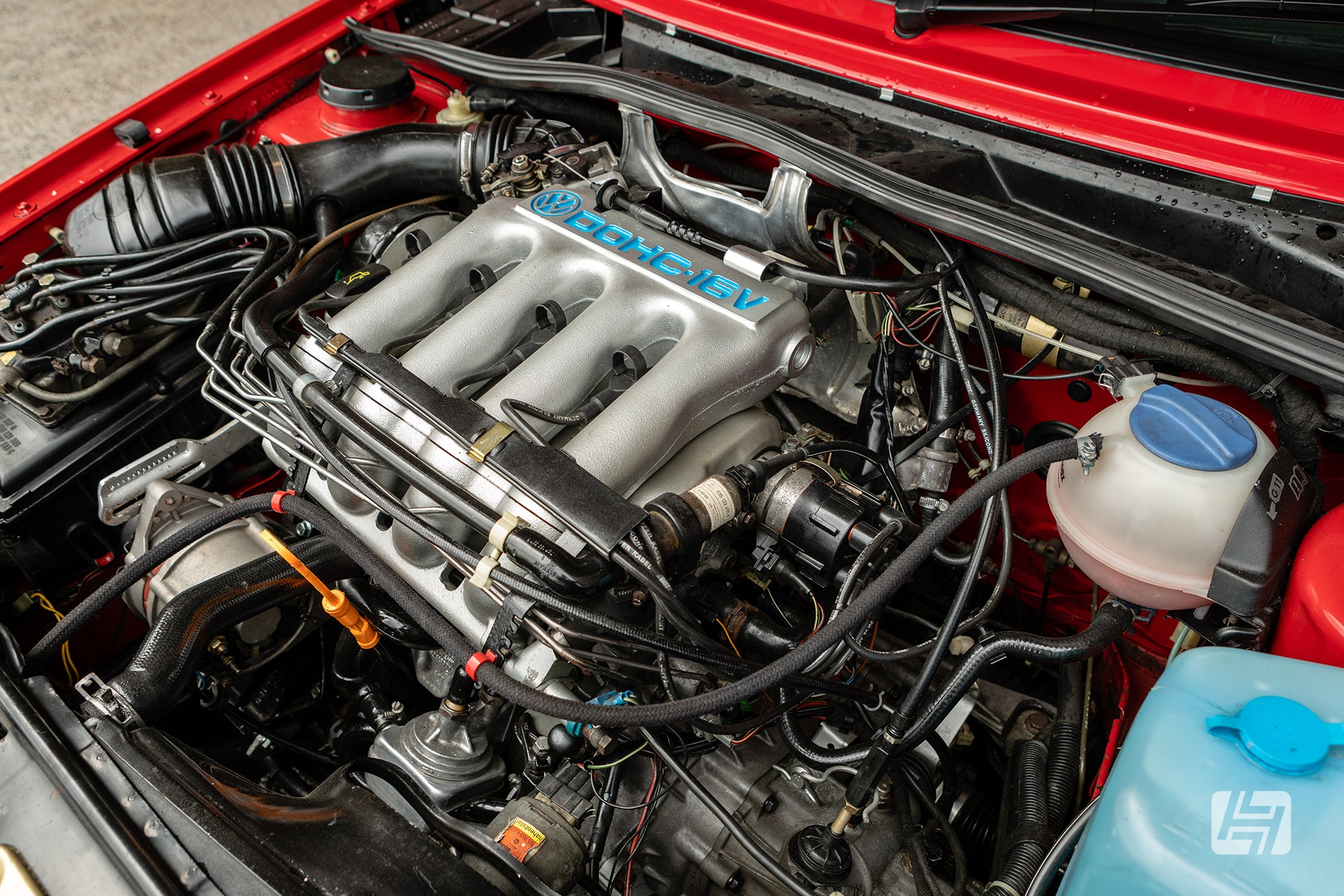 Buying a Diesel VW Golf Mk2
At a time when diesel engines were far from trendy, Volkswagen offered a 1600cc N/A and Turbocharged version in their family car. They are a bit noisier, a little bit smokey but there is a fuel economy benefit over their petrol-fueled counterparts. The highlight of the diesel range was the GTI look GTD, which had 69hp and hid a top-mounted intercooler under the bonnet to help things along. Expect a tractor and you'll be pleasantly surprised. If however, you pull up for a road test in a ten-year-old Passat TDI, it will feel dated, slow and agricultural! With the rise in diesel tuning across the automotive scene, it's not uncommon to find a breathed on Mk2 Golf diesel engine. Just watch out for wannabe tuners who have wound everything to 11, creating big smoke trails at any hint of acceleration. You probably don't want that!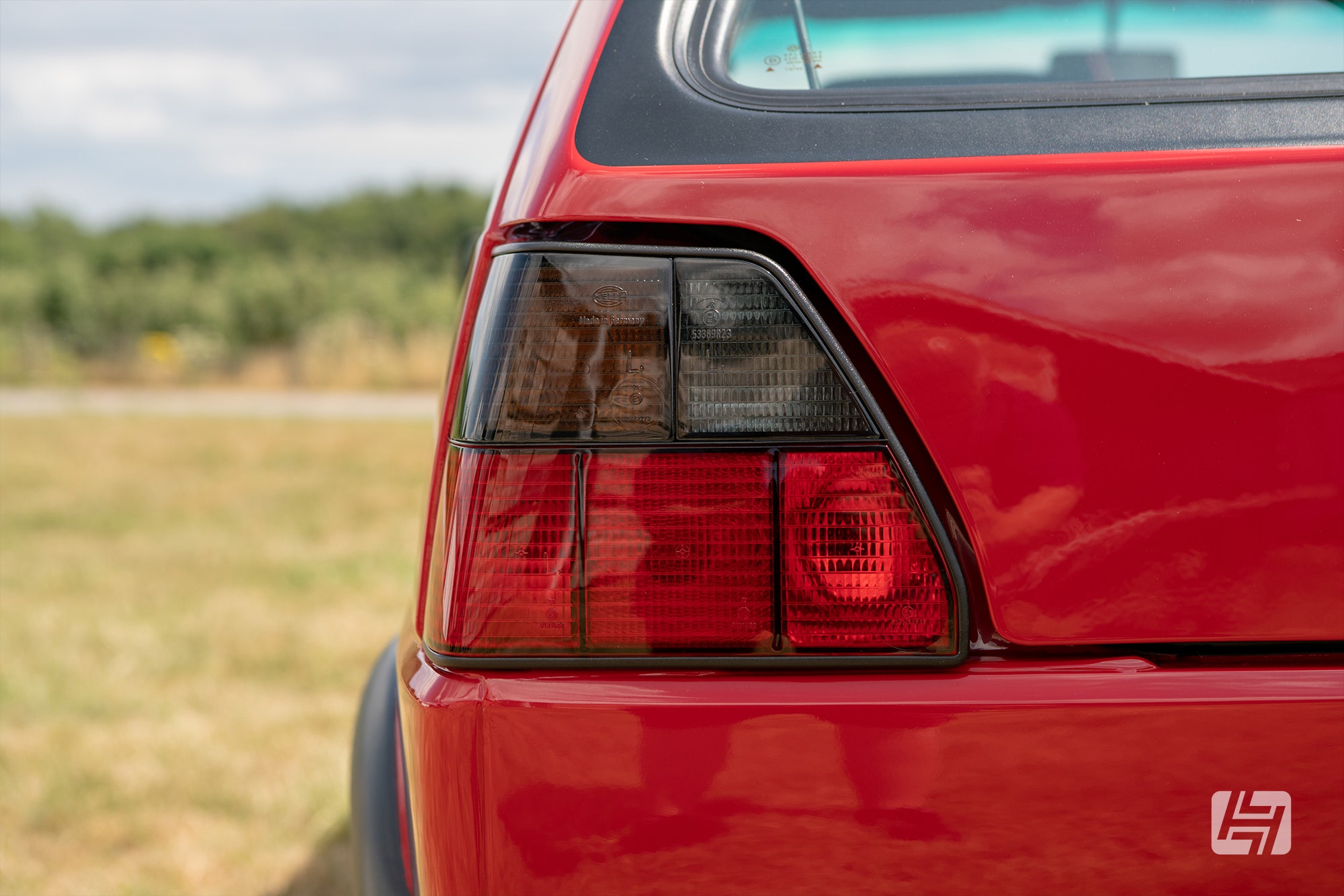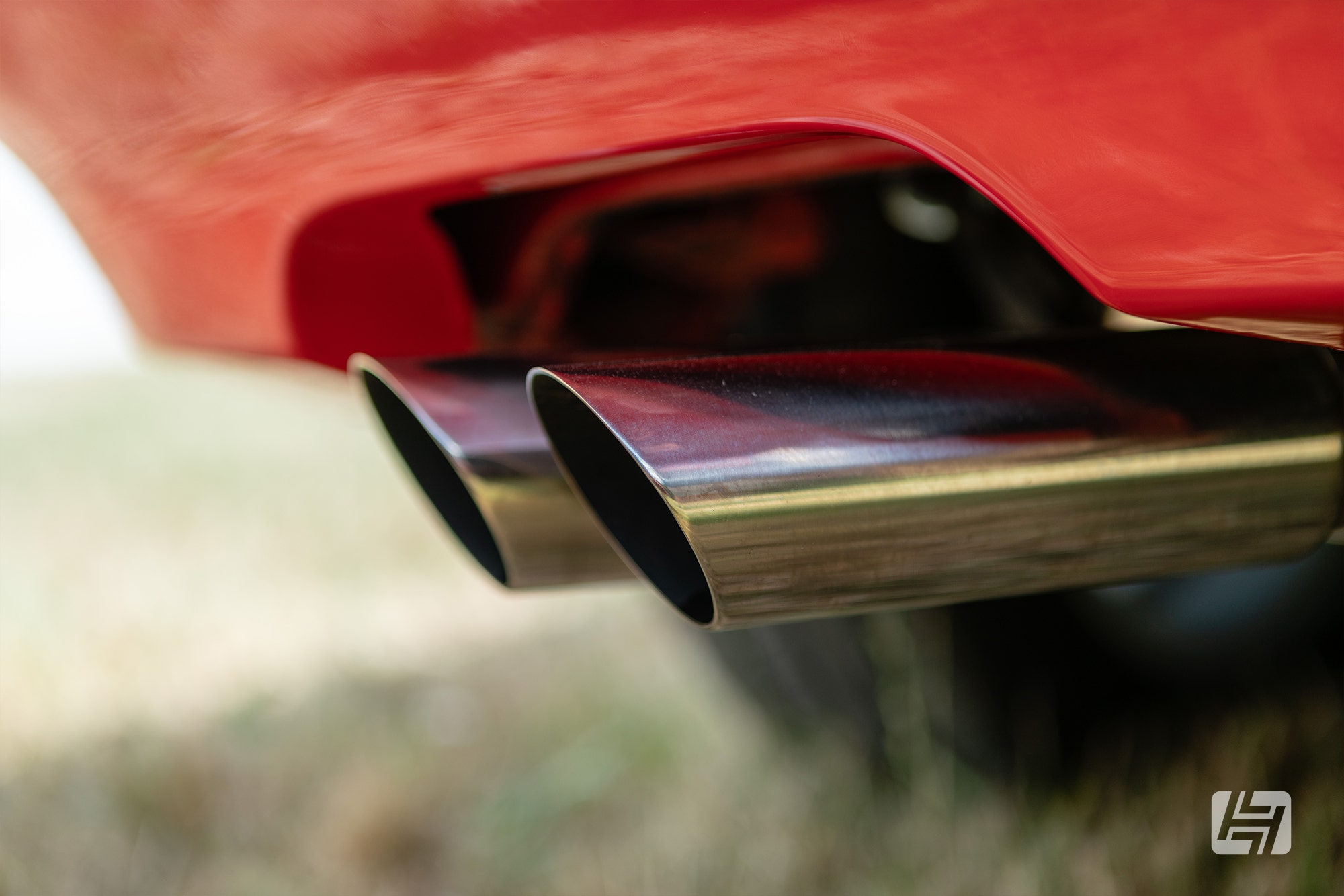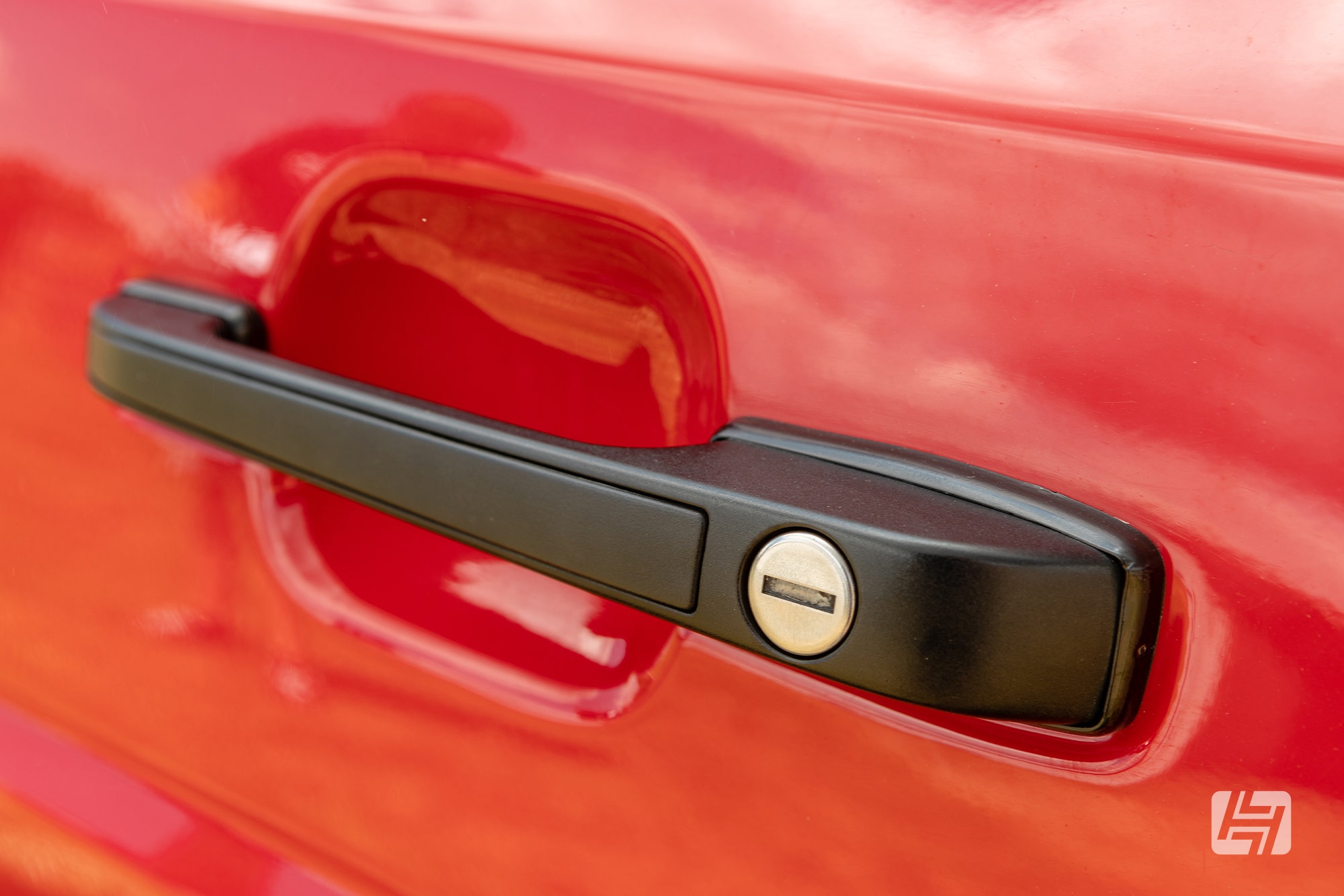 VW Golf Mk2 Gearbox options
A 4-speed, 4+E, 5-speed manual and an automatic were all options in the Golf Mk2. Nowadays you'll find the automatic cars are probably in the best condition, having been piloted by pensioners since new. A pedal swap and a 'box change aren't too tricky to complete should you wish cash in on a decent bodyshell. Alternatively, they drive alright for both running around town and longer trips. You may come unstuck if you have running problems though, with the kick down creating complications relating to the carburettor set up. This makes a quick
Weber carburettor upgrade
a more lengthy, although not impossible process. Whilst the 4 speed, typically found in the small block cars, is great around town you'll be praying for an extra cog should you try and exceed 70mph. The 4+E works wonders and the 5 speed in the GTI does the job nicely too.
Mk2 Golf clutches
can be fitted with either
manual or automatic adjustment clutch cables
and will last well in normal circumstances.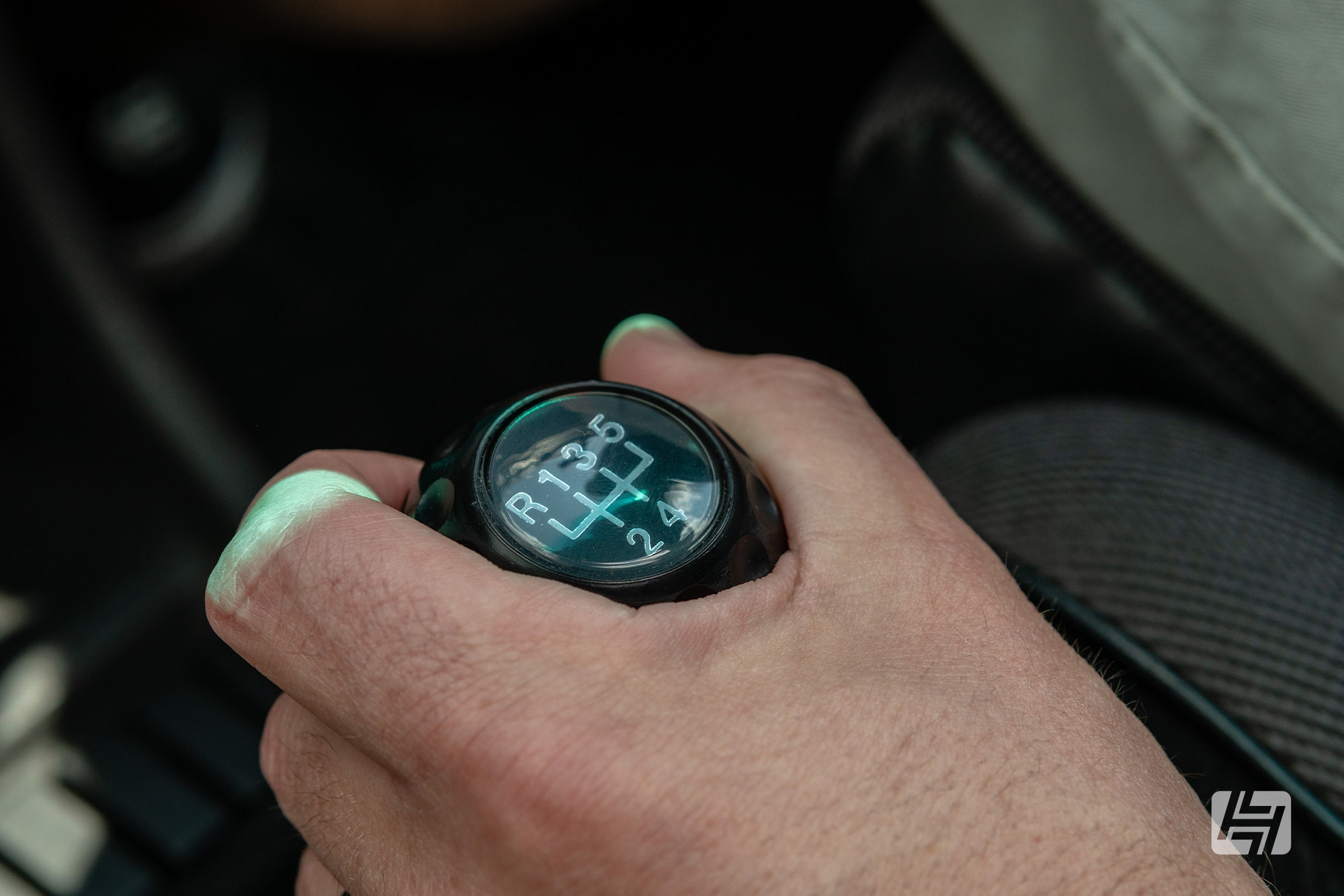 Watch out for rusty Mk2 Golfs!
The bodywork on all older Volkswagens is key when you are making a purchase of anything but a restoration project. In comparison to their peers, they have lasted brilliantly (when was the last time you saw a Vauxhall Astra, Ford Escort or Renault 19 on the road) but they still enjoy rusting before your eyes. Don't worry though; I bought a bad one, and I'll tell you where to check! The
Battery tray
is often affected by leaking acid, which corrodes the metal below so give that a once over. The
lower windscreen scuttle
loves to breed rust bubbles, especially around the
wiper blanking plug
. The inner wing is classic crud catching territory, and if the vehicle has no arch liners fitted try and get your hand up to inspect where the bonnet hinges mount.
Plastic arch trims
are another place that rust loves to hang out, and if they are held on with sealant rather than rivets expect to find further horrors as you continue your exploration. The
front jacking points
, just below the A-pillar are more often than not hiding some crispy metal under years of underseal. The same is true all along the sill, especially if the vehicle has plastic trims fitted. Sadly, the rust doesn't stop at the back either. Check the
rear axle mounts
, inner rear wheel arches and the
fuel filler neck support bracket
.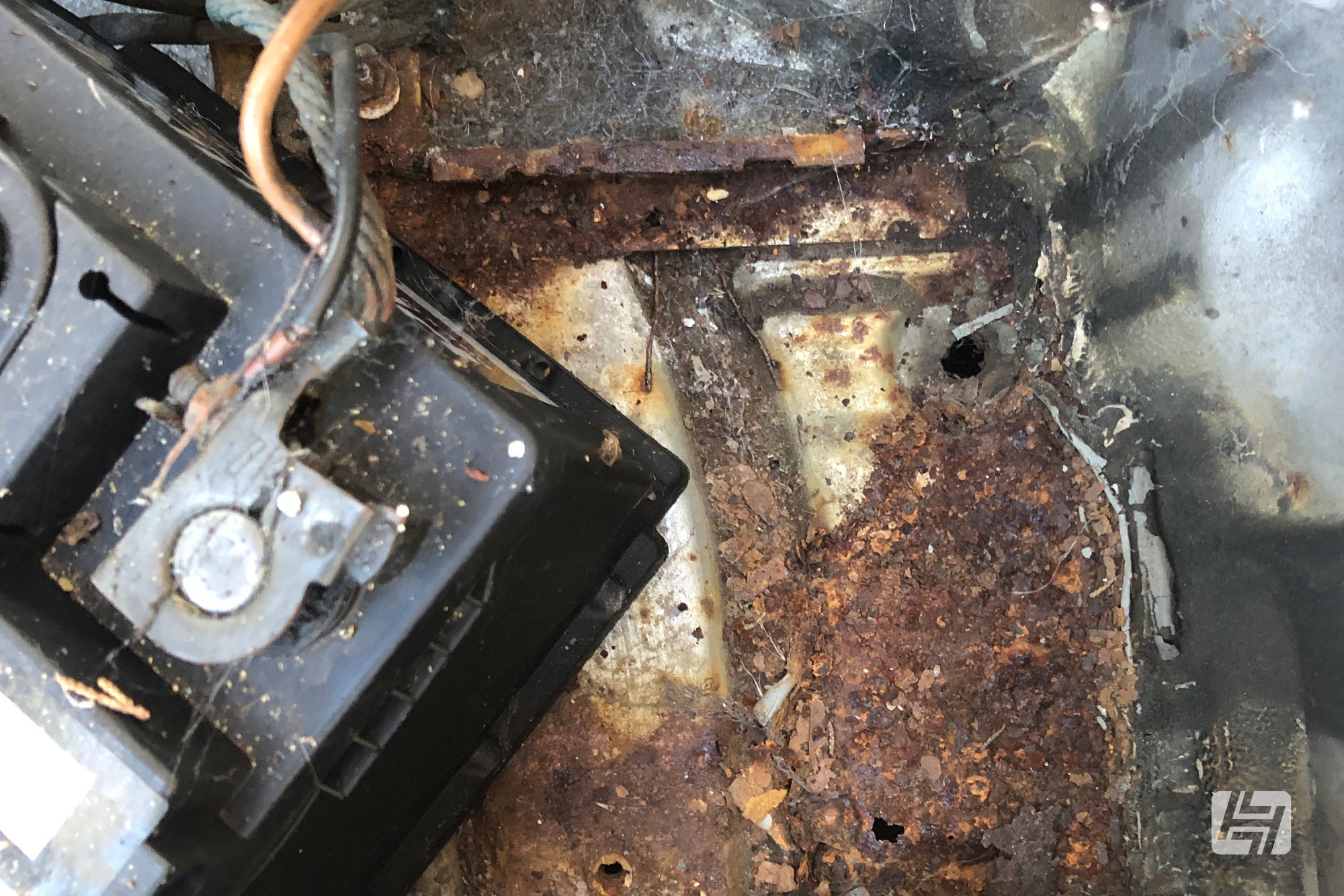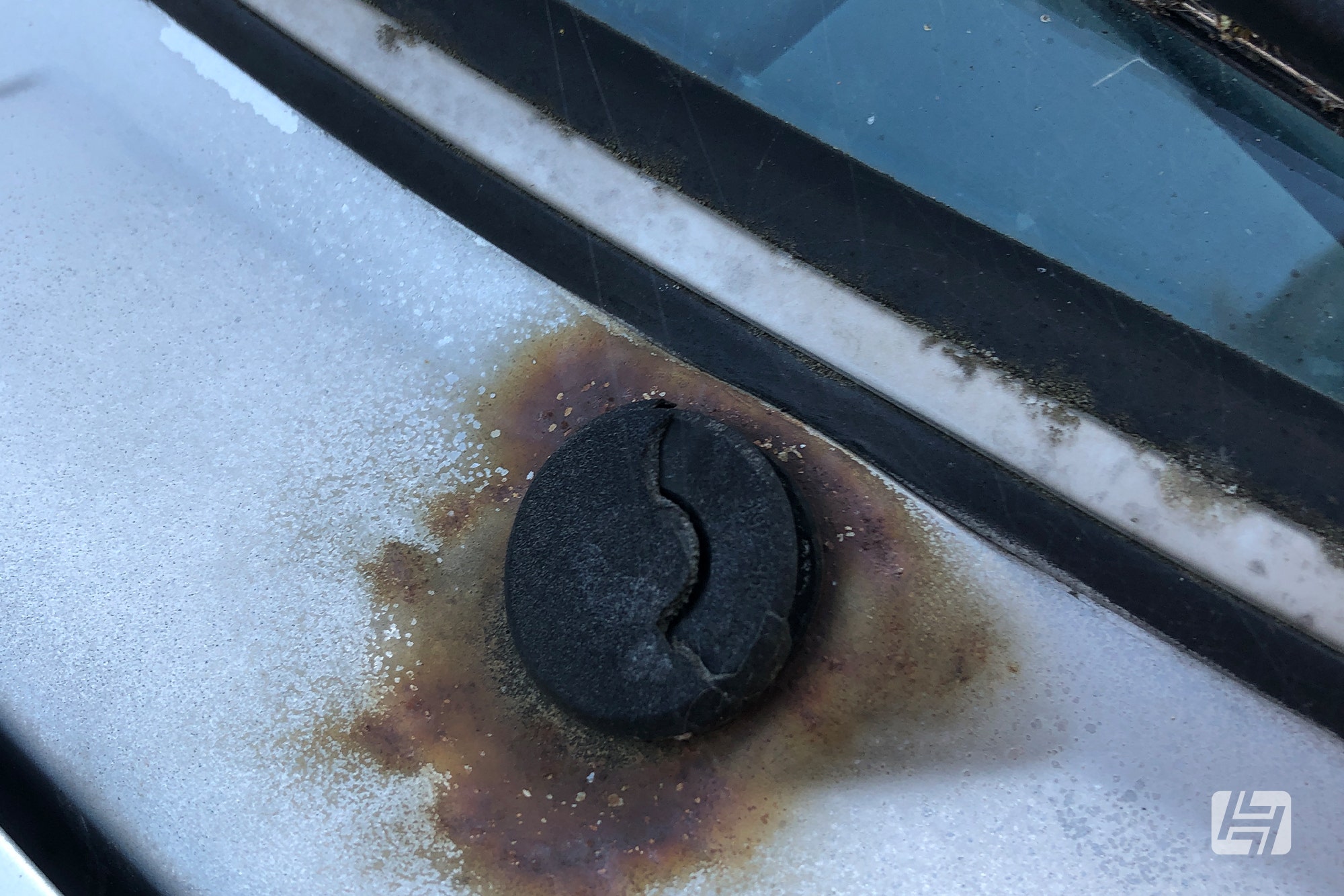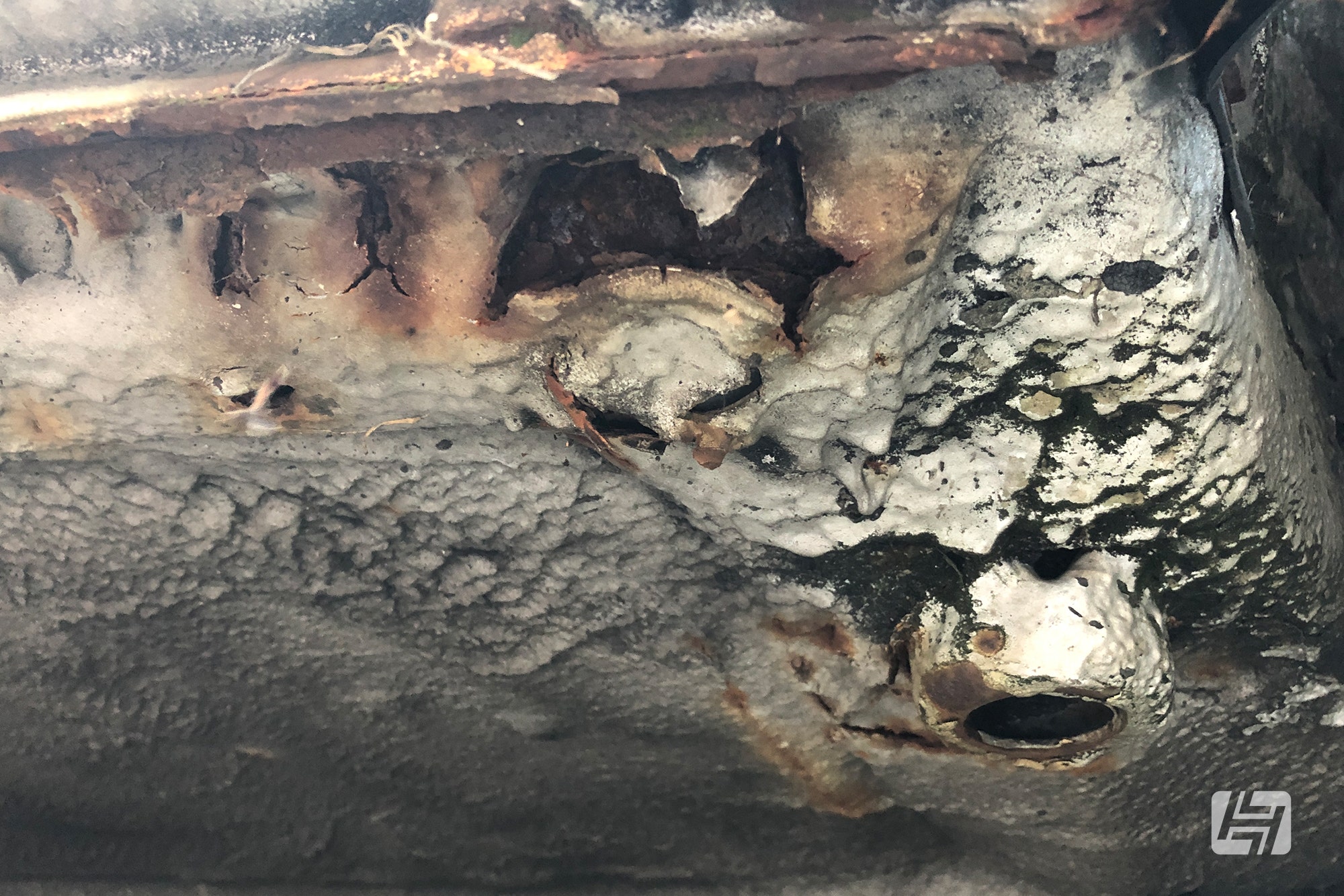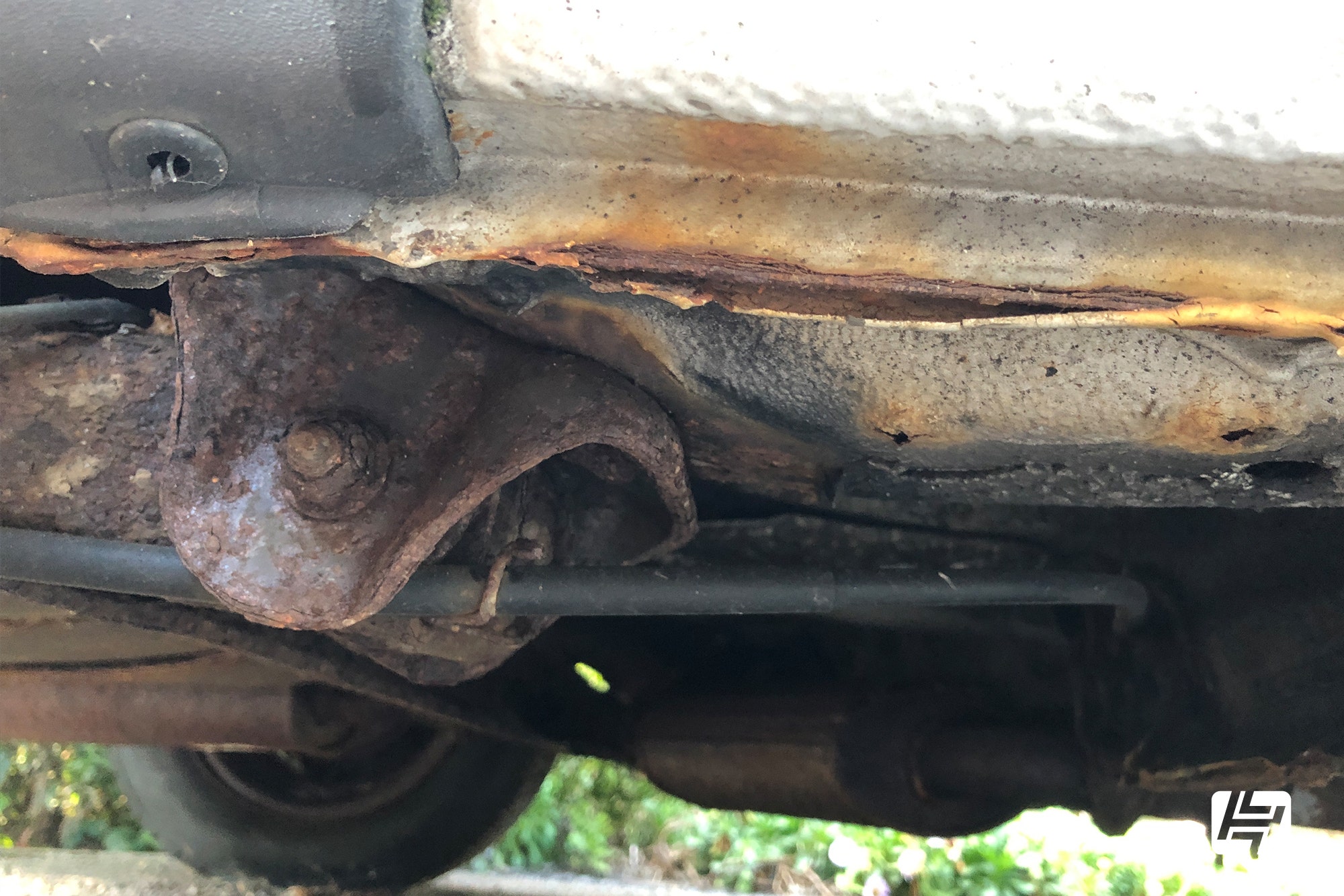 What goes wrong with Mk2 Golf engines?
Let's lighten the mood and inform you that Golf Mk2 engines are pretty decent. You are unlikely to find a sub-100k mile car these days, but don't let that put you off. Listen to the engine on startup, check for smoke and flick through the service book to ensure the oil and oil filter has been renewed as recommended. Don't panic if the handbook is full of receipts, rather than stamps from a dealer or local independent, a
Golf Mk2 engine service kit
isn't expensive and is pretty straightforward to carry out for your peace of mind.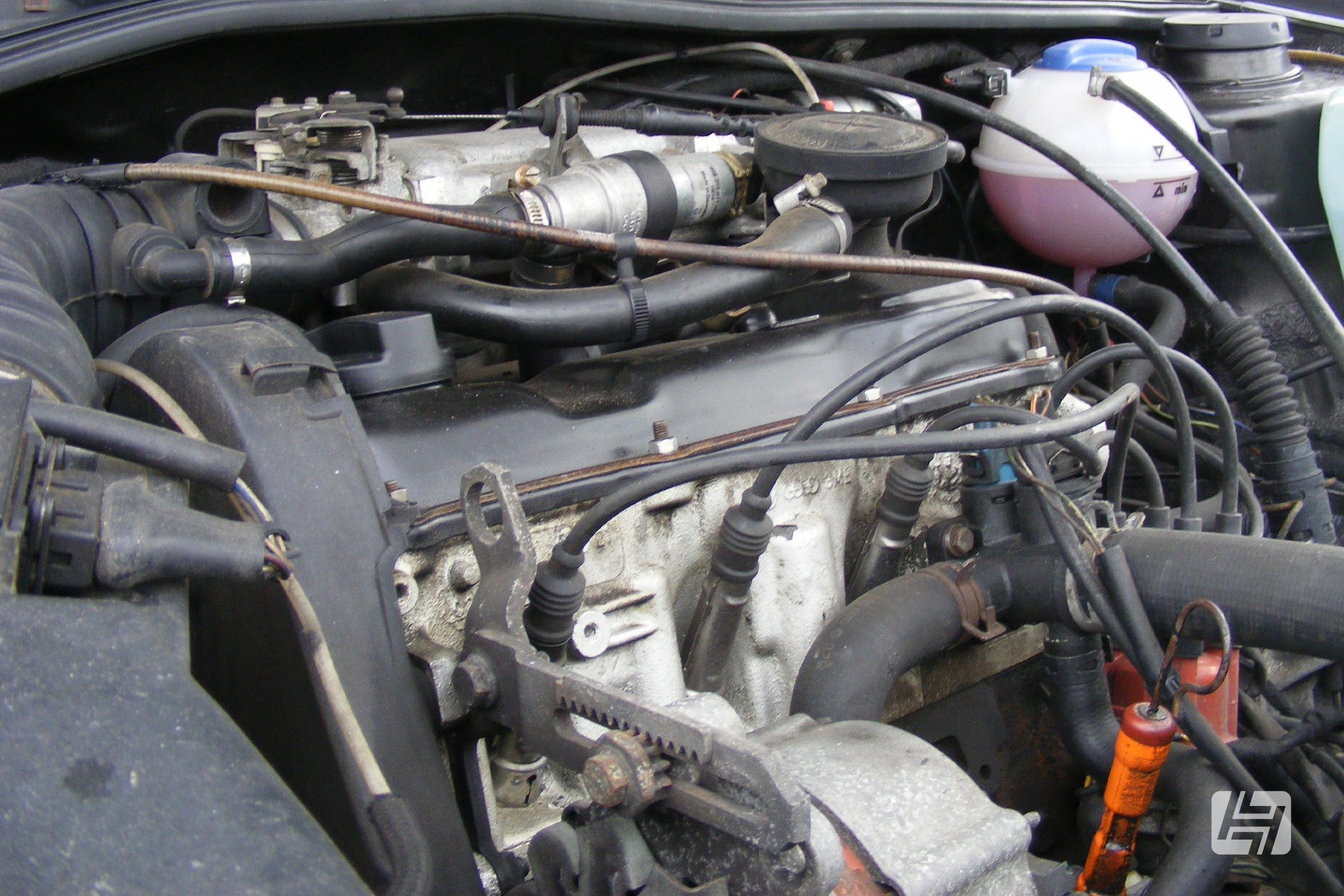 Mk2 Golf Steering and Suspension
If power steering is your prerogative this option is easier to find on post '88 cars. Whether you are driving the car daily or have your sights set on wide wheels you'll certainly benefit from a little hydraulic assistance. On the other hand, if the race track is calling you'll likely prefer the feedback that a manual steering rack offers - be it an early GTI, or 'downgrading' a later PAS car. Check for noisy steering which could be the sign of a noisy
PAS pump
. Heavy steering could be down to worn
top mounts
, under-inflated tyres, or wide wheels. Suspension wise, keep an ear out for knocks and bangs. The
rear axle bushes
will probably need doing if they haven't been tackled in the past decade, especially if the vehicle has been lowered. Many owners choose to fit a
polyurethane rear axle bush
, like the Powerflex version for added longevity. This can be fitted to a standard or modified vehicle.
Replacement Mk2 Golf suspension parts
are readily available, and far from bank-breaking. Many owners will replace
lower wishbones
,
ball joints
and
tie rod ends
as a matter of course when carrying out refurbishment work. All corners feature shocks and springs in factory-trim though many have passed through the hands of modifiers over the past 30 years. Don't be surprised to hear or see a car fitted with
Golf Mk2 lowering springs and uprated shocks
or
coilover suspension
. It's relatively easy to swap over should you wish to change the previous owners choice once you take custody.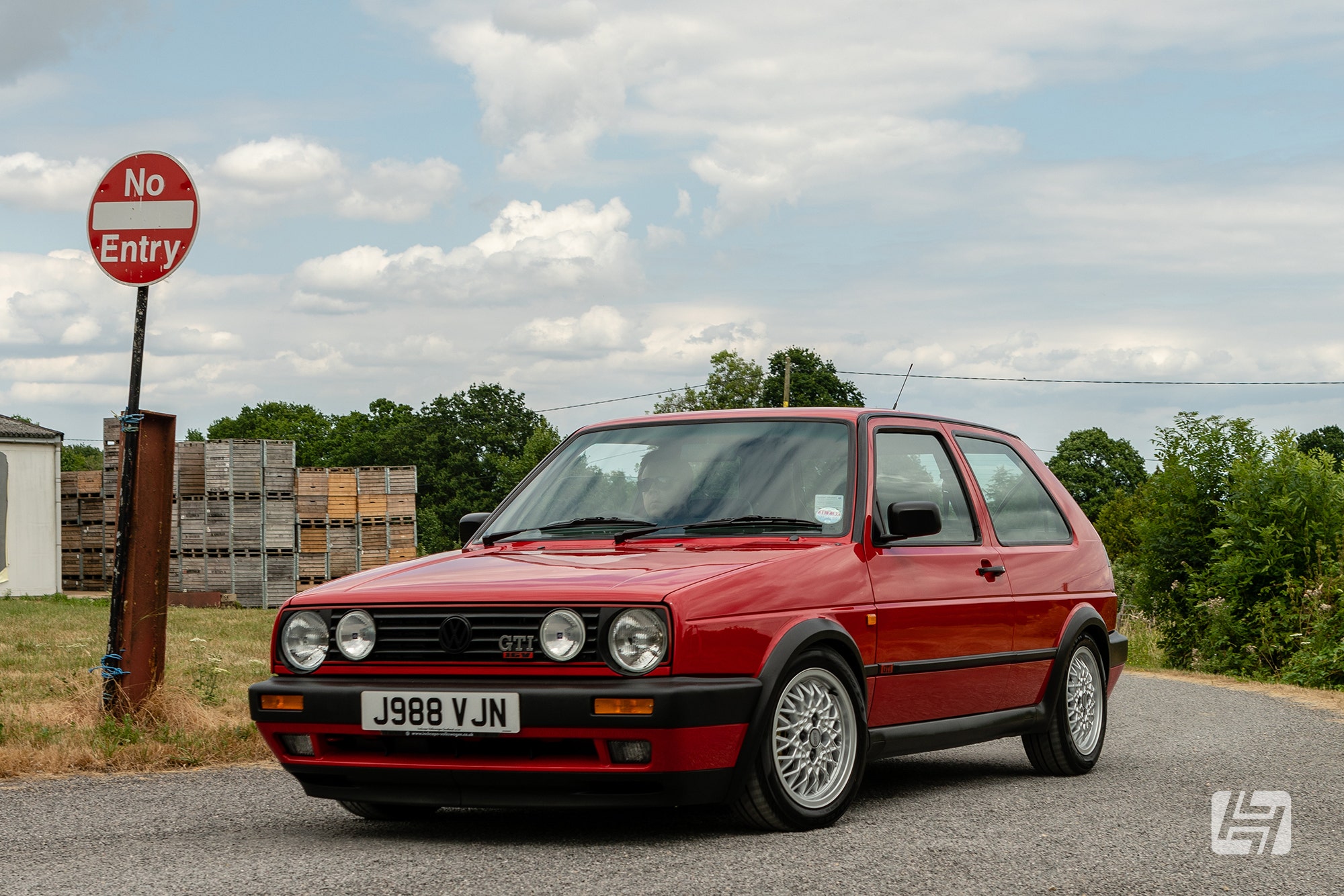 Mk2 Golf Brake Problems
All second-generation Golfs came equipped with a brake servo, so expect a reasonably responsive middle pedal when it comes to applying the anchors.
Question when the brake fluid was last changed
, and budget for a
set of stainless brake hoses
if you plan on putting your new purchase through its paces. Discs were standard issue on the front for all models in 239mm, 256mm and 280mm diameter on the G60 models. Entry-level models were fitted with 239 x 12mm solid front discs, but these can be upgraded to vented with different pads and 239 x 20mm discs. The G60 upgrade with 280mm discs is commonplace with new carriers, caliper, discs and the hoses will need changing. This upgrade does require the fitting of 15" or larger wheels to clear the brakes. The rear axle featured drum brakes on all but the GTI models. Sadly the Mk2 GTI rear brake calipers are prone to seizing if they are stood for too long, so owners often upgrade to the more reliable
Mk4 Golf rear brake calliper kit
. The later spec
22.2mm Master Cylinder upgrade
is also possible for those who are serious about stopping.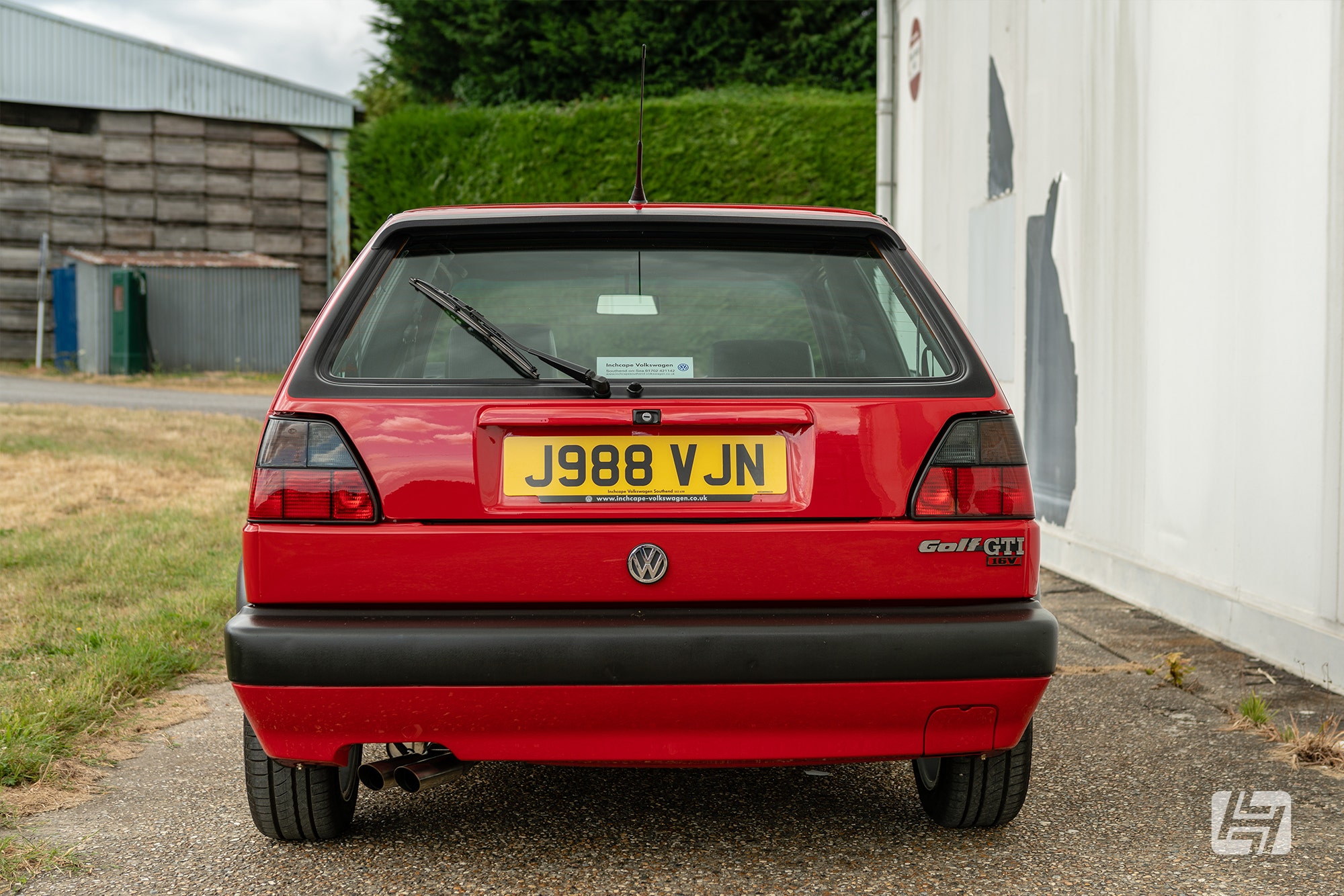 What wheels should a Golf Mk2 have?
The Mk2 Golf range had various wheel choices when launched. Early base models rolled on 13" steel wheels. These were later replaced with 14" steel wheels, with beauty rings and flat centre caps in the case of the Driver models. The GTI versions came either with a 14" steel 'pepperpot' style wheel or alloy wheels in a variety of styles including the 14" Silverstone (teardrops) and 14" Montreal (bottle tops) as found on the GTI 16v. Later GTIs were offered with a host of BBS rolling stock including the 15" single-piece RA and the sought after 2 piece split rim option, BBS RM. There are a host of BBS replica wheels on the market, such as the
Lenso BSX
. These look the part and can be fitted with BBS decals quite simply, should you wish. As with all second-hand car purchases, ask the seller for the locking wheel nut key. If the vehicle runs negative camber or has stretched tyres ensure the inside edges are within the legal limit before you take to the wheel. The 4 x 100 PCD fitment, as found on the Mk2 Golf  is one of the most common, so don't write a car off just because you dislike the wheel choice. Especially if you've inspected the body as solid! Common upgrades include the
15" G60 steel wheel
and the 15" Sebring wheel as found on the Rallye and G60 Corrado.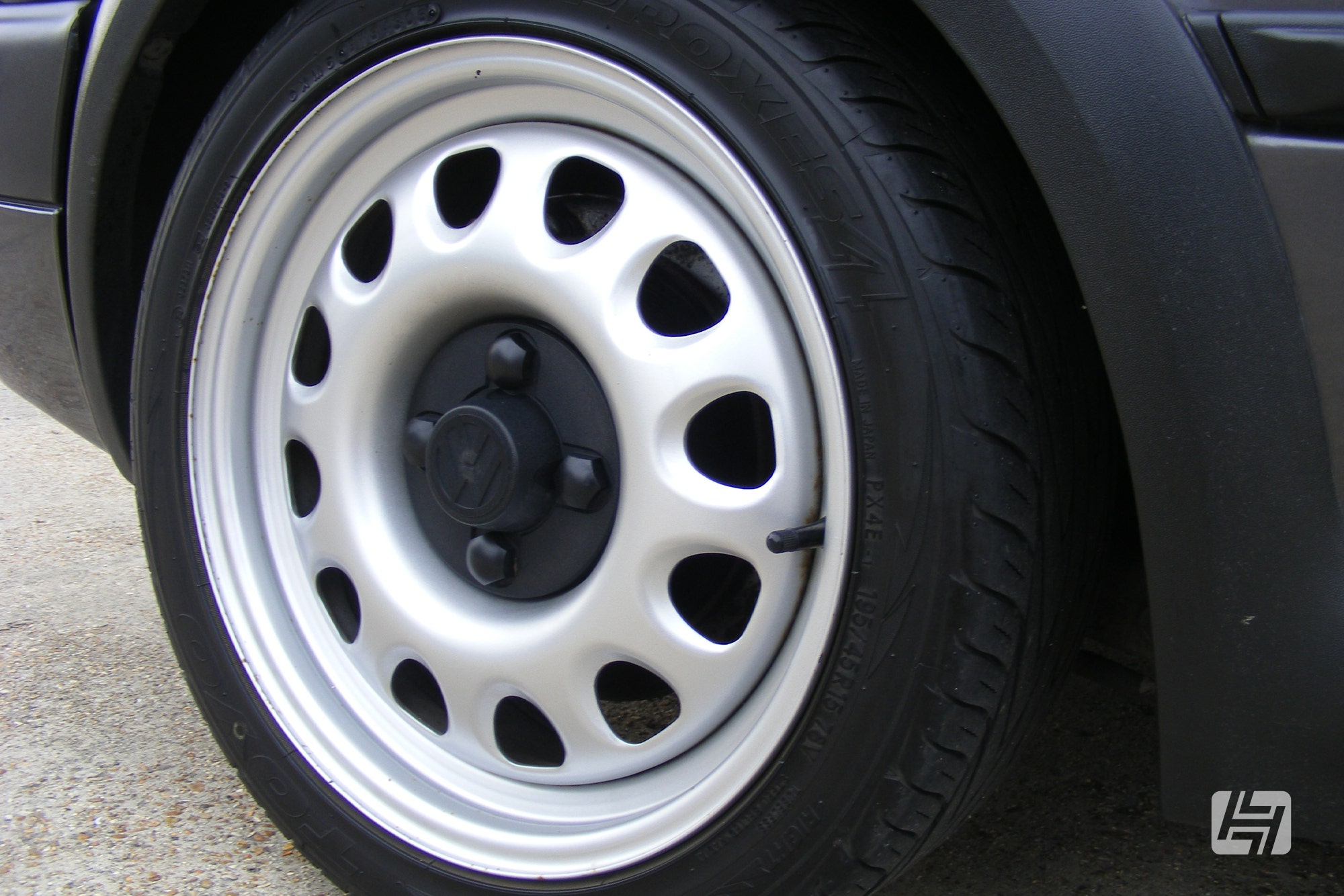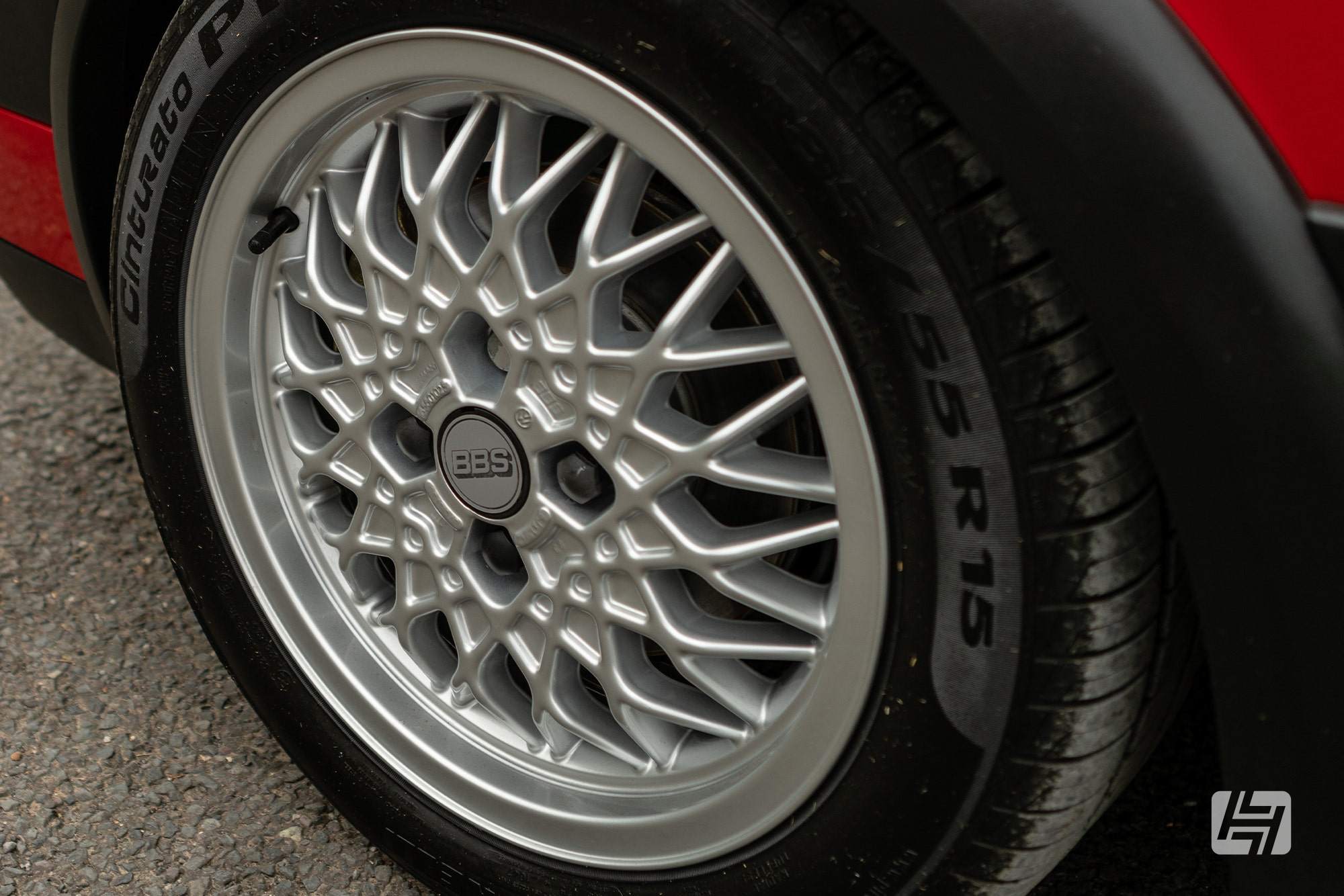 Golf Mk2 Trim and Body
Some
Golf Mk2 body trim
is still available new, but generally, a full set is not. So view any missing trim as an inconvenience if you are looking to keep the vehicle in original condition. Early cars had rubber trims stuck to the flanks. Later cars had trim attached with plastic trim clips. 3 and 5 door vehicles share only the front wing and rear arch spats or arch trims in common, so the doors and quarter panels will be different.
Golf Mk2 bumpers
are available, but now only as reproduction parts. With the Golf Mk2s popularity as a show car, the desire for perfect plastics has taunted enthusiasts for more than ten years. A decent body shop will be able to repair scuffs and re-texture the bumpers if required, but of course, it'll add extra costs to your project. All models can have big or small bumpers fitted, the mounting clips will need changing and big bumper cars don't have a
front valance
fitted, so you'll need one of those if you are backdating. When it comes to plastic wheel arch trims there are 4 different versions to be aware of. The first was found on pre '87 cars and can be identified by a lack of side moulding included on the front arches. The later version fitted between 88-92 had a thicker side trim attached. The '90 spec arch trims fit with the moulded side sill trims and marry up with the popular big bumpers. Lastly, the holy grail for Mk2 modifiers, the G60 wheel arch trims, which follow the same style as the '90 spec items but are 22mm wider at the front at 8mm wider at the rear. They can be spotted by the /D suffix at the end of the part number, should you stumble across a set for sale.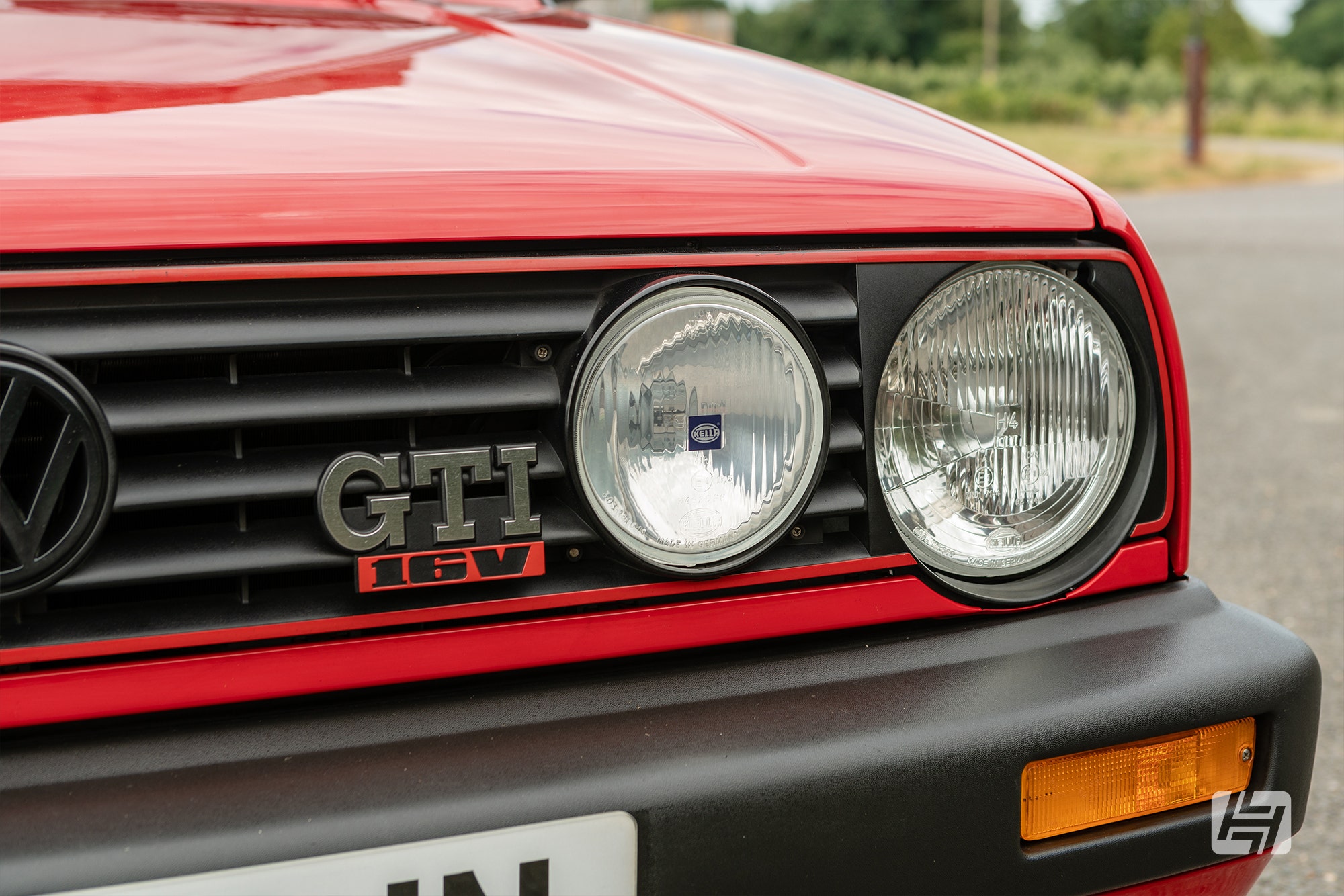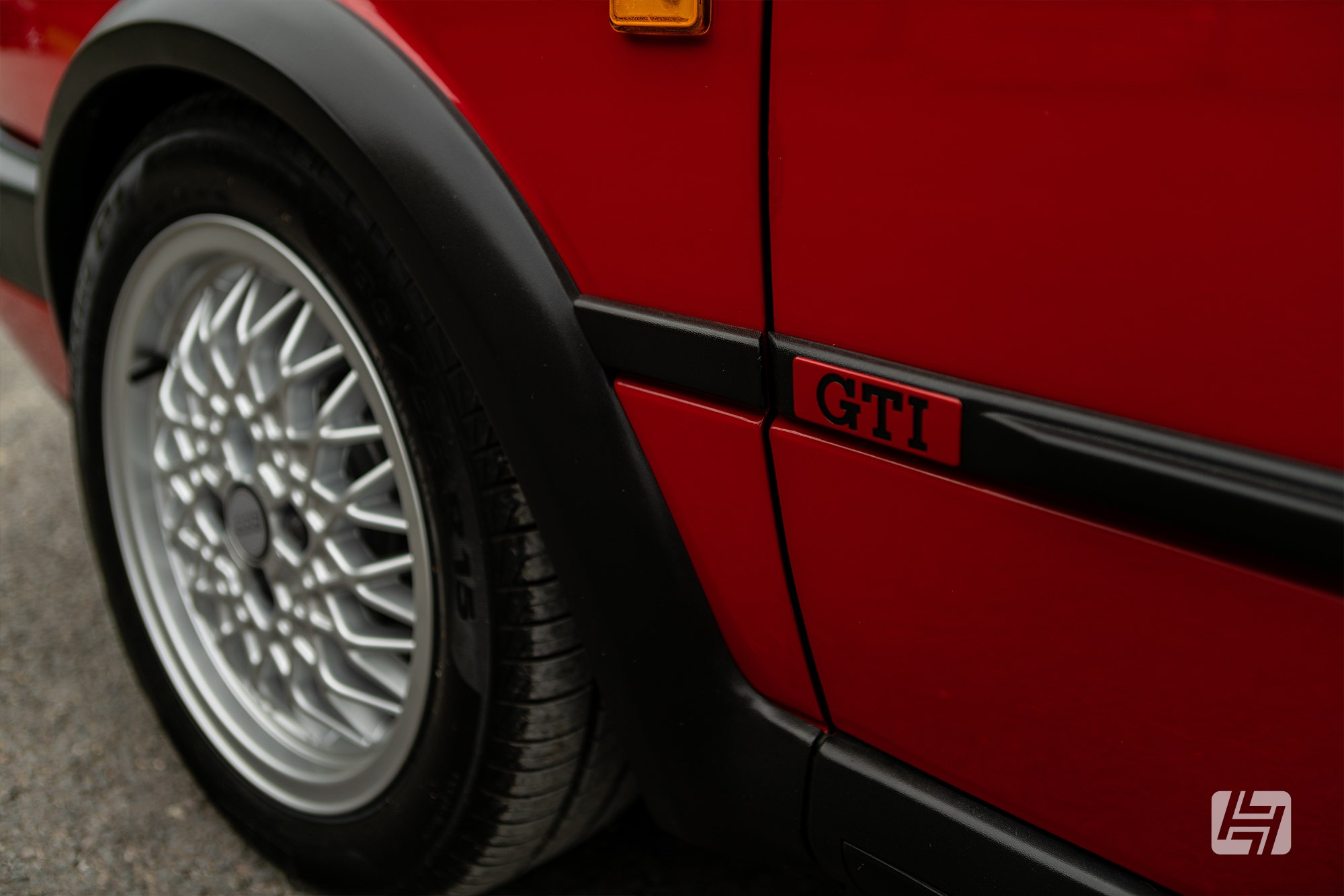 Mk2 Golf Interiors
The
Mk2 Golf interior
has aged really well. It's laid out nicely and was made of a decent plastic, which doesn't tend to crack or discolour. Most vehicles will have black dashboards, carpet and seats to compliment, but don't be surprised if you see an earlier car with an all brown or all blue interior. Whilst no doubt charming, these retro colour schemes are less desirable to the average enthusiast. Seats have survived pretty well, but bolster wear and cigarette burns are common but don't fear,
replacement seat material
can be sourced for a number of the trim options. Worn out foam can be repaired or replaced and if you don't fancy the job yourself just google coach trimmer for a specialist to tackle the work for you. When it comes to seats, original factory fit Recaro options are the king of the roost, especially if they have electric control. They will easily add £1000 on top of the typical asking price and change hands quickly on the second-hand market. Beware of Mk3 Golf Recaro seats fitted, although there is nothing wrong with this you shouldn't really be paying a premium for the pleasure of these post '92 pews. Leather was a factory option but doesn't tend to age well, and as a result, shouldn't command any extra cash over the cloth. For the C, CL, and GL models a good condition original seat is great if you want to keep the car stock. Alternatively, many cars have been upgraded to have GTI seats installed for extra support and comfort.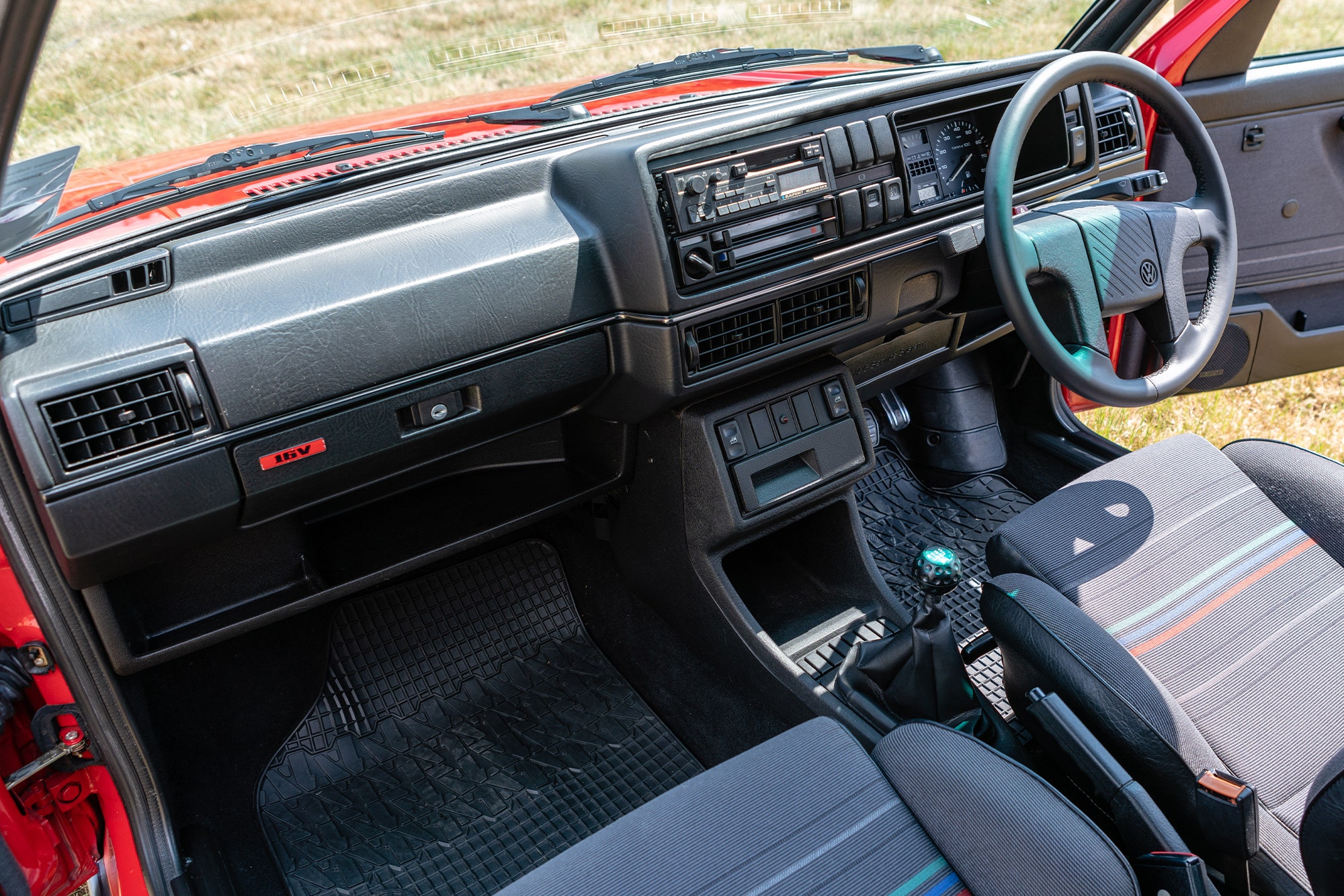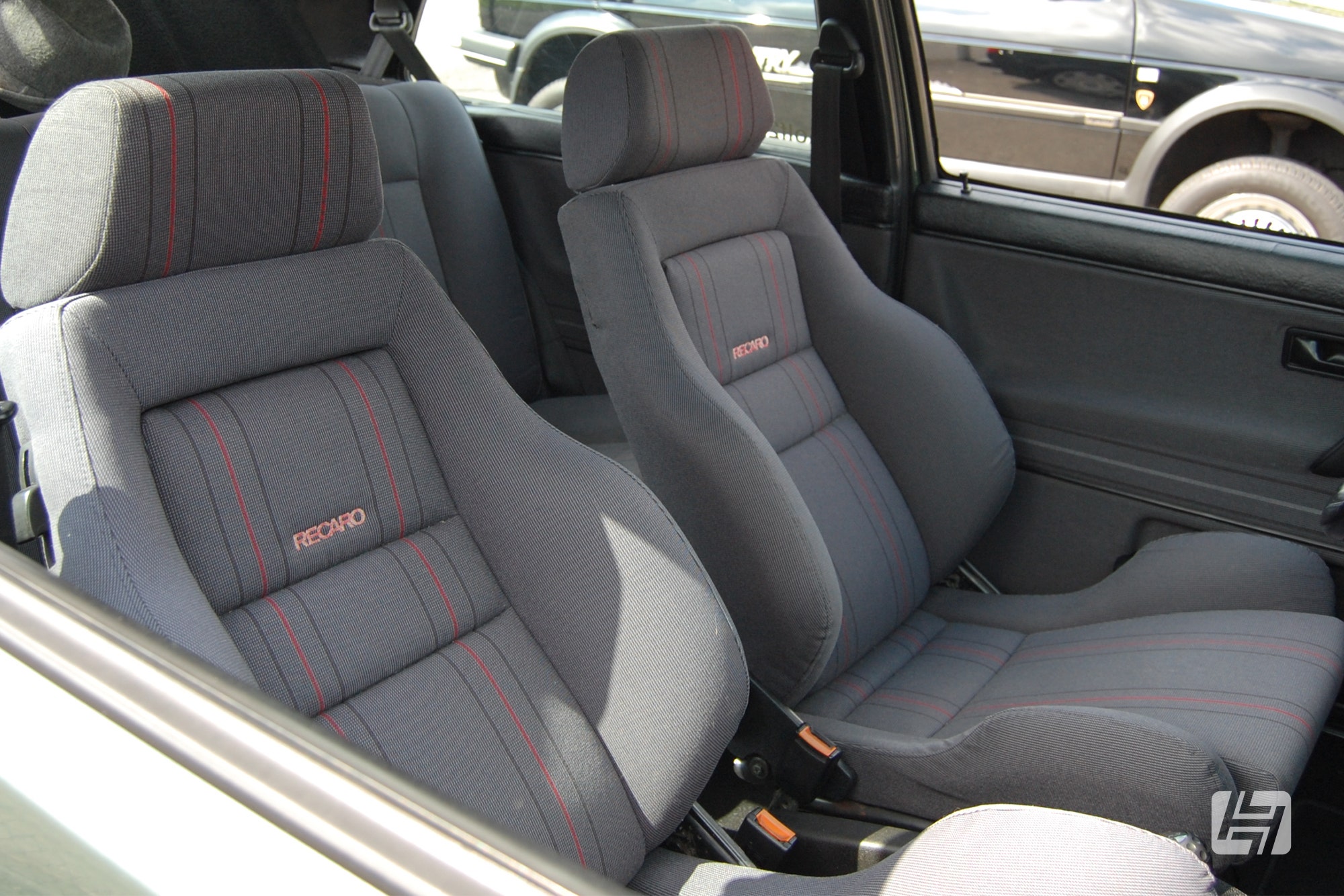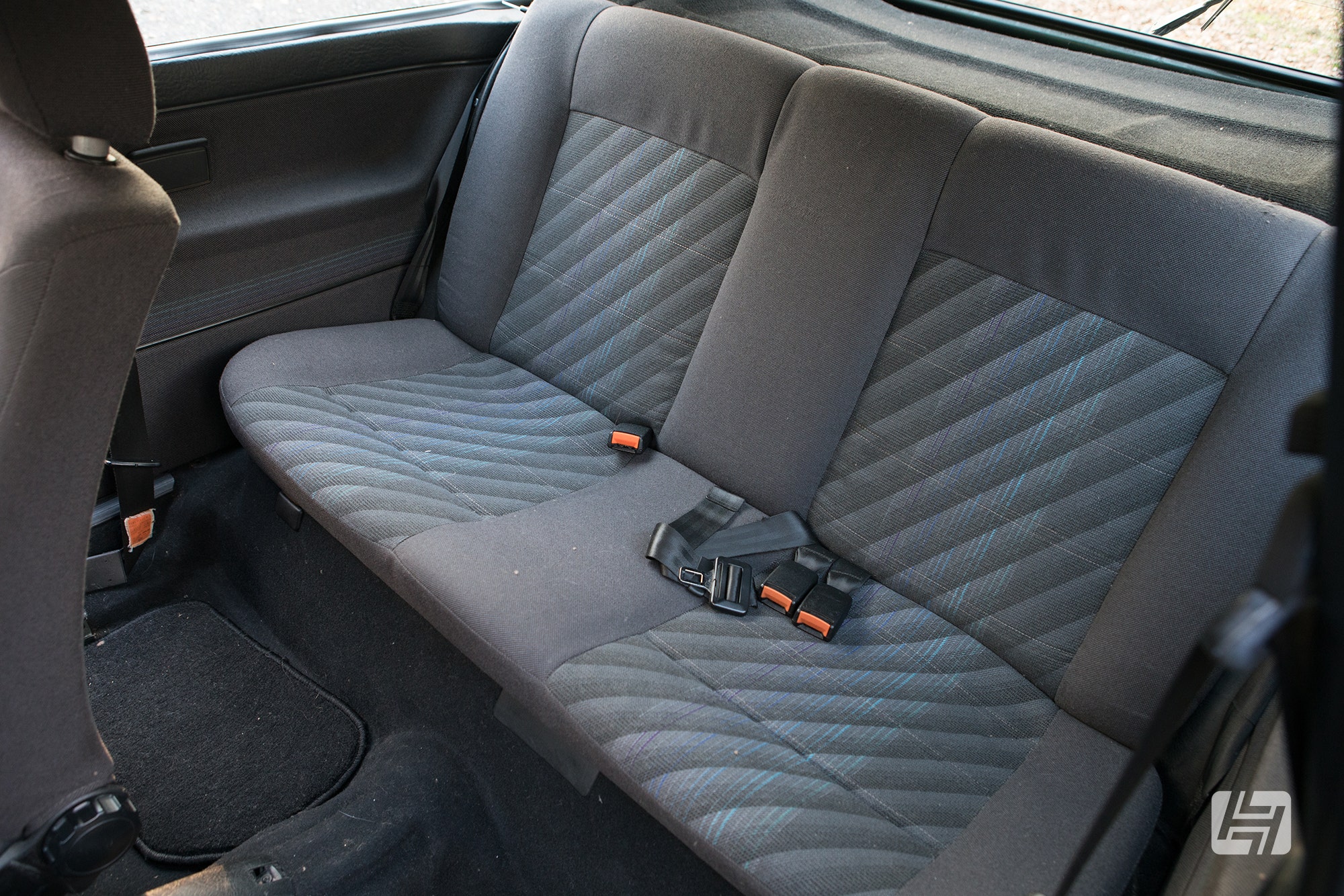 Golf Mk2 Carpets
are hard wearing and are the same between 3 and 5 door cars. We stock these in both LHD and RHD should you need to source replacements. An uncut, original parcel shelf is a nice bonus if you can get it although a replacement
Golf Mk2 parcel shelf
can be supplied if required. Puddles do appear in the footwells of Mk2 Golfs - possible sources include missing door membranes, blocked sunroof drain tubes, rusted windscreen surround, perished tail lamp seals and through the heater vent under the scuttle panel. The headliner is one of the Golf Mk2s biggest flaws and over time the material separates from the hardboard backing and sags down onto the heads of rear passengers. Quite frankly this ruins an otherwise lovely interior. We have reproduced the original black GTI vinyl material and can supply it as a
DIY headliner kit.
Take a watch of this great '
how to video
' if you fancy tackling the job yourself.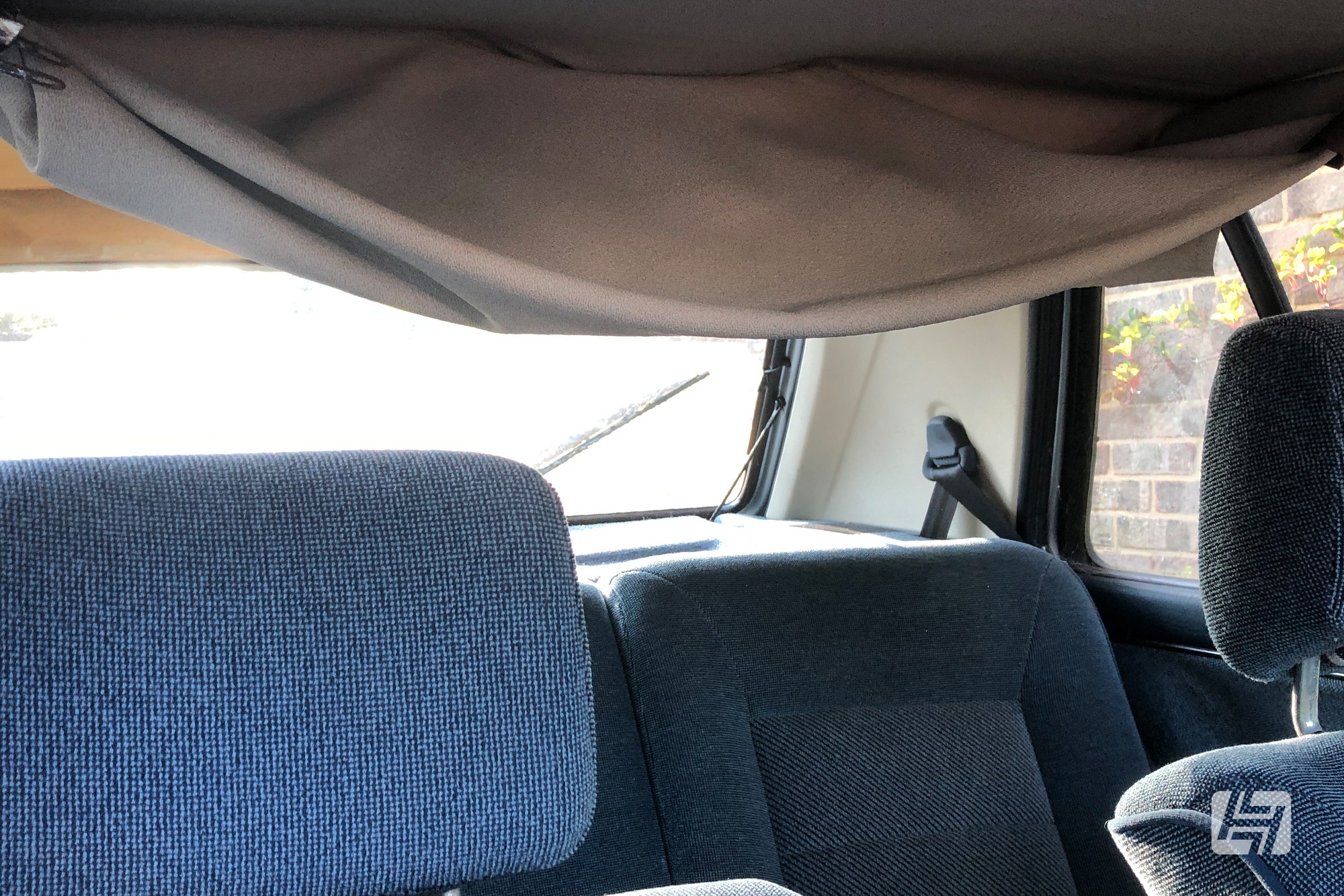 What should you know about Golf Mk2 Electrics?
There is an early and a later wiring configuration on the second-gen Golf, known as CE1 and CE2. It changed in around 1989 and can be quickly identified by the position of the
hazard light switch
. CE1 cars have the hazard switch on the dashboard, to the side of the clocks. CE2 cars have the hazard switch on the top of the steering column. What does it matter? If you are planning an engine conversion from a later car, starting with CE2 will make life a lot easier as the wiring loom from your chosen motor should plug straight into the Golfs fuse box. When it comes to mod cons GL and GTI models feature central locking. This is operated by a vacuum pump mounted in the boot, behind the tail light. The central locking also operates a catch for the fuel filler flap too. Should this stick shut, you can manually free off the fuel filler flap from inside the rear 1/4 panel, via the boot. Very few cars have Air-Con, but if you find one that does, don't expect miracles when it comes to blowing an ice-cold breeze.  Unless you purchase a 1 owner car, you'll probably find the audio wiring to resemble a birds nest and its practically a given that some kind of alarm system will have been installed once upon a time. Replacement
Golf Mk2 electrical parts
are easy to come by. However, if you are searching for
Mk2 Jetta headlights
we can only offer LHD and if you need Rallye lights you'll have to source some expensive used items.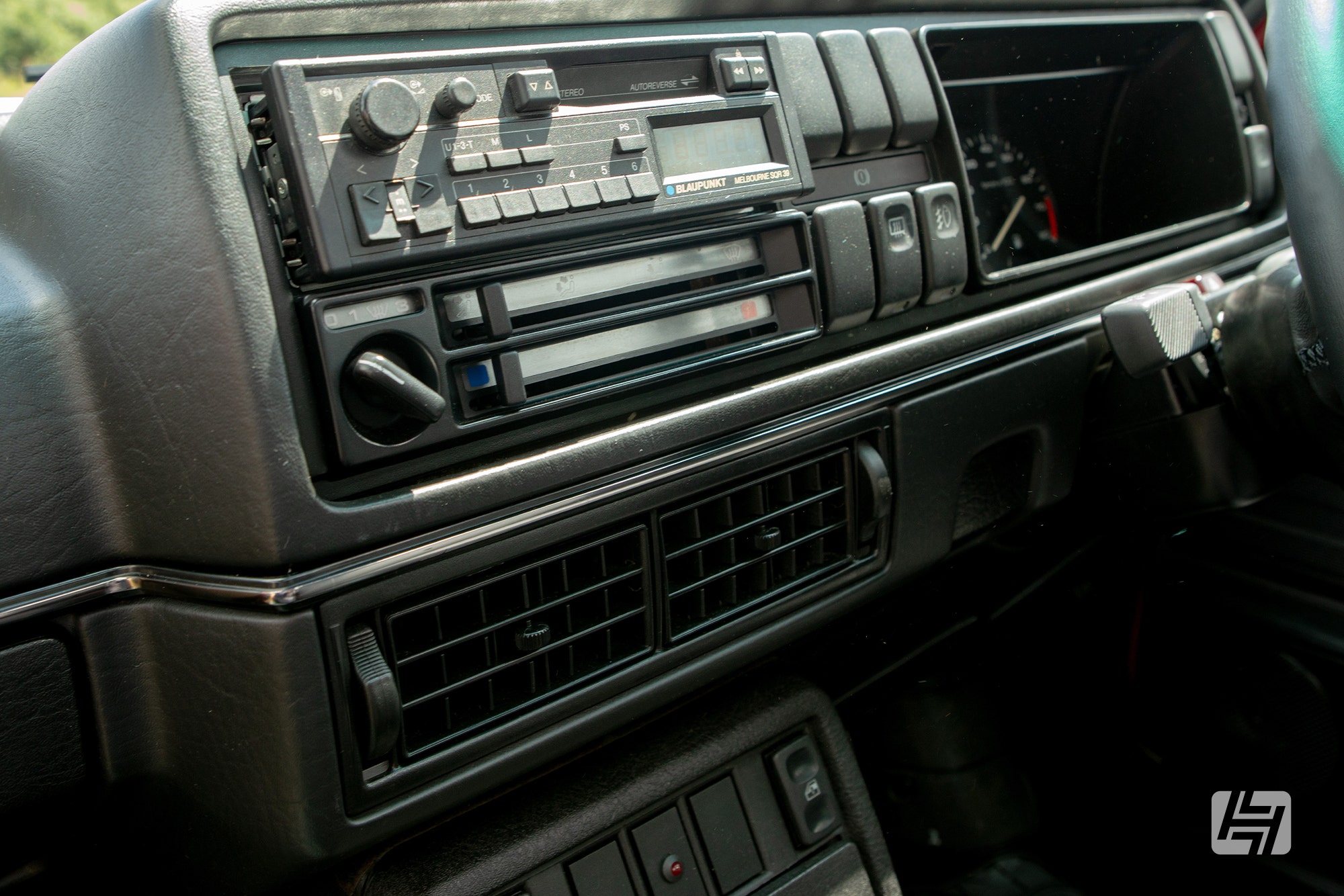 Buying a modified Golf Mk2
There aren't many Mk2s out there that haven't received a little tweak or two over the past 30 something years. There are several questions you should ask to help you navigate the minefield that is purchasing a modified car. Can the car be returned back to standard easily? Does it still have its original engine? Is the colour original, or at least a colour that was offered at the time? What do you want from the car once you have bought it? Engine swaps have been prolific in the Mk2 since the mid-nineties, firstly the G60 and 2.0 16v ABF, then the VR6, then 20v Turbo and R32 and most recently the TFSI/TSI from the latest era of GTIs. All have their merits, but it is the installs that look like they were done by Volkswagen which are worth paying for.  A rushed DIY engine swap, with birds nest wiring, multiple silicone hoses and jubilee clips is a disaster waiting to happen, and despite the increase in power it may bring, it has probably devalued the vehicle over its former, more original power plant. If you are looking at a car that has been slammed to the floor on hugely wide wheels, expect to find the wheel arches butchered behind the plastic trim and the chassis leg clearanced to make room for the driveshaft. There's an army of Mk2 Golfs running air suspension nowadays; ask who fitted it, and also what safety precautions are in place in case of an air leak.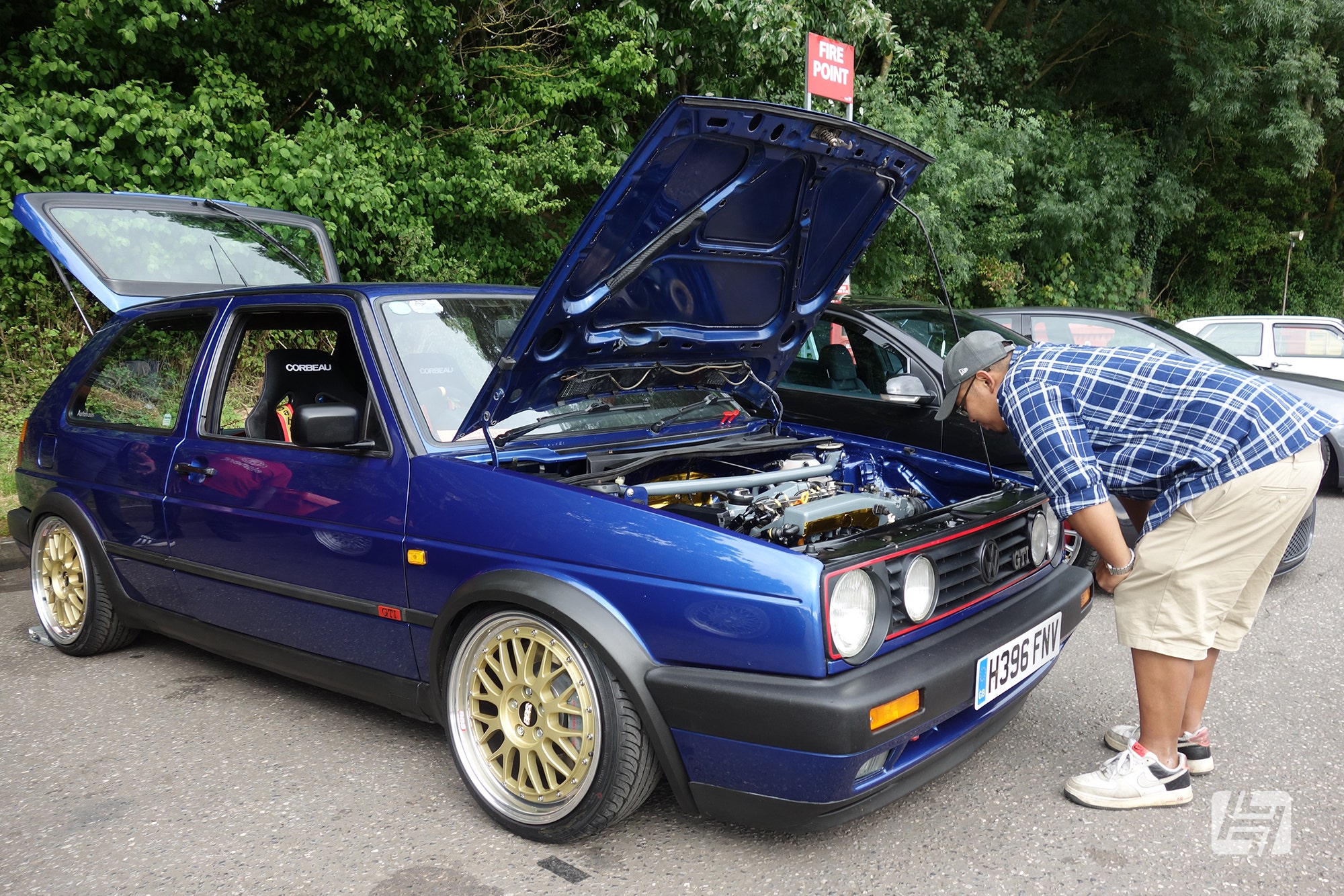 How much is a VW Golf Mk2?
You get what you pay for with a Golf Mk2. You might find an absolute rotter of a car for £200, but unless you are stripping it for spares you'll be into many thousands rescuing it. A sensible project is going to set you back at least £1000, and you'll be paying double that for a GTI badge on the back. When it comes to a new daily driver, we would suggest you'll be needing at least £2500 for anything with an MOT, and roadworthy GTIs are easily commanding twice that, especially if they are the more sought after 3 door examples. Shopping for an investment? Regardless of the car, the rules of the game remain the same. Rarity, low mileage, low owners and stacks of history. The pick of the bunch is the GTI 16v, with good examples changing hands amongst enthusiasts before they even make it onto eBay or Car and Classic. Don't write off the 8v though, they are a great car and good ones will hold their value. Smaller engine models should be cheaper unless you stumble across a real unicorn, with ridiculous mileage or a celebrity owner. Syncro examples are few and far between and are often pillaged for their running gear to power high power race cars. Automatics are typically 5 doors and less desirable to the masses wanting their retro hot hatch fix. When it comes to colours, buy something you like, but take care with the iconic Tornado Red, especially if its a wet day. This colour is nicknamed "Tornado Pink" for its habit of fading. Oak Green and Bright Blue Metallic are typically followed by "rare" in adverts. Whilst this is a bit of an exaggeration, they do look great and these cars always sell well. What is the top end? Well, we reckon you'd struggle to drop more than £20k on a standard Mk2 GTI. There are a number of specialist dealers who supply 'modern classics' who'll generally advertise a sorted car between £12-20k. If you are browsing on eBay, £7-£12k should see you driving home with a decent sized smile on your face. Best of luck with your search, I hope we've given you some food for thought when it comes to shopping. Take your time, there are plenty out there. Andy