It's been a while since we stocked a full assortment of camping and outdoor equipment, but after the past few years with the rise in popularity of Campervans and the 'Staycation' taking preference over a trip on a plane it seemed like the right time. What's more, we've teamed up with a great company...
Introducing Coleman
There aren't many businesses that can boast more than 100 years in their industry, but Coleman is one of them. Founded in Alabama in the early 1900's they initially concentrated their efforts on gas lamps, before engineering a camping 'pocket stove' for troops in WW2. As holidays and travel for fun became more common in the 50s and 60's they produced cool boxes to keep food fresh for longer whilst outside.
Naturally, tents, chairs, sleeping bags, and awnings have all followed suit and further developed as technology has allowed. Coleman was the first to add taped seams to tents in the '90s, add fire retardant fabrics in the '00s and most recently introduce BlackOut Bedroom technology to offer a better night's sleep in the 2020s.
We love the products they have on offer, and we think that you are going to too. So, check them out!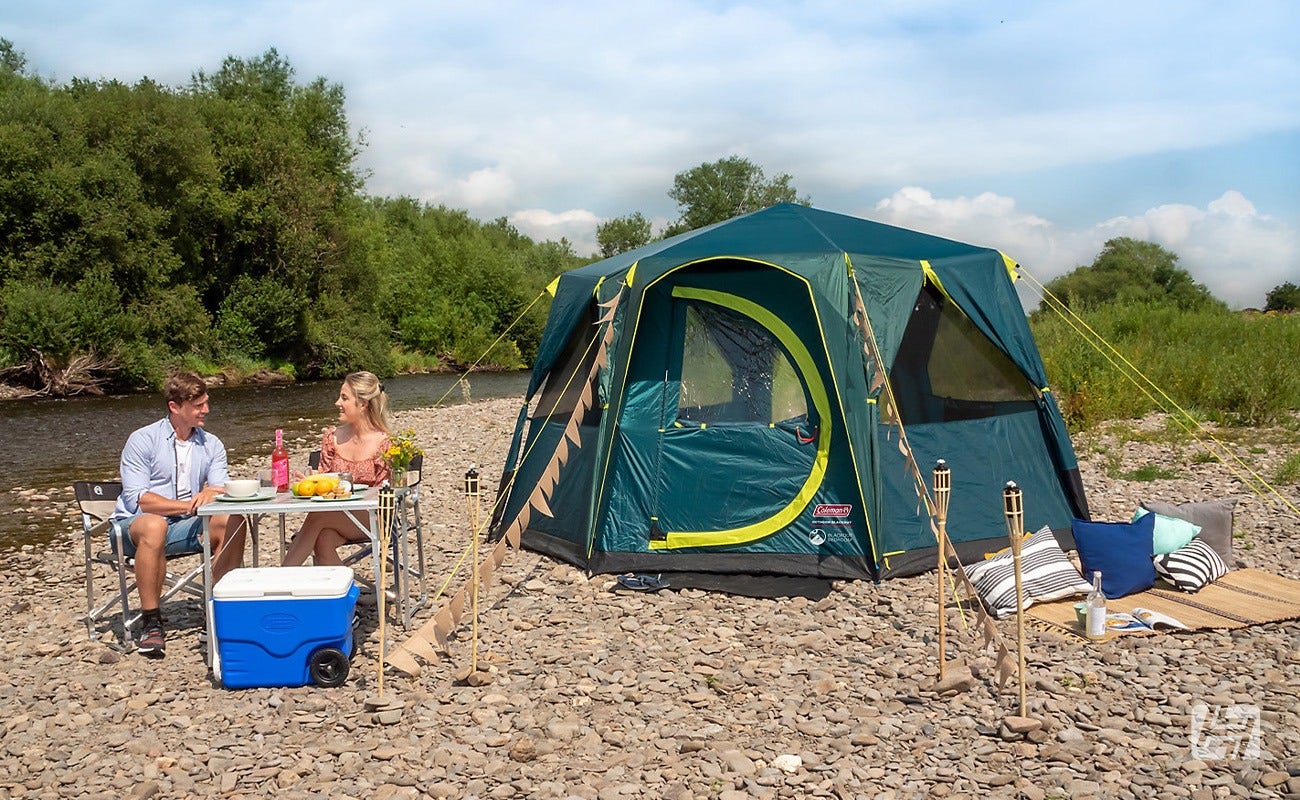 Product Focus: Coleman Event Shelter
Most of us can recall a story about a gazebo... Whether it blew away, took ages to put up, or just let the water in as soon as a cloud appeared in the sky. Coleman has been championing a product they call the Event Shelter for many years, and we are really pleased to be able to offer it as part of our Camping and Leisure range.
The distinctive curved shape is simple yet solid, and remarkably easy to put up. Whether it's for a BBQ in the garden, or to provide an impromptu garage space whilst you attend a car show, the number of things they get used for is phenomenal.
The perfect partner to a small tent it allows you to eat and entertain in comfort, equally offering a more flexible alternative to a roll-out canopy if you own a motorhome or caravan, allowing you to pitch it on either side or to the rear if you prefer.
Product Focus: Coleman Awnings
If you drive a campervan you'll be well aware of the wealth of options available to you when you search for a drive-away awning on your favourite search engine.
We have used our experience as campers, to pick just a few from the Coleman range to offer to our customers. In short, we think these offer the best value and will return the best enjoyment for you and your family.
With FastPitch Air Poles the JourneyMaster Deluxe Air range can be pitched in just 12 minutes and is stocked at our Sussex warehouse in Medium, Large and X-Large sizes. You can secure these Coleman awnings to your campervan using the standard 6mm beaded strip or via a pole and clamp kit which is available separately if you don't have the correct channel fitted to your van.
Each awning contains a sleeping compartment big enough to fit a double inflatable mattress, and benefits from Blackout Bedroom technology to make the sleeping areas dark, even in strong sunshine. There are high and low ventilation points to help keep temperatures comfortable and reduce condensation. Along with guy ropes and storm straps to keep your awning in one place, Coleman has cleverly included zipped cable entry points to allow for mains power in living and bedroom areas and added multiple lantern attachment points in each zone too.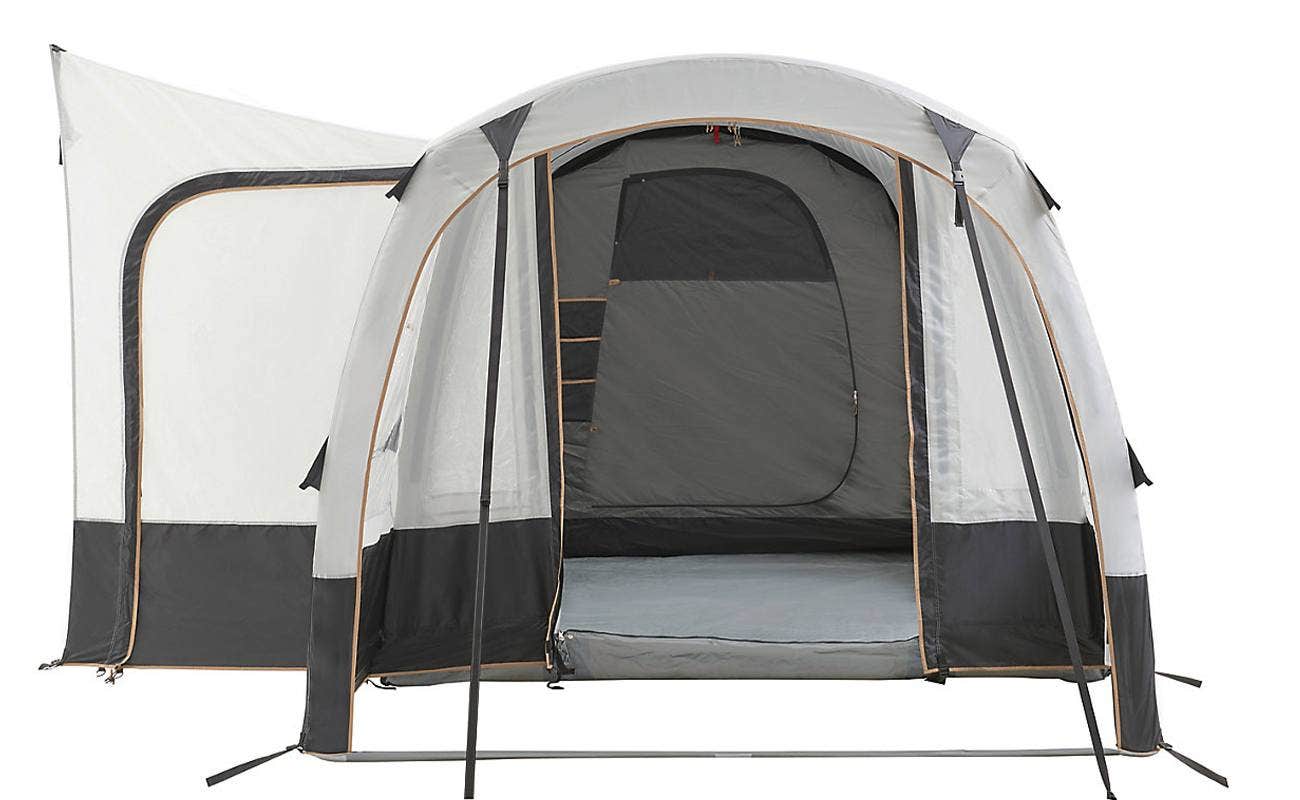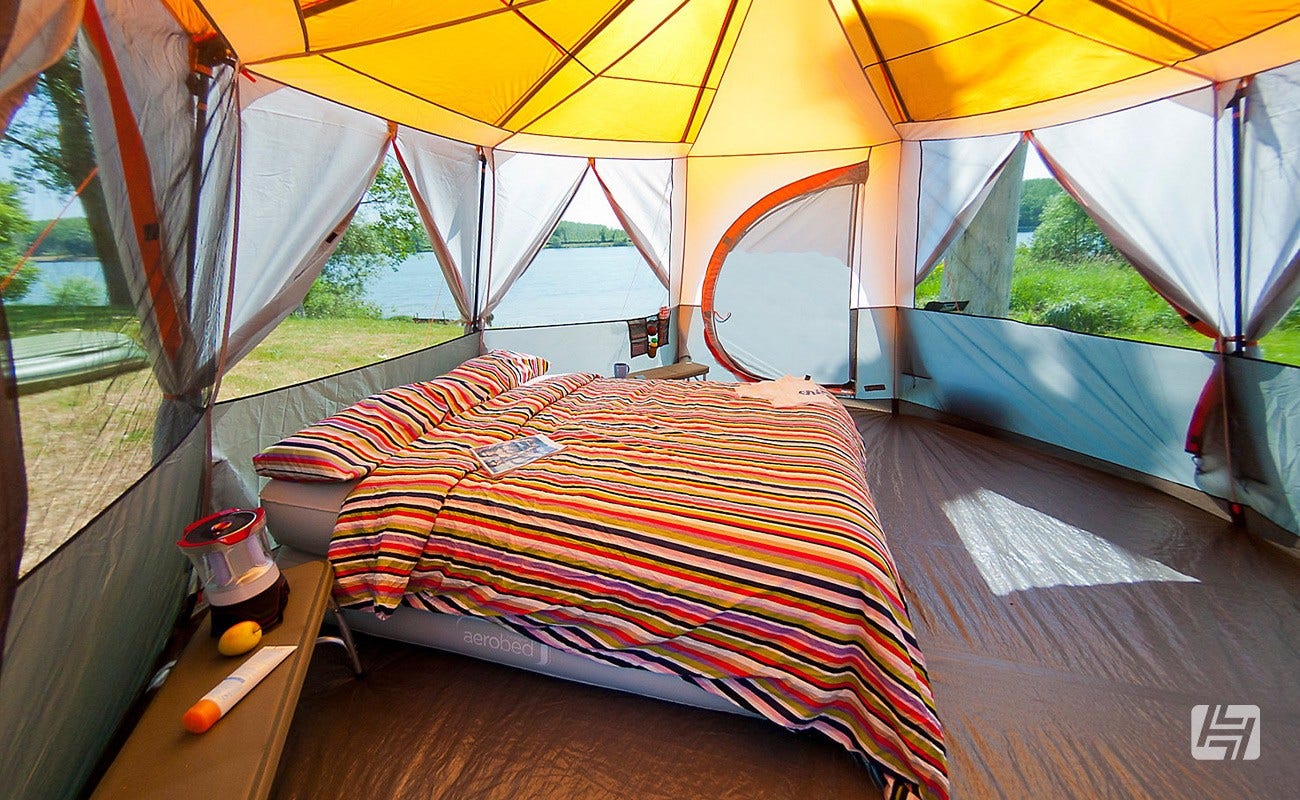 Product Focus: Coleman Tents
Whether you prefer the flexibility that a tent offers, or it's a stepping stone on your way to campervan or caravan ownership, Coleman has created some fantastic tents for families to get away in.
Their Cortes Octagon range not only has 8 sides, with windows all the way around but it can also sleep 8 comfortably. However, if you are one (or two) for luxury it can be made into a Glamping space with a double bed, and some furniture giving you plenty of room to relax and store stuff.
Just like the awnings, the Octagon tents are offered with Blackout Bedroom technology to add some sophistication to your camping experience.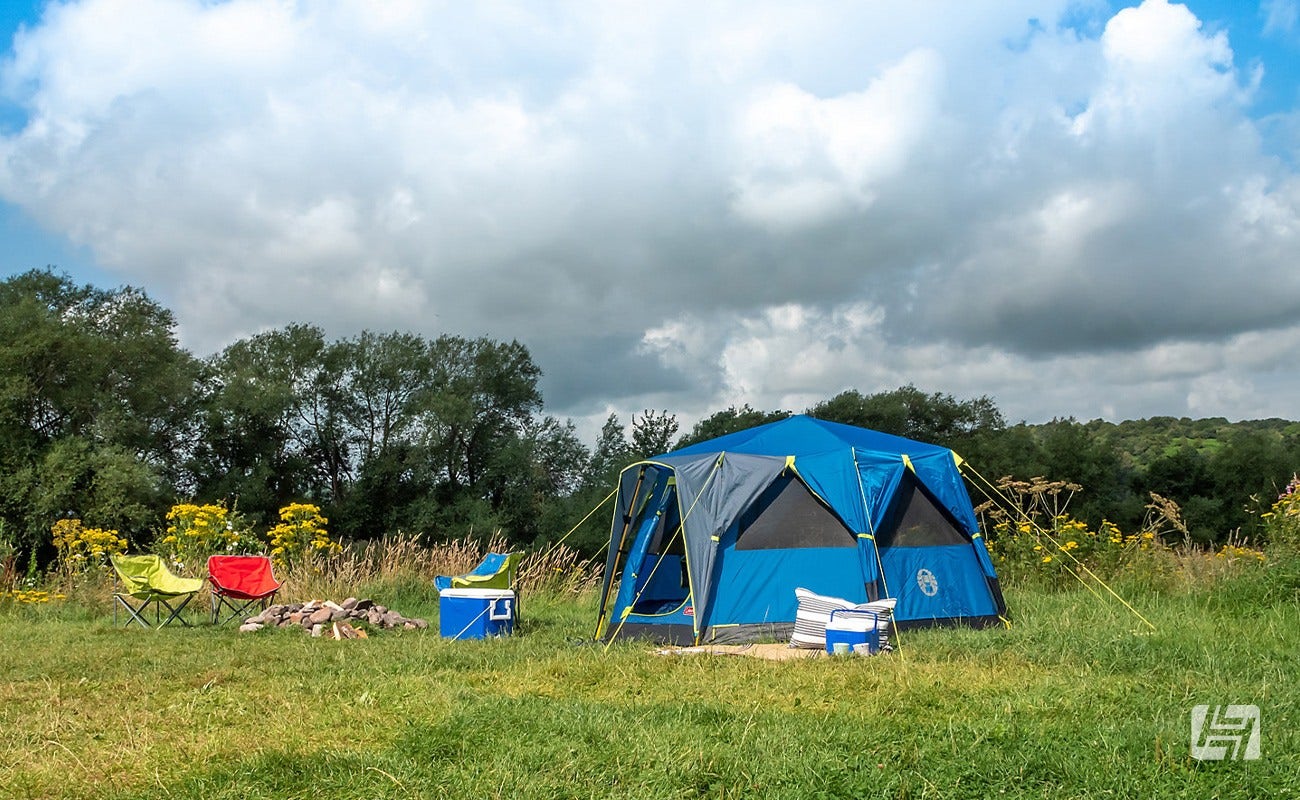 Product Focus: Coleman Cookers
Cooking is a great social activity especially when you have the space to do it - and Coleman has produced a number of cooking stoves, grills, and barbeques to help you best to entertain and bring fun to your time away with friends and family.
Of course, there are no rules to say you can't use them again when you get home either.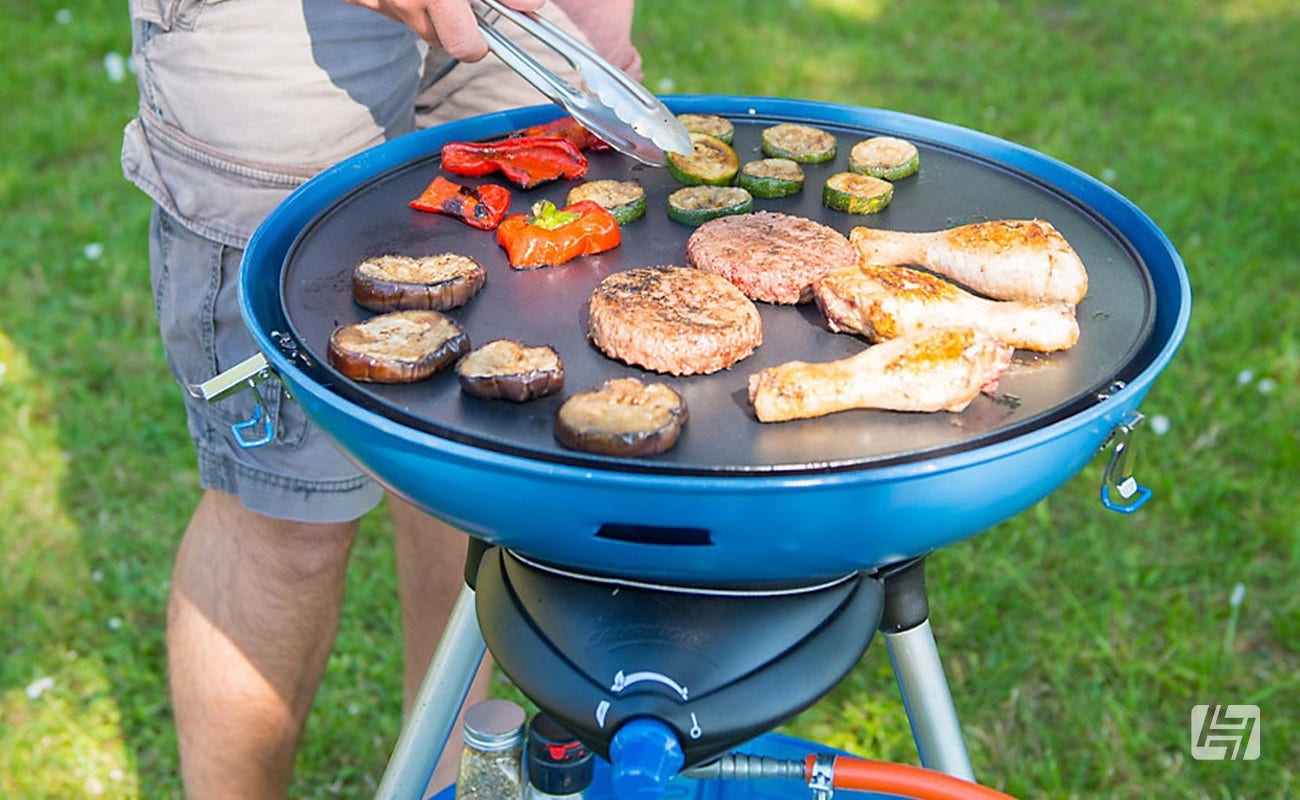 Product Focus: Coleman Camping Accessories
Also on offer in the Coleman camping and outdoor range are camping chairs, camping tables and cool boxes. In fact, fully aware of how much a loaded cool box weighs, Coleman cleverly put a set of wheels on the bottom, so you don't do your back in before you've even sat down for a celebratory beer.
Want to make it even easier to get your camping gear to your pitch? Check out these awesome collapsable pull-along camping wagons.
So, you ready to get out in the fresh air, fire up a BBQ and sleep under the stars? I know I am. Check out our 2022 events article if you need some suggestions of great places to go - many of the VW events also cater to camping.
Not been camping before? Our first night away guide should help put your mind at rest and make sure you don't leave anything important behind.
Have a great year!
Andy