It's getting on for a year since I travelled to South East Asia, and I'm excited to finally share with you this story. Smart Volks Works is a restoration business based in Jogjakarta. A
Heritage Trade Customer
, good friends with Indra (our man on the ground) and above all else hugely welcoming to myself and Laurent. You may have seen my very shaky video online at the time, but here are some steadier stills; amazing doesn't even start to sum it up!
Hidden Away
By European standards, you wouldn't realise this was a vehicle workshop from the road, and certainly not one of this magnitude. We pull past a yellow high top Bay parked out the front and swing onto a small forecourt area. Leaving the luxury of the air-conditioned car, we exit into the heat of the day, unsure what we are about to witness. The back end of a Bug is the first hint we are in the right place. We walk past that, then another Bay Window, before finding a shop counter and parts store to one side.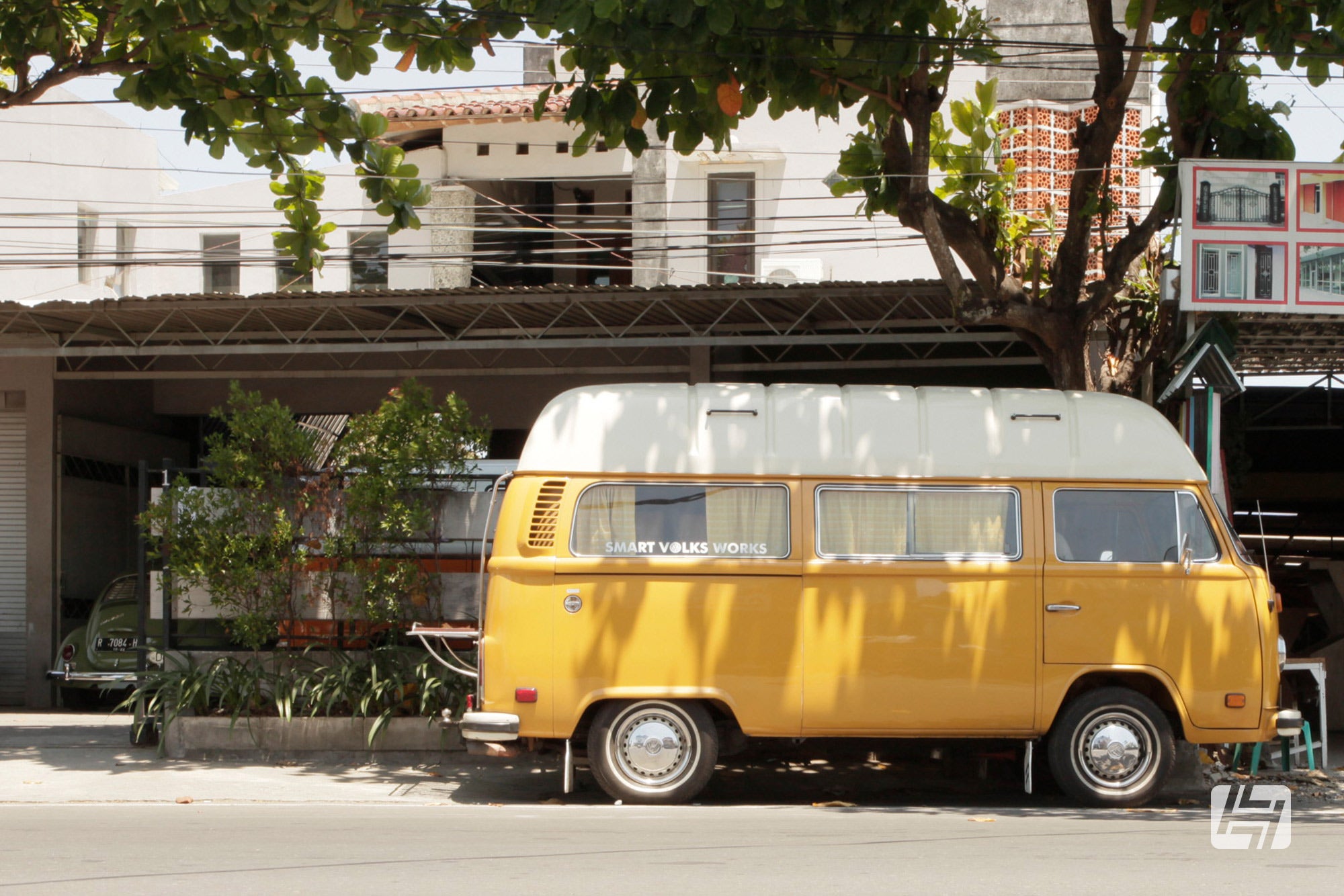 One man's vision...
Smart Volks Works is run by Rosyid, the previous Chairman of the Volkswagen Club Yogyakarta. He has been trading from these premises for the last 10 years but our host has been restoring vehicles from his workshop space at home, for more than 25.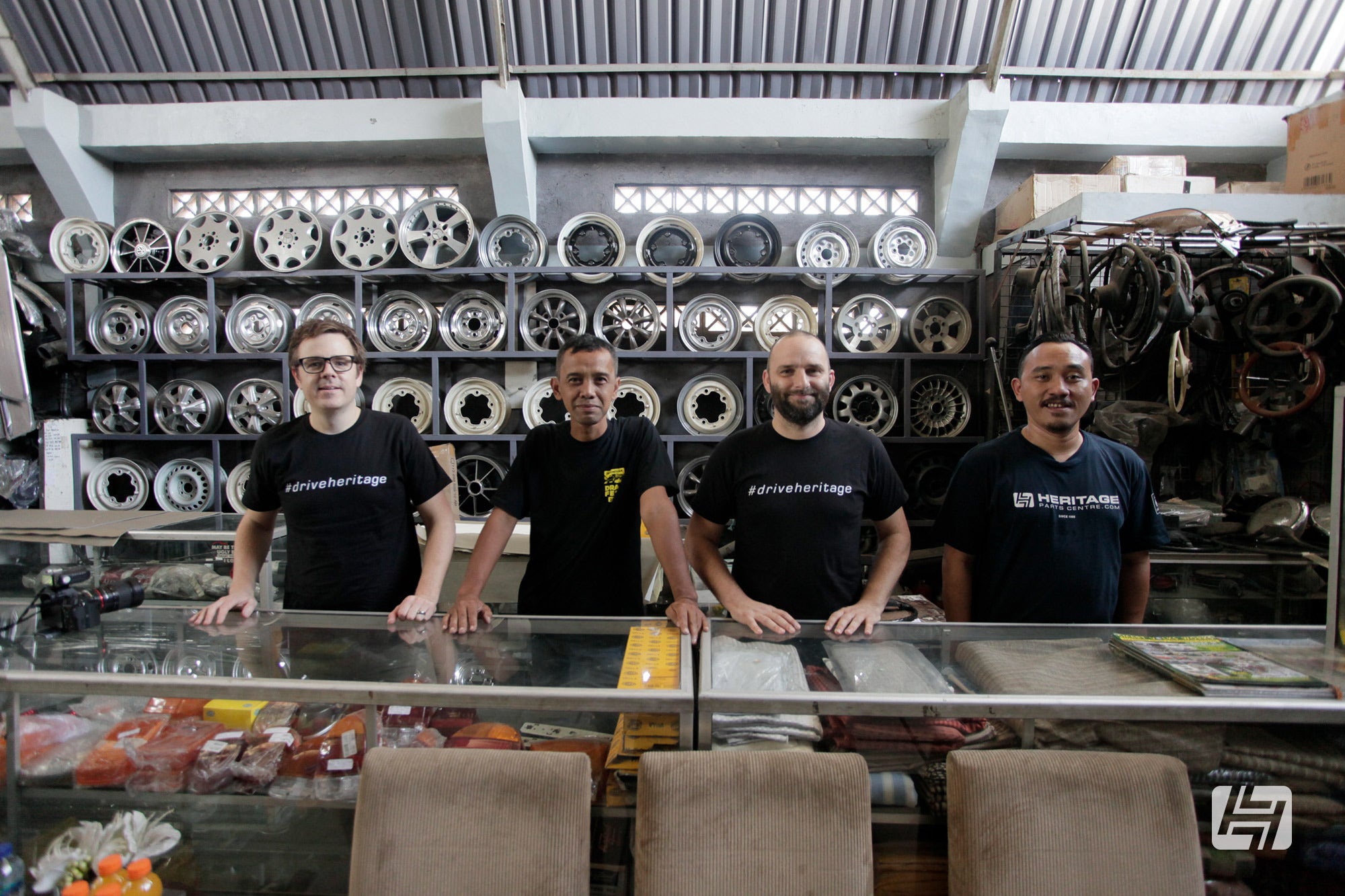 A busy 10 years...
In the past decade, Rosyid tells me they have restored over 280 vehicles, the majority of which were aircooled Volkswagens. In fact, as we sit in his airconditioned customer lounge, and snack on the lunch he's ordered in from a local delicatessen he shows us numerous hard-backed books with all the vehicles in them.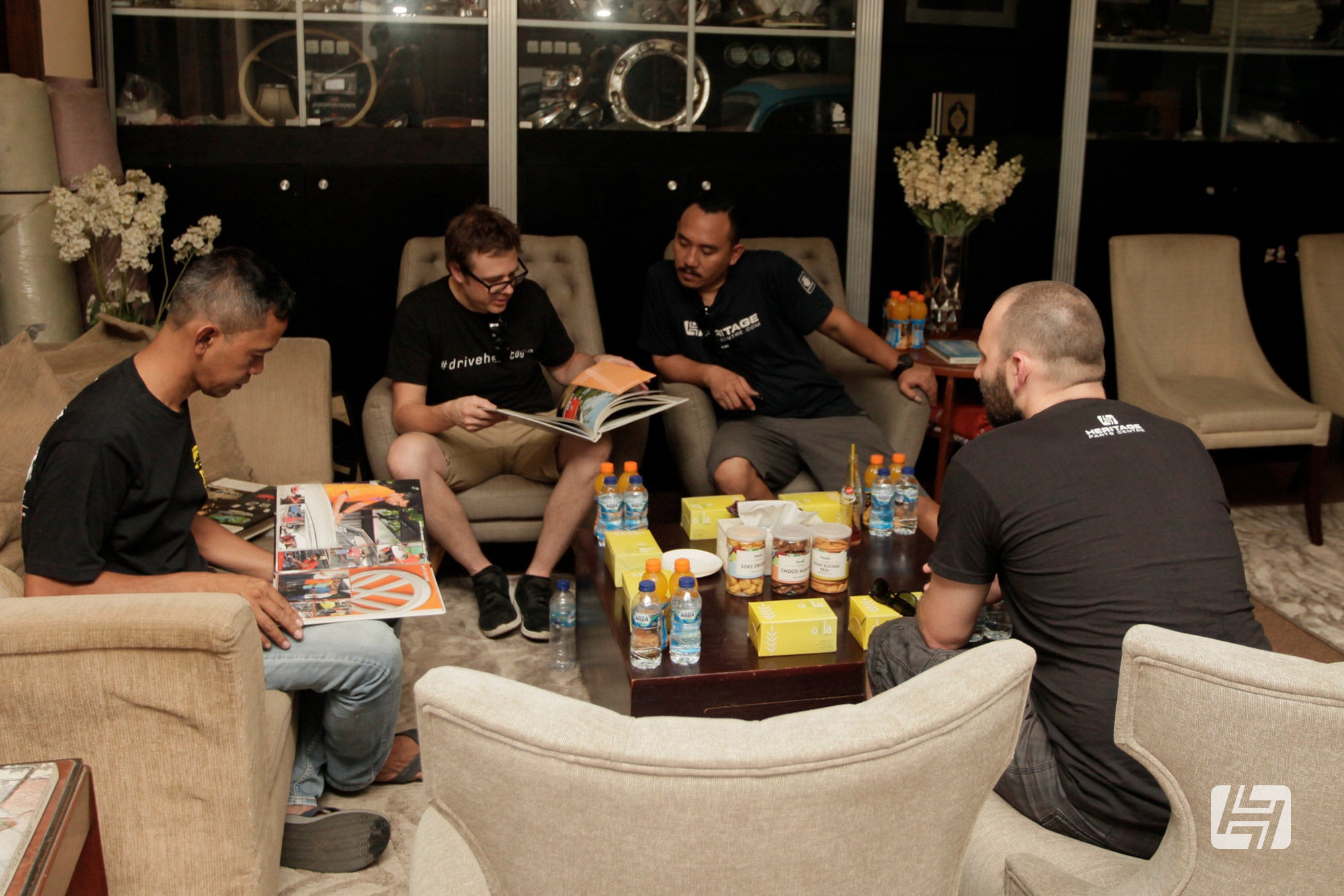 We came to see cars!
As much as his armchairs are comfy, the food is delicious and the aircon is practically essential for tourists such as ourselves, we venture into the workshop to get up close to the vehicles in question. And what a workshop it is...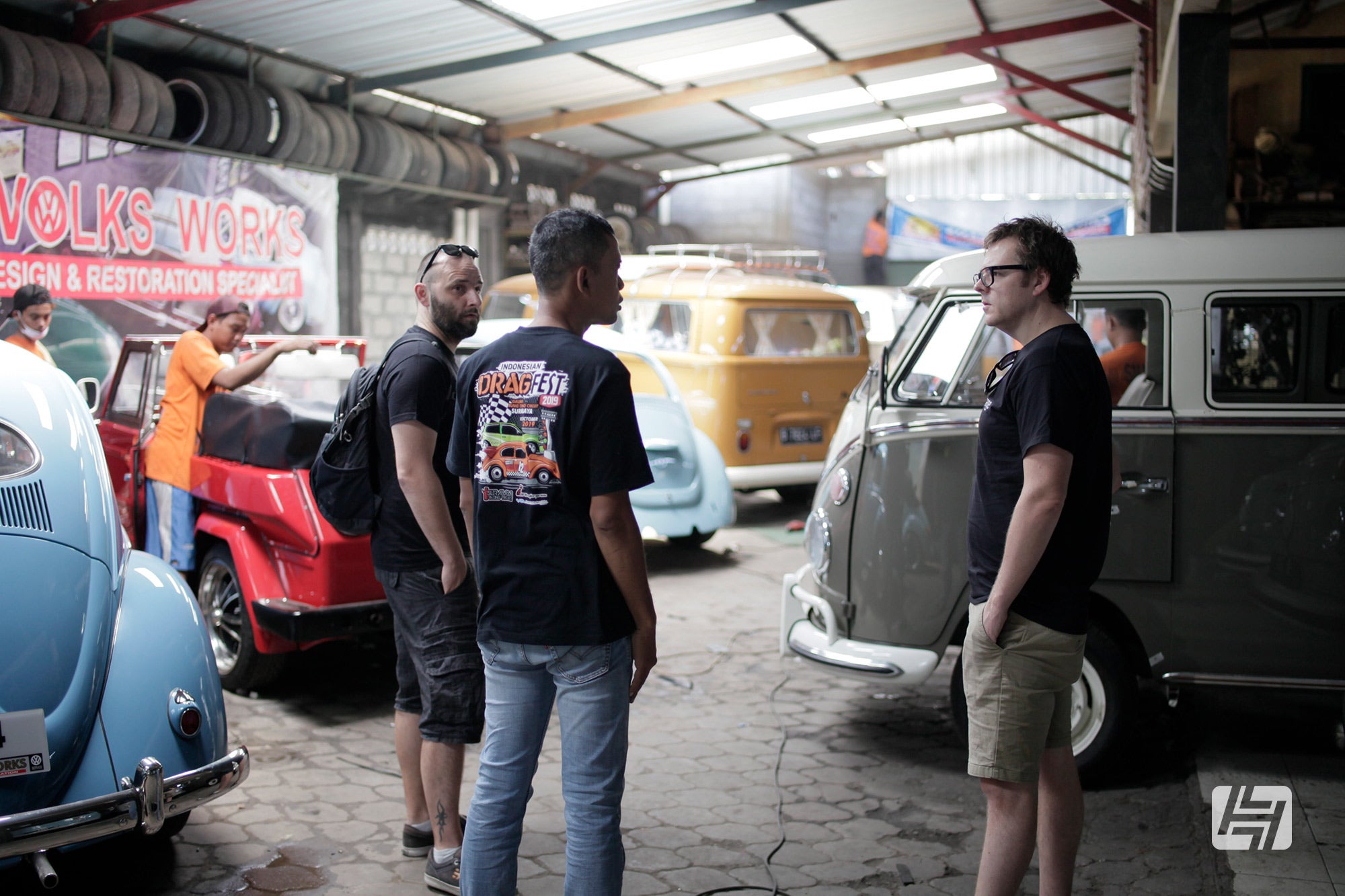 32 strong
Employing 32 staff, Rosyid doesn't necessarily work on every car these days, but he personally checks off each body repair using an arsenal of templates and formers to ensure all metalwork is to the correct shape and dent free. You may notice from the photos, each vehicle is built on a dead flat concrete slab, with anchor points attached for more complex chassis jigging and repair work.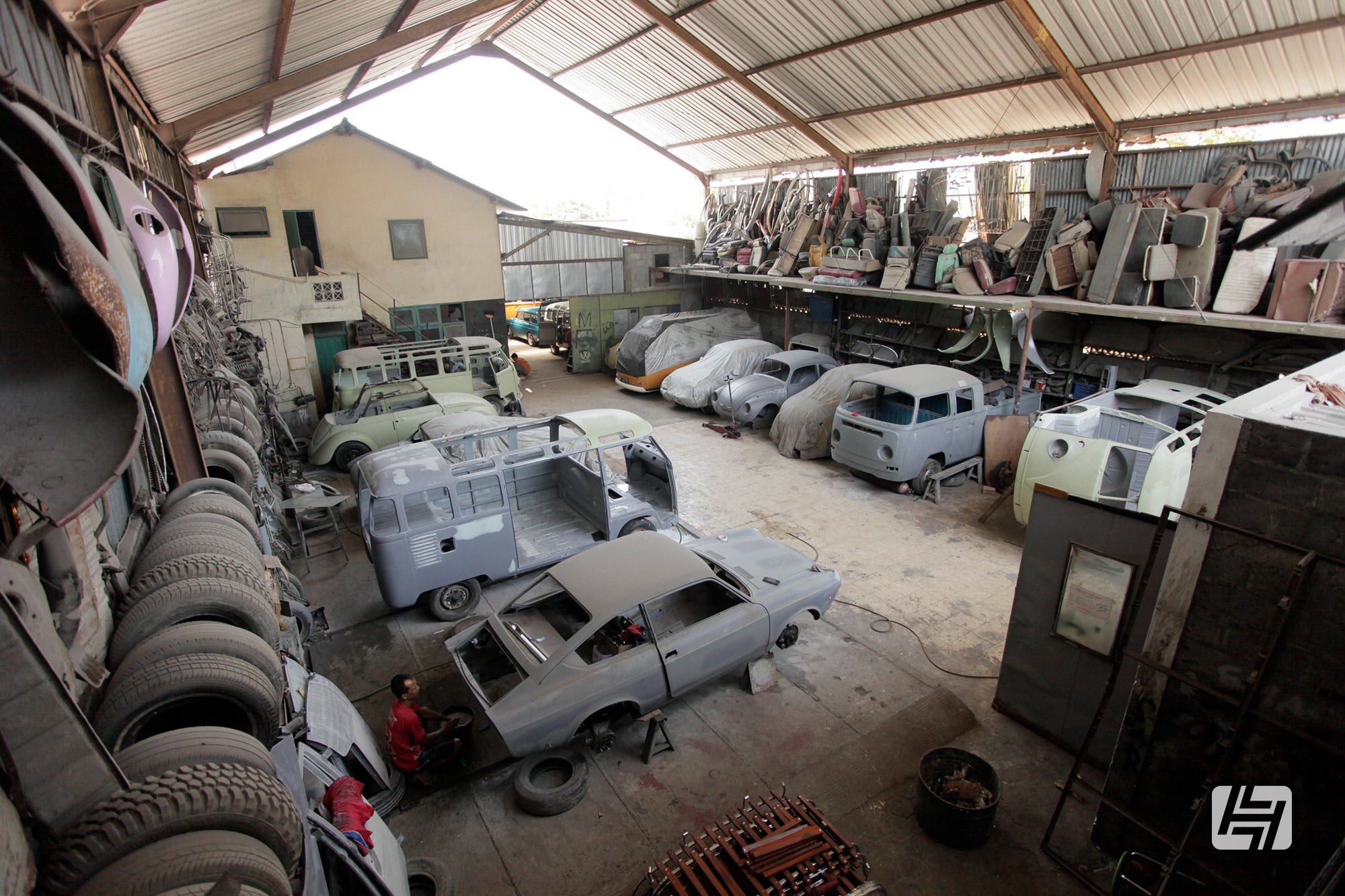 Health and what?!!
With a relaxed approach to workshop PPE and Health and Safety, Rosyid's teamwork in shorts and T-shirts; some choose to wear flip flops, others opt for a barefoot approach. There is a purpose-built spray booth for final paintwork, but a quick blast of primer on this Fiat 850 Sport Coupe was applied out in the open, minus mask.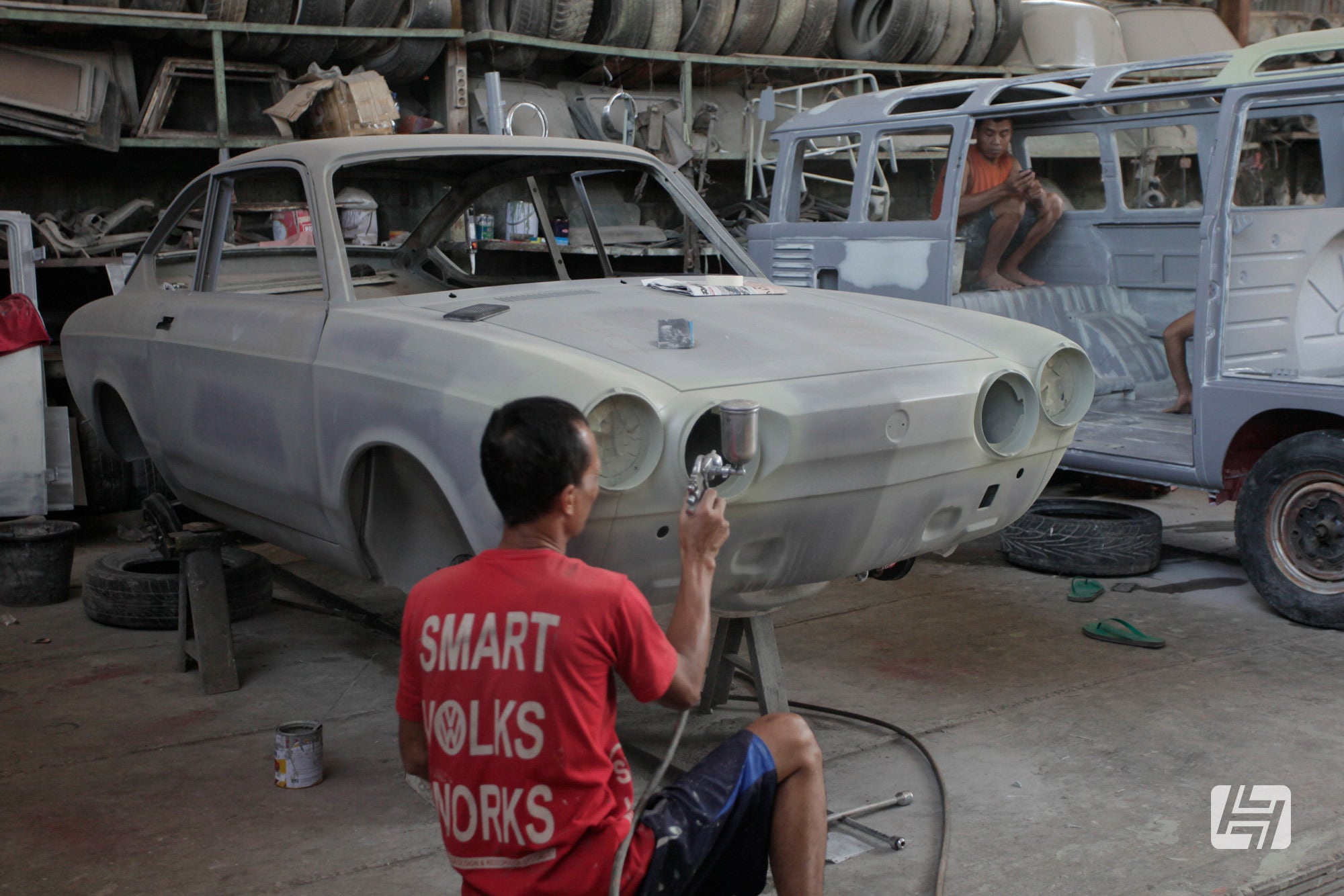 Making it from scratch
Almost every repair panel that is used on these vehicles, and we must have seen over 30 cars on-site, is handcrafted from scratch. Traditional metalworking skills are a way of life in Indonesia. I keep an eye on one chap producing a
repair panel for a Karmann Ghia
. Using hammers, localised heat and water to cool it, the metal transforms from flat steel to a carefully made curved repair panel in less than half an hour.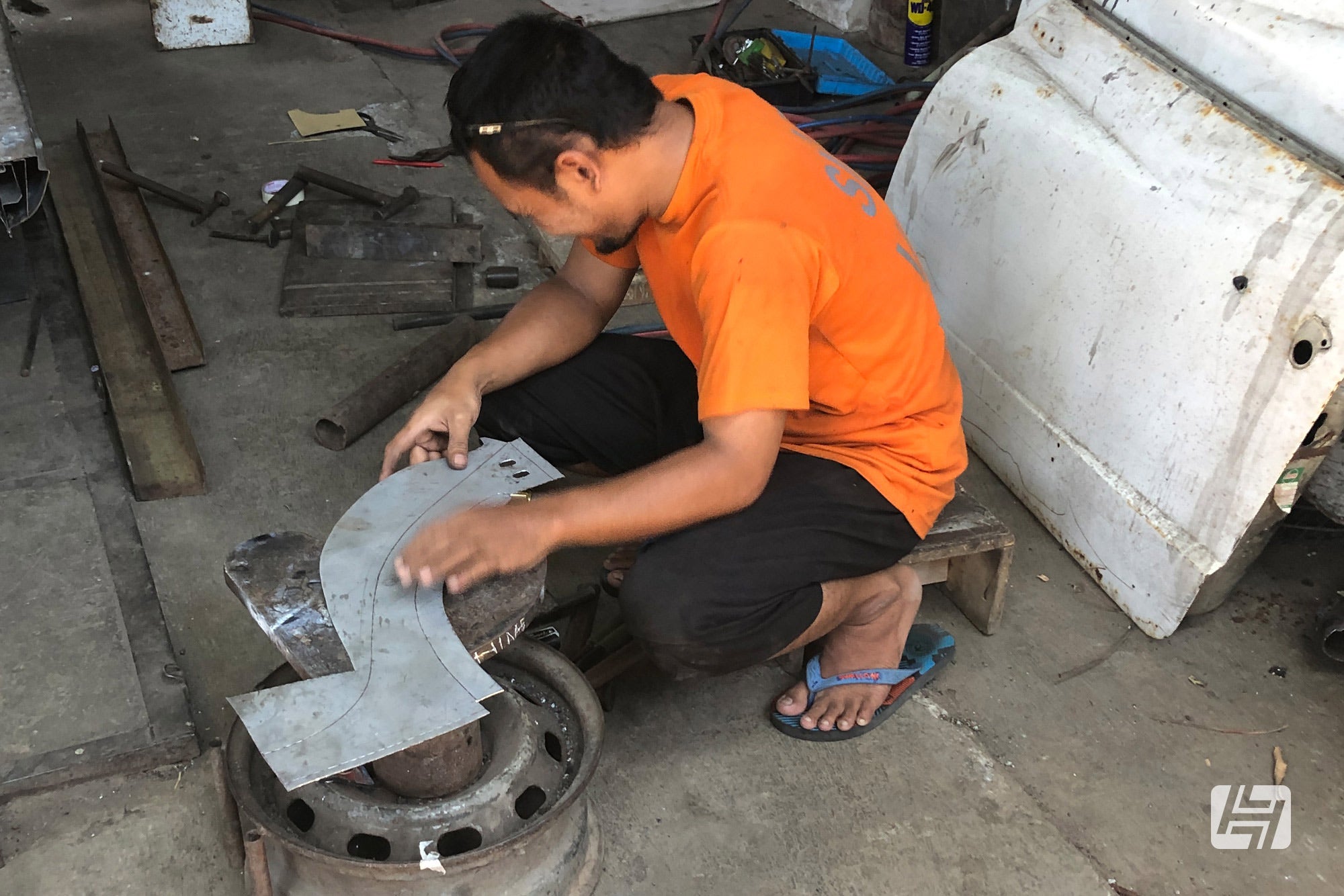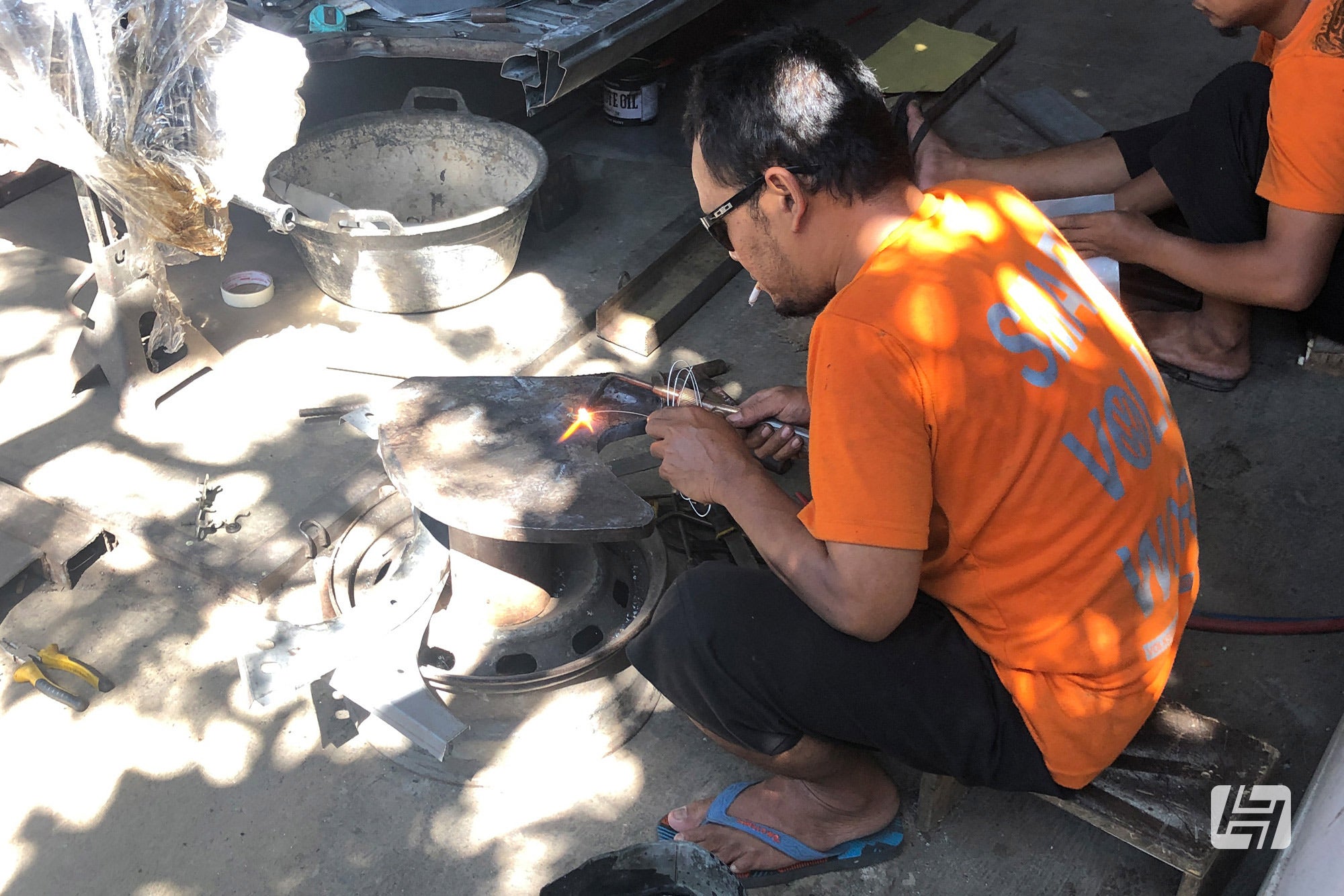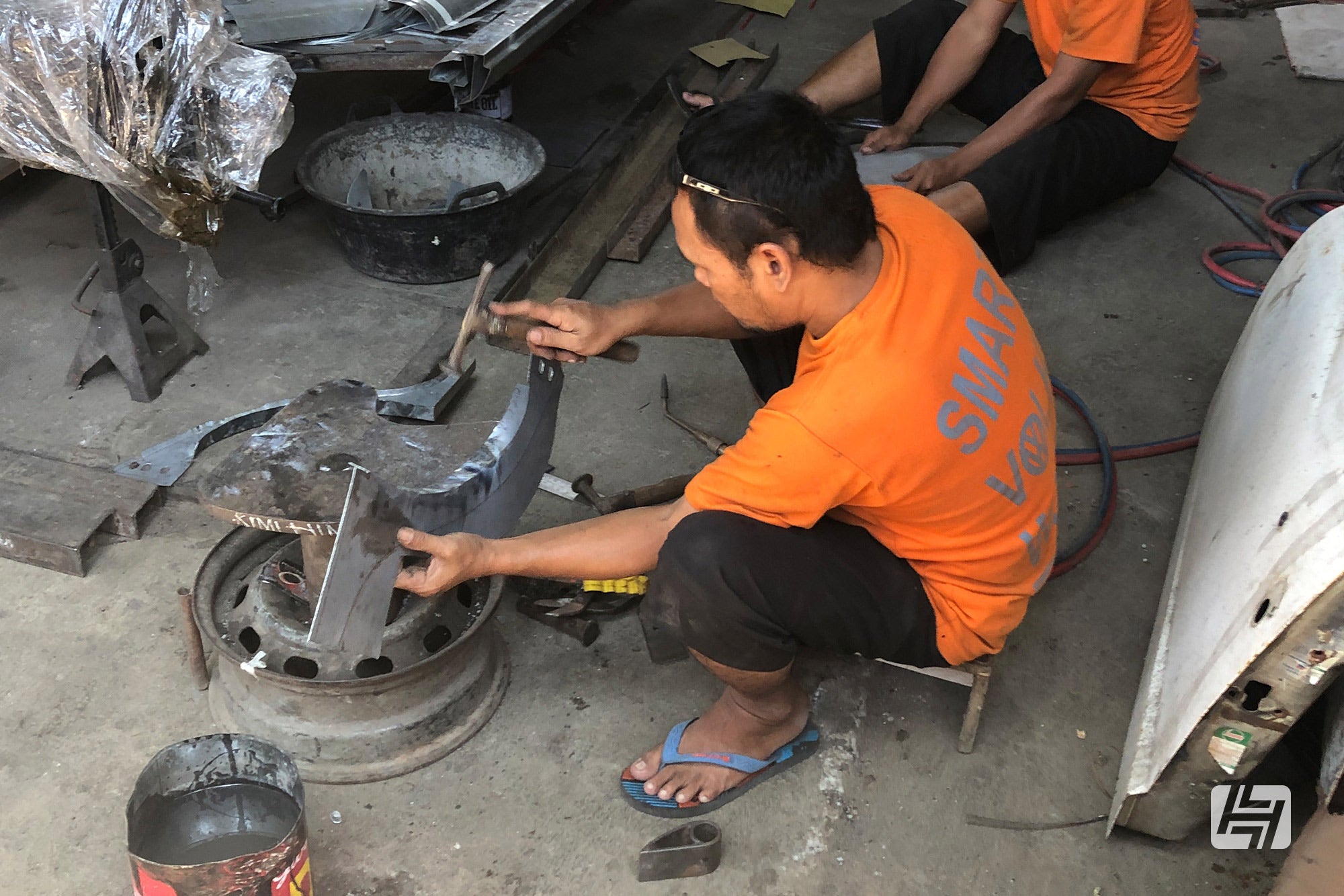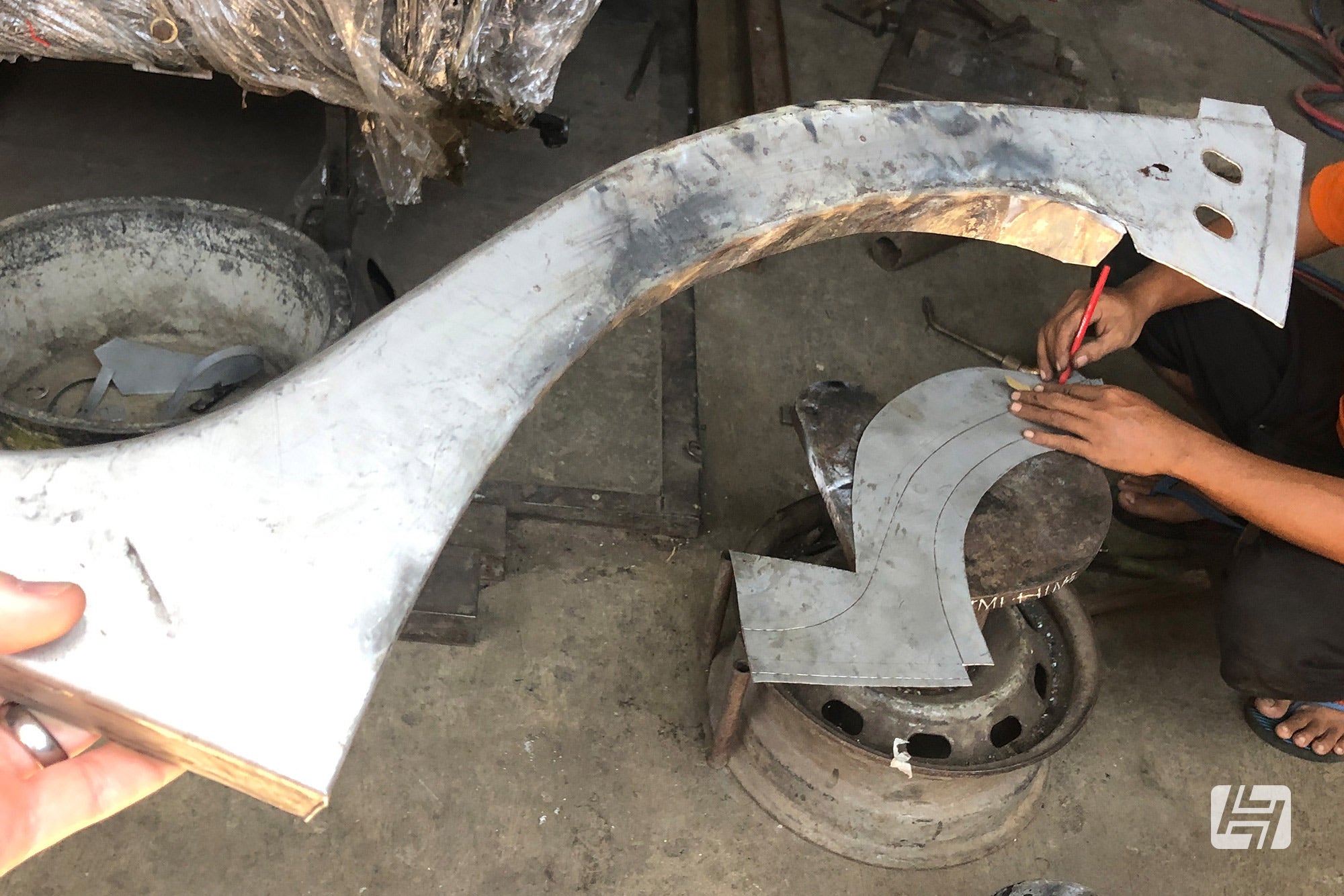 Tortoise break!
As a sideline business, Rosyid breeds Tortoises in a small yard area to the side of the workshop. There were little ones you could hold in your hands - and some monsters like these, which were easily the size of a small dog!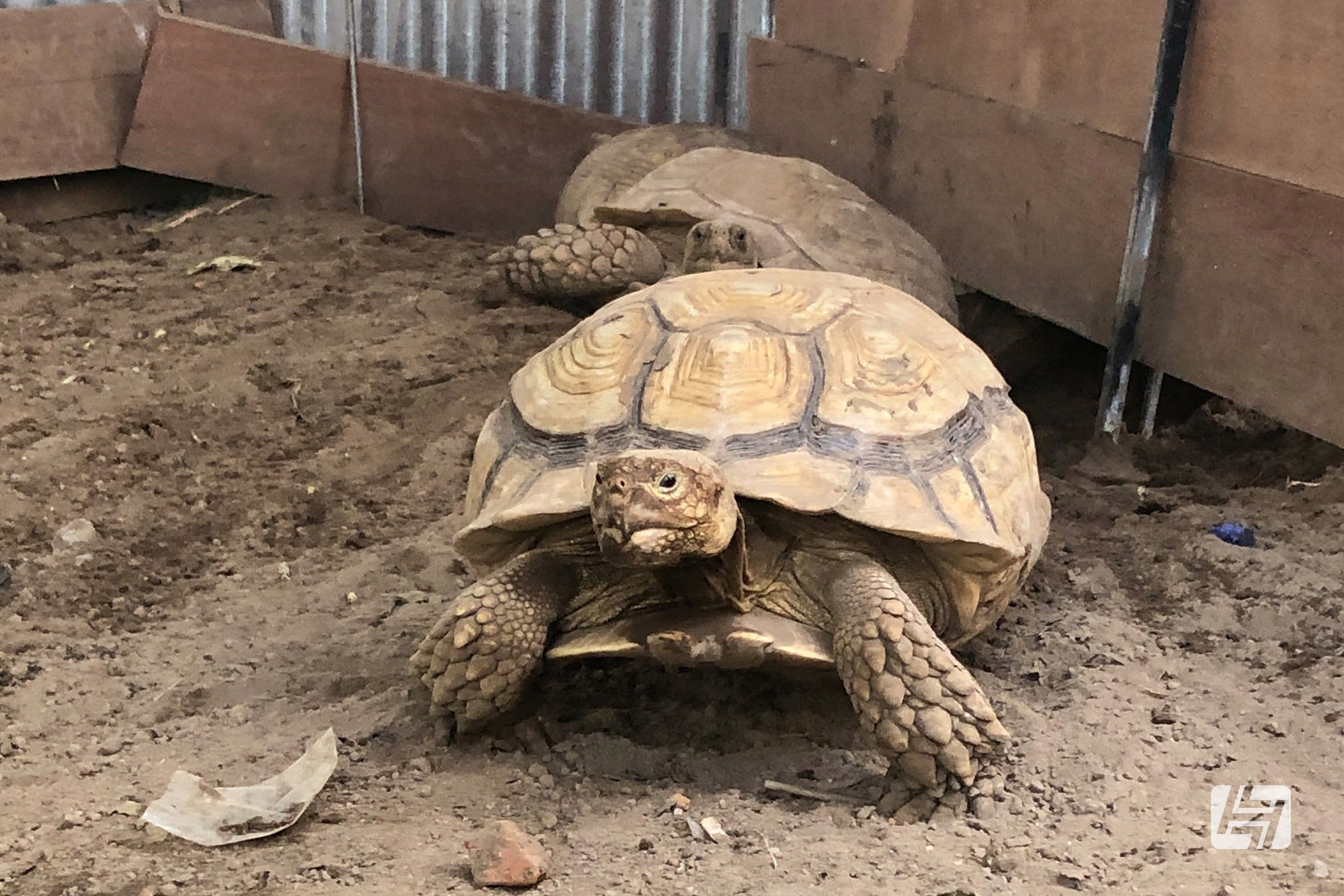 Half a Lowlight...
I didn't discover exactly why this Low Light 'Ghia cabriolet was in two pieces  but for certain it will be reunited by the time Rosyid and his crew are finished. The rear half was full of repair panels that had been made to complete the project.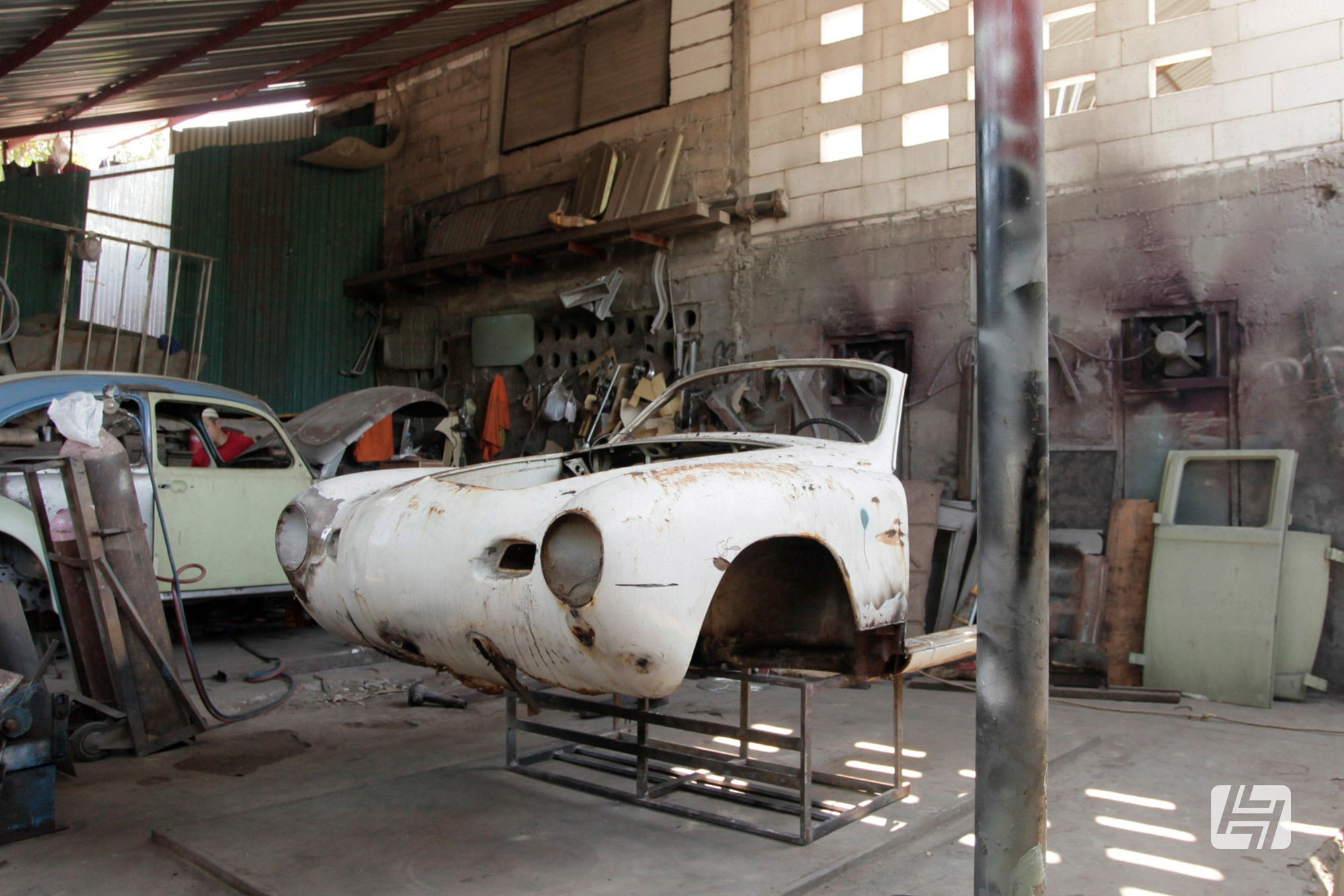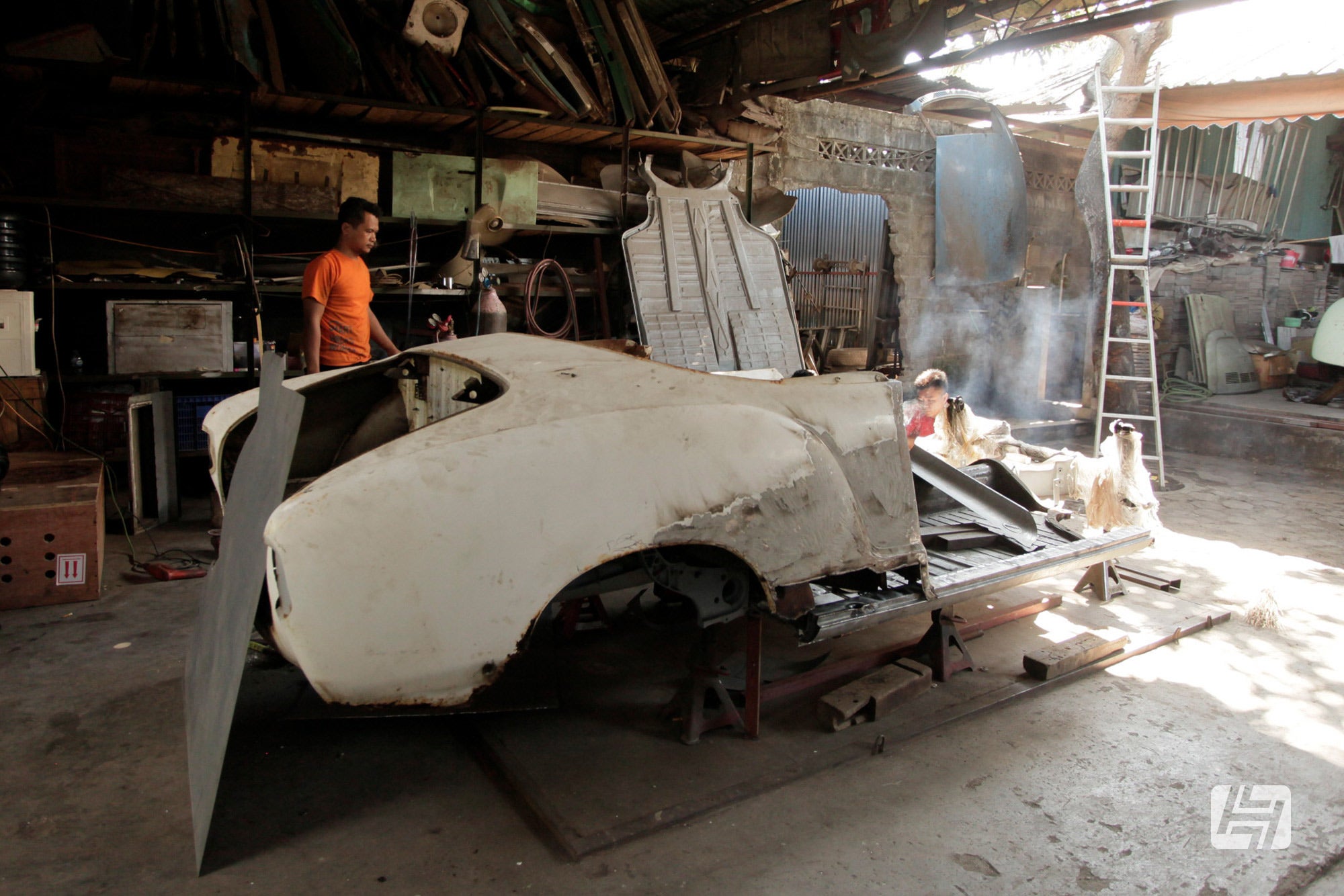 Working for European Customers
Indonesia has strict vehicle import regulations, but Smart Volks Works have an arrangement with those in charge to allow them to work on vehicles which are 'just visiting' before sending them back to Europe in a fully restored state. This
Splitscreen Bus
was a perfect example of a resto-tourist. Even after shipping costs are taken into account, the far lower labour rate charged in Indonesia makes financial sense for owners looking to save money, but not scrimp on the quality of the work. I didn't see one tin of filler anywhere in the building!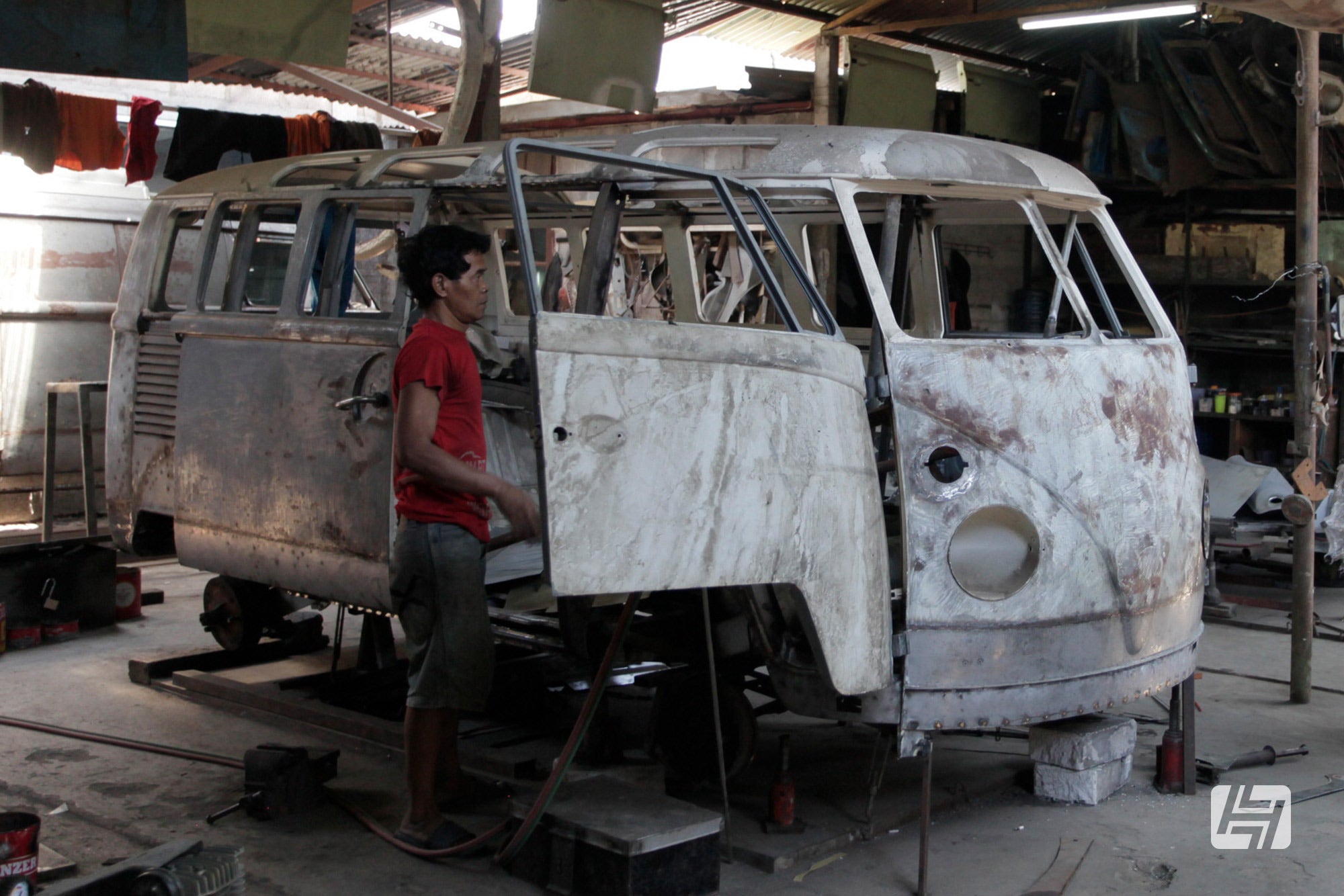 Save everything!
Hanging on the wall is pretty much one of everything.
Beetle exhausts
, heater pipes, cabriolet hood frames, sunroof apertures, you name it... "These are kept as patterns," Rosyid tells us. "If we get a car in, we can pull this part down, measure and copy it, and know it is right."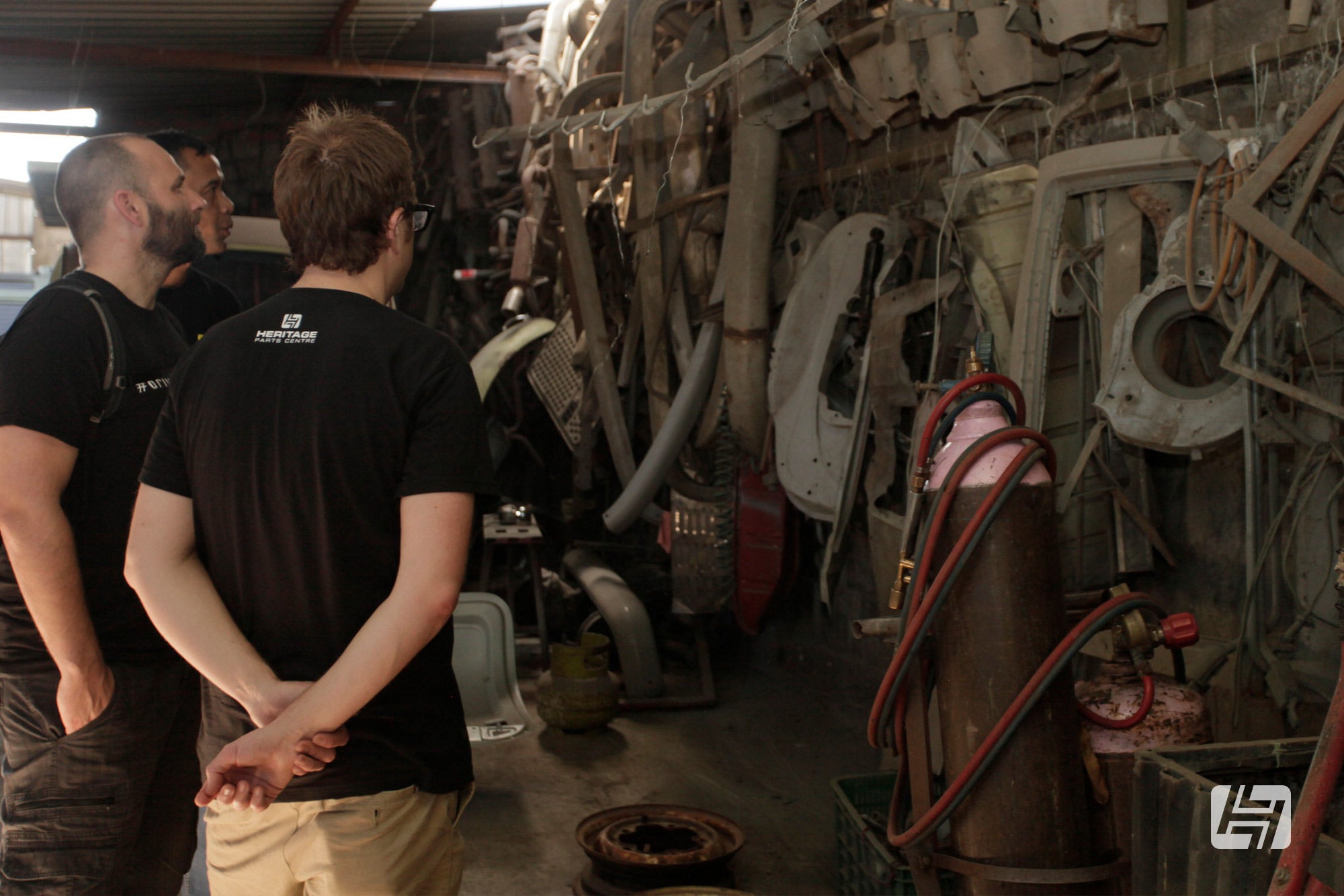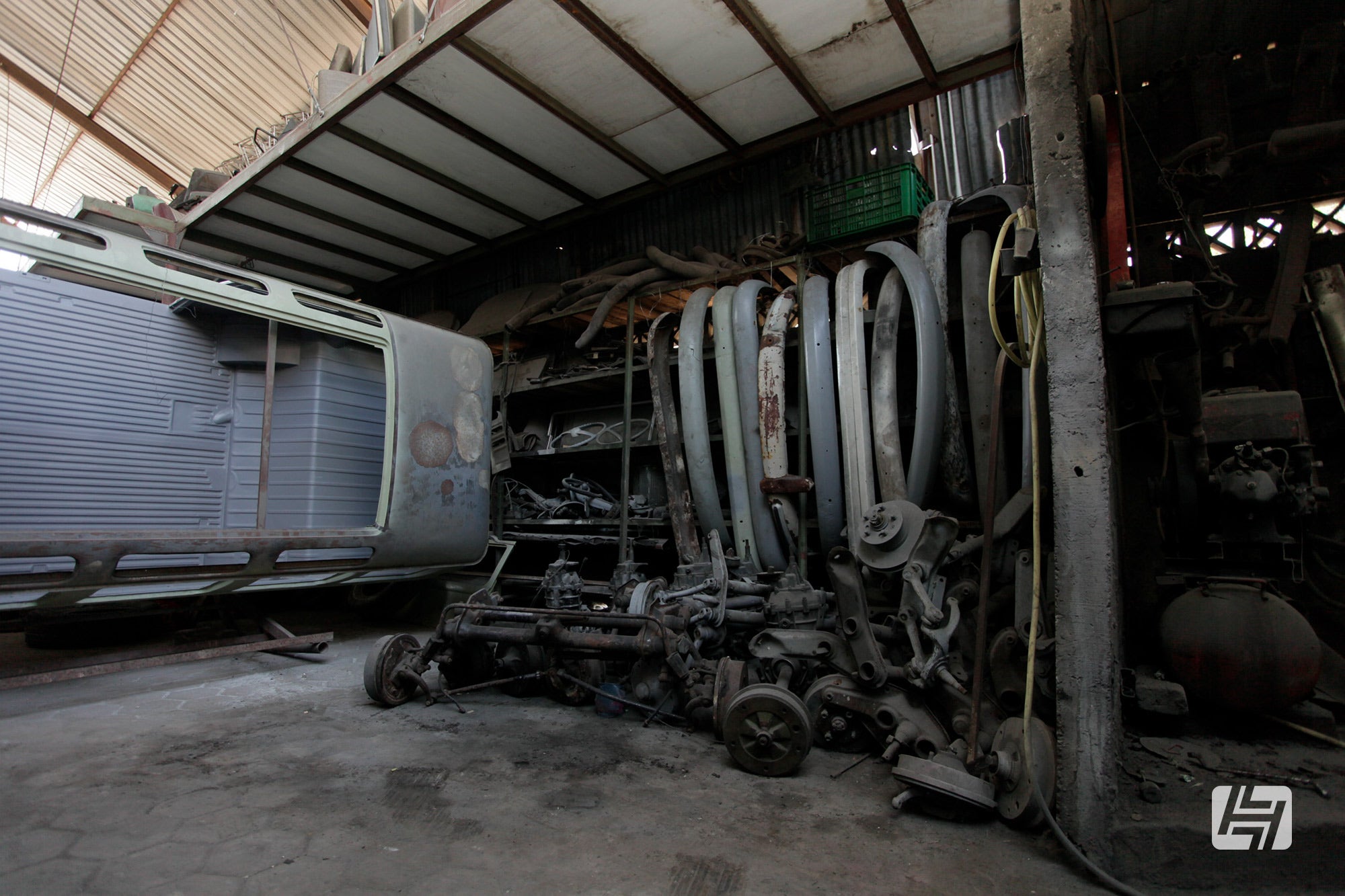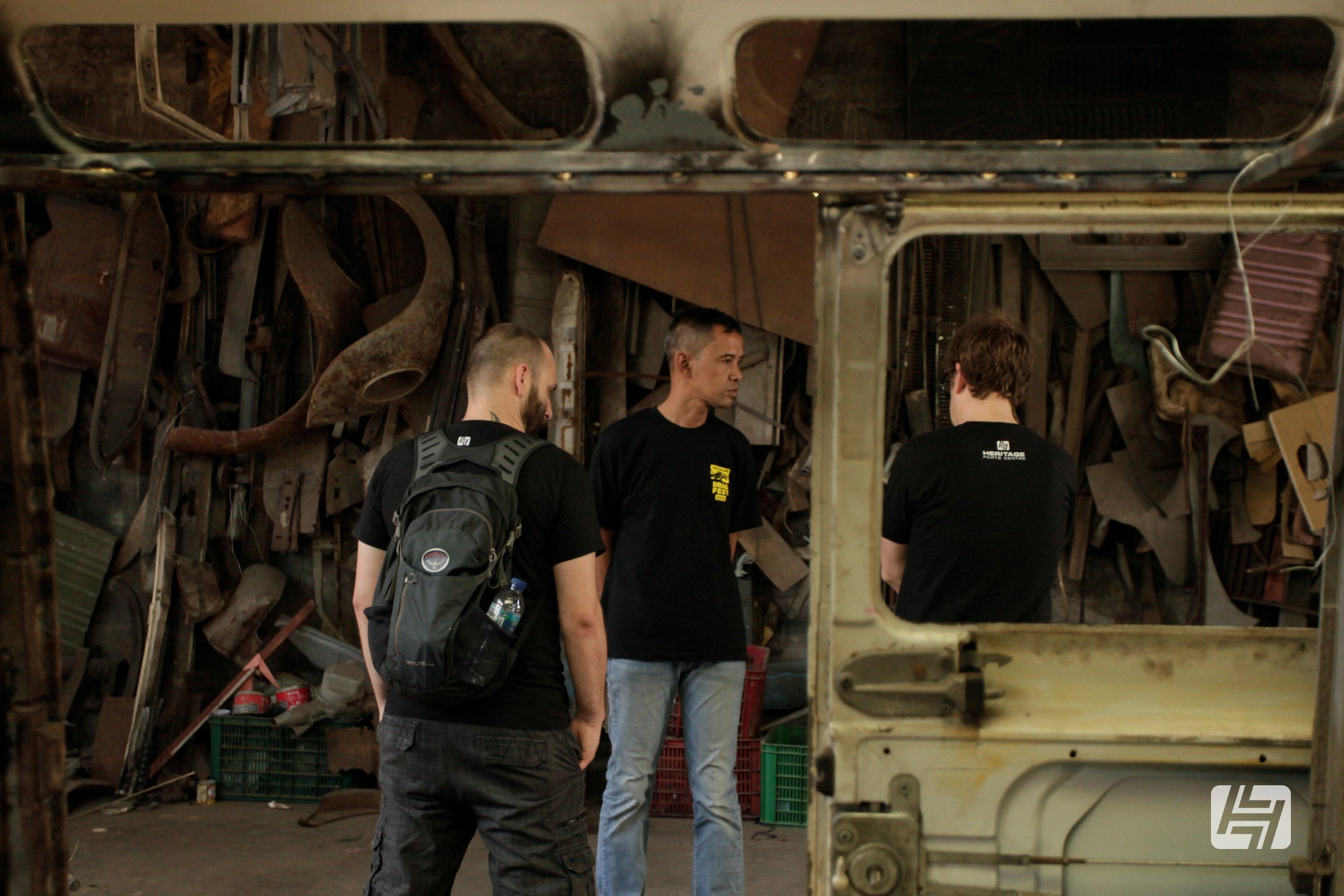 Ever resourceful
Walking past a Bus with its side loading door open, Rosyid stops us for a second. "This material is printed" he proudly states... It looks like any other OE quality material to us, but he explains more. "We couldn't get the original door panel material, so we took a high-quality photograph and had it printed it onto vinyl, just like a banner." I've never heard of anyone doing that before, or since, but these guys are so resourceful, it's unreal!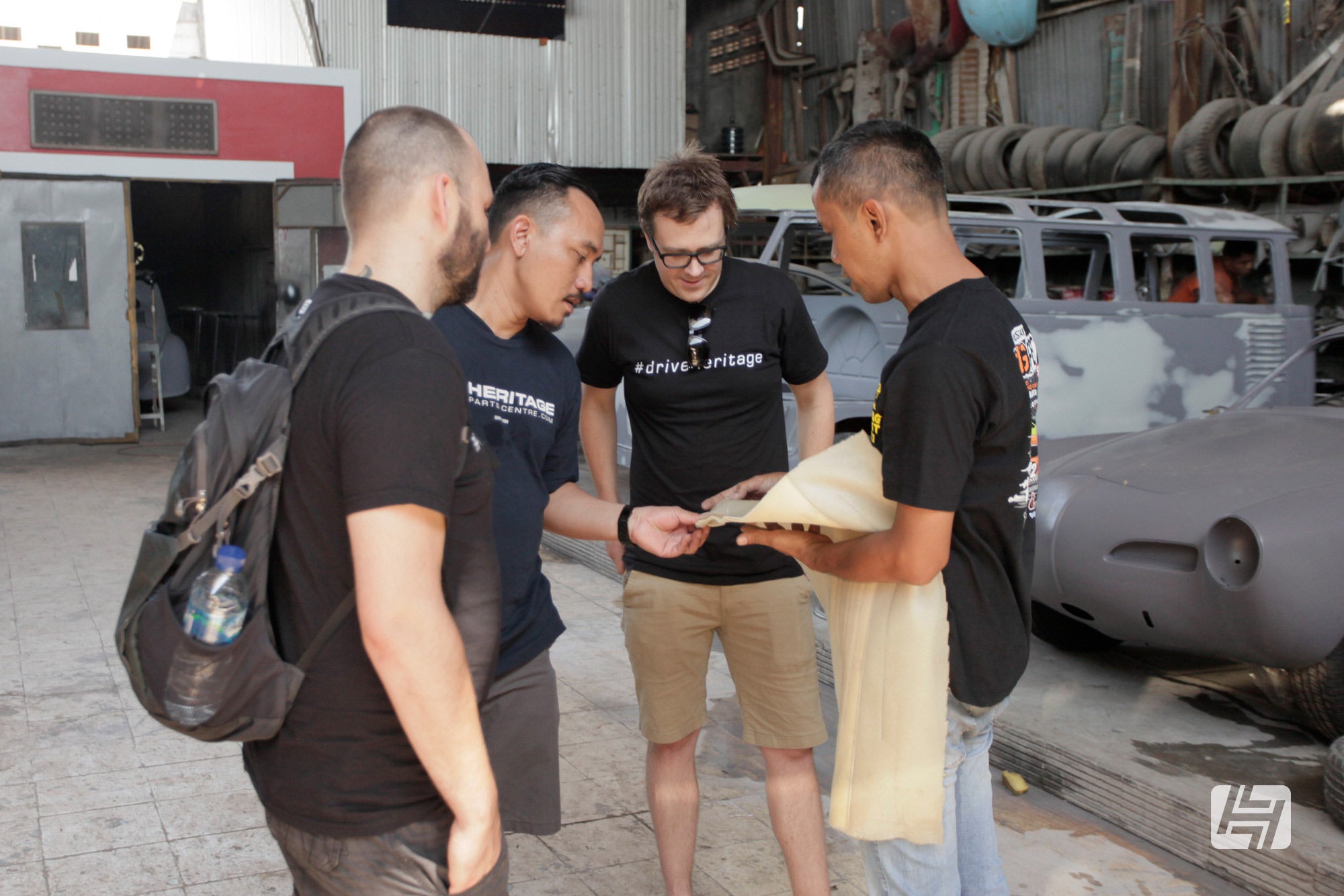 Building show cars
Visiting Smart Volks Works just a day before the
Jogja VW Festival
, the team were busy prepping a whole host of cars to take to the show. A Sea Blue Type 3 Squareback was having custom kick panels made to cover the air conditioning installation. A Type 2 'Adventure Wagon' was being readied, along with a bright red Trekker, and that's before we mention most of the cars in the showroom...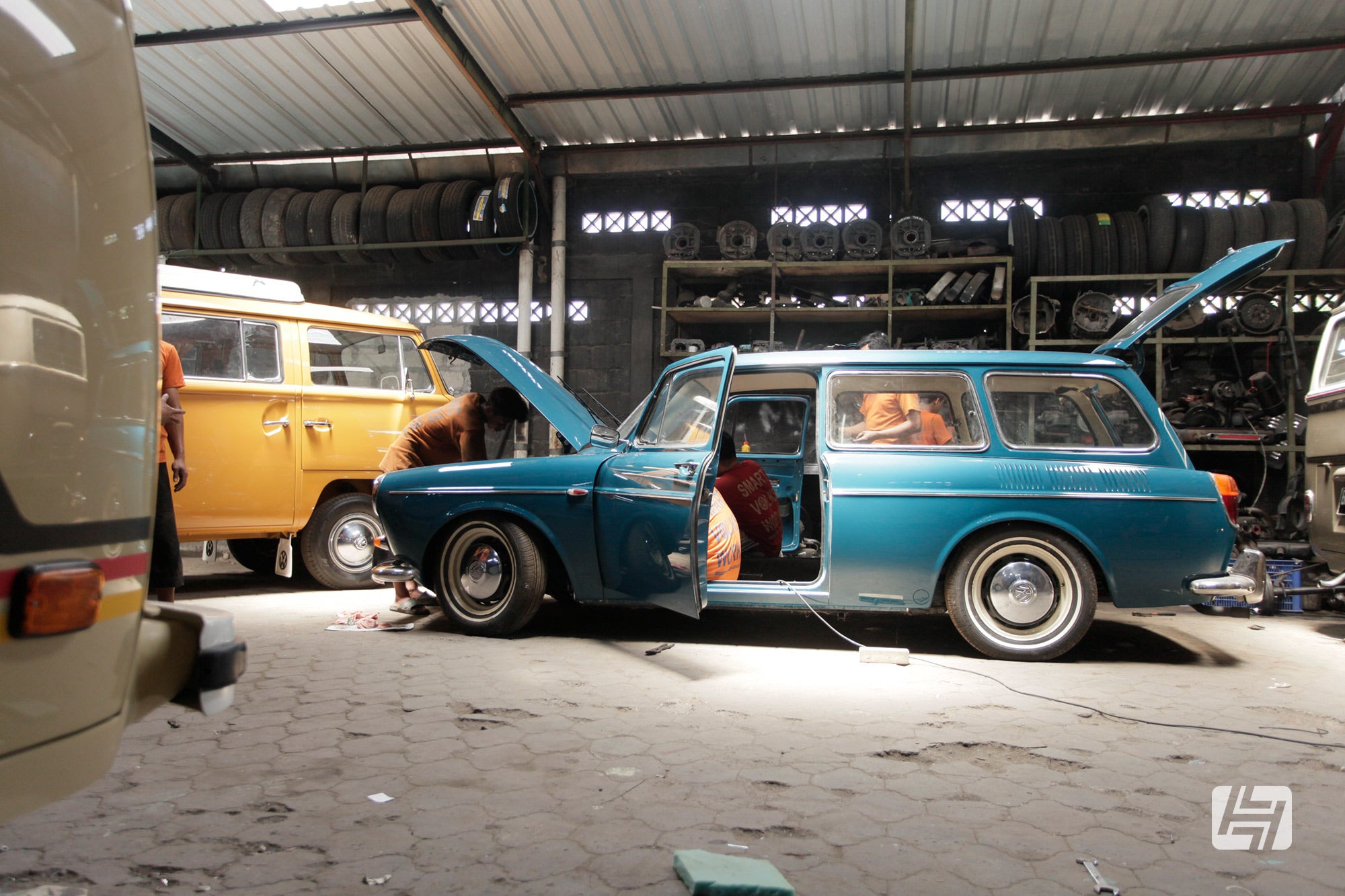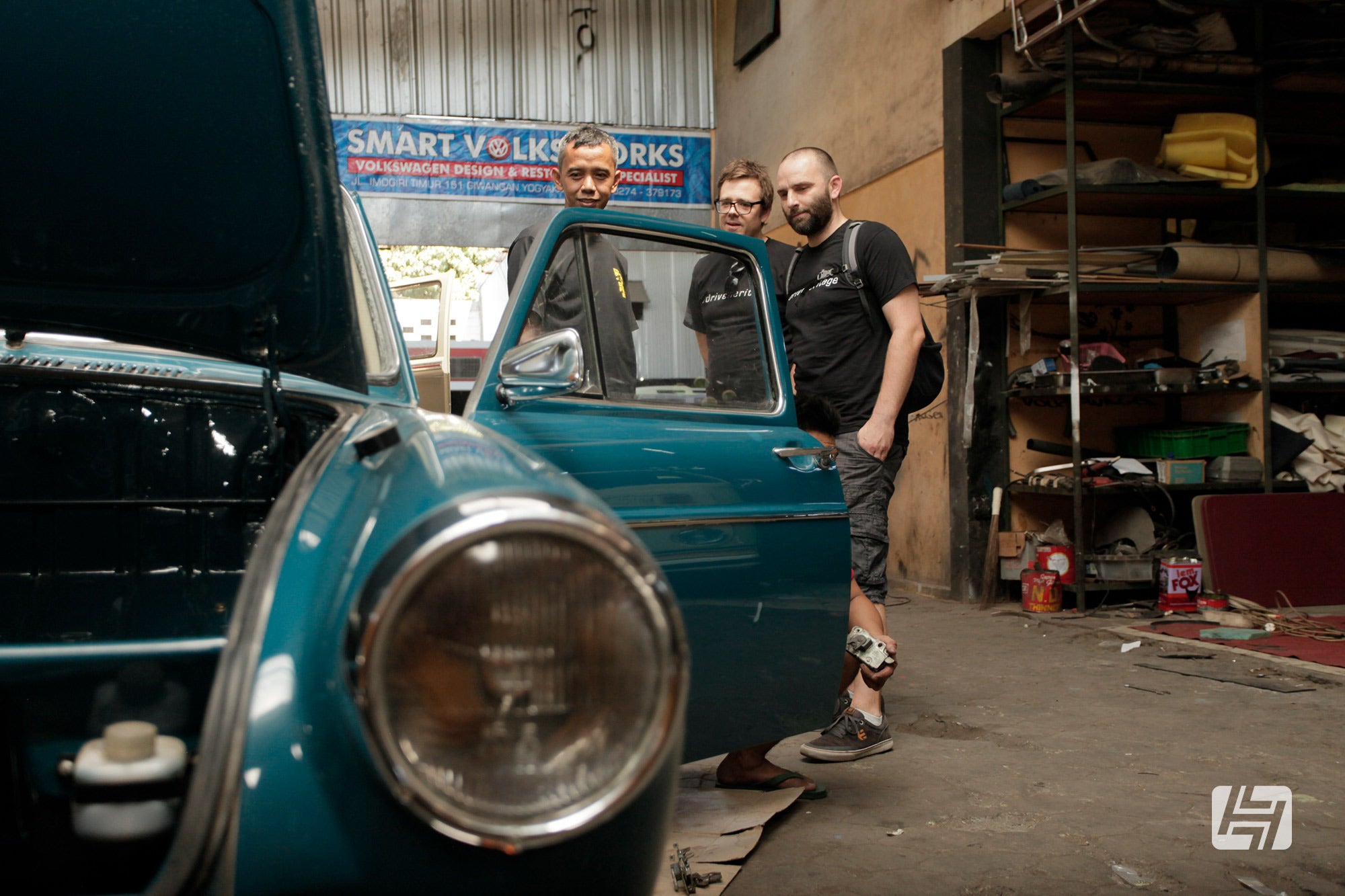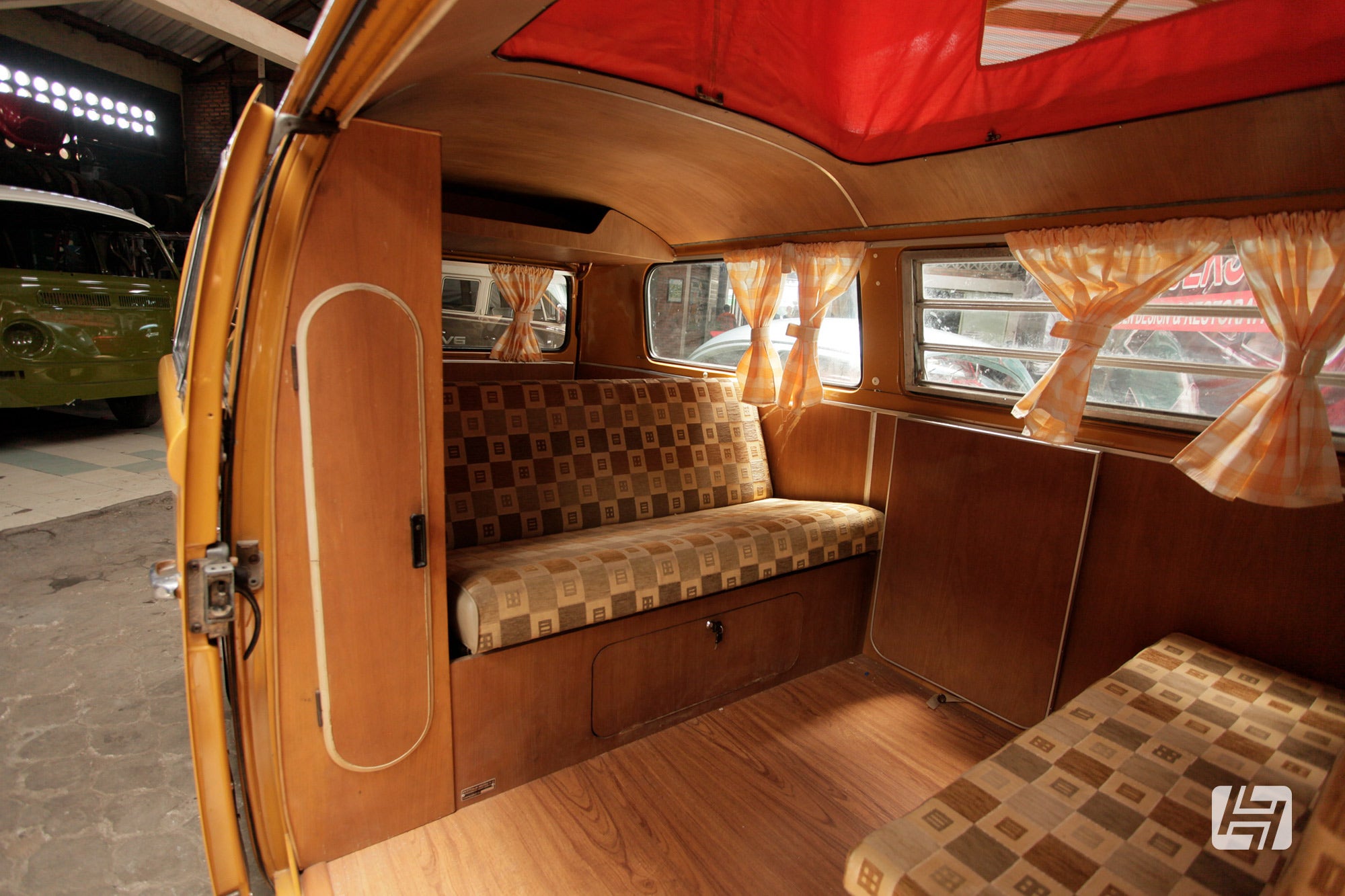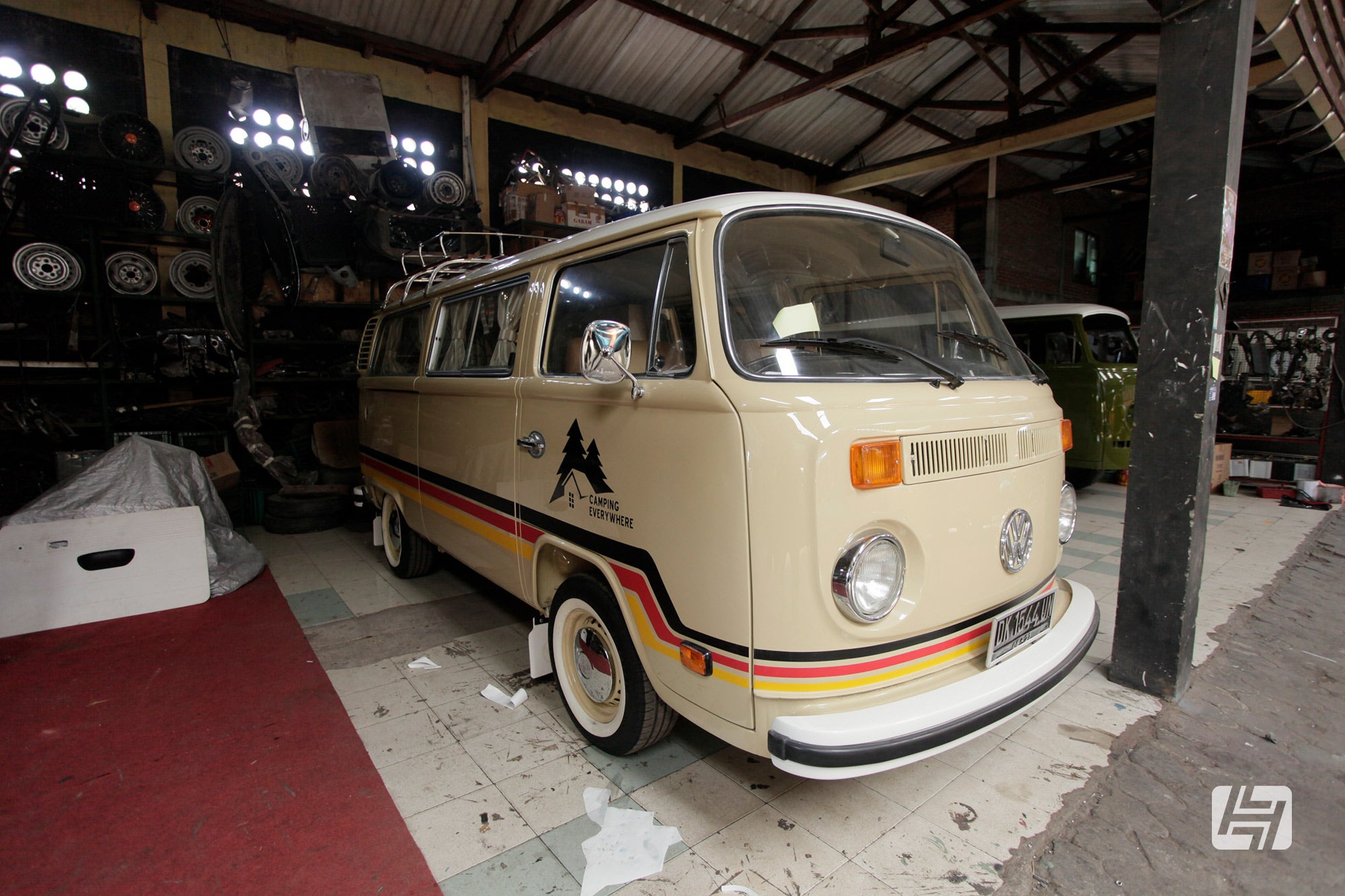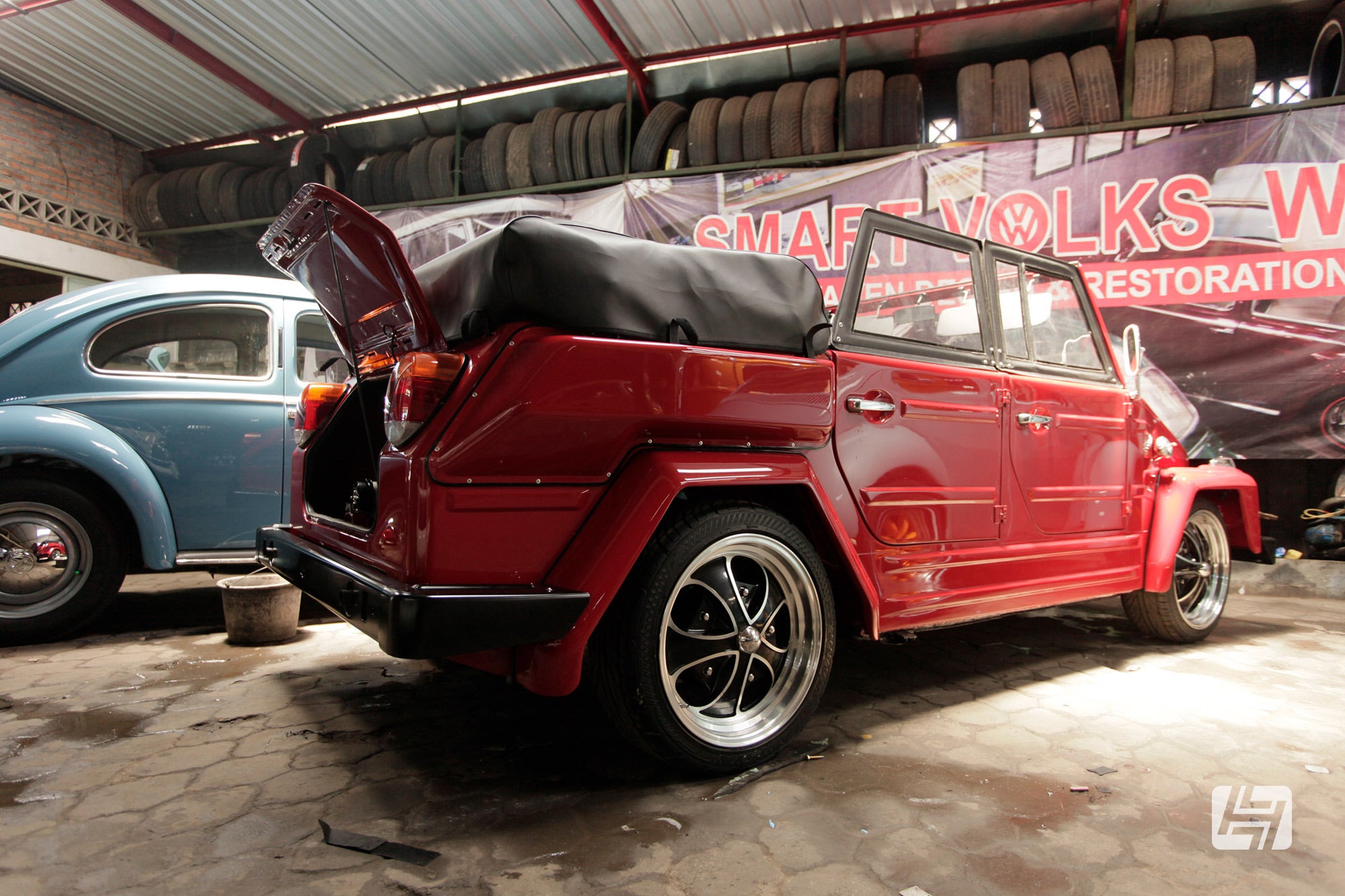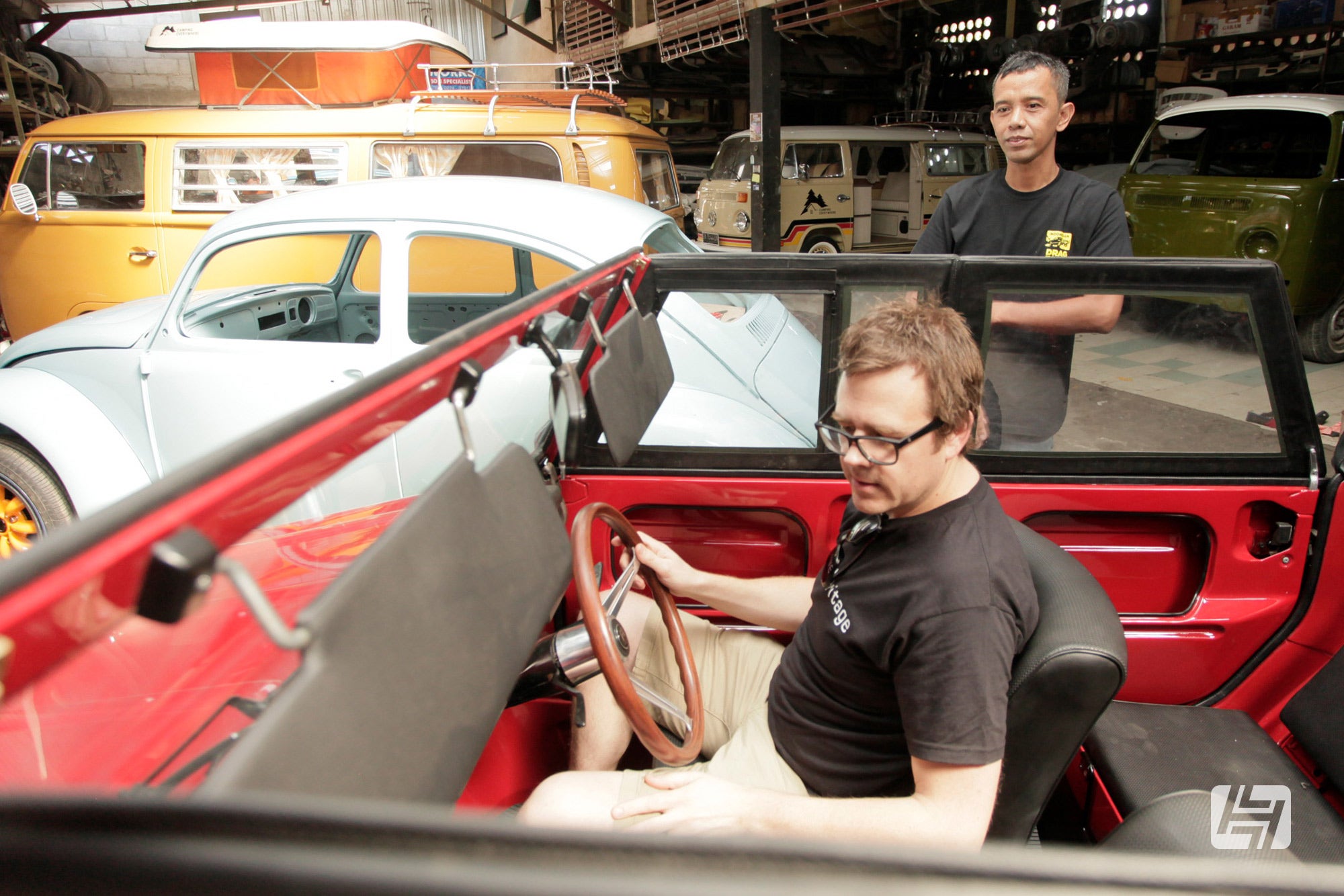 The Showroom!
Right at the back of the workshop, we go up a step into a tiled area full of finished cars. They all belong to Rosyid, but this is only a selection of his collection though. He estimates he owns over 20 Type 181's, a number of which he loans to a holiday company in Bali.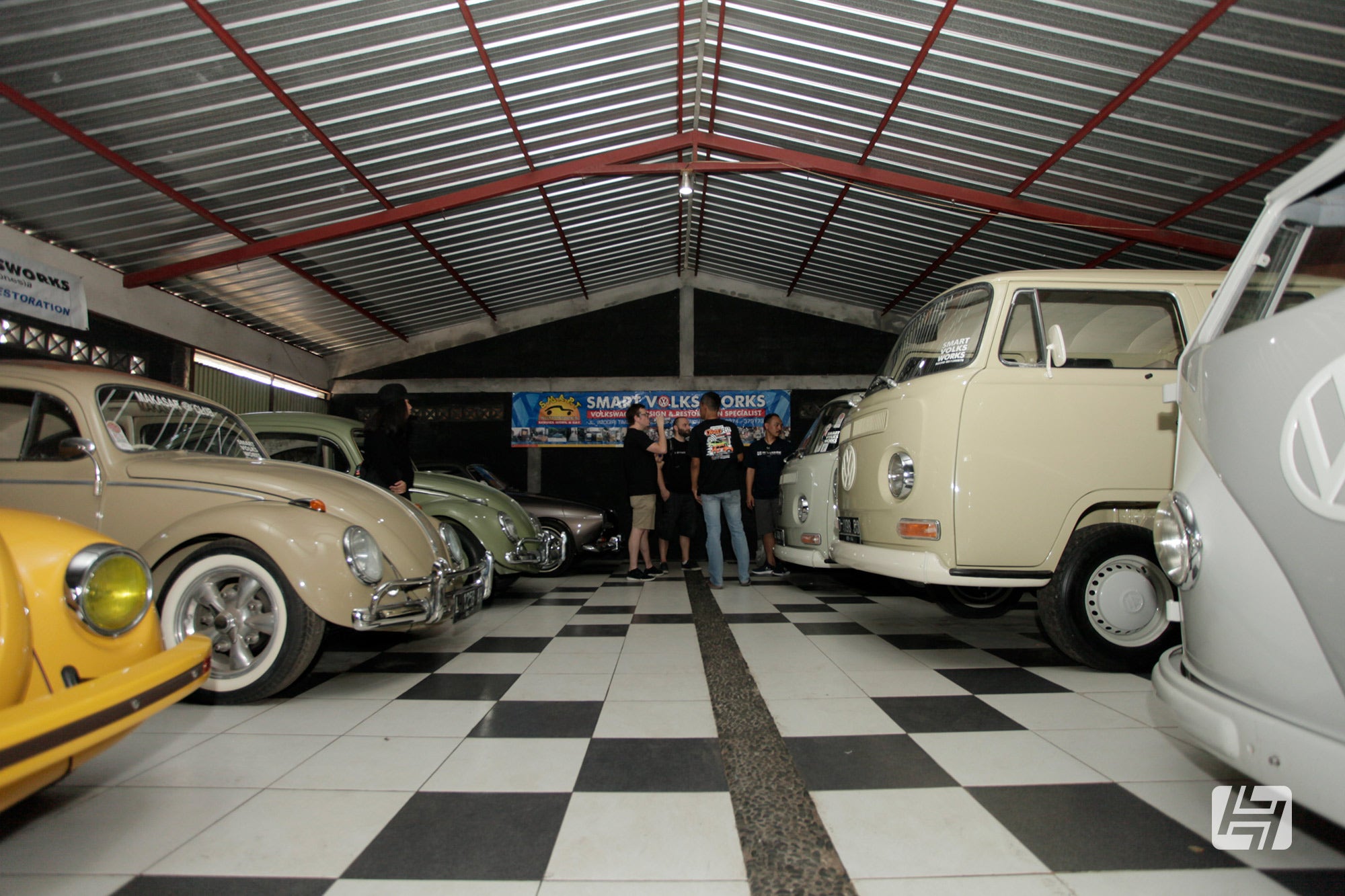 Each one of these cars looked immaculate, and it was hard to believe they too had been through the very same process we had just witnessed on the shop floor. That's taking nothing from the team who work here as they do a cracking job, and Rosyid, who has trained them all personally too. There is a handful of buses, including a couple of Crew Cab Baywindow buses, a grey on grey Barndoor rolling on
detailed SSP Fooks
just awaiting final fit of the
front safari windows
and other trim parts.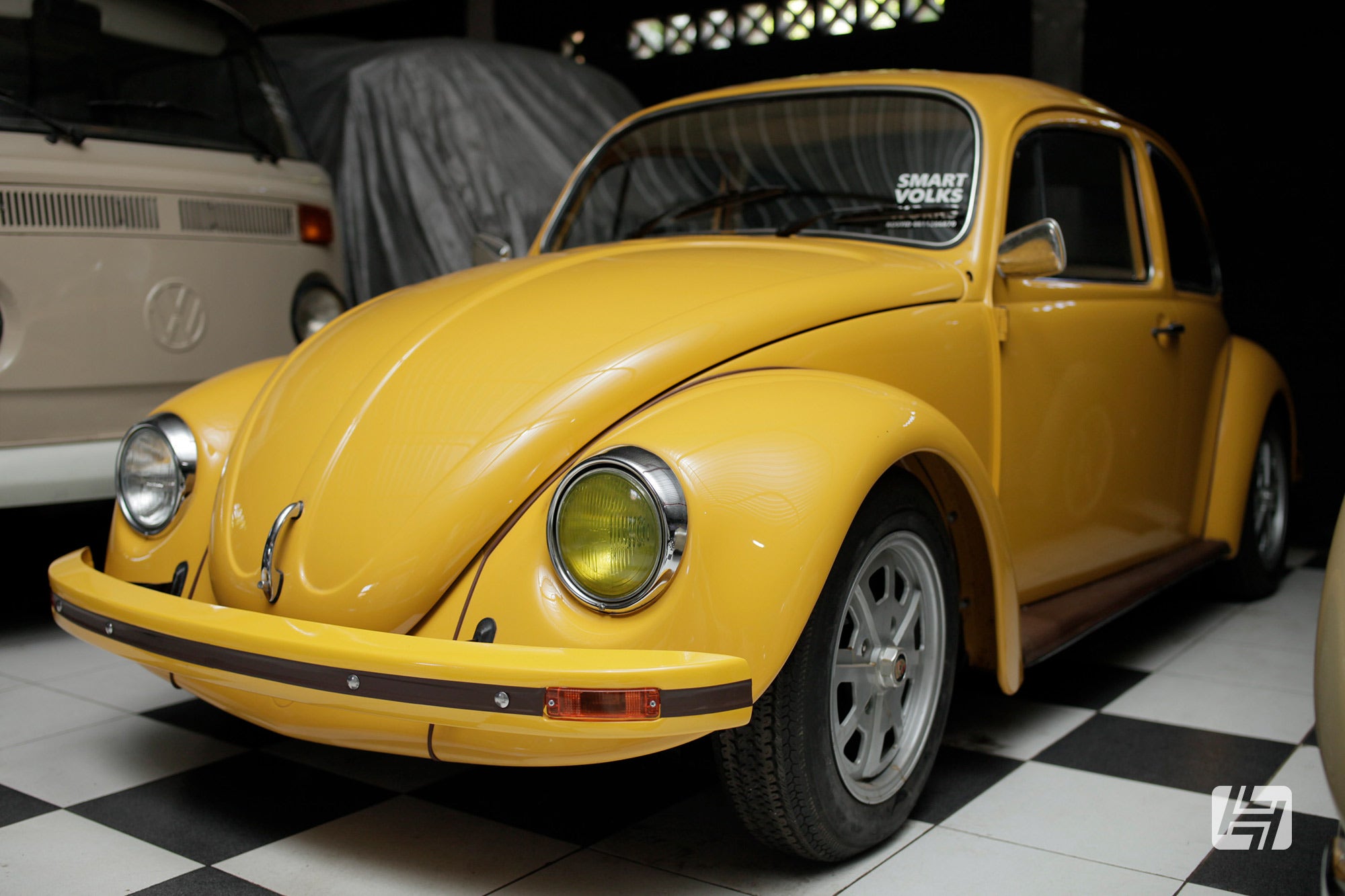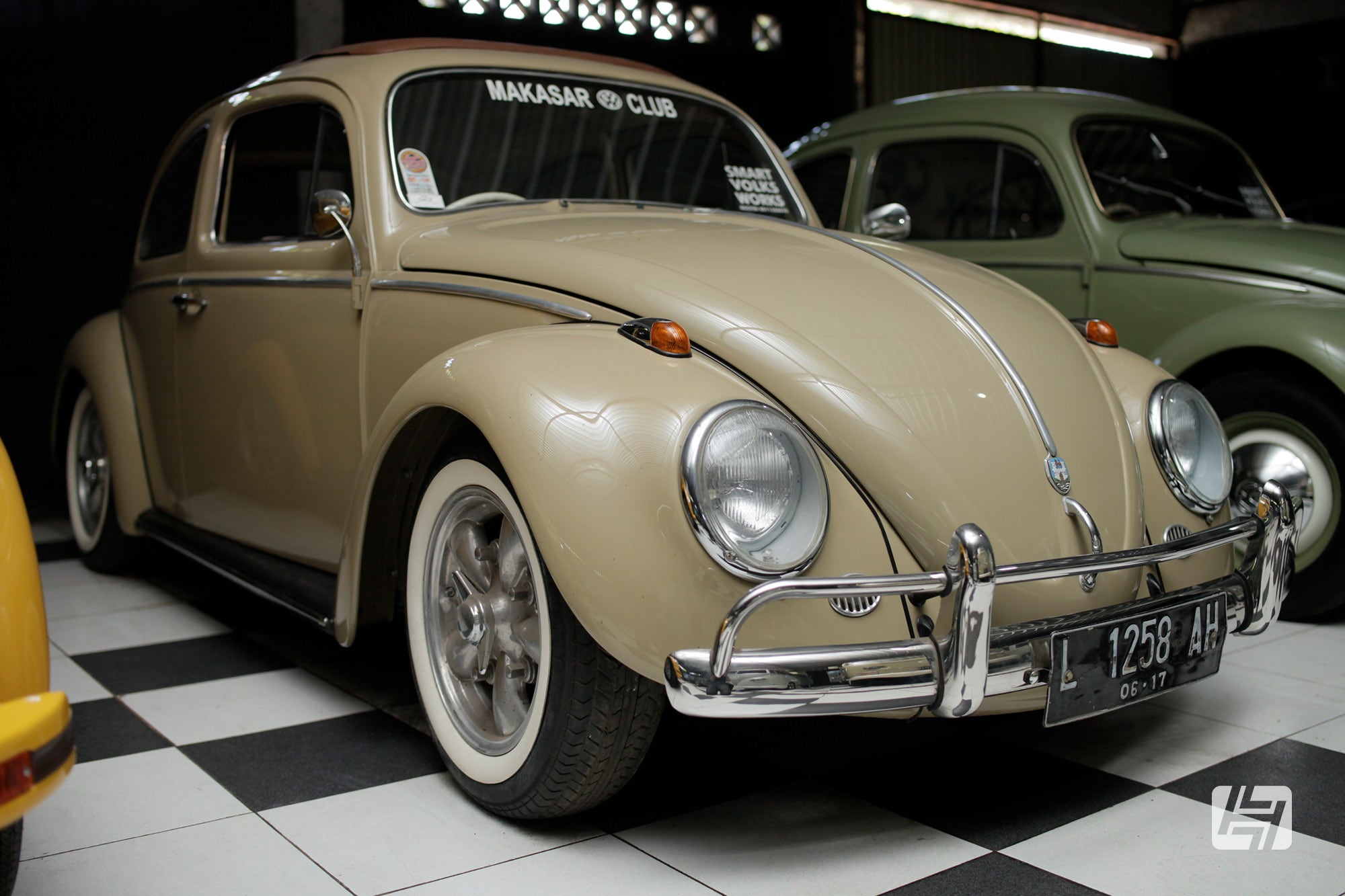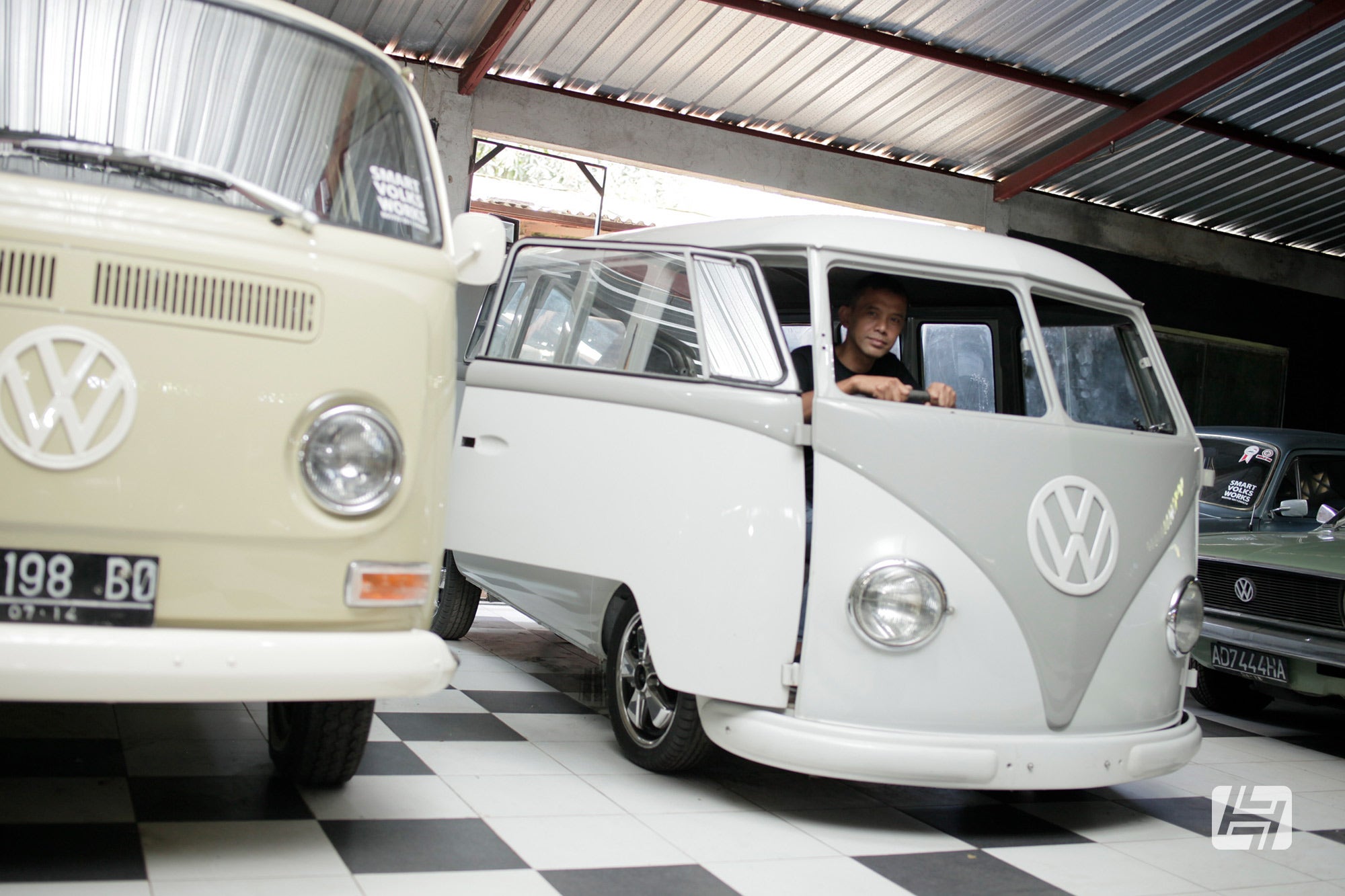 Looking to the future
Rosyid's son isn't at the shop when we visit, but he has clearly caught the bug from his father. Not only has he got one of the fastest Beetles in Indonesia - it's parked in the corner of the customer lounge. He's joined the family business to help grow their parts sales.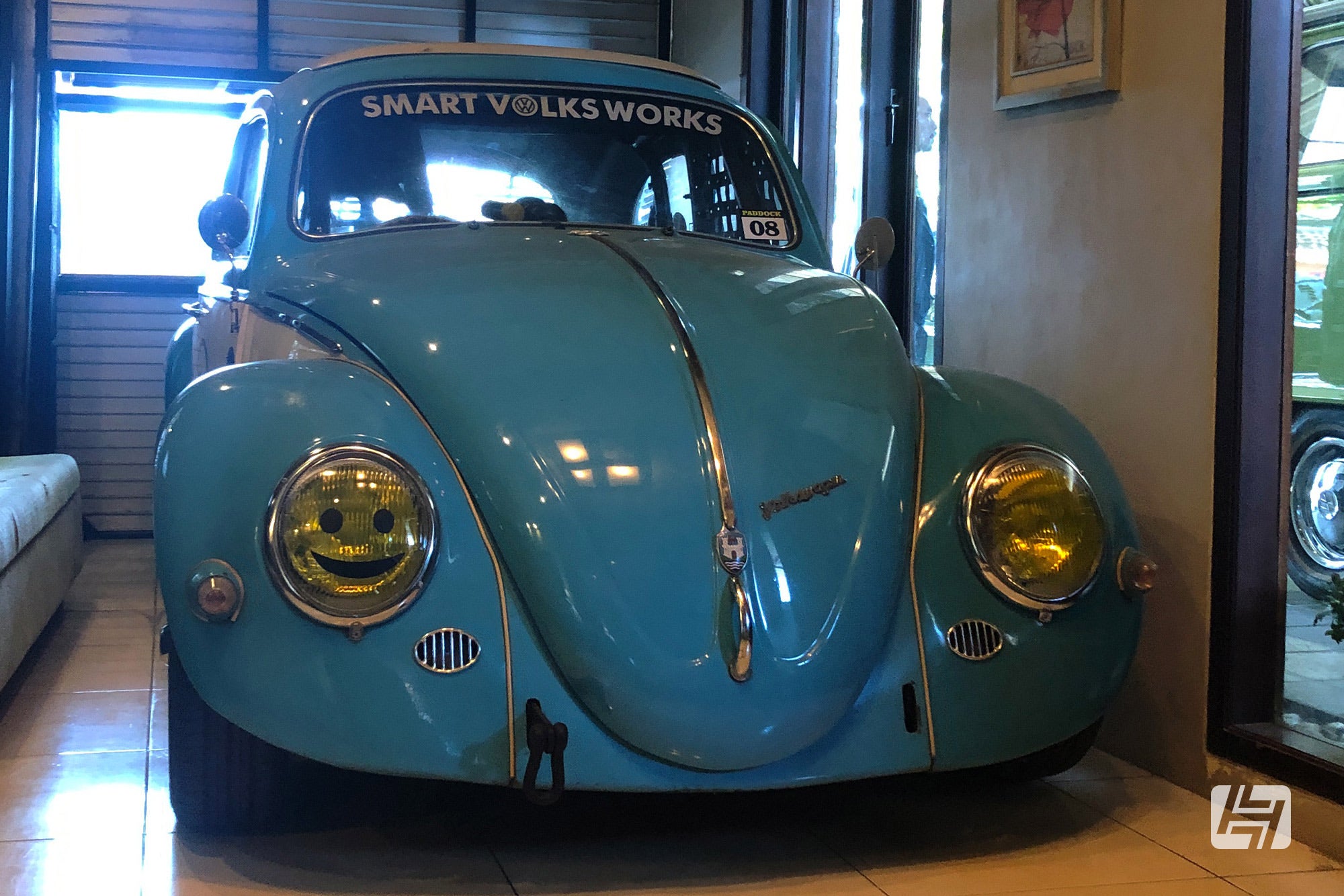 Other stuff for the months and years to come, well - there's a Sealing Wax Red and Chestnut Samba parked under a cover to the side of the building. This is another one on a 'resto-visa' and will return back to Europe once complete.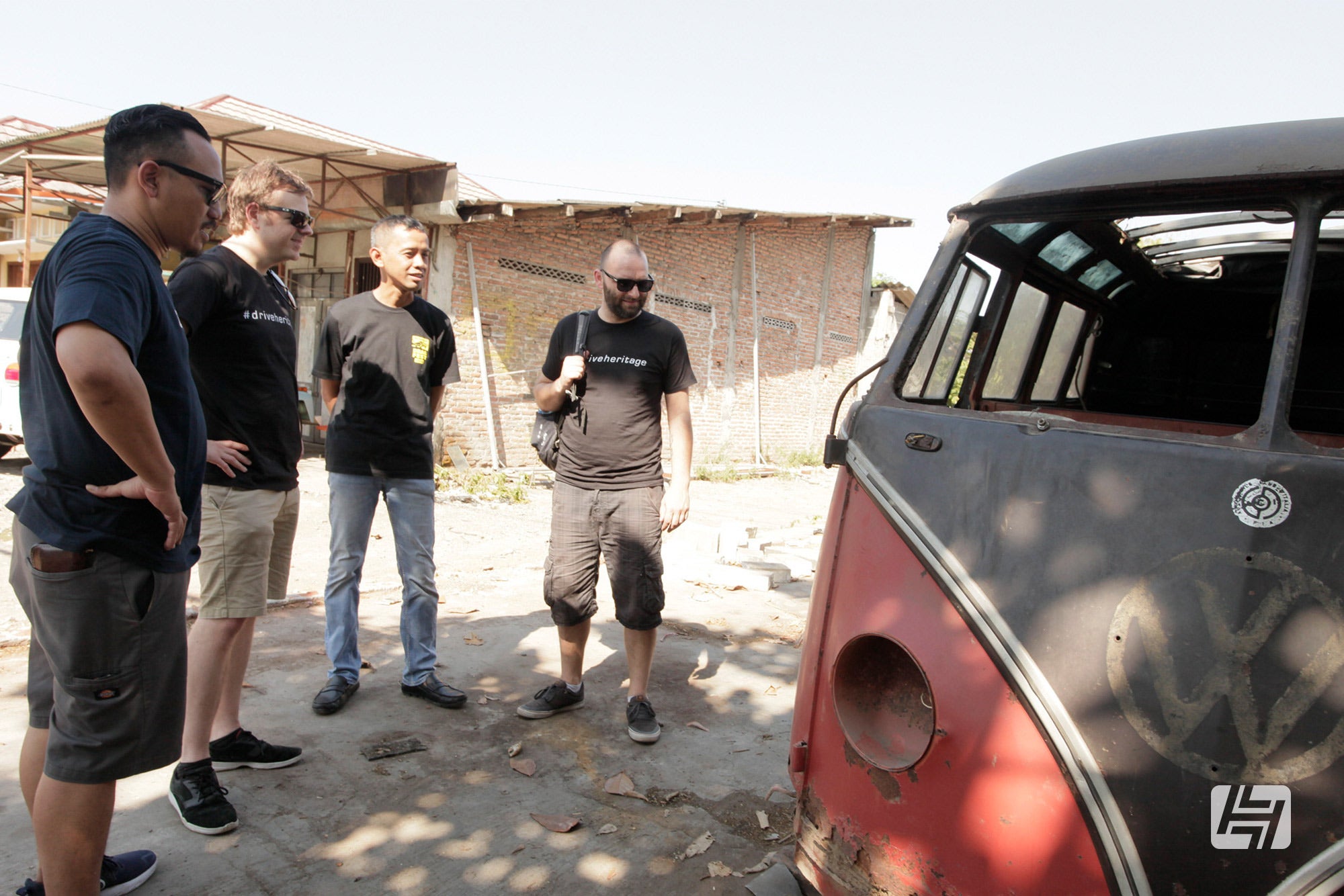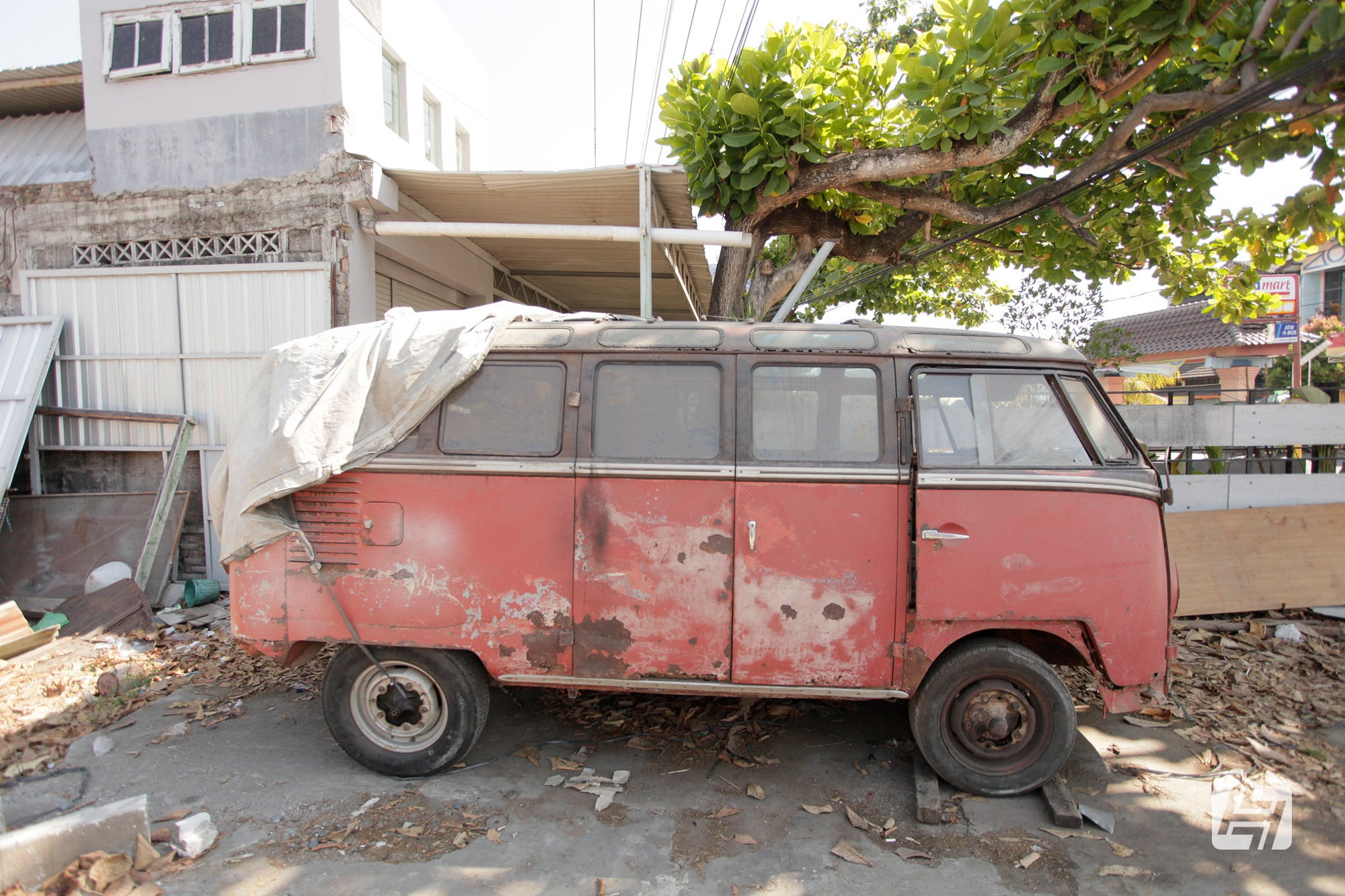 A huge thank you to Rosyid for taking the time to show myself and Laurent around his workshop. An honourable mention for Andre for taking most of these photographs too. Stay tuned for more behind the scenes features from our time in Indonesia. Andy