Famed for its simple yet elegant design, the Porsche 911 is one of the most iconic sports cars on the planet. Its DNA hasn't really changed much in the decades since its first release in 1964, particularly in the much-revered air-cooled era. Pleasingly, that means there's a huge crossover of interchangeable Porsche parts between 911s built from 1964 right up to 1993, which makes the air-cooled cars extremely popular among enthusiasts wanting to backdate, modernise, or upgrade their 911 to a replica of another model. But where to start? Well, knowledge is power, so here's your definitive aircooled Porsche 911 style guide.
The original Porsche 911
The Porsche 911 was first produced back in 1964 as a dainty 2+2 seater sports car with smooth, flowing lines. It was all part of designer FA 'Butzi' Porsche's philosophy that form should follow function. Featuring upright headlights at either corner in the front (to assist a driver in placing the 911 perfectly on the road), a flat decklid design, and simple steel wheels, the first 911 also had plenty of chrome on the window trim, headlight surrounds, horn grilles and single wing mirror (round or rectangular depending on the country designation). Inside, those five iconic instrument dials featured green marking and numbering, switching in 1968 to white with red needles.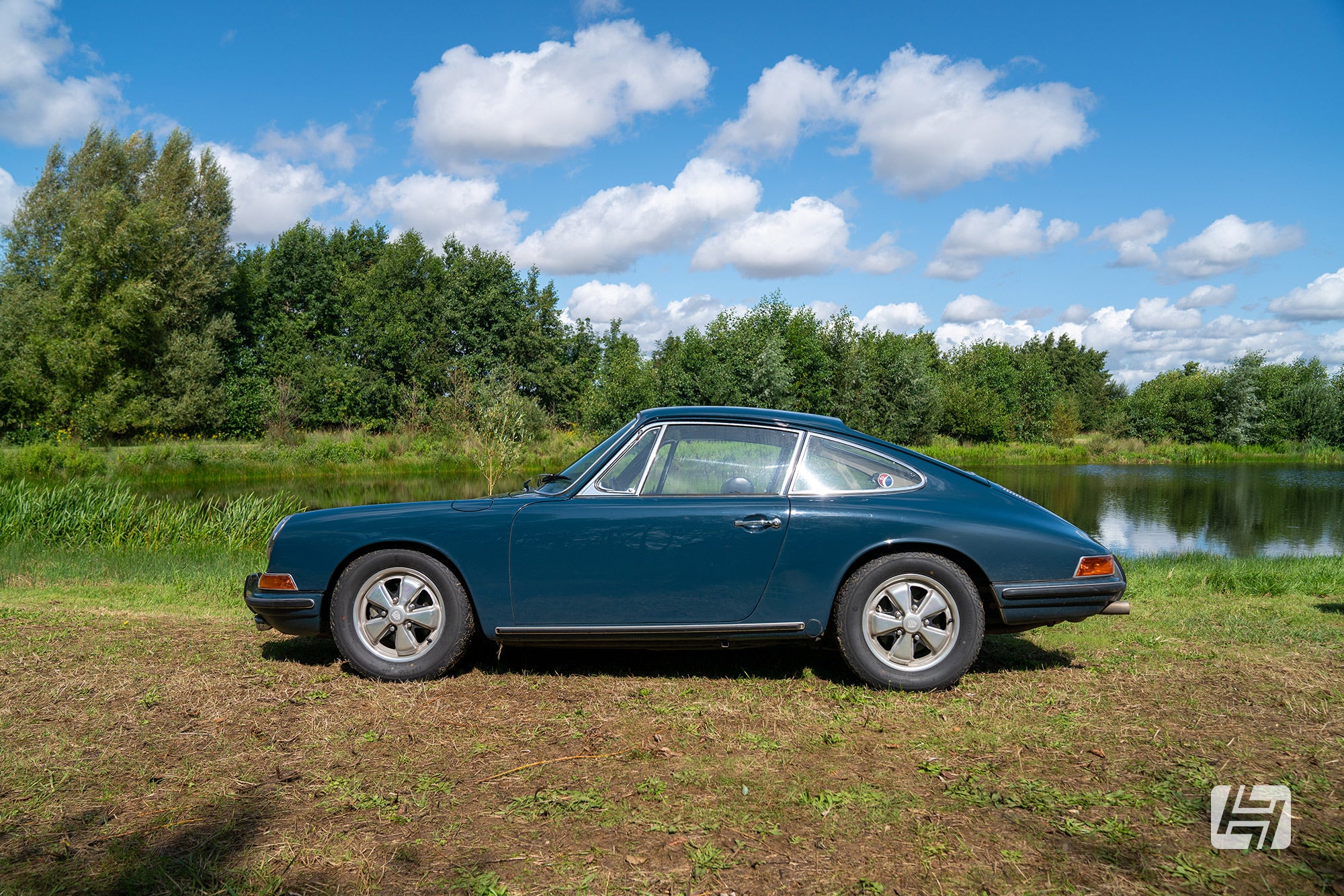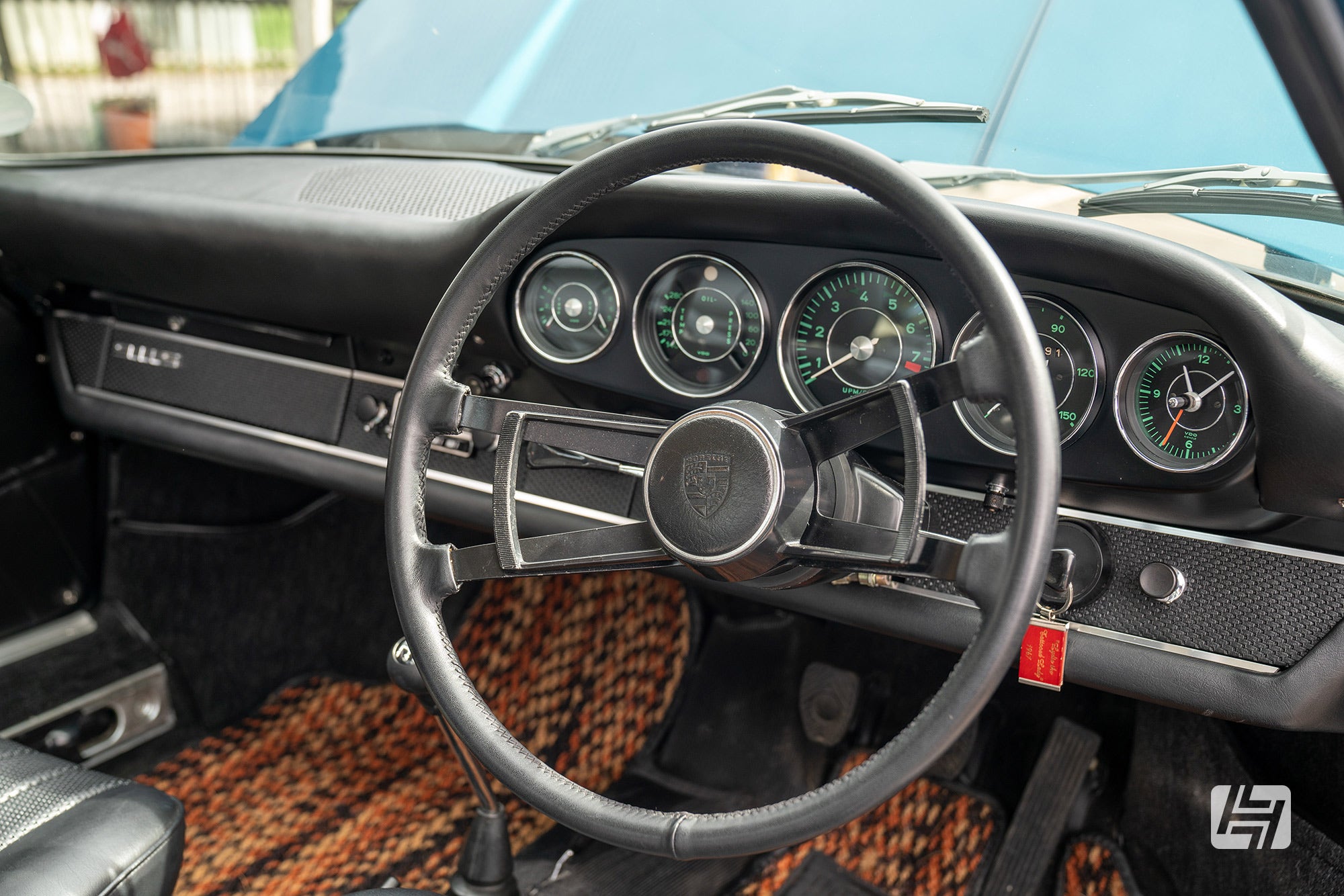 The 911 Targa
The 911 Targa was introduced in 1967 and originally billed as the 'Safety Cabriolet' being designed to combat a motion banning convertibles, on grounds of safety in the US. But also because a conventional Cabriolet was not yet possible on the 911 due to chassis rigidity issues, something that would not be rectified until the 911 Cabriolet's debut in 1983. The 911 Targa featured a steel roll hoop in the position of the B-pillars, a wraparound glass rear screen (although a soft rear window was available until '72), and a removable Targa top. For both Coupe and Targa, only minor design updates would follow over the next decade: think an extension of the wheelbase, plus adoption of those iconic Fuchs wheels, and 911S front chin spoiler as the most obvious. This would change with the introduction of the halo 2.7 Carrera RS in 1973.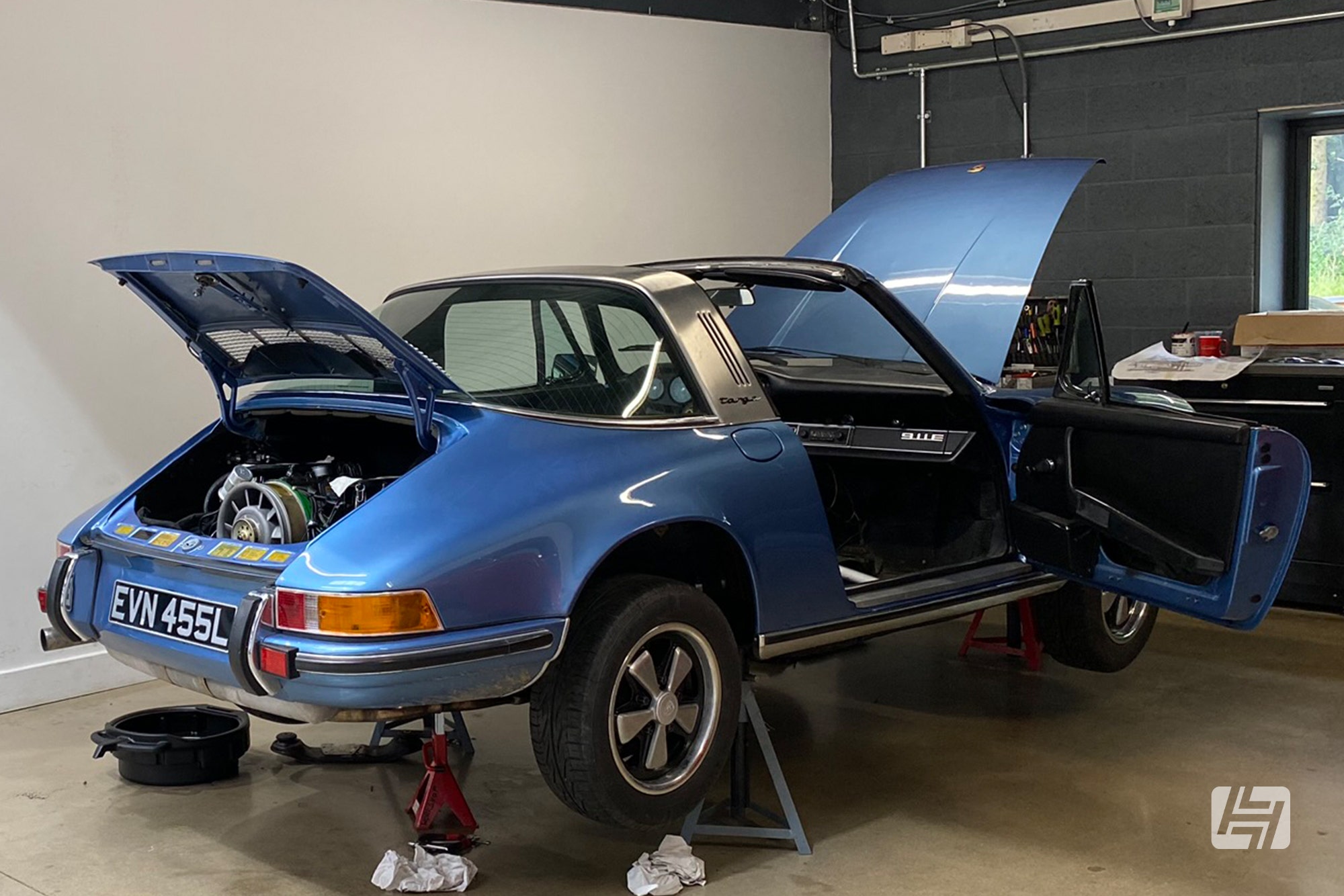 How to spot a Porsche 911 2.7 RS
Look for the 2.7 RS ducktail! So-called for its obvious profile, that fixed wedge protruding from the rear of an early 911 is the first wing fitted to a Porsche road car, so it carries historical significance. You don't have to own an RS to get in on the act as duck tail spoilers are available for a variety of air- and even water-cooled 911s.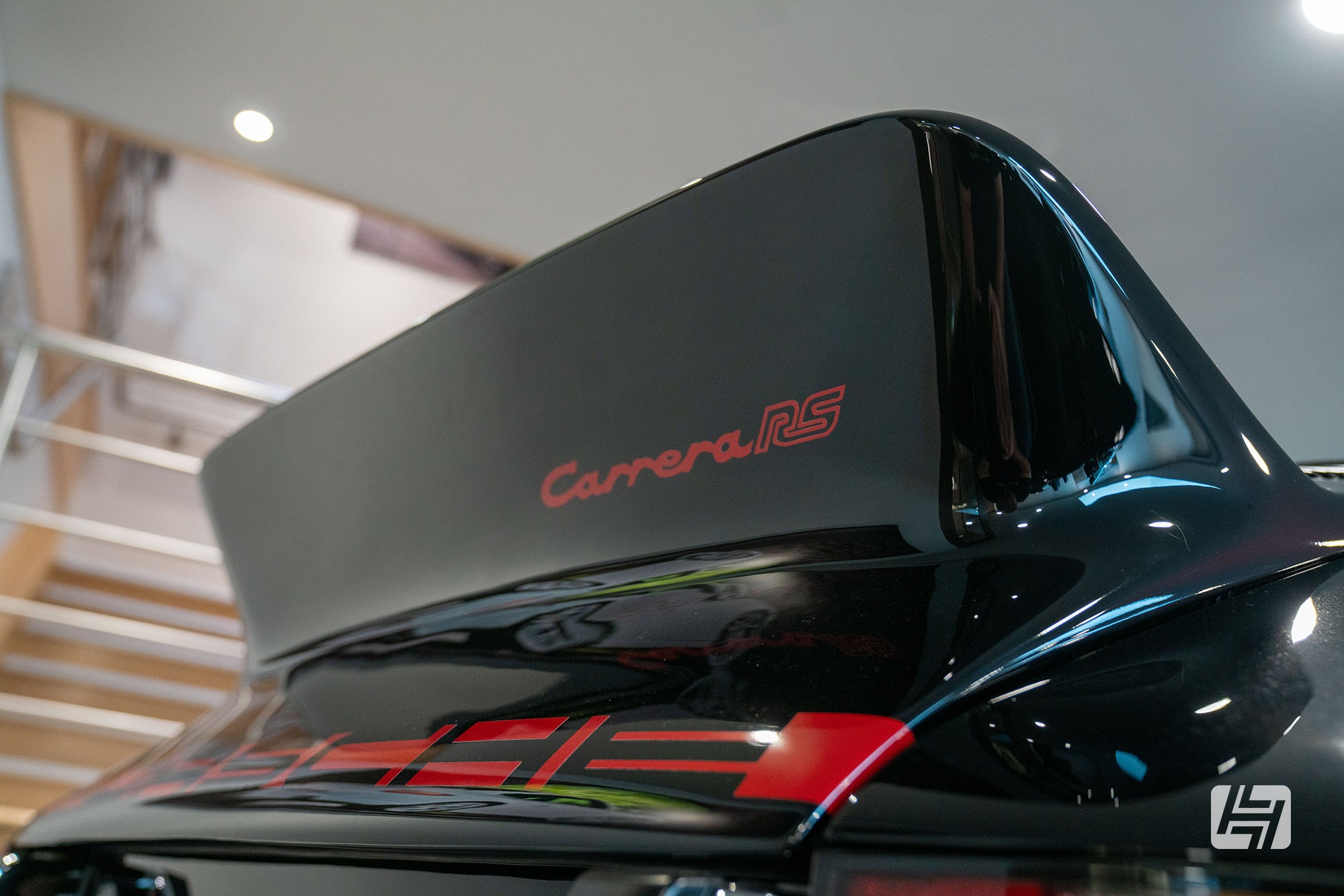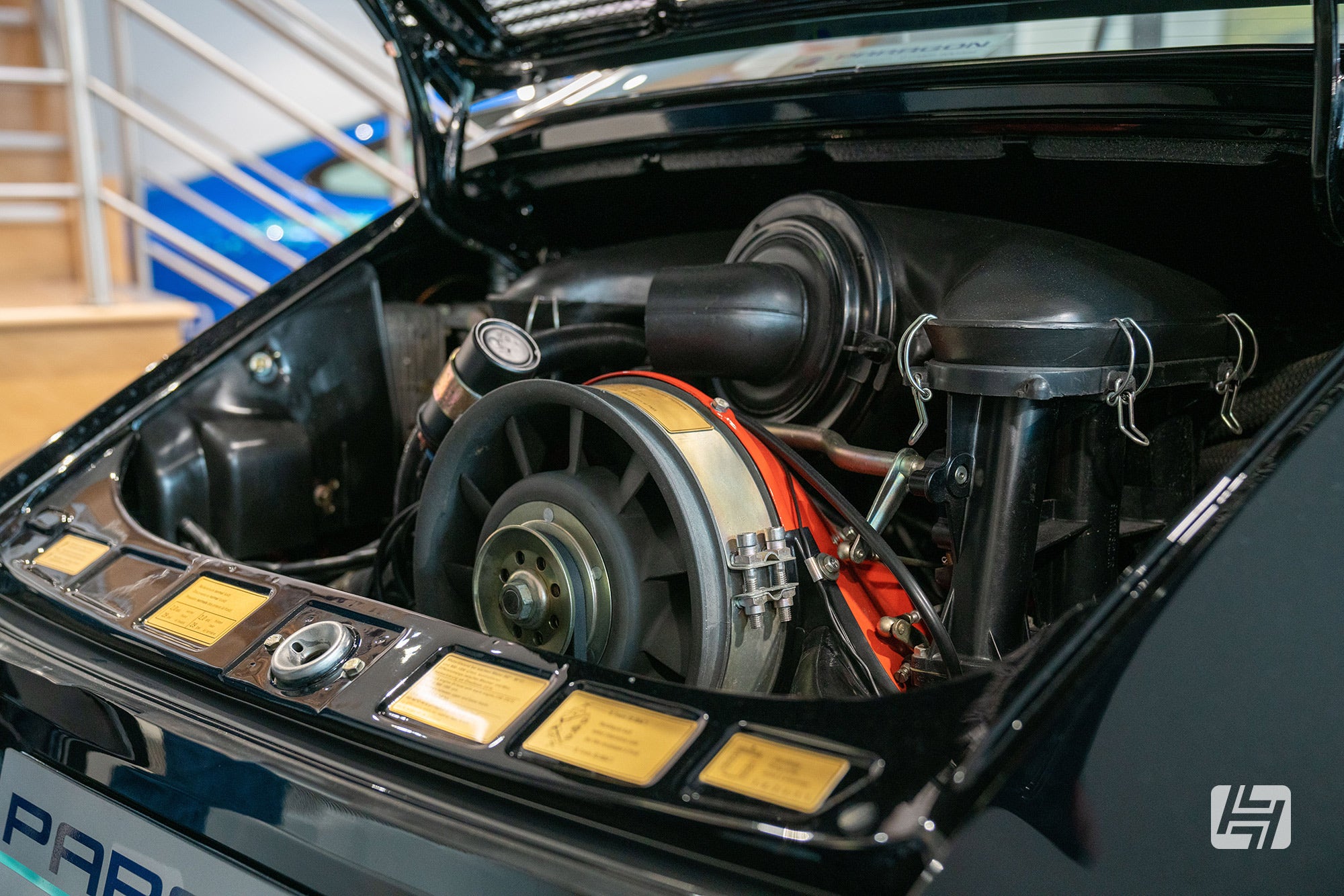 Then there's a revised 2.7 RS front bumper with a flat centre section to house the car's front oil cooler, and the Fuchs wheels are an inch wider on the rear – seven inches instead of six – to provide some additional mechanical grip to offset a beefier 210hp MFI engine (don't forget the red S/RS fan shroud if you're paying attention to engine details too). Most obvious is the 2.7 RS 'Carrera' decal down each side, which was colour coded to those Fuchs wheels in collector-friendly Lightweight specification. If you're being super diligent, you'll need black instead of chrome Porsche horn grilles and F-series window trims too. This is a popular conversion among air-cooled 911 owners and is relatively straightforward to execute.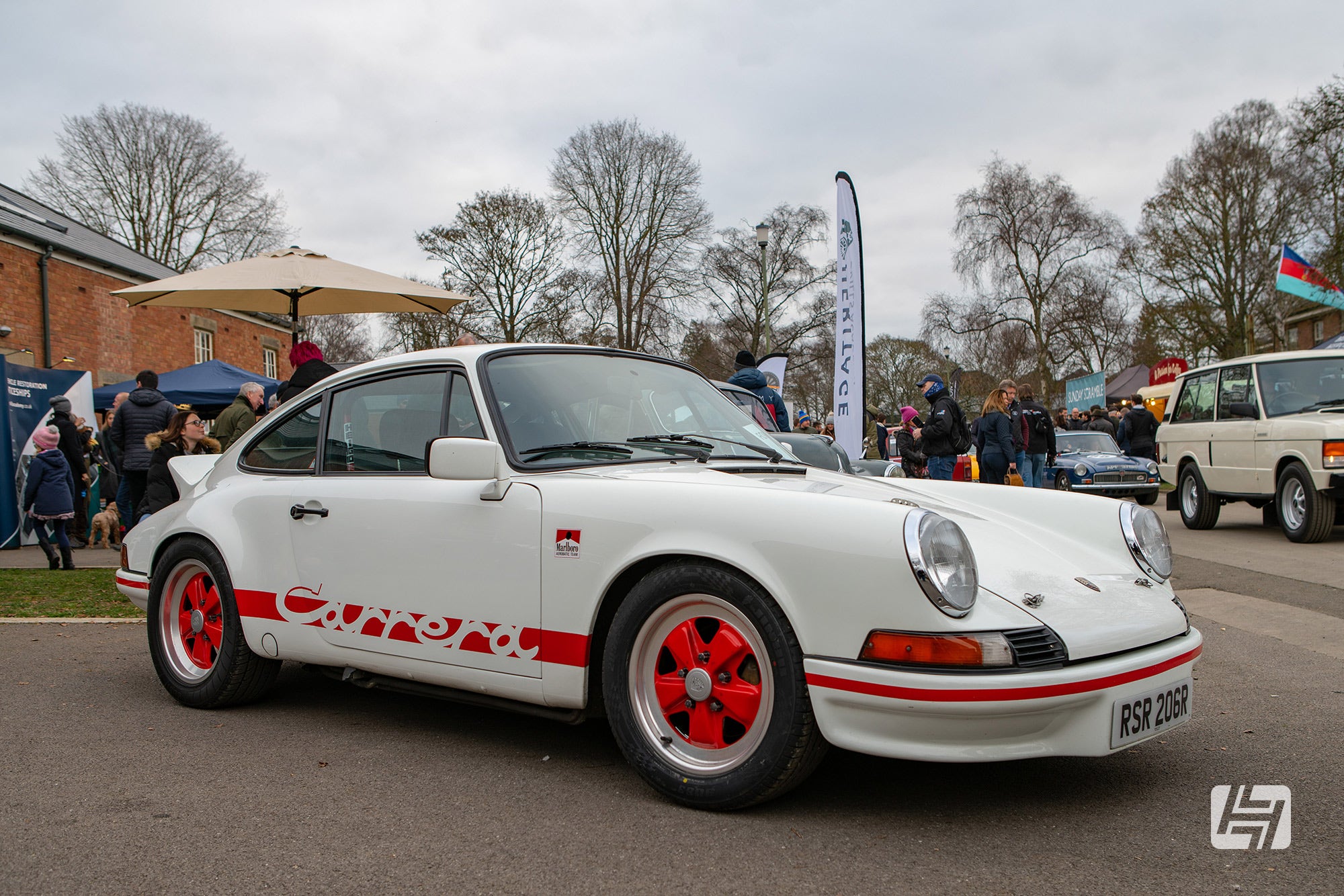 Can you build a Carrera RSR?
Again, a 3.0RSR/IROC look, which were the works race cars of the time, is a popular modification for air-cooled 911 owners. You'll just need the fibreglass one-piece RSR bumpers, deep front chin spoiler, and longer whale tail wing (the RSRs retained a rubber lip, whereas the IROC cars didn't). A wide-arch RSR conversion with intakes ahead of the rear arches (which cooled the brakes) is another customary design trait of these cars, alongside super-wide Fuchs wheels wrapped in sticky rubber for maximum grip. Twin 'megaphone' exhausts allowed the flat six to breathe and sound better. Inside, the interior was completely stripped of rear seats and sound deadening, and rear glass was replaced by much lighter plexiglass. Radios were binned in favour of a simple radio blanking plate, and electric windows – which enjoyed a stay of execution on the 2.7 RS Touring – were also removed in favour of simpler and lighter manually winding windows.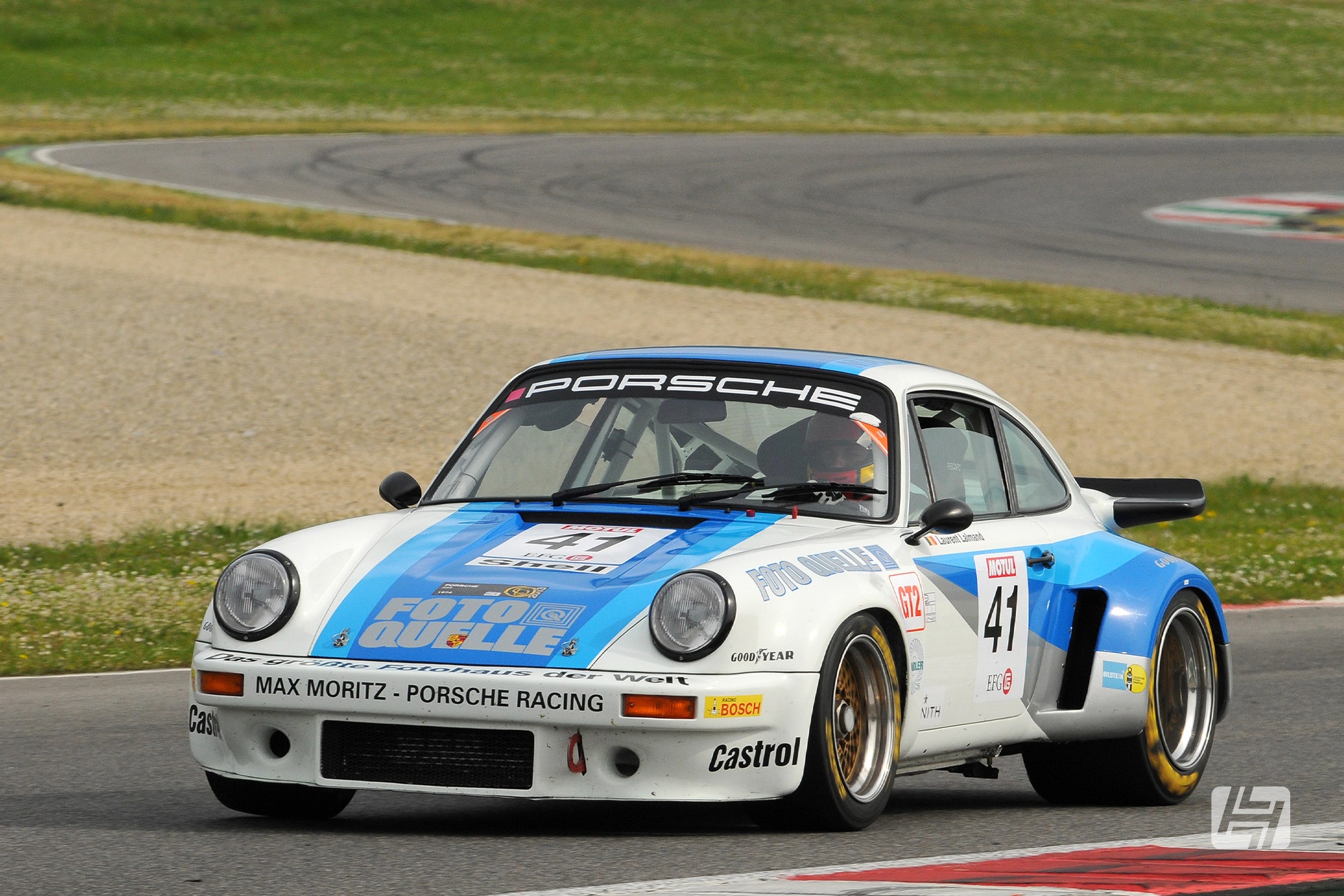 Welcome to the Porsche G series
A year after that fabled 2.7 RS, everything changed for the 911. Chunkier 'pre-impact bumpers' with plastic bumper bellows were introduced to satisfy US crash safety regulations, and the interior was updated to include a smaller diameter Porsche steering wheel (with three spokes instead of four), plus a new 'tombstone' seat design with headrests incorporated into the mainframe. This was called the 'G-series' era and would last for a whopping 15 years, albeit subtle changes were introduced every year such as air vents on the dashboard, or headlight washers sunken into the front bumper. This was the 911 era of evolution, not revolution!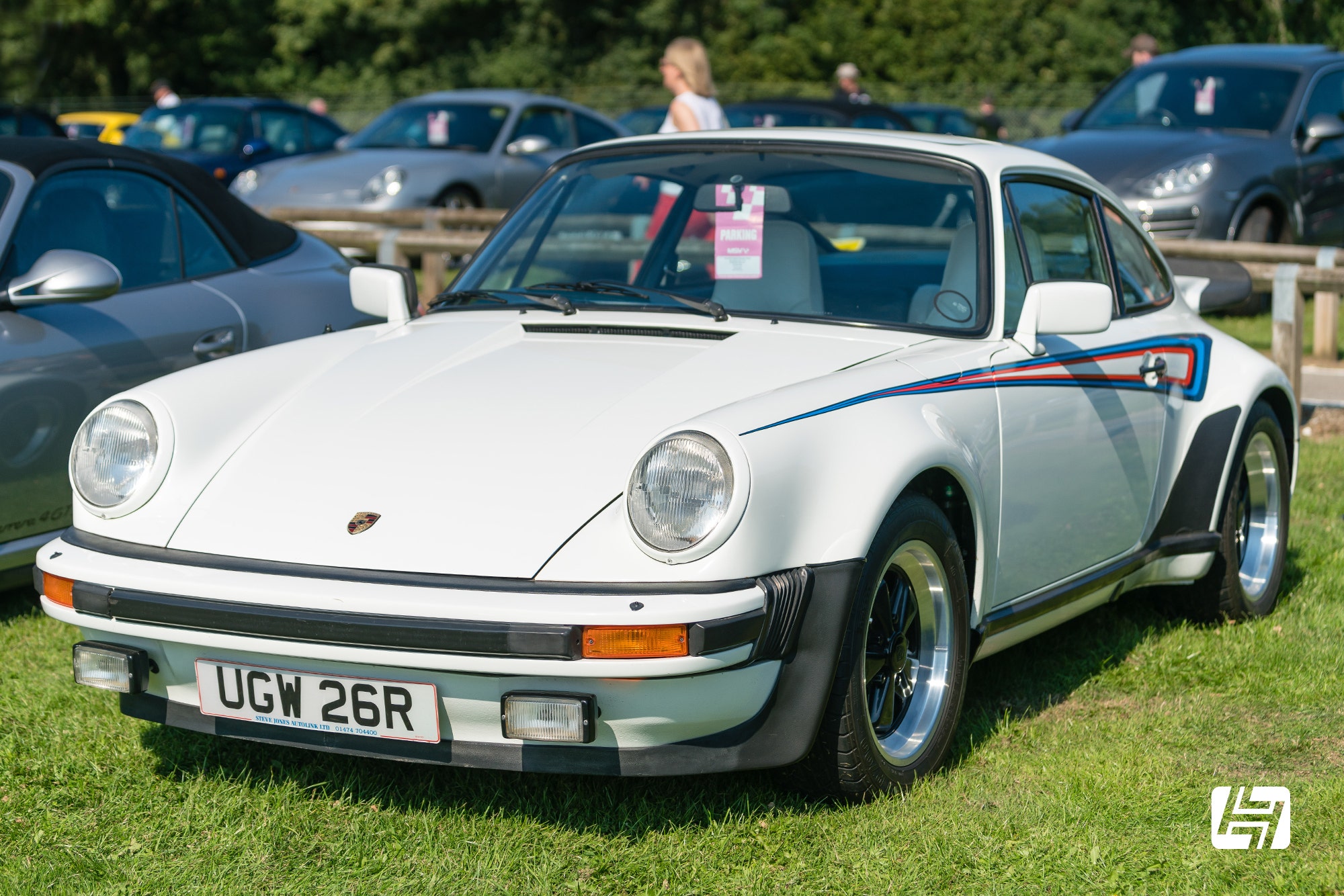 What is a Porsche 930?
Crucially, Porsche also diversified its 911 lineup, introducing a high-powered supercar to sit above its previously top-of-the-range (and naturally aspirated) Carrera. This was of course the 911 Turbo, and it captured the imaginations of the rich with its wide-body, whale tail wing, and powerful engine. Internally, the 911 Turbo was codenamed the 930, and so all Porsche 911 Turbos in the G-series era were colloquially called 930s. There was a slight change to the look in 1978 when Porsche swapped out the whale tail rear wing for a 'tea tray' look design that could successfully fit over the newly-appointed intercooler atop the flat-six engine. Both the whale tail and tea tray are iconic design traits of the air-cooled era.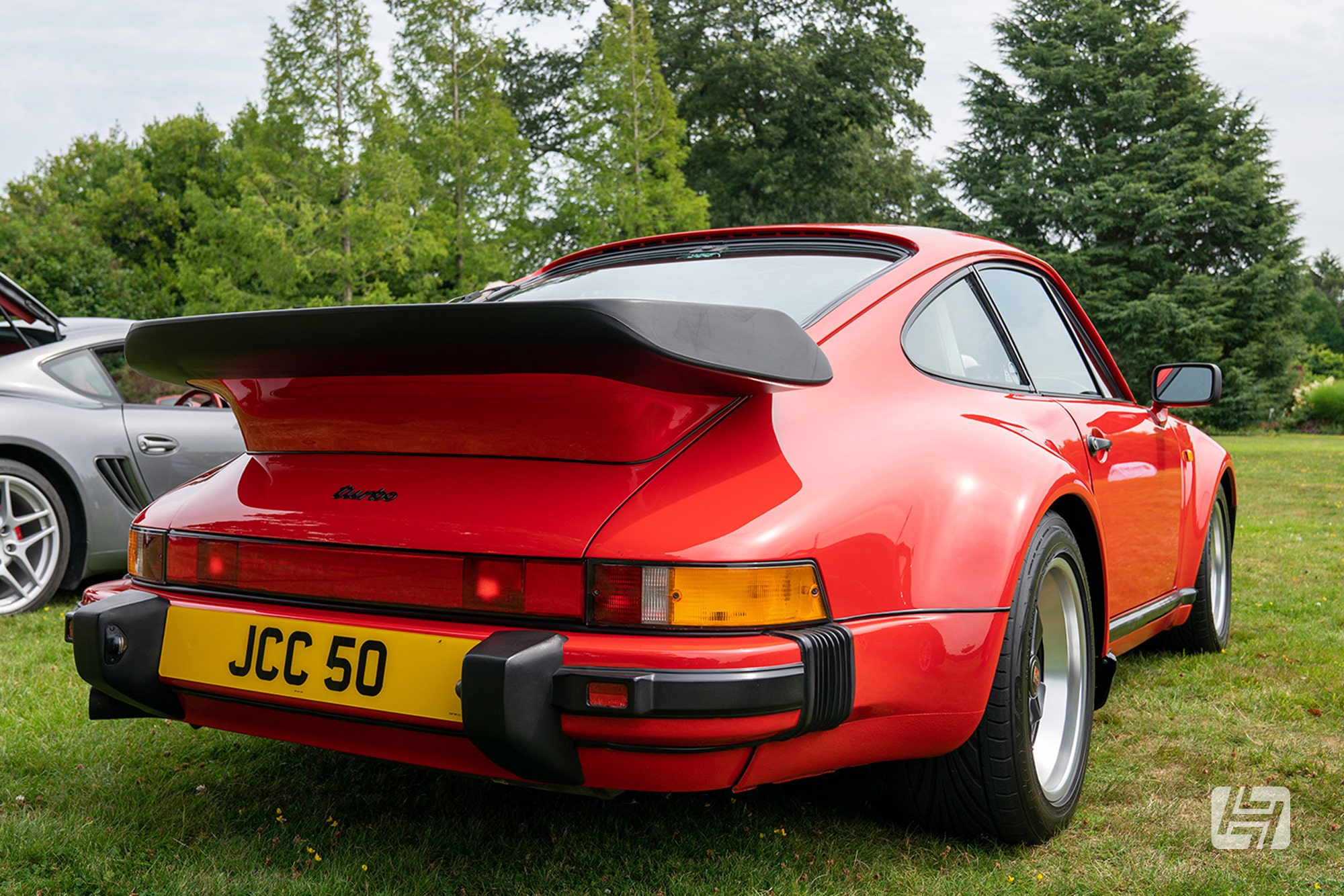 How to build a Turbo-look 911
Interestingly, this was a popular move at the time, with many enthusiasts giving their narrow body Carreras to aftermarket coachbuilders to turn into a 911 which looked like the mighty Turbo. It led Porsche to create the 3.2 Carrera SSE (SuperSport Equipment) option code M491, which effectively had everything apart from the actual turbocharger. To create your own Turbo-look 911, you'll need chunky Turbo-spec wheel arches, wider Fuchs wheels, either a whale tale or tea tray wing, and a thicker Turbo front lip. Oh, and don't forget the customary black Turbo stone guards ahead of those wider rear arches. Regardless of the motor, you can upgrade your G series steering by fitting the Turbo tie rod upgrade kit.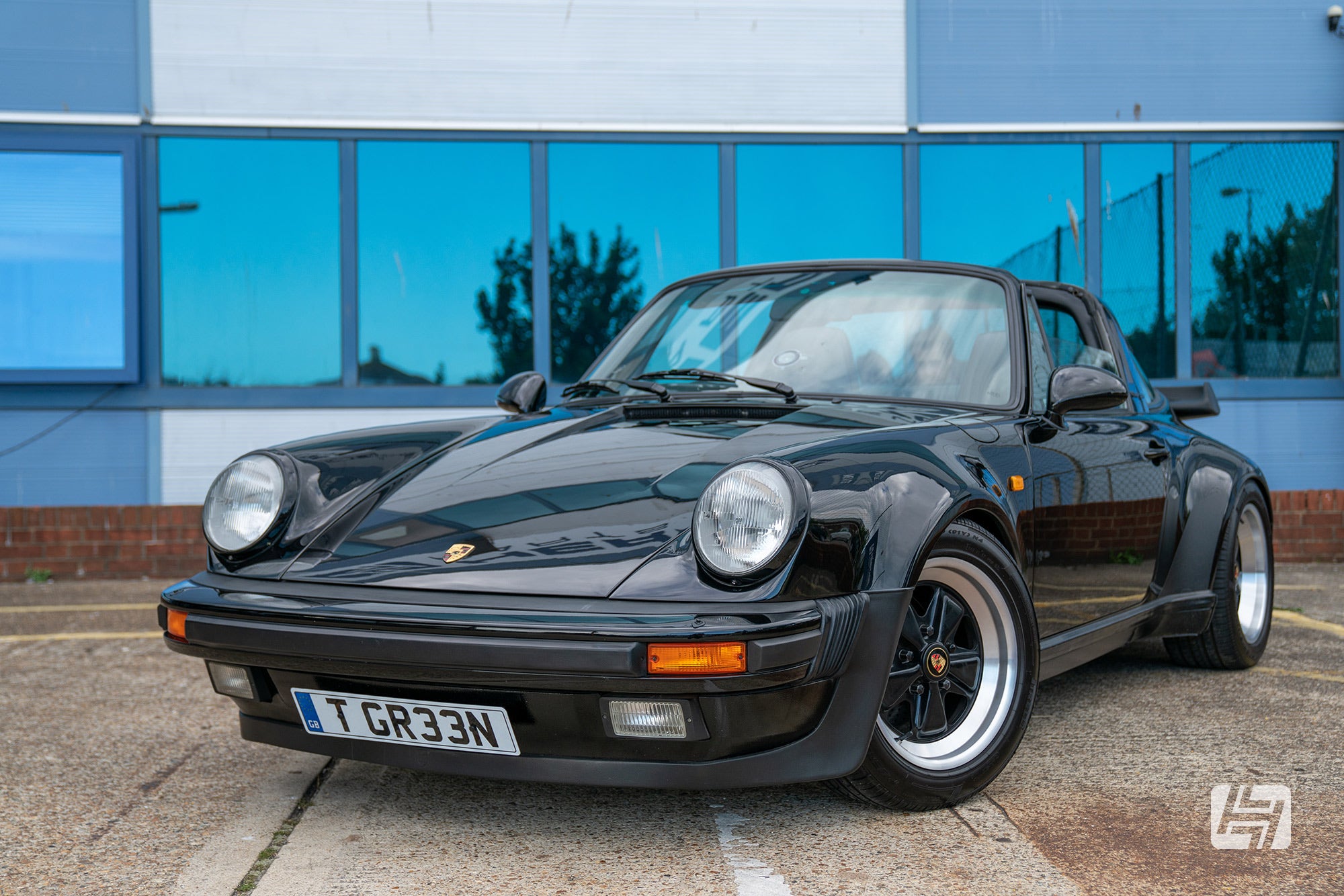 Why did Porsche make a flat nose 911?
Much like the SSE, it was all down to customer demand. The 935 race cars of the time were highly successful in competition and were famed for the look of their more aerodynamic front end, which differed significantly from the traditional silhouette, with its upright 'gun barrel' 911 front wings leading to the front lights. Instead, the 935 had flat front fenders, from the car's leading-edge right up to the base of the windscreen. The flatnose or '911 Flachbau' was born. A flat nose 911 conversion is a fitting nod to those dominant 935 race cars and was first seen on Mansour Oijjeh's Porsche 935 Street. Porsche Exclusive then offered a Flachbau front end as an option for road-going 911s. You can get the flat nose look simply by swapping out your gun barrel fenders for flat fenders with louvres above the front wheels. Of course, it's a little more complicated in reality, with pop up headlamps to worry about, not to mention beefy side skirts and rear wing vents to complete the look.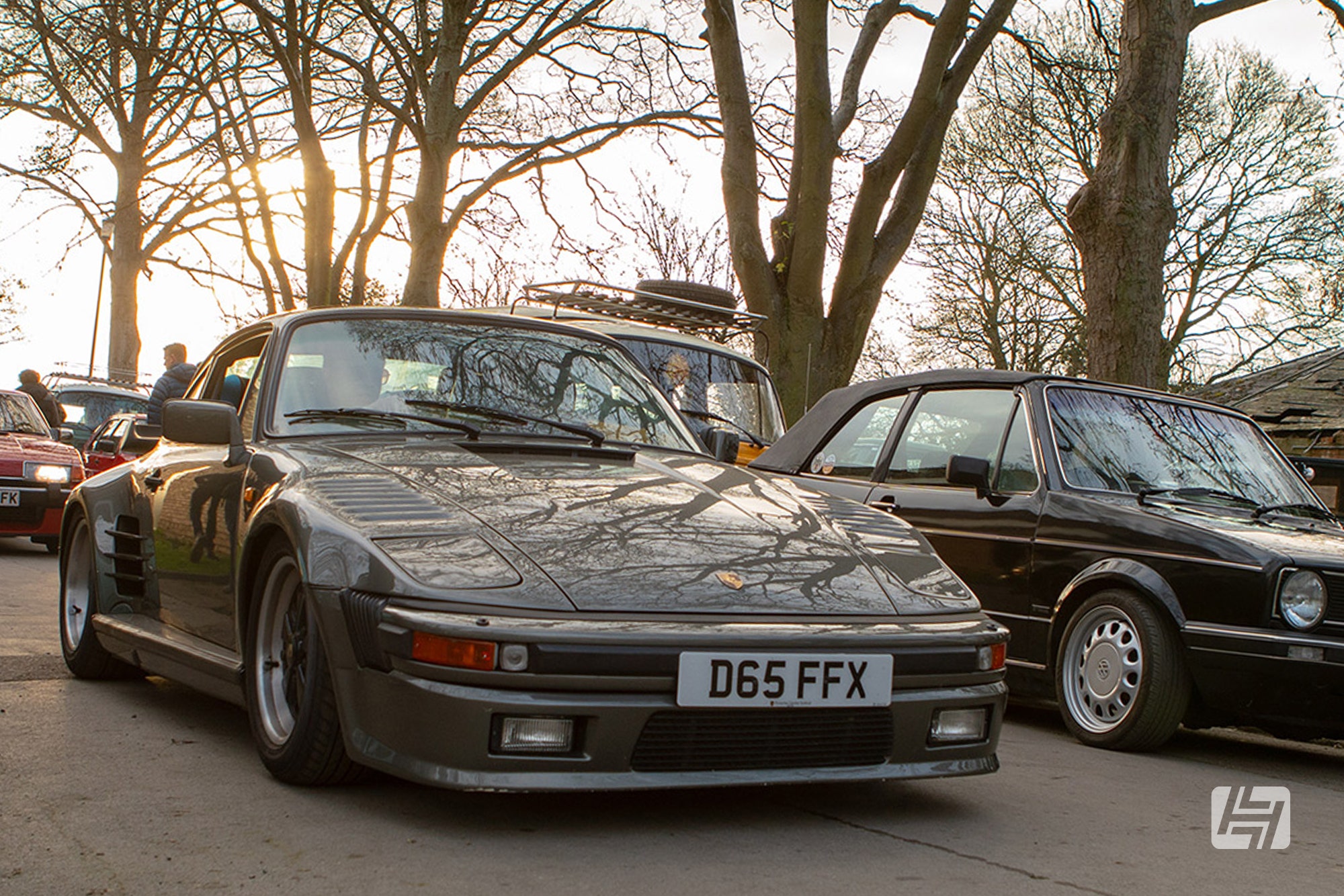 Porsche 964 Chassis changes
By 1989, the 911 got its most significant update yet with the arrival of the 964 generation. Porsche said the 964 was 80% new: aside from the introduction of AWD, power steering, and ABS, the iconic Fuchs alloys were replaced by Cup or Design 90 wheels, bumpers were now better integrated into the body, and smooth rocker panel covers were fitted down the 911's sides. Active aerodynamics were introduced via a rear wing which raised or lowered depending on speed, and inside, the dashboard switchgear was modernised, and a new lower dashboard centre console was deployed. All but the Turbo and low-number specials such as the Anniversary models were narrow-bodied.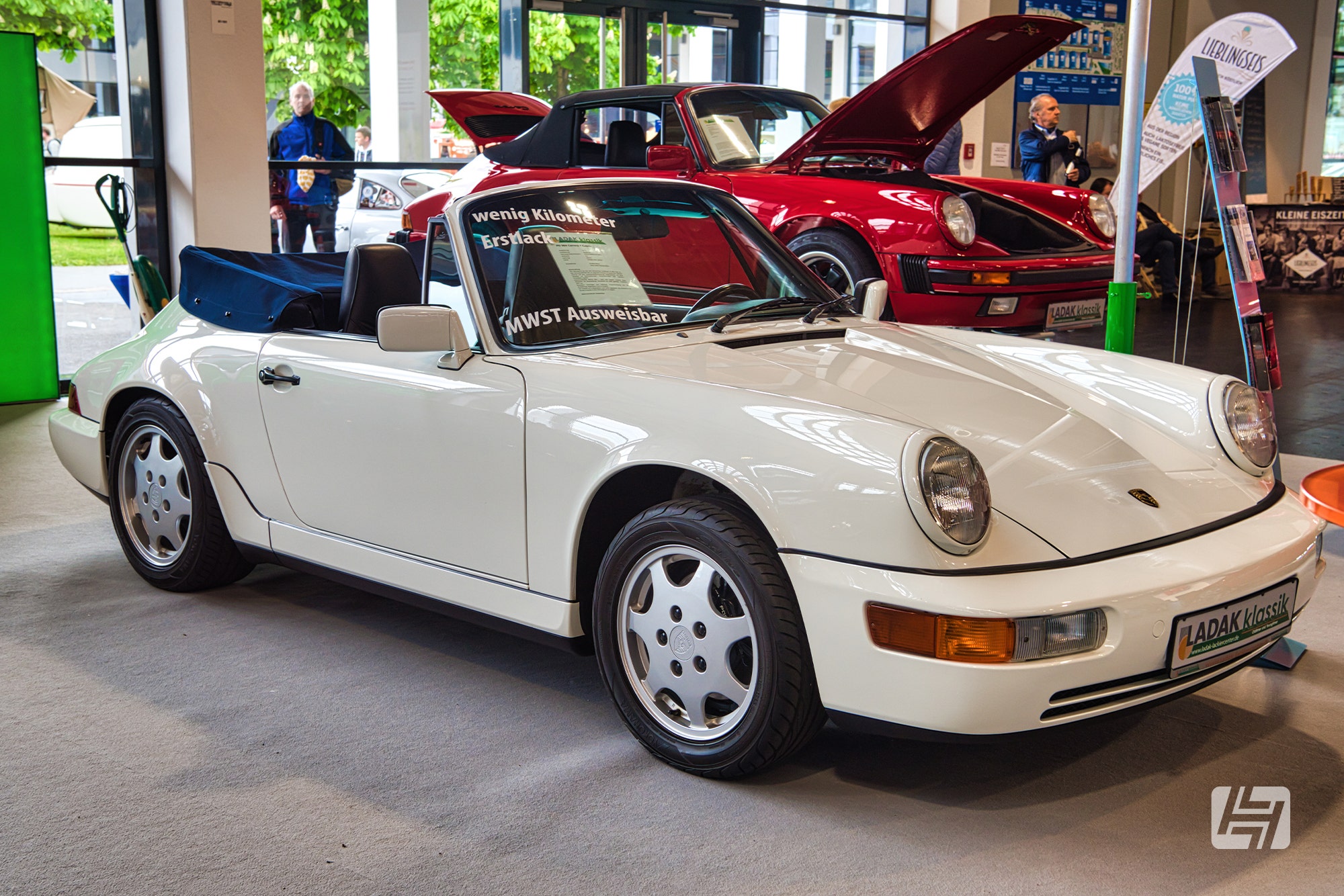 The Porsche 964 Carrera RS
It's relatively easy to take a standard 964 Carrera and replicate the exterior looks of the superior 964 RS model. To do so you'll just need 964 RS front bumper air ducts, rear bumper, Cup alloy wheels, and a drop in ride height with a set of decent 964 coilovers. That's it. Inside, you'll want Recaro Pole Position bucket seats, carpet in the rear instead of that rear bench, plus basic door cards with customary RS pull straps. You only need an extra 10hp from stock to match the RS engine's performance, but more on that another time.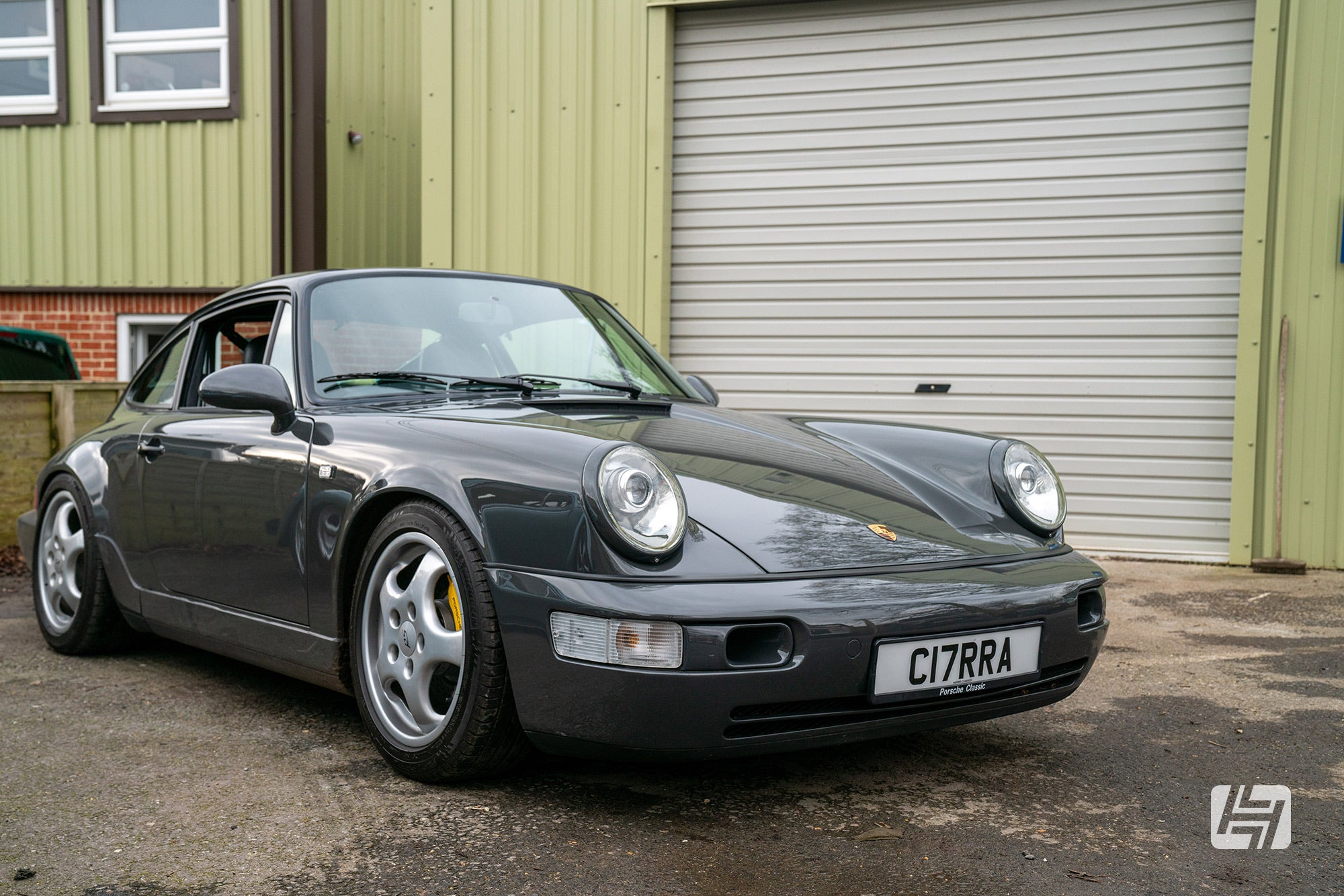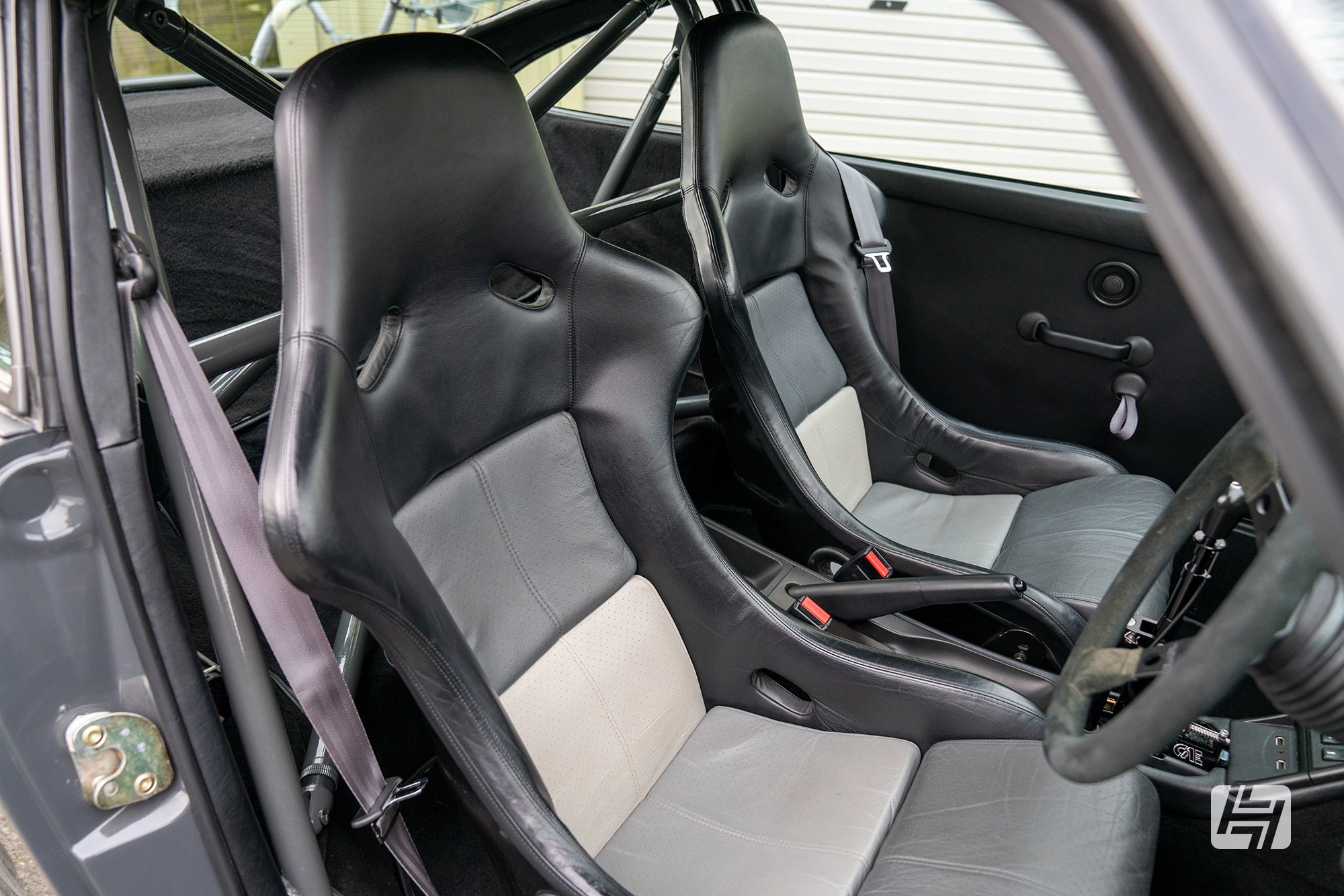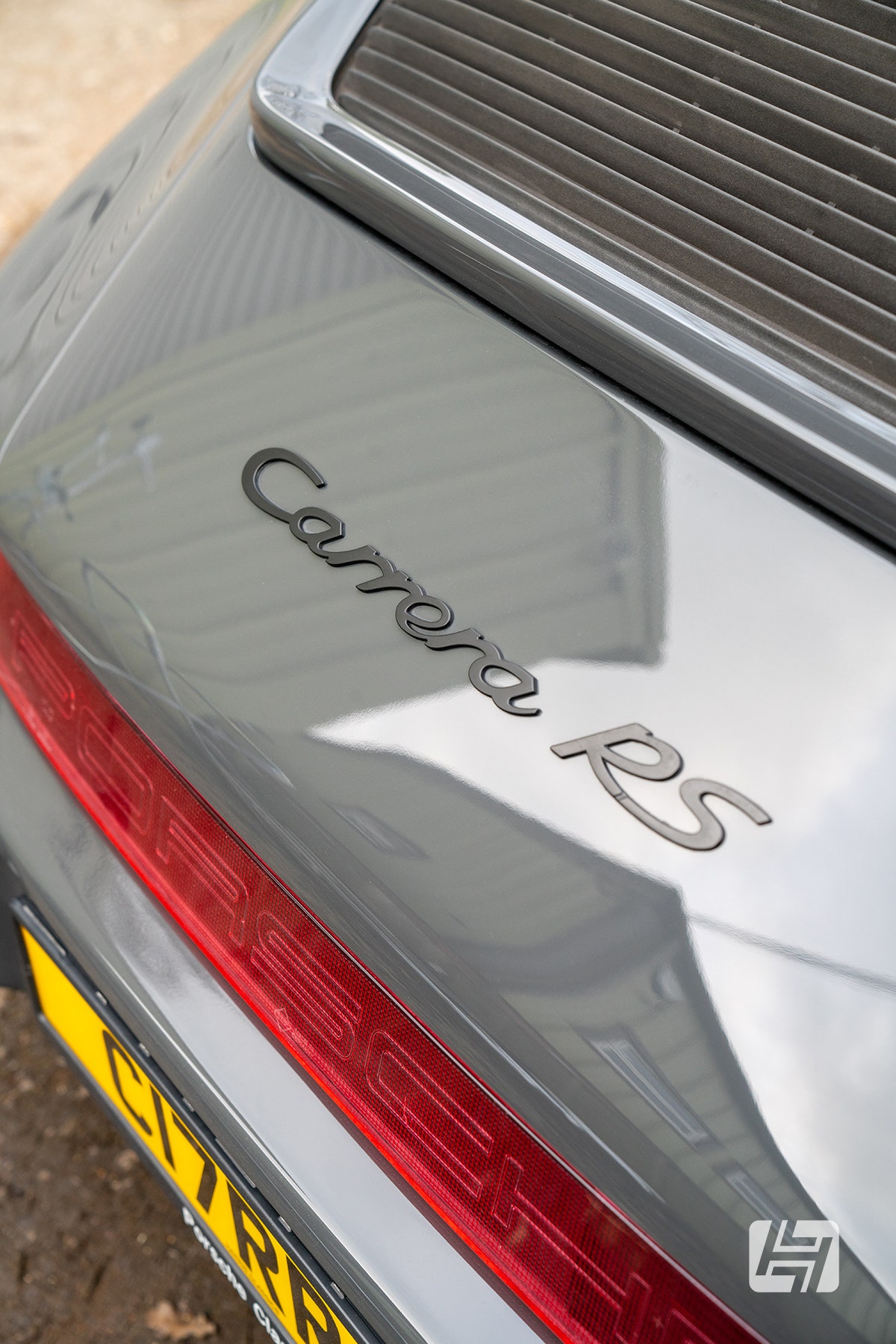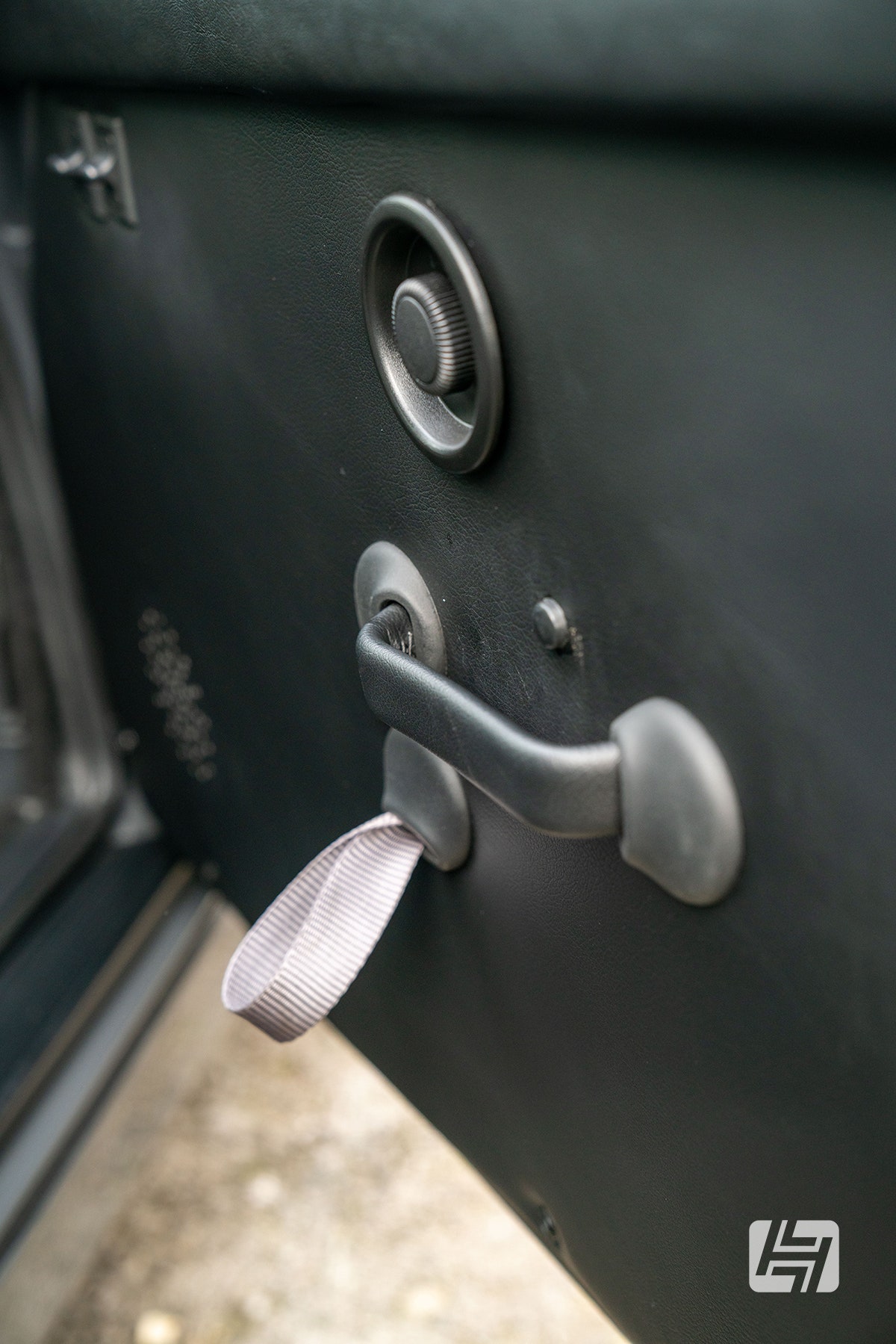 What's harder (but not impossible) to replicate are the RS 3.8 and 964 Turbo models. In the case of either you'll need 964 wide-body arches, Speedline split rim alloy wheels and either a 964 RS 3.8 fixed bi-plane wing or a Porsche 964 tea tray.
What was the last air-cooled Porsche 911?
That title belongs to the 993-generation 911, introduced in 1993. It's by far the most different air-cooled 911 in terms of its looks, and the only generation where parts aren't really interchangeable with others from earlier years. Porsche 993 headlights are more raked, with flatter front fenders, and the rear reflector panel and lights are angled rather than vertical. The Targa got a sliding glass roof which allowed it to retain a silhouette broadly similar to the Coupe, and the 993 Turbo tea tray got rid of the old-school rubber lip seen up until the end of 964 production. Unlike the 2.7RS and 964 RS, the 993 RS is easily spotted over its Carrera stablemates. The Porsche 993 RS fixed wing is a standout deviation from the Carrera's electrically raised item, as is the RS front bumper which has been aerodynamically enhanced. Tyre cuddling is taken care of by a set of split rim Speedline wheels. Inside boasts a unique RS three-spoke steering wheel with a revised and extended hub, in front of bucket seats from Recaro and six-point harnesses. Rollcages were fitted to all Clubsport variants.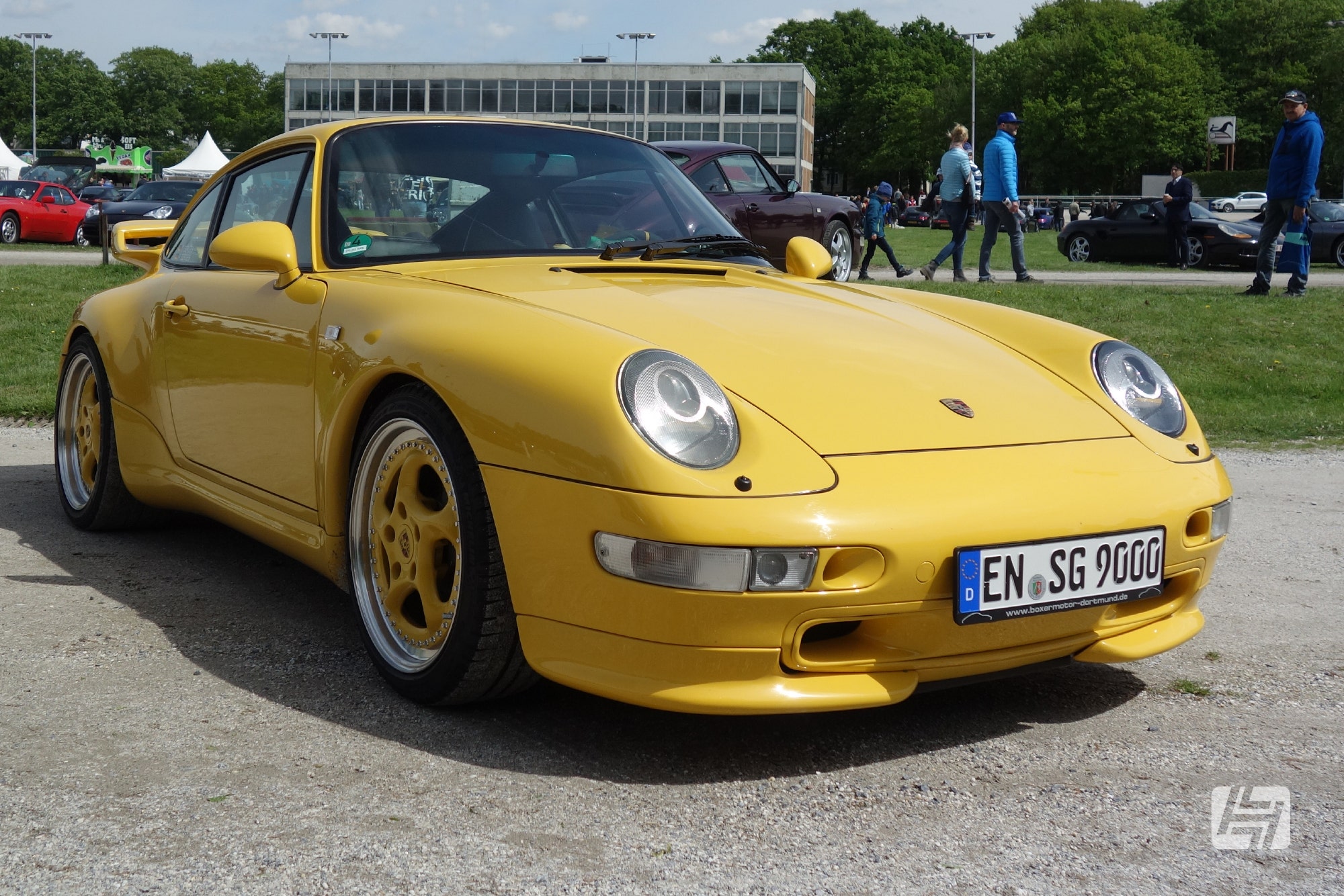 The Porsche 993 GT2
The 993's final incarnation was also it's most wild. Built to go racing, the 993 GT2 was essentially a lightweight and uprated 911 Turbo, which had the power to the front wheels removed, making it rear-wheel-drive only. Only 57 were built for the road as homologation specials, and they are a collector's dream, valued north of one million pounds today. If you're lucky enough to ever spot one, you'll be left in little doubt as to what it is. Just look for its standout bolt-on arches making the car super-wide, its Speedline wheels, and customary GT2 rear wing featuring huge intakes for that ram air effect. If you're still in doubt, evocative '911 GT' Porsche badging is emblazoned on its rump. A huge diversion from the slender lines of its ancestor in 1964, the 993 GT2 really is as wild as the 911 ever got, and made for an audacious way to close the 911's air-cooled era.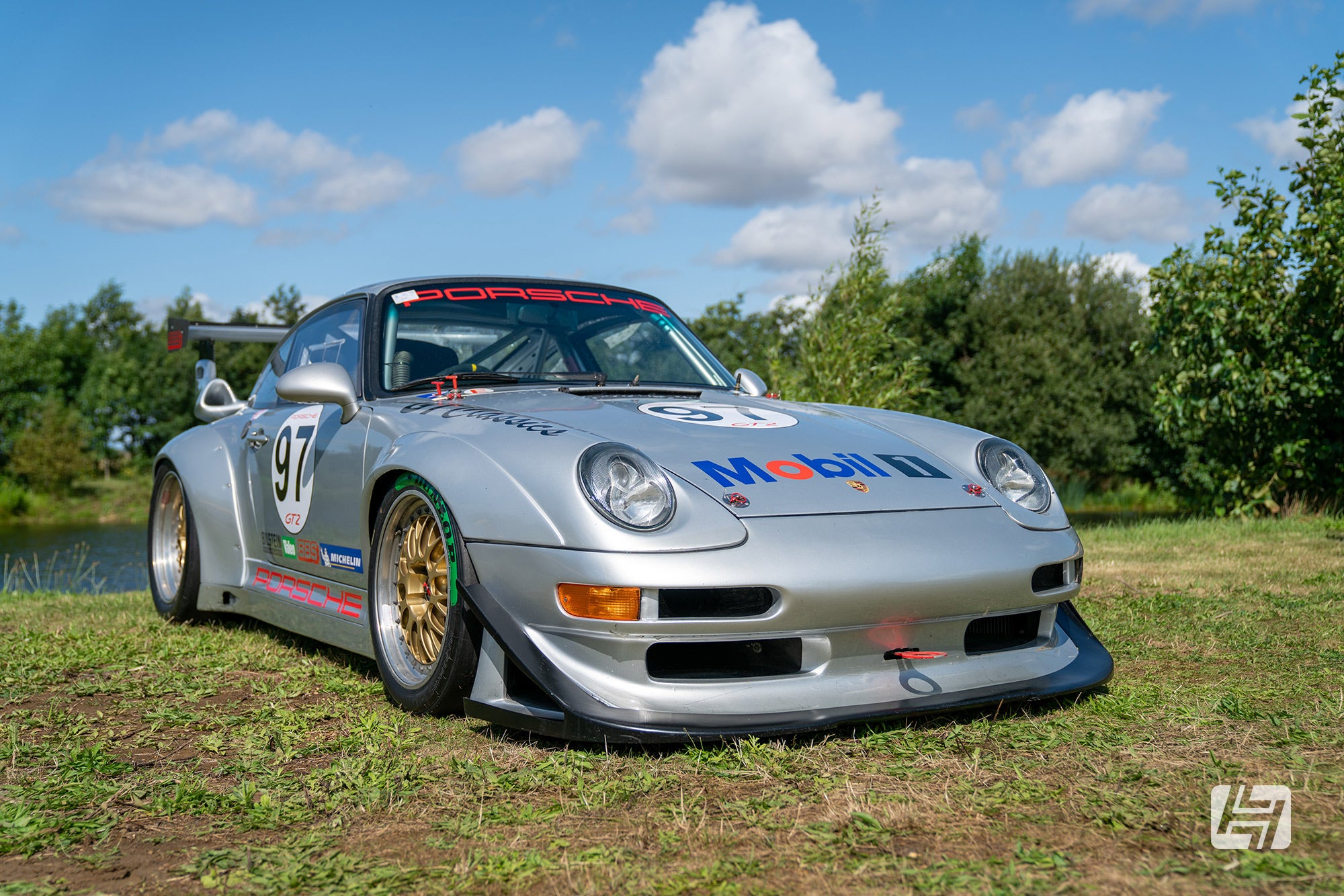 Modified Porsche 911s
If you want more of a unique 911 build, there are plenty of options available to you. Safari, Outlaw, and Restomods are the most popular. Safari builds pay homage to the 911's rich history in rallying, and feature long-travel suspension, knobbly tires, an externally mounted spare wheel, plus a host of bracing and protection bars. Additional Cibie lights complete the look, but why not go full throttle and paint or wrap the car in period Rothmans or Martini livery?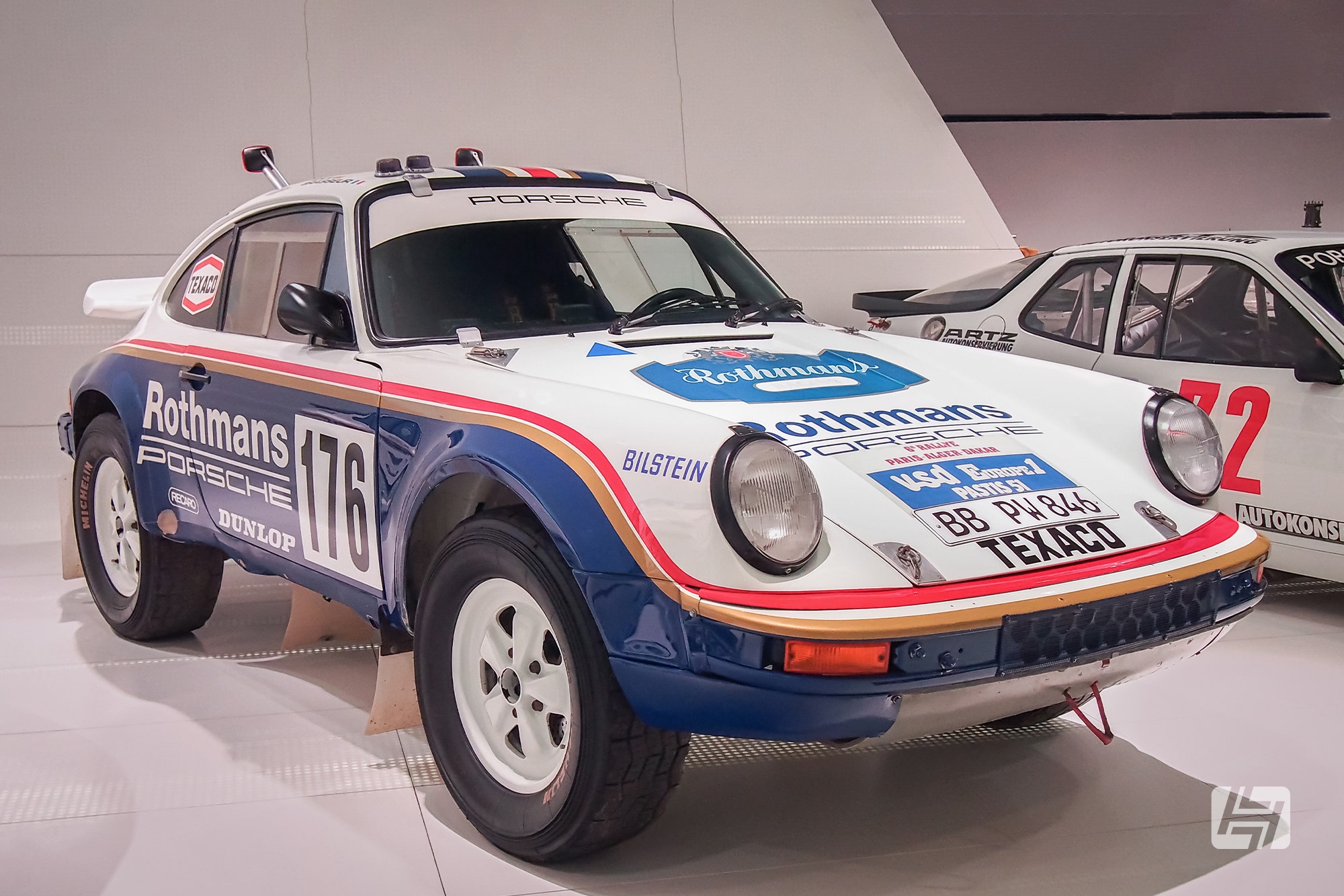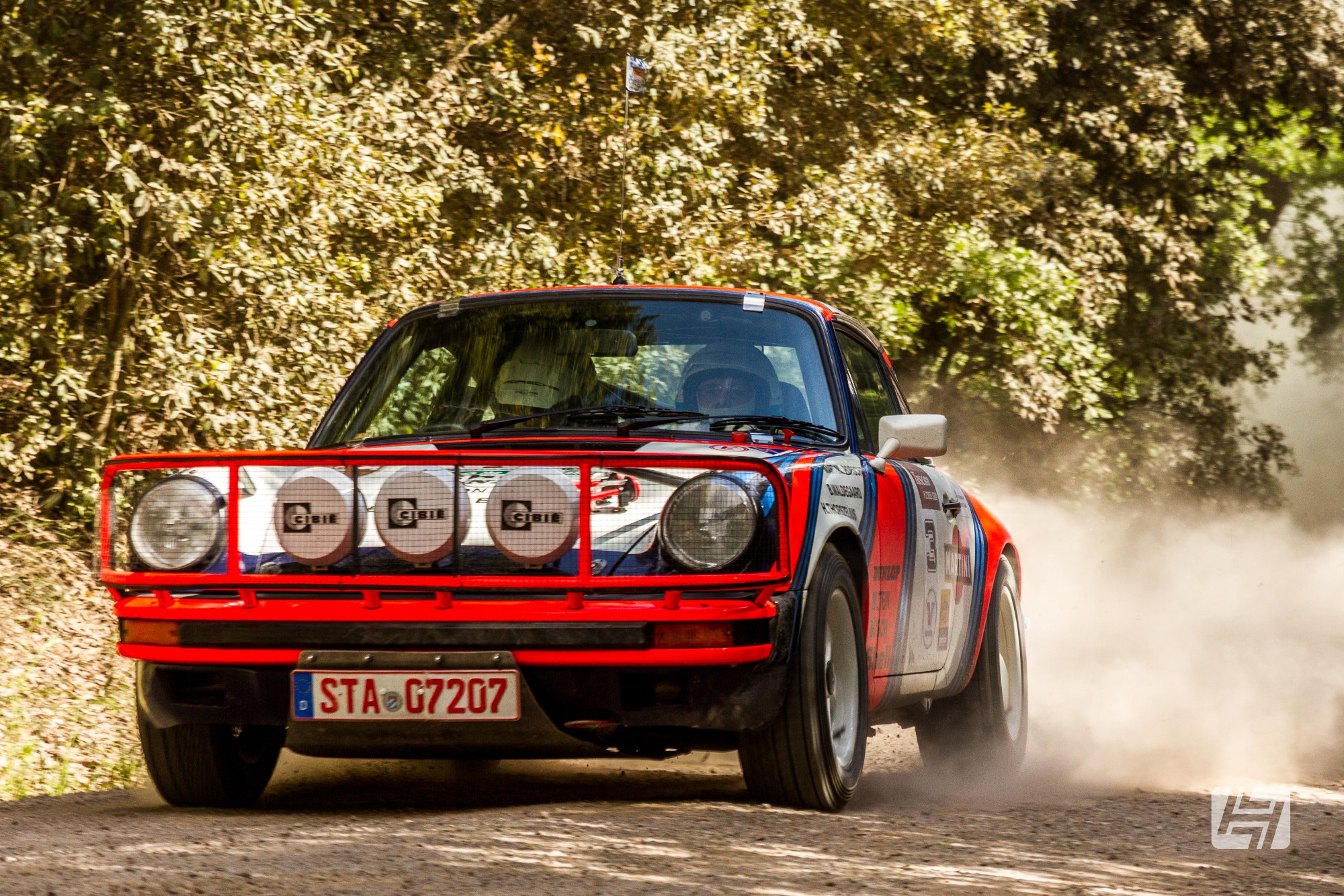 What is a Porsche 911 Outlaw?
A 911 outlaw is unique from build to build, not really sticking to any one trend but taking cues from different Porsche models and tastes. Ostensibly it's all about better street performance: losing weight via lighter wheels and body panels, lowering the ride height, and accentuating that flat-six soundtrack with dual exit exhausts. Headlight tinting, 911R-style turn signals, and long wheel studs are all common, as are drilled door handles, RSR-style central fuel filler kits, and decklid badges. Made famous by Magnus Walker, 911 Outlaws are diverse but have an awesome presence and can be budget-friendly, as you make the rules. There's nothing to stop you from applying the outlaw style to a Porsche 912 either.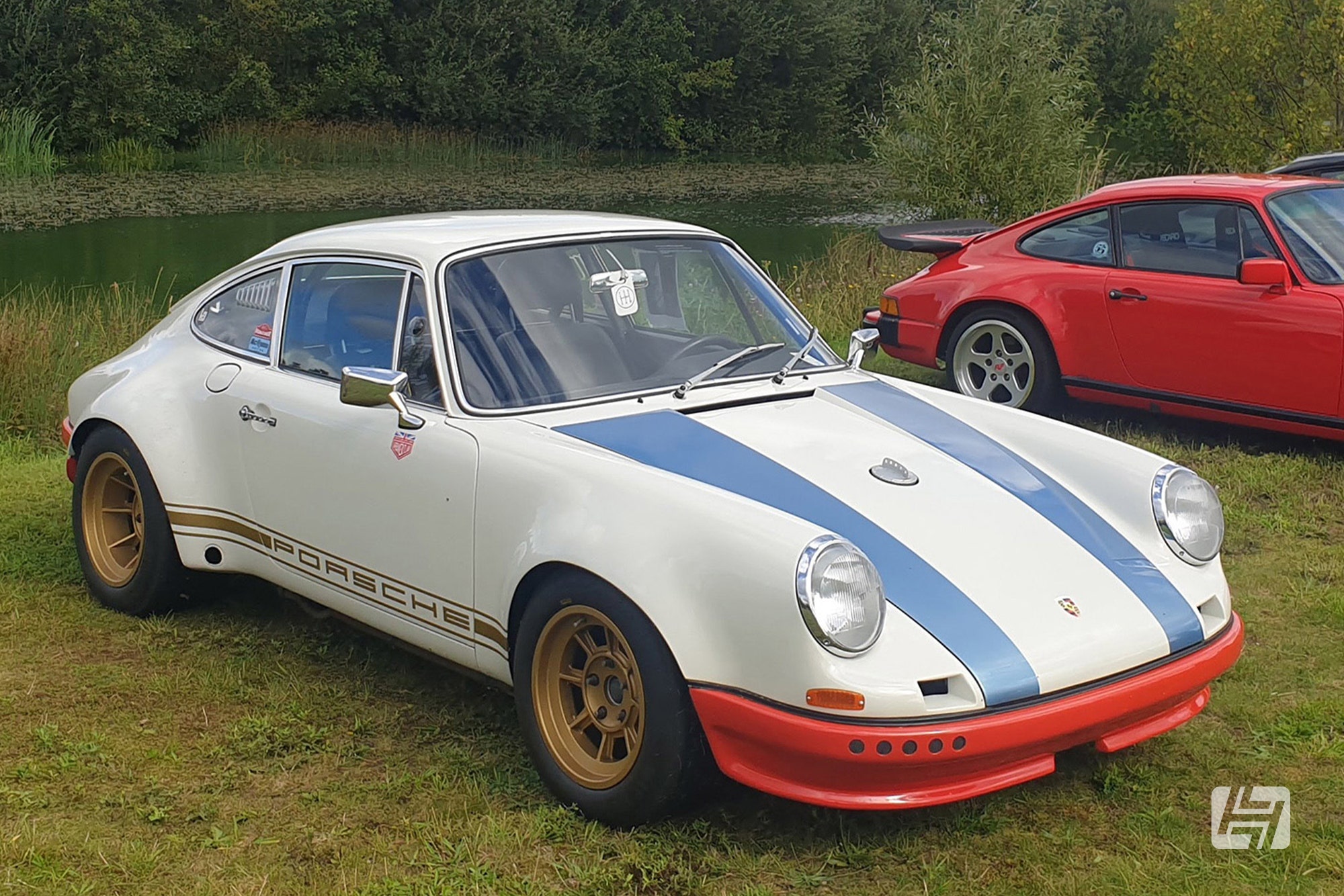 The Porsche 911 Restomod phenomena!
A 911 Restomod tends to be at the other end of the financial scale. Think Singer-style, this being the Californian company famed for reimagining the 964. Essentially this practice involves restoring an old 911 while introducing some modern tech such as better ride quality, lighting, and performance. Look out for early 911 style bumpers, clear lensed headlights, a wide-body cloaking perfectly offset Fuchs wheels and a revised decklid design with a chunkier trailing edge. This devilish attention to detail continues inside, with oodles of rich leather enshrining a cockpit that has plenty of modern electrical upgrades.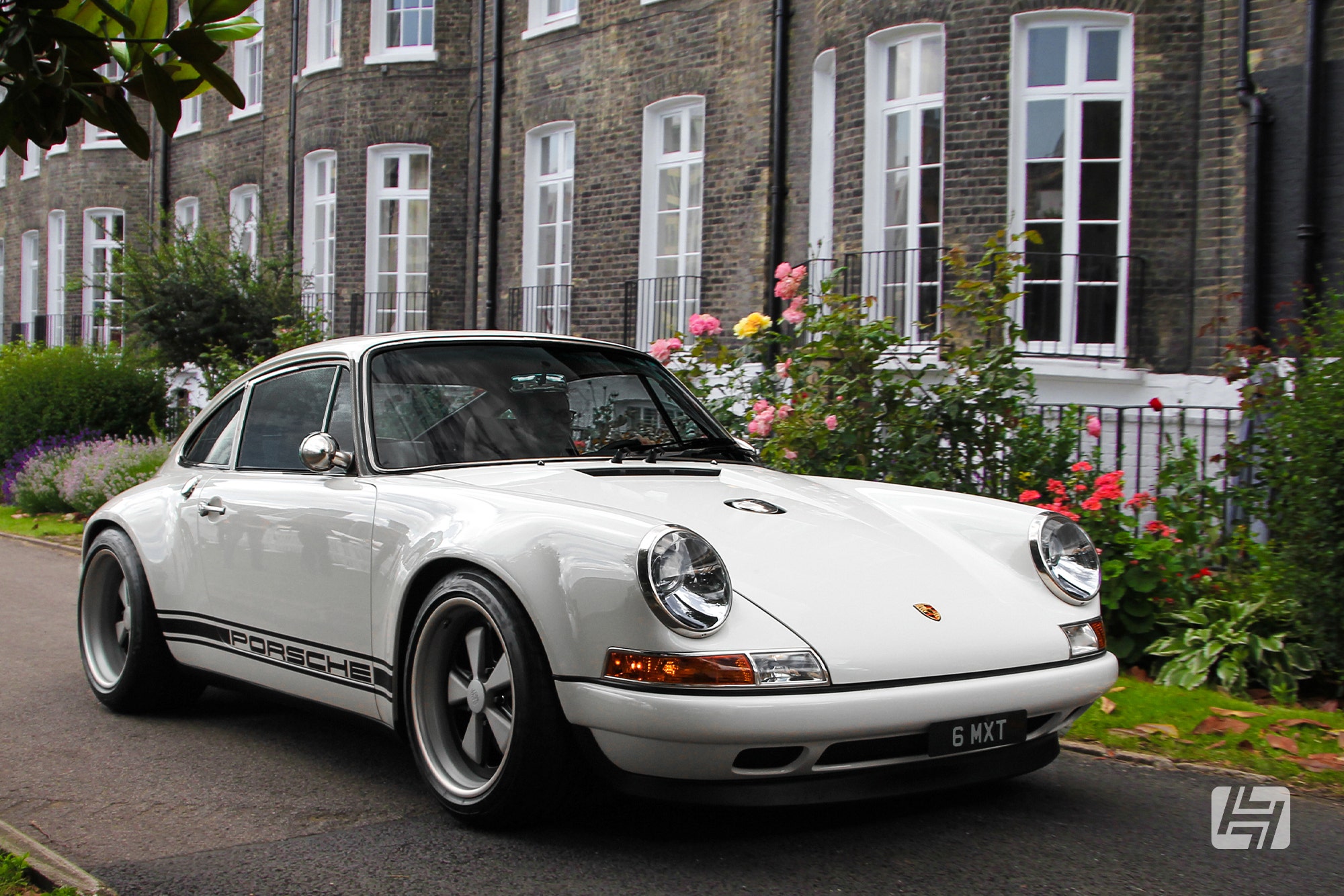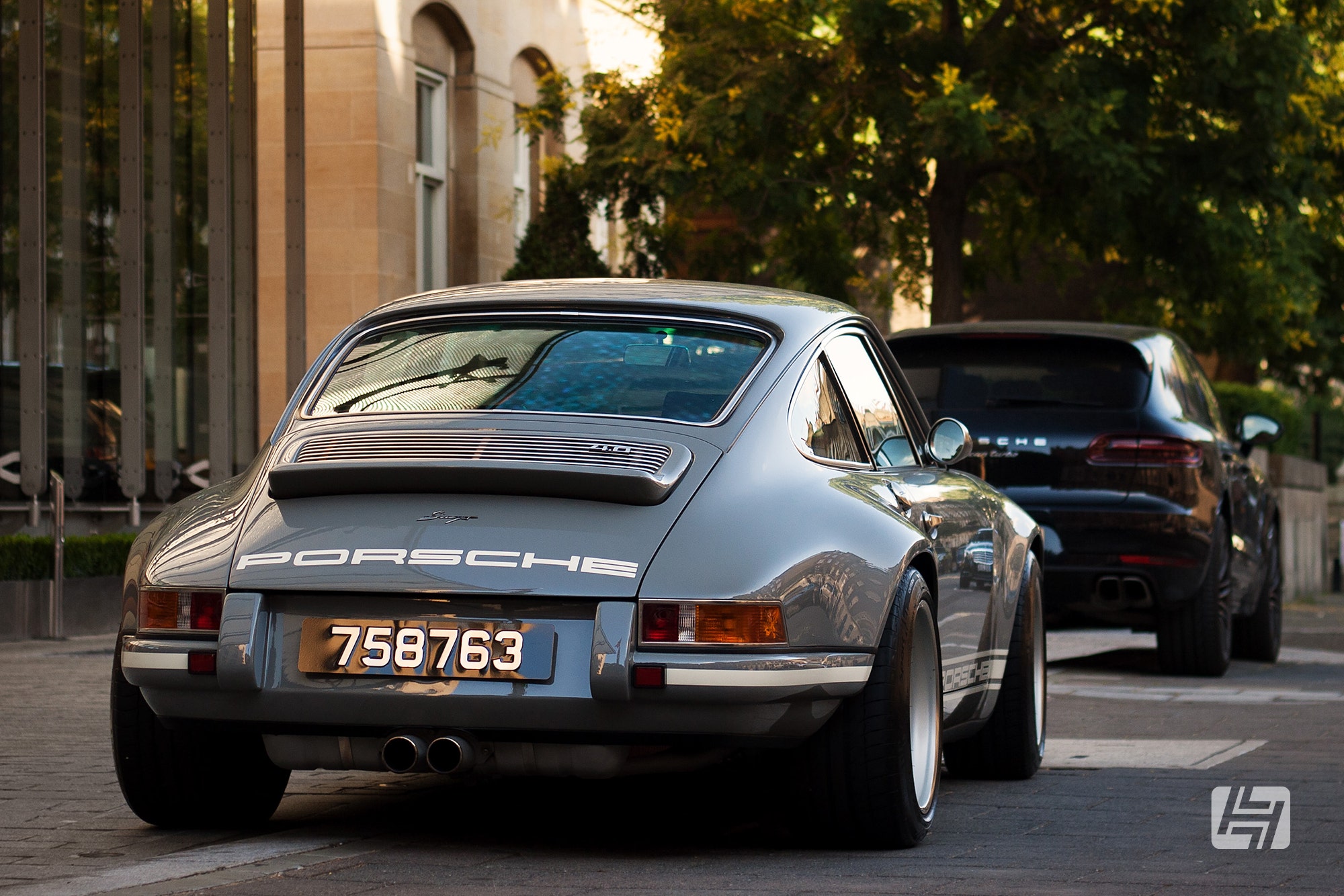 What is an RWB Porsche?
Technically speaking, an RWB is not a Porsche – lawyers will tell you it's a Porsche modified by RWB head-honcho, Nakai San. The legendary Japanese modifier is famed for carving up 993-generation Porsche 911s and remoulding a crazy aesthetic on the fly, usually with a Marlboro Red dangling from his mouth. In simple terms it's a mix of Porsche GT2 with Japanese Bosozoku culture: think tacked-on arches, outlandishly proportioned bi-plane wings, a low ride, and aggressive wheel fitment. Highly divisive among purists, we personally love the style and think it shows how diverse Porsche styling culture really can be. Check out the Indonesian RWB meet we attended here.
So what's your favourite air-cooled Porsche style? Let us know in the comments below. Lee Our thanks to Lee Sibley for putting together this article for us. You can find him editing Total 911 Magazine, on You Tube as 'That nine eleven guy' and as one-third of the Road to Redline podcast. We also had the pleasure of interviewing him, which you can watch here.
Lee Sibley