Is it time to clean out the bottles, packets, crumbs, and smells ready for another year on the road? Perhaps you've just picked up a new ride and want to clean away any traces of the previous owner? We'll steer you through how to deep clean your car interior, to make it a nicer, safer place to be.
The Rule of Six!
We'll be concentrating on six areas of car interior cleanliness: Dashboard, Door Panels, Seats, Flooring, Headliner, and Boot. With a multitude of surfaces and potential issues between them we're pretty sure there will be some places you've never tried cleaning before, and with the right tricks, you might even surprise yourself with the results. Our thanks to Ben from BV Details for sharing his knowledge and helping us with this article.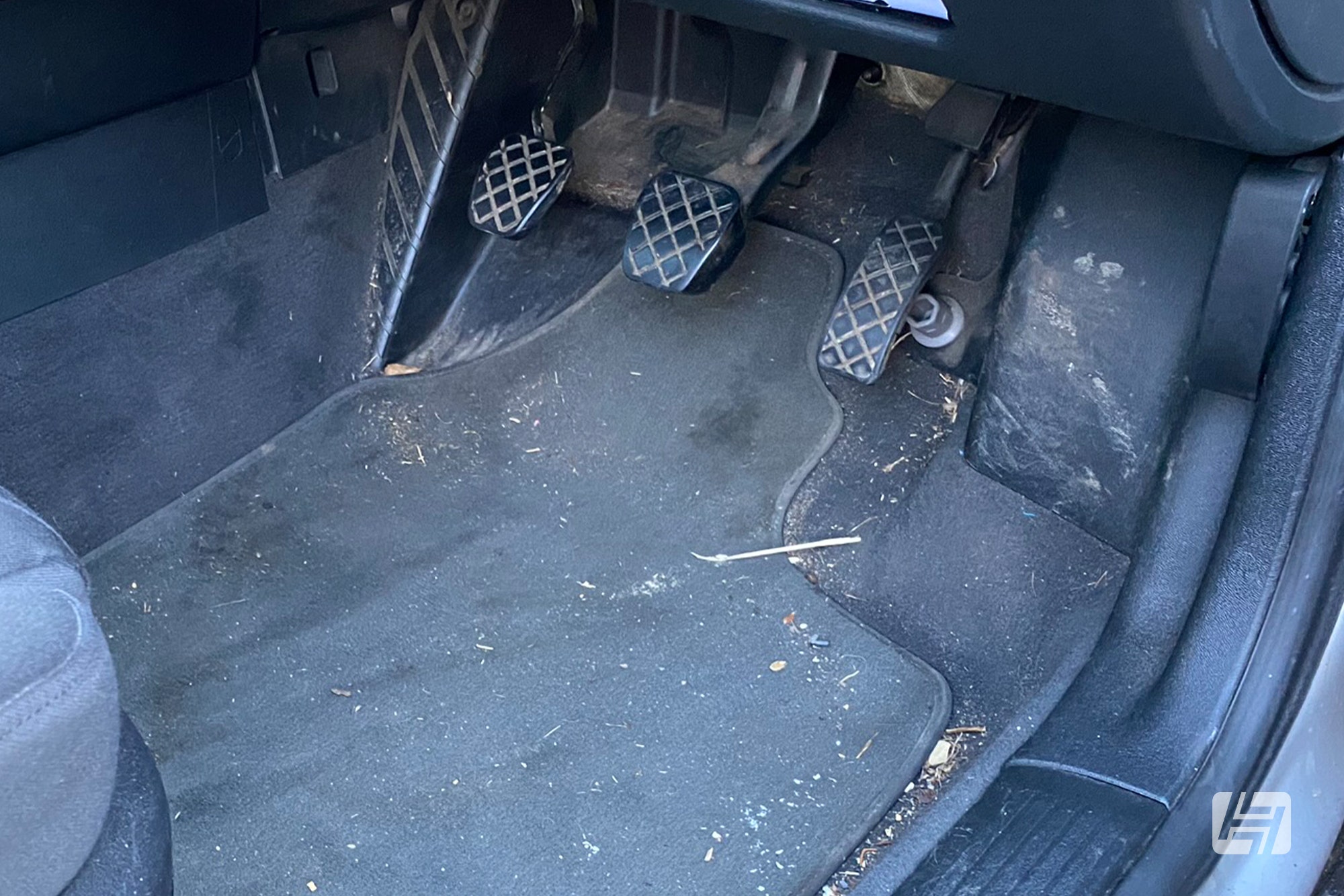 1. Deep cleaning your car dashboard
Your dashboard is a classic dust catcher. Not only will dirt sit on any flat surfaces, but your air vents will also be full of nasty stuff too. I'm not an avid car detailer but was impressed at how much effort could go into refreshing this area of my car, and the amount of grime that was removed. Ben had a few tips to share with me when cleaning the dashboard. The first was something he called a 'magic sponge'. Made from melamine foam they can be found pretty cheaply in the cleaning aisle in a supermarket or bought in bulk online for buttons. With the assistance of an all-surface cleaner, the sponge agitates and lifts dirt from relatively flat surfaces. For the areas that the sponge couldn't reach, a brush with anti-bacteria cleaning spray released years of muck from around the switches and controls. I'm familiar with hoovering carpets and seats but had never considered partnering a hoover nozzle with a brush to clean out the dust and dirt from the air vents. But this approach makes great sense and means it'll smell meadow fresh next time I turn the blowers on!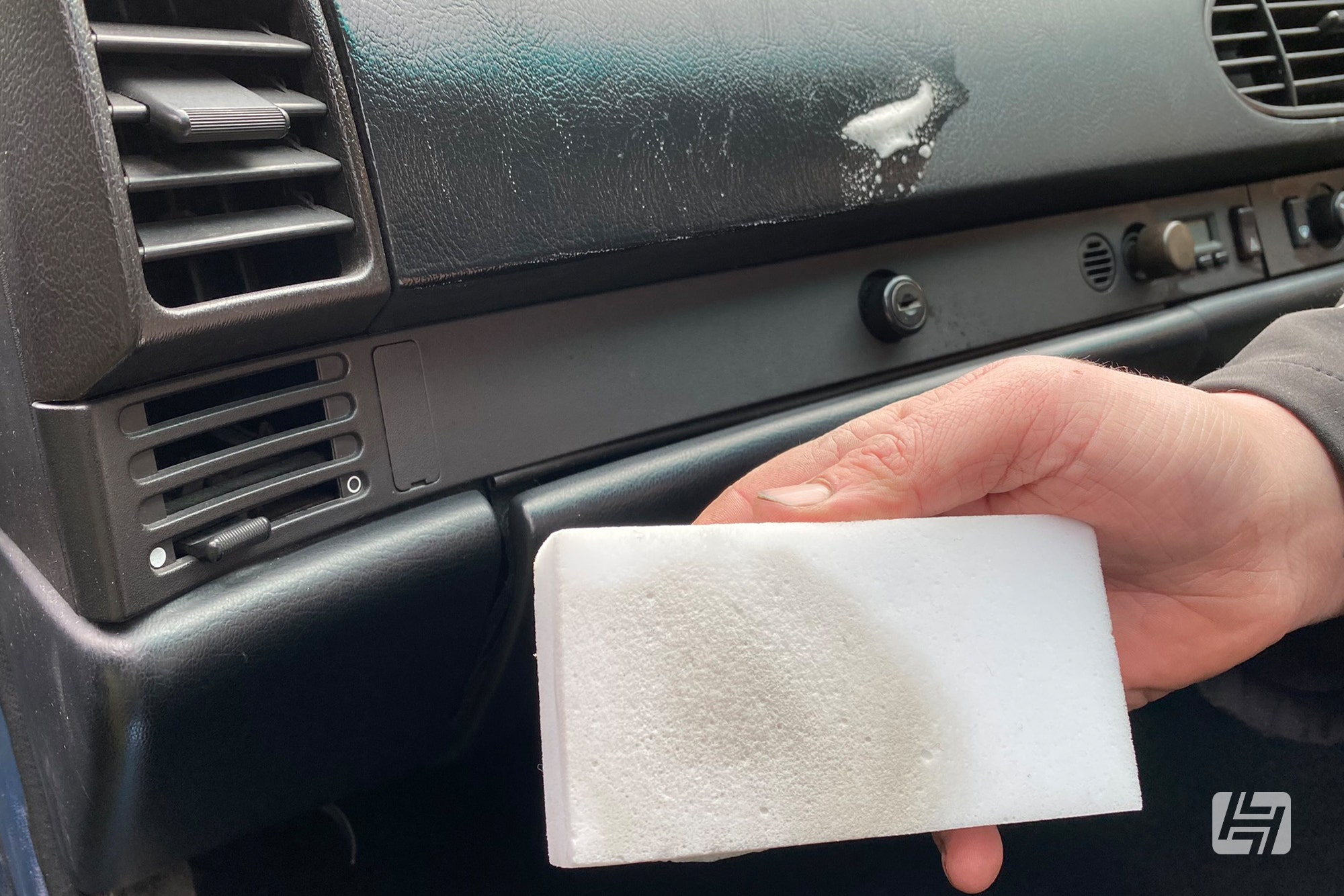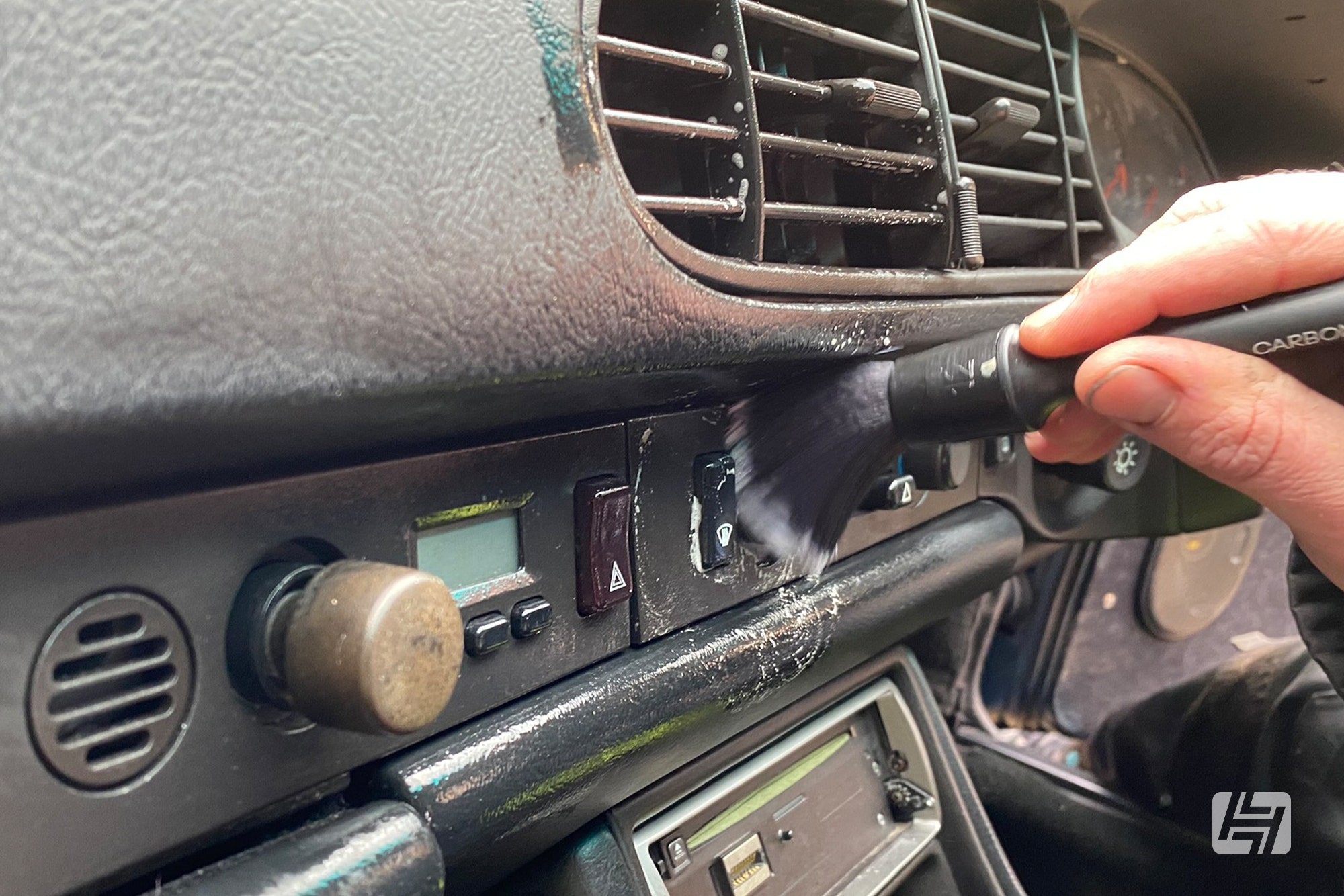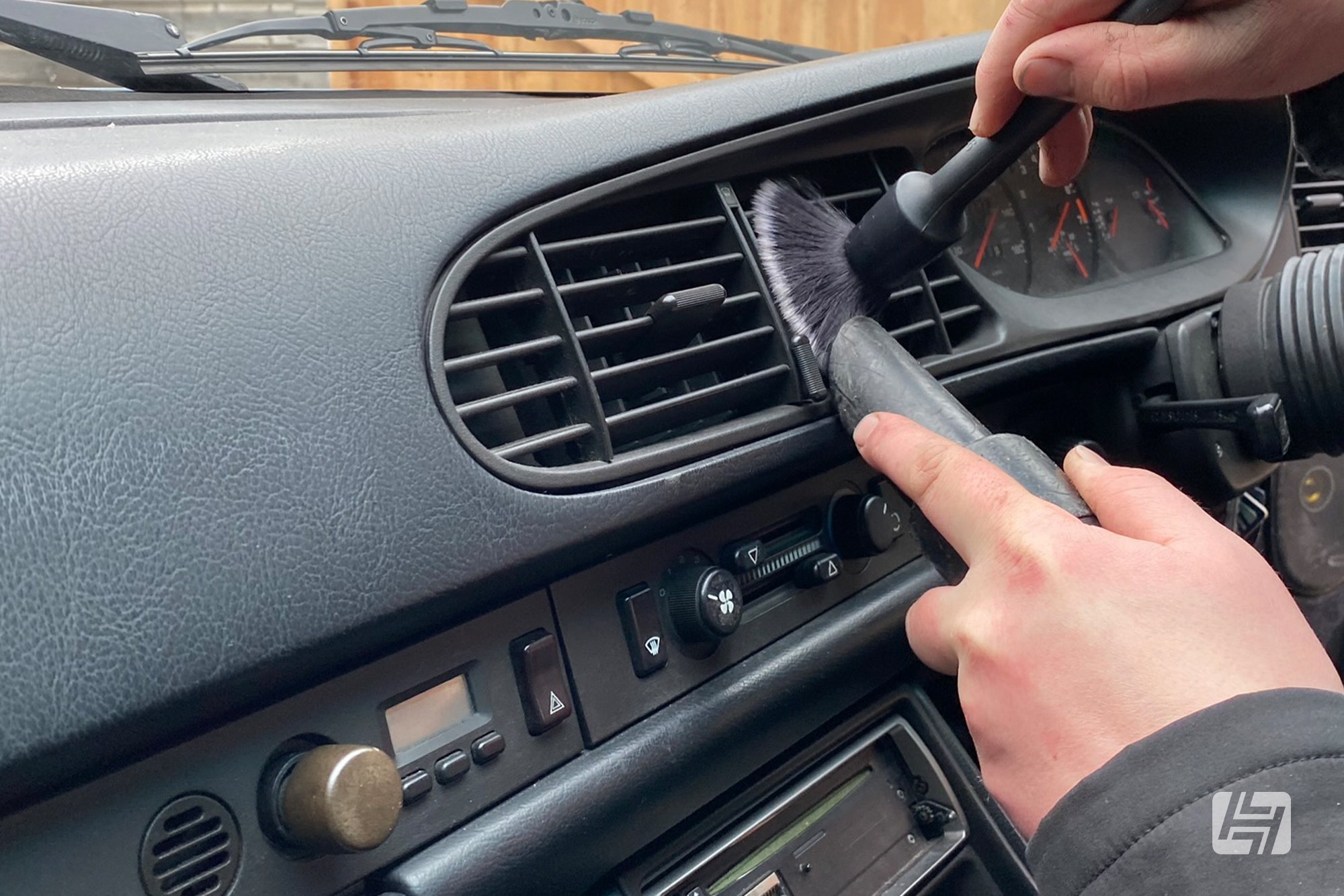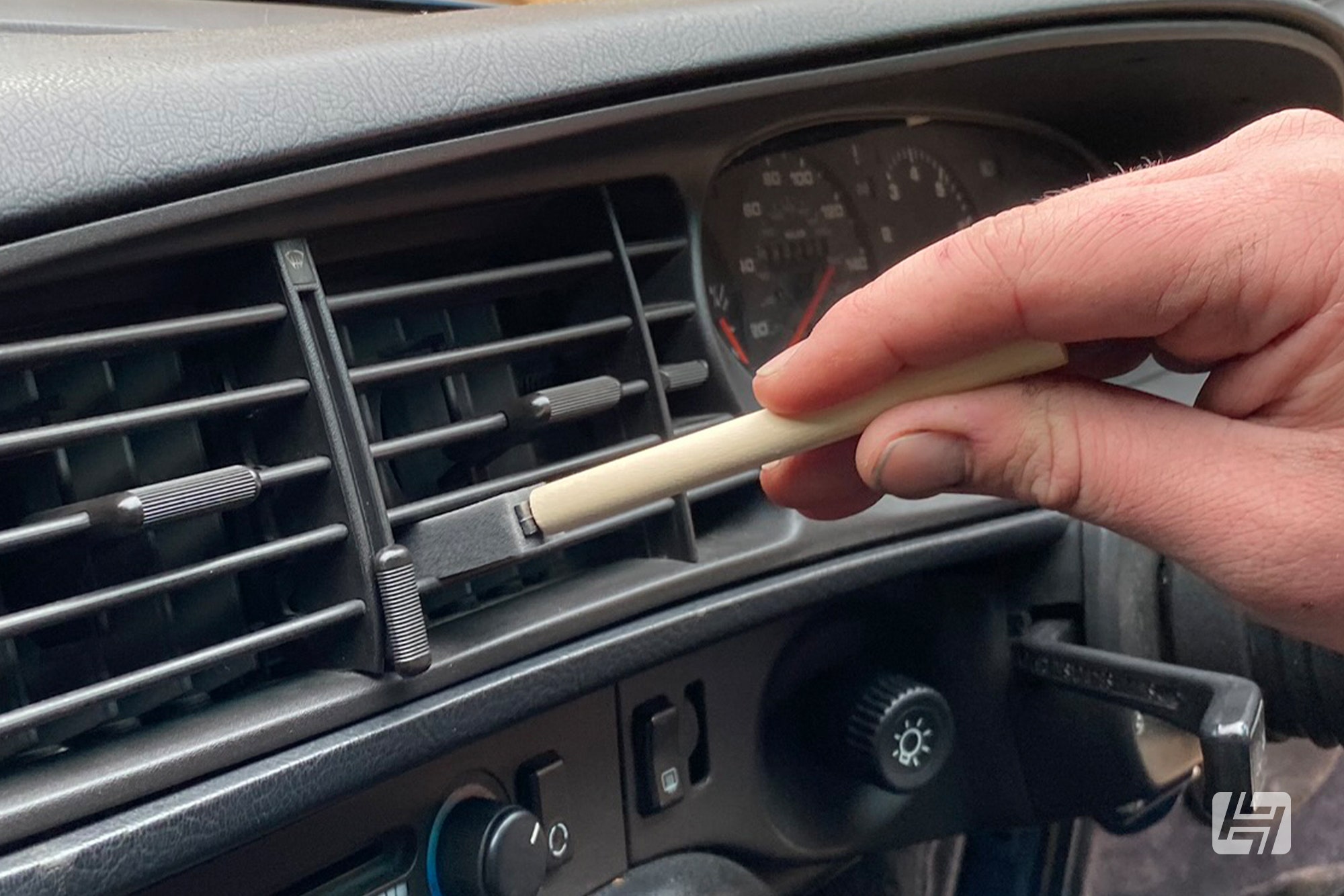 2. Deep cleaning your car door panels
The door cards on my 944 are in a Clubsport style, with little in the way of pockets or grab handles to catch fluff. The material covering did however benefit from a brush, which helped to remove muddy footprints and dirt from the lower third. The vinyl-covered door capping in the Porsche and my Mk1 Polo panels responded to treatment in much the same way as the dashboard with an all-purpose cleaner, a magic sponge, and a wipe down with a microfibre cloth afterwards.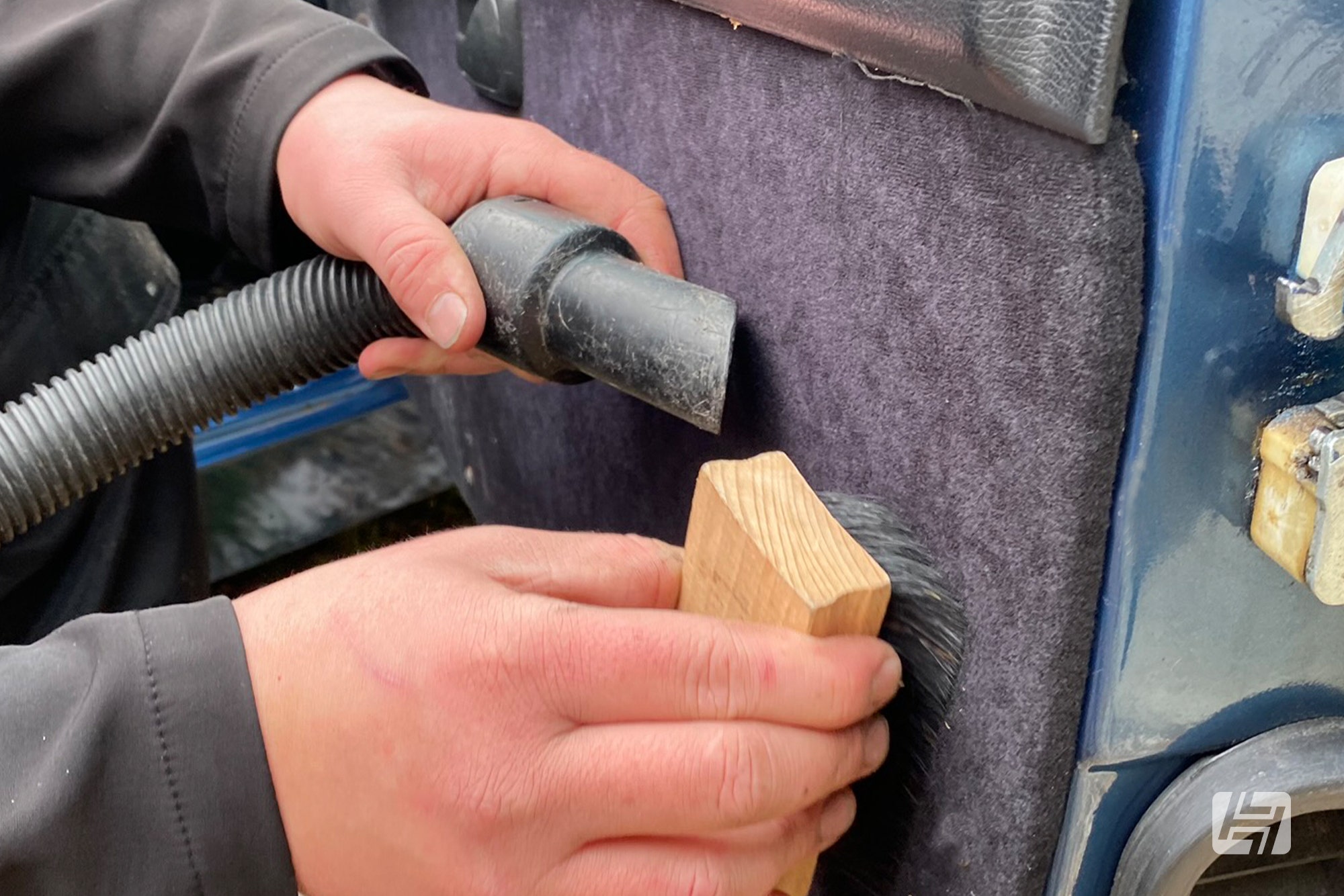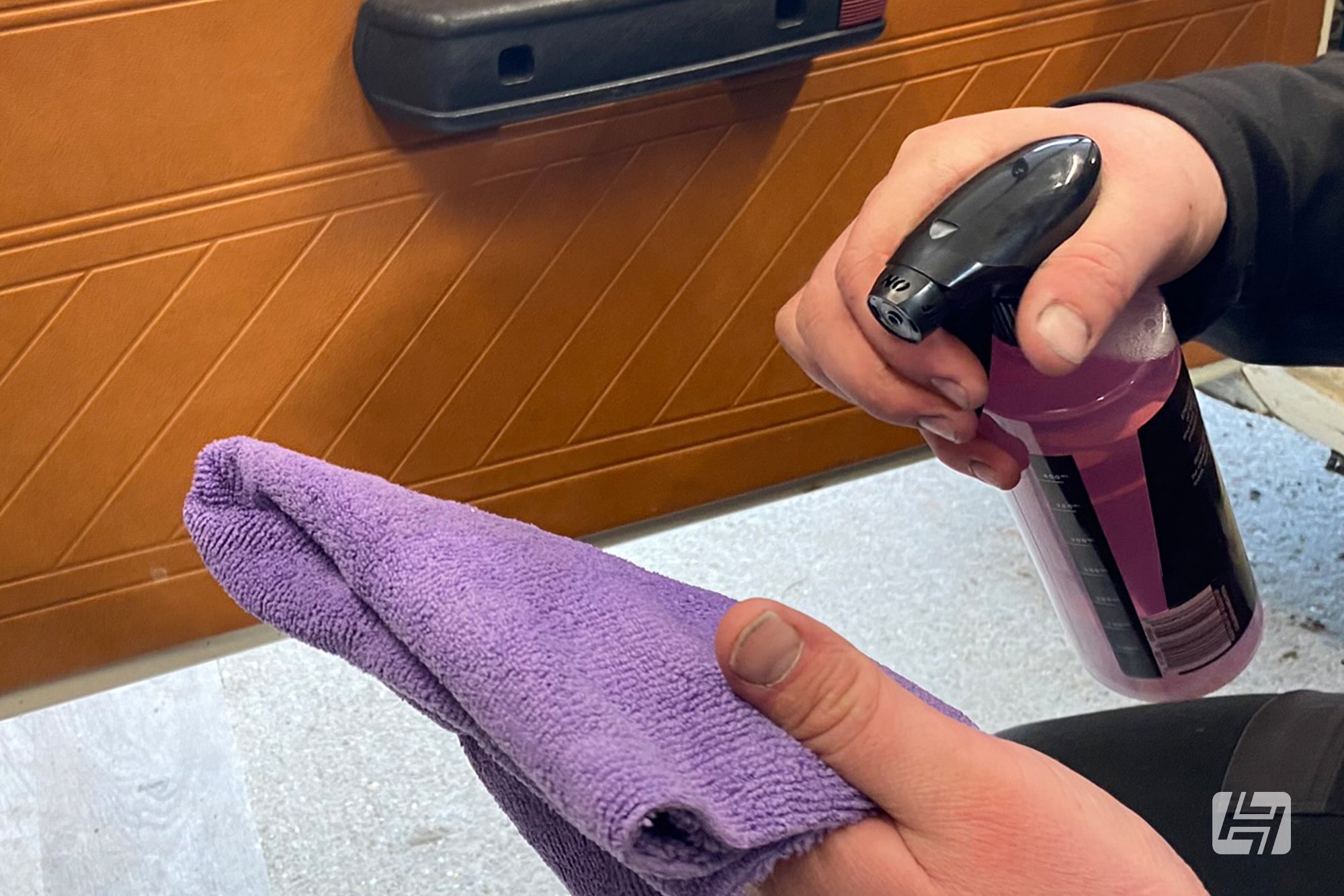 3. Deep cleaning your car seats
After hoovering out the dirt and dust from the deep creases in the seats, Ben uses a leather cleaner to spray onto the front seats before rubbing it in with a cloth. After a minute or two, this is then rubbed off with a clean microfibre cloth. Because my seats are old there are some wear patches where the colour has gone - this will need to be addressed by a specialist to re-dye or treat properly sometime in the future. The rear seats in my 944 are vinyl, which meant the magic sponge got another outing, once more earning its keep dragging grime out of the seams and grain of the material.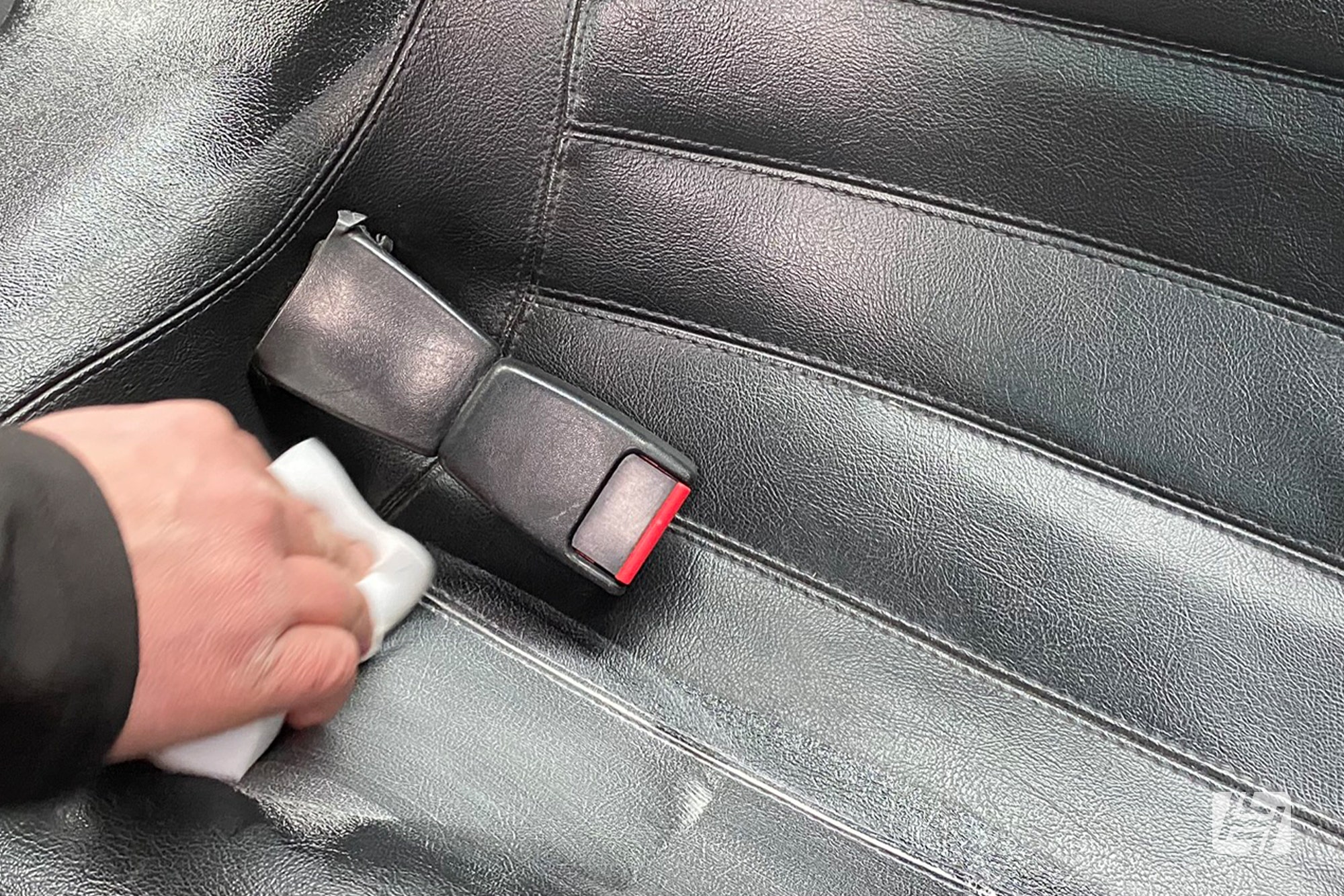 Not too fast!
It's important to know when you should go gently with cleaning an interior too. Ben took a look at some marks on the rear seat of my Polo. He tried a small patch with his cleaning spray and a cloth but surmised that the fabric was so old it would potentially discolour if he continued the treatment further. For more modern cloth interiors a steam cleaner or wet vacuum cleaner can be deployed to help lift stains and remove layers of dirt. This is particularly useful when deep cleaning in ex-trades vehicles like the T4 and T5 which have seen their fair share of grubby backsides. The process is a logical one. Apply a cleaner (either car specific or a household fabric cleaner, as you would use on a sofa) to the material and agitate it with a brush. Depending on how bad the seat is, you may have to repeat this later on. Then take either the wet vac or steam cleaner and slowly work either up and down, or left and right on the cover. The trick is to not make the seat cover too wet. With a foam seat base beneath the surface, the last thing you want is for it to absorb all the moisture like a sponge and have it empty out every time someone gets in and sits down. We can offer brand new Inca cloth seat covers for the T4 models should your seats be beyond repair.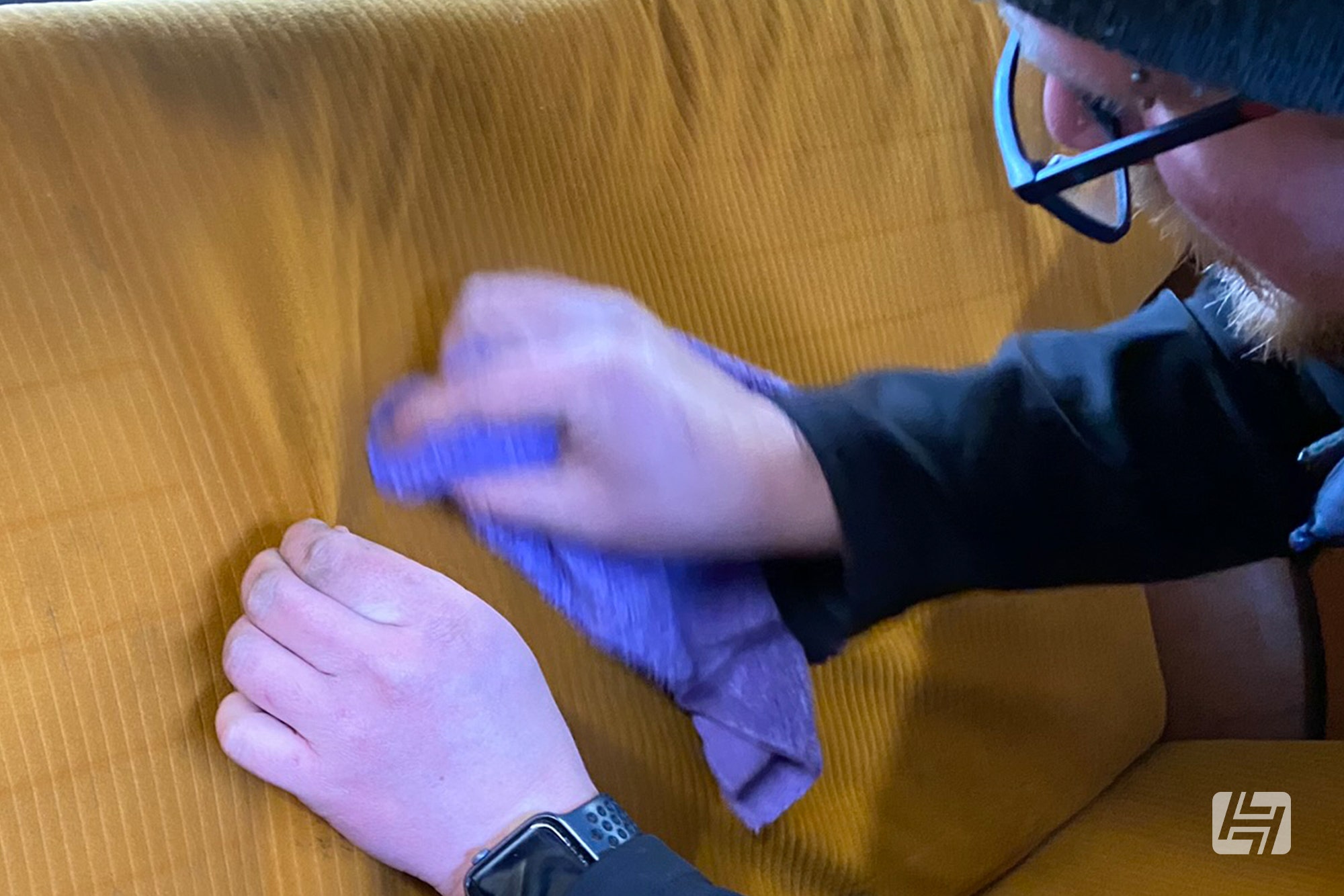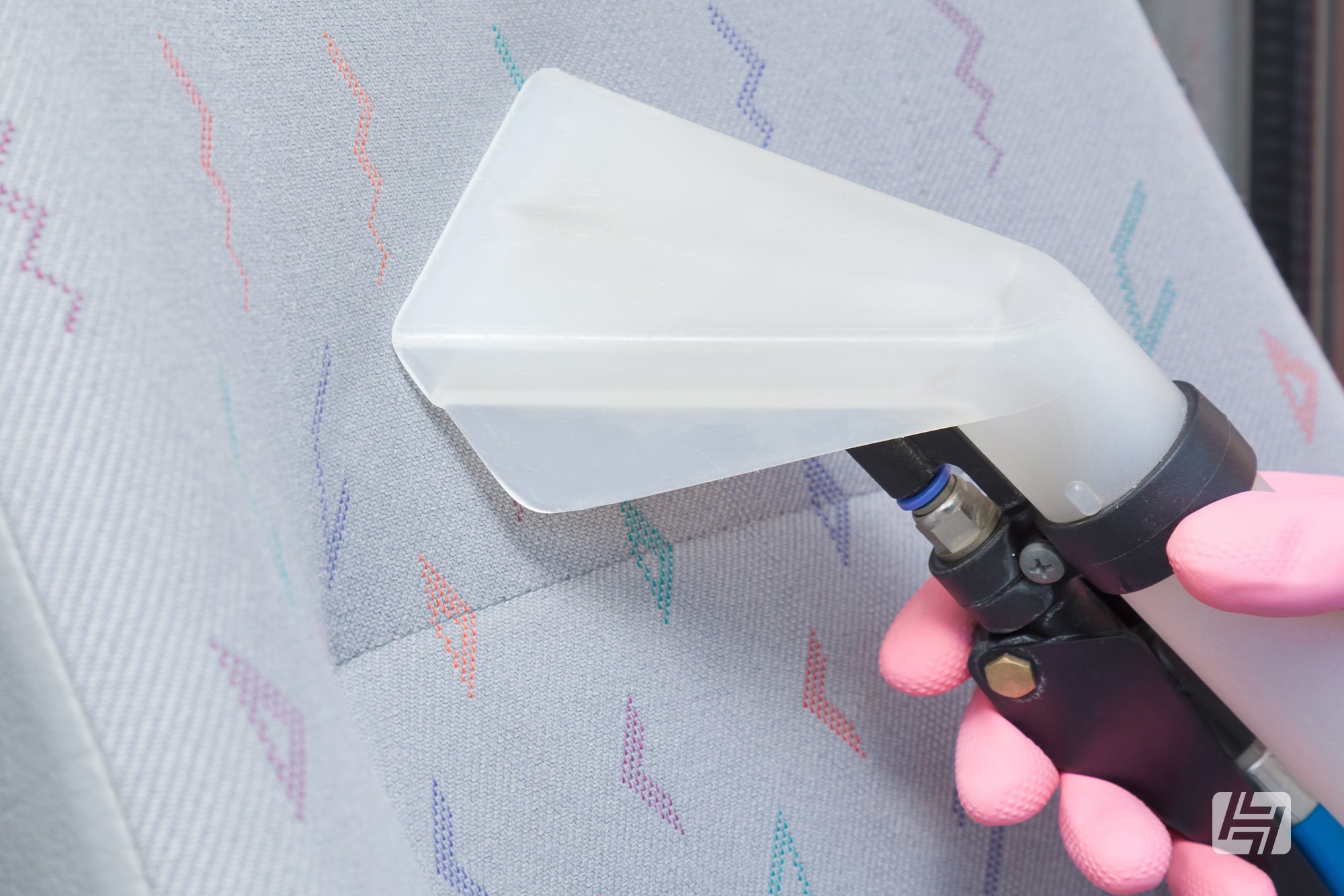 4. Deep cleaning your car carpet
The deep cleaning tricks didn't stop when it came to the carpet. Ben tackled the removable car mats with a cordless drill and a brush attachment to whisk the deep-set dirt to the surface before sucking it all up with the hoover. For the fitted carpet areas, he used a clever little tool called a Lilly Brush, often used to remove pet hair. Dragging this through the pile of the carpet pulls along bits of grass and grit and delivers it straight into the hoover. Both methods have worked like magic and my carpet has never looked so good! A steam cleaner would be the perfect choice of machinery if you have some staining or ingrained dirt. They aren't hugely expensive to buy, although ask your friends and family if they have one or consider hiring for a day. If the stain is from something wet be sure to dry it out fully before applying the steam, you don't want to 'wake it up' and spread it around further.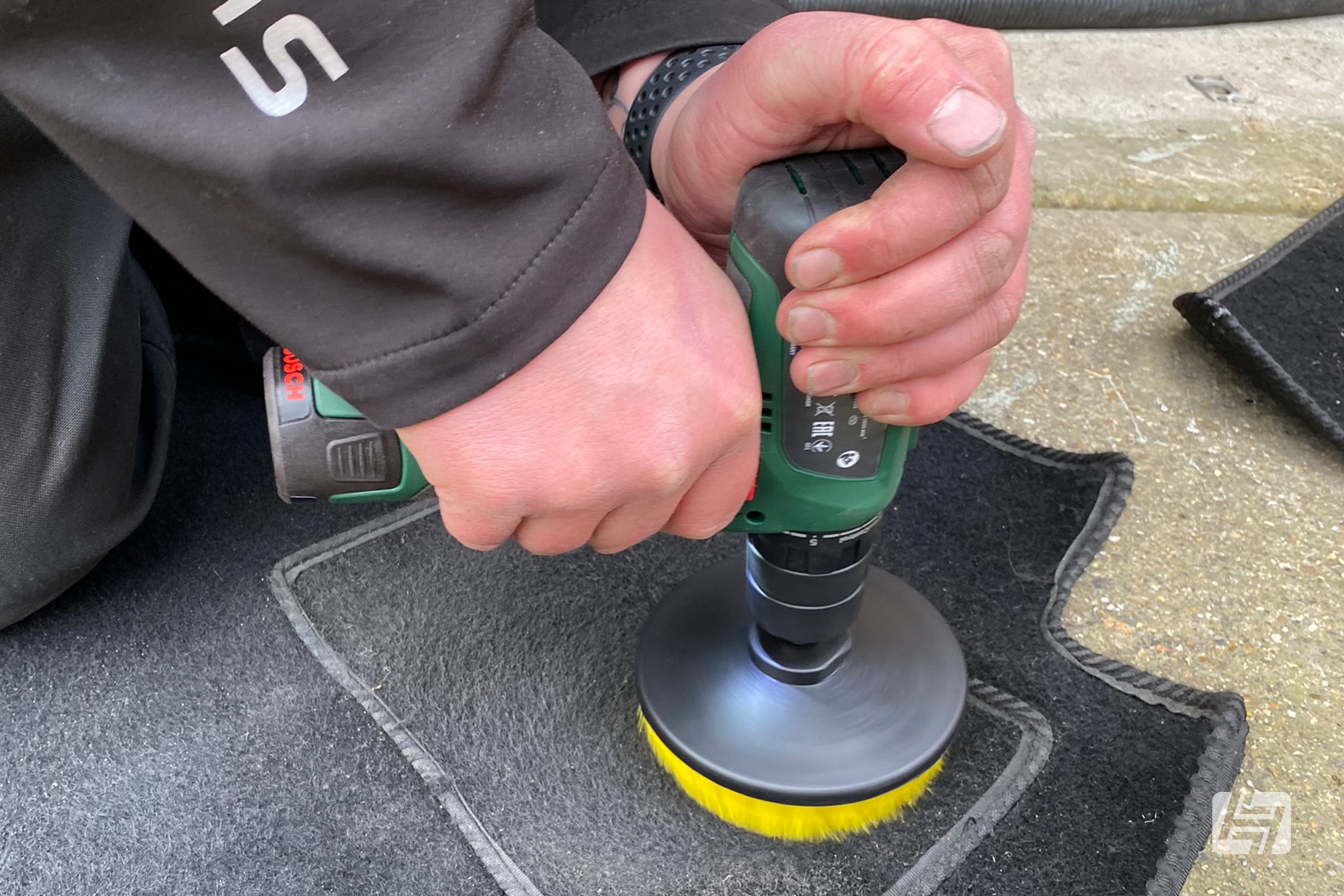 5. Deep cleaning your car headlining
I'll be honest, the headlining in my 944 has seen better days, and going near it with any more than a breeze from an open window would cause more harm than good. However, with the Polo in the garage, Ben was able to demonstrate cleaning a vinyl car headliner with a decent degree of success. As with other vinyl-covered interior panels, an all-surface cleaner on a microfibre cloth quickly lifted years of dirt from the off-white material. I've owned this car for 18 years and have never done this job! If you have a cloth-covered headliner, following a similar path to cleaning cloth seats should freshen things up in most cases. However, don't press too hard as the foam backing underneath the material will no doubt be showing its age and itching to crumble away from the board it's attached to.
6. Deep cleaning your car boot space
The boot, trunk, or luggage space of your vehicle can take a real beating over the years. Carrying wet dogs, dirty car parts, muddy boots, and plenty of rubbish for the dump; it's only the most vigilant of owners who will have taken precautions to preserve the condition of the carpet by keeping it covered over time. My 944 is 35 years old, so understandably the boot carpet has seen some action at the hands of different owners. My carpet had several oily marks on it from a previous custodian, so we decided to try and tackle them by using a steam cleaner. After sucking up the loose debris with a hoover, Ben fired steam at the stains and agitated it with the brush on the nozzle, and once more with the drill brush. Another go over with the steam cleaner finished things off, and early indications are that the dirty oil marks have gone. If you are dealing with fresh oil then you will need to proceed with a little more caution. There are plenty of guides online suggesting baking soda to absorb the moisture before hoovering it up and cleaning the surface afterwards. Take a read of a few and make a call on which method you feel suits you best. If in doubt, call in a professional!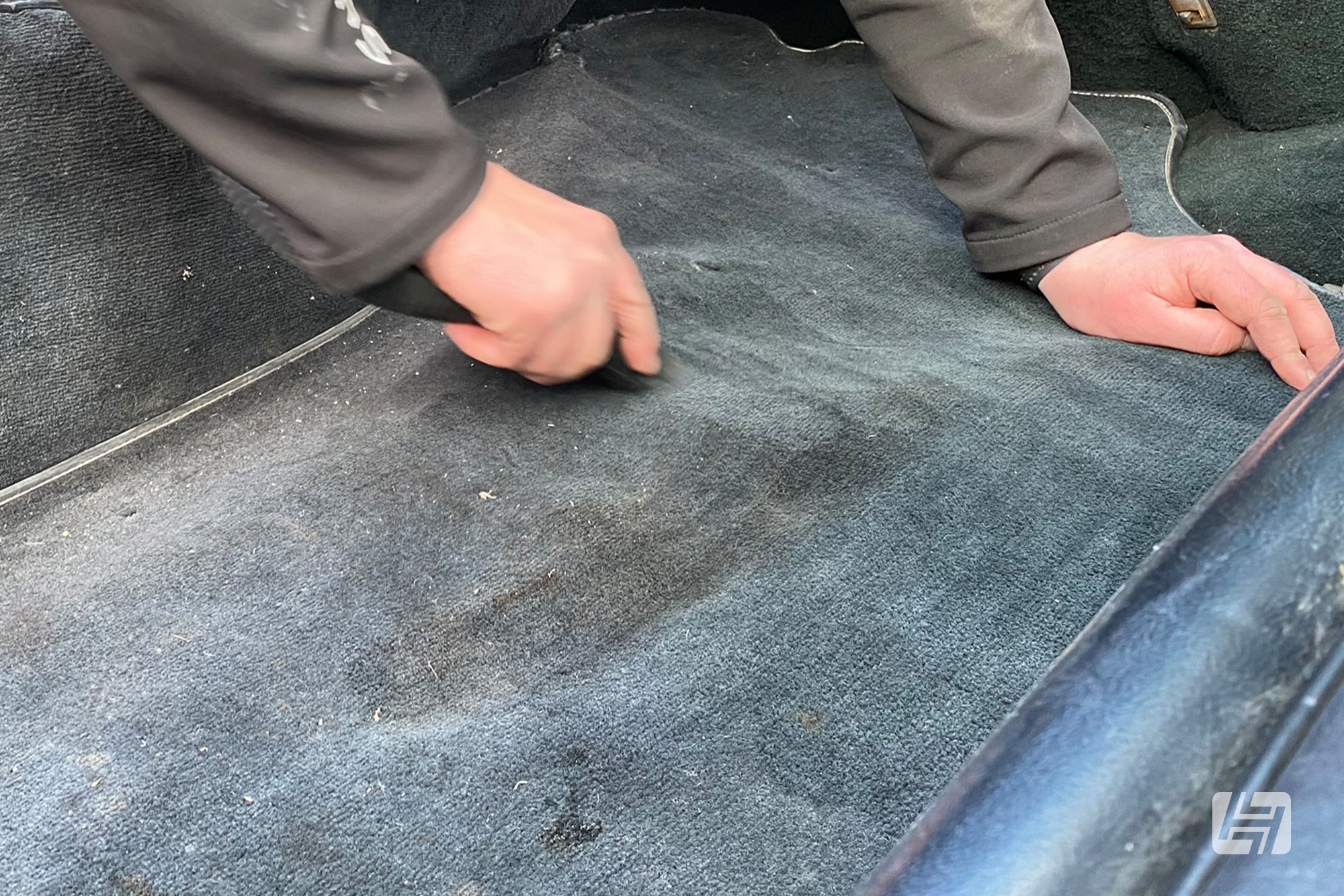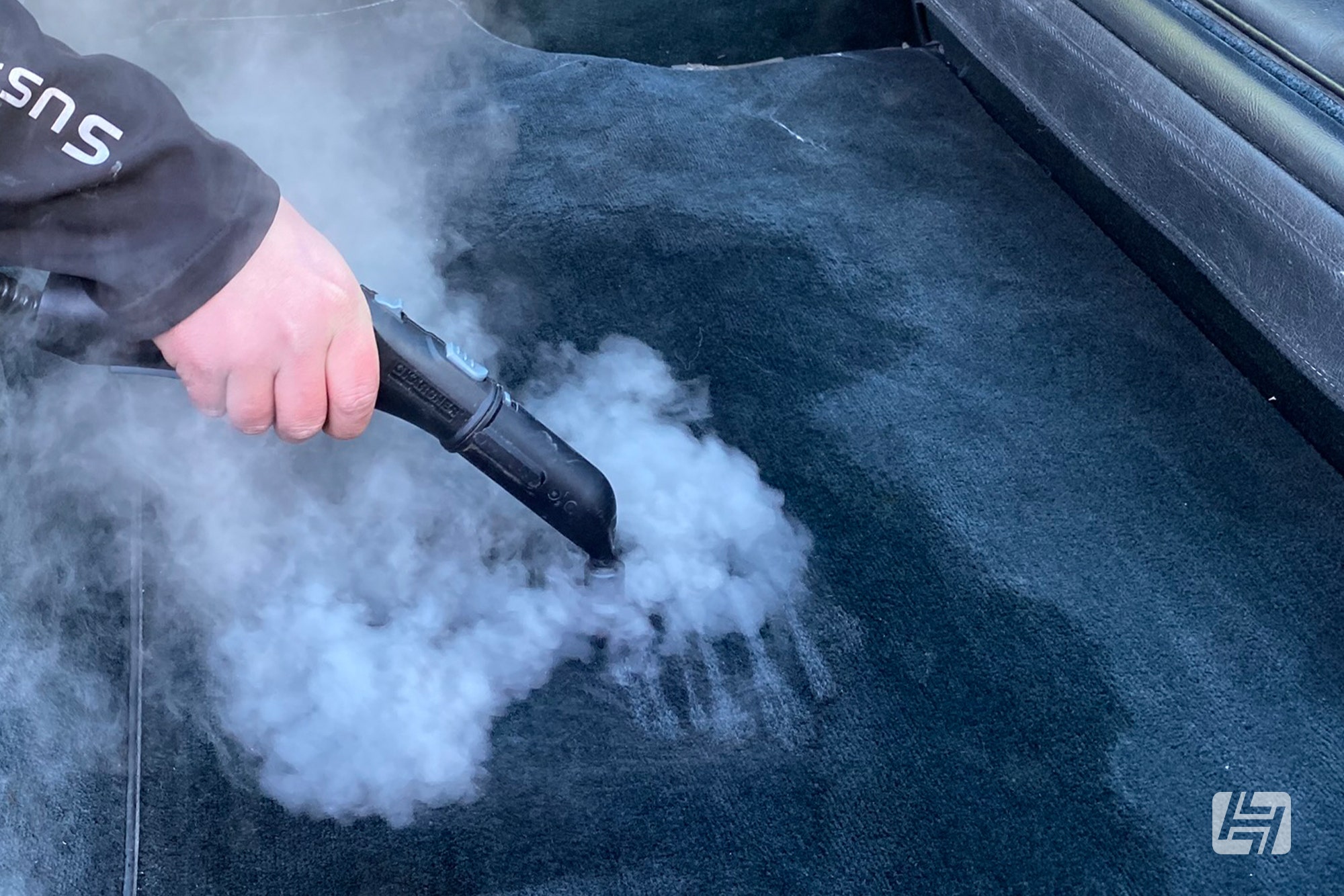 I certainly had my eyes opened while producing this article, and I hope it also shows you a few tricks you haven't tried before. When driving we spend all our time in the cabin, so it makes sense it should be a comfortable and clean place to be.
Andy / Ben