Back in 2019 we spotted a social media post from a chap called Joe Sugg, and it appeared the YouTuber and star of 2018 Strictly Come Dancing had bought himself a VW bus. Being the friendly folk that we are, we reached out and offered our help should it ever be required. And, guess what... Joe Sugg replied!
Chippy the Split
Joe told us it was like his prayers had been answered! His new bus was a 1966 Splitscreen model called Chippy. It was a RHD model in blue and white with a beautiful Devon interior inside. But it had a few bits that needed attention and by his own admission, he isn't the best at fixing cars; more likely to make things worse, rather than better!
How does a celebrity buy a Campervan?
Joe revealed to us how the initial purchase went down and disappointingly there was no mention of pseudonyms and stick-on moustaches... "I found this camper online while we were on the Strictly tour bus driving to the next location. It looked immaculate inside and was a right-hand drive. I was sat close to ex-England cricketer Graeme Swann who was also on the show, so I asked him if it looked decent." Swann, who happens to be a fan of campervans gave his approval on the proviso that the engine was good.
"I had an independent inspection done, and then went to collect Chippy with my Dad, Aunt, and Uncle" Joe explained. "It was the windiest day ever, and my first time driving such an old car. By the time we got back to Wiltshire, Chippy and I had really bonded through our shared blustery experience."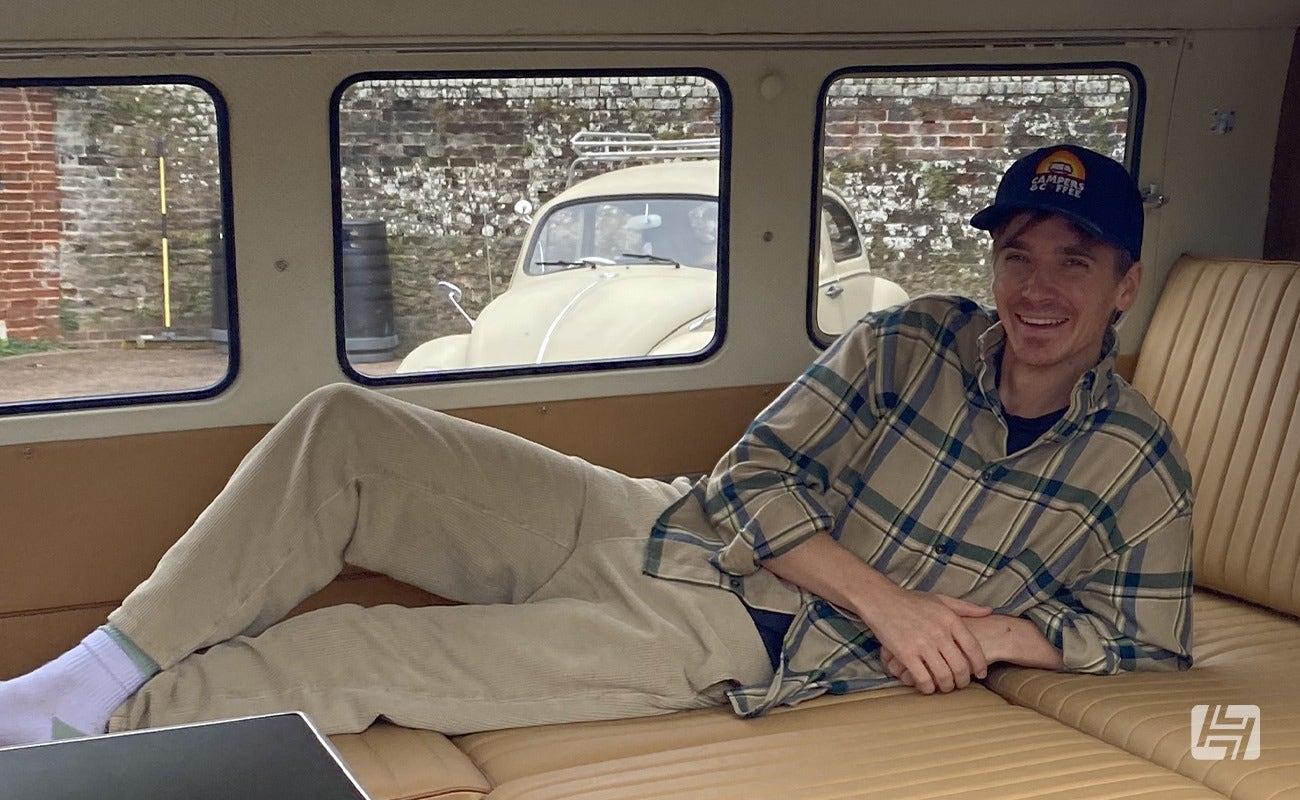 With a lot of help from our friends...
With a busy celebrity schedule and a global pandemic to contend with, our conversation bounced back and forth for almost a year before it became clear some hands-on help would be required.
We knew straight away who would be up for the challenge, so we called up Leigh Hicks at Combe Valley Campers and pitched him our plan to help Joe. We would supply the parts, and he could fit and film it all for his rapidly growing YouTube channel.
Leigh was on board and full of enthusiasm from day 1, and kindly picked up the mantle discussing the technical elements of the project with Joe and arranging to get his bus delivered to their East Sussex workshop.
What parts did Joe's bus need?
Chippy wasn't a bad bus but had a few smaller issues like window catches and door handles not working properly. He also had a broken gearshift where Joe had struggled to find reverse during a parking manoeuvre and it had snapped clean in half. The biggest concern Joe had, however, was safety and making him reliable in amongst modern traffic.
It was time for Leigh to call in a few favours, and Simon Butland from Butty's Bits and Neil Oakley from Lite Steer both got involved. They offered an engineer's overview of what would be required and identified the parts required to sort it.
Whilst a CSP disc brake kit was already in place on the front, a servo upgrade was scheduled to offer a better pedal feel. The front beam had seen better days, so this was switched for a new narrower item to tuck the polished 5 spoke alloys further into the arch. A brand new set of shorter KYB shocks were bolted in each corner to make sure the ride quality remained. Butty's Bits would provide the pedal linkage kit to improve throttle response and a new windscreen wiper mechanism, and Lite Steer would provide one of their popular power steering upgrades.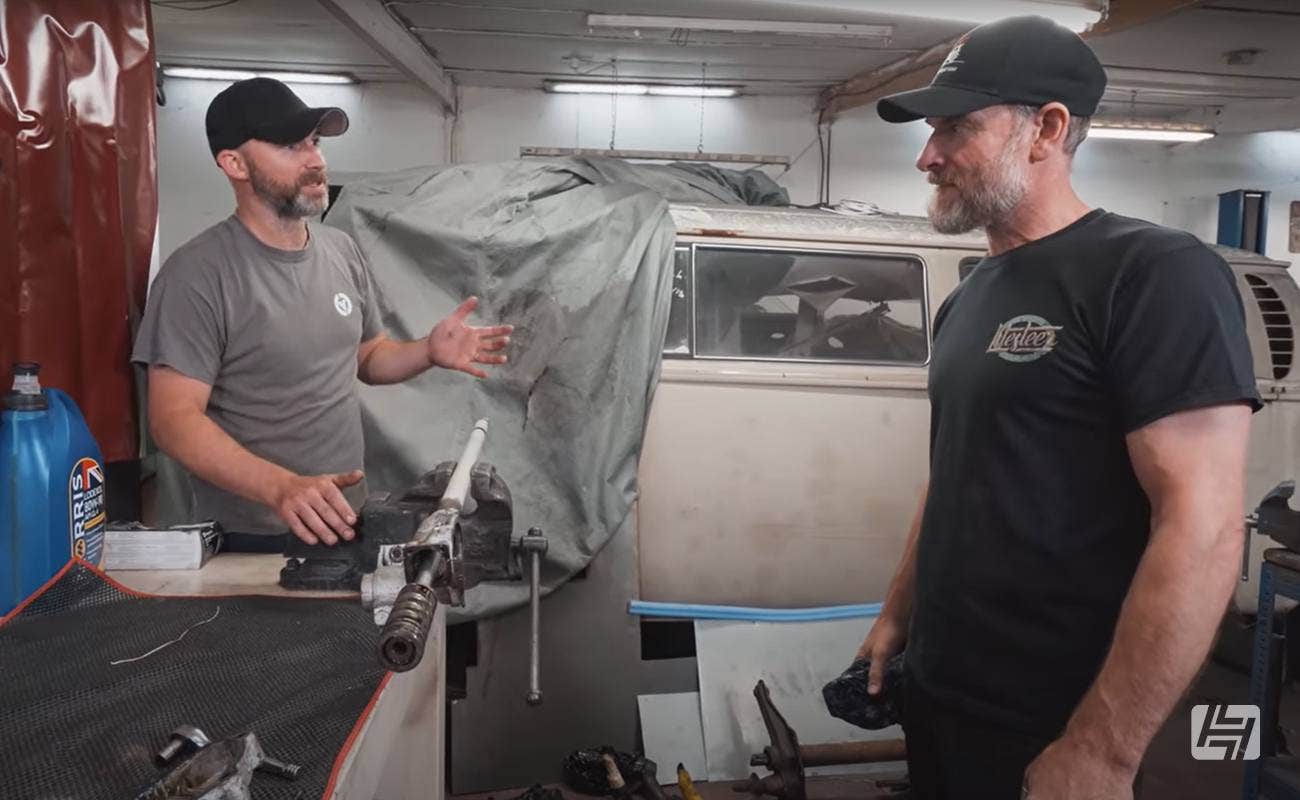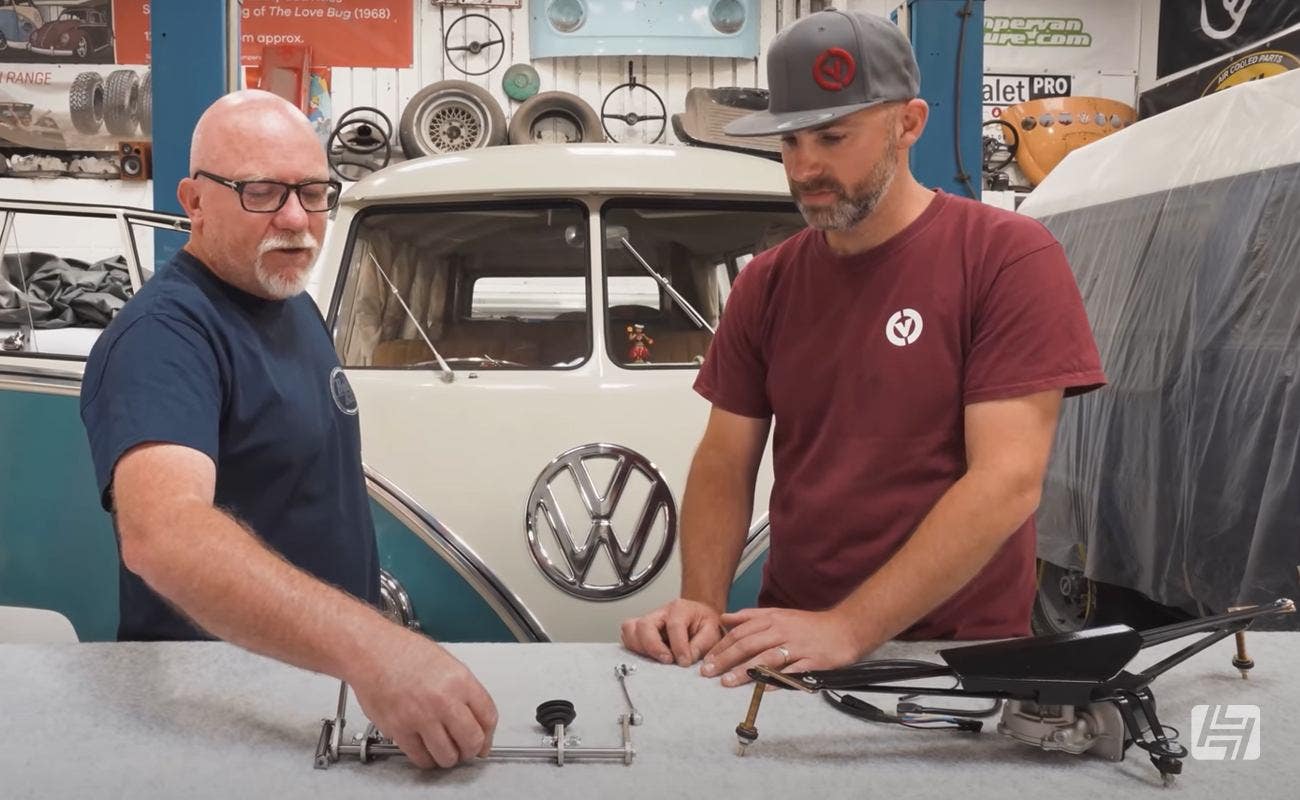 Joe Sugg gets his hands dirty!
Not many of us drop a vehicle to a mechanic and then spend the day working on it, but that is exactly what Joe did on a number of occasions, not only to learn for himself but to produce some great content for his YouTube and social media followers too.
Leigh guided Joe in the removal of his air-cooled engine, and also talked him through how the fueling and cooling system works, so should he ever find himself broken down, he may have a chance to diagnose or even fix the issue himself.
Joe commented on his hands-on experience "Working with Leigh and the team at Combe Valley Campers has been great, they've taught me a lot about the mechanics of how and why certain bits work the way they do. I definitely feel more confident now that if something isn't working right I will be in a better position to diagnose the problem at least."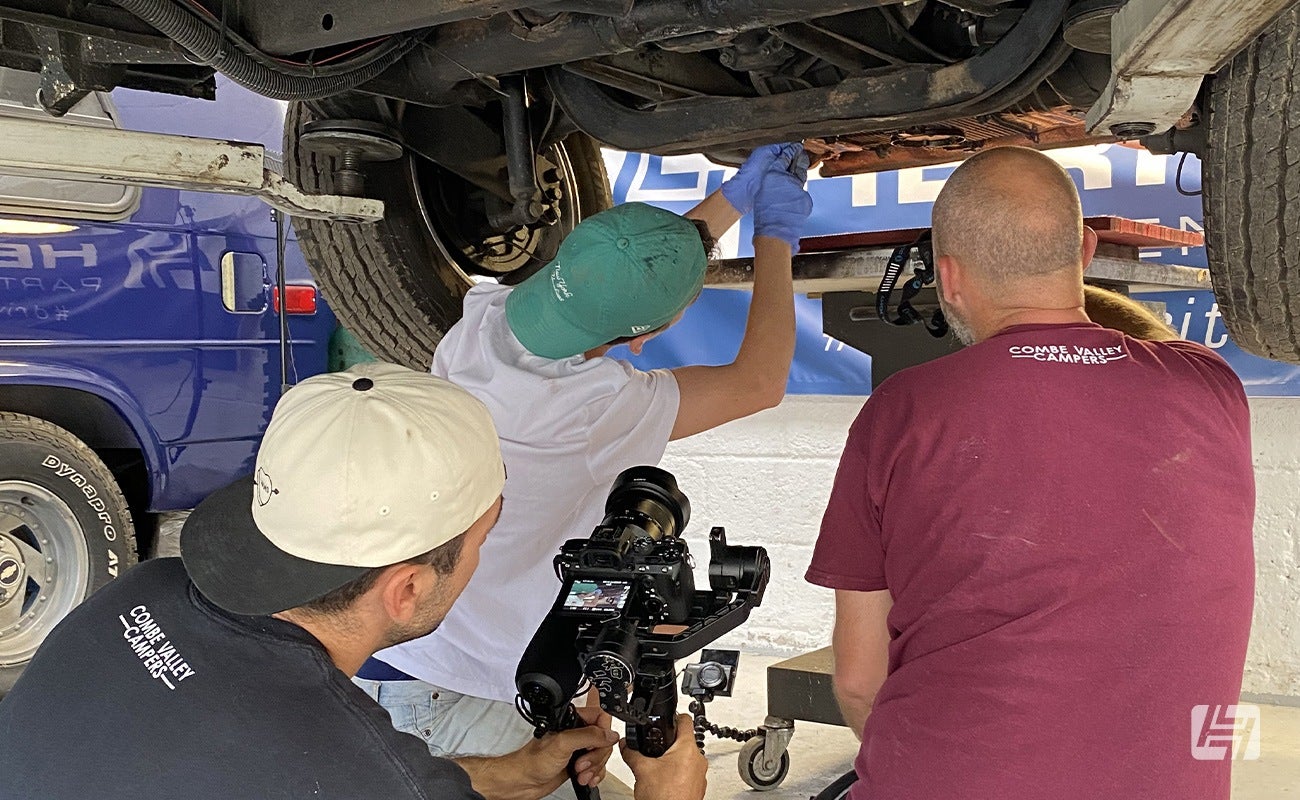 Finishing touches for Joe's Bus
Some of the parts we replaced were more crucial than others. The Vintage Speed gear shifter was pretty essential, given Joe's previous stick snapping incident. Leigh was keen to renew all gearshift bushings too, a job that is often overlooked due to the amount of effort involved but makes such a big difference to the driving experience. Which was the brief from Joe to begin with.
Externally, the icing on the cake for Chippy was a full-length, 4 bow SSP stainless steel roof rack. Joe revealed "we enjoy a spot of paddleboarding, so the roof rack was something which was important to us. Not only does it look great, but we can just sling the boards on the top and off we go."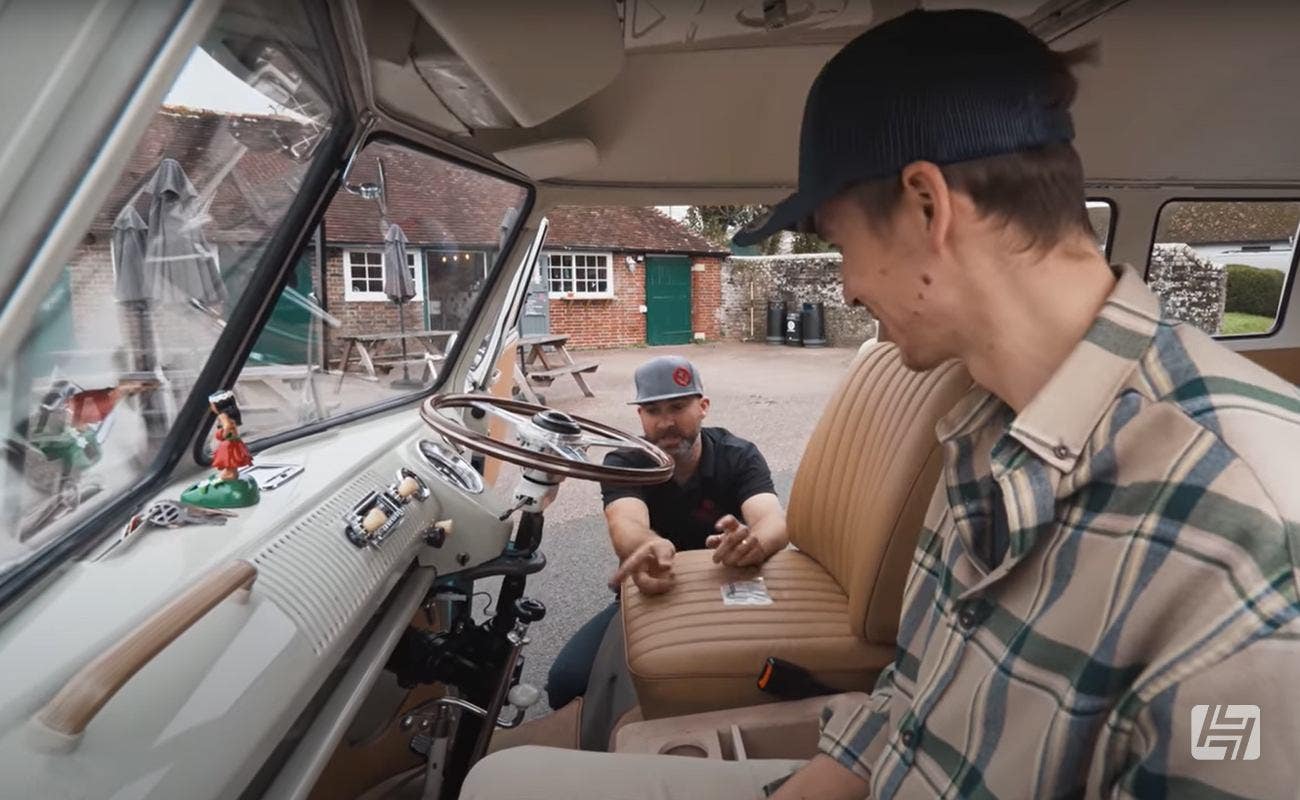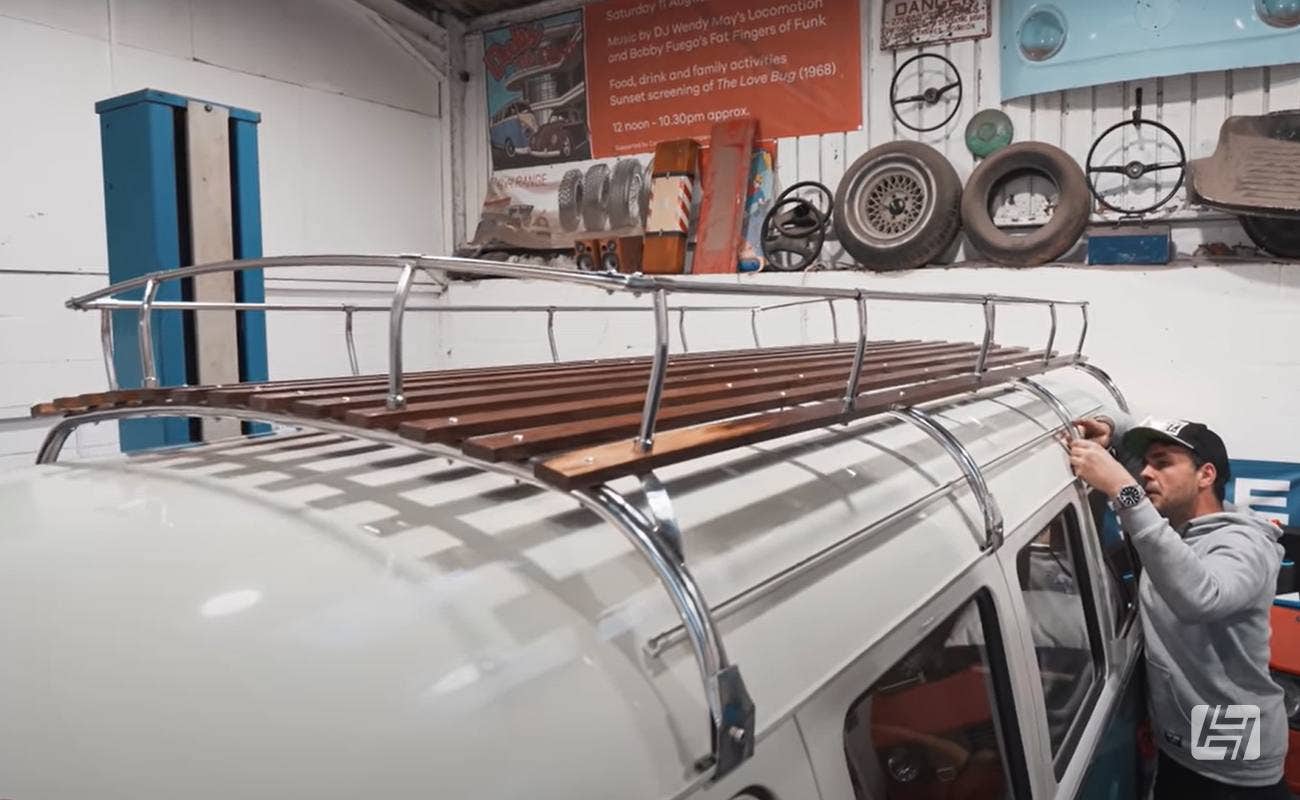 Giving Chippy back!
It had been a month or two since Joe had last laid eyes on Chippy, and the team at Combe Valley had been super busy getting everything ready for the grand reveal. We all favoured somewhere a little more picturesque than a workshop or parts warehouse, and our friends at B Road Hunting Club kindly offered to play host for the big reunion.
For maximum impact, Chippy had been covered head to toe with a breathable car cover and it's fair to say Joe was excited and keen to see the fruits of everyone's labour.
Leigh did his best gameshow host impression, building tension and getting Joe to recall all the things that had gone wrong or broken before the covers were pulled off. Joe played along, but vocalised his emotions telling him "I'm nervous, my heart's beating!"
As Chippy was revealed it was clear Joe was overjoyed. "Oh my goodness, wow, wow, wow! What a beauty, I'm more than happy!"
Having previously featured in the video series, Steph was on hand representing Heritage Parts Centre to chat with Joe about the parts we had supplied. One particular part that really caught his attention was the tan seatbelts that were fitted in the cab "I've never been so excited about a seatbelt, it matches so nicely with the interior" he told us. Check out our full range of coloured seat belts here.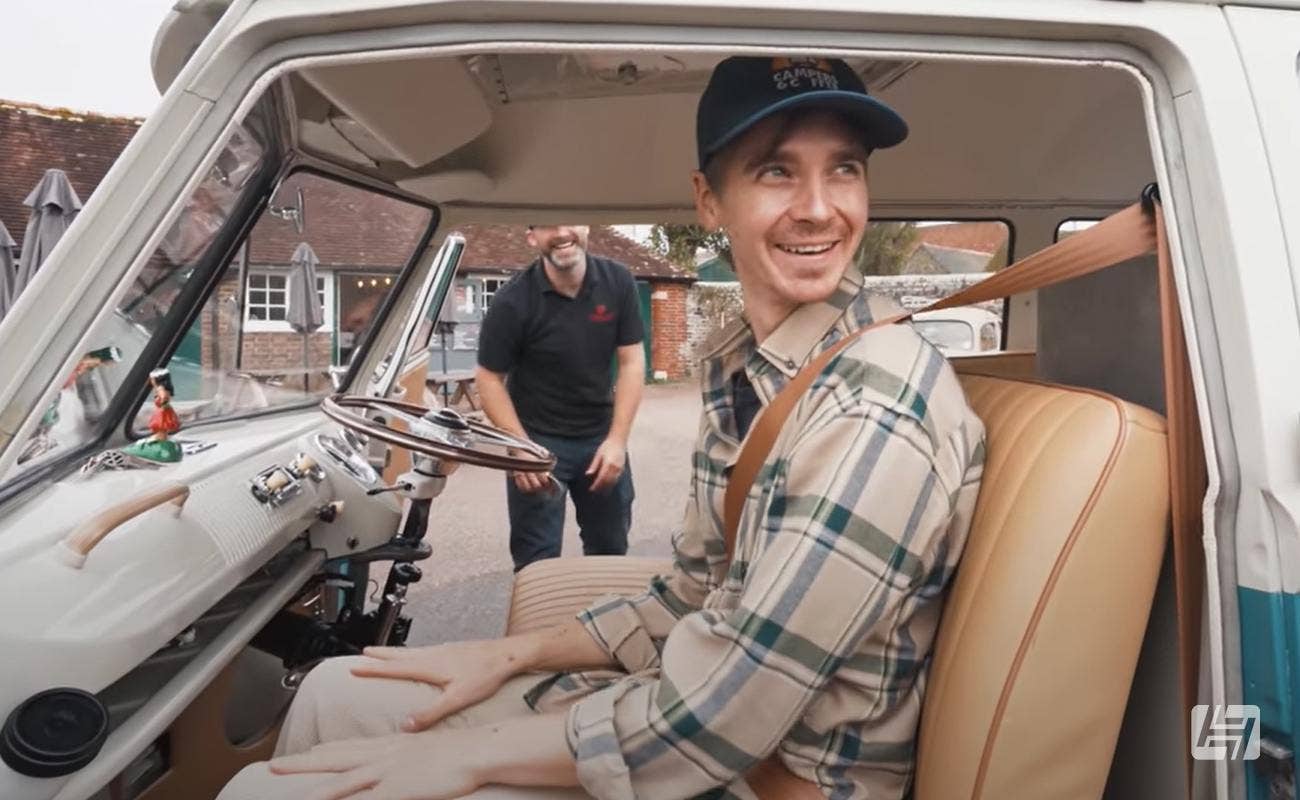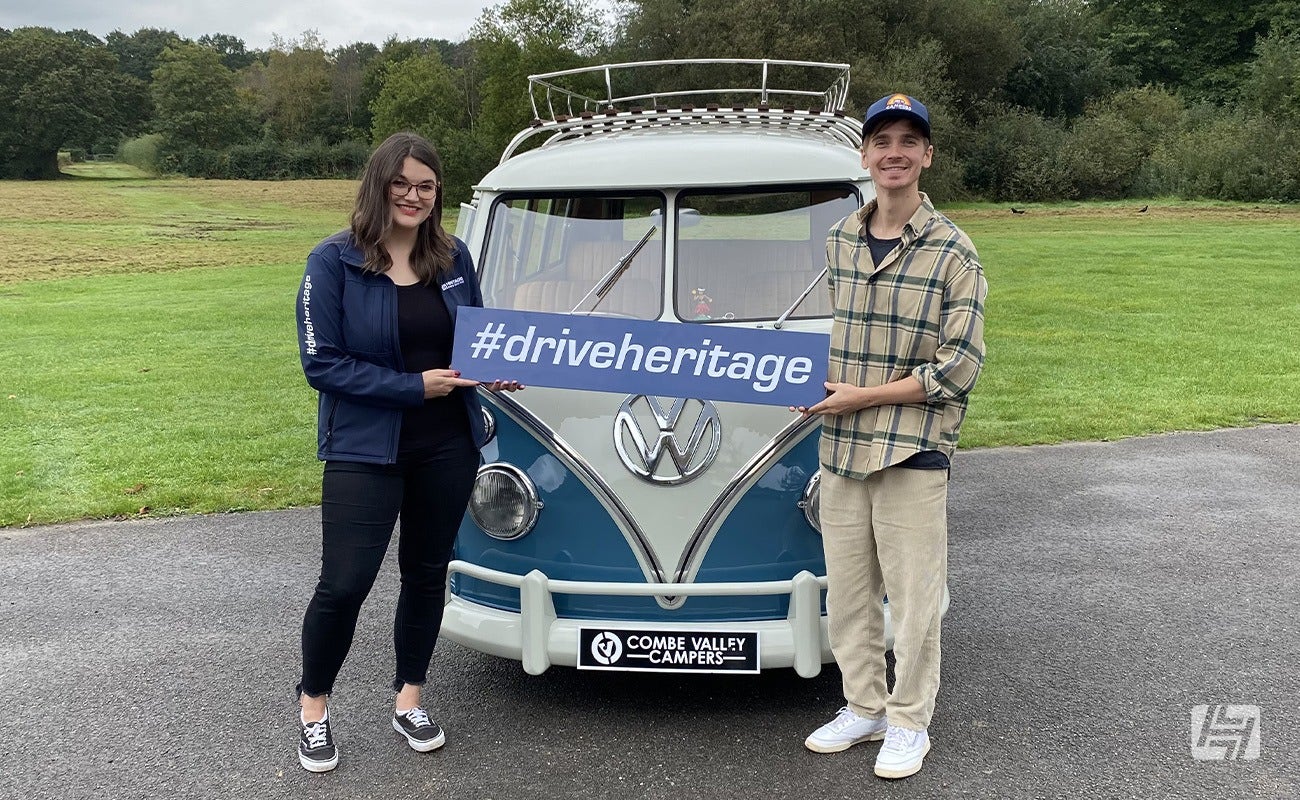 The test drive
The proof as they say, is in the pudding. So what did Joe have to say when he jumped back behind the wheel of his beloved Chippy?
"It's like driving a completely different vehicle, in a good way. It looks perfect, and it now drives perfect. I'm so excited to hit the road and actually go on some adventures with it."
Keep your eyes peeled across the south coast, and the Isle of Wight for sightings of Chippy come the spring and tune into Joe's YouTube to see how life with the much improved Chippy is going.
So... that's what happens when you send an IG message to a celebrity about their campervan! It's been a real pleasure being able to help Joe and to work closely with Leigh and the team at Combe Valley Campers once more.
From all of us at Heritage, we wish you many, many miles of happy motoring (and camping) Joe.
Andy