If the pandemic has taught us anything it is that you can do so much stuff remotely. States, countries, and continents are no longer a barrier to communication, and because of that we reached out to a few contacts a little further afield to see if we could share their story.

The first to say yes was Aaron Stehly from Minneapolis, Minnesota in the United States. Read on to hear about Rabbits, Rallyes and Racing.
A previous meeting
Whilst Aaron resides on the opposite side of the pond to Heritage HQ, we had previously met in person when he was traveling Europe on a parts buying mission with mutual friend Jamie Orr. At the time, probably ten years ago, I recall he had just imported a Rallye to the USA with Jamie's help and was toying with a TFSI swap from a race car.
Fast forward to today and his Mk1 Rabbit has taken SEMA by storm, winning the best European Import car category, and I'm certainly interested to hear how the last decade has treated him. His Instagram @definitelymaybeprobablynot has documented the Mk1 build in detail but there is no substitute for a proper chat, so without further ado…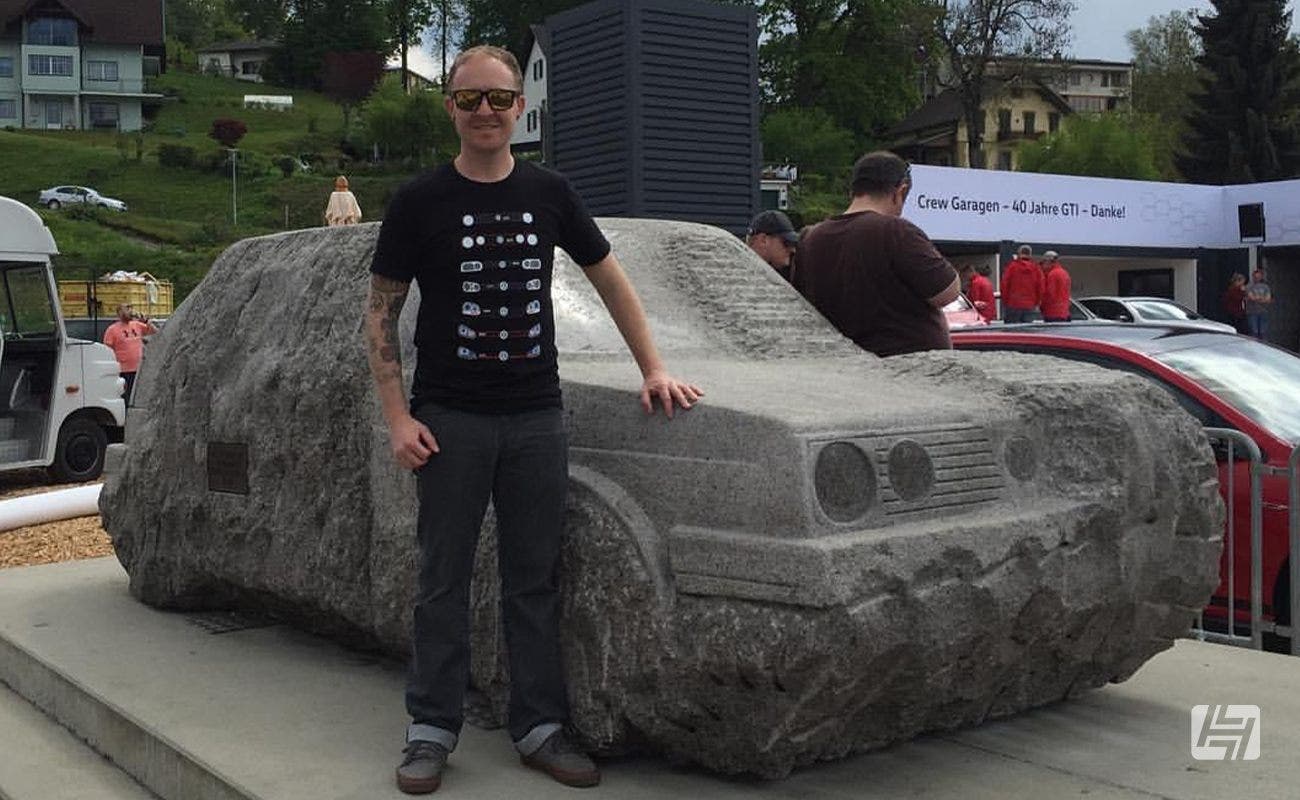 Where it all began
I ask Aaron what his first car was, and I'm a little taken back by his answer. "Believe it or not, I began with a 1968 Oldsmobile Cutlass which I restored with my father when I was 15." It wasn't the answer I was expecting but wonder what was it that influenced Aaron to steer away from the American machinery and jump into a VW, to which he replies. "I'm a diehard Performance VW subscriber, I actually own every issue published! I love the lines of these cars and how box-like they are. I also used to enjoy watching the Mk1 and Mk2's lift a wheel at Auto-X races – that really sold me, and once I had caught the euro bug, many of my friends started moving away from Honda's, Jeeps, and Muscle cars and now they own VW and Porsche models too."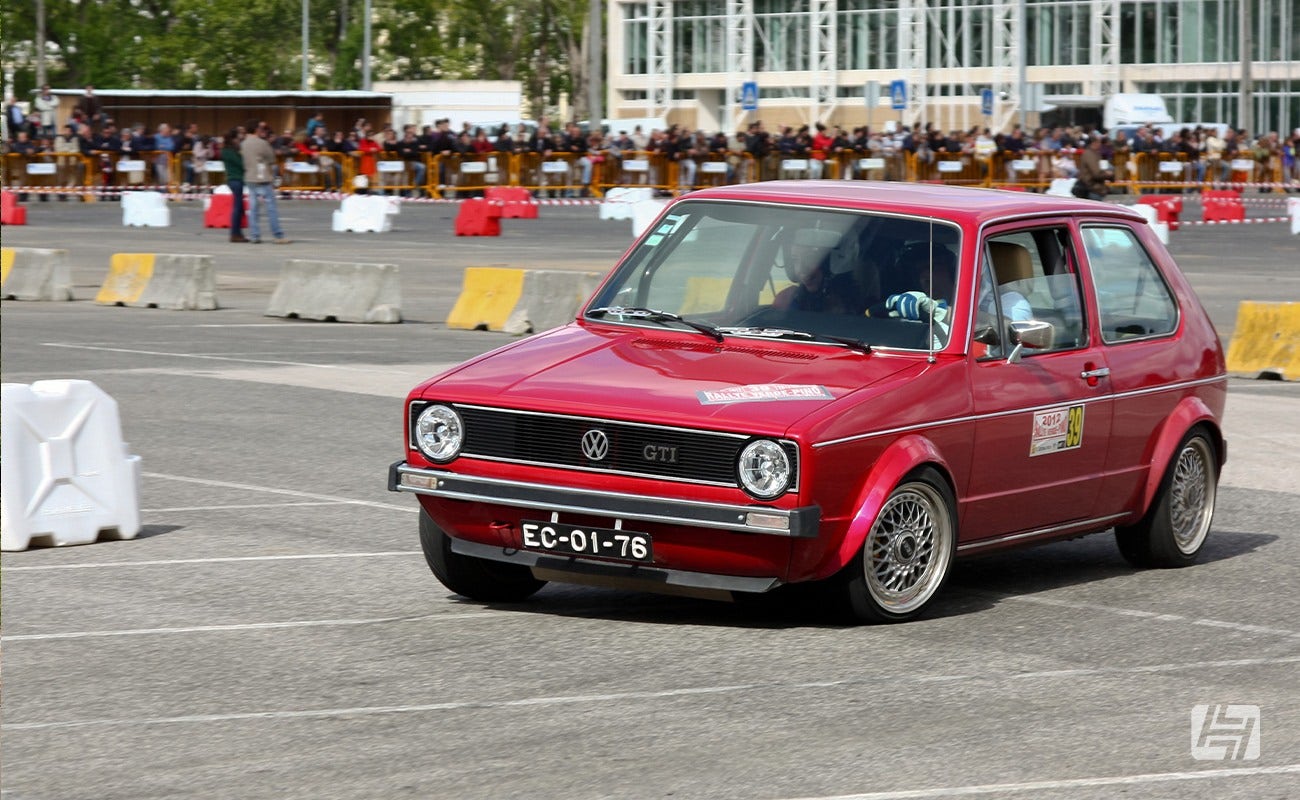 Start as you mean to go on
Clearly a man of taste, Aaron bought a Mk2 Golf 16v as his first foray into the VW lifestyle around 2000. It was dropped on coilovers over Ronal Turbo's and featured an 8-point cage inside. "We have brutally cold winters in Minnesota, but a heated workshop and months of cold weather provides great opportunities to work on projects without rushing them" he lets on. Whilst the first few cars might not have been completed with the same meticulous detail of his latest Mk1 project, everything he touches still needs to be done right…
Aaron went further down the slippery slope with the black Mk1 Rabbit which followed circa 2003, installing a 1.8T engine into it, and once more selecting Ronal Turbo's as rolling stock, and a cage to keep him safe in style inside. The car was sold in 2005, and in Aaron's words "I regretted selling that car the moment it left, but it is what caused the white car to be built."
Getting Some Track Action
"I attended the Skip Barber Race School at Road America in Wisconsin with my Uncle in 2000, and we learned to race in Formula Dodge single-seaters. I bought a Mk1 track car in 2001 and did pretty well, and was fortunate to get a seat with APR in Grand-Am in 2009 at various events racing MK5 GTIs."
Aaron pressed pause on his racing career in 2012 to concentrate on other interests, although he has plans to get back on track in the future. "I was lucky to have sponsors paying for me to race, but I was just a twenty-something bicycle mechanic, and there was a bottom to that well – and I found where it was!" In the meantime, he's done a spot of sim racing but in his words "I just can't seem to successfully translate my personal experience into the online races."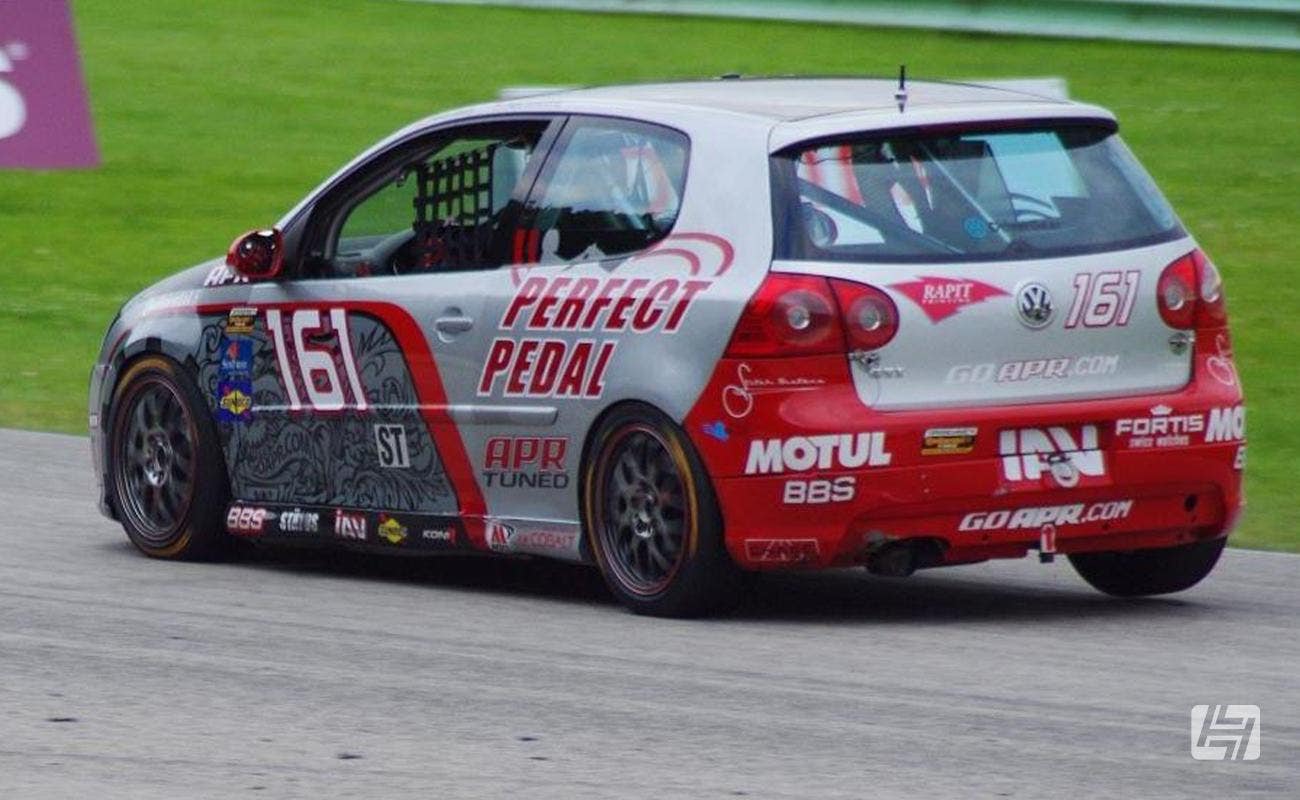 The Mk2 Rallye
"Buying this car turned into a nightmare!" Aaron laughs. "I was at work one day and came across an advert for one of Jamie's Orchid Euro container sales. So, I dropped him an email and said I want to buy a Rallye Golf." His reply was sarcastic but friendly, and it took a half-hour phone conversation about their mutual interest in bicycles to break the ice before Jamie agreed to take the challenge on. "He told me about two he knew of, one he fancied for himself, but he gave me the number for the other being sold in the UK. I called them up, the seller explained they will take a wire transfer and even deliver it to Jamie's parent's house near Portsmouth, UK."
Confidently Aaron paid the money at his local bank and true to his word, the seller delivered the car as planned. However, the V5 registration document had been filled out incorrectly, making export impossible until it was sorted. "So, the car sat on Jamie's parents' drive for a month. That was really awkward, I hardly knew him and I'd never met his parents, but they were great. Eventually, the paperwork arrived and it was loaded into a container and shipped to the USA where Jamie took it to be registered."
Having initially wanted the Rallye to drive and have some fun whilst building the Mk1, time was dragging on, but sadly the saga wasn't over. Part of importing vehicles under 25 years old in the US is contracting NHTSA bonded shops to certify the vehicles for US roads. Aaron chose a shop near Jamie's hometown in PA, which turned into a nightmare for both him and Jamie.
"The Guy took $5000 of my money and basically parked the car in a field for 9 months. We tried everything to get it back, but he was a scammer. Fortunately, Jamie had the foresight to remove the expensive and rare Euro spec items from the car and fitted US seatbelts, headlamps, and cut 'banana lights' into the front fenders ready for its check over. Otherwise, any incorrect items fitted would have been smashed up and destroyed, as per regulations."
"At one point the guy said he would let it go, so I flew out, bought some BBS wheels, and was going to drive it to the SoWo show, but when we got there he refused to let us take it. In the end, I got in contact with Coleman Sachs the President of the NHTSA, gave him my sob story and he sent a letter. The guy called it a fake, but a personal phone call from Coleman and the threat of losing his license finally led to Jamie collecting it on his beaver tail LT Transporter, around a year after I initially bought it. He even stopped on the way back to his workshop for a fitting photo by the 'Rocky Steps' in a moment of celebration."
Modifying the Rallye
Not content with owning one of only a few Golf Rallye models in the USA, Aaron set about ordering a catalogue of go-faster G60 parts from the likes of Bahn Brenner, and for a short time, all was good. But the increase in power must have taken a toll on the eighties engine, as it blew up!
Ever the optimist, Aaron decided to take the 2.0 TFSI engine from his dormant Mk5 race car, and just 3 months after parking the stricken Rallye up, he was back out in it again. Well, that was until 2017 when the transmission also gave up on him, and with the Mk1 taking priority in the workshop, there it has sat ever since. But he lets on to me what will happen next. "My plan with the Rallye now is to fit a 2.5 07k engine, I want to make 700hp. I want to go fast again!"
With an itch to drive quickly, it makes sense to see where Aaron stands on owning a Stuttgart-built sportscar. "I can appreciate a clean Porsche 964" he tells me, "However they are so god awful expensive now, one can dream right?!" In the same breath, Aaron also mentions a Ferrari 355 and a 1950s American custom are also high up on his dream car list. Whichever he chooses we're certain it'll be pretty special once he's finished with it!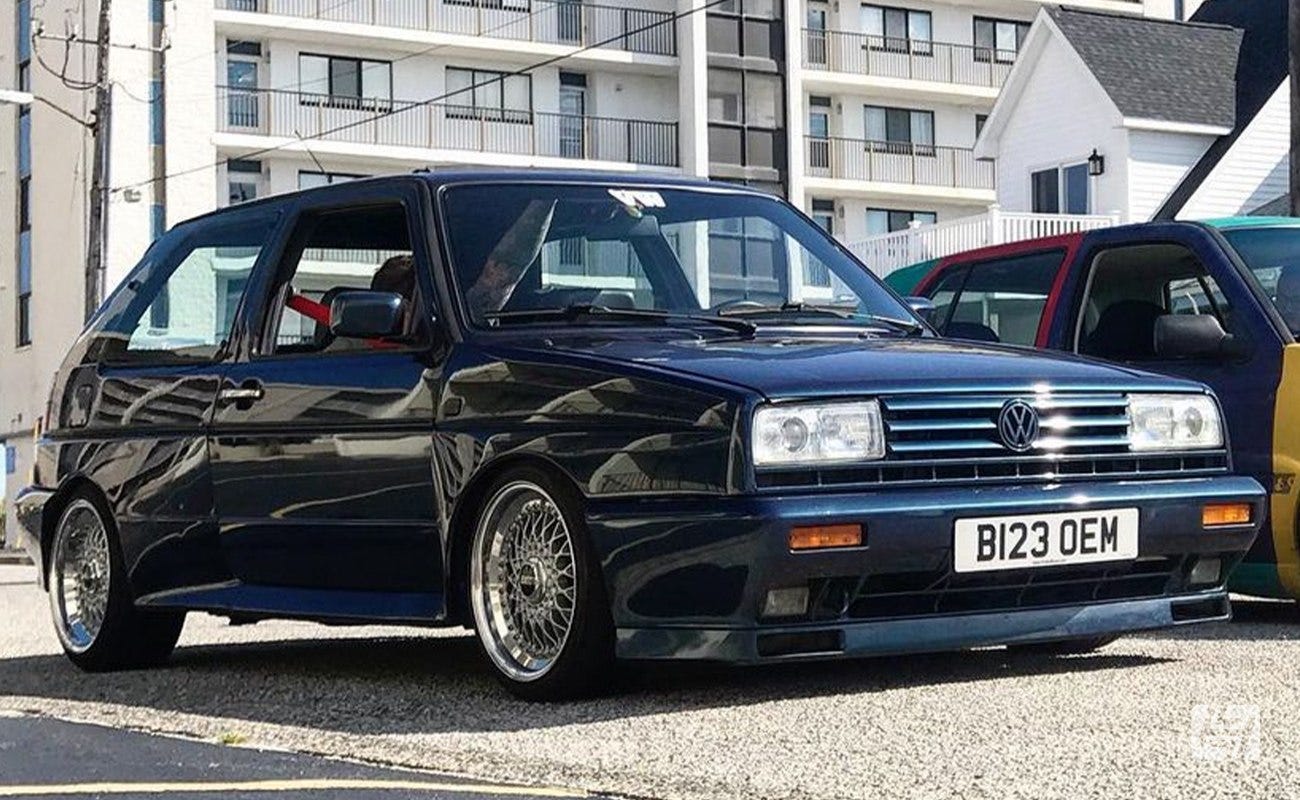 The Mk1 Build
We've put it off long enough, let's tell you about this rather special 1978 Rabbit, built very much with the ethos of 'what would Singer do if they built a Mk1 Rabbit?' "I love the old-world hotrods, and I wanted the subtlety of that kind of metalwork to speak for itself. It was not intended to be this big of a build, but eventually, this car was transformed into what my ultimate, never sell, build would become." And subtle it is, you could keep walking around and around this car discovering custom changes that have been made for the sake of style.
The engine bay has been shaved, but the chassis legs have been enclosed with bead-rolled panels. The tops and bottom corners of the doors have been radiused, the transmission tunnel inside the cabin has been smoothed, all the holes in the underside of the hood have been plated and filled over, and there's a DIY swallowtail rear panel at the back placed perfectly between the German Post rear lamps too.
Aaron fitted a full set of NOS clear glass, complete with opening ¼ light windows and matching chrome trim and rubber seals, which simply pop against the pristine white paintwork.
Underneath the front control arms are ½" narrower on each side and the rear axle is shortened by 2" to allow for the 15x8 and 15x9 " Image Billet 60 wheels to be tucked so perfectly inside the pulled fenders.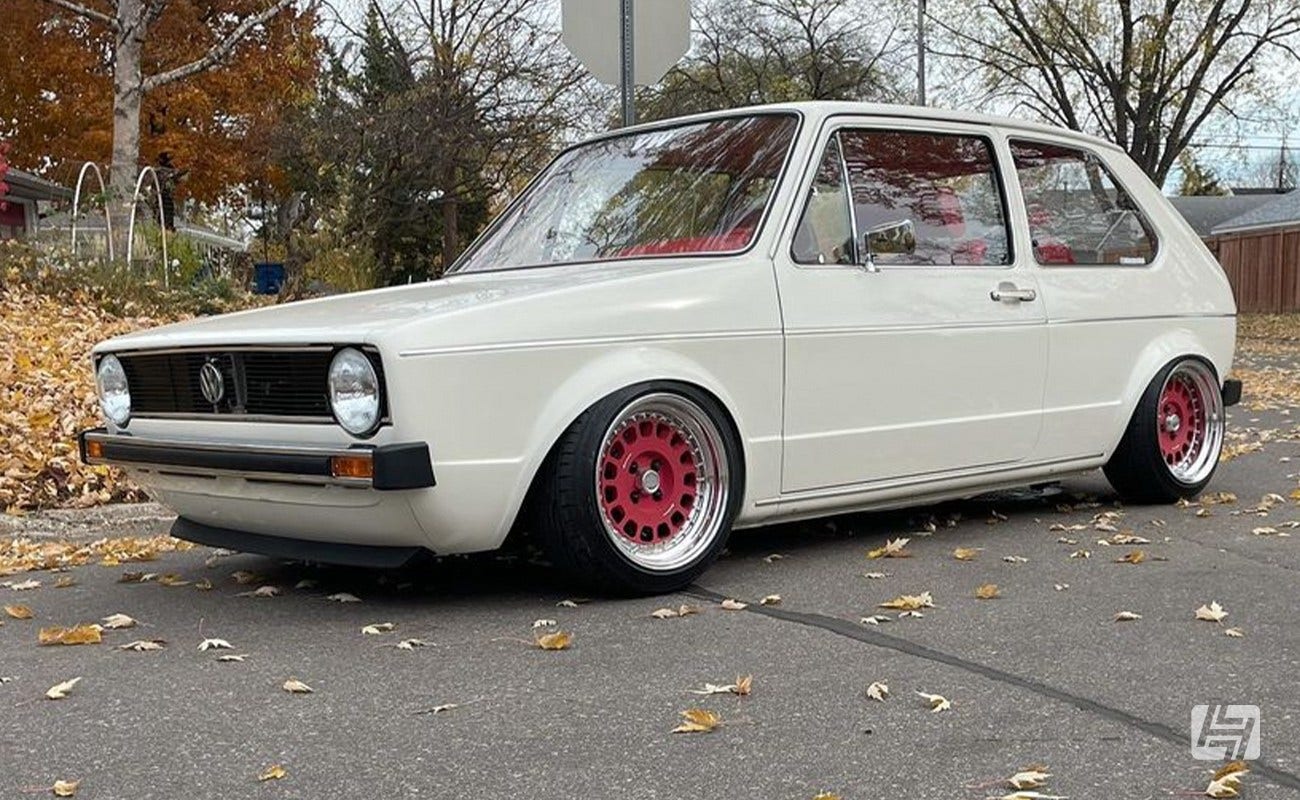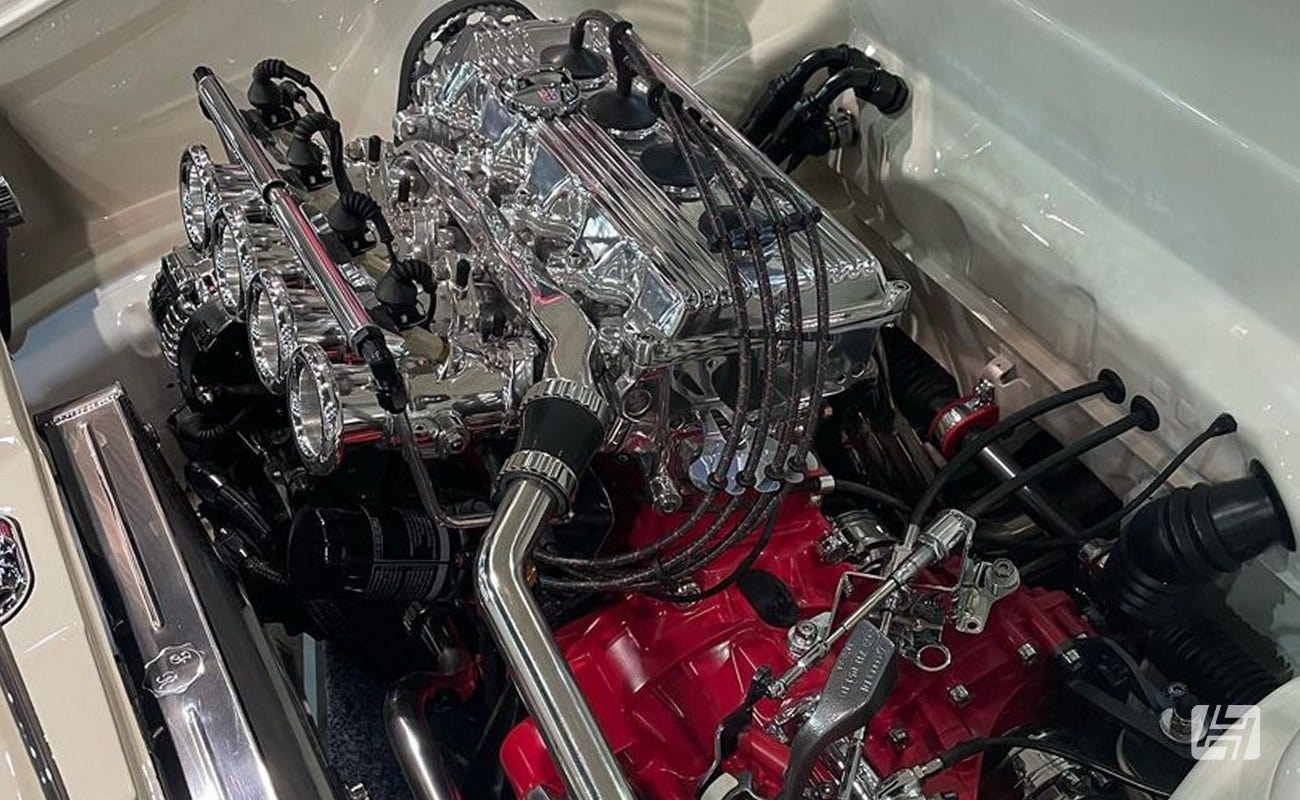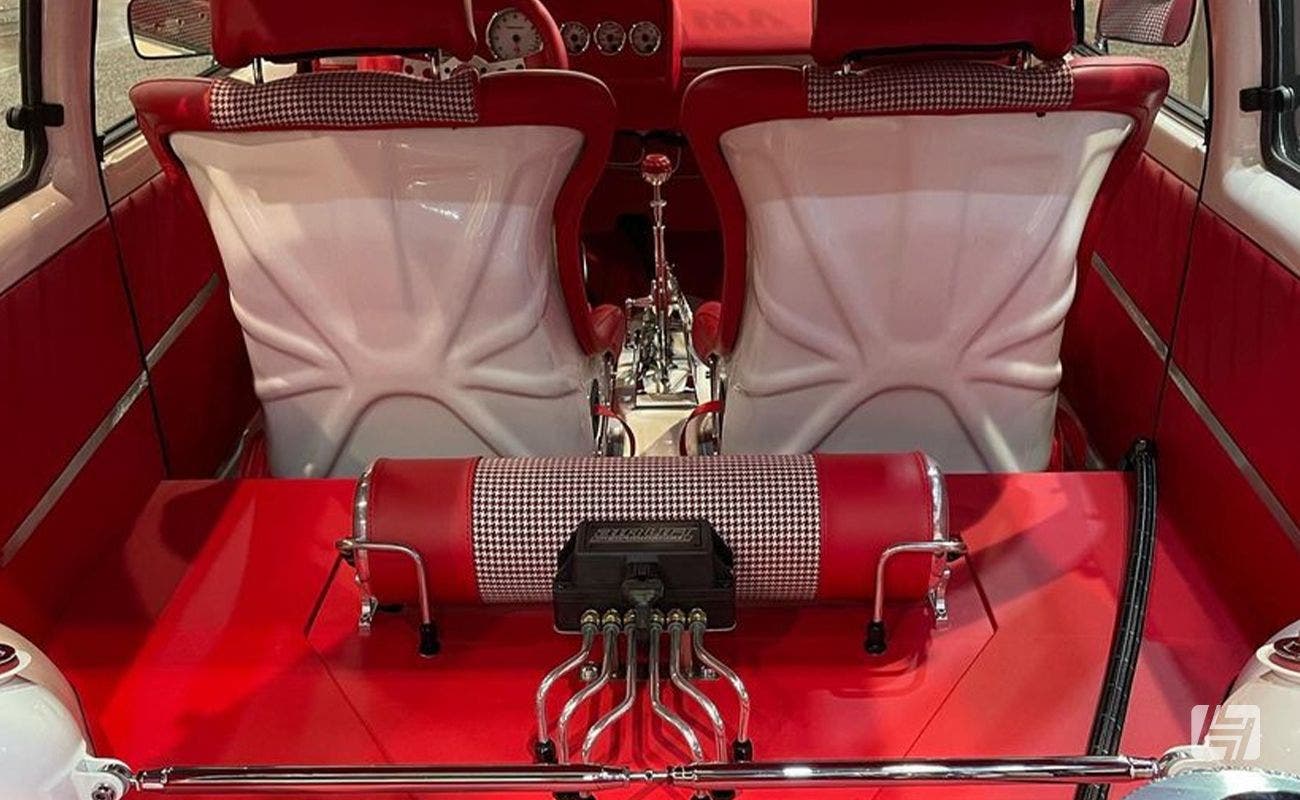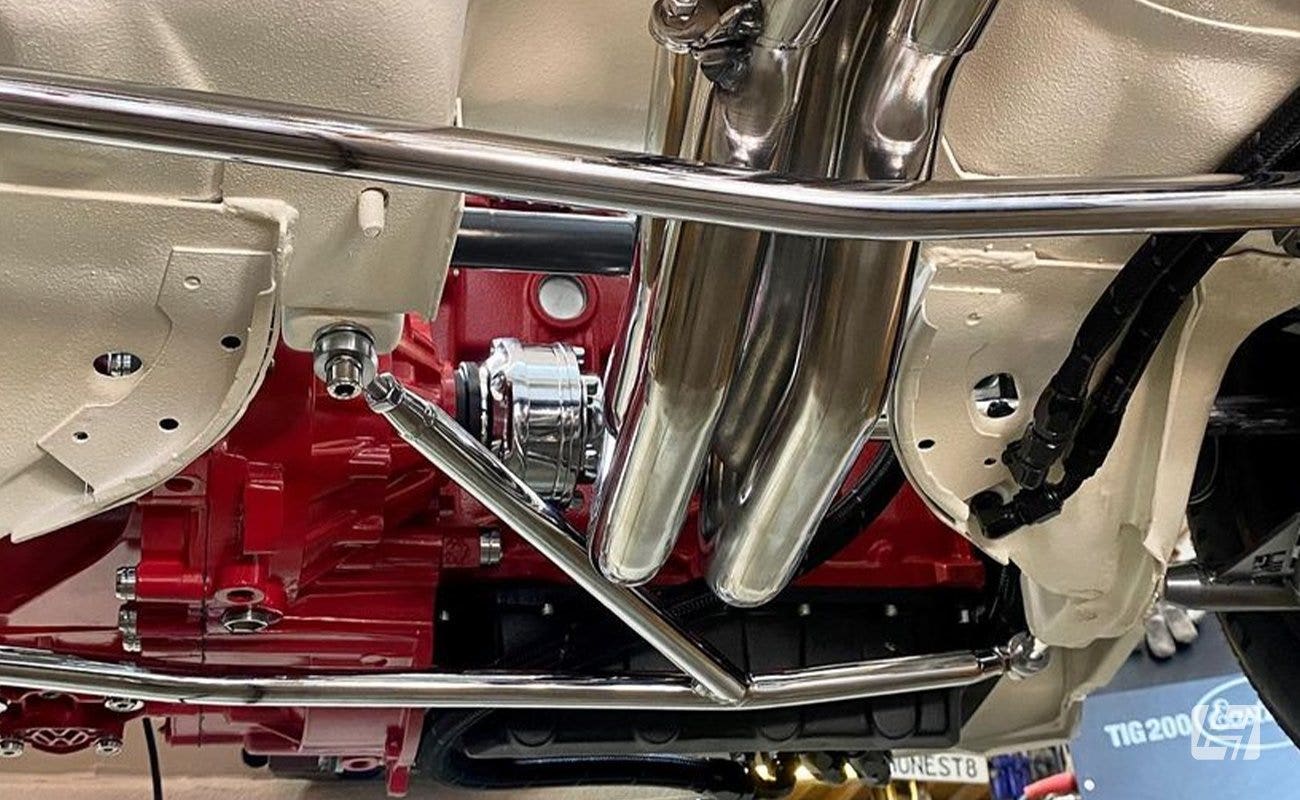 Under the hood hides a coveted Oettinger 16v converted lump. "These were sold as an upgrade kit, back in the eighties" Aaron explains. "They made a crank, pistons, and a sand-cast cylinder head, all designed to bolt on to an 8v crankcase." This is joined by a 02s 6-speed gearbox complete with Wavetrac differential which has been staggeringly color-matched to the interior!
The Mk1 interior is sparse but classy with flame red leather adorning the modified series 1 dashboard, and the GTS seats with their contrasting houndstooth centers give the driver and passenger the perfect place to perch. Door panels, carpets, and the headliner also tie into the red theme, as does the false floor in the back where the Air Lift air-ride system sits.
Should you have the chance to look underneath, you won't be surprised to see a body-colored fuel tank, with red straps and a lifetimes supply of chrome plating across the suspension and chassis components. The strut braces were fabricated by Aaron himself, and the Golf Mk1 exhaust was polished by hand to get that level of shine. Naturally, Aaron is a little nervous about taking it on the highway for the first time, but laughs "cars are meant to be driven right?!"
The SEMA debut
For those unaware, SEMA or 'Speciality Equipment Market Association' is the biggest trade show in the USA for manufacturers to exhibit their automotive products. It's not open to the public, and cars are displayed strictly by invite only, brought along by sponsors and premium car builders.
Aaron was lucky enough to show his car off on the Wavetrac booth, and even more fortunate (albeit deserving) as it caught the eye of the Hemmings judges who awarded him with the trophy for 'Best European Import'. "I was completely humbled to win that award, of all the cars at the show, they picked mine! What an honor."
To top it off, Aarons's parents had flown down to Las Vegas, and got to see him pick up the award too.
A huge thanks to Aaron for taking the time to share his stories and kindly letting us use his pics too. Stay tuned to his Instagram for Rallye updates, we can't wait to see what rolls out of his workshop next.
Andy